As a party town, it'll come as no surprise that many seek out bars with beer pong in Las Vegas. After all, nothing gets the night kicked off more effectively than a little competition paired with excessive consumption.
We thought it would be helpful to compile a rundown of bars in Las Vegas on the Strip and Fremont Street that offer beer pong so that you can get your fix. Most of the time, use of the table is free as long as you bought beer at the establishment, however, some venues charge for their use during peak times (like St. Patrick's Day).
While most play leisurely, it's also fun to note that Las Vegas is home to the World Series of Beer Pong (WSOBP). The WSOB is an annual tournament that draws upwards of 1,000 athletes (I think that's the right term?) from around the country to compete for cash prizes.
Related: Bars with a mechanical bull in Las Vegas.
Beer Pong On The Las Vegas Strip
O'Shea's at LINQ: A lasting staple of the Las Vegas beer pong scene, the new O'Shea's has been incorporated into LINQ's Promenade.
In addition to 50 beers on tap, and the underrated "Frozen Bailey's" cocktail, O'Shea's offers a number of beer pong tables for patrons to use.
Known for its upbeat, party atmosphere, O'Sheas attracts a pretty fun crowd.
ameriCAN in the LINQ Promenade: Also located in the LINQ Promenade, ameriCAN uniquely specializes in canned beer, but also offers beer pong tables.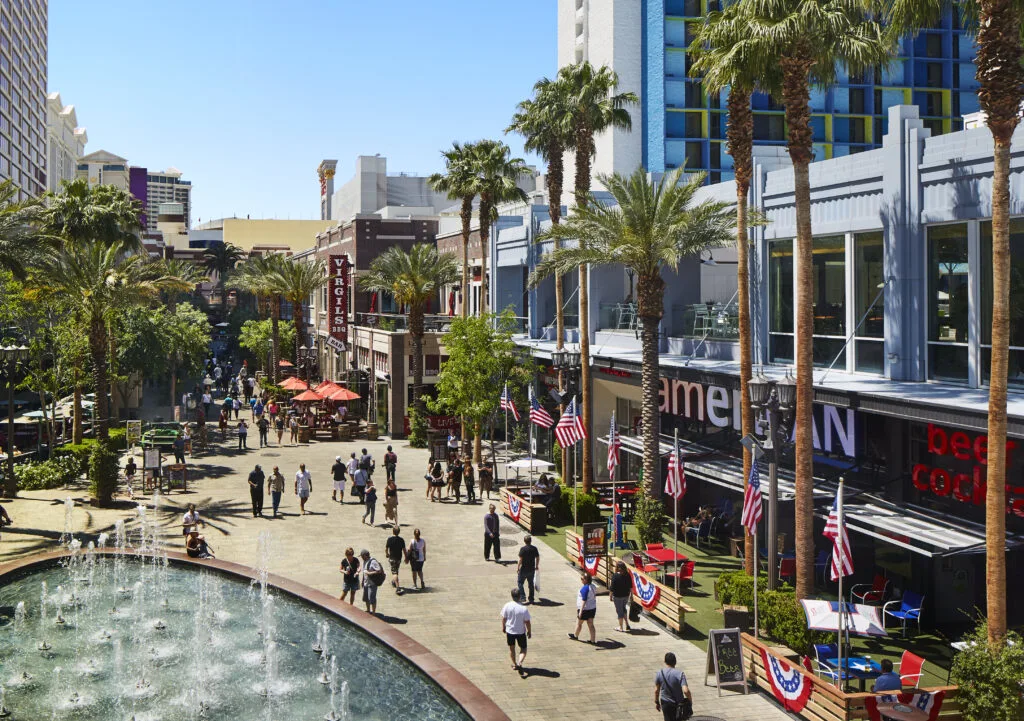 Bird Bar at Flamingo: While the bird-theming is something we don't completely understand, Bird Bar does offer a good number of beer pong tables that are commonly empty during the day at Flamingo.
Blondies at Planet Hollywood: Beer pong is offered at Blondies daily, in addition to offering a doubles tournament on Thursday nights for a $300 prize. Located in the Miracle Mile Shops at Planet Hollywood, Blondies is also home to my favorite all-you-can-drink deal for $20.
Level Up at MGM Grand: A portion of MGM Grand that is dedicated to luring younger patrons, Level Up is a sports bar that offers classic arcade games, shuffleboard, Pac Man, etc.
In addition to those classics, Level Up also offers beer pong steps away from the Strip.
Rockhouse at Venetian: Located in the intricately themed Grand Canal Shoppes, Rockhouse offers beer pong all day, every day.
Beer Park at Paris: Among our favorite rooftop bars in Las Vegas, Beer Park sits atop Paris and offers stunning views of the Fountains of Bellagio across the street. In addition to other bar games like giant Jenga and shuffleboard, Beer Park also commonly offers beer pong.
Slots-A-Fun: Look, it's not upscale, but the beer is cheap ($1 Drafts), and they also offer beer pong tables.
Red Tail at Resorts World: An "upscale casual" bar at the newest resort on the Strip, Red Tail offers a massive beer pong game that uses small garbage cans a cups. Also offered is a pop-a-shot basketball game and plenty of screens to catch the game.
Beer Pong on Fremont Street
Gold Spike: Just steps away from Fremont Street, Gold Spike's Backyard Playground offers an assortment of oversized games including beer pong that uses a dodgeball and garbage cans. A fun variation of traditional beer pong that all can enjoy.
Beer Pong in Las Vegas can be a great non-gambling activity to get the night started and rev up your competitive juices. Fortunately, there are a solid number of bars on the Strip with beer pong for you to take advantage of!
See Also: Where to find cheap drinks on the Strip & Fremont Street happy hours!
Featured Image: ©fabrikacrimea/123RF.COM
I'm a former software salesman turned Vegas aficionado. While the craps table is my preferred habitat, I pull myself away to explore new attractions, shows, restaurants, and outdoor activities around Las Vegas with the intent of sharing my experiences.
Ultimately, I just want to help folks plan a better trip and save a few bucks in the process.