While Las Vegas is known for gambling and vice, there's also a surprisingly strong culinary scene that commonly goes overlooked.
With options ranging from celebrity chef restaurants to lesser-known gems in the Las Vegas Arts District, there's truly something for every taste and budget.
For those that visit Las Vegas frequently, you know that it's easy to settle into a "routine" of sorts, visiting restaurants you've enjoyed in the past, while neglecting to explore. Fortunately, there's a remedy to get you back into discovery mode: Food tours!
Food tours in Las Vegas usually hit a number of high-quality or unique restaurants that are within walking distance of each other. Guests have the opportunity to try a new batch of dining establishments or cuisine they may not have previously considered and leave stuffed. A win-win.
Best yet, guests don't need to stress about making reservations in advance, researching options, or waiting to be seated. Nope. With these food tours, you'll be ushered right to your table.
I figured it'd be helpful to detail the best Las Vegas food tour options to aid in your decision-making process.
How was I able to determine the best food tours in Vegas? Easy.
I only included food tours that have earned a perfect 5 out of 5 stars on the popular customer review website TripAdvisor. There are a LOT of solid options in town.
Of course, I'll also link out to each tour individually so that you can easily compare your options and book.
Food Tours On The Strip
Before diving in, it's important to point out that certain food tour operators have decided to keep their restaurant itinerary a secret, and I don't intend to spoil the surprise where applicable. After all, winging it is half the fun.
Lip Smacking Foodie Tours
When it comes to food tours in Las Vegas, Lip Smacking Foodie Tours dominates the scene, offering a number of unique experiences. Each of their tours is led by a professional guide and allows you to skip the lines at some of the most popular restaurants in Vegas.
An optional $50 – $60 beverage package is offered alongside each tour which entitles guests to a signature cocktail per stop. Water will be served at each restaurant if you don't upgrade.
Lip Smacking Foodie Tours are also absurdly well-reviewed on sites like TripAdvisor, where they've earned 5/5 Stars after over 2,450 reviews. Reviewers on Google Reviews echo that sentiment, granting 4.9/5 stars.
Safe to say you can book with confidence.
Afternoon Culinary Adventures Tour: For those that want to preserve their evening for shows, gambling, or other forms of mischief, check out this 2.5-hour afternoon tour that features 4 stops on the Strip for $149. The afternoon tour is billed as being more casual, and you're encouraged to wear comfortable shoes.
Savors of The Strip Tour: Enjoy 3-4 courses at 3 of the "hottest restaurants on the Strip" over 2 hours for $199. Uniquely, one of the stops offers a dinner show experience. Upgrade your tour with an evening helicopter tour of the Strip for an additional $125.
Lip Smacking Boozy Brunch Tour: Offered on Saturday and Sunday only, this 2.5-hour tour starts at noon costs $149. Along the way, you'll hit 3 popular brunch spots including Salt & Ivey and Bardot Brasserie by Michael Mina. As the name of the tour suggests, drinks are included. This tour could be the perfect hangover remedy.
Related: Where to find Bottomless Mimosas in Las Vegas over brunch!
Ultimate Steakhouse Tour: At $999, this tour's price tag packs a punch, but for meat connoisseurs, it could certainly be worth the cash outlay. The 3 stops include Bazaar Meat at Sahara, Prime Steakhouse at Bellagio, and Mastro's Ocean Club at Crystals in front of Aria. This is an upscale experience that could make for a perfect date night or celebration dinner.
Vegas Sights Worldy Bites Tour: Featuring 3 stops and 3-4 dishes at each, the Vegas Sights Worldly Bites tour lasts 2.5-hours and costs $199. This tour also offers the option to add an evening helicopter tour of the strip for $125.
Other Notable Strip Food Tours
Las Vegas Strip Foodie Tour by Taste Buzz: Although the stops are a mystery, Taste Buzz's Strip food tour makes up to 4 stops which could include a "street cart, hole-in-the-wall, a chocolate shop, and a popular restaurant and/or cafe". At $124, Taste Buzz's food tours rank among the most affordable in Vegas.
They warn that you'll do up to 2 miles of walking, so wear appropriate shoes! Like Lip Smacking Foodit Tours, Taste Buzz is also well-reviewed by customers, earning 5/5 stars on TripAdvisor after 950+ reviews.
Best Bites on the Strip by Best Bet Tours: Explore the culinary options at Park MGM, NYNY, Cosmopolitan, and Bellagio on this 2.5-hour walking food tour. Boasting the smallest price tag on the list, you can get stuffed for $79 per person.
Las Vegas Food Tour by Secret Food Tours: A comparatively small food tour operator, Secret Food Tours still knows how to put on a show, earning 5/5 stars on TripAdvisor from over 300 customers. On the $129 tour, you'll dine at restaurants by The Cake Boss, Giada, and Gordon Ramsay. You'll also make stops for wine and dessert. In all, you'll make 5 stops over 3.5-hours.
Las Vegas Strip Foodie Walk by Vegas Valley Food Tours: While the restaurants are "hush-hush", we can tell you that this food tour will take you on an adventure through Venetian, Palazzo, and Wynn. For $159, the tour boasts a meal large enough to count as dinner + dessert.
Related: Best Steakhouses on the Las Vegas Strip – Ranked.
Downtown Las Vegas Food Tours
Downtown Lip Smacking Foodie Tour: Explore the culinary scene near the Fremont Street Experience with this 2.5-hour adventure features stops at Therapy, Carson Kitchen, 7th & Carson, and the Downtown Cocktail Room for $125 per person.
Downtown Vegas Foodie Tour by Taste Buzz: Mystery stops along the $124 Downtown Las Vegas food tour could include a trendy vegan restaurant, hole-in-the-wall, Thai street food, or a wine & charcuterie bar among others.
Vintage Vegas Downtown Foodie Tour by Vegas Valley Food Tours: A 3-hour food tour of Downtown Las Vegas, guests will have the opportunity to dine at 4 different restaurants, all while seeing the sights in between. At a cost of $115 per person, Vegas Valley Food Tours has delighted customers earning 5/5 stars on TripAdvisor after 200+ reviews.
Related: Best Steakhouses on Fremont Street – Ranked!
Las Vegas Arts District Food Tours
Arts District Lip Smacking Foodie Tour: Often overlooked by tourists, the Las Vegas Arts District is a treasure trove of unique dining opportunities. For $125, you'll receive 3-4 dishes at Esther's Kitchen, Main Street Provisions, and Jammyland. Don't sleep on the Las Vegas Arts District.
Arts District Foodie Tour by Taste Buzz: For $124, you'll have the opportunity to dine at up to 4 locations in the Las Vegas Arts District. Stops you'll make include "A taco shop, a coffee shop, a trendy restaurant, a brewery, and/or a specialty store".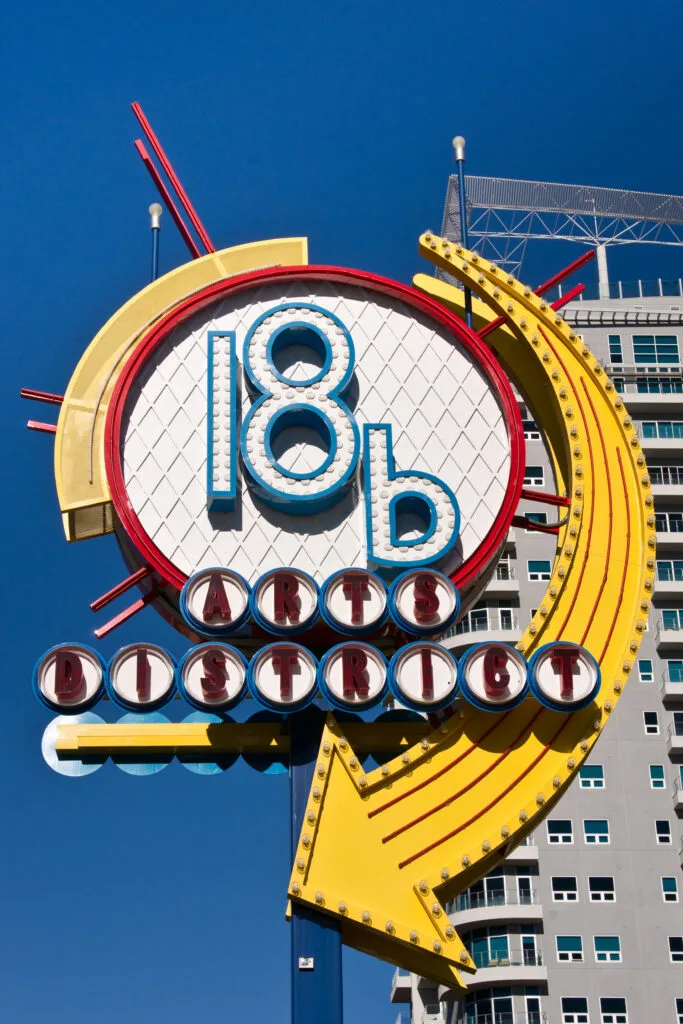 Ultimately, finding the "Best food tour in Vegas" is an easy task with so many options tied for the honor.
Whether you're hoping to dine on the Strip, Fremont Street, or in the Arts District, there's a 5-Star option waiting to accommodate your date night or group outing.
Related: Looking for a specific type of food in Vegas?
Feature Image Credit: ©meinzahn/123RF.COM
I'm a former software salesman turned Vegas aficionado. While the craps table is my preferred habitat, I pull myself away to explore new attractions, shows, restaurants, and outdoor activities around Las Vegas with the intent of sharing my experiences.
Ultimately, I just want to help folks plan a better trip and save a few bucks in the process.