Few bars in Las Vegas are more popular than Carnaval Court, which is nestled between Harrah's and Linq on the Strip.
The reasons for Carnaval Court's popularity are numerous. The outdoor bar employs flair bartenders, has blackjack tables, and serves the popular "fickle dip" drink (made famous by the Everything Las Vegas Facebook Group). For those unfamiliar, a fickle dip combines captain, amaretto, triple sec, orange juice, lime, and pineapple. It's freaking good.
Of course, the main reason people visit Carnaval Court is live music. Bands that regularly take the stage include The Droids, The Whip Its, The Spazmatics, Mr. $ Mrs. Smith, Original Chaos, and The District among others.
As a Las Vegas live music connoisseur myself, I recently checked Carnaval Court's website to gauge what bands would be playing and when and found that information to be elusive. There just isn't a published calendar of events, unfortunately.
With that in mind, I wanted to dig around in an attempt to clarify the live music schedule at Carnaval Court, including which bands will be playing, so that itineraries can be planned accordingly.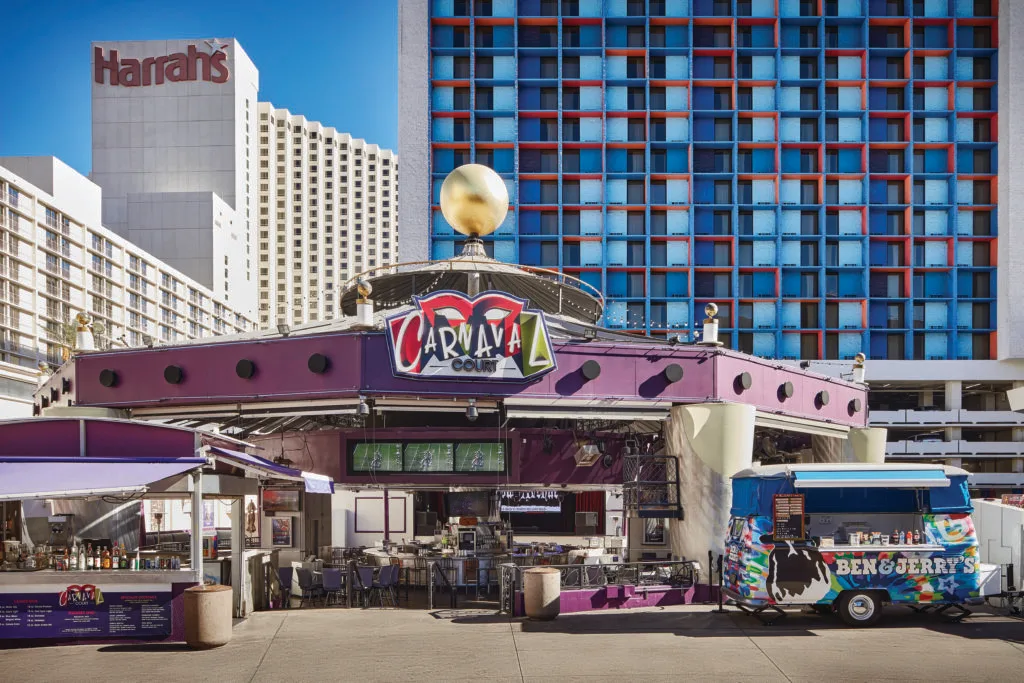 Live Music Schedule at Carnaval Court
Carnaval Court's Entertainment Times
Live music at Carnaval Court takes place daily during two main time slots:
The first live music window is from 2:30 pm – 7 pm.
The Second live music window is from 8 pm – 12:30 am.
On Thursdays, Fridays, and Saturdays, a DJ commonly takes the stage at 12:30 am. Not really my style, but to each their own.
Unfortunately, Carnaval Court doesn't do a great job of publicizing which bands will be filling the above timeslots.
Thankfully, individual bands that play there do, and publish that information on their respective websites and/or social media profiles.
Carnaval Court Band Schedules
Disclaimer: The days, times, and performers listed below likely change frequently.
Additionally, I attempt to piece together this schedule by researching the individual band's social media and web presence which are often not as up-to-date as I'd like.
I'll do my best to keep this post updated, but if a specific band is what you seek, I'd recommend calling Carnaval Court directly (contact information here) for information.
Alternatively, you can check the band's social media profile or website linked below for more information on their upcoming performances, which often include venues aside from Carnaval Court.
Here's the Carnaval Court scheduling information I was able to chase down:
The Whip Its play from 2:30 pm – 7 pm every Thursday, Friday, and Saturday.
Mr. $ Mrs. Smith play from 8 pm – 12:30 am every Thursday, Friday, and Saturday.
The Droids play from 8 pm – 12:30 am every Monday and Tuesday as well we from 2:30 pm – 7 pm on Sunday.
New Retros play from 8 pm – 12:30 am on Sunday.
Wonder Boogie play from 2:30 pm – 7 pm every Monday, Tuesday, and Wednesday.
Velvet Elvis plays from 8 pm – 12:30 am on Wednesday.
Hopefully, the breakdown of Carnaval Court's live music schedule was helpful. While I wish a more detailed, up-to-date calendar was published online, any act that takes the stage is sure to entertain – I suggest simply showing up during a live music window and rocking out to whoever takes the stage!
Have a great time, and enjoy your fickle dip (or 8).
Related: Check out our full breakdown of where to find free live music in Las Vegas up and down the Strip and Fremont Street.
I'm a former software salesman turned Vegas aficionado. While the craps table is my preferred habitat, I pull myself away to explore new attractions, shows, restaurants, and outdoor activities around Las Vegas with the intent of sharing my experiences.
Ultimately, I just want to help folks plan a better trip and save a few bucks in the process.