Visiting a cigar lounge can be the perfect activity for a bachelor party, boys' weekend, or to destress and relax after a long day of walking the Strip.
While you can smoke a cigar just about anywhere in Vegas, including the casino floor, there is something special about picking out a high-quality stick and pairing it with a cocktail.
I thought it would be helpful to run down your options both on the Strip and on Fremont Street, as they're somewhat few and far between.
On the Strip
Montecristo Cigar Bar at Caesars Palace
Armed with a walk-in humidor stocked with over 1,000 cigars, the Montecristo Cigar Bar is nestled right in the middle of the casino floor at Caesars Palace across from Caspian's Cocktail Lounge.
In addition to cigars, Montecristo offers a full drink menu that ranges from draft beer to wine, champagne, and specialty cocktails.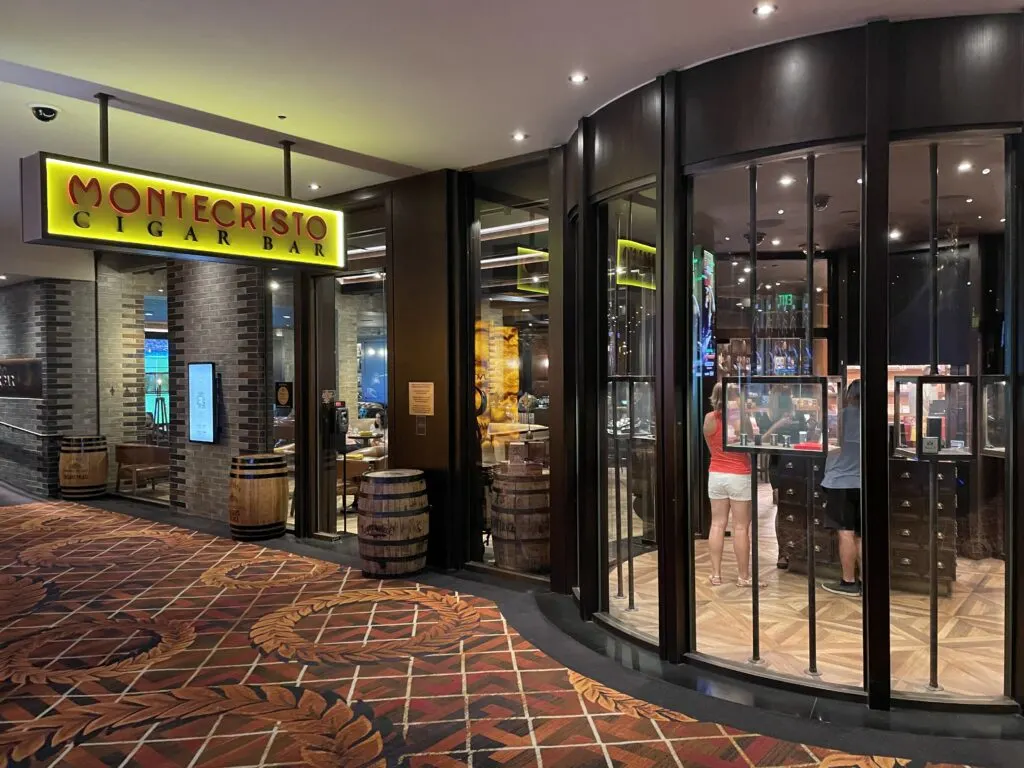 I recently stopped in with my Dad and was impressed with the assistance we received in finding the right cigar for us based on our preferences. Give their Old Fashioned a shot!

Further differentiating Montecristo from other cigar lounges in Las Vegas is bartop gaming. Few things are better than enjoying a cigar and a great cocktail while pecking away at video poker.
*Coming Soon* – Montecristo Cigar Bar at Paris
Montecristo will open a second Strip location at Paris in the Fall of 2023. Along with an expensive selection of cigars, Montecristo will offer bartop gaming and boast a "state-of-the-art ventilation and air purification system, ensuring a comfortable guest experience".
The cigar lounge will occupy the space Napoleon's lounge once called home.
Casa Fuente Cigar Bar at Caesars Palace
Also found at Caesars Palace, Casa Fuente can be found in the intricately themed Forum Shops. While they may not offer bartop gaming like Montecristo, Casa Fuente does have a walk-in humidor stocked with a wide variety of cigars.
Bring your own cigar? No problem. There isn't a fee assessed for that at Casa Fuente.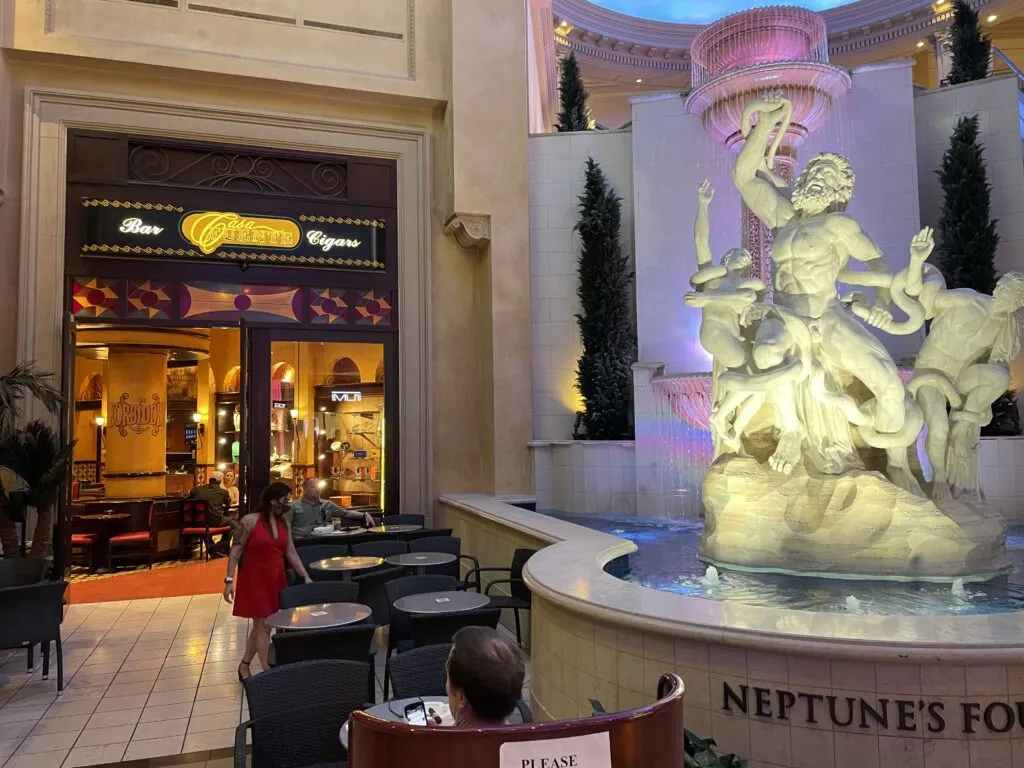 In addition to a variety of cigars, the lounge also offers an impressive cocktail menu with most items hovering in the $15 range.
On my last visit, I sat outside the actual bar along the mall and enjoyed the sound and ambiance created by the nearby fountain.
Davidoff of Geneva Cigar Bar at the Fashion Show Mall
Perched overlooking the Strip with views of surrounding resorts, Davidoff of Geneva can be found in a stand-alone structure right in front of the Fashion Show Mall.
Notably, Davidoff has seating options both indoors and outside if that's your preference. In addition to a walk-in humidor, the lounge serves a full assortment of cocktails that start at around $20, draft beer, and wine.
Davidoff of Geneva frequently offers drink deals and specials on items from their humidor.
Eight Cigar Lounge at Resorts World
Eight boasts over 150 cigars and a solid selection of cocktails. Of course, the staff is happy to help you pair a cigar with the perfect drink. Notably, Eight offers seating both indoors and out.
On Fremont Street
Chicago Brewing Company Cigar Lounge at 4 Queens
Among the options on this list, the cigar bar at Chicago Brewing is the least pretentious – A great spot to watch the game and enjoy cheap, yet good, beer and food.
Located at 4 Queens, cigar smoking is only permitted at the upstairs bar and they have a small selection of cigars available for purchase.
While not fancy compared to other options in Vegas, I'd describe the lounge at Chicago Brewing to be comfortable and unpretentious. You don't need to worry about being underdressed, etc.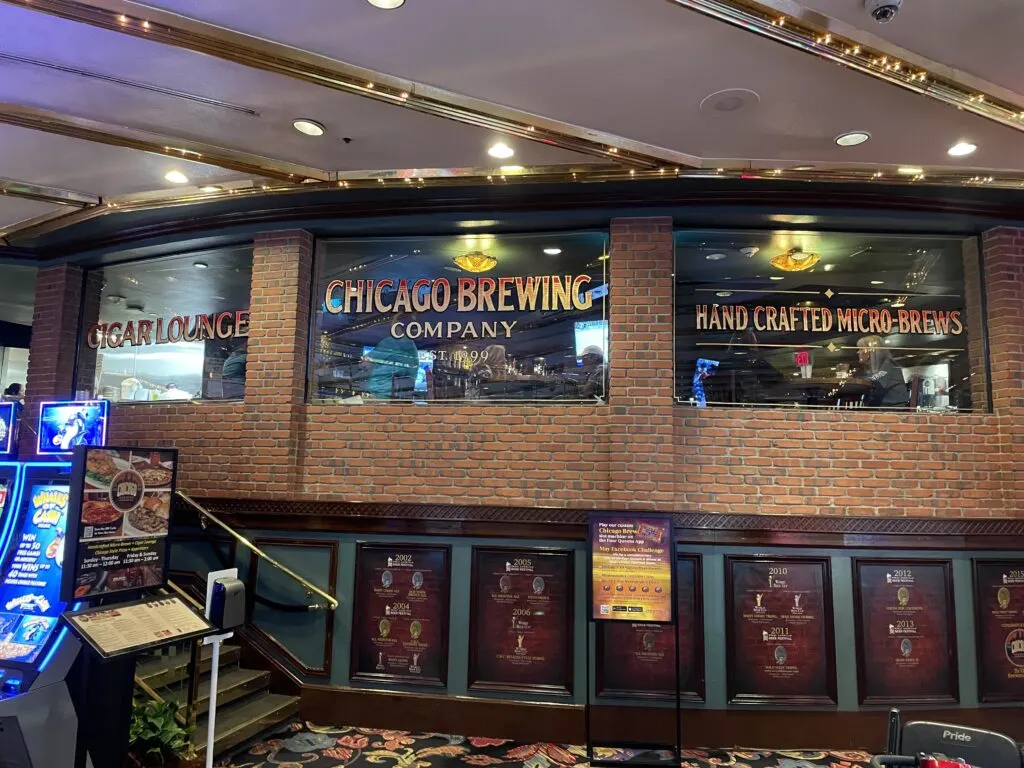 When I say cheap food, I mean it. You can score items like a 10-inch pizza, burgers, sandwiches, and more for under $20. Check out the full menu at Chicago Brewing Company here.
Hopefully, I was able to point you in the direction of a lounge that'll work for your crew. Fortunately, there are a solid number of options whether you find yourself on the Strip or Downtown.
Related: Check here for Las Vegas bachelor party ideas.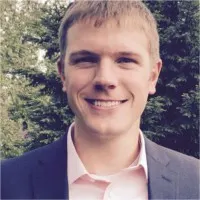 I'm a former software salesman turned Vegas aficionado. While the craps table is my preferred habitat, I pull myself away to explore new attractions, shows, restaurants, and outdoor activities around Las Vegas with the intent of sharing my experiences.
Ultimately, I just want to help folks plan a better trip and save a few bucks in the process.