Fancy clubs and bars lining the Strip tend to get all the accolades and headlines, but there is a surprisingly robust craft beer scene in Las Vegas that frequently flies under the radar. Below, I'll go over your options when it comes to craft breweries in Las Vegas on the Strip and on Fremont Street.
Note that the majority of brewery options are located in the Las Vegas Arts District which is close to Fremont Street and accessible via the free Downtown Loop shuttle. Often overlooked by traditional tourists, beer snobs will certainly want to prioritize a visit!
Related: Rooftop Bars in Las Vegas – Drink with a view!
Craft Breweries on the Strip
BrewDog: A rooftop bar perched atop the Showcase Mall on the Strip, BrewDog serves an absurd 96 beer varieties on tap.
In addition to a wide variety of beverages, BrewDog offers an extensive menu that includes burgers, tacos, wings, pizzas, seafood, and steak.
Related: See my Review of BrewDog Las Vegas!
Trustworthy Brewing: Located in the Grand Canal Shoppes at Venetian, Trustworthy brews a number of craft options that span the gambit from a pilsner to an oatmeal stout.
In addition to beer brewed on-site, Trustworthy also serves cocktails for non-beer drinkers like a Classic Margarita, a Trustworthy Manhatten, and a Texas Mule.
From a craft beer perspective, they brew 2 pilsners, 2 IPAs, an amber ale, and an oatmeal stout.
Beerhaus at NYNY: Located in The Park, Beerhaus is the perfect spot to grab a beer or two before a Golden Knights game, concert, or show. On the menu is a wide variety of beer on tap and bar fare like sausages, mac & cheese bites, wings, and loaded tots.
Pour 24 at NYNY: The tap row at Pour 24 features beer from a number of local breweries that include Bad Beat Brewing, Big Dogs Brewing, Tenaya Creek Brewing, and Crafthaus.
AmeriCAN at LINQ: Specializing in canned beer and found along the LINQ Promenade, AmeriCAN serves a selection of 90+ beers which includes options from local breweries like Tenaya Creek.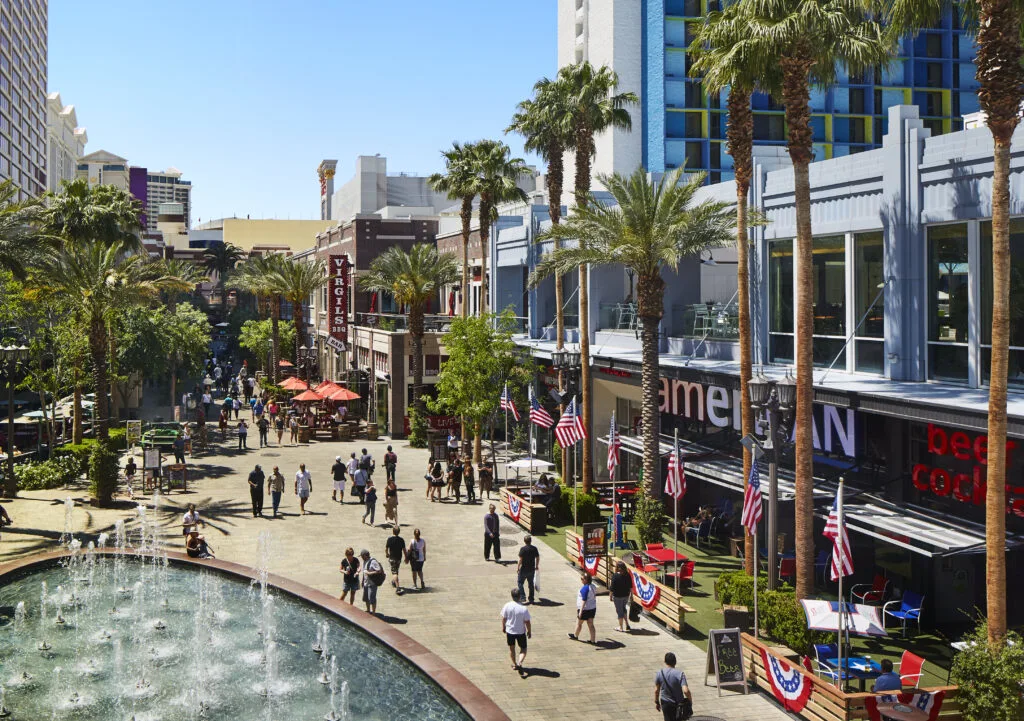 Ellis Island: While located just off the Strip, Ellis is among the best craft breweries in Las Vegas. The casino and brewery are located a short 10 – 15 minute walk behind Horseshoe.
Once there, you will have your pick of craft beer options that include a Light Beer, an Amber Ale, a Bavarian-style Weiss, a Brown Porter, and an IPA with Citra and Mosaic hops.
They also serve a Root Beer brewed on-site. While the beer is great, the low prices rank Ellis Island among the best breweries in Vegas.
Craft Breweries in the Las Vegas Arts District
Able Baker Brewing: Situated in the heart of the Las Vegas Arts District, Able Baker Brewing offers a selection of over 25 craft beers on tap meaning there is certain to be something for all tastes.
The brewery, named after the first two atom bomb explosions in Nevada also offers brewery tours and ample seating both indoors and out.
Hop Nuts Brewing: Hop Nuts serves a selection of craft-brewed beer that includes a Winter Lager, an Imperial Stout, a Golden Ale, a Red Ale, and the Harry Porter among others.
In addition to beers available year-round, Hop Nuts has a seasonal rotation that is sure to keep things fresh.
CraftHaus Brewery: With a large indoor taproom weighing in at 1,800 square feet, CraftHaus serves up 24 craft beer options in addition to a unique food menu that includes sausages and cheese boards.
There is also an outdoor seating area for those that prefer fresh air or are stopping by with a dog. Beer isn't brewed on-site, but is brewed at their other taproom nearby in Henderson.
Nevada Brew Works: There are few better ways to spend a day with nice weather than outdoors at Nevada Brew Works sipping one of their 7 craft beer options.
The selection of beer includes a Hazy IPA, an Oatmeal Stout, a fruity Pale Ale, and a NBW Hefeweizen among others.
In addition to great beer, Nevada Brew Works serves a collection of food that pairs perfectly with a cold beer. Specifically, they serve pizzas, fries, wings, burgers, and cheese curds, among other options.
HUDL Brewing Company: Another downtown Las Vegas craft brewery, another great outdoor seating area complete with games like giant Jenga and cornhole.
In addition to being a great spot to enjoy the weather, HUDL also serves up a selection of craft beer that ranges from their "Wrathful Rose" fruit beer to IPAs, Stouts, and Red Ales. See the full tap list here. HUDL also offers a collection of wines locally produced at Grape Expectations.
Beer District Brewing: Those of you that are competitive will want to note that Beer District Brewing offers trivia on Thursday nights.
They also work to have a food truck on-site on Thursday, Friday, and Saturday evenings. Most 12 oz. – 16 oz. craft beer options can be yours for $4-$5 bucks.
Craft Breweries on Fremont Street
Triple 7 Microbrewery: Found in Main Street Station, steps away from the Fremont Street Experience, Triple 7 offers 6 different micro-brews created on site. The beer is fantastic, but so are the prices, with a 23 oz draft costing a mere $5.75.
Tenya Creek Brewing: Located a short Uber ride from Fremont Street, Tenya can be found right across I-15 and could be worth the trip for beer enthusiasts.
Housed in a modern, trendy taproom, Tenya offers seating both indoors and out and pours a collection of 6 permanent brews and a rotating selection of seasonals. Among the options offered year-round is their Hefeweizen, a Pale Ale, a Lager, and their "Hop Ride" IPA.
If you're doing a brewery crawl, or just need to escape the madness of Fremont Street, give Tenya Creek Brewing a shot!
Ultimately, the Las Vegas craft beer scene is diverse, offering numerous options. For those on the hunt for craft beer, ensure you prioritize the Arts District, where there's a large number of breweries within steps from each other!
Related: Cheap drinks & happy hour deals on the Strip – Don't overpay!
I'm a former software salesman turned Vegas aficionado. While the craps table is my preferred habitat, I pull myself away to explore new attractions, shows, restaurants, and outdoor activities around Las Vegas with the intent of sharing my experiences.
Ultimately, I just want to help folks plan a better trip and save a few bucks in the process.