While the masses flock to spendy, upscale celebrity chef restaurants, people like us are looking to save a few bucks by hunting down fast food in Las Vegas.
While fast food restaurants on the Strip garner little buzz on social media, options are numerous, with more and more resorts offering food courts packed with inexpensive options.
I thought it would be helpful to publish a resort-by-resort guide to finding fast food on the Strip, so you can find a budget-friendly meal that fits both your tastes and budget.
Not surprisingly, the number of fast food restaurant options at a casino & hotel directly correlates to whether or not that resort is recognized as a "value" option itself.
For our purposes here, I'll stick to pointing out popular fast food chains, but know that there are also cheap sit-down restaurants on the Strip ($15 or under).
Related: Where to find Pastries on the Strip – Another inexpensive breakfast option!
Fast Food Restaurants on the Strip
Fast Food at Mandalay Bay
Mandalay Bay's Food Court is jam-packed with fast food options including:
Subway
Nathan's Famous Hotdogs
Johnny Rockets
Bonanno's New York Pizzaria
Pan Asian Express
Notably, a Mcdonald's is located across the street from Mandalay Bay as well.
Another fast, inexpensive option at Mandalay Bay is Slice of Vegas, which is found in the hallway that connects Mandalay Bay to Luxor. It isn't a national chain, but it's quick and the price is right.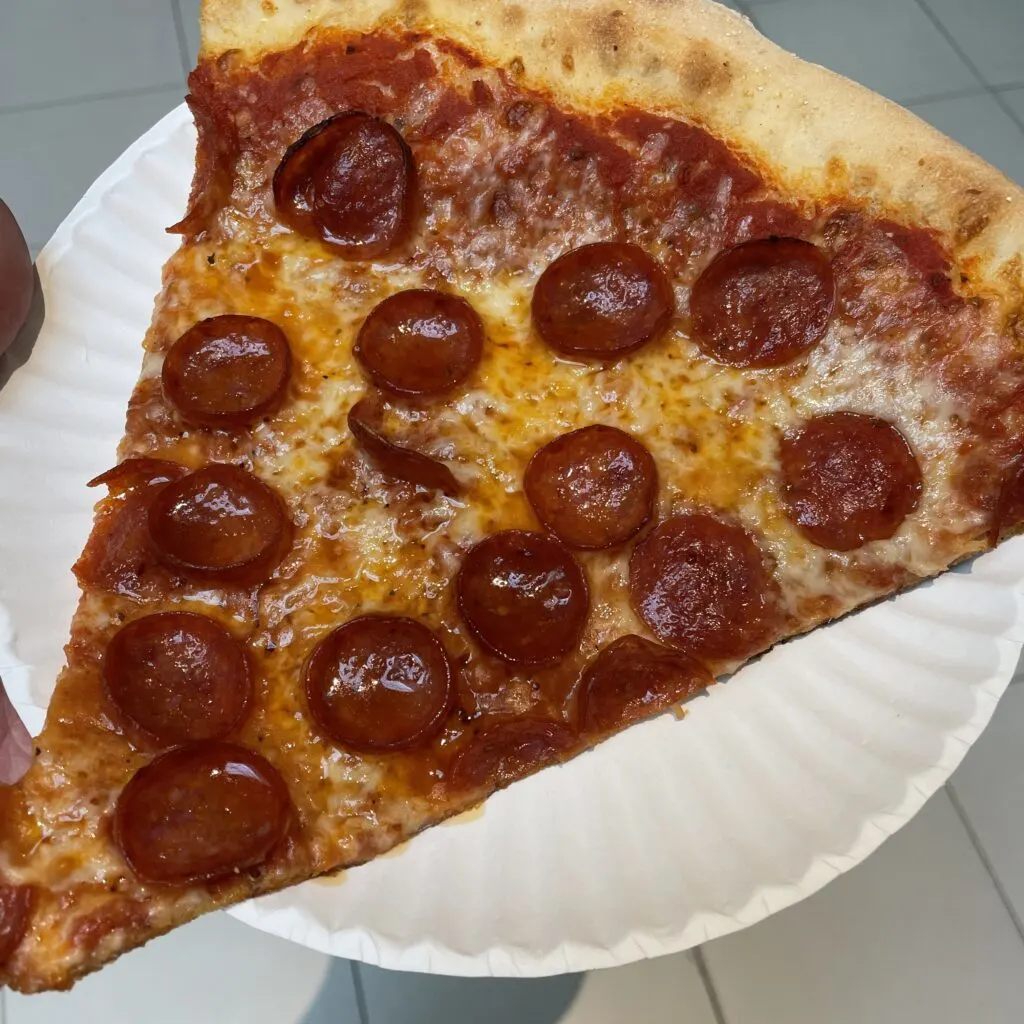 Fast Food at Luxor
Luxor has a food court with fast food options that include:
Johnny Rocket's
Bonanno's New York Pizzaria
Starbucks
LA Subs
Original Chicken Tender
Fast Food at Excalibur
Offering one of the more impressive assortments of fast food options on the Strip, Excalibur's food court has:
Auntie Anne's Pretzels
Big Chill
Breakfast & Burgers
Cinnabon
Einstein Bros. Bagels
Hot Dog on a Stick
Krispy Kreme Doughnuts
Pick Up Sticks Asian
Pizza Hut
Popeyes Chicken
Schlotzky's Sandwiches
Starbucks
Fast Food at New York New York
While lacking an expansive food court, New York New York does still offer a few notable fast food options including:
Nathan's Famous Hotdogs
Shake Shack
Sirrico's Pizza by the Slice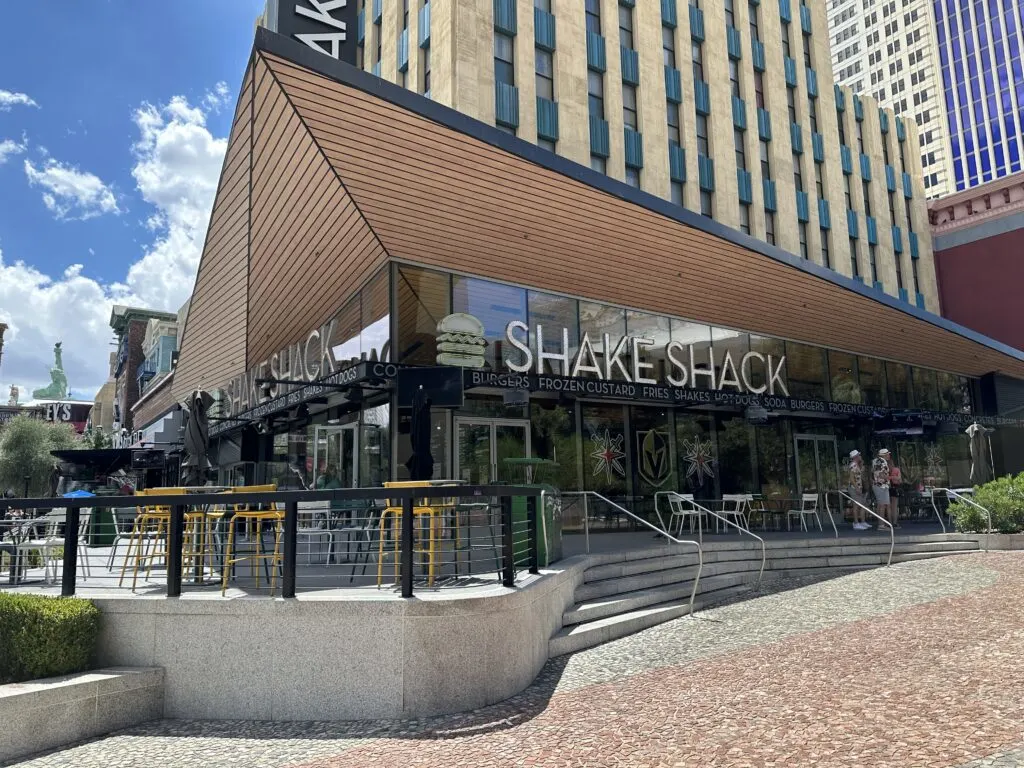 Fast Food at Tropicana
Fast food options at Tropicana are limited to:
Fast Food at MGM Grand
MGM Grand boasts a food court with numerous fast food options that include:
Pan Asian Express
Bonanno's New York Pizzaria
Haagen-Dazs
Nathan's Famous Hotdogs
Tacos & Ritas
Johnny Rocket's
Original Chicken Tender
Stand-alone fast food restaurants outside of MGM's food court include:
Subway
Starbucks
Blizz Frozen Yogurt
Fatburger is located just north of MGM Grand on the Strip in a strip mall.
Harmon Corner
A mall located across the street from Aria and just south of Planet Hollywood, Harmon Corner boasts a small collection of fast food offerings that include:
Popeyes Chicken
Subway
McDonald's
Panda Express
Taco Bell Cantina – 2 stories and serves booze!
Fast Food at Cosmopolitan
While no national chains call Cosmopolitan home, there are some notable quick-serve restaurants that offer budget-friendly fare.
Eggslut – Cheap breakfast sandwiches.
Starbucks
Cosmopolitan's Block 16 Urban Food Hall – While not as cheap as other fast food courts on this list, the upscale food court offers burgers, fried chicken, sandwiches, and Asian-inspired dishes.
Fast Food at Bellagio
With a focus on upscale dining options, fast food outlets at Bellagio are limited to:
Starbucks
Snacks – Serving a selection of quick-serve pizza, burgers, wings, etc.
Fast Food at Planet Hollywood
Planet Hollywood, and their Miracle Mile Shops specifically, are a bastion of value and budget-friendly options. If fast food on the Strip is what you seek, it's tough to go wrong at Planet Hollywood.
Here are your options within PH:
Earl of Sandwich
Pin-Up Pizza
Starbucks
Fast food options in the Miracle Mile Shops, which wrap around Planet Hollywood's casino and Bakkt Theater include:
Chipoltle
Auntie Anne's Pretzels
Earl of Sandwich
Ben & Jerry's
Lobster Me
Ketchup Burger Bar
Panda Express
Sbarro
Subway
Wetzel's Pretzels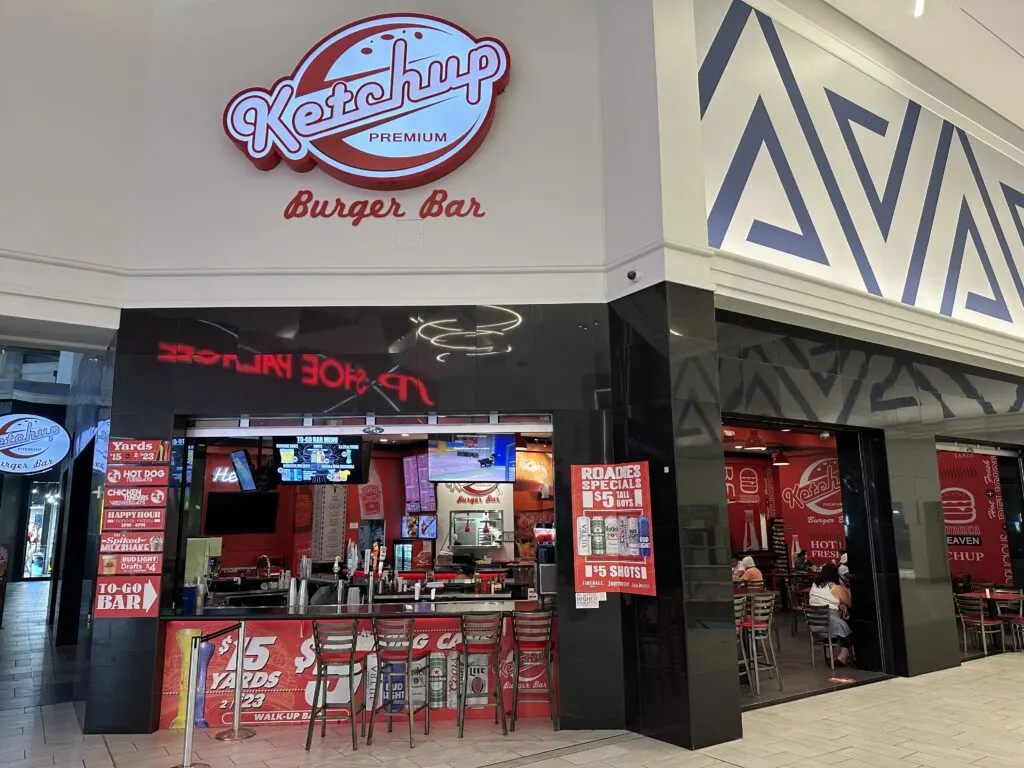 Fast Food at Horseshoe
A food court within Horseshoe offers a number of fast food options right in the middle of the strip including:
Nathan's Famous Hotdogs
Pan Asian Express
Sbarro
Subway
Johnny Rockets
Although the colorful Grand Bazaar Shops in front of Horseshoe are relatively unexciting by Vegas standards, there are a number of fast food options for those looking save:
Wahlburgers
Subway
Ben & Jerry's
Pisa Pizza
Istanbul Mediterranean (gyros!)
Dave's Hot Chicken
Fast Food at Flamingo
Flamingo, located mid-Strip, offers a food court with outlets that include:
Bonanno's New York Pizzaria
Johnny Rockets
Pan Asian Express
LA Subs and Salads
In addition to the food court, they also have a Nook Express that specializes in budget-friendly, quick, grab-and-go meals.
Fast Food at Caesars Palace
Although Caesars is an upscale resort, they offer an impressive amount of fast food options in their Forum Food Court. Fast food restaurants include:
Difara Pizza
Taco
The Halal Guys (my favorite gyro bowls)
Earl of Sandwich
Bobby's Burgers (by Bobby Flay)
Starbucks
Crepes and More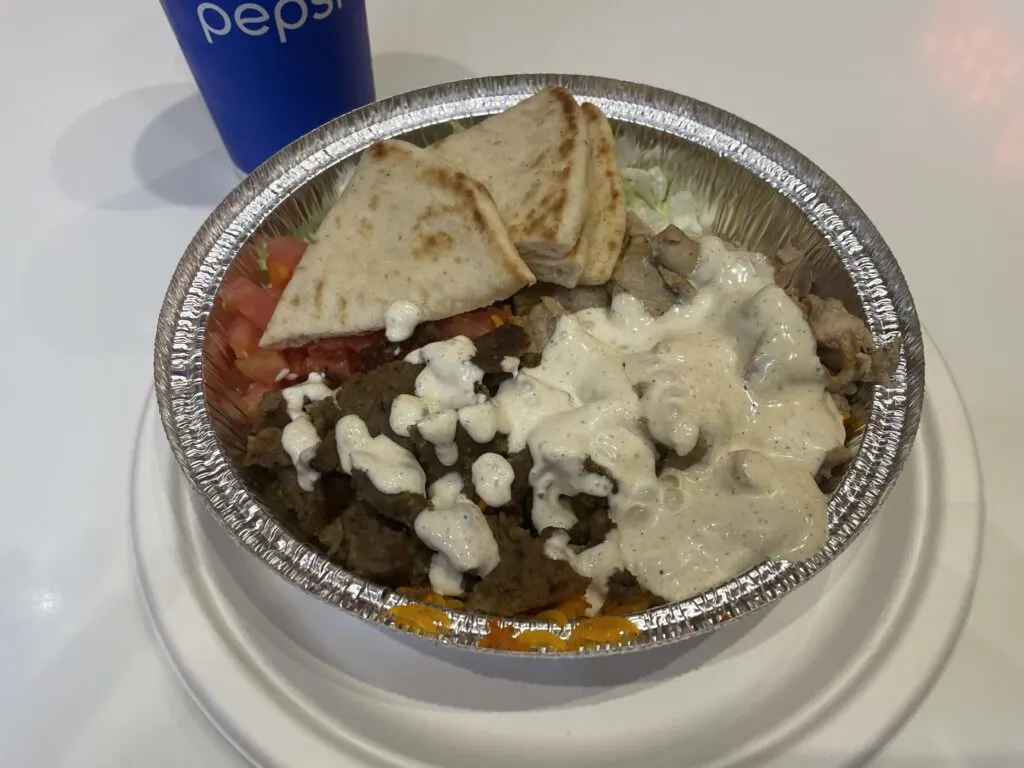 Fast Food at LINQ + Experience
LINQ, and the LINQ Promenade are home to a number of popular fast food options that includes:
In & Out Burger
Starbucks
Nook Express (grab & go restaurant)
Haute Doggery (gourmet hot dogs)
Dunkin' Donuts
Fast Food at Harrah's
Housed within Harrah's Fulton Street Food Hall are a number of fast food options that lack brand recognition but include:
Pizza
Sandwiches
Coffee
Sushi/Noodles
Bobby's Burgers (By Bobby Flay)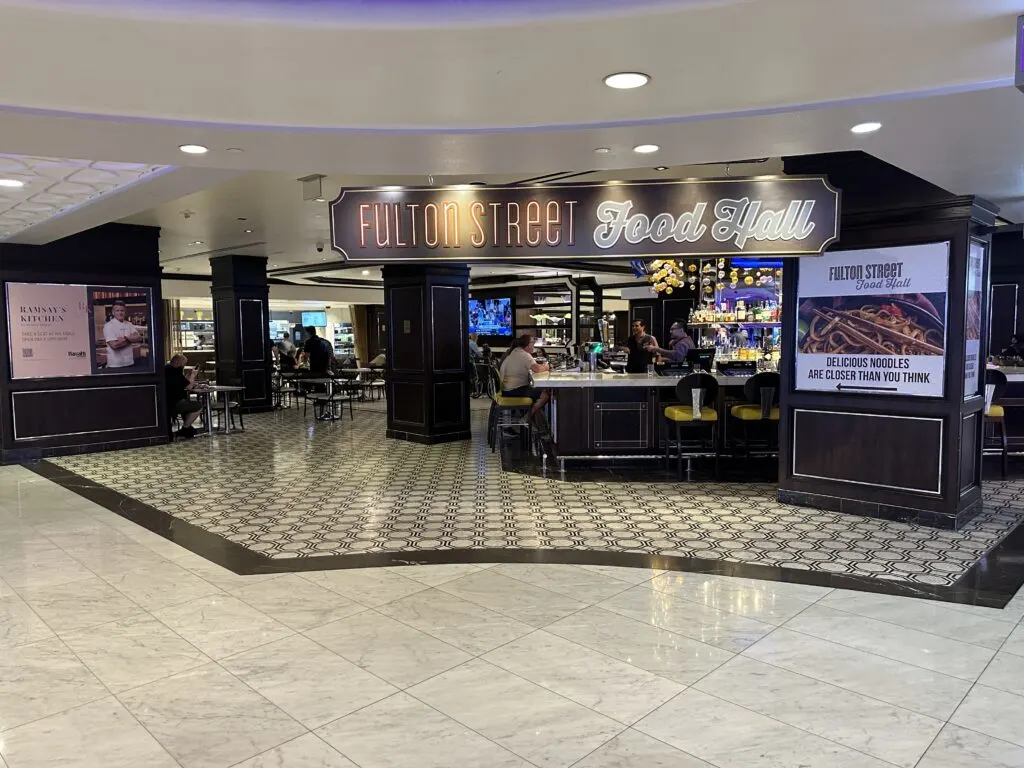 Outside of the food hall, stand-alone options at Harrah's include:
Pizza Cake (pizza by the slice)
Starbucks
Ben & Jerry's
Found between Harrah's and Casino Royale is a small building that houses:
McDonald's
Chipotle
Panda Express
Pizza by the Slice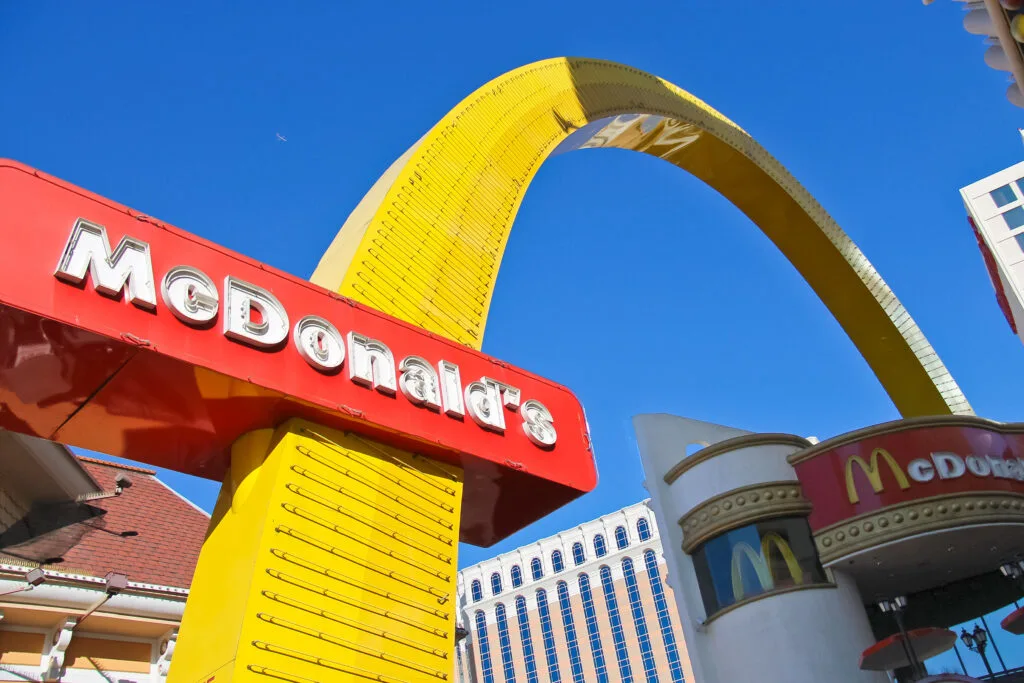 Fast Food at Casino Royale
Known for cheap gambling, cheap drinks, and inexpensive eats, Casino Royale offers a number of fast food restaurants that include:
White Castle
Subway
Pizza Hut
Footlong Hot Dogs ($3.49 dogs!)
Fast Food at The Mirage
Fast food options are limited at The Mirage, but include:
Snacks (quick-serve sandwiches and burgers).
Starbucks
Blizz Frozen Yogurt
Fast Food at TI
Fast food eateries and "quick bite" options at TI are limited to:
Pick Up Sticks Asian
Popeyes Chicken
Starbucks
Malena's Yogurt
Fast Food at The Venetian
Although recognized as an upscale property, Venetian offers an impressive amount of fast food options on the north end of the Las Vegas Strip, many of which are found in their stunning Grand Canal Shoppes.
Johnny Rockets
Lobster Me
Panda Express
Bonanno's New York Pizzaria
Tacos & Ritas
Chipotle
Subway
PrimeBurger
Starbucks
Fast Food at Resorts World
While there aren't any traditional "big name" fast food joints at Resorts World, their Famous Foods Street Eats food hall offers nearly 20 different quick-serve restaurants that span the culinary spectrum. Although not the least expensive, most offer a high-quality quick meal for $15 – $20.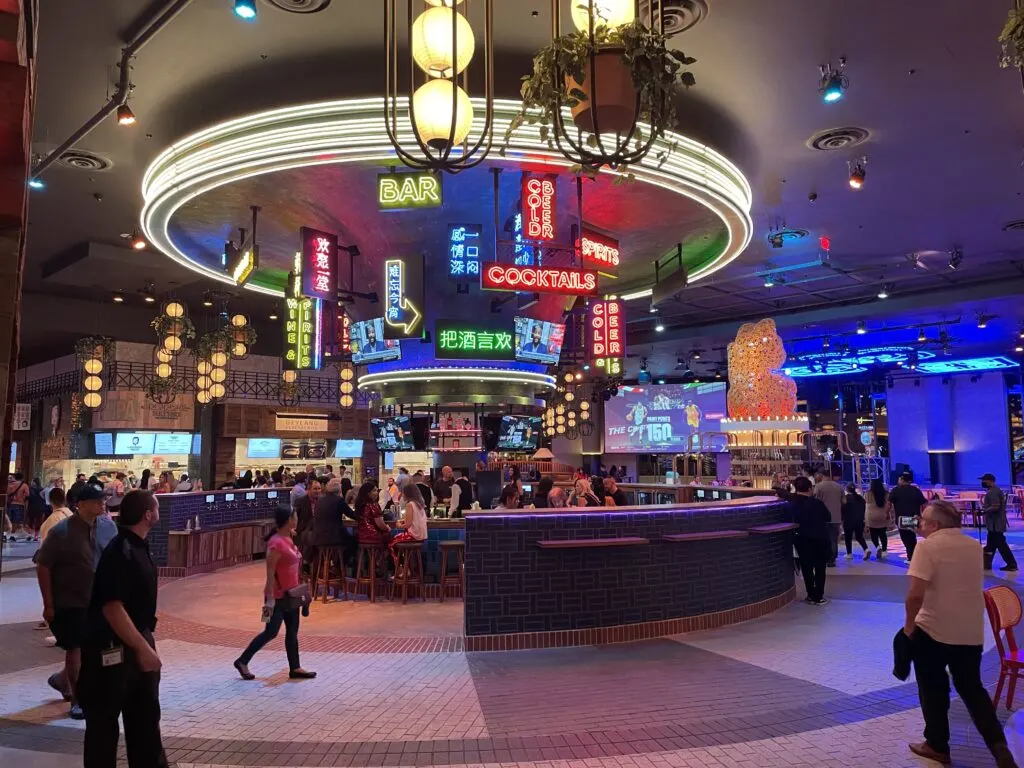 Fast Food at Aria
As was the case with Resorts World, Aria isn't home to any national fast food chains (aside from Sbux), however, they do have a food hall with cheaper options called Proper Eats. There, you'll find options like pizza, burgers, egg sandwiches, and even Korean street food.
Tacos El Gordo is located across the street from Resorts World and could be described as "fast food" also as food is prepared immediately as you order it. I put "fast food" in quotes because there's typically a significant line to place an order. In my opinion, it's worth the wait.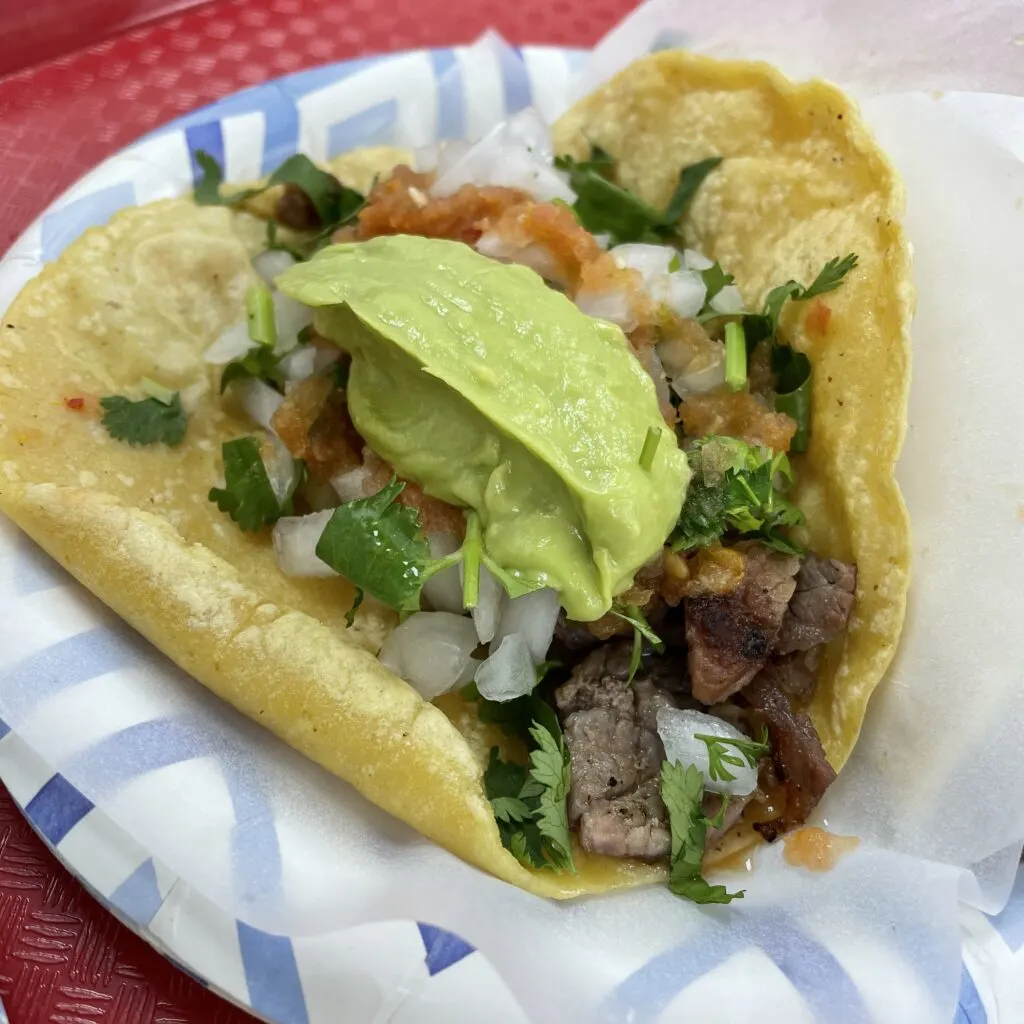 Fast Food at Circus Circus
The kid-friendly resort offers fast food options that include:
McDonald's
Starbucks
Krispy Kreme
Auntie Anne's Pretzels
Popeye's Chicken
Pick Up Stix Asian
Einstein Brother's Bagels
Dairy Queen (with grilled food options)
Related: Circus Circus is also home to one of the Cheapest Buffets in Las Vegas.
Fast Food at STRAT
While STRAT is celebrated for their elevated dining options in their SkyPod like Top of the World, they do have some quick and fast food options at ground level of note:
McDonald's
Nunzio's Pizzaria
Starbucks
That wraps it up! Fortunately for value seekers, there's an abundance of fast food restaurants on the Strip to choose from, with almost every resort offering something.
If you're in the vicinity of either Cosmopolitan or Resorts World, I'd recommend upgrading your fast food experience and leveling up to the higher-end quick offerings that each offers in their food halls.
At Caesars Palace, it's tough to go wrong with a gyro bowl at The Halal Guys, which offers plenty of food, and spice if that's your preference.
See Also: Cheap eats on Fremont Street and Cheap eats on the Strip (which includes inexpensive sit-down restaurants).
Photo Credit: ©nicknick/123RF.COM
I'm a former software salesman turned Vegas aficionado. While the craps table is my preferred habitat, I pull myself away to explore new attractions, shows, restaurants, and outdoor activities around Las Vegas with the intent of sharing my experiences.
Ultimately, I just want to help folks plan a better trip and save a few bucks in the process.