Hotels in Las Vegas typically come well-appointed, but there are some suggestions and hacks you should consider to ensure a better stay. Below, are some hotel room hacks to employ while in Las Vegas!
Las Vegas Hacks and Hotel Room Tips
Remember your room number: Las Vegas resorts commonly have thousands of rooms. We know you're excited, but don't store your luggage and scamper down to the casino floor without first snapping a cell phone picture of your room number to reference later. Drunk you will thank sober you for doing it.
Get upgraded: Although the $20 trick, or slipping a $20 bill over to the front desk employee while asking if any upgrades are available is common, we suggest going another route.
Instead of immediately forfeiting your money, hold the $20 bill back but ensure it's visible when asking for a complimentary upgrade. If they're able to pull it off, slide the bill across the counter as a token of your appreciation.
Need coffee?: Very few Las Vegas hotel rooms have a coffee pot, and given the size of the resorts, a Starbucks or similar coffee shop can be a good distance away.
We recommend you pack Starbucks Via, an instant coffee that doesn't suck. If you like it hot, pack a travel electric kettle like these.
Another option would be to stop at a Target/Wal-Mart to pick up a $10-$15 coffee pot to use during their trip and discard it afterward.
Stock your room with the essentials: While many detest the numerous CVS, Walgreens, and Target stores on the Las Vegas Strip, they do provide a great opportunity to stock your room upon arrival with snacks, booze, and smokes depending on the vices you prefer.
You could also order essentials from a service like Amazon Fresh, although you'll have to meet them in the lobby or rideshare area.
Humidify the dry air: For those that struggle with the dry desert air, bring along a travel humidifier. Just drop it in a glass of water and enjoy a humidified hotel room!
An alternative to this hotel room hack would be to place a damp towel over the room's A/C blower.
Noise cancelation: Especially if you're staying downtown, the most important hotel room hack is going to be canceling out the street noise which, depending on your room location, can range from deafening to a low roar.
While earplugs are commonly provided, they rarely completely solve the issue. We recommend a set of noise-canceling headphones to wear over them if a light sleeper. While Fremont Street hotel rooms are more notorious for their noise, all rooms in Vegas have the potential to be near an elevator, near noisy neighbors, or slamming doors. Plan ahead.
White noise machines, Alexa devices, or even white noise phone applications can solve the issue too.
Related: Las Vegas packing list items that commonly go overlooked.
Eliminate wrinkles: I recently learned the hard way that not all Las Vegas hotel rooms come equipped with an iron when in town for a convention. Fortunately, I thought to run the hot water in the bathroom and get things nice and steamy which eliminated most of the wrinkles from my shirt.
I still looked like garbage, but it could have been worse.
No cooler? No Problem: Close the drain on your bathroom sink, fill it with ice, and plop your drinks in there to keep them cold.
You could also use a trash can… but ensure you use a fresh plastic liner as there are some disgusting things that make their way into Las Vegas hotel room garbage cans.
Prop that toothbrush up: You don't want your toothbrush, that you put in your mouth, touching the counter of a Las Vegas bathroom counter. Instead, poke a hole in the bottom of a plastic cup, turn it upside down, and voila, you have a toothbrush holder.
You could also simply lay a cup on its side and lay your toothbrush in it. Good enough.
Leverage your streaming services: You won't be able to access your Netflix, Hulu, etc. account via your Las Vegas hotel TV directly, but if you bring along a cheap Chromecast device, you will be able to.
This is the perfect solution for someone that has a show they want to continue binging after a long day on the convention floor.
Clean that remote: Pandemic times have taught us that commonly touched surfaces are disgusting and TV remotes are commonly touched. Either tie a plastic bag around it to shield yourself from microbes or lather up your hands in a healthy amount of hand sanitizer and wipe that bad boy down thoroughly.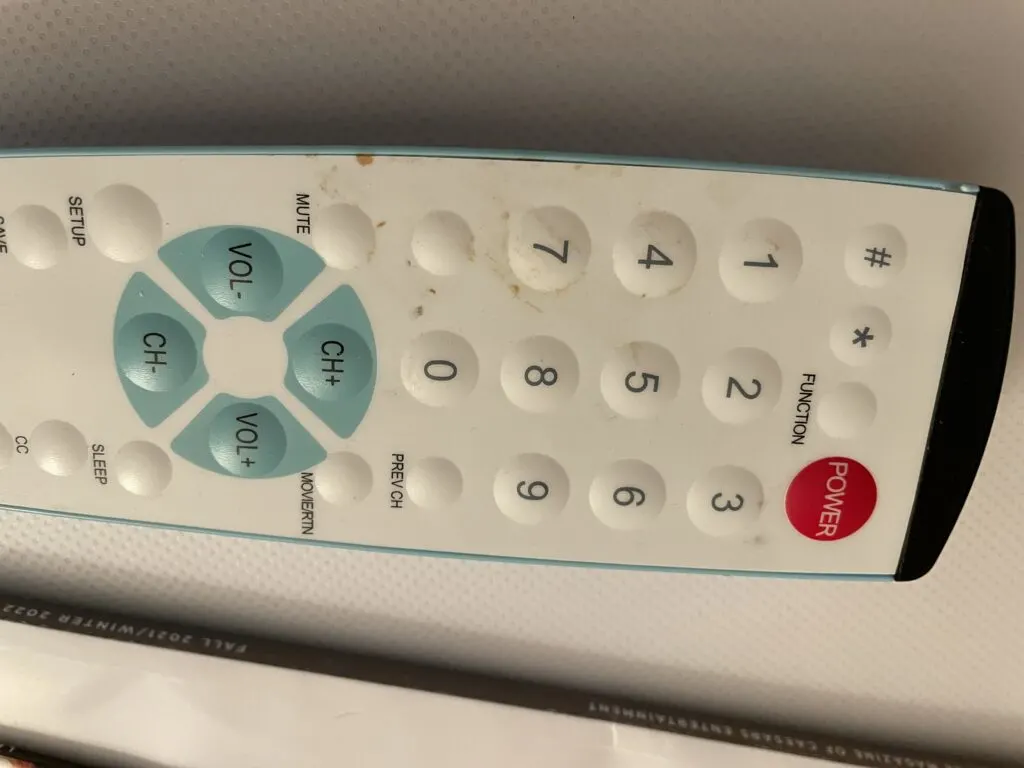 Block the lights: Many travelers are driven insane by the light that sneaks through the crack in the hotel room drapes. Snag the pants hanger equipped with clothespins from the closet and use the clothespins to hold the crack shut permanently.
Charge your phone: Did you forget the wall adapter for your USB charge cord? Take a peek at the backside of the TV in your room, there is likely a USB port to plug into. Worst case scenario, many slot machines now have wireless charging capabilities or USB charge ports built-in. Get your gamble on while your phone re-fuels.
Control the aroma: Especially at mid and lower-tier hotels in Las Vegas, the smell of cigarette smoke, or just general "grossness" is present. Next time you get to the airport to depart for Vegas, snag the air freshener out of your car, or buy a few extra cheap ones to place in front of your hotel vent. Problem solved.
Ensure your clothes don't stink: Avoid the mustiness of clothes smelling like the suitcase they just traveled in by adding a dryer sheet or two to your luggage. Those sheets can also be used to give your room a fresh scent. Just wedge it in the room's air vent.
Although many won't be needed, we hope you found a hotel room hack or two that you didn't previously consider employing in Las Vegas. Have a great trip!
Related: Rookie mistakes to avoid in Las Vegas.
I'm a former software salesman turned Vegas aficionado. While the craps table is my preferred habitat, I pull myself away to explore new attractions, shows, restaurants, and outdoor activities around Las Vegas with the intent of sharing my experiences.
Ultimately, I just want to help folks plan a better trip and save a few bucks in the process.