Are you looking for a laugh in Las Vegas? Few options are as unique, mind-boggling, and hilarious as ones that incorporate hypnosis.
I think we can all agree that few things are more enjoyable than random people making a fool of themselves on stage (I'm looking at you too, karaoke bars).
While other articles detailing Las Vegas hypnosis shows are longer, they tend to include shows that don't actually incorporate hypnosis at all. My intent is to create a rundown of options that's more concise and accurate than others you'll find out there on the web.
For each hypnosis show, I'll be sure to link out to a few ticketing options so that you can easily shop around and find the best deal.
Hypnosis Shows on the Strip
Shows that incorporate hypnosis on the Strip are few and far between following the closure of a couple of popular options at Planet Hollywood and Paris.
I remain hopeful that this particular show genre will make a triumphant resurgence in the near future.
Paranormal Mind Reading at Horseshoe
While I don't personally know what the FISM European Championship of Magic is, I do know that Frederic Da Silva of Paranormal Mind Reading won it in 2011. In addition to that, he was a participant in "France's Got Talent". He now calls Horseshoe home and combines mentalism, magic, and hypnosis into a thrilling show that has left audiences stunned.
Don't take my word for it though, Paranormal Mind Reading has earned a whopping 5/5 stars on TripAdvisor after 2,950+ customer reviews.
While not a pure "hypnosis show" per se, this is as close as you're going to get on the Strip as other popular options ( detailed below) are currently dark.
Tickets start at around $30 and can be priced out at:
Marc Savard Comedy Hypnosis – CURRENTLY DARK
Marc Savard has been a fixture of the hypnosis scene on the Strip for some time, calling the Miracle Mile Shops at Planet Hollywood Home.
Unfortunately, the performer put his show "on pause" during the Nevada mask mandate. The decision to pause wasn't a political one or a protest, he simply needs to be able to see facial expressions to perform.
While the mask mandate has ended, Marc Savard Comedy Hypnosis has yet to return. Hopefully, we'll see it back on the calendar soon!
Anthony Cools Experience – CURRENTLY DARK
Although Anthony Cools' hypnosis show at Paris was extremely popular, Caesars Entertainment cut the production from its lineup in 2021. I remain hopeful that Anthony Cools' show will find a new home as it's good.
Hypnosis Shows on Fremont Street
Hypnosis Unleashed at 4 Queens
Kevin Lepine hosts this gut-busting hypnosis/comedic mashup in the heart of the Fremont Street Experience. Inviting audience participation, no 2 shows are the same. Whether you're brave enough to be hypnotized yourself, or just prefer to watch others make a mockery of themselves, put this one atop your list.
If you're looking for a pure hypnosis show in Las Vegas that incorporates members of the audience, this is your only option currently.
Earning 4.5/5 stars on TripAdvisor after 780+ customer reviews, audiences agree – Hypnosis Unleashed is a winner.
An affordable option, tickets start at around $30 and can be priced out here: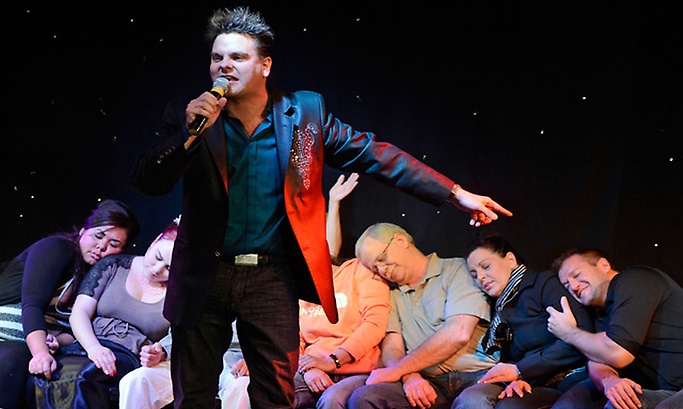 While options are currently pretty sparse, Hypnosis shows in Vegas are still available if you're willing to look. Hopefully, my brief rundown has helped you identify an option that works for you and your group!
Explore other Las Vegas shows by genre:
Featured Image Credit: ©ismagilov/123RF
I'm a former software salesman turned Vegas aficionado. While the craps table is my preferred habitat, I pull myself away to explore new attractions, shows, restaurants, and outdoor activities around Las Vegas with the intent of sharing my experiences.
Ultimately, I just want to help folks plan a better trip and save a few bucks in the process.