Although every resort has adult-only attractions like nightclubs, bars, and gaming, there are a few specific resorts on the Strip that go out of their way to cater to families.
See Also: 91+ Free Things To Do in Las Vegas.
With its medieval castle-theming, Fun Dungeon arcade, and 4D Experience, Excalibur certainly qualifies as a family-friendly resort from an amenity standpoint.
Additionally, Excalibur sits next door to New York New York which also offers an arcade in addition to a thrilling rooftop rollercoaster.
Across the street, MGM Grand boasts a virtual reality video game experience, as well as Topgolf, a social driving range that'll get the kids' competitive juices flowing.
In addition to being a kid-friendly resort, Excalibur ranks as one of the cheapest resorts on the Strip.
Price out your stay at Excalibur, here.
Just south of Excalibur, and connected by both tram and enclosed walkway, Luxor offers three unique kid-friendly museum attractions.
Luxor's Titanic Artifact Exhibition will give your kids the chance to learn the story of a passenger aboard the ill-fated vessel while viewing hundreds of artifacts recovered from the bottom of the Atlantic Ocean.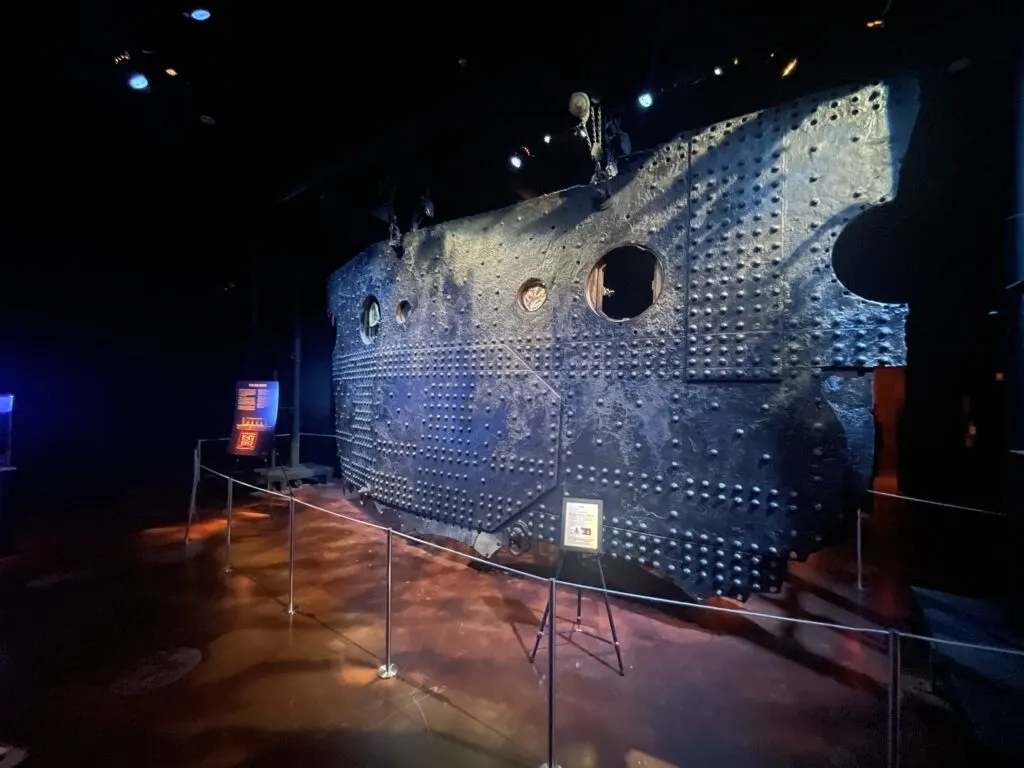 Located on the north end of the Strip, Circus Circus is a ways off the beaten path. The resort, however, is among the most kid-friendly in Las Vegas due to amenities that cater to a younger generation.
Unlike most pools in Vegas, Circus Circus' Splash Zone caters to kids with multiple waterslides and a splash pad.
Check rates at Circus Circus, here.
Related: Do your kids love nature? Check out these popular outdoor activities near Las Vegas -There are an impressive number of opportunities to hike, explore the desert, and enjoy watersports nearby!
The mega-resort earns an honorable mention as a Kid-Friendly resort due in part to its close proximity to NYNY and its rollercoaster, Excalibur, and Luxor.
Mandalay is also positioned on the South end of the Strip within walking distance of Luxor, Excalibur, NYNY, and MGM Grand which all offer family-friendly activities.
Due to the resort's location away from the action, you encounter a lot less "crazy" on the sidewalks around the resort. It's certainly quieter than being mid-strip.
Price out your stay at Mandalay Bay, here.
While ride tickets can be purchased individually, an all-you-can ride pass is available for just north of $40.
Although there are few other kid-friendly activities at STRAT, Circus Circus, and its family-friendly attractions are a short ride away.
Your dates can be priced out with STRAT, here.
While Las Vegas has not always been viewed as family-friendly, the number of entertainment options outside of gambling has grown significantly over the years. There's now a very long list of things to do with kids in Vegas, making it a family and kid-friendly destination if that is the type of trip you desire.
Hopefully, my rundown of family-friendly hotels on the Strip was helpful in helping you find accommodations!
See Also: Kid-Friendly shows in Las Vegas – Here are your options!