If you're anything like the countless bridal parties that have previously come through Las Vegas, your bachelorette party itinerary will include plenty of cocktails, clubs, pool time, and gambling.
My intent, however, is to provide some ideas that are commonly overlooked to help you fill out the remaining slots on the ole' calendar.
As you'll see, there's more to Sin City than "sin"!
Related: Things to do in a Group while in Las Vegas!
Las Vegas Bachelorette Party Ideas
Book the right room
Now, a typical room (or a few of them) should do the trick, but there are a few unique room types that may be more memorable.
First, there are a number of Las Vegas hotels that offer 2 & 3-bedroom suites, making it possible to get the whole group under one roof.
There are also a small number of rooms & suites equipped with bunk beds, and even poolside rooms like LINQ's Poolside Cabana Room, which is pictured below and comes with its own outdoor patio that opens up to the pool.
See Also: LINQ Bunk Bed Room Review.
Helicopter Tour of the Strip
Maverick Helicopters will provide your group with stunning aerial views of the Las Vegas Strip as part of their flyover tour packages. Pricing starts at around $115 per person and one helicopter can fit up to 7 guests.
Hoover Dam and Grand Canyon tours are also available from Las Vegas.
View packages and book in advance with Maverick Helicopters here.
Related: See my Maverick Helicopter Tour Review!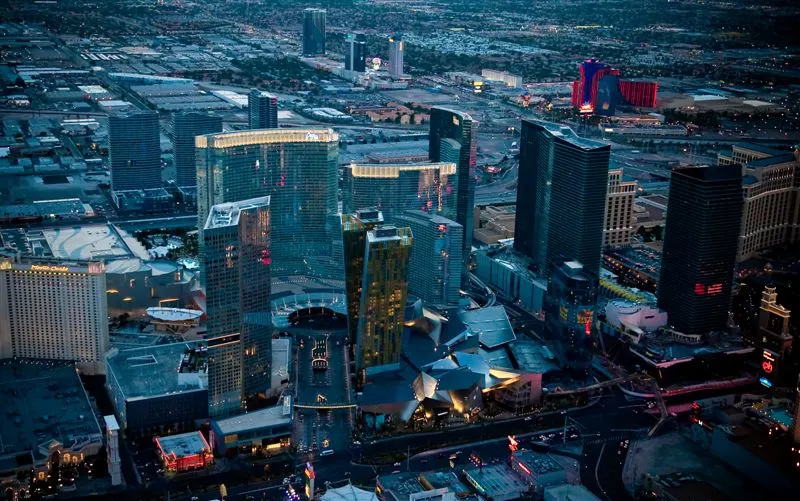 See a show featuring scantily clad males
Is a strip club a bit too over the top for the crew? Look into a slightly less racy male revue.
Popular options include the Australian "Thunder Down Under", "Magic Mike Live" and of course, "Chippendales".
To aid you in your quest for skin, I compiled a list of male revue shows in Las Vegas.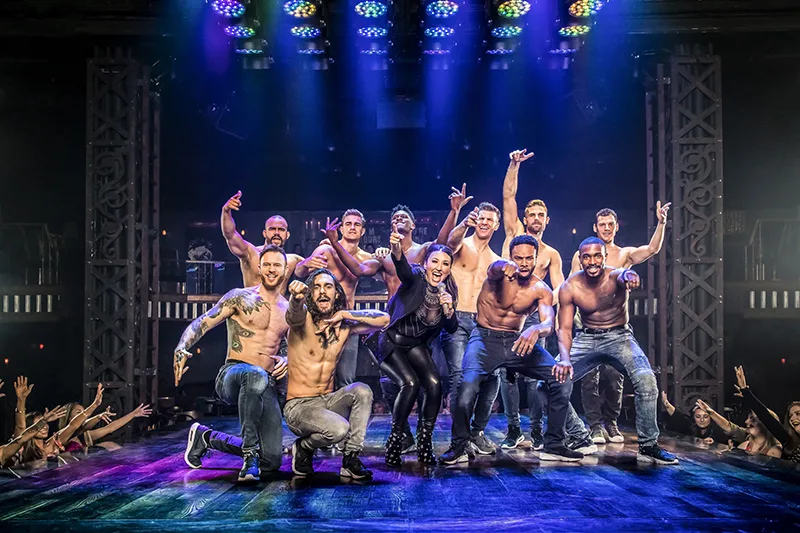 Hit up a hidden bar
There are a number of hidden speakeasies in Las Vegas that give you that feeling of being an "insider". Few things are cooler than slinking into a clandestine cocktail lounge that 90% of tourists don't know exists.
Few resorts offer more speakeasy options than Cosmopolitan, which is home to 3 distinct experiences (click the link for my review and how to find them!):
Of the 3, my favorite was The Ski Lodge, which crafted me an unbelievable old-fashioned and offered a GREAT experience.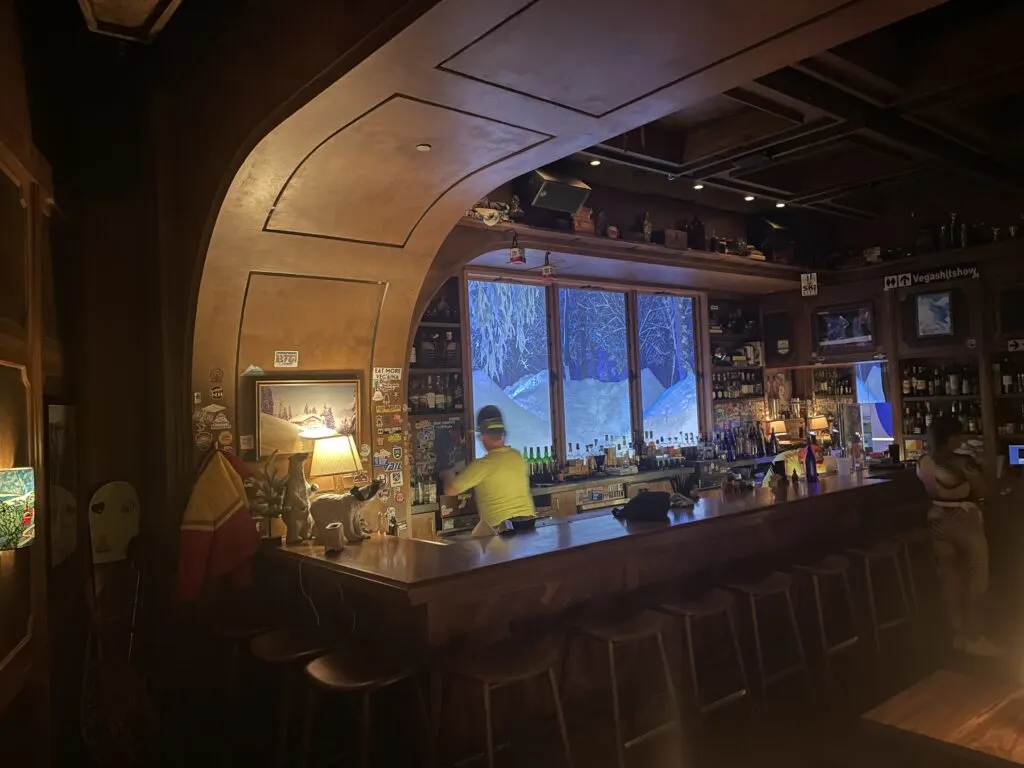 Another unique speakeasy option is the Here Kitty Kitty Vice Den at Resorts World, concealed behind the restaurant pictured below.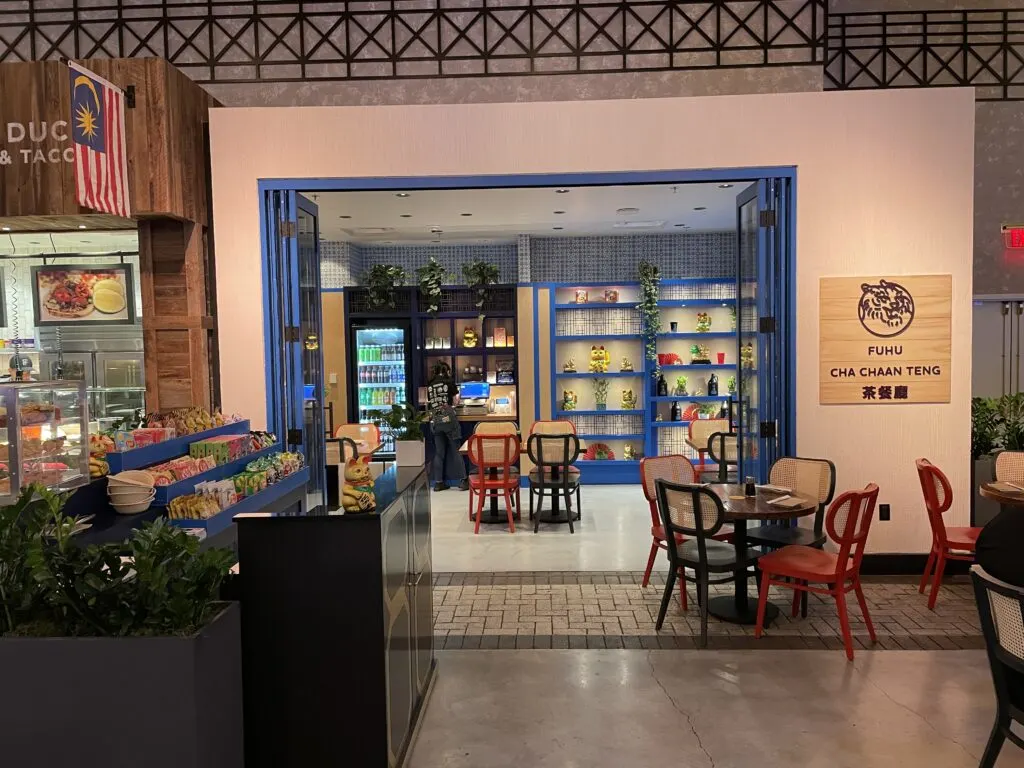 Bottomless mimosas and bloodies
On the topic of boozing, there are a ton of all-you-can-drink mimosa and bloody mary deals at Las Vegas restaurants, most are offered as part of a brunch menu.
Recover from your poor decisions the previous night by slowly ramping up your BAC. Here is a complete list of where you can find bottomless mimosas in Vegas.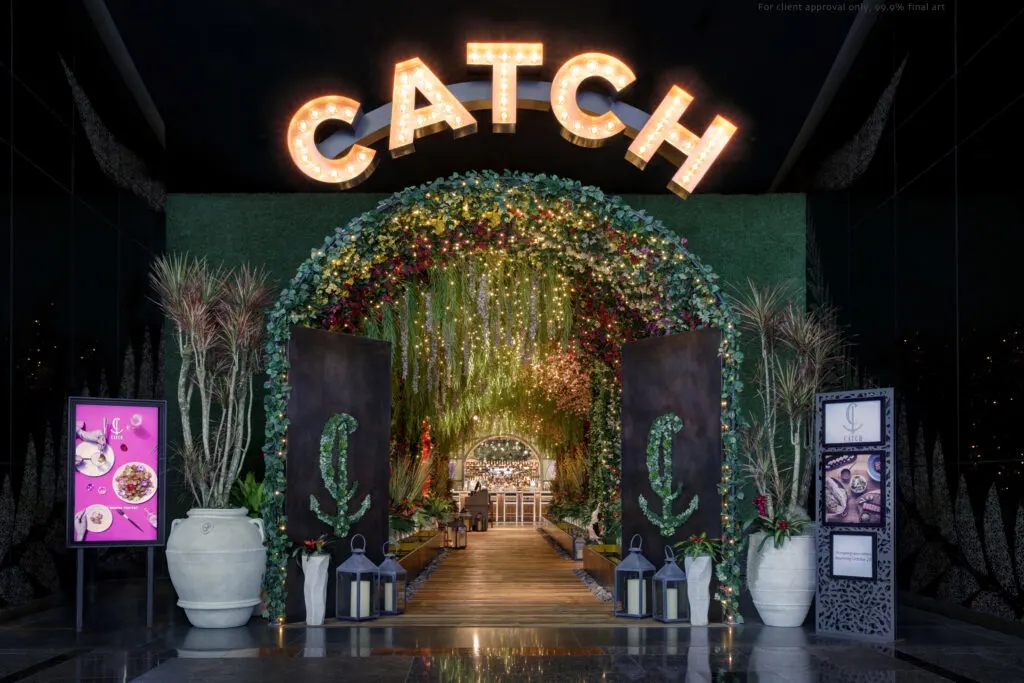 Unlimited Drinks on the High Roller
While a non-boozy ride around the 550 ft. tall High Roller is spectacular, one with an open bar is even better. For a slight upcharge, your group will be able to drink as many beers, cocktails, and wine as you can handle.
The ride is 30-minutes, and I've always gotten my money's worth.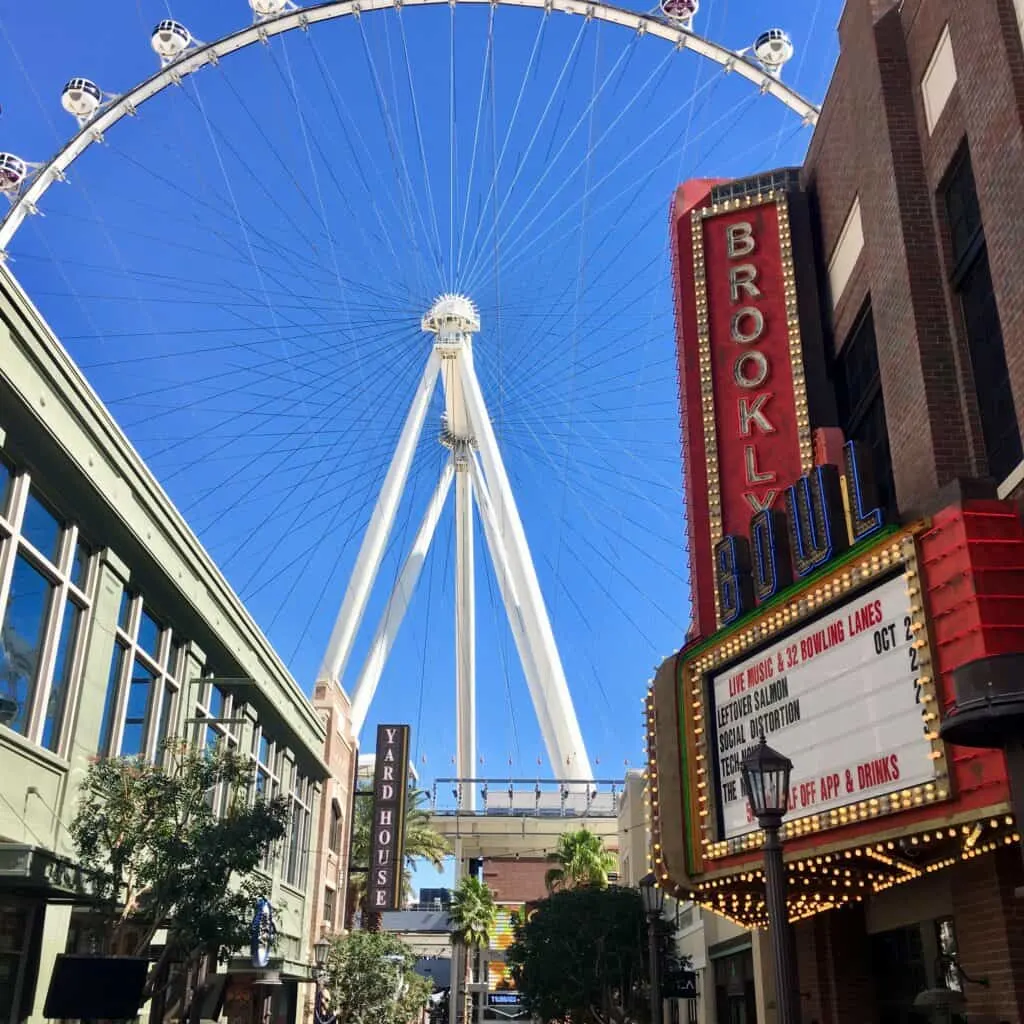 Other bars with a view
If you prefer a low-key vibe when compared to raucous nightclubs, check out bars on the Strip that offer unbeatable views.
SkyBar is located on Waldorf Astoria's 23rd floor and overlooks both the north and south ends of the Strip.
Foundation Room is perched on Mandalay Bay's 63rd floor and provides stunning views of the Strip to the North. The same applies to Skyfall Lounge which can be found on the 64th floor of Delano.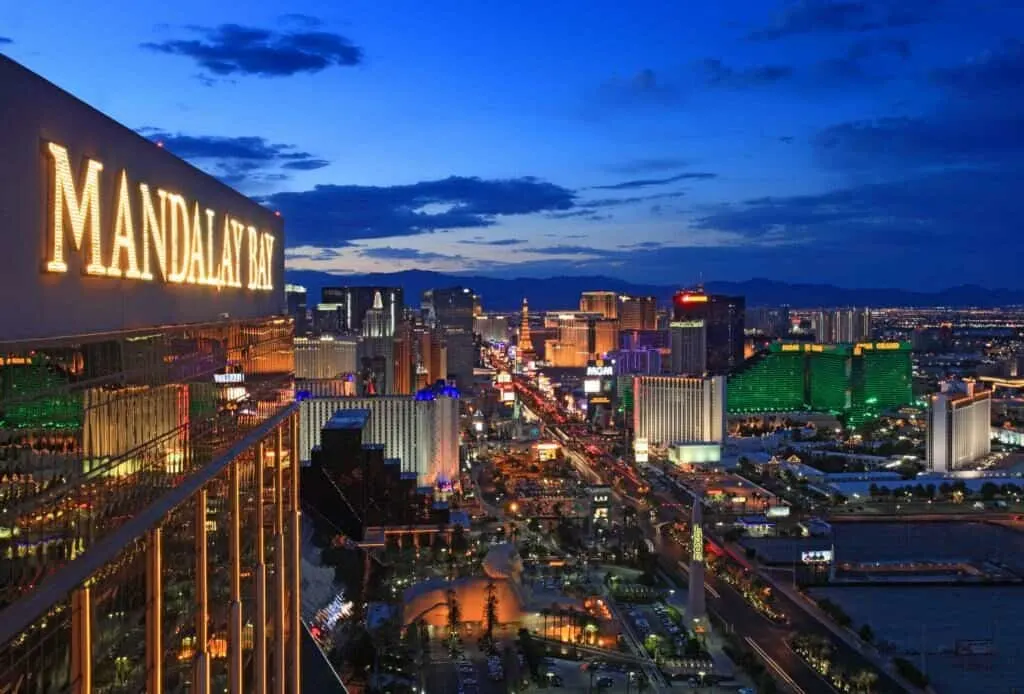 My favorite new view is at Resorts World's new Alle Lounge on 66, though.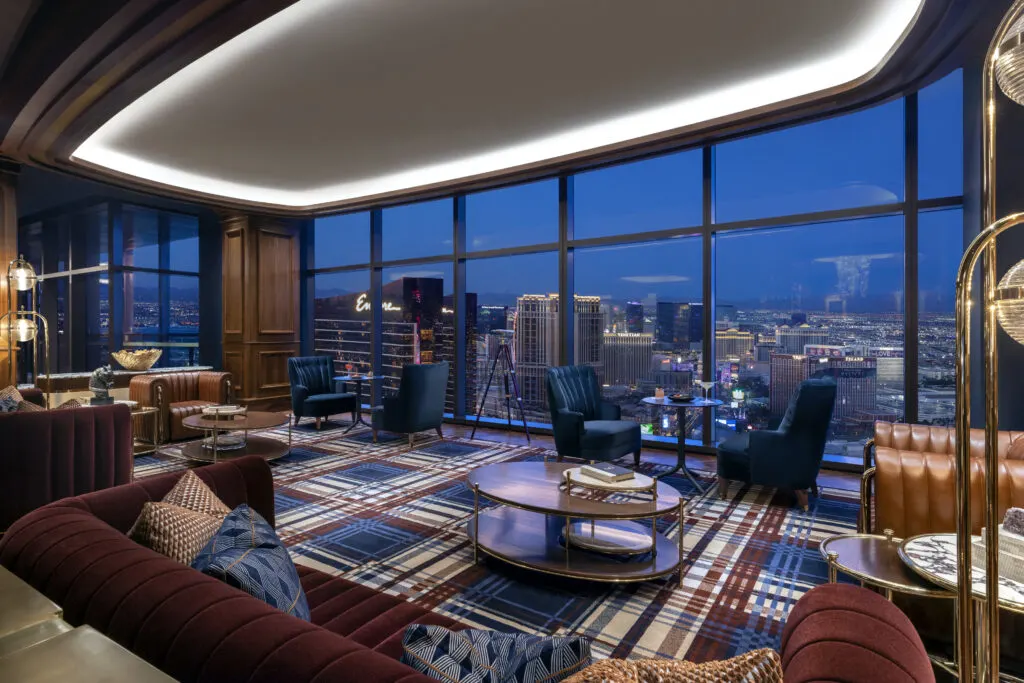 Create your own pub crawl
While clubs in Vegas like Omnia or XS are popular amongst bachelorette parties, many prefer to avoid that scene.
Try creating your own pub crawl. Whether jumping from bar to bar on Fremont Street, the LINQ Promenade, or from casino bar to casino bar on the Strip, you are sure to meet new people and have a blast.
Hit a day club pool party
The daytime pool party scene in Vegas is a great way to enjoy time together and blow off some steam with your bridal party. When selecting a party scene, there are a lot of options including Encore Beach Club, Marquee Dayclub, Daylight Beach Club, and Wet Republic.
Among my favorites though is Drai's on the roof of Cromwell. Its positioning center Strip serves as the perfect spot to experience Vegas.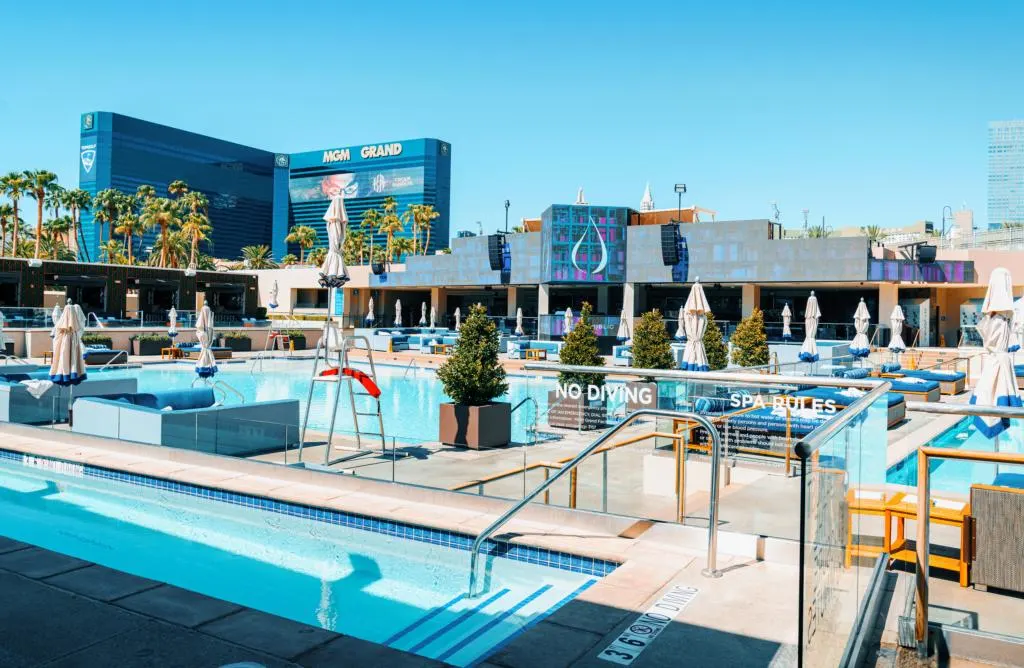 Pole dancing class
"Stripper101" is marketed specifically to bachelorette parties and will allow your bridal party to learn the art of pole dancing, booty shaking, and how to give a lap dance.
Classes take place at the V Theater at Planet Hollywood and all participants have their own pole to perfect their craft.
Tickets can be purchased in advance here with Vegas.com, which is commonly a few bucks cheaper than the box office.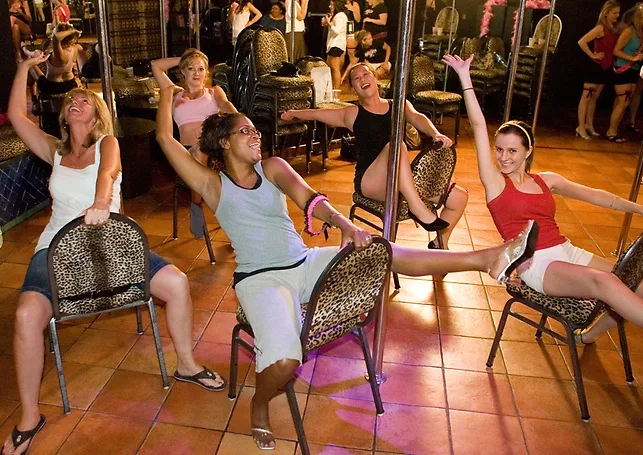 Enjoy the outdoors
Escape the city and hit natural sites just outside of town. Seven Magic Mountains is an artistic display just south of Las Vegas featuring stacked colorful stones.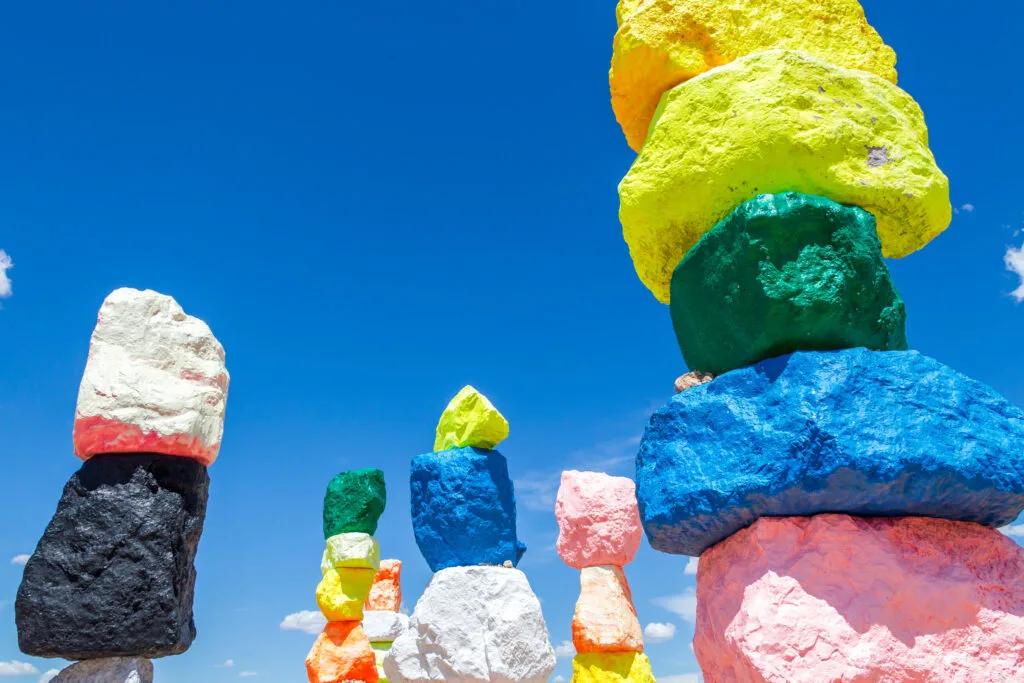 There are also a number of popular day trips to national parks and natural sites like Lake Mead, the Hoover Dam, Red Rock Canyon, and Valley of Fire State Park.
Renting a pontoon from the Lake Mead Marina and (booze?) cruising the man-made reservoir could be a fun way to mix up your itinerary.
Lounge at the pool
If your bachelorette party activities run late into the night, you are sure to need some time the next day to relax, recharge… and recover. Spend some time at the pool.
Even if your resort doesn't have a great pool, there are plenty of others that do and allow non-guests to access for free or for a small fee.
My suggestion? Circa's Stadium Swim.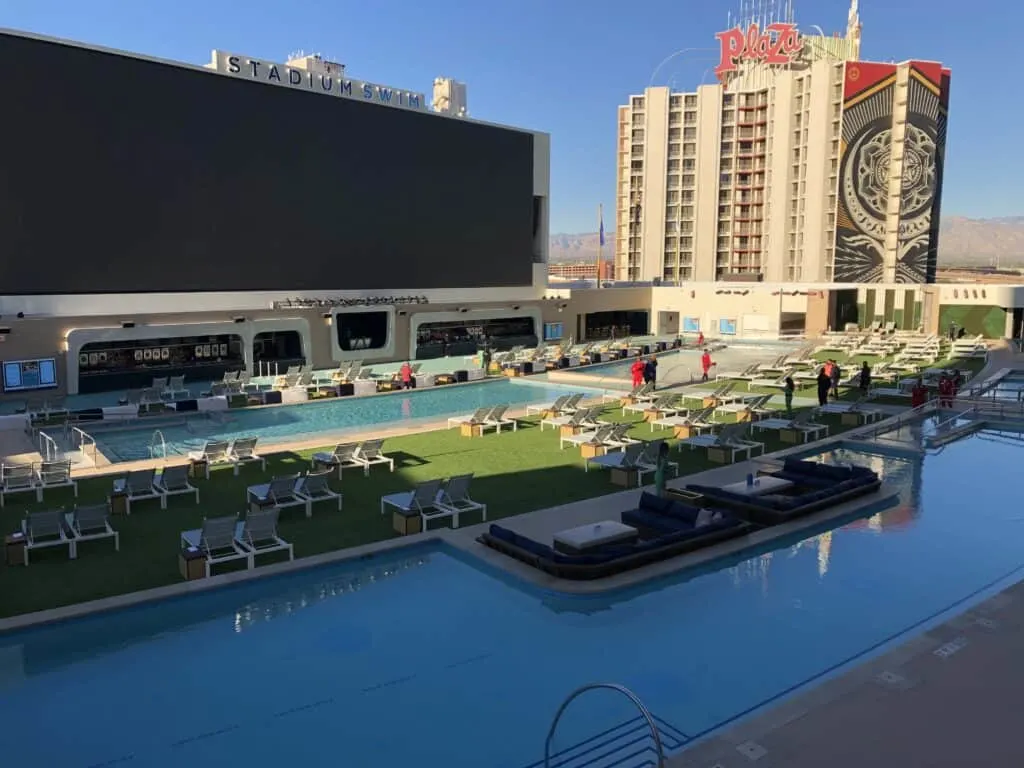 Hopefully, you were able to find some unique ideas for things to do while in Las Vegas! With options that include shows, clubs, gaming, pool parties, etc., there is certainly something for all tastes.
See Also: Budgeting for Vegas – How much does the average person bring for gambling, eating, and shopping?
Feature Image: ©davit85/123RF.COM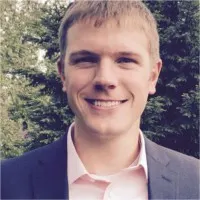 I'm a former software salesman turned Vegas aficionado. While the craps table is my preferred habitat, I pull myself away to explore new attractions, shows, restaurants, and outdoor activities around Las Vegas with the intent of sharing my experiences.
Ultimately, I just want to help folks plan a better trip and save a few bucks in the process.