Las Vegas is the city of entertainment, known for the abundance of dining and show options that exist. What many visitors don't realize, however, is that the two can still be experienced simultaneously at a dinner show.
While dinner shows were commonplace in earlier incarnations of Las Vegas, the experience has become harder to find over the years.
Below, I'll dive into your options when it comes to dinner shows in Las Vegas both on the Strip, on Fremont Street, and off the beaten path.
Dinner Shows On The Strip
Tournament of Kings at Excalibur
Playing off of Excalibur's medieval theme, Tournament of Kings brings the story of King Arthur to life. A popular Las Vegas dinner show, the production has served nearly 7 million Cornish Game Hens since 1990.
The meal includes a full cornish game hen, tomato soup, red potatoes, steamed broccoli, and an apple dessert.
Ticket prices usually land in the $80 range.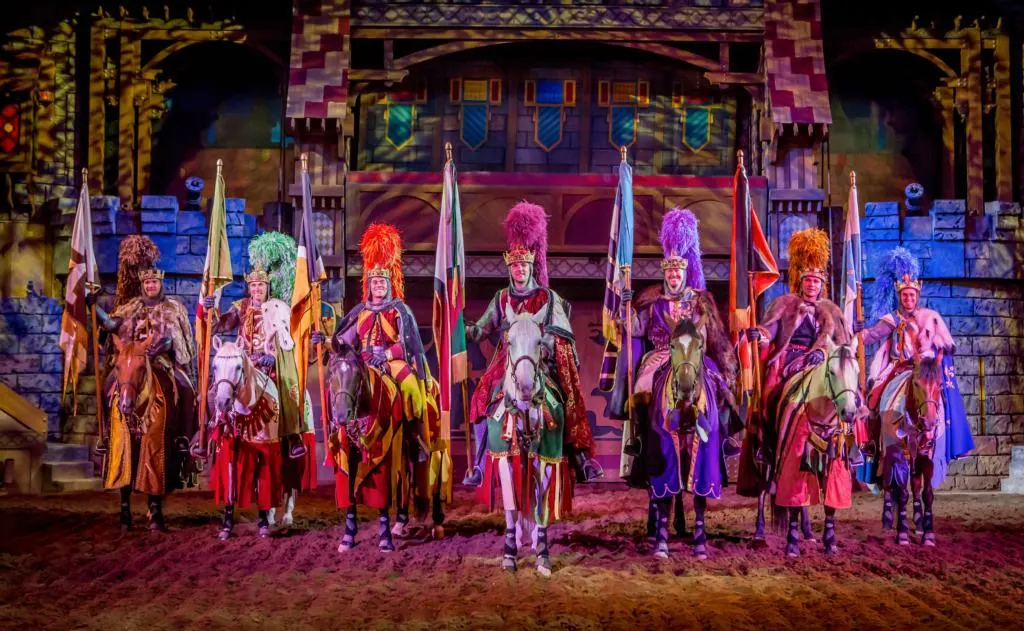 Mayfair Supper Club at Bellagio
A much more upscale version of the Las Vegas dinner show, Mayfair offers entertainment alongside dinner nightly.
Typical nightly performances include musical acts, with jazz musicians being featured on Sundays.
The acts paired with dinner provide a classy, vintage Las Vegas lounge vibe that is tough to beat. A popular dinner show destination, I suggest making reservations at Mayfair Supper Club in advance.
As an added bonus, the restaurant offers a Bellagio Fountain view.
Delilah at Wynn
A fine dining establishment, Delilah's menu offers entrees ranging from $30 and up, with most landing in the $50-$60 range. Steaks are a tad more expensive and land in the $70 – $100 range.
While dining, guests are treated to complimentary entertainment that includes jazz, DJs, and other performance types.
No photography is allowed in the restaurant, and children under the age of 12 need to be left at home.
Lake of Dreams at Wynn
A free show offered nightly from sundown to 11:30 pm, Wynn's Lake of Dreams show takes place on a small body of water complete with lush foliage, 4,000 submerged lights, and a waterfall.
The show is visible from both Lakeside and SW Steakhouse. Featuring a singing frog, and unique storylines, Wynn's Lake of Dreams is a differentiated, and free, Las Vegas dinner show.
Superfrico at Cosmopolitan
Replacing Rose.Rabbit.Lie, Superfrico is the creation of Spiegelworld, who are also the folks behind the popular shows "Absinthe" and "OPM".
The restaurant combines dining, cocktails, and entertainment in one package. As big fans of everything Spiegelworld, we're excited to stop in to check it out!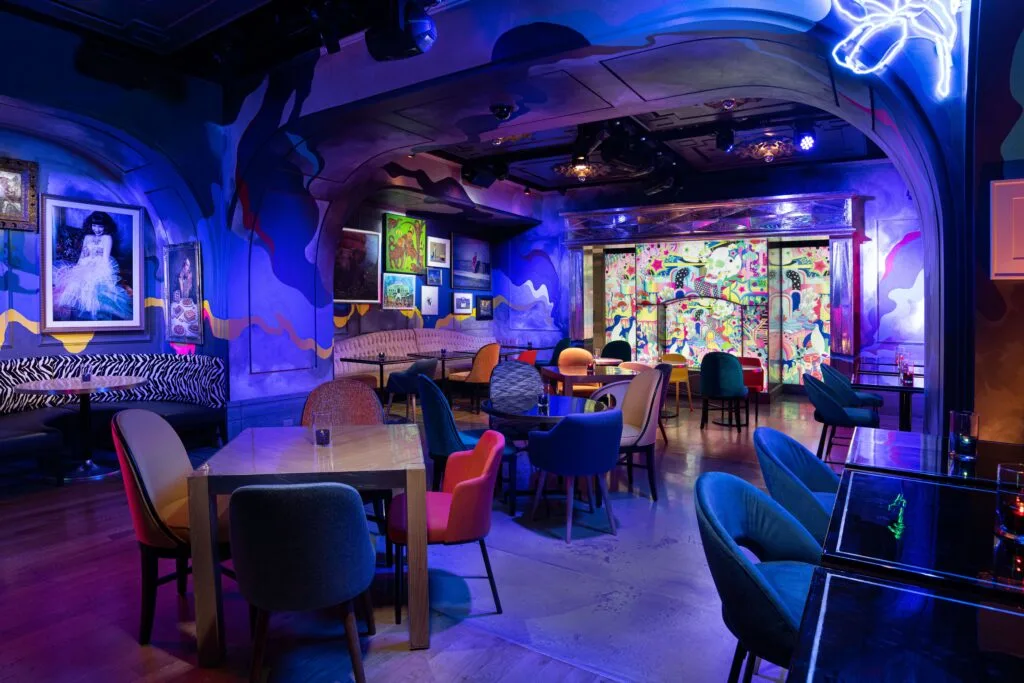 Dinner + a Show Deals
In addition to the usual Las Vegas dinner shows listed, there are a number of deals that package dinner + a show ticket together at a discount.
Although the dinner occurs before/after the show and not simultaneously, these deals available for under $100 per person could still be of interest!
Other Notable Las Vegas Dinner Shows
Marriage Can Be Murder at The Orleans
A comedy murder mystery, Marriage Can Be Murder is both humorous and entertaining. The show, which used to call The D home has moved to The Orleans, away from the Strip.
As the longest-running dinner show in Vegas, Marriage Can Be Murder offers a unique opportunity to follow the story and help solve the crime while enjoying a meal.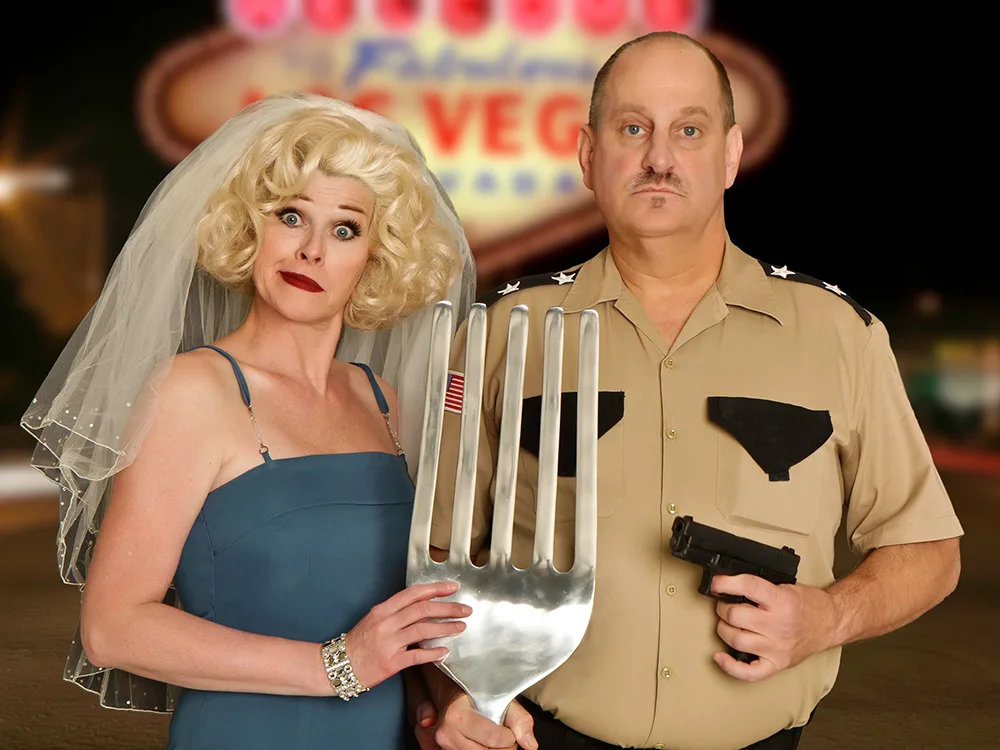 The Rat Pack is Back! at Tuscany
A throwback to another era in Las Vegas, The Rat Pack is Back! looks to emulate the performances of Dean Martin, Frank Sinatra, and Sammy Davis in The Sands' Copa Room. Accompanied by a 7-piece orchestra, this is a can't-miss show for those that missed out on seeing the real thing in the 60s.
Tickets to the show without dinner start at around $100, and that increases to around $130 if you prefer to make it a dinner show. The dinner is served at the Tuscany Gardens Italian Restaurant either before or after the show, so unlike other options, you won't be eating during the performance.
Although there is no longer an abundance of dinner shows in Las Vegas, there are a number of options that could be a good fit! Hopefully, I was able to help you find a dinner theater or deal that works for you and your group.
Related: Are you looking for a specific show genre in Las Vegas?
Check out my rundown of Cirque du Soleil shows, new shows, comedy shows, tribute shows, variety shows, current residencies, burlesque shows, male revue shows, and magic shows!
I'm a former software salesman turned Vegas aficionado. While the craps table is my preferred habitat, I pull myself away to explore new attractions, shows, restaurants, and outdoor activities around Las Vegas with the intent of sharing my experiences.
Ultimately, I just want to help folks plan a better trip and save a few bucks in the process.