It's funny, I get a lot of REALLY weird questions submitted via this website and our associated social media pages – Things like "Are the Bellagio Fountains turned on" or "How much does it cost to check in early at South Point".
If you're curious, yes, the fountains are active, and no, we have no idea what early check-in costs at South Point. Ask them perhaps?
One question that seems to find its way into my inbox from time to time is "What Las Vegas hotels have a lazy river?" Luckily, that is an easier question to address. It makes sense. After all, what beats floating slowly in an infinite circle with a beverage in hand?
Below, I'll dive into (pun intended) Las Vegas hotels that have a lazy river.
Related: An updated list of Las Vegas pools that stay open year-round.
Strip Hotels With a Lazy River
MGM Grand: Spanning 6.6 acres, MGM Grand's pool complex is impressive. In addition to multiple pools and 5 separate whirlpools, MGM's "Backlot River" boasts over 1,000 feet of slow-moving lazy river action.
Note that only circular tubes are allowed in MGM Grand's lazy river, no gaudy monstrosities. The Lazy river is accessible to both guests staying at MGM Grand, and Signature at MGM.
If I had to pick one, I'd declare MGM Grand's the best lazy river in Las Vegas.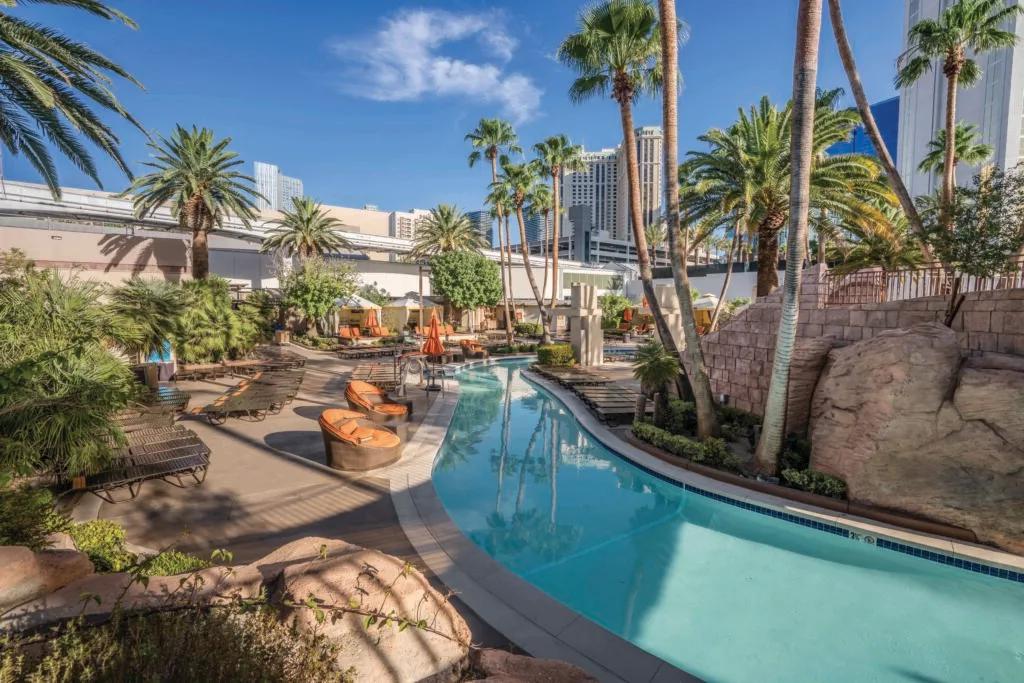 Mandalay Bay: Like MGM Grand, the pool complex at Mandalay Bay is elaborate. Known as "The Beach", Mandalay offers guests access to a 1.6 million gallon wave pool, four swimming pools, and a jogging track in addition to a lazy river.
A unique feature, Mandalay's pool also incorporates 2,700 tons of real sand. It's a tropical paradise.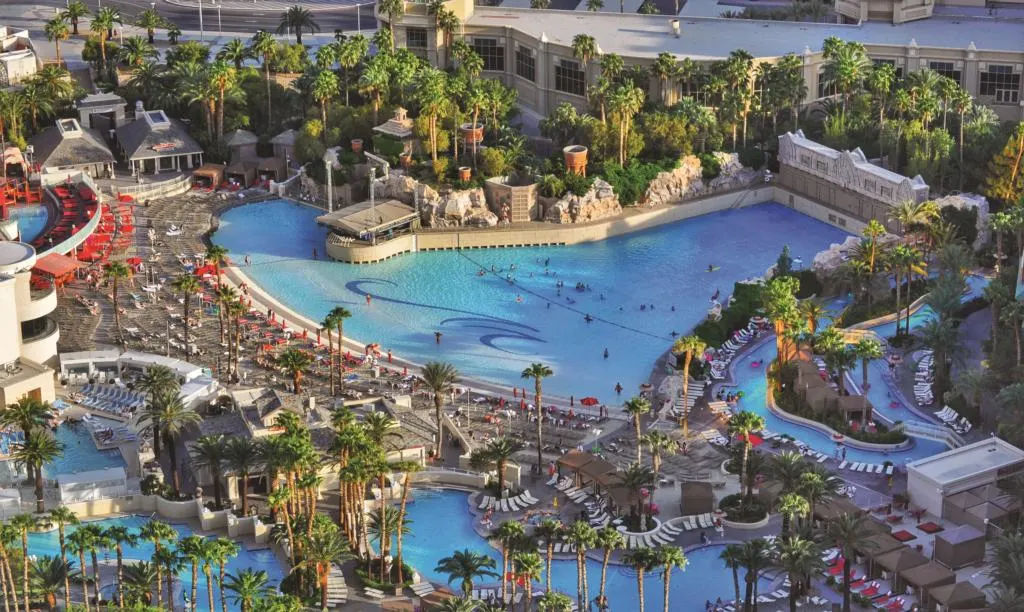 Related: The Best Pools in Las Vegas – On the Strip and Downtown.
Other Notable Lazy Rivers in Las Vegas
Tahiti Villiage: Located about 2 miles south of Mandalay Bay on Las Vegas Boulevard, Tahiti Villiage's pool complex offers a 1/8 mile lazy river which is heated year-round.
Forget your tube at home? Don't worry, Tahiti Villiage offers free tubes for all guests. The lazy river is part of a larger pool complex that is over an acre in size, incorporates real sand, and over 250,000 gallons of water.
Cowabunga Canyon: Although not part of a resort's pool complex, Cowabunga Canyon (formerly Wet 'n' Wild) offers a lazy river as one of its core attractions.
Known as the Colorado Cooler, guests are invited to do an unlimited number of laps around the leisurely lazy river. Wet 'n' Wild is about 10 miles or a 15-20 minute ride from hotels on the Las Vegas Strip.
Cowabunga Bay: Another waterpark within driving distance of resorts on the Strip, Cowabunga Bay offers a lazy river that meanders riders past some neat scenery including a 1967 Volkswagon Bug.
In addition to having a lazy river pool, Cowabunga Bay also offers an assortment of pools and waterslides.
Monte Carlo also once offered guests a lazy river, however, that amenity was removed during the property's transformation to Park MGM.
Hopefully, I was able to identify a lazy river pool in Las Vegas that will work well for you! While lazy rivers in Vegas are a somewhat uncommon feature of resort pools, there are still a few solid options.
See Also: Las Vegas pools that non-guests are able to access for free or a fee.
I'm a former software salesman turned Vegas aficionado. While the craps table is my preferred habitat, I pull myself away to explore new attractions, shows, restaurants, and outdoor activities around Las Vegas with the intent of sharing my experiences.
Ultimately, I just want to help folks plan a better trip and save a few bucks in the process.