Whether you're staying in Las Vegas for an extended period of time, or just like to pack light and reuse clothing, a hotel room with laundry appliances can be desirable.
While a washer and dryer are handy amenities, few rooms and suites in Las Vegas offer them.
We figured it would be helpful to spell out some specific hotel rooms in Las Vegas with a washer and dryer so that those seeking them can quickly evaluate their options.
Strip Hotel Rooms with in-room Washer and Dryer
Vdara Suite at Vdara: A non-gaming hotel located steps away from Aria and Bellagio, Vdara offers a semblance of quiet near the action. Their Vdara Suite offers a washer and dryer in addition to 811 square feet of space, a separate bedroom, and a kitchenette. Best yet, pricing starts at about $200/night mid-week.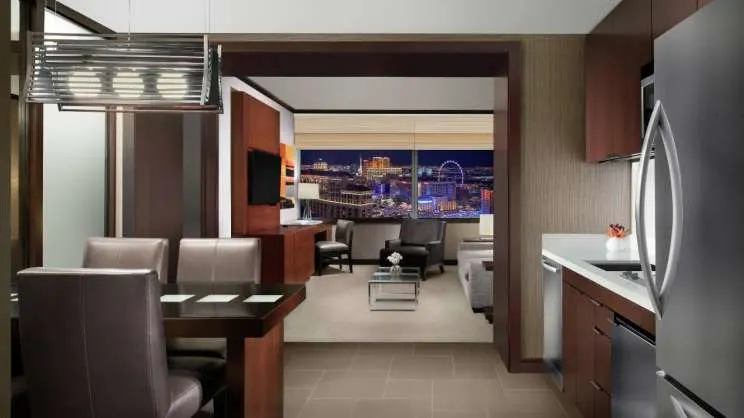 Marriott Grand Chateau: Steps away from the Strip, Mariott's Grand Chateau offers laundry appliances in all of their Villas. The only rooms that don't have a washer and dryer are their standard "Guest Rooms".
Off-Strip Hotel Rooms with a Washer & Dryer
Wyndham Desert Blue: While the baseline 1 Bedroom Suites do not have a washer and dryer, Wyndham Desert Blue's 1 Bedroom Deluxe Suites and up do. In addition to in-room laundry appliances, the suite also offers up to 808 square feet of space, a full kitchen, and a living area.
Wyndham Grand Desert: All Suites at Wyndham Grand Desert offer a washer/dryer. Their baseline 1 Bedroom Suite can be had for as little as $150/night and offers 600+ square feet of space, a separate living area, and a kitchenette.
Elara by Hilton Grand Vacations: While the 3 least expensive room types at Elara don't offer in-room laundry, many of their elevated suite options do, starting with their 1 Bedroom Grand Suite that sleeps up to 6, offers a full kitchen, dining area, and a 56th-floor view of Las Vegas. Just ensure your room lists a washer/dryer as an amenity before booking.
Platinum: A 10-minute walk from mid-Strip resorts, Platinum's "Princess Suites" come equipped with a washer/dryer. Ensure you book carefully, as the majority of rooms at Platinum don't offer in-room laundry. Our favorite aspect of this resort is that its steps away from Ellis Island, a budget-friendly spot to gamble, drink, and dine.
Palms Place: One Bedroom Suites at Palms Place offer a washer & dryer in addition to a kitchenette, jetted bath, and separate living area. As always, ensure it's a listed amenity when booking, as not all of their room types come equipped.
Holiday Inn Club Vacations at Desert Club Resort: Situated minutes from the Strip by car, all rooms at Holiday Inn Club Vacations offer a washer and dryer in the room. Rooms also come equipped with a kitchenette and outdoor balcony.
Tahiti Villiage: Located south of the Strip, Tahiti Villiage is one of the few hotels in Vegas with a lazy river. They also offer stacked laundry appliances in both their Bora Bora and Royal Tahitian suites.
While hotel rooms in Las Vegas with a washer and dryer are relatively rare, there are a few options for those looking to pack light, stay for an extended timeframe, or just crave convenience.
Hopefully, we were able to help you identify a Vegas hotel with in-room laundry appliances that works for your budget and needs!
Related: Las Vegas hotels with a kitchenette.
I'm a former software salesman turned Vegas aficionado. While the craps table is my preferred habitat, I pull myself away to explore new attractions, shows, restaurants, and outdoor activities around Las Vegas with the intent of sharing my experiences.
Ultimately, I just want to help folks plan a better trip and save a few bucks in the process.