Once a staple of the hotel experience, room service has slowly been disappearing as an option in Las Vegas.
My personal "ah ha" moment was when Resorts World partnered with the popular food delivery service GrubHub to handle guest orders.
In fact, many, if not most, resorts have now shifted to food delivery (in to-go boxes) vs. traditional in-room dining.
At the suggestion of a reader, I thought it would be helpful to detail which resorts in Las Vegas still offer in-room dining – The real kind.
While I'm opting to exclude resorts that only offer food delivery packaged to-go, rest assured that nearly every Caesars and MGM Resorts property has at least one food delivery option.
For each hotel in Las Vegas that still offers room service, I'll ensure to link out to the menu so that you can easily survey your options!
Resorts on the Strip Offering Room Service
Wynn & Encore:
Known for their upscale resort experience, both Wynn and Encore offer in-room dining around the clock.
Breakfast items land in the $20 – $40 range and include classic American breakfast spreads, pancakes, waffles, burritos, and breakfast sandwiches among other selections.
Dinner and Lunch entrees start in the $20s (think burgers, sandwiches, and pizzas) and go up from there.
Beverage options are wide-ranging and include cocktails, coffee, smoothies, and fruit juices.
View the room service menu offered by Wynn & Encore, here.
Related – See my recent stays at Wynn & Encore:
Venetian & Palazzo
Room service at Venetian & Palazzo is offered 24/7 and is the brainchild of Chef Olivier Dubreuil.
Breakfast is served daily until 11 am and includes a wide array of menu items that range from cereal to a sprawling American Breakfast, most of which land in the $15 – $40 range.
Dinner is served from 5 am – 11 pm (all day) and includes unique options like a pot pie, lasagna, rotisserie chicken, and a ribeye steak. The average dinner entree costs around $40, give or take.
Items served 24 hours include a collection of light appetizers, salads, soups, pizzas, sandwiches, and burgers. Of course, your choice of cocktail(s) is also served anytime you have a craving.
View Venetian & Palazzo's room service menu.
Related – See my recent stay at Venetian: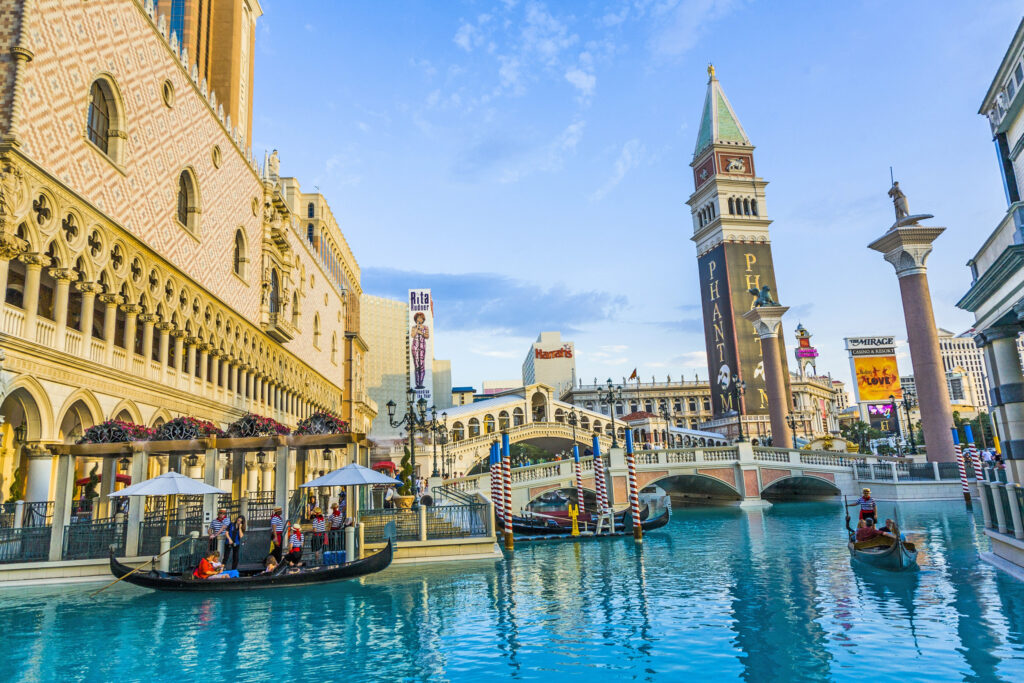 Bellagio
Bellagio offers a 24-hour room service menu that includes breakfast items, lunch & dinner selections, as well as an array of cocktails and beverages.
Items on the breakfast portion of the in-room dining menu at Bellagio land in the $20-$40 range and include a continental breakfast, steak & eggs, eggs benedict, and omelets among other selections.
Lighter fare on the lunch & dinner menu include soups, salads, pizza, pasta, and sandwiches, most of which cost $15-$30.
Of course, fancier entrees like a filet mignon, dry-aged ribeye, and surf & turf (lobster tail and filet mignon) are also offered at a slightly elevated price point of around $60-$125.
You should note that Bellagio charges a $9.50 delivery fee per order.
View Bellagio's room service menu.
Related – See my recent stay at Bellagio: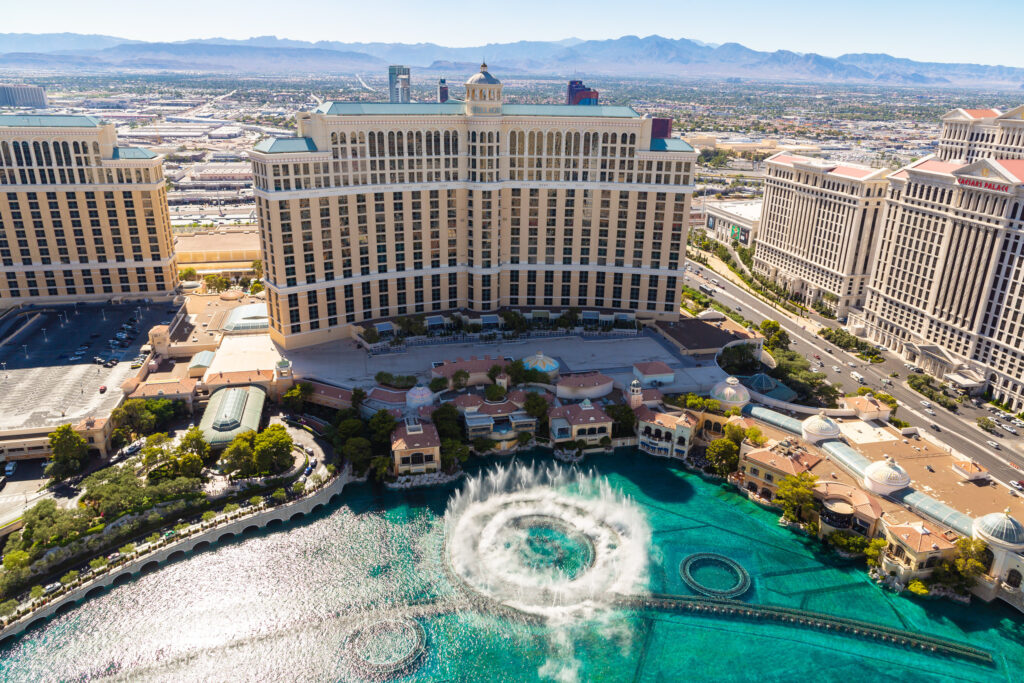 Cosmopolitan
Room service is offered at Cosmopolitan 24 hours per day, seven days per week.
Items on the breakfast menu range in price from around $10-$40 and include pastries, a classic American breakfast, steak & eggs, eggs benedict, smoked salmon, and avocado toast among other selections.
Lighter fare on Cosmopolitan's lunch and dinner menu includes a collection of appetizers, soups, salads, pizzas, sandwiches, and pasta that cost anywhere from $15-$40 per item.
There are a select few entrees on the room service menu that include a beef filet, ribeye steak, salmon filet, and chicken breast. Each entree is served with whipped potatoes and asparagus and costs around $30-$55 depending on the meal selected.
For my money, few hotel rooms in Las Vegas are better suited for room service than those with a balcony at Cosmopolitan.
Note also that there will be an $8 delivery fee added to all room service orders at Cosmopolitan.
View Cosmopolitan's room service menu.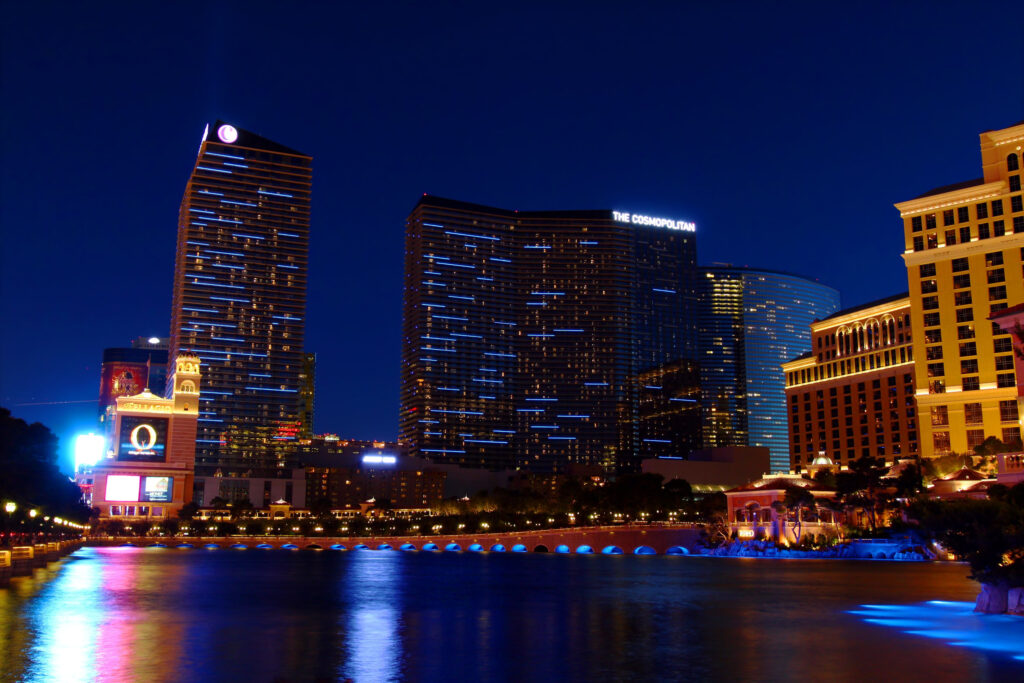 Aria
The swanky and luxurious mid-Strip resort offers an expansive in-room dining menu that includes staples from all 3 daily meals.
On the breakfast side of the room service menu are items like eggs benedict, a breakfast sandwich, an American Breakfast, and smoked Alaskan salmon among other selections. Breakfast meals land in the $20-$40 range, although there are a few less expensive pastry, cereal, and fruit options.
On the lunch and dinner side of things are pizzas, pasta, burgers, sandwiches, soups, salads, and entrees that include a chicken breast, NY strip steak, filet mignon, and a lobster tail.
While most items are priced between $25-$40, ritzier culinary selections weigh in at a higher price point.
Bottled beer, bottles of liquor, and even wine by the bottle are also included in the room service menu at Aria.
Unfortunately, the menu isn't available for viewing online, however, it can be reviewed on the tablet found in your guestroom or by calling Aria's concierge (as they're happy to email it to you).
Note that there is a $9.50 fee charged per delivery.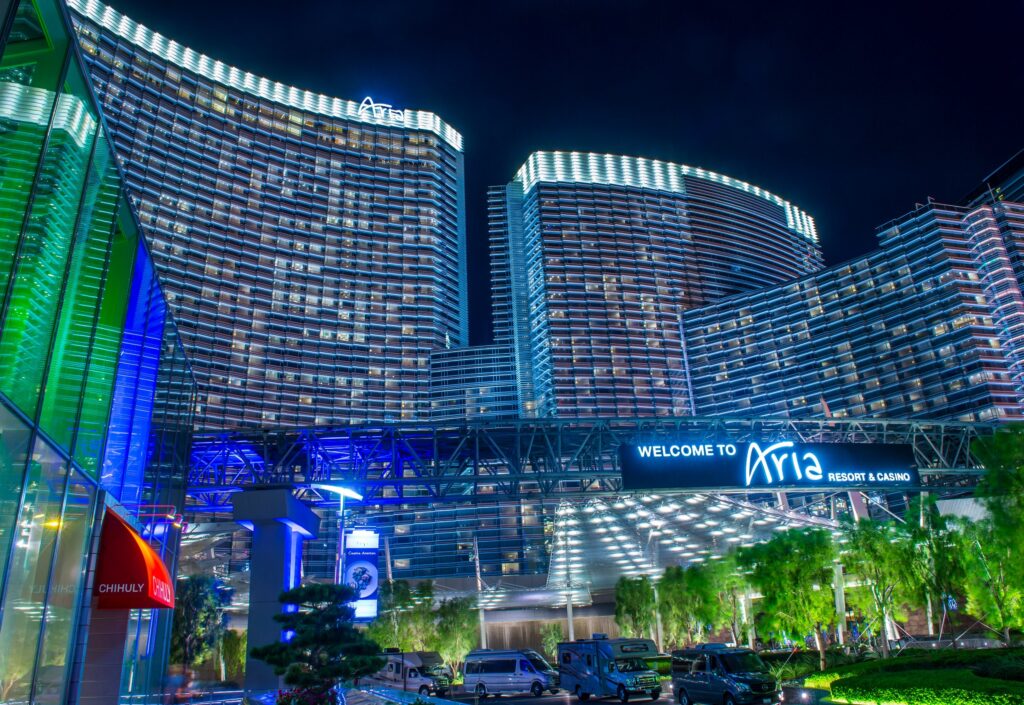 Vdara
Vdara is steps away from Aria and offers a room service menu that is available from 6 am – 2 pm daily.
A smaller menu, Vdara serves breakfast items, soups, salads, sandwiches, burgers, and desserts.
Notably, this is one of the cheaper room service menus in Vegas, with most items landing in the $20 range.
Note that there's a $9.50 operational charge per order.
View Vdara's room service menu.
Related – See my recent stay at Vdara: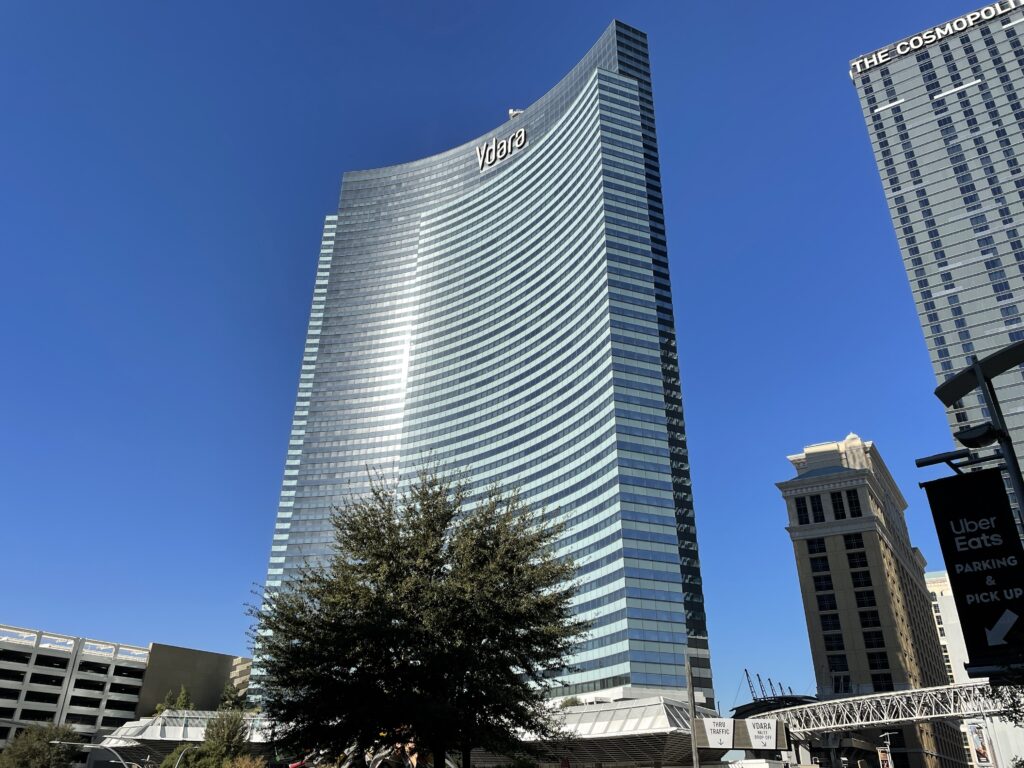 Mandalay Bay & Delano
While the majority of Mandalay Bay's room service menu is packaged in to-go containers, there's a small portion of the menu that still delivers a traditional table service experience.
Those items can be found under the "Mandalay Bay Classic" portion of the in-room dining menu and are offered from 6 am – 10 pm daily.
Breakfast items that are part of the classic table service menu include omelets, steak & eggs, smoked salmon, and an American breakfast.
Lunch & dinner entrees include coconut shrimp, chicken parmesan, pan-seared salmon, and a ribeye steak.
You can expect to pay between $30-$55 per entree, depending on what you select in addition to a $9 service fee.
View Mandalay Bay's in-room dining menu.
Related – See my recent stays at Mandalay Bay & Delano:
Ultimately, room service in Las Vegas is a unique amenity that many of us still seek out. Sometimes, relaxing over a meal in your room or suite is a more appealing option than venturing out into the crowds on the Strip.
Keep in mind that while many resorts on the Strip have discontinued traditional room service, most still offer some restaurant options that deliver to the room, even if it's crated up in to-go packaging.
Especially if you're staying at a Caesars Entertainment or MGM Resorts Property, there's almost guaranteed to be a food delivery option available, even if it isn't fancy.
At this time, I'm not aware of any resorts on Fremont Street that are offering room service.
Related: Here are the Best Steakhouses on the Strip, and the Top Steakhouses on Fremont Street!
Feature Image Credit:
I'm a former software salesman turned Vegas aficionado. While the craps table is my preferred habitat, I pull myself away to explore new attractions, shows, restaurants, and outdoor activities around Las Vegas with the intent of sharing my experiences.
Ultimately, I just want to help folks plan a better trip and save a few bucks in the process.