The Las Vegas Monorail is a transportation system that connects resorts on the east side of the Las Vegas Strip, running from MGM Grand to the south, north to Sahara. Originally created in 1993, the Monorail system now operates nine separate trains with four cars each on a 4-mile track perched 30-60 feet above the ground. As an added benefit, the system is 100% electric and doesn't produce emissions.
Utilizing the Monorail can make a lot of sense for those looking to move up and down the Strip, reach distant hotels like Westgate & Sahara, or for conventioneers looking to reach the convention center.
Note that if you're looking to access resorts on the west side of the Strip like Bellagio, Cosmopolitan, etc., the Monorail isn't typically recognized as being convenient due to the amount of walking that would be required.
While the Las Vegas Monorail isn't free to ride, it is a cost-effective way to get around Las Vegas. Below, we'll dive into some frequently asked questions about the popular transportation option.
Related: Free trams on the Las Vegas Strip.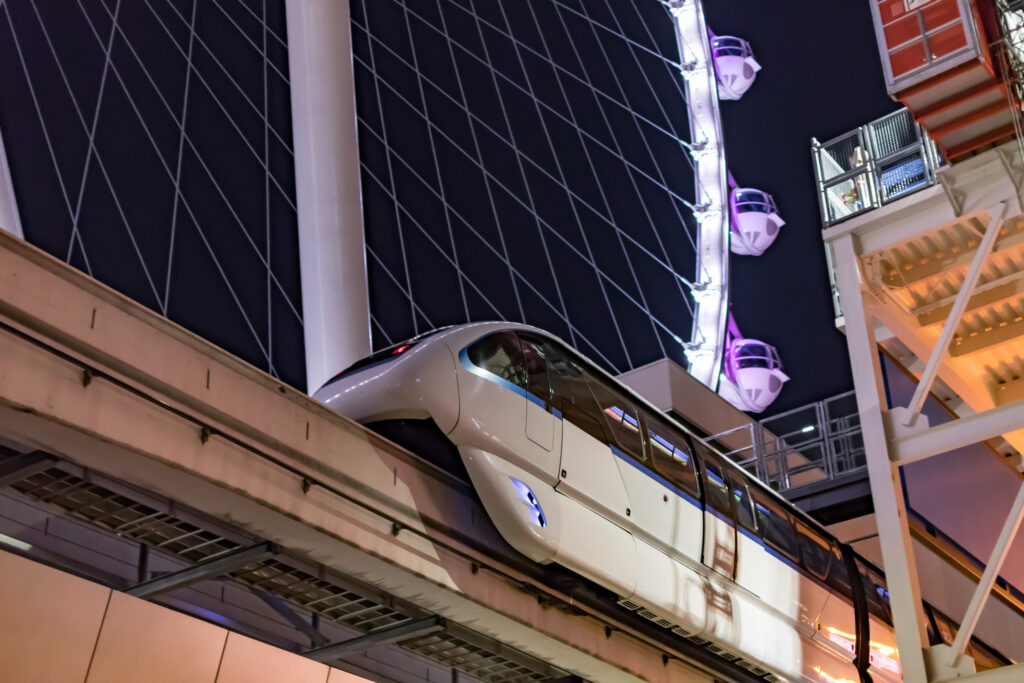 Is the Monorail a Worthwhile Transportation Option?
It depends. To be straightforward, the Monorail isn't convenient if you're looking to get to resorts on the west side of the Strip like Bellagio or Cosmopolitan, etc. as the track runs behind resorts on the east side.
Even if you plan to move from resort to resort on the east side of the Strip, there's usually a significant walk to get from the Monorail platform to the casino floor. As long as you don't mind taking some steps, the Monorail could be a solid budget transportation option.
The fact that the Monorail connects to the Convention Center makes this a solid mode of transportation for conventioneers, who commonly purchase a multi-day pass giving them the ability to come and go as they please.
Personally, I only leverage the Monorail when looking to visit resorts on the extreme north end of the system like Westgate or Sahara as both hotels have a stop and aren't walkable from the Strip. Accessing those resorts via the Monorail is also less expensive than taking an Uber or taxi.
Las Vegas Monorail Cost
Although a one-way ticket on the Monorail costs $5, there are also options for passes that entitle ticket holders to unlimited rides over a pre-defined time period. The cost for unlimited passes on the Monorail is as follows:
1 Day Pass: $13
2 Day Pass: $23
3 Day Pass: $29
4 Day Pass: $36
5 Day Pass: $43
7 Day Pass: $56
How To Buy Las Vegas Monorail Tickets
Platform Kiosks: Ticket vending machines can be found at each Las Vegas Monorail platform and are easy to use. You'll receive a paper ticket that can then be used to move through the fare gates.
Mobile Tickets: Tickets can be purchased in advance online, here. Your scannable ticket will then be emailed to you. These can even be purchased from a mobile device right before you intend to ride. Pretty slick!
Las Vegas Monorail Hotel Stops
The Las Vegas Monorail runs up and down the east side of the Las Vegas Strip and offers hotel stops behind:
MGM Grand
Horseshoe & Paris
Flamingo
Harrah's & Linq
Las Vegas Convention Center
Westgate
Sahara
Las Vegas Monorail stops are clearly marked within the hotel properties in which they are housed. Just follow the signs. Typically, the stops are a bit of a hike from the casino, so wear your walking shoes.
Las Vegas Monorail Hours
The Monorail is operational from 7 am – midnight on Monday, but stays open until 2 am from Tuesday – Thursday and 3 am on Friday – Sunday.
Las Vegas Monorail Schedule/Frequency
Fortunately, Monorail customers need not plan their day around a schedule as trams arrive every 5-6 minutes. Simply show up and board.
Does the Monorail Offer a Locals Discount?
Yes. The Las Vegas Monorail offers a locals discount to those with a valid Nevada ID. Simply visit one of the customer service ticketing offices (you won't be able to purchase online or at an automated vending machine) to purchase a local far for only $1 (normally $5).
Can Kids Ride the Las Vegas Monorail Free?
Yes! Kids ride free as long as they are 5 years old or younger. They don't need a ticket, and parents should carry them through the fare gates after scanning their adult ticket.
Does the Las Vegas Monorail Connect to the Airport?
Unfortunately not. The Monorail makes it as far south as MGM Grand but does not connect to the airport. Check out a full breakdown of your Las Vegas airport transportation options here.
Hopefully, our rundown of information pertaining to the Las Vegas Monorail was helpful! While not always recognized as the most efficient Las Vegas transportation option, there are many cases where it's both effective and inexpensive!
Feature Image Credit: ©billroque/123RF.COM
I'm a former software salesman turned Vegas aficionado. While the craps table is my preferred habitat, I pull myself away to explore new attractions, shows, restaurants, and outdoor activities around Las Vegas with the intent of sharing my experiences.
Ultimately, I just want to help folks plan a better trip and save a few bucks in the process.