As the entertainment capital of the world, there is no shortage of shows to choose from in Las Vegas. Among the options that exist, one of the most popular is magic shows. Magic Shows in Las Vegas run the gambit from humorous to mind-bending, many of which are kid and family-friendly.
As there's no shortage of options, we wanted to help you decide which to choose by ranking them based on their rating on TripAdvisor. With most shows receiving hundreds, if not thousands, of customer reviews, you don't have to take one person's word on it, rather, can trust the community.
For each magic show below, we'll link to a number of ticket sellers so that you can quickly identify the best deal.
Best Magic Shows in Las Vegas
Paranormal Mind Reading
While a different brand of magic than the illusionists below, mentalist Frederic Da Silva is known for stunning audiences with his ability to read minds and hypnotize. The show is kid-friendly, takes place in the afternoon, and incorporates copious amounts of audience participation. Earning a whopping 5/5 stars on TripAdvisor, Paranormal Mind Reading has earned a tie for the best magic show in Las Vegas.
Piff The Magic Dragon
A personal favorite of ours, we can't get enough of Piff and his sarcastic sense of humor. Adding to the enjoyment factor, Piff incorporates his dog, a chihuahua named "Mr. Piffles" into the show. Playing at Flamingo, Piff is family-friendly and a great option for those who need a long healthy laugh. The masses agree, awarding Piff a tie for the best magic show in Vegas with 5/5 stars on TripAdvisor.
The Magic of Jen Kramer
Performing at Westgate, Jen Kramer's show is easily accessible from resorts on the Strip via the Monorail. The production, which incorporates mentalism, magic, and comedy has earned a perfect 5/5 stars on TripAdvisor and usually costs less than $50 per person. For fans of Hibachi, grab dinner at Benihana before the show! In true Vegas style, the restaurant is modeled after a Japanese village. It's really neat!
Farrell Dillon – Hilarious Magic
Magic aficionados likely know him from his time on the show "Masters of Illusion", but Farrell Dillon has taken his comedy/magic hybrid to Las Vegas where he calls the Magic Attic at Bally's home. Best yet, this is one of the cheapest magic shows in Vegas, landing in the $20-$30 range.
Mat Franco – Magic Reinvented Nightly
You may know him from "America's Got Talent", but Mat Franco now calls LINQ home in the center of the Las Vegas Strip. Mat leverages audience participation to "reinvent" his 90-minute magic show every night, incorporating plenty of kid-friendly humor. Although positioned just outside the first tier, the show is highly rated, earning 4.5/5 stars on TripAdvisor.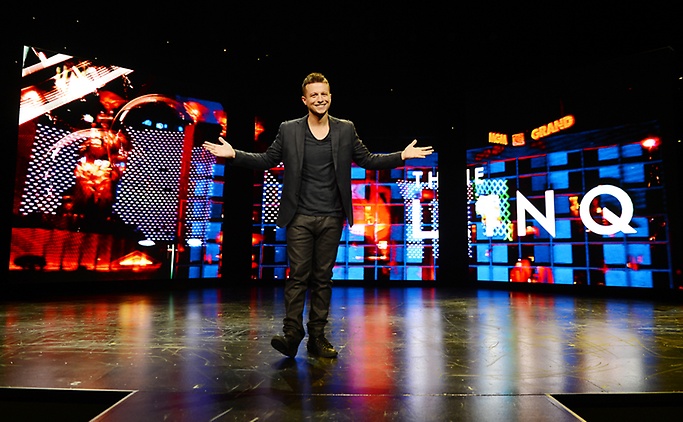 Mac King Comedy Magic
Playing at Excalibur, Mac King's show is both family-friendly and a heck of a lot of fun. Both kids and adults will get a kick out of the use of live animals and legitimately cool magic with plenty of humor mixed in. The majority of patrons agreed that Mac King is among the best magic shows on the Strip awarding it 4.5/5 stars on TripAdvisor.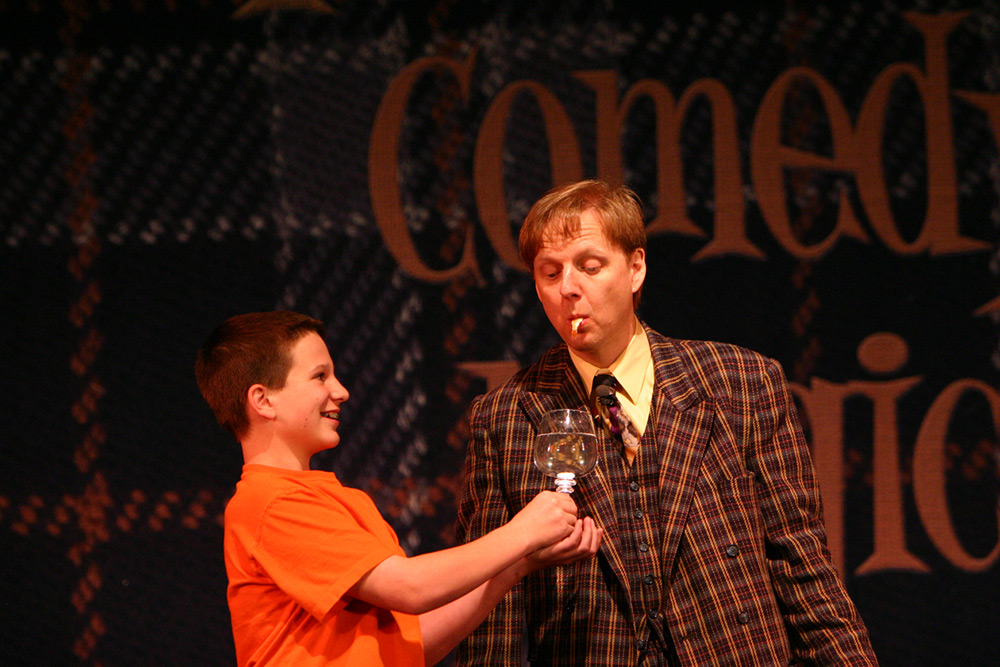 Mike Hammer Comedy Magic
Among the best shows on Fremont Street, Mike Hammer plays at Four Queens at a reasonable price point of under $40. Mike expertly utilizes audience participation to keep his comedic magic show fresh, and hilarious. A perfect candidate for dinner and a show downtown, Comedy Magic has earned 4.5/5 stars on TripAdvisor.
Shin Lim – Limitless
While there are numerous performers in Vegas that have won, or have been finalists on "America's Got Talent", few can say they won the whole thing twice. Shin Lim has done just that and his magic show at The Mirage has earned a solid 4.5/5 stars on TripAdvisor.
Nathan Burton Comedy Magic
Like Mat Franco, Nathan Burton is another product of "America's Got Talent" and plays his popular magic show at Planet Hollywood. Popular with families, Comedy Magic is kid-friendly, showcasing a number of card tricks, and illusions, all while mixing in some laughs. Earning 4.5/5 stars on TripAdvisor, this family-friendly performance easily ranks among the best magic shows in Las Vegas.
Xavier Mortimer's Magical Dream
Another highly-regarded magic show that incorporates comedy, Xavier Mortimer is a former Cirque du Soleil performer turned solo magician. The show leverages his storytelling ability which details a love story that is made more enthralling by acts of magic and illusion. The fans agree this Magical Dream belongs in the upper echelon of magic shows in Vegas awarding the production at STRAT 4.5/5 stars on TripAdvisor.
Murray the Magician
A previous semifinalist on "America's Got Talent", Murray the Magician is known for his illusions that are appropriate for all ages. Now starring at Tropicana, Murray has earned 4.5/5 stars on TripAdvisor. Notably, his show is also quite affordable, usually landing in the $35 range.
Penn & Teller
The duo which performs at Rio just off the Strip has been a part of the Las Vegas magic scene since their 1993 debut at Bally's. Uniquely, only Penn speaks during performances with Teller remaining silent. Absent are the pyrotechnics and "high energy" elements that you may find at shows like Criss Angel, which could be positive or negative depending on your perspective. Although only earning 4.0/5 stars on TripAdvisor, Penn and Teller maintain a loyal fan following.
Criss Angel – MINDFREAK
One of the more recognizable magic acts in Las Vegas, Criss Angel performs at his namesake theater at Planet Hollywood. While some Vegas magic shows leverage comedy, Criss Angel utilizes special effects, dancers, and pyrotechnics to entertain. Many of the "less enthused" reviews were disappointed that magic took a backseat to other effects that seemed to dominate the 90-minute show. Earning 4.0/5 stars on TripAdvisor, MINDFREAK is solid, but only on the outside fringes of the best magic show options in Vegas.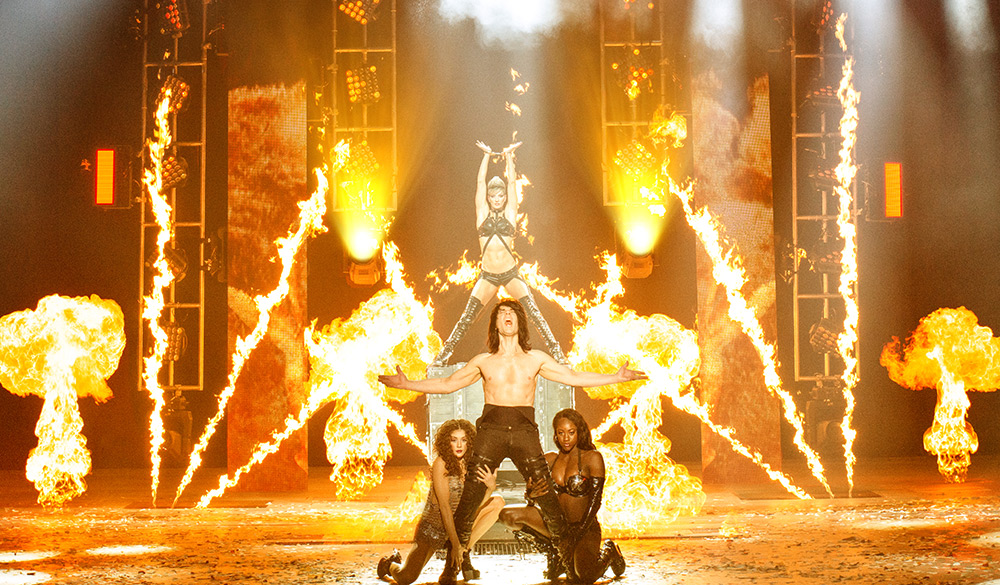 David Copperfield
A legendary magician, even those unfamiliar with Las Vegas know the name David Copperfield. Calling the MGM Grand home, Copperfield performs an assortment of tricks and illusions as part of a family-friendly show. Although he sports a legendary name, patrons didn't necessarily agree with the assessment that Copperfield is the "greatest illusionist of our time" awarding 4/5 stars on Vegas.com.
Newer Magic Shows in Vegas
The shows below could be great options, however, haven't received enough reviews to add to the rankings. We'll be sure to slot them in as customer reviews trickle in!
Lioz Show – This Is Not Comedy
Calling the intimate Magic Attic at Bally's home, Lioz Show is a hilarious parody of traditional magic productions. If you saw him on "America's Got Talent", you know that this isn't your typical magic act. Before buying, I'd recommend checking his act out on YouTube to ensure it's up your alley.
Fortunately for those looking to be amazed while in town, there are a number of great magic shows in Las Vegas, many of which incorporate humor, audience participation, and almost all are kid-friendly. Hopefully, our rankings based on the opinion of the masses were able to help you find a magic show that will work for your group or family.
Looking for another genre or type of show while in Las Vegas? Check out our breakdown:
See Also: 70+ Kid-Friendly things to do in Las Vegas.
Feature Image: ©fergregory/123RF.COM