Among the more popular activities pursued during bachelorette parties and girls' weekends in Vegas are male revues.
With a number of show options at your disposal, we thought it would be helpful to consolidate the various male revue shows in Las Vegas, ranked by their customer review score on TripAdvisor (when available). You don't have to take one person's word on it, rather, trust the masses!
When buying show tickets, it's important to shop around. For each show, we'll link out to a number of vendors so that you can shop around and get the best deal.
Best Male Revues in Las Vegas
If you're in the market for a good male revue in Las Vegas, then you'll find yourself immersed in a wealth of options. In fact, 4 different shows are tied for the title of "Best Male Review in Las Vegas" with 4.5 out of 5 stars awarded. Let's dive in!
Thunder From Down Under
Earning 4.5/5 stars on TripAdvisor after over 750 reviews, the all-Australian crew that performs at Excalibur is sure to delight.
Admittedly, we're no expert, but the Thunder From Down Under website claims that "Each sexy performer embodies a different female fantasy and brings it to life". We infer that to mean there is something for all tastes.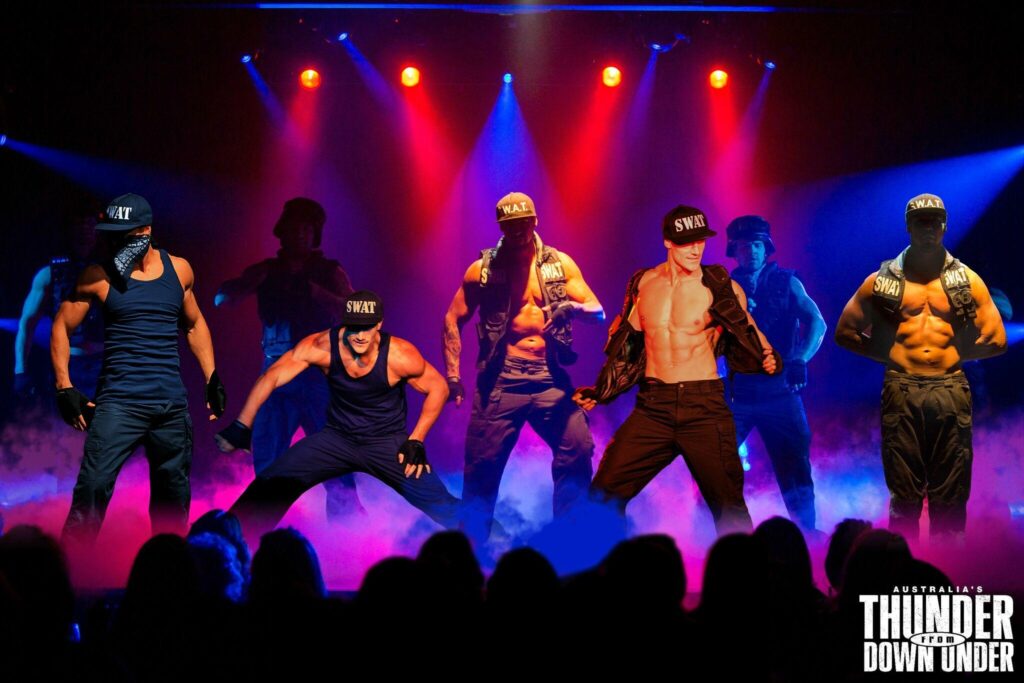 Chippendales
The male performers of Chippendales are armed with an abundance of abdominal muscles and body oil.
The self-described "Sex-Gods" perform at Rio, and are tied atop the list of Best Male Revue shows in Las Vegas earning 4.5/5 stars on Vegas.com after 360+ reviews.
Magic Mike Live
Performing at Sahara on the north end of the Las Vegas Strip, Magic Mike Live is inspired by the hit Channing Tatum movie that shares the same name.
The cast of 13 studs leverage the entire theater during their performance, so the odds that you'll get up close and personal at some point are pretty darn good. Earning 4.5/5 stars on TripAdvisor after 320+ reviews, Magic Mike is a popular Male Revue option.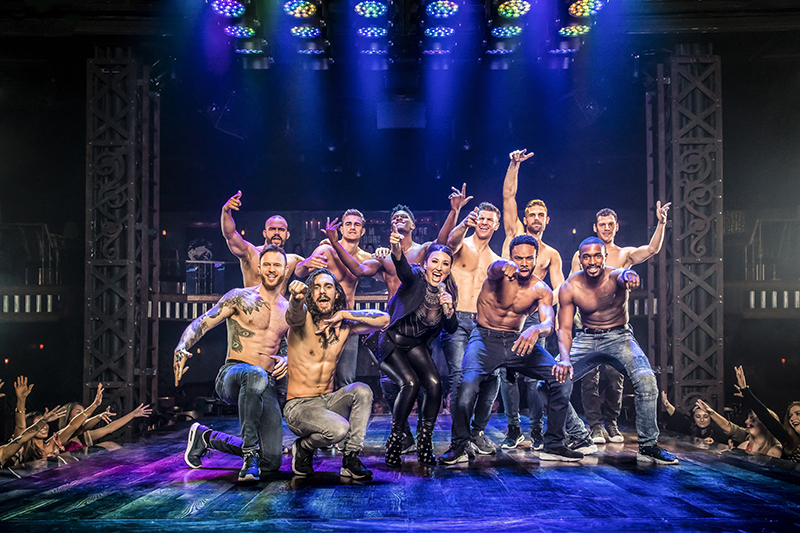 Men of Sapphire
The Men of Sapphire is a male review that touches on all fantasies, featuring a Marine in dress uniform, a cowboy, a fireman, and a construction worker among other trades.
Unlike other male reviews in Vegas, the Men of Sapphire mingle amongst the crowd, offering lap dances, and personal attention. Also earning 4.5/5 stars on Vegas.com after over 40 reviews, the show is tied atop the list of best male revues in Las Vegas.
Other Male Revues in Las Vegas
The following shows simply haven't accumulated enough customer reviews to be included in our rankings, however, could still represent a great option!
Black Magic Live
Found just off the Strip at the Embassy Nightclub, Black Magic Live is a male revue featuring an all African-American cast of "Sculpted studs" selected by Vivica A. Fox.
Not only is Black Magic Live well received, earning 4/5 stars on Vegas.com after 100+ reviews, but it's one of the cheapest male revues in Vegas at around $50.
Naked Boys Singing
Jam-packed with "Full frontal fun", this musical revue calls the Erotic Heritage Museum home and takes the male revue concept a step further than most. Tickets to the fully nude performance start in the mid-$50s and can be purchased with:
A male review in Las Vegas can be the perfect way to celebrate a girl's weekend, dirty 30, or bachelorette party! With a number of rock-solid (pun intended) options right on the Strip, we're sure you can find one that fits the needs and budget of your group.
Looking for other show genres while in Las Vegas?
See Also: Ideas for your Bachelorette Party in Las Vegas.
Feature Image: ©fxquadro/123RF.COM
I'm a former software salesman turned Vegas aficionado. While the craps table is my preferred habitat, I pull myself away to explore new attractions, shows, restaurants, and outdoor activities around Las Vegas with the intent of sharing my experiences.
Ultimately, I just want to help folks plan a better trip and save a few bucks in the process.