When the weather is nice, nothing quite beats dining poolside in Las Vegas.
Oftentimes offering a more tropical, laid-back vibe, restaurants by the pool can be the perfect spot to kick back, relax, and enjoy a meal and/or drink(s).
As a commonly sought-out experience, I figured it would be helpful to create a guide to poolside dining in Las Vegas.
Note that the menu items and prices referenced below can (and do!) change frequently. I'll be sure to keep this post updated, but would also recommend double-checking the menu, which I'll link out to, before making the trip!
Additionally, many poolside dining options are only open during pool season (March – October). Ensure your preferred restaurant will be operational if you're looking for a bite during the off-season.
Pool Cafe at Bellagio: An aptly named restaurant, Bellagio's Pool Cafe & Bar is open daily for breakfast and lunch, serving a selection of sandwiches, burgers, wraps, tacos, fruit, small bites, and breakfast classics. You can expect to pay around $25 for most items, give or take.
Of course, the full gauntlet of cocktails are also available.
Nestled into Bellagio's stunning Mediterranean-themed pool complex, you'll feel as though you're dining on the Italian coast.
Related: Check out these restaurants at Bellagio with a view of the fountain show!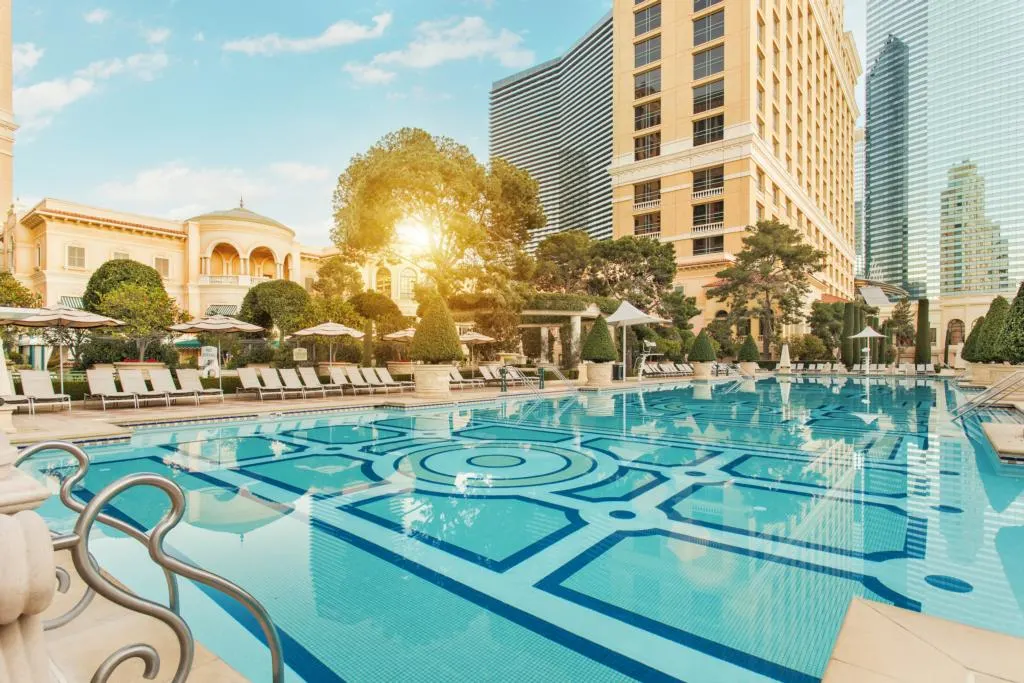 Hopefully, I was able to help you find a poolside restaurant on the Strip that works for you and your group!
Fortunately, there are poolside dining options that span the spectrum from fast-casual to more formal, meaning there's something for everyone.
Whether you're on the hunt for a quick bite, sit-down meal, or cocktails, I'm hoping you have a relaxing experience!
One thing's for sure: There are worse ways to spend a day than eating, drinking, and lounging next to the pool.