We may earn money from the companies and products mentioned in this post.
Las Vegas was built on the backs of themed properties and Paris is one of the best. Featuring a 50 story Eiffel Tower replica alongside the  2/3 size Arc De Triomphe, the 2,916 room property feels like an escape from the bustling Las Vegas Strip to the city of Paris. The 85,000 square foot casino is adorned with French architecture and decor with a 40-foot tall ceiling painted to resemble the summer sky. Even if you aren't staying there, Paris is one of those Vegas casinos you just have to see.
The best room rates are typically found when booking direct with the property. Even if you have never gambled or stayed, booking direct with Caesars will often be cheaper than 3rd party travel sites.
 What is the pool like at Paris? 
The Soleil pool at Paris was rated by this blog as one of the best in all of Las Vegas due to its position on the casino roof overlooking the Las Vegas strip. Sandwiched between the Eiffel Tower and the hotel, sunbathers have plenty to take in as they take a break and relax.
Relax on one of the complimentary loungers located around the pool or pony up for a cabana or villa. Cabanas run from $100-$150 and can accommodate up to 8 guests with a 42 inch TV, fridge stocked with water, 4 lounge chairs, dining setup for four and drink service. Villas run $200-250 and accommodate up to 10 with Air Conditioning on top of all the amenities provided by the cabana.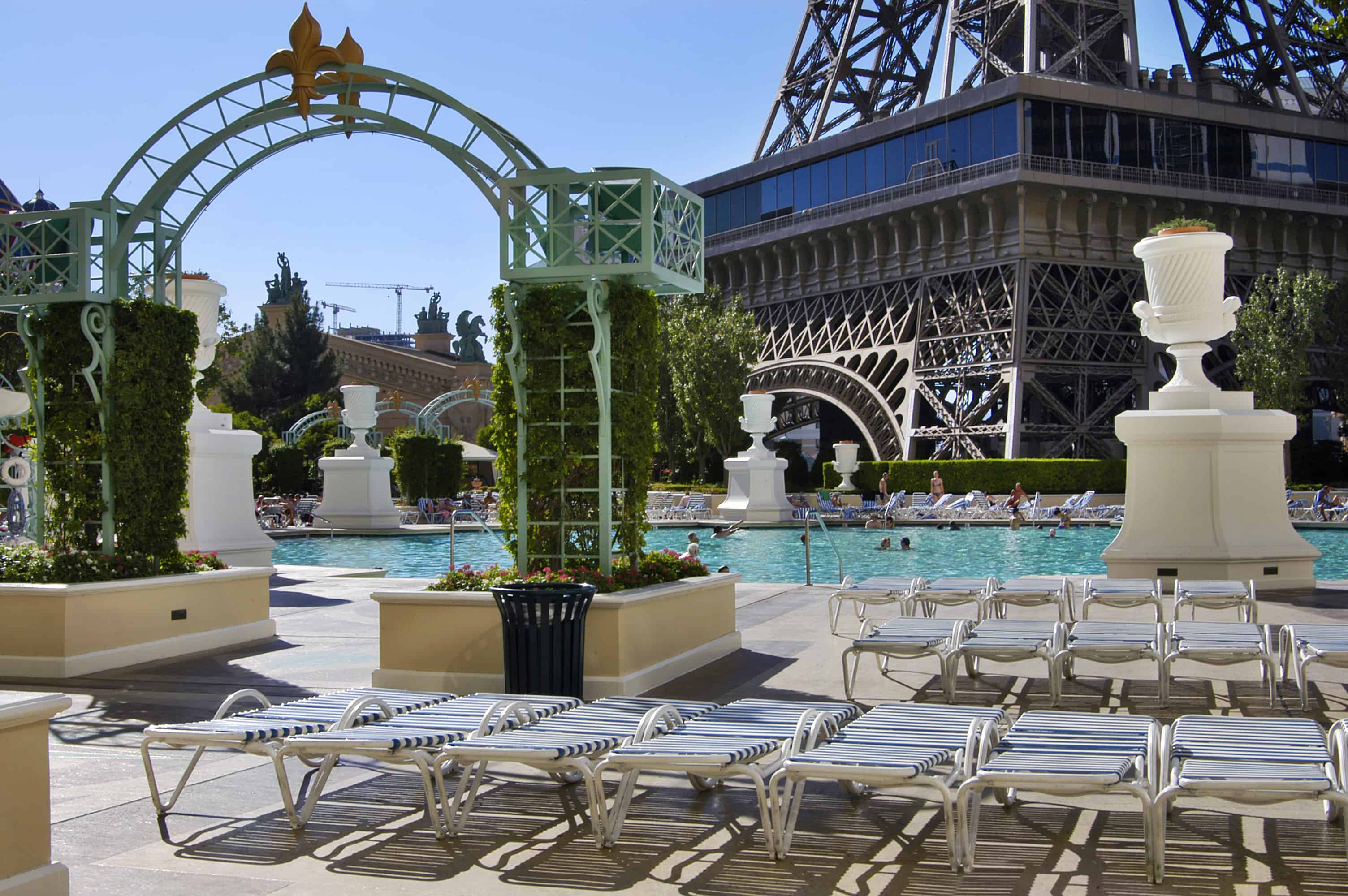 Are there any shows at Paris? 
There has been quite a bit of show turnover at Paris. "Circus 1903",  "Marilyn! A new Musical" and "Inferno" all went dark in a matter of months.
Anthony Cools: (4 / 5 Stars on TripAdvisor) performs in a small, intimate theater in which there isn't really a bad seat. If you are OK with sexual, raunchy humor, then this show is for you. If that's not your kind of humor, we likely won't get along. Honestly, skip your sit-ups the day of the show because you'll get an Abdominal workout. Tickets to the show start at $44.36 + Ticketmaster Fees.
Sex Tips for Straight Women From a Gay Man: (4 / 5 Stars on TripAdvisor) I mean, who knows better what a man wants than a gay man? A gut wrenching comedy which makes for a top date night option. Tickets start at $52 + Ticketmaster fees.
Jeff Civillico – Comedy in Action: (4.5 / 5 Stars on TripAdvisor) A comedy show for all ages, Jeff performs comedic stunts to include juggling chainsaws, juggling bowling balls and tootling around on a giant unicycle. Tickets to the show start at $42 + Ticketmaster Fees.
I Love the 90's! – The Vegas Show: The recently announced new show at Paris starts October 2018 and will feature a rotating selection of 90's artists to include Salt-N-Peppa, Dru Hill, Kid 'n Play among others that will rotate through. Were hopeful this show will stick!
What are the dining options at Paris?
Le Village Buffet ($$$) Traditional dishes from all 5 provinces of France are served in this French Village themed buffet featuring live action and cook to order options. An adult dinner will cost $30.99 and you can add an all you can drink package including beer and wine options for $12.99.
Gordon Ramsay Steak ($$$)(Dinner Menu) If you are looking for a more sophisticated menu in Vegas, this restaurant could be for you. Enjoy specialties such as Caviar, Blue Point Oysters and Gordon Ramsay's Beef Wellington. Get your wallet out, the average dinner entree will set you back around $100  – It's worth it.
Eiffel Tower Restaurant ($$$) (Dinner Menu) Allow Chef J. Joho's culinary skills amaze you as you are simultaneously taken aback by the view of the Las Vegas Strip from 100 ft. high perch within the replica Eiffel Tower. Formal attire is suggested and the average entree runs around $25 at lunch and $65 for dinner. Rated as one of USA Today's top romantic restaurants, you are encouraged to bring your wife or girlfriend.. but preferably not both.
Mon Ami Gabi ($$$) (Menu) won the Las Vegas Review Journal's "Best in Las Vegas" award for being the top French restaurant in the city in 2017. Perched on the north corner of the property right on the Strip, you won't be disappointed. Expect to spend $25 – $40 on the average entree.
Martorano's ($$$) (Menu) offers upscale Italian cuisine with a Philadelphia twist. You'll enjoy a great variety ranging from the Philly Cheesesteak to the Veal Marsala. Business casual attire is preferred and the average entree will set you back an average of $40.
Beer Park ($$) (Food Menu) offers over 100 beer options from their 10,000 square foot balcony overlooking the Las Vegas Strip and the Bellagio Fountains. Food options include an assortment of pub and stadium food. Note that Beer Park charges a 4.7% CNF fee, essentially a fee for… well nothing… that is added to all bills. Don't say I didn't warn you. 

Hexx Kitchen + Bar (Menu) is another Las Vegas Restaurant that charges the 4.7% CNF fee. If you don't want to pay it, look elsewhere. If that isn't enough to scare you away, you'll enjoy a selection of "elevated" American cuisine. Hexx is located at the front of the Paris property overlooking the Las Vegas Strip.
Other options at Paris include Sekushi ($$) Serving Sushi; JJ's Boulangerie ($) a great place for a late night slice of pizza; La Craperie ($) your stop for savory or sweet crepes; Le Cafe Ile St. Louis ($) a Parisian Sidewalk dining experience overlooking the Casino; Yong Kang Street Chinese Restaurant ($$) a great spot for a bowl of hangover curing noodles (It works).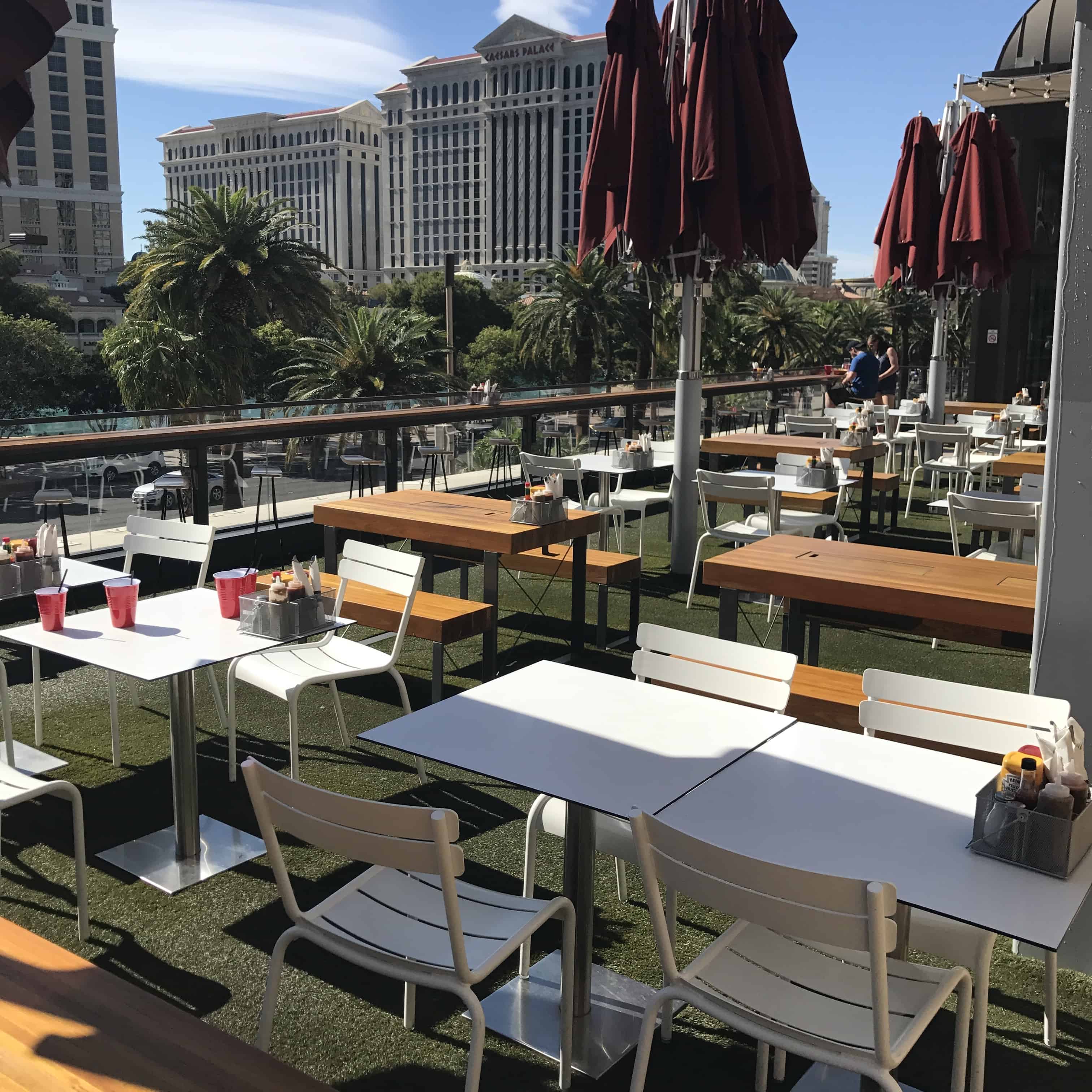 What is the casino like at Paris? 
The 85,000 square foot casino at Paris maintains the beautiful Parisian theme of the exterior of the resort with cobblestone pathways, fountains, french architecture and even the legs of the Eiffel Tower coming through the sky blue ceiling to the casino floor. Gaming wise, you will have your choice of over 2,200 slot machines and 100 table games to include Pai Gow, Baccarat, Craps, BlackJack, Let it Ride and Roulette.
Paris is certainly more than a room packed with slot machines and felt. The decor and theming is a tourist attraction in itself. Check it out!
Given Paris is mid-Strip, you can expect an off peak minimum bet of $10 on the Blackjack / Craps tables. You can bet on those minimums to climbing nights and weekends.
Paris is part of Caesars Entertainment and the Total Rewards program. Ensure you are taking advantage of any comps you deserve by signing up for the card and using it while playing at Caesars properties.
How is the Hotel at Paris?  

Caesars Entertainment recently renovated over 1,000 of the total 2,916 guestrooms at Paris, many of the rooms getting a new look being suites. Even if you don't get set up in a newly renovated room, Paris represents a respectable hotel option offering center strip location, plenty of on-site dining, a gorgeous themed casino floor and roof deck pool. Below are your room options at Paris.
Classic Room: 390 Square Feet of space offering a "French countryside" feel. This base model room comes with make-up mirror, flat screen TV, blackout drapes and marble topped bathroom fixtures. Overall the classic room is a clean, comfortable room for the casual traveler.
Burgundy Room: These newly renovated, 390 square foot rooms offers a more modern take on French countryside decor. Room amenities include a full size desk, blackout curtains, marble bathroom counters and flat screen TV.
Red Room: Modern room design with vibrant pops of red nestled into the upper floors of the hotel. The 390 square foot room includes a flat screen TV, blackout drapes and a sofa shaped as red puckered lips.
Classic Red Suite: This suite takes the Red room to the next level offering 720+ square feet adorned with the same vibrant red design features. Included in the suite, you will find a living area complete with wet bar.
Elegant Suite: 860-1,000 square feet of newly renovated elegance. This suite not only gives you more room to stretch out but also 2 TVs, sitting area with wet bar and a luxurious marble bathroom.
Classic Suite: Another newly remodeled room option at Paris, the Classic Suite offers 860-1,000 square feet of space, contemporary design, pillow top mattress, iPod docking station and large flat screen TVs. The room also has a separate living area with a couch, chairs and wet bar.
Magnifique Suite: Measuring in at 1,000 – 1,160 square feet, the freshly remodeled Magnifique suite approaches the size of some starter homes. The room includes all the expected amenities to include multiple TVs, a wet bar, living area, whirlpool tub and a plush pillow top mattress.
St. Tropez Suite: Another newly remodeled option, the St. Tropez Suite offers separate dining living and sleeping areas in addition to the beautiful chandeliers and decor accented by pops of blue. The suite itself is 1,000-1,160 square feet.
Deluxe Suite: 860+ Square feet of space designed to resemble a French cottage. You can expect amenities such as a powder room, wet bar, marble bathroom surfaces, dressing areas and whirlpool tub.
Deluxe Red Suite: 720-900 square feet, the Deluxe Red Suite offers a pillow top bed, elegant room decor, powder room, whirlpool tub and wet bar/sitting area.
Charlemagne Suite: A 1,000 square foot suite offering a contemporary feel, pillow top mattress, powder room with marble interior, whirlpool tub as well as separate dining and sitting areas. All Charlemagne suites offer views of the Eiffel Tower.
*Most rooms at Paris have an option to upgrade to a Las Vegas Strip/Eiffel Tower view. The rooms are typically more expensive than ones with "no view". Most rooms also come with the option of smoking/non as well as 1 King bed / 2 Queens. Pet friendly options are also available.
*Hotel check in starts at 4pm and guests are expected to be checked out by 11am. Skip the lines at check-in by using one Paris' self check in kiosks. All you need is an ID and the credit card you held the room with.
What are others saying about the Paris Hotel?
Positive Traveler Review Themes: Outstanding atmosphere; Great location in the Middle of the Las Vegas Strip; Enjoyable food and shopping options on site; Friendly Staff; Clean rooms; Great views of Strip from Hotel (some rooms); Comfortable Beds.
Negative Traveler Review Themes: Long check in lines; Resort fees were a surprise; Non Renovated rooms dated/showing wear; Unpleasant staff interactions; Room cleanliness issues upon check in.
Price Range:  
Paris' baseline room rates run on the upper end of the middle tier of Las Vegas Strip properties. Expect to pay anywhere between $60 all the way up to $300 on weeknights depending on events in town. Weekend rates range from $100 – $350, again, based on demand. A 10% discount is offered to members of the military, first responders, students, teachers and government employees if you book through the Total Rewards website.
The nightly resort fee at Paris is $37 + Tax and is charged at the time of check in. Note the resort fees are not assessed to Total Reward members that have achieved Diamond or Seven Stars status. The resort fee at Paris covers premium WiFi for up to 2 devices, fitness center access for 2 and all the local calls you can make.
If self parking at Paris, you will be charged $0 for your first 60 minutes, $9 for 1-4 hours and $12 for 4-24 hours.
What are the things I NEED to do at Paris? 
Eiffel Tower Observation Deck:  Voted as a finalist as the "Best Romantic Spot" in the Best of Vegas awards, the 460 foot high, 360 degree view of the Las Vegas Strip is sure to give you chills.
Napoleon's Lounge: Check out the elegant twist on dueling pianos at Napoleon's Lounge. The bar itself is beautiful and as the drinks flow the chorus from the crowd gets louder and louder. Drinks are on the spendy side, but it's worth a stop if dueling pianos are your thing.
Is Paris in a good location?  
Paris is located smack dab in the middle of the Las Vegas Strip between Planet Hollywood to the South and Bally's to the north. Guests at Paris have a stunning view of Bellagio and her fountains across Las Vegas Boulevard. Nearly every main attraction on the Strip is within walking distance or $10 or less Uber ride.
Paris is also connected via tunnel to the neighboring Bally's property if you want to avoid the heat.
Unique Transportation Options at Flamingo:
The Las Vegas Monorail offers a Bally's/Paris stop, however the stop is actually in the back of the Bally's property. Simply take the walkway near the hotel elevators at Paris to Bally's and follow the signage to the Monorail stop. The Monorail runs from SLS Hotel and Casino on the North end of the Strip, South to MGM Grand.
Uber and Lyft will drop you off where cabs traditionally drop you off, right under the Arc de Triomphe and near the Hotel front desk. Uber/Lyft pickups however, occur at the north entrance of the property (somewhat near Mon Ami Gabi).
Our take on the Paris Las Vegas property:
Paris is a mid tier Las Vegas hotel with both budget and upscale room options available. The property's prime center Strip location gives guests easy access to everything the Las Vegas has to offer. The real allure of the Paris property however, is the theming that seems to be a dying breed in Vegas. From the exterior of the structure to the casino floor all the way up to the guestrooms, Paris has a true Parisian feel and is so much more than a simple gambling hall. In addition to fantastic aesthetics, Paris offers a multitude of viable dining options for all price ranges.
Even if you choose to stay elsewhere, ensure you carve out time to visit the Paris property.