While Las Vegas is built on gambling, resorts are earning more and more of their revenue from non-gaming activities like entertainment, dining, and shopping.
With so many unique retail options, there's never been a better time than now for those looking for luxury shopping options in Las Vegas, especially on the Strip.
What I appreciate most about shopping malls in Las Vegas is that most are much more than simple retail establishments, rather, they're tourist attractions in and of themselves.
In addition to high-end shopping, many malls on the Strip boast intricate themes, unique services, or free shows that make them worth going out of your way for.
According to a 2022 profile survey conducted by the Las Vegas Convention and Visitors Authority (LVCVA), the average visitor to Las Vegas spent $195.74 shopping during their trip.
For those of you looking to soothe your gambling losses with some retail therapy, I thought it would be helpful to detail your shopping options in Las Vegas, both high-end and not.
Shopping Malls on the Las Vegas Strip
Luxury Shopping at Wynn and Encore
Among my favorite things to see at Wynn and Encore are the resort's high-end shops, and I'm not a shopping person.
As is typical of Wynn properties, even seemingly boring activities are spiced up with luxurious eye candy.
While both the Shops at Wynn and Shops at Encore specialize in upscale apparel and accessories, I can't get enough of the Wynn Plaza Shops, pictured below.
Of course, the Wynn Plaza Shops are lined with high-end brands like Breitling, Celine, Louis Vuitton, and Omega, but I love the scenery.
In addition to surrounding visitors with simple luxury, the Plaza Shops also boasts a collection of art, like Takashi Murakami and Virgil Abloh's neon "Arrows and a Flower Neon Sign" pictured below.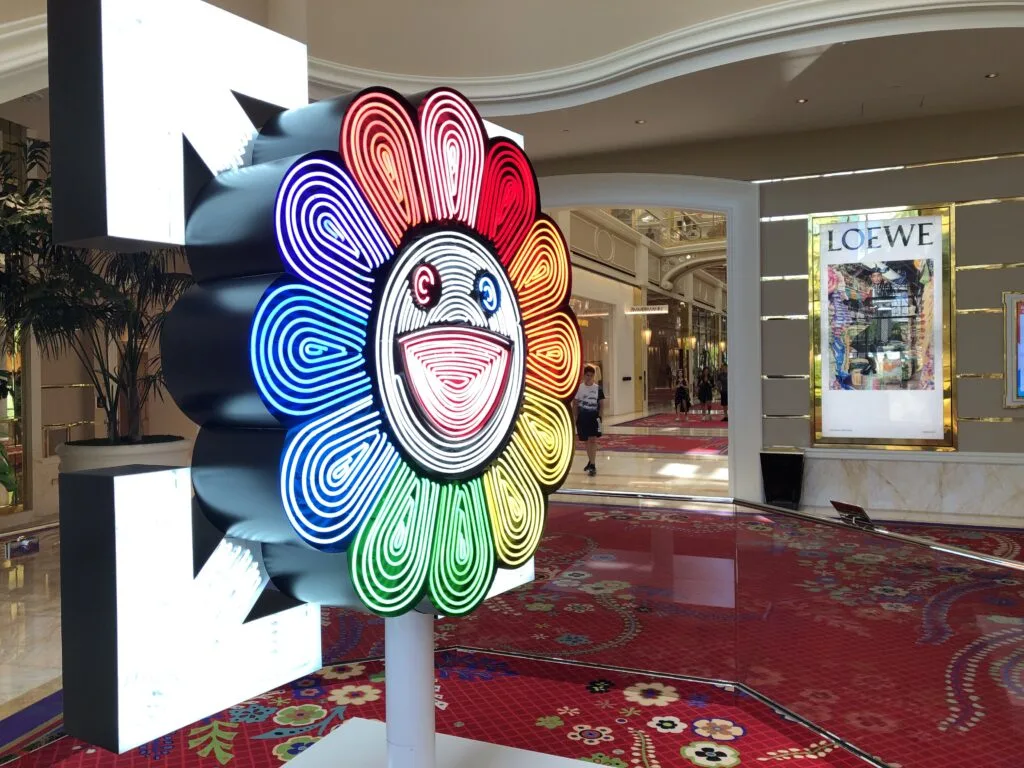 When there, stop by Urth Cafe for a cup of coffee or espresso overlooking the mall. While an all-organic coffee shop at Wynn sounds expensive, a cup of Joe will set you back as little as $3.75. Worth a stop. See Urth's full menu.
The Shops at Crystals
From the exterior, you can tell that this isn't going to be your typical Las Vegas shopping experience.
The futuristic-looking building located out front of Aria contains 500,000 square feet of shopping and carries LEED Gold Core and Shell certification. While I don't know exactly what that means, I know it's good for the Earth, which is nice.
Inside, shoppers will find over 50 luxury brand outlets including Versace, Giorgio Armani, Dolce & Gabbana, and Louis Vuitton. Note that the mall is accessible via a free tram that connects Vdara, Bellagio, Park MGM, and Aria.
In addition to shopping outlets, Crystals is home to a number of unique museum attractions that include Immersive Van Gogh, Immersive Disney, and Princess Diana: A Tribute Exhibition.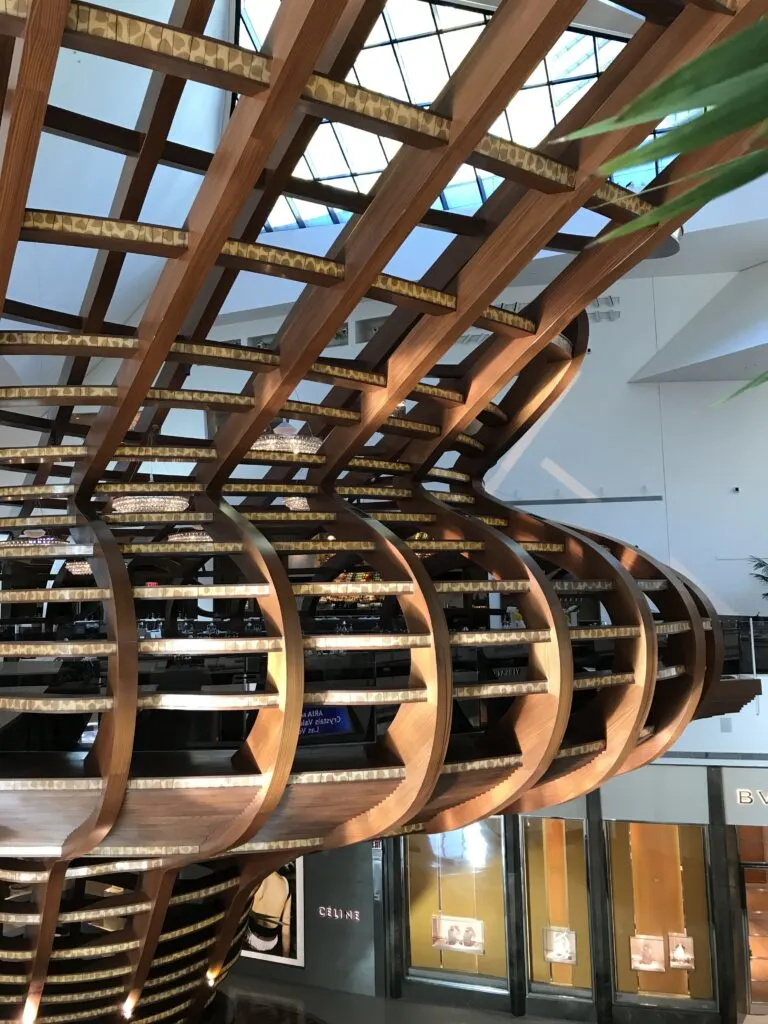 Fashion Show Mall
Sitting next door to TI and across the street from Wynn, Fashion Show is easily the largest shopping mall on the Las Vegas Strip boasting over 250 stores, and has the look and feel of a traditional mall you would find back home.
While luxury outlets are present, this particular mall is more so catered to the middle-class shopper with options like American Eagle, Amazon Pop Up, Apple Store, Dick's Sporting Goods, and even a Disney Store. Dining options available span the spectrum from The Capital Grille to fast and quick-serve food options.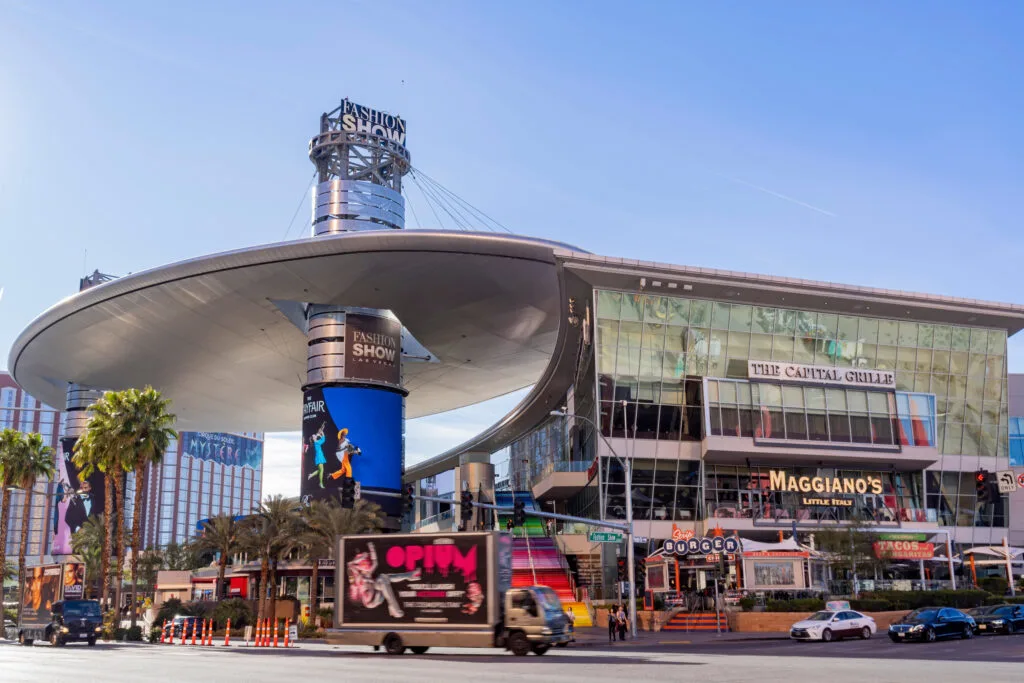 Grand Canal Shoppes
Whether you enjoy shopping or not, the Grand Canal Shoppes at Venetian should be atop your to-do list in Las Vegas.
Yes, there are over 160 stores, many of which feature luxury brands, but the star of the show is the intricate theming that seemingly drops you into the middle of Venice. In addition to shopping, you can take a gondola ride, or just watch them go by.
I suggest enjoying a meal in St. Mark's Square or grabbing a cocktail at one of the numerous bars and breweries.
Strolling through the Grand Canal Shoppes is one of my favorite things to do at The Venetian, if not all of Vegas.
While the usual brands are almost all offered at the Grand Canal Shoppes, I found the "Man Cave" and "Houdini's" Magic stores to be unique and enjoyable to peruse.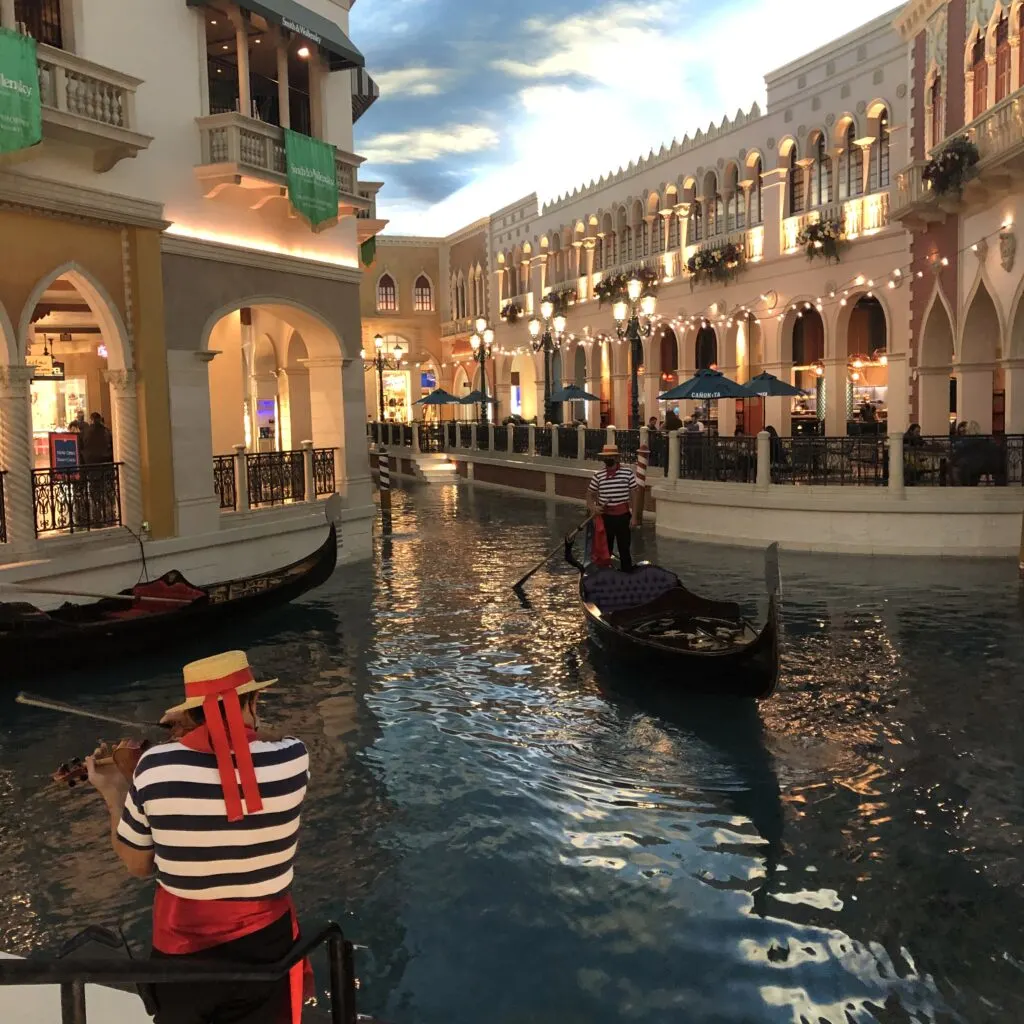 Forum Shops at Caesars Palace
As is typical of shopping options in Las Vegas, the scenery at Forum Shops at Caesars is a bigger draw than the actual shopping options.
Themed to match the resort's Roman identity, visitors will want to check out the free "Fall of Atlantis" show with animatronic animals, the 50,000-gallon fish tank stocked with tropical sea life, and snap a photo in the iconic atrium with spiral escalators.
Of course, there are also over 160 stores including luxury options and a 3-level H&M.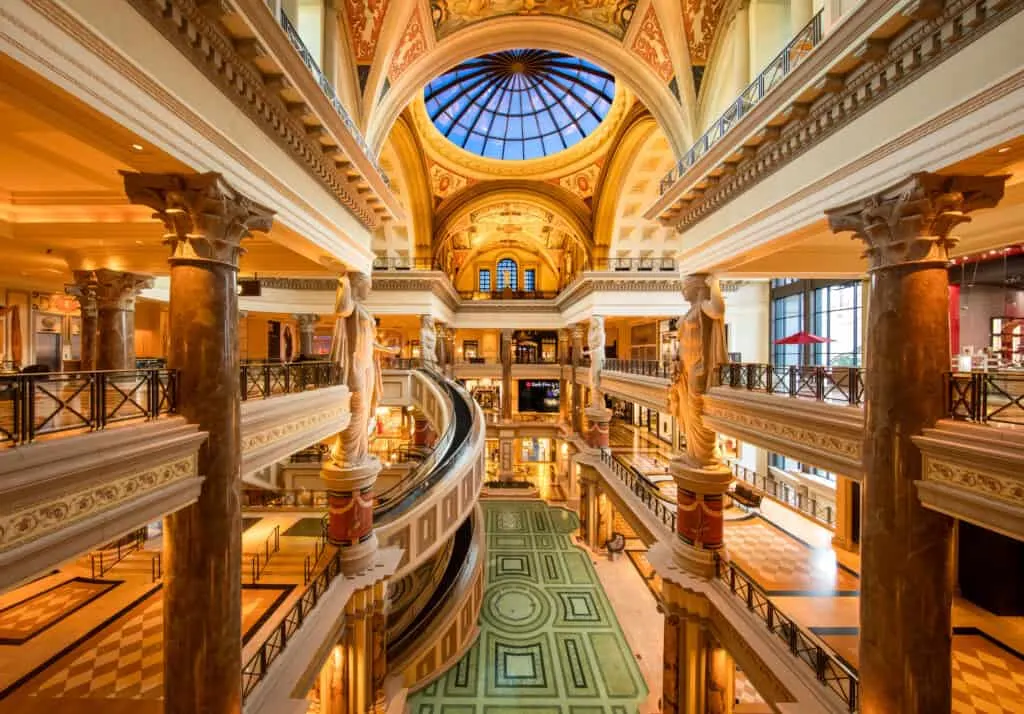 Miracle Mile Shops at Planet Hollywood
From the perspective of this blog, the Miracle Mile Shops are among the best shopping destinations in Las Vegas, although not due to the shopping options offered.
While there are over 1.2 miles of shopping including retailers like Urban Outfitters, Sunglass Hut, Champs Sports, and Sephora, the reason I hit the Miracle Mile is the sheer abundance of cheap food and drink offers. Among the best cheap meal options on the Strip is Ocean One, which offers a full $5.99 lunch menu. For the price, Ocean One's quality is tough to beat.
Additionally, bars and restaurants in the Miracle Mile make up a good chunk of my guide to finding cheap drinks and happy hour deals in Las Vegas.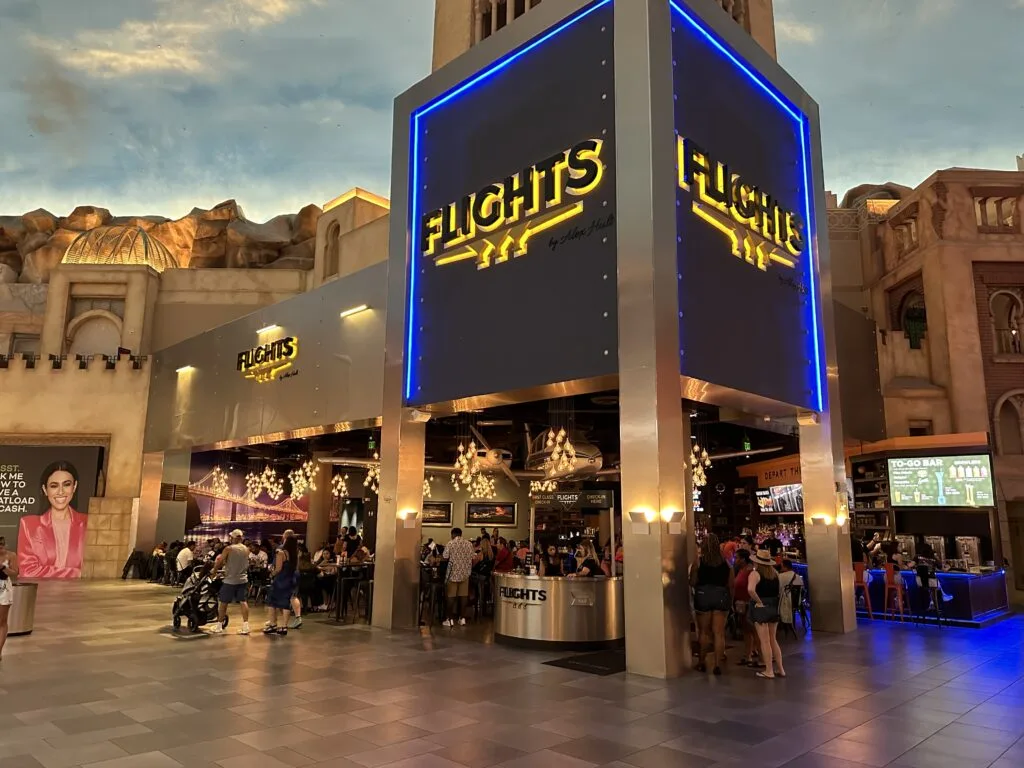 Among the unique things to do at the Miracle Mile Shops include seeing the free rainstorm show, seeking out desert decor from the resort's previous life as Aladdin, and watching a robot concoct cocktails at Tipsy Robot.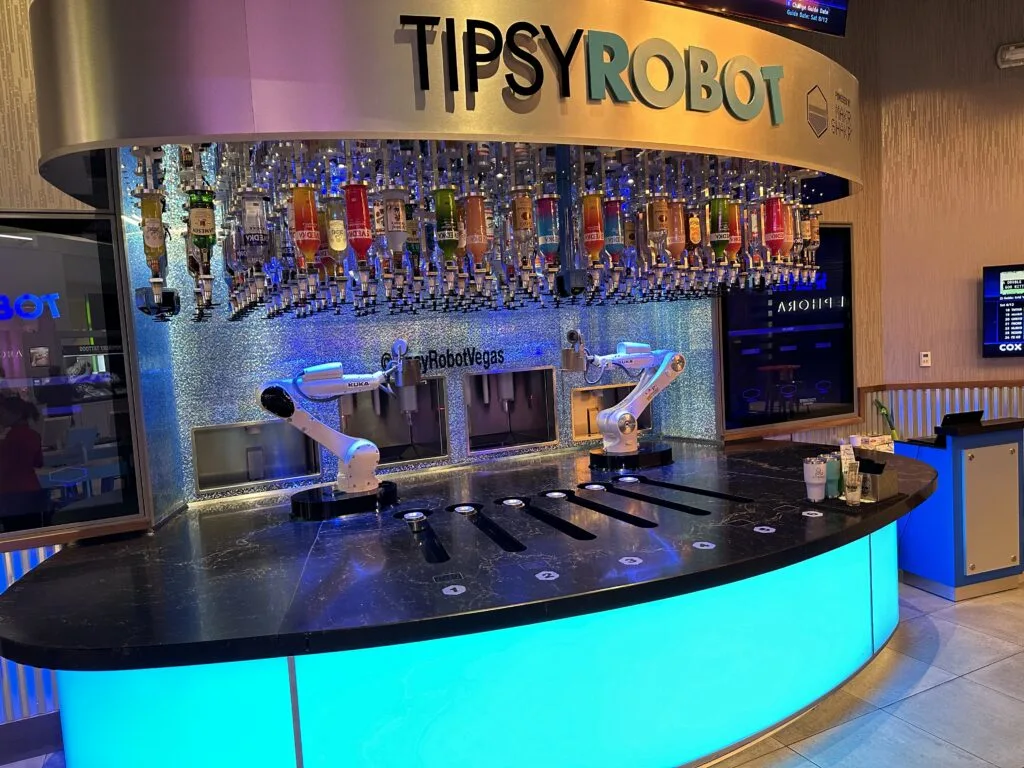 Via Bellagio
Bellagio is among the most luxurious resorts in Las Vegas, and shopping options live up to the same standards.
While Via Bellagio lacks the photo ops offered at the Forum and Grand Canal Shoppes, it makes up for it by satisfying luxury shoppers with upscale options in an elegant setting. Among options found at Via Bellagio include Prada, Tesorini, Omega, Louis Vuitton, Hermes, Gucci, and Fendi among others.
Related: Things to do at every Las Vegas Strip resort.
Other Popular Shopping Malls in Las Vegas
Las Vegas North Premium Outlets
A popular shopping destination for visitors to Las Vegas, the North Premium Outlets offer access to over 175 retailers in an outdoor-style mall.
Notable retailers within the mall include Michael Kors, Kate Spade, The North Face, Dolce & Gabbana, and more. In addition to shopping, there are also dining options on-site including The Cheesecake Factory and numerous other quick-serve options.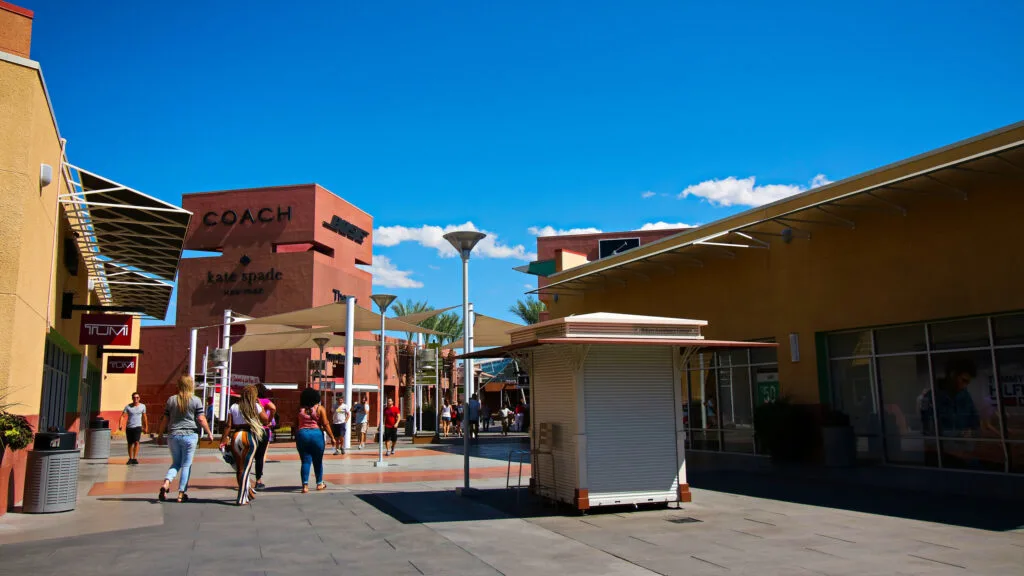 While the North Premium Outlets are away from the Strip, they are easily accessed by rideshare which will cost approximately $10-$15 from center Strip resorts like Bellagio.
If staying on the Strip, we would recommend stopping at the outlets on a day you are visiting Fremont Street as it's on the way. From Fremont Street hotels, the North Premium Outlets are a short Uber ride, typically under $10.
Las Vegas South Premium Outlets
Unlike the North Premium Outlets which is an outdoor mall, the southern version is indoors making it a more attractive option on scorching hot days.
The South Premium Outlets are located south of resorts on the Strip and can be reached via rideshare for about $10-$15 from MGM Grand.
With over 145 retailers including Coach, Armani Exchange, Nike, UGG, and Burberry, among others, this mall could be a great option for shoppers visiting Las Vegas.
Whether you choose the North or South Premium Outlets in Las Vegas, I recommend signing up for their VIP Shopper Club before you shop as it can entitle you to additional savings.
Gambling is no longer the only show in town, and shopping malls in Las Vegas, especially luxury options on the Strip have become a big draw.
Hopefully, I was able to help you identify a shopping mall on the Strip in Vegas that works for you! You certainly have plenty of unique options.
See Also: Look Inside the "World's Largest" Bonanza Gift Shop – Home to 40,000 square feet of cheap souvenirs!
I'm a former software salesman turned Vegas aficionado. While the craps table is my preferred habitat, I pull myself away to explore new attractions, shows, restaurants, and outdoor activities around Las Vegas with the intent of sharing my experiences.
Ultimately, I just want to help folks plan a better trip and save a few bucks in the process.