While food influenced by Chinese, Italian, and French cultures can be found all over the place, finding Thai food in Las Vegas tends to be a more challenging proposition.
As options are limited, I figured it would be helpful to create a rundown of Thai restaurants in Las Vegas, both on the Strip, near the Strip, and on Fremont Street, so that those hunting for it can get their fix.
For each restaurant, I'll be sure to link to their menu so you can scope it out before making the trip!
Thai Restaurants on the Strip
Lemongrass at Aria: Ranking among the more popular spots to enjoy Thai food on the Stirp, Lemongrass at Aria offers "a mix of authentic fare and more modern interpretations".
On the menu are items that span the Thai spectrum including noodle dishes, curry, rice, and seafood.
While there are some spendy items on the menu (such as the $145 green curry Maine lobster), most entrees land in the $20 – $40 range.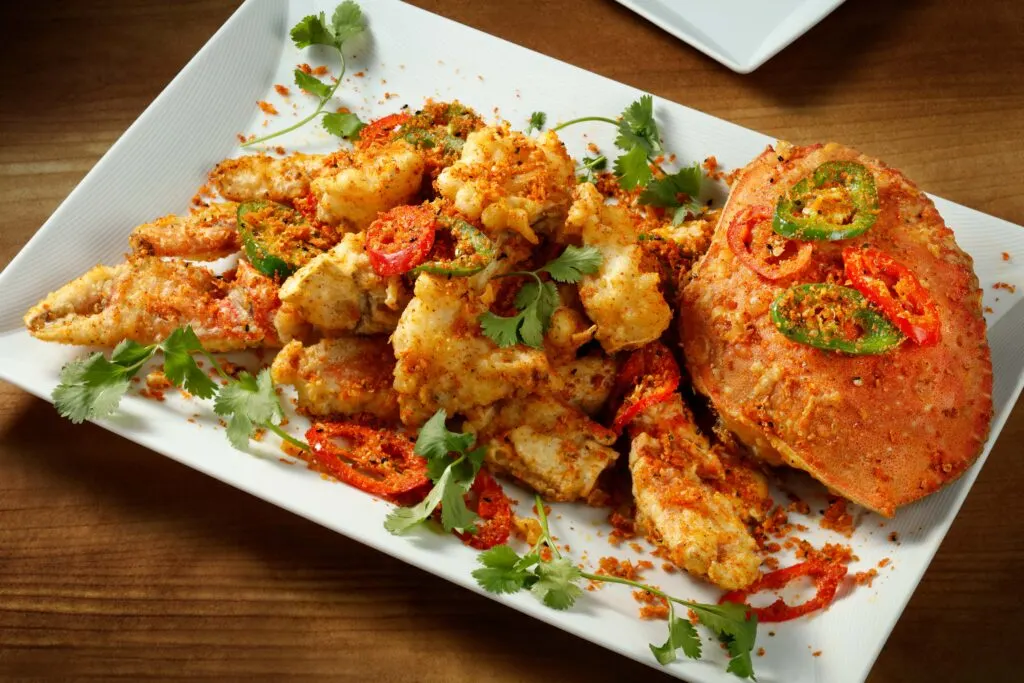 Noodles at Bellagio: while not devoted exclusively to Thai cuisine, Noodles offers a number of Thai selections on their menu. Options include spicy Thai shrimp noodles, calamari in a Thai chili sauce, and pad Thai.
TAO Asian Bistro at Venetian: While not exclusively Thai, TAO Asian Bistro combines "Culinary elements from China, Japan, and Thailand" to create their unique offerings. Notable Thai food options on the menu include pad Thai, Thai duck fried rice, and Thai sweet and spicy shrimp with tamarind and bell pepper.
Thai Restaurants Downtown Las Vegas
Le Thai on Fremont: Located right across the street from El Cortez, Le Thai is steps away from the Fremont Street Experience canopy. One of your only Thai options on Fremont Street, Le Thai serves an assortment of Thai noodles, fried rice, curry, and stir-fry.
Le Thai is also a budget-friendly restaurant, with most items costing between $10 – $15. While you wouldn't always associate low prices with high quality, the masses have awarded Le Thai 4.5/5 stars on TripAdvisor after 1,000+ reviews.
Notably, a lunch special is offered Monday through Friday from 11 am – 3 pm where a selection of items are available at a price point of $12.
Additionally, Le Thai offers one of the more unique happy hours on Fremont Street Monday through Friday from 3 pm – 6 pm. During that timeframe, beers like Tsingtao, Chang, Singha, Tiger, and Lucky Buddha are all $5.
Thai Restaurants Near the Strip
While the Thai restaurants below aren't as convenient as those on the Strip or on Fremont, they do come highly recommended by reviewers, and in Vegas-centric social media communities.
Lotus of Siam: Located a short distance away from the Strip on Flamingo Road, Lotus of Siam serves an assortment of Thai food at a reasonable price with most entrees costing around $15 – $25.
The menu includes noodle dishes, fried rice, seafood, curries, BBQ, soups, and northern Thai specialties.
Earning 4.5/5 stars on TripAdvisor after 400+ reviews, it's safe to say that Lotus of Siam is a winner.
Weera Thai: With locations near the north end of the Strip in Chinatown and along W. Sahara, Weera Thai boasts a rock-solid 4.5/5 star rating on TripAdvisor after 600+ reviews.
On the menu, you'll find a wide variety of Thai street food, soups, noodles, seafood, fried rice, curries, and more at a price point of around $20 or less.
Although options are severely limited on the Strip and Downtown, there are a few notable Thai restaurants in Las Vegas. Hopefully, I was able to help you find one that works for your itinerary!
See Also: Need additional dining inspiration? Check out these guides:
I'm a former software salesman turned Vegas aficionado. While the craps table is my preferred habitat, I pull myself away to explore new attractions, shows, restaurants, and outdoor activities around Las Vegas with the intent of sharing my experiences.
Ultimately, I just want to help folks plan a better trip and save a few bucks in the process.