Las Vegas is known for gambling, clubs, and sprawling mega-resorts, but there is also a myriad of thrill ride attractions that stand ready to entertain adrenaline junkies.
Whether you want to be dangled off the edge of a tower, or jump out of an airplane, there's a thrill ride or experience for every taste. Below, we'll dive into some of the most popular thrill rides in Las Vegas, both on the Strip and just outside the city.
See also: Check out these unique things to do in Vegas for a Bachelorette Party or Bachelor party.
Unique Thrill Rides in Vegas
STRAT's SkyJump: Among the most popular thrill rides in Las Vegas, STRAT's SkyJump gives you the opportunity to jump from their SkyPod 829 feet above the Strip below.
While you'll hit speeds of over 40 mph on the way down, SkyJump slows you just in time to make a graceful landing. SkyJump pricing starts at about $130 but you can take the leap for a little less via this deal on Groupon.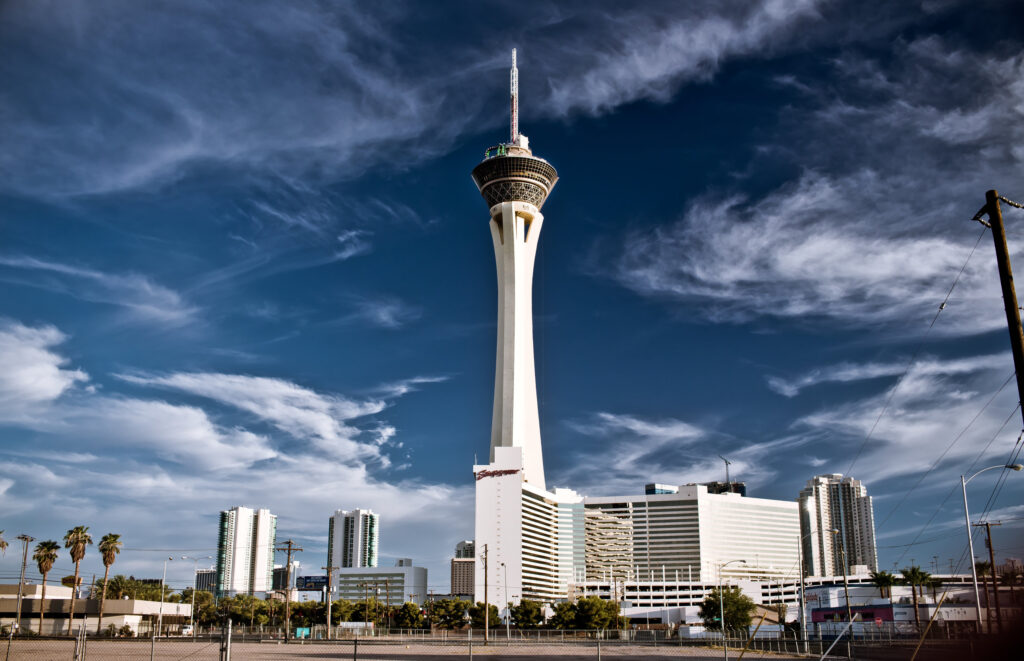 Strat's Rooftop Rides: STRAT's SkyPod also offers 3 thrill rides atop the tower that are guaranteed to bring your fear of heights to the forefront of your mind.
The first thrill ride option, "Insanity", dangles riders over the edge of the tower, 900 ft. from the ground while simultaneously spinning them at speeds of up to 40 mph.
"X-Scream" slides riders up to 27 ft. off the edge of the tower on a rollercoaster-like vehicle.
Lastly, "Big Shot" shoots riders 160 ft. up in the air at a speed of 45 mph to a max height of nearly 1,100 ft. above the Strip.
You can commonly save a few bucks on STRAT's "all you can ride pass", here, on Groupon.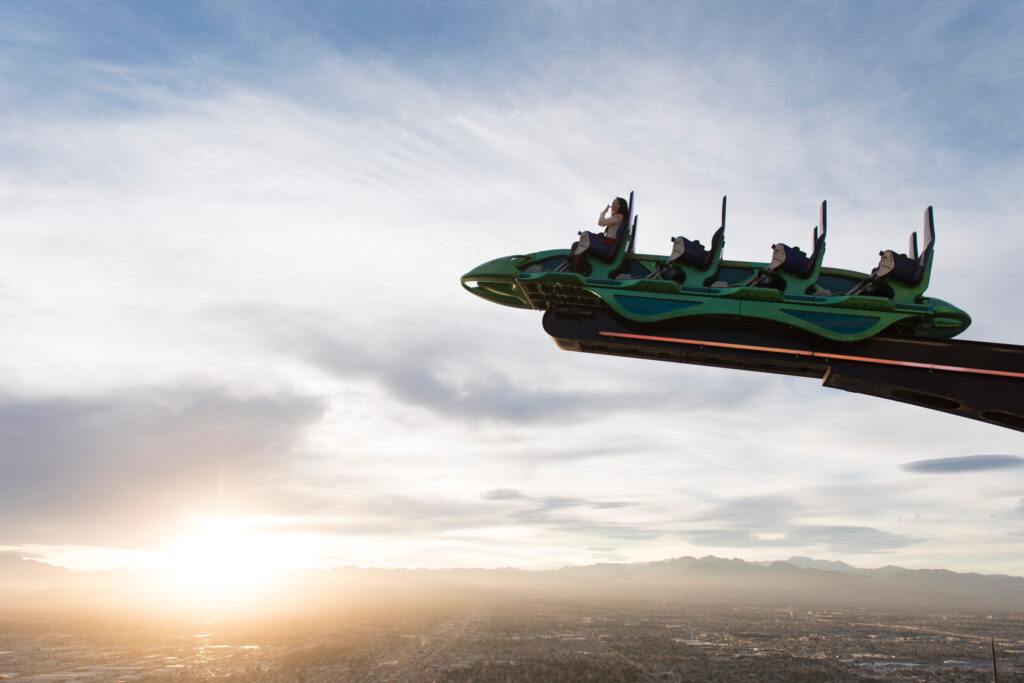 Skydiving: If STRAT's SkyJump isn't quite thrilling enough for you, hopping out of an airplane may do the trick. There are a number of operators around Las Vegas that can accommodate your need for adrenaline such as SkyDive Vegas, which boasts a 120 mph free fall and views of Lake Mead, the Hoover Dam, and Las Vegas.
For such a unique attraction, pricing isn't all that absurd, typically starting at $200 – $300 per person. There are also frequently deals for skydiving offered on Groupon, so take a peek before booking your adventure.
Indoor Skydiving: If you want the thrilling sensation of free fall without actually freefalling, check out Vegas Indoor Skydiving. Guests are outfitted with a suit that creates drag before taking flight in a vertical wind tunnel which is powered by a 1,000 horsepower fan.
The wind tunnel is fully padded so your risk of injury is minimal. Packages start at $85 which allows one person two opportunities to fly.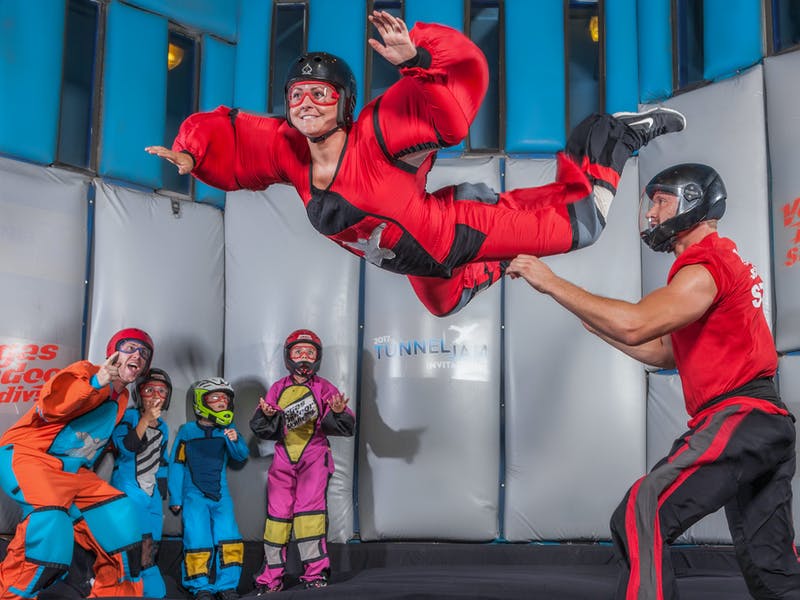 Big Apple Coaster at NYNY: Among our favorite things to do at New York New York is the Big Apple Rollercoaster which reaches speeds of nearly 70 mph, turns riders upside down, and drops riders 200+ feet at the beginning.
What was traditionally a pretty rough ride has been made a bit smoother by their addition of new trains in 2021. Tickets start at around $20 and can be purchased in advance here.
Following the removal of rollercoasters at both Sahara and STRAT, Big Apple is now the only outdoor Las Vegas rollercoaster.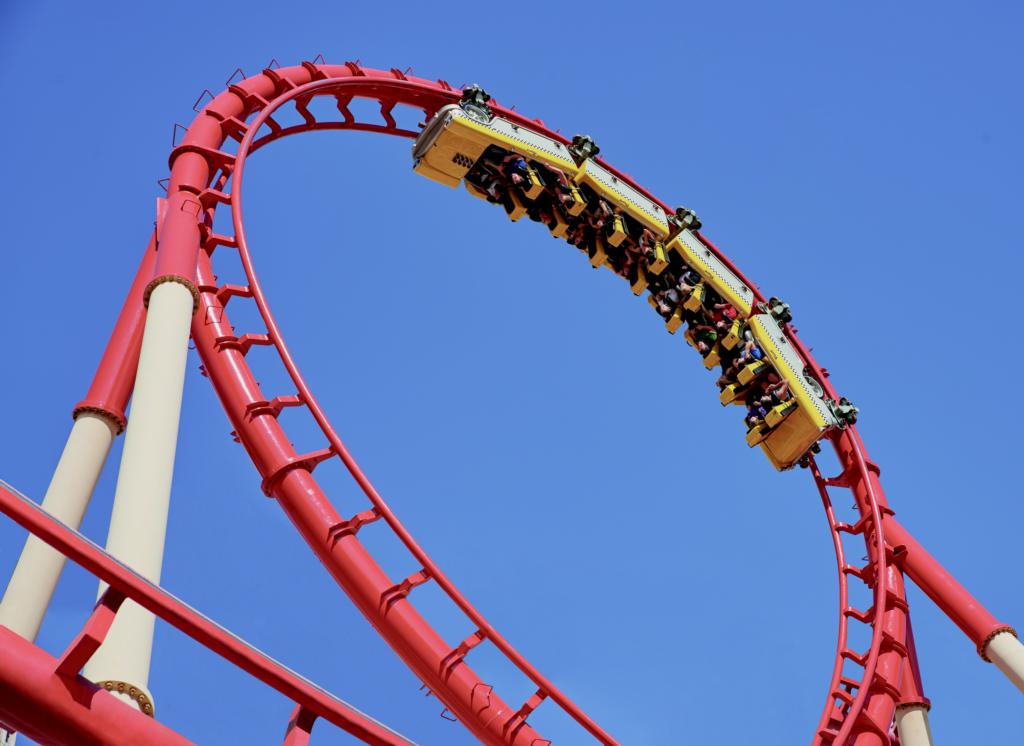 Ziplines: Ziplines in Las Vegas can be found on the Strip and on Fremont Street.
Slotzilla, located downtown is the most scenic option, sending riders through the neon canon made up of Fremont Street casinos.
FlyLINQ starts on the Strip-side of the LINQ Promenade and sends riders flying toward the High Roller.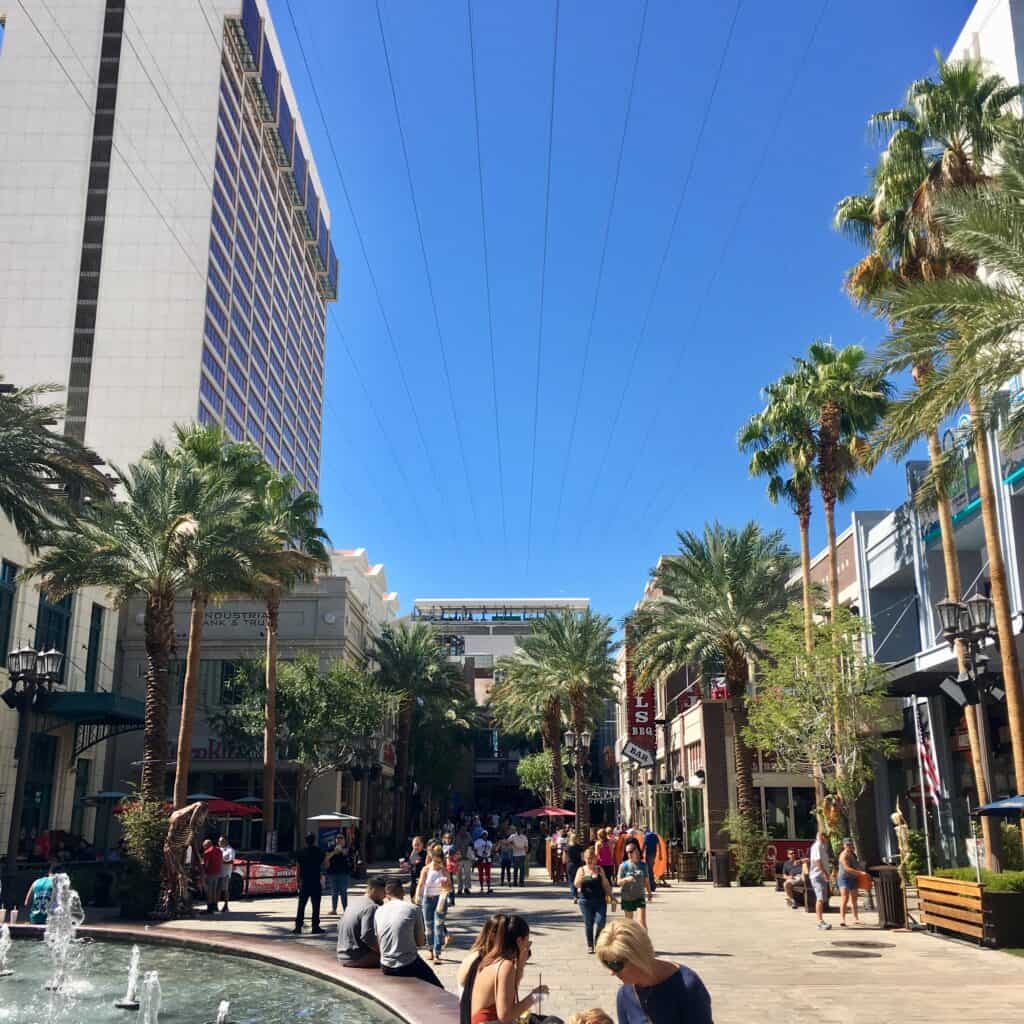 Hot Air Balloons: While the thrill of a free fall is absent, dangling from a balloon filled with warm air at heights of 10,000 feet is enough to unsettle most people. Check out companies operating around Las Vegas like Vegas Balloon Rides, where a 45-minute ride will only set you back about $360 per person. Again, always check Groupon before you book as hot air balloon deals are frequently offered.
Rides at the Adventuredome: While the theme park at Circus Circus was designed with kids in mind, there are still some pretty adventurous thrill rides to check out.
One ride, "Canyon Blaster" is a double corkscrew coaster that hits speeds of 55 mph.
"Inverter" does just that, inverts riders at the top of its circular rotation.
While Adventure dome is stocked with rides for all ages, there are certainly things to do for older thrill-seekers. Circus Circus is the place to be for those looking for rollercoasters in Las Vegas.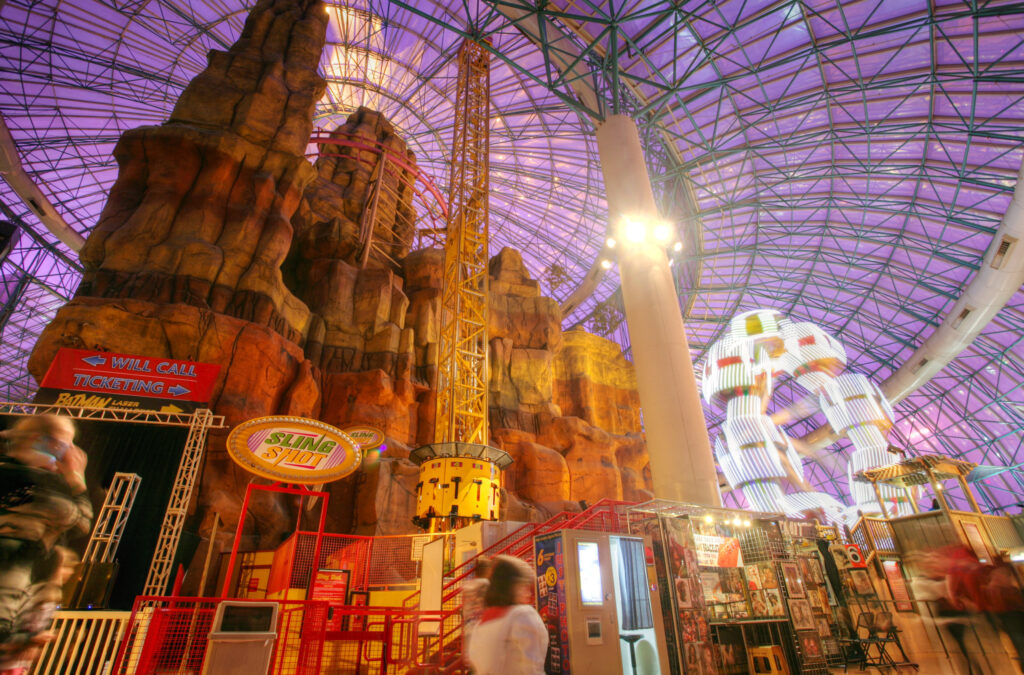 Hit the Waterpark: Beat the heat, and find some thrills at Wet n' Wild which offers several waterslides delivering a "Max Thrill" factor. Among the thrill rides offered is "Canyon Cliffs", a slide that sends you plummeting down a 6 story slide at a speed of 33 feet per second. "Rattler" is a 4 story tall slide with numerous jarring twists and turns, many of which are unexpected. Lastly, "Tornado" drops riders 6 stories into a funnel where they rip back and forth, climbing the side walls. See all the attractions at Wet 'n' Wild here.
Souped Up Go-Karts: Go-Karts on steroids rip around a 2,000-foot long track with 11 hairpin turns at Vegas Superkarts which is located on the grounds of the Las Vegas Motor Speedway. With enough gusto to reach speeds of up to 40 mph, these aren't your average go-karts. Get more info on Vegas Superkarts here!
Race an Exotic Car: Thrill Rides in Vegas don't get much more intense than ripping around the Las Vegas Motor Speedway in a Ferrari, Lamborghini, Porche, or McLaren at high speeds. Car guys won't be able to wipe the grin off their faces. Check out exotic car driving packages here, which start at $99.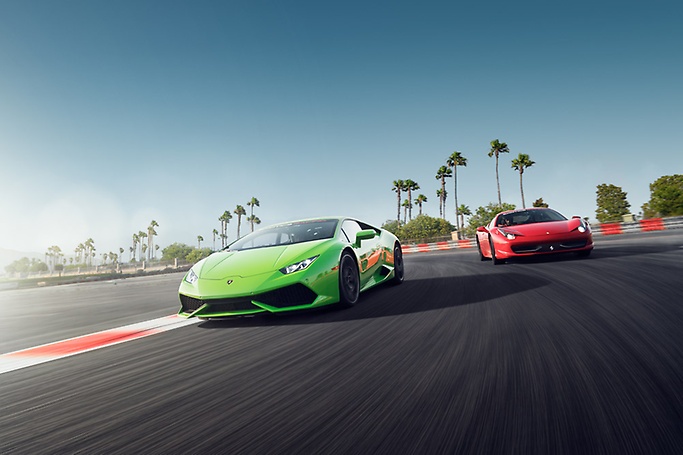 Retired Las Vegas Rollercoasters: Many folks stumble across this article hoping to learn more about "Speed – The Ride" at Sahara, or the "High Roller" rollercoaster atop Stratosphere's tower. Unfortunately, both have permanently closed.
While gambling will always be the main focus, there are plenty of thrill rides, including rollercoasters in Las Vegas to get your heart pumping in between blackjack sessions. Whether you want to jump off a building, ride a rollercoaster, or rip around a racetrack, we're sure there's a thrill ride that will fit your needs.
See Also: Exotic Car Rentals in Las Vegas – Here are your options!
Feature Image: ©jasonogulnik/123RF.COM
I'm a former software salesman turned Vegas aficionado. While the craps table is my preferred habitat, I pull myself away to explore new attractions, shows, restaurants, and outdoor activities around Las Vegas with the intent of sharing my experiences.
Ultimately, I just want to help folks plan a better trip and save a few bucks in the process.