Comprised of 7 stacks of colorful rocks, Seven Magic Mountains is instantly recognizable to most that follow Las Vegas.
Designed by artist Ugo Rondinone, Seven Magic Mountains was originally intended to be a 2-year display. That display timeframe was extended to the end of 2021 due to the attraction's popularity, and although that date has now passed, the installation is still there. At the moment, there isn't a hard and fast end date assigned to the display.
The 7 stacks of rocks, or totems, are between 30 and 35 feet tall and offer a unique contrast to the surrounding desert landscape. A total of 33 brightly colored boulders that weigh an average of 40,000 lbs. each were utilized to construct the totems.
According to the audio tour, the location was selected in part because it lands " midway between the natural and the artificial". The natural is the dry lakebed and mountains, and the artificial is the highway that passes the site.
See Also: A complete guide for things to do with kids in Las Vegas.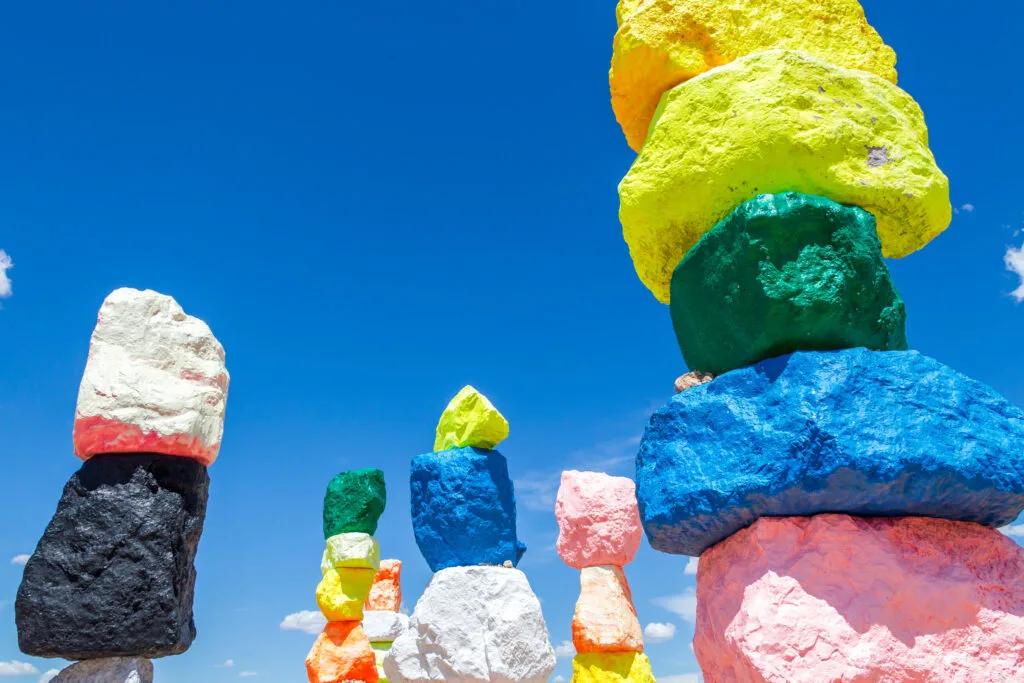 How much does Seven Magic Mountains cost?
Our favorite aspect of the artistic display is that entry is completely free. Parking is also free, and plentiful on-site.
Where is Seven Magic Mountains? What's the best way to get there from Las Vegas?
Seven Magic Mountains is located about 20 miles south of Mandalay Bay at the South end of the Las Vegas Strip. Driving from the Las Vegas Strip to Seven Magic Mountains usually takes about 20-30 minutes one way, depending on traffic.
If you will be driving from the Strip, you can take I-15 south and exit on Sloan Road, take a left, and then a right on Las Vegas Blvd. going south until you reach the destination.
It's a touch slower, but you can also just jump on the Strip (Las Vegas Blvd.) and go south until you reach Seven Magic Mountains. This route will take approximately 30-35 minutes from resorts on the South end of the Strip.
You can take an Uber or Taxi to the Seven Magic Mountains from Las Vegas, however, you will want to ensure the driver is OK being paid to wait for you while you visit the attraction. It's likely best to pitch the idea of a round trip upfront to ensure your driver is on the same page as you and OK with the plan. You can expect to pay about $60 round trip plus tip for rideshare options and more if employing a taxi.
Unfortunately, public transportation to Seven Magic Mountains is not an option.
Tips for visiting Seven Magic Mountains
Make sure you study up on what to expect before making the trip by visiting the Seven Magic Mountains Website. There, they post helpful tips including:
Use the restroom before arriving as there are no facilities on site. In fact, the closest bathroom is 5 miles away.
Bring your own bottled water, as there isn't any available at the installation.
Watch for animals, including snakes, and keep your distance if you spot something.
Take advantage of the free cell phone audio tour. Just call (702) 381-5182 for more information about the art, artist, and site. The audio tour is offered in both English and Spanish.
Lastly, ensure you bring a camera as Seven Magic Mountains is among the most "Instagrammable" spots in and around Las Vegas.
Outdoor things to do in Las Vegas and nearby, including national parks, and of course Seven Magic Mountains are often overlooked by visitors. You won't regret taking a break from the slots to venture into the great outdoors.
Related: A complete list of 77 more free things to do in and around Las Vegas.
Feature Image Credit: ©mariakraynova/123RF.COM
I'm a former software salesman turned Vegas aficionado. While the craps table is my preferred habitat, I pull myself away to explore new attractions, shows, restaurants, and outdoor activities around Las Vegas with the intent of sharing my experiences.
Ultimately, I just want to help folks plan a better trip and save a few bucks in the process.