Variety shows in Las Vegas are popular due to the diversity of the performance. With most incorporating acrobatics, feats of strength, music, magic, and comedy, there is typically something in most variety shows for everyone.
Below, I'll dive into the best variety shows in Las Vegas, ranked by customer reviews found on TripAdvisor.
For each show, I'll link out to both the box office and Vegas.com so you can quickly compare pricing and score the best deal.
Best Variety Shows in Las Vegas
Absinthe at Caesars Palace: Sitting atop the list in a tie for the title of best variety show in Las Vegas, Absinthe has earned a customer review score of 4.5/5 stars on TripAdvisor after a whopping 5,070+ reviews.
The show takes place in the Absinthe tent in front of Caesars Palace, a small venue in which everyone feels close to the action on stage. Hosted by The Gazillionaire, who is an entertaining and hilarious personality described as being "Filthy rich and just plain filthy", Absinthe wows with feats of strength, acrobatics, and other outlandish acts.
Full disclosure, to enjoy Absinthe, you need to be into raunchy comedy. Like, real raunchy. If that doesn't float your boat, I'd recommend looking at other options… or getting a better sense of humor…(I kid, I kid).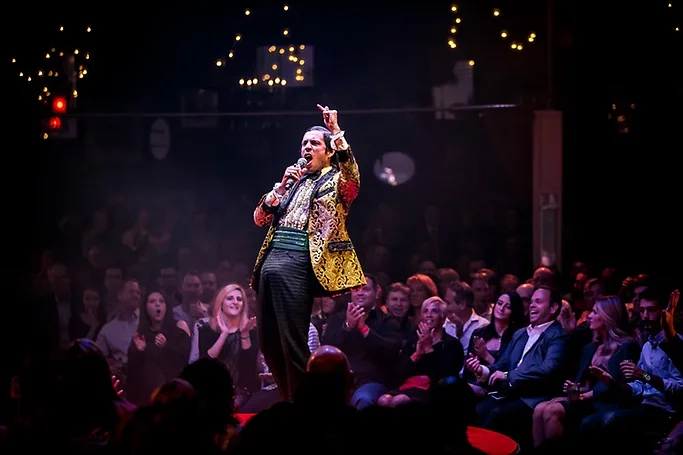 V – The Ultimate Variety Show at Planet Hollywood: Found in the Miracle Mile Shops at Planet Hollywood, V – The Ultimate Variety Show is among the cheapest Las Vegas variety shows, with tickets commonly starting in the $50 range. The family-friendly production incorporates magic, stand-up comedy, and physical acts and features a rotating cast of performers, some of which you have likely seen on TV.
Earning 4.5/5 stars on TripAdvisor after over 3,210 reviews, V has earned the respect of audiences and sits alongside Absinthe at the top of the Vegas variety show rankings.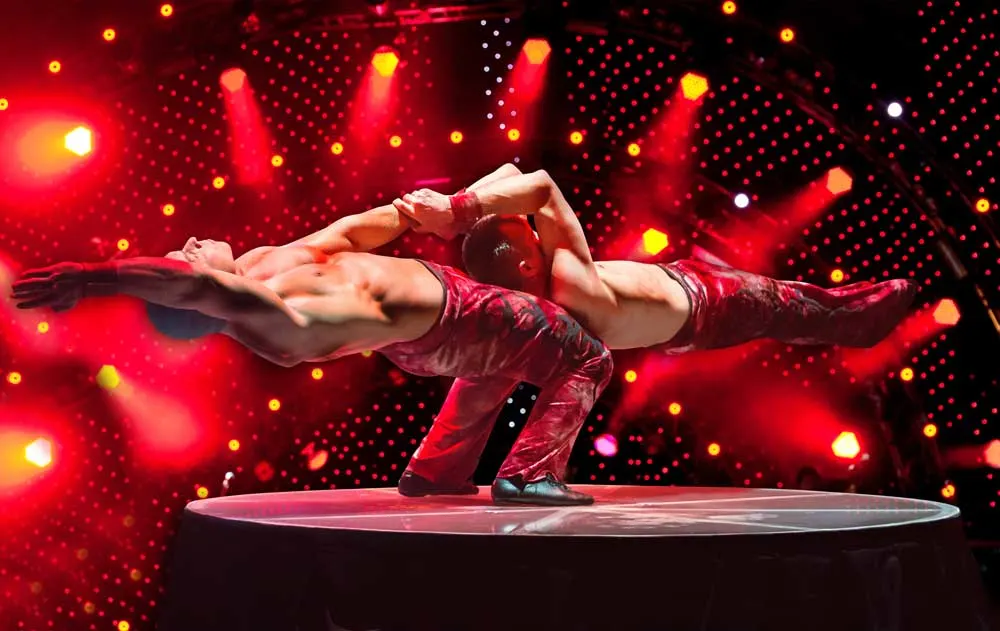 WOW – The Vegas Spectacular: Found just off the Strip at Rio, WOW – The Vegas Spectacular leverages 30 artists and water effects to put on a dazzling show.
The production, which is kid-friendly, has earned 4.5/5 stars on TripAdvisor after 255+ reviews, which slots it in the top tier of Vegas variety show options.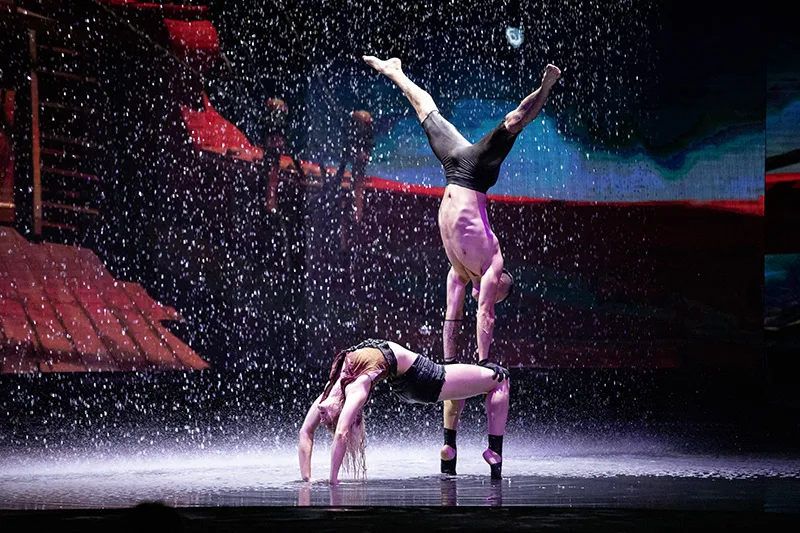 Rouge at STRAT: This ain't your father's variety show. Dubbed by producers as "The Sexiest Show in Vegas", Rouge is a topless revue that employs a cast of 18 stunning men and women.
Incorporated into the "sexposition" are variety acts that include contortionists, comedians, aerial acts, and more. If you like your variety with a sexy twist, this could be the show for you!
The burlesque/variety show mashup has earned an impressive 4.5/5 stars on TripAdvisor after 80 reviews, ranking it among the best… and raciest… variety shows in Vegas.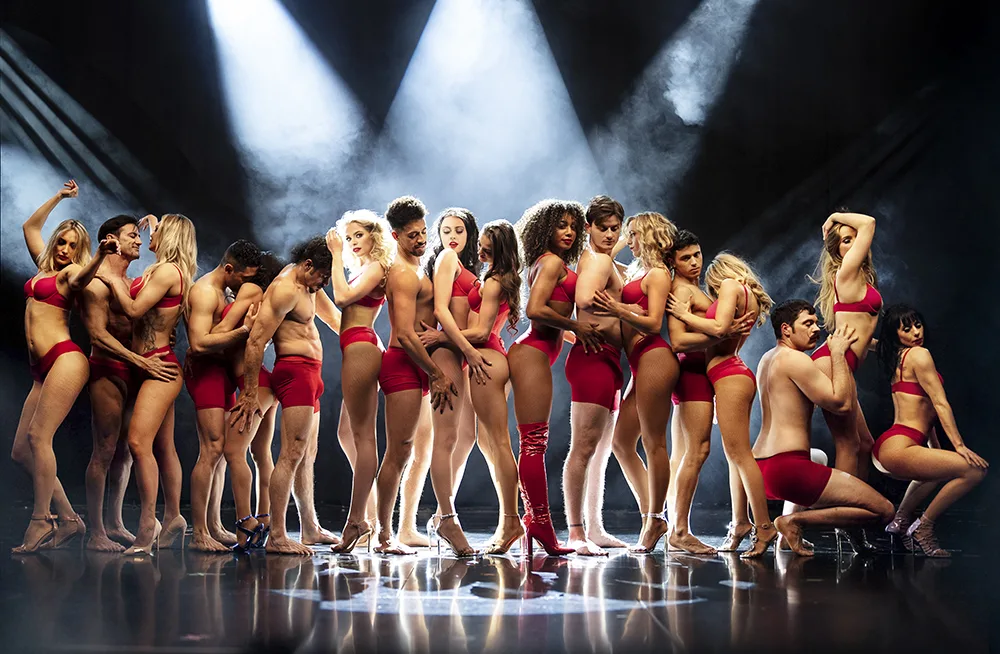 OPM at Cosmopolitan: When it comes to variety shows in Las Vegas, OPM has one of the more unique storylines. The setting is a starship named OPM73 that is in transit from Uranus to Vegas.
Also a creation of Spiegelworld, OPM shares a lot of traits that both Absinthe and Atomic Saloon exhibit. Namely, you can expect raunchy humor and a variety of acts that range from hilarious to amazing. While right up my alley, it's not exactly the type of show I'd recommend taking Grandma to.
Landing just outside the top tier, OPM has earned a rock solid 4/5 star ranking on TripAdvisor after 310+ reviews. I personally found the show to be hilarious. If you're looking for a laugh, give it a shot!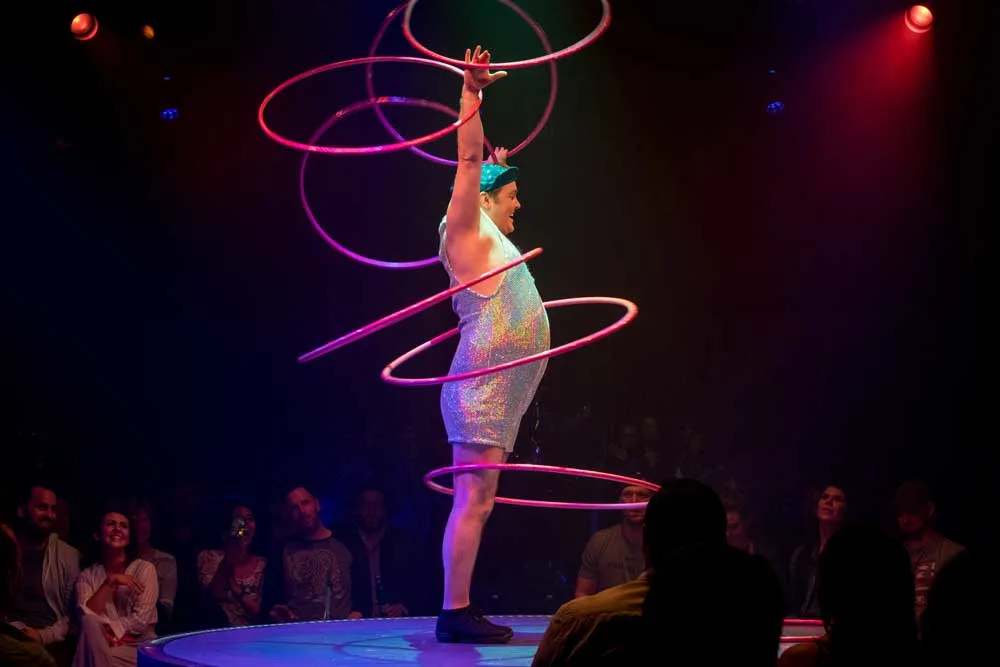 Atomic Saloon at Venetian: From the same group that created Absinthe and OPM (mentioned above), Atomic Saloon qualifies as a solid option, earning 3.5/5 stars on TripAdvisor after 150+ reviews.
The show, which is performed in the Grand Canal Shoppes at Venetian is set in the wild wild west and follows the story of Boozy Skunkton.
Like with Absinthe, those that are put off by inappropriate humor should look at other options as Atomic Saloon is a compilation of vulgar humor, acrobatic acts, and plenty of sexy.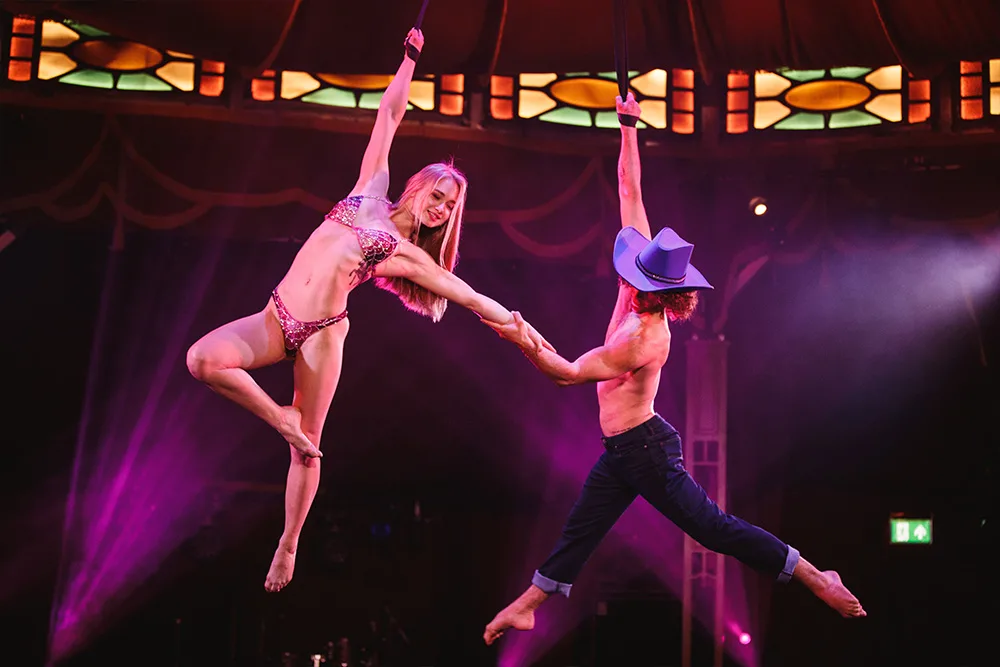 Mad Apple at NYNY: A new twist on the typical Cirque du Soleil show, Mad Apple is a variety show that combines dance, music, comedy, magic, and the daring acrobatics that Cirque is known for. The high-energy production calls the old Zumanity theater home at New York New York.
Mad Apple has earned a respectable 3.5/5 stars on TripAdvisor after 265+ reviews.
Variety Shows: Coming Soon
DiscoShow at Linq: The folks at Spiegelworld are at it again, and I couldn't be more excited. Their new production, DiscoShow, will call LINQ home and open during the summer of 2024.
Uniquely, the show will occupy the former Imperial Palace sportsbook which is currently being renovated into a theater.
While there isn't yet much detail about the show's plot, I can only imagine that the Spiegelworld brand of brash humor will spill into this performance as well.
Hopefully, I was able to help you identify a variety show on the Strip that works for you and your group! When it comes to variety shows in Las Vegas, my personal favorite is Absinthe by a long shot. If you're into raunchy humor, give it a shot, you won't be disappointed.
Related: Need more Las Vegas show ideas? Check out these:
Feature Image Credit: ©nikitavas/123RF.COM
I'm a former software salesman turned Vegas aficionado. While the craps table is my preferred habitat, I pull myself away to explore new attractions, shows, restaurants, and outdoor activities around Las Vegas with the intent of sharing my experiences.
Ultimately, I just want to help folks plan a better trip and save a few bucks in the process.