In a city packed to the gills with celebrity steakhouses, finding vegan restaurants in Las Vegas can prove to be a challenge. Fortunately, there are more and more vegan restaurants, or restaurants offering vegan menu items sprouting up left and right (pun intended, and it worked).
To aid you in your plant-based food quest, we wanted to summarize what your vegan restaurant options are both on the Las Vegas Strip, and near Fremont Street.
One thing that becomes immediately obvious is that high-end properties like Wynn/Encore, Caesars Palace, Aria, and Venetian/Palazzo tend to be a bit more vegan-friendly than lower-tier properties.
For each restaurant on the Strip that offers a vegan menu, or menu items, we'll ensure to link to it so that you can scope it out before making the trip. Just click the restaurant's name to see their vegan offerings.
Vegan Restaurants On The Strip
The following restaurants offer either a full vegan menu or offer a wide selection of vegan items as part of their main menu. In the next section, we'll also cover additional restaurants in Las Vegas that offer a more limited selection of vegan items as part of their menu.
Majordomo at Palazzo: As part of their vegan menu, Majordomo serves a selection of dips, salads, and pasta. Majordomo can be found on the Palazzo casino floor.
Sugarcane raw bar grill at Venetian: Offering a unique menu for those seeking vegan menu options, Sugarcane at Venetian serves items like Crispy Smashed Potato Salsa Verde and Farm Fresh Green Salad with Shaved Vegetables among other items.
Truth & Tonic Wellness Cafe at Venetian: Among the only completely vegan restaurants on the Strip in Las Vegas, Truth & Tonic offers a wide-ranging menu of plant-based meals for both breakfast and lunch.
Sushisamba at Venetian: Located in the Grand Canal Shoppes, Sushisamba is a haven for those seeking a unique vegan restaurant on the Las Vegas Strip. Combining culinary influences from Japan, Brazil, and Peru, Sushisamba offers sushi, rolls, robata, and desserts.
Lakeside at Wynn: the perfect vantage point to catch Wynn's Lake of Dreams free show, Lakeside offers a selection of vegan menu items which are labeled "vg" on their menu. Interesting options include Impossible Meat Stuffed Eggplant, Cast Iron Roasted Mushrooms, and Smoked Mushroom Chowder.
Sinatra at Wynn: A number of vegan items can be found at the bottom of Sinatra's main menu. Options include Vegan Agnolotti, Vegan Mushroom Milanese, and Gardein Parmigiana in addition to other options.
Allegro at Wynn: Although a small selection, Allegro serves vegan Impossible Meatballs, Organic Ancient Grain Penne, and Baked Vegan Lasagna Bolognese.
Din Tai Fung at Aria: A Taiwanese dumpling and noodle restaurant, Din Tai Fung offers a pretty extensive vegan menu. Items available include Vegetable & Mushroom Dumplings, Soy Noodle Salad, Cucumber Salad, and Red Bean & Mochi Xiao Long Bao in addition to other options.
Salt & Ivy at Aria: Mixed into their overarching menu are approximately 20 vegan options denoted with a symbol comprised of 2 leaves. Vegan options include fruit plates and Homemade Chickpea Hummus in addition to a selection of salads and side dishes.
Lemongrass at Aria: When it comes to vegan restaurants in Las Vegas, few offer a more extensive selection than Lemongrass. A Thai restaurant, Lemongrass offers a full page of vegan options at the bottom of the menu with selections like Pad Thai, Tom Yam Soup, Panang Curry, Basil Vegetables Fried Rice, and so much more.
See Also: Thai Restaurants in Las Vegas.
Hell's Kitchen at Caesars Palace: If you're looking for a high-end vegan restaurant experience on the Strip, check out Hell's Kitchen. Among options on their vegan menu are Pan-Seared Tofu Scallops, Vegan Risotto, and Quinoa Salad, in addition to others.
True Food Kitchen at Caesars Palace: Found in the Forum Shops, True Food Kitchen offers a number of vegan items on their menu which are marked with a "V". Notable options include Edamame Guacamole, an Ancient Grains Bowl, Teriyaki Quinoa Bowl, a Korean Noodle Bowl, and even a Vegan Double Cheeseburger among others.
America at New York New York: Offering a limited vegan menu, America serves options that include a Fruit & Tree Nut Plate, a Boca Vegan Burger, a Rocket Salad, and Hummus & Pita.
Nacho Daddy in the Miracle Mile Shops at Planet Hollywood: A unique restaurant with a vegan menu on the Strip, Nacho Daddy offers a large selection of Mexican favorites to include Vegan Enchiladas, Vegan Fajita Salad, Vegan Tacos, and even a Vegan Chimichanga.
Strip Restaurants with a Select Few Vegan Items
While the following restaurants don't offer a vegan menu per se, they do offer a very limited selection of items on their traditional menu that may appeal to those looking for vegan options in Las Vegas.
Catch at Aria: Denoting items on their traditional menu with a "v" if they are Vegan, Catch offers an assortment of appetizers, entrees, and even a Vegan Pistachio Cheesecake dessert.
Tom's Urban at New York New York: Offering a few Vegan items which are clearly labeled on the menu as (VG), Tom's Urban could be an option for those seeking a plant-based meal. Vegan offerings include their Impossible Burger and Hummus Duo.
Canyon Ranch Grill at Venetian: For those seeking a Vegan breakfast or lunch in Las Vegas, Canyon Ranch could be a good option. For breakfast, they offer a vegan Yogurt & Granola in addition to Breakfast Tacos. For lunch, they serve a vegetable rice stir fry.
Black Tap Craft Burgers at Venetian: Although Black Tap specializes in real meat, they snuck a few vegan options into their menu. Notably, an Impossible All-American Burger and a Vegan Nashville Hot "chicken" sandwich are offered.
Paradise Cafe at Mirage: With one vegan menu item, Paradise Cafe is only an option if you're in the mood for tacos with cilantro-lime aioli and pico de gallo.
Jaburrito's at LINQ: Offering a mix of Japanese and Mexican food, Jaburrito's serves up a select few vegan items on their menu denoted by a green "V" icon.
Flights in the Miracle Mile Shops at Planet Hollywood: Vegan menu items at Flights include a Beyond Burger served on a lettuce bun. On a side note, their 3 for 1 happy hour is among the best in Las Vegas.
PBR Rockbar in the Miracle Mile Shops at Planet Hollywood: They only offer one vegan menu item, but if you're in the mood for an Impossible Burger, this could be a good spot to grab a bite to eat right on the Strip.
Beerhaus at New York New York: While not offering a full vegan menu, Beerhaus does offer a Vegan Chipotle Dog, Vegan City Dog, and an Impossible Burger as part of their traditional menu.
Slice of Vegas at Mandalay Bay: Offering an extensive vegan menu, Slice of Vegas serves soups, salads, sandwiches, desserts, pasta, and "build your own" pizzas.
Crossroads at Resorts World: Claiming to be the "First fully plant-based fine dining restaurant on the Strip", Crossroads is sure to have something for vegans visiting Vegas. Items you can expect to see on the menu include stuffed zucchini blossoms, pasta, beet tartare, and more.
Craig's Vegan Ice Cream: While Craig's doesn't offer a full menu, they do serve an impressive assortment of vegan ice cream.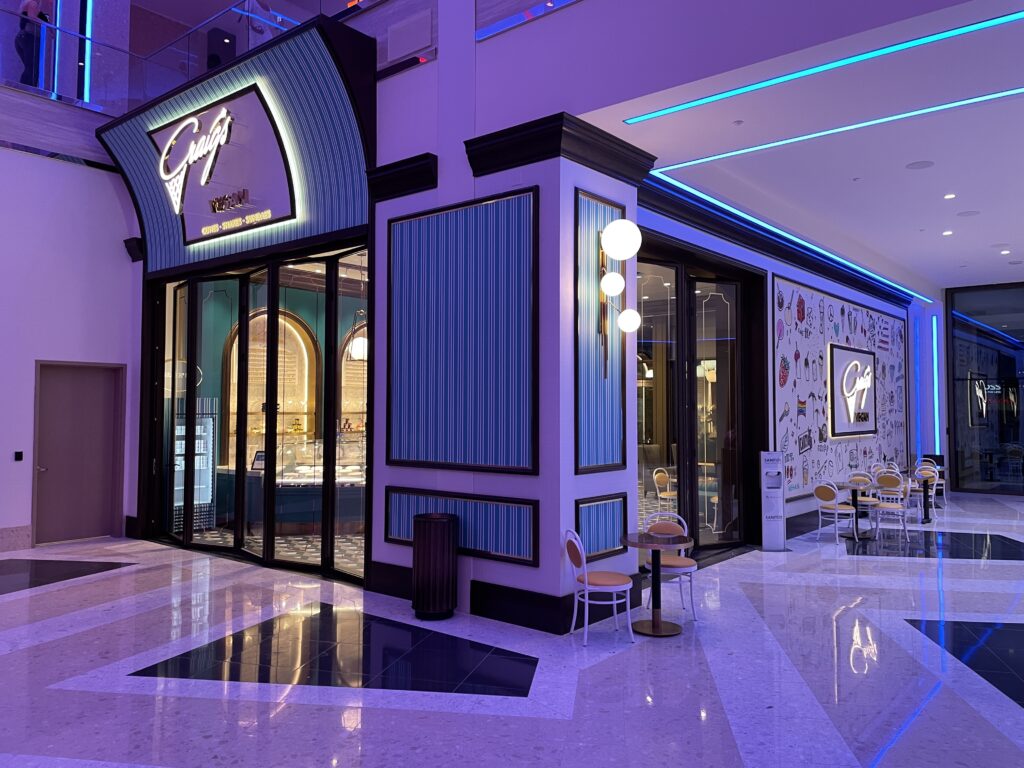 Vegan Restaurants Downtown Las Vegas
Unfortunately, vegan restaurants directly on Fremont Street are not overly prevalent. If a vegan menu is what you seek, you'll notice your options open up significantly if you take an Uber, or the free Downtown Loop Shuttle from Fremont Street to the nearby Arts District.
VegeNation near the Container Park: VegeNation is the only entirely vegan restaurant near Fremont Street in Las Vegas. Head Chef Donald Lemperle whips up 100% plant-based selections to include sandwiches, pasta, and even pizza.
Esther's Kitchen in The Arts District: Although not offering a full vegan menu, Esthers Kitchen does offer a vegan Winter Squash Risotto on their main menu.
Makers & Finders Coffee in The Arts District: Makers & Finders offers a pretty robust plant-based section as part of their breakfast, lunch, dinner, and brunch menus that include vegan options.
Tacotarian in The Arts District: An entirely plant-based Mexican restaurant, everything on Tacotarian's menu is vegan.
18 Bin in The Arts District: Another vegan-friendly restaurant in the Arts District, every item on 18 Bin's menu is labeled as either vegan (v) or non-vegan (nv). Among the vegan offerings are a Black Bean Vegan Burger, Planted Grilled Cheese, Skinny Caesar Salad, and Veggie Tacos among others.
Golden Fog Coffee in The Arts District: Boasting a completely vegetarian and vegan menu, items that may tickle your fancy include the Vegan Breakfast Sandwich, a Vegan Cinnamon Twist Donut, or even a Vegan Breakfast Burrito among other options.
Fortunately, vegan restaurants in Las Vegas are numerous, especially on the Strip. Hopefully, we were able to help you find a restaurant with a vegan menu in Vegas that will work for you and your party!
Related: Vegetarian restaurants in Las Vegas – A rundown of your options.
Feature Image: ©saschanti17/123RF.COM