What should you be packing for Vegas beyond the basics? Obviously, anyone coming to town knows to bring clothing, toiletries, etc, but what other packing list items are commonly forgotten that could make for a better trip?
We'll lean on our expertise gained over 30+ Vegas trips to recommend items that you may want to consider packing.
What To Bring To Vegas
USB Charge Cord/Battery: Your cell phone battery is bound to drain as you explore all Vegas has to offer. I like to ensure I'm armed with an inexpensive backup battery allowing me to charge my phone in my pocket/wife's purse while wandering. A must-have item on your packing list for Vegas.
In case you forget a battery, many slot games now offer wireless charging pads. Just make sure you keep an eye on your phone so a passerby doesn't swipe it!
Waterproof Phone Case: Planning to sit by the pool? Don't get caught having to make a decision to bring your phone with you into the water, risking water damage, or leaving it behind with your belongings, risking theft. A cheap waterproof phone case, like this one available on Amazon, is the perfect solution for pool-goers.
Flexible Poolside Safe: If you prefer to leave your phone and valuables at your lounger while you cool off, check out solutions like this flexible safe, which securely attaches to your chair or other solid items nearby.
Identification: You'll need it to board the plane, but more importantly you'll need it to get paid on that slot jackpot you plan on hitting.
See Also: Where to find the loosest slots in Vegas.
Comfortable Shoes: I get it. You want to look cute on your trip to Vegas, however, if you plan on roaming the Strip then comfortable shoes are essential. While properties look close, they aren't and you'll be putting on some serious mileage.
Travel Flats: Ladies, if you plan on wearing heels to the club, or anywhere for that matter, you'll want to have travel flats handy. It's inevitable that you'll want to ditch the heels at some point. I'd be rich If I had a dollar for every time I saw a lady walking barefoot down the strip holding heels in her hand.
The Strip is disgusting. People barf on it, spill drinks on it, and even urinate on it. Add some cheap backup travel flats to your packing list.
Band-Aids: Even with comfortable shoes, the number of steps you'll take (30-50,000 daily steps for me typically) may lead to some nasty foot blisters. Be prepared to cover them up if the need arises. Moleskin, which is slightly more "heavy-duty" than bandages is a blister game-changer as well.
Hangover Remedies: You don't want to wake up at 8 am with a pounding headache, queasy guts, and no recourse. Plan ahead. Bring pain relievers and electrolyte powder (like Pedialyte) which is light, easily fits in your carry-on and mixes with water to quickly get you back in the game.
There are also a number of tailor-made hangover remedies like these available on Amazon. But honestly, Pedialyte will do the trick for less.
Travel Coffee Brewing Options: Coffee is a necessity for many, and unfortunately, few Vegas hotels offer an in-room coffee machine. You can avoid walking a mile across the resort for a cup by planning ahead. We love Starbucks VIA which can be added to hot water for a high-quality instant cup, or this travel coffee brewer which uses traditional grounds. Just keep your fingers crossed that your room tap water gets hot! Many visitors also choose to buy a cheap coffee machine after arriving with the intent of leaving it behind when they leave.
Sunscreen: Simply put, the sun in Vegas is amplified, and skipping this essential item could put quite the damper on your trip. Unfortunately, I learned the hard way by not applying sunscreen while visiting the Neon Museum wearing Sandals. I couldn't put shoes or socks on for the remainder of the trip due to the pain. Sunglasses are a must-pack item as well!
Lip Balm: Your lips will get chapped, dry, and downright painful 100% of the time you visit Vegas. It never fails.
Saline Nasal Spray: Potentially too much info, but I commonly used to wake up with nosebleeds in Vegas. After realizing the culprit was likely the sudden transition to dry desert air, I started to embrace moisturizing nasal spray. I fire a few sprays up the nasal passage before bed nightly and haven't had an issue since.
Travel Hotel Room Humidifier: Solve the issue of dry hotel room air with this nifty battery-powered contraption. Simply fill a glass of water, set it by your bed, drop the travel humidifier into the glass, and enjoy moisturized air.
Antacid/Heartburn Tablets: Tums or similar antacids are essential for those who plan on gorging themselves while in Vegas for obvious reasons.
Cash: ATMs at casinos are expensive with many charging upwards of $10+ to access your own money. Skip that expense and add cold hard currency to your packing list for Vegas. If you plan to use an ATM, check out our guide to ATM fees on the Strip so you don't overpay.
Travel/Anti-Theft Wallet: Tourists carrying copious amounts of cash, oftentimes while drinking heavily is an irresistible mix for petty thieves. A good travel wallet (like this one on Amazon that wears like a belt) can eliminate the risk of losing your cash to a thief. Yes, you'll feel a bit dweeby, but the peace of mind is worth it.
Earplugs: If you are staying in downtown Las Vegas, you won't regret bringing earplugs or noise-canceling headphones (or both). Live entertainment and street performers on the Fremont Street Experience create quite a racket until the wee hours of the morning.
Even if your accommodations are typically quiet, you could end up next to the elevator or neighbors that constantly slam their door. Give yourself a fighting chance to fall asleep with ear protection. Or just drink more. Your choice.
Nice Clothes: If you plan on seeing a show or grabbing a nice dinner, you will want to bring something nicer than your normal casual wear. I will point out though that dressing up to hit the casino isn't necessary. There will be a WIDE diversity of attire on the casino floor and you won't feel out of place even if dressed down.
Weather Appropriate Clothes: Visitors from northern climates may be surprised to learn that Las Vegas can be downright cold during the winter. Although summers are hot, low temperatures in winter months like December, January, and February commonly dip into the 30s. Ensure you bring pants or a light jacket as it can be brisk after dark. Check here for a month-by-month summary of high/low temperatures in Vegas.
Lint Roller: If you are bringing something nice, or dark in color to wear, a travel-size lint roller can't hurt!
Hand Sanitizer: Touching slot buttons, cards, and door handles that thousands of people from all over the world are also fondling can increase your chances of illness. Bring along a clip-on or travel-sized hand sanitizer.
Anything we missed? What things do you add to your Las Vegas packing list? Help a newcomer out and leave it in the comments!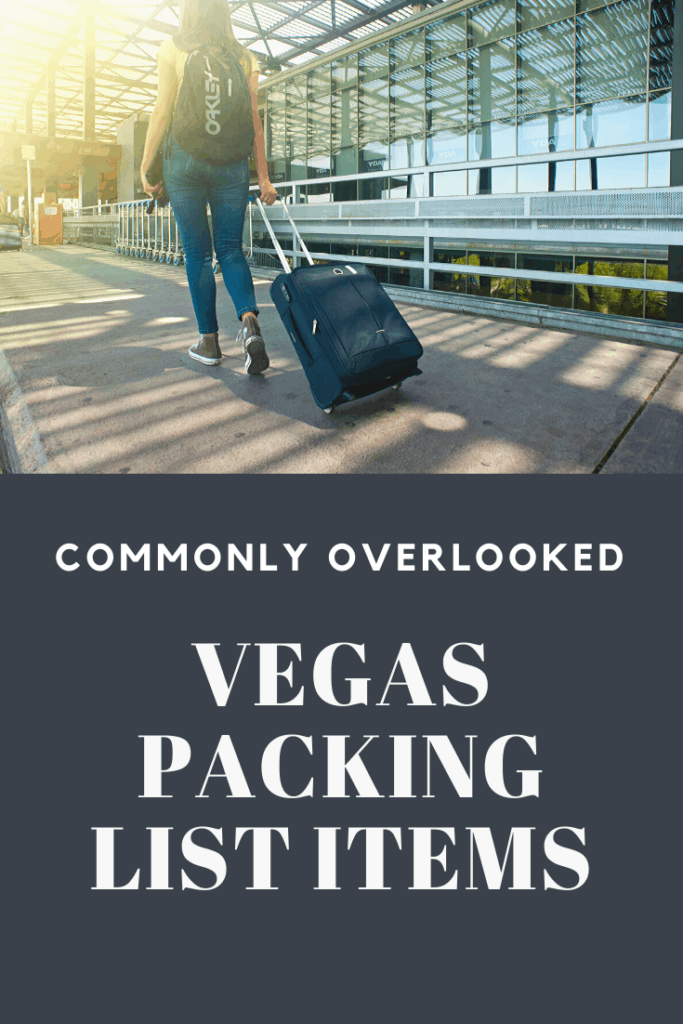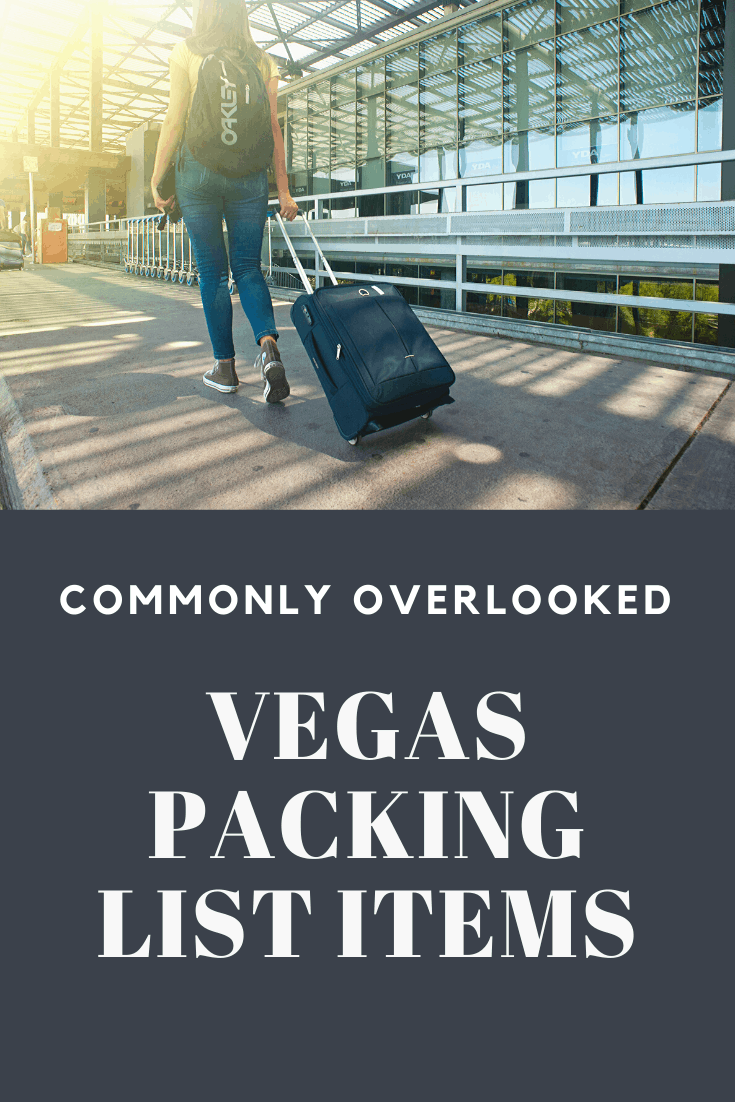 Feature Image: ©sebra/123RF.COM
I'm a former software salesman turned Vegas aficionado. While the craps table is my preferred habitat, I pull myself away to explore new attractions, shows, restaurants, and outdoor activities around Las Vegas with the intent of sharing my experiences.
Ultimately, I just want to help folks plan a better trip and save a few bucks in the process.