There are plenty of high-end Mexican restaurants in Vegas that serve delicious food with a hearty side of sticker shock. Now, we at this blog don't claim to be culinary experts, but we DO excel at being frugal, almost to a fault.
The intent of this post isn't to point out the "best" Mexican restaurants in Las Vegas, but rather, the cheapest Mexican food in Las Vegas, both on the Strip, and on Fremont Street.
For the purposes of pointing out cheap Mexican food in Vegas, we focused on restaurants that offered meals at or below a $20 price point. We also will link out to each menu so you can easily compare your options before committing.
For those of you looking for an inexpensive dose of flavor, follow along as we detail where to find cheap Mexican restaurants in Las Vegas.
Cheap Mexican Restaurants On The Strip
Tacos El Gordo: In our estimation, Tacos El Gordo is the best cheap Mexican food in Las Vegas, albeit slightly away from the action. To find the authentic restaurant, walk north from Wynn and Encore and you'll stumble upon it on your right as you approach Peppermill and Resorts World across the street. Inside, you'll find an assortment of inexpensive, yet delicious, tacos.
Objectively, I am typically intoxicated when eating there, but if you only eat at one Mexican restaurant in Vegas, don't overpay, hit Tacos El Gordo.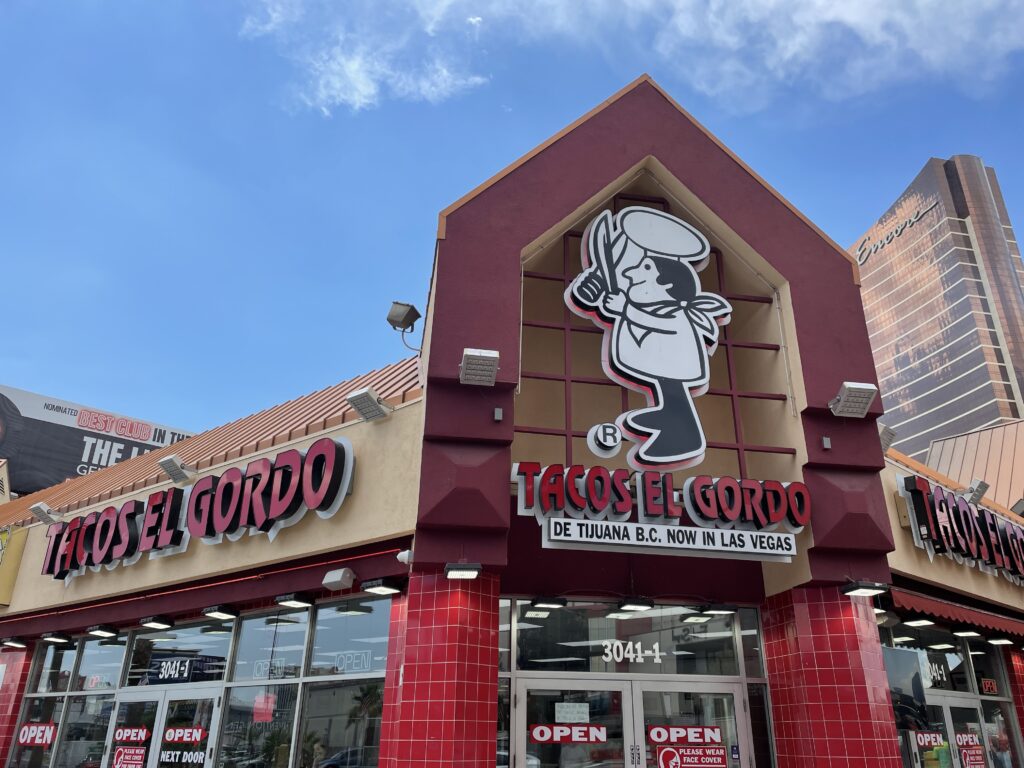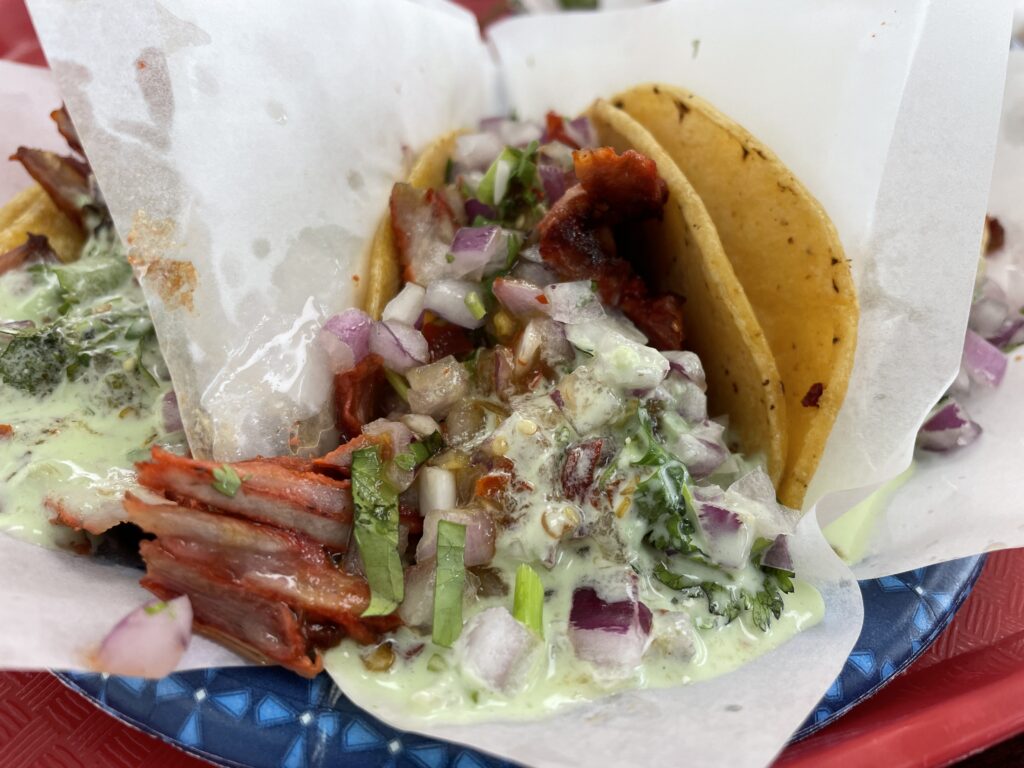 La Salsa Cantina at Planet Hollywood: Located in the Miracle Mile Shops at Planet Hollywood, La Salsa Cantina is among our favorite cheap Mexican restaurants in Las Vegas.
While the typical menu offers a significant amount of value, with burritos, tacos, and quesadillas costing under $20, the real draw is their breakfast special. Included in that deal are 2 eggs, choice of meat, southwest potatoes, and tortillas, costing only $4.95 and made available until noon daily.
Ocean One Planet Hollywood: Although not a Mexican restaurant, we would be remiss if we didn't mention the cheap Mexican food deals at Ocean One in the Miracle Mile Shops. As part of their daily $5.99 lunch menu, Ocean One offers a quesadilla and beef or chicken tacos. Look, it may not be authentic, but it's inexpensive and hits the spot.
Carlos n Charlie's at Flamingo: Qualifying as cheap Mexican food on the Strip, Carlos n' Charlies offers an assortment of tacos, burgers, burritos, fajitas, and bowls at a price point under $20.
Diablo's Cantina at Luxor: While not everything on the menu can be considered overly cheap, Diablo's does serve a selection of tacos served with rice and black beans for $15 – $18. Not a bad option when seeking cheap Mexican food on the Strip!
Gonzalez y Gonzalez at New York New York: Offering a collection of Mexican fare, one of the best value offerings includes their 2 item combo meal. That meal allows you to select two items (Tacos, Enchilada, or Burrito) which are served with Mexican rice for $16.95. There is also a cheap "La Mexicana" Burger which is a chorizo patty topped with poblano chile and guacamole and served with fries for $14.95.
El Segundo Sol in the Fashion Show Mall: While not everything on the menu qualifies as cheap by our pre-defined standards, El Segundo Sol, located just north of TI does offer a few menu items like a Chicken Taco Platter, Enchiladas, and select Fajita Platters at or below a $25 price point.
Their "Loco Hour" serves up deals on drinks and food and easily qualifies as one of the best happy hours in Las Vegas. Check out the $5 loaded nachos that are part of the deal, below.
My wife and I recently swung by, and you can see my El Segundo Sol review here!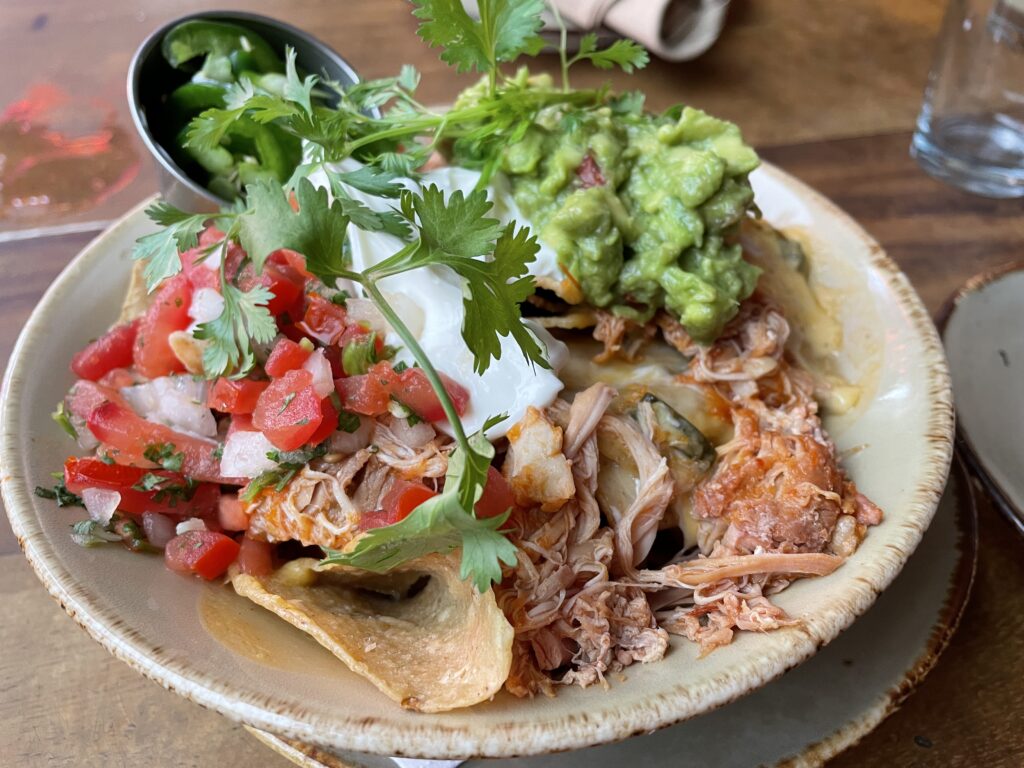 Nacho Daddy at Planet Hollywood: With locations both on the Strip in the Miracle Mile Shops and on Fremont Street, Nacho Daddy is right on the precipice of qualifying as cheap Mexican food in Las Vegas. Relatively inexpensive options that stand out are their street tacos, nachos, enchilada, and breakfast options that land right at or below a $20 price point.
Chipotle: I know, I know, it's not original at all… but it's a valid option. After all, what hits the spot the day after drinking than a bulging, calorie-laden burrito from Chipotle? Anyway, you can find it right between Harrah's and Casino Royale on the north end of the Strip.
Taco Bell Cantina: Again, I get it. Just know it's there. Fortunately, this isn't the Taco Bell that you have back home.
Taco Bell Cantina is found within the Harmon Corner complex next to Planet Hollywood and serves slushie boozy drinks alongside their typical assortment of tacos, etc.
Full disclosure though – It's LOUD in there… like nightclub loud.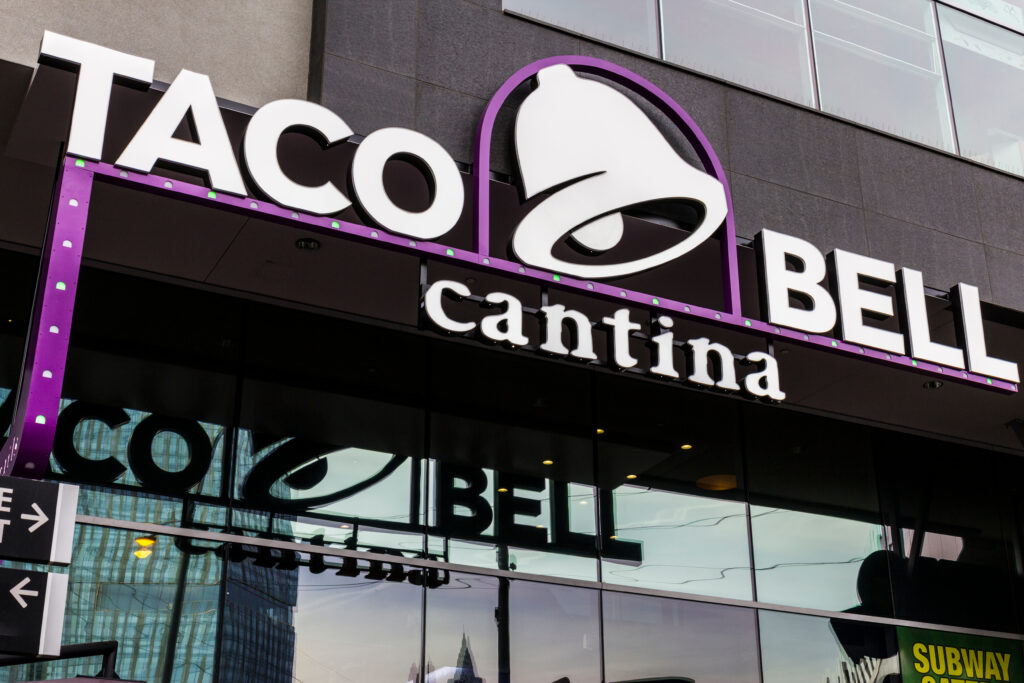 Related: Fast Food in Las Vegas – On the Strip.
Cheap Mexican Restaurants in Downtown Las Vegas
Cadillac Mexican Kitchen at Golden Nugget: There are a number of cheap options on the menu at Cadillac Mexican Kitchen on Fremont Street to include Tacos, Enchiladas, and a number of other entrees at a $15 price point. Additionally, there are several burger and burrito options for just a hair under $20.
Casa Don Juan in The Arts District: Located in the Las Vegas Arts District, Casa Don Juan is accessible from Fremont Street via the free Downtown Loop Shuttle. Once there, stop in to choose from a selection of burritos priced under $15, tacos for $4.75 each, and more at a palatable price point. For those that are less adventurous, they even serve traditional burgers and fries for around $11.
Fresh Mexican Grill at Plaza: Serving an assortment of street tacos, burritos, nachos, quesadillas, and more, Fresh Mexican Grill at Plaza can satisfy your hunger at a price point of under $10.
Nacho Daddy: Found just steps away from the Fremont Street Experience, Nacho Daddy delivers Mexican fare at a price point of around $20.
International Eatery: Among the various quick-serve concepts within the food court on Fremont Street is a cheap Mexican food spot that will allow you to gorge yourself for under $15. It's not fancy, but if cheap Mexican food in Las Vegas is what you seek, this is a great spot.
As you can see, finding cheap Mexican restaurants in Las Vegas isn't overly difficult with options both on the Strip and downtown. Hopefully, we were able to help you find an inexpensive option nearby that works!
See Also: Check out our full rundown of cheap food options on the Strip, and cheap eats on Fremont Street.
I'm a former software salesman turned Vegas aficionado. While the craps table is my preferred habitat, I pull myself away to explore new attractions, shows, restaurants, and outdoor activities around Las Vegas with the intent of sharing my experiences.
Ultimately, I just want to help folks plan a better trip and save a few bucks in the process.