A perfect morning in Las Vegas for me involves leisurely consuming a pastry or two while sipping a coffee before attacking the slots.
While I'll settle for the big chains like Starbucks or Dunkin' back home, when I'm in Las Vegas I prefer something a little more unique when possible.
With that in mind, I thought it would be helpful to detail some spots on the Strip to grab a pastry.
For each, I'll be sure to link to the restaurant or bakery's website and menu so that you can easily survey your options before making the trip.
It goes without saying, but pretty much all of the pastry shops and bakeries on the Strip below serve coffee as well.
Related: French Restaurants on the Strip – A great option for date night.
Pastries on the Strip
Aria Patisserie: In addition to a solid selection of baked goods, Aria's Patisserie also serves omelettes, crepes (both savory & sweet), and hot breakfast sandwiches. Most menu items are in the $10 – $15 range.
Easy Donuts at Aria: Located within Aria's Proper Eats Food Hall, Easy Donuts serves just that… Donuts. They also offer a selection of croissants and breakfast sandwiches at a palatable price point.
America at NYNY: A favorite of value seekers for their cheap eats, America also has a pastry and donut counter at the front of their restaurant with numerous low-cost options.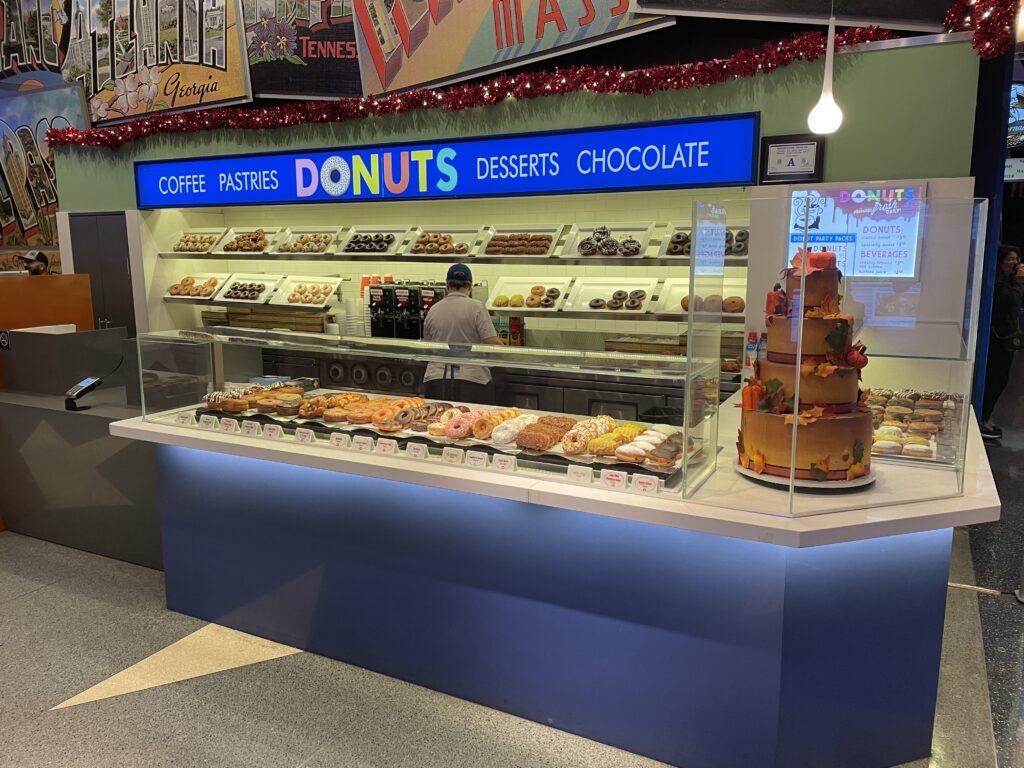 District Donuts at Cosmopolitan: As the name would suggest, District Donuts serves an impressive assortment of gourmet donuts in addition to a small number of hot breakfast sandwiches. Cookies, donuts, and cinnamon rolls are usually $5 and under.
Bellagio Patisserie: Uniquely, Bellagio's Patisserie is home to the world's largest chocolate fountain in addition to a selection of breakfast pastries, croissants, crepes, gelato, and macarons. Pastries cost about $6 and hot breakfast items are typically $15 or less.
Brioche by Guy Savoy (Paris and Caesars Palace): Known for their signature… you guessed it… brioche, Brioche by Guy Savoy has locations at both Paris and Caesars Palace. Brioche varieties include almond & candied fruit, Nutella & banana, peanut butter & jelly, and cinnamon and cost $5 each or are 3/$13. In addition to Brioche, breakfast sandwiches, croissants, muffins, and other pastries are available.
JJ's Boulangerie at Paris: Pastry options at JJ's include Danish, croissants, crepes, and other French pastries which all cost $4.99. In addition to sweets, JJ's also has a number of breakfast sandwiches on the menu that are under $15.
Cafe Belle Madeline at Paris: A French-inspired cafe, Cafe Belle Madeline specializes in fancy desserts, pastries, and coffee. Pastry options that cost $4.99 include a chocolate croissant, cinnamon bun pecan, cheese Danish, bear claw danish, and a number of muffins. A number of salads, sandwiches, and hot breakfast sandwiches are also available for under $15.
Lavazza at Horseshoe: Open around the clock, Lavazza can be found in Horseshoe's lobby and serves a selection of pastries that include muffins, croissants, bear claws, scones, cinnamon buns, and more.
Sweet Sin at Linq: A product of Claude Escamilla, Sweet Sin offers a variety of pastries for $4.99 in addition to Danish dots, doughnuts, bagels, and macarons.
Bouchon at Venetian: Thomas Keller's Bouchon serves pastries like croissants, pain au chocolate, cheese Danish, and muffins for $5.25 each, or $19 for a 4-pack. In addition to pastries, Bouchon also offers a full brunch menu.
Carlo's Bakery Venetian: An ideation of the "Cake Boss" Buddy Valastro, Carlo's Bakery offers cannoli, chocolate-dipped cannoli, and lobster tails in addition to other desserts like cakes, cookies, and cupcakes. Breakfast pastries all cost $5-$7 each, and a slight discount is offered if you purchase a box of 4.
Roasted Bean at Mirage: Sporting a unique "teapot" theme, Roasted Bean at Mirage sells a solid assortment of pastries, bagels, muffins, and other baked goods.
Fortunately, there are numerous places to grab pastries on the Strip in Las Vegas, with most resorts offering an option that isn't one of the big chains.
Hopefully, we were able to help you identify a donut, croissant, muffin, or other baked good that fits your needs!
Related: Where to Eat Brunch in Las Vegas, Where to find Cheap Breakfast in Las Vegas, Chicken & Waffles on the Strip and on Fremont Street & where to find Bottomless Mimosas in Las Vegas.
I'm a former software salesman turned Vegas aficionado. While the craps table is my preferred habitat, I pull myself away to explore new attractions, shows, restaurants, and outdoor activities around Las Vegas with the intent of sharing my experiences.
Ultimately, I just want to help folks plan a better trip and save a few bucks in the process.