An iconic Las Vegas landmark, the "Welcome to Fabulous Las Vegas" sign was designed by Betty Willis and was erected in 1959. Interestingly, the sign which welcomes revelers to Vegas isn't actually in Las Vegas, calling unincorporated Clark County home.
The sign, which sits on the south end of the Las Vegas Strip is instantly recognizable to nearly everyone on Earth. That is in part because the sign, designed by Betty Willis, was never copyrighted, allowing it to be plastered on mugs, t-shirts, and other trinkets without limit or permission needed.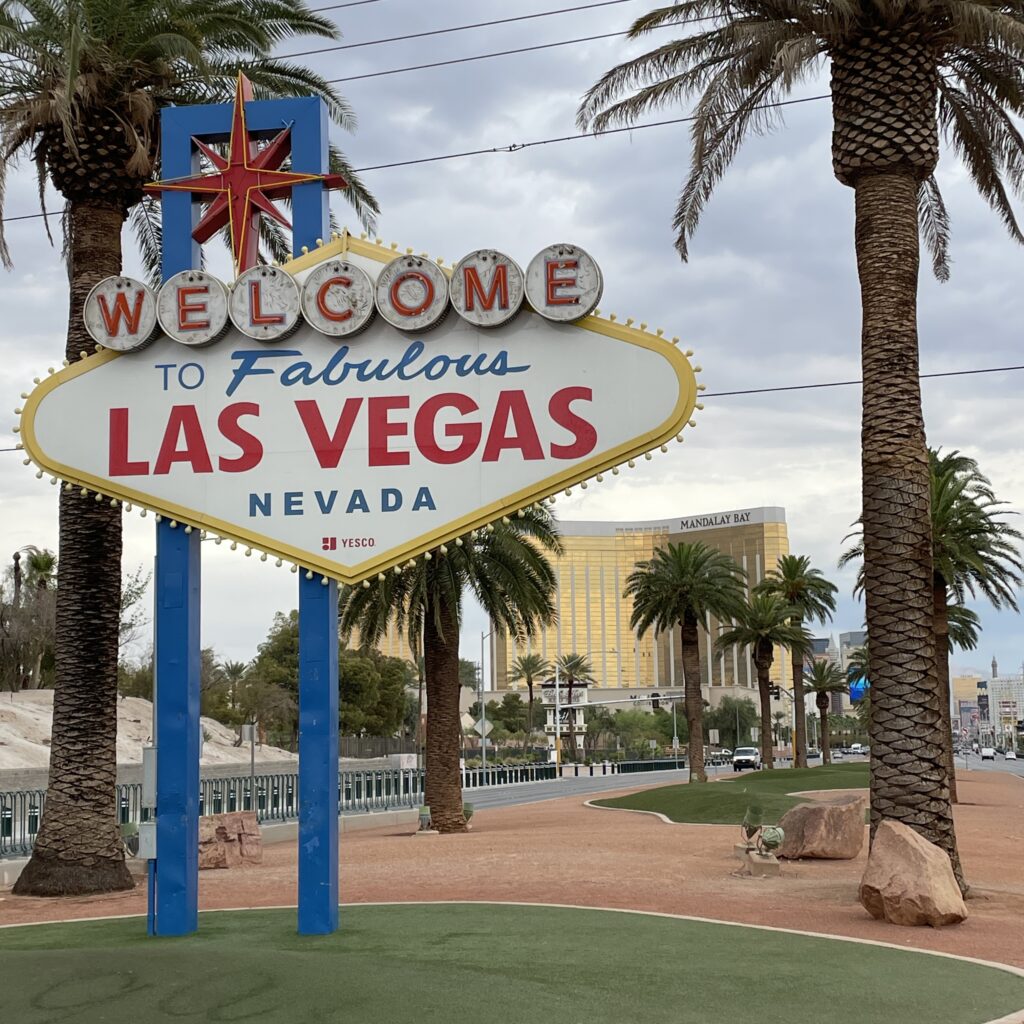 The front of the sign, which faces south, tends to attract all the photo love and many don't realize the backside has a message inscribed on it encouraging visitors to drive carefully and come back soon.
Today Young Electric Sign Company (YESCO) owns and maintains the sign and leases it to the county.
Historically, pedestrian visitation of the sign wasn't encouraged and it wasn't until 2008 that a parking lot was added. Today, throngs of visitors line up daily to snap the perfect photo.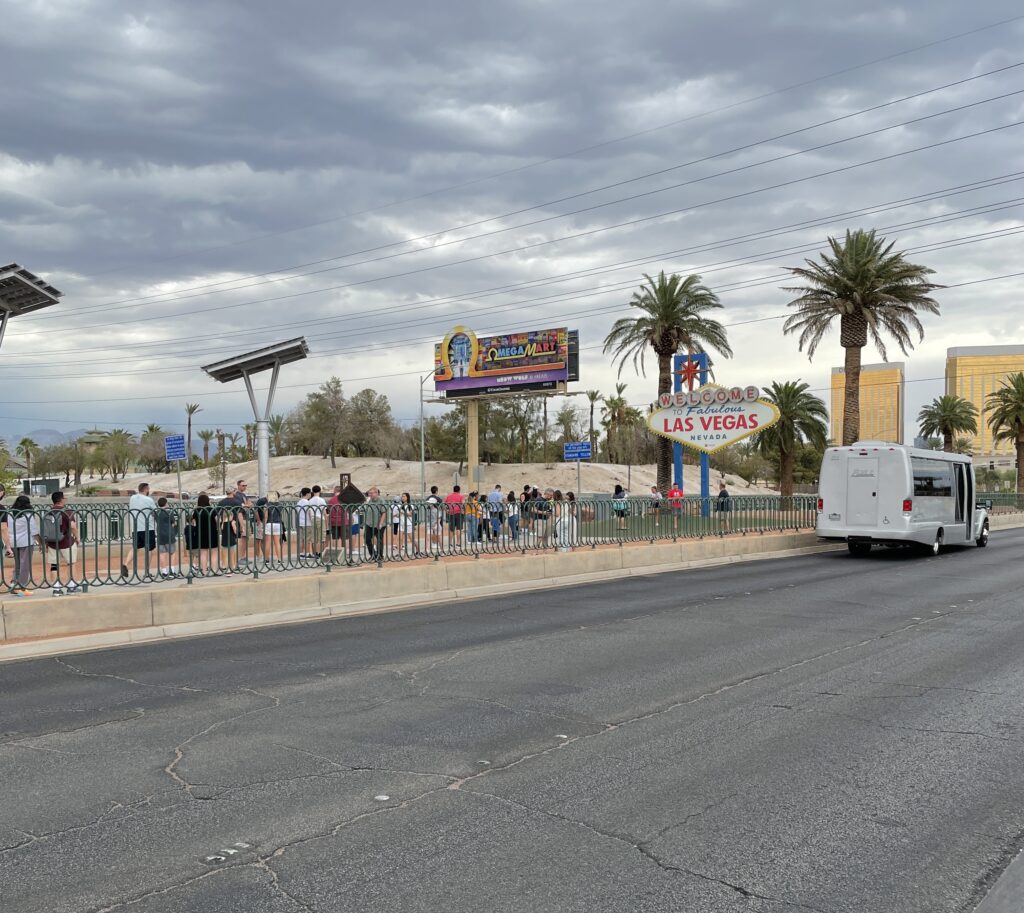 Related: 44 ways to save money in Las Vegas.
Note that photo ops at the sign are free. From time to time, official-looking photographers will be spotted working at the sign. They're not affiliated with the attraction, however, and work strictly for tips. You're not required to use their services and can feel free to take your own photo with your cell phone/camera. More on that particular scam here.
The same goes for showgirls, Elvis impersonators, etc. They work for tips as well and you shouldn't feel obligated to take a photo with them. If you do opt to take a photo with a character, don't allow them to pressure you into overtipping. A tip of around $5 – $10 total is plenty.
Tip: If you don't need to have a "straight on" photo of the sign, just walk right up and snap a photo from either side of the line that has formed. There's no rule that says you need to wait in a 60-person deep throng of people, and you won't be ruing anyone else's photo by snapping a few from the side of the line.
If you prefer to avoid the crowds, we recommend getting to the sign early.
Where is the Welcome To Las Vegas Sign?
The historic sign is positioned at the beginning of the Strip, just south of Mandalay Bay. If you are staying at a south Strip property like Mandalay Bay, Luxor, Excalibur, Tropicana, or MGM Grand, walking to the sign isn't out of the question. From Mandalay Bay, the sign is a 15-minute walk south.
While the sign is an easy walk in the fall, winter, and spring, I wouldn't recommend the hike during the heat of summer.
If walking isn't your forte, and want to get there cheap, the sign is accessible by the Deuce bus route which runs up and down the Strip and also extends to downtown. The bus stop is located conveniently next to the attraction. A 2-hour bus pass will run you $6.
If private transportation is more your speed, an Uber/Lyft which can get you to the sign from center Strip hotels for around $10.
Lastly, there is parking on-site for those that prefer to drive. If you're anything like us though, you'll already be buzzed and should avoid getting behind the wheel.
While Betty Willis, the sign's designer may have passed away in 2015, her legacy lives on through her immediately recognizable work of art. A work of art that was placed on the National Register of Historic Places in 2009, ensuring her mark on Las Vegas will live on.
See Also: A list of 90+ other Free Activities in Las Vegas.
I'm a former software salesman turned Vegas aficionado. While the craps table is my preferred habitat, I pull myself away to explore new attractions, shows, restaurants, and outdoor activities around Las Vegas with the intent of sharing my experiences.
Ultimately, I just want to help folks plan a better trip and save a few bucks in the process.