The future of casino gaming is on display annually at the Global Gaming Expo (G2E) in Las Vegas. Slot and Table game manufacturers put their devices out there for the industry to see, many of which are so fresh they haven't yet made it to casino floors. Industry heavyweights like IGT, Aristocrat, Konami and Scientific Gaming share the expo floor with up and coming slot concepts from newer player such as Gamblit, GameCo, and Synergy Blue to name a few.
We had a chance to walk the expo floor at G2E and wanted to share slot trends and new technology that you are likely to see emerge on casino floors in Las Vegas and around the country.
4D Slot Machines
3D slot machines, already sprinkled across casino floors in Vegas, give the visual appearance of objects on the screen jumping out at you with no 3D glasses needed. The graphics can take a bit of getting used to and the 3D-ness is typically adjustable to amplify or reduce the effects. As a general rule of thumb, if you have had more than 5 drinks turning down the 3D-ness is recommended.
4D machines are essentially slot games with 3D images but with an added sensory component such as a rumbling chair, the ability to "feel" floating graphics or a feeling of energy entering your finger as you point at the screen during a bonus game.
IGT brought numerous 4D titles to G2E like Wheel of Fortune, Jumanji, Ocean Magic, Ghostbusters, and Sphinx and the line-up continues to expand. Expect to see more and more slots on gaming floors that sport impressive 4D effects.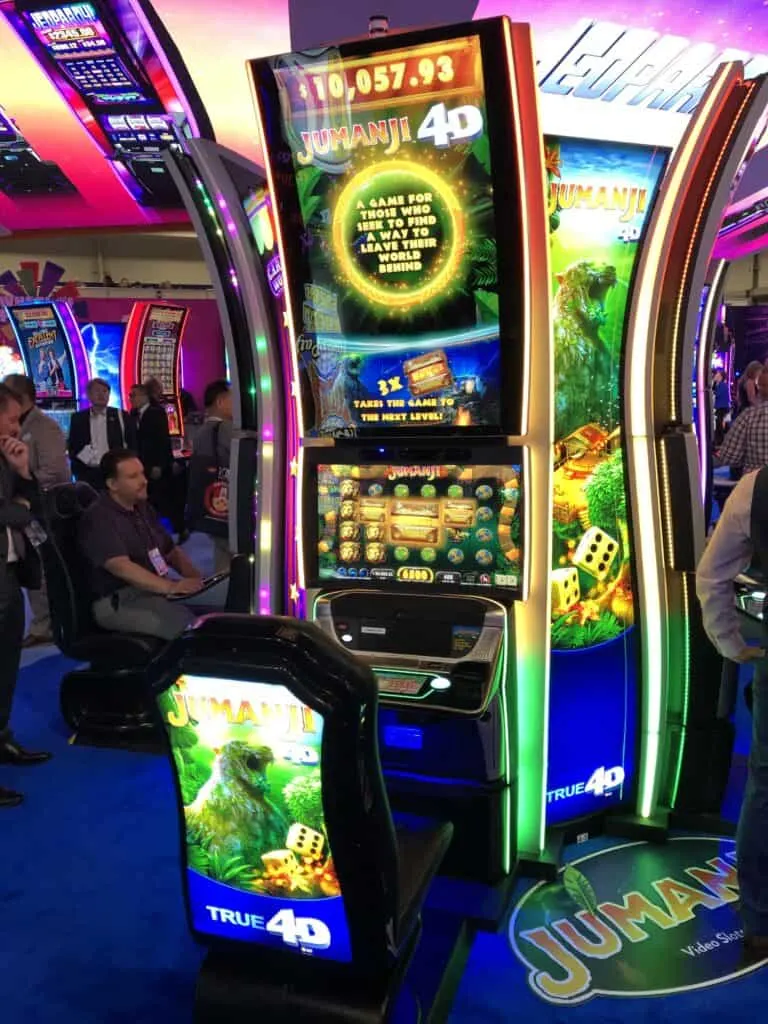 Facial Recognition may make your players card obsolite
Konami showed off it's SYNK facial recognition software which will allow players to rack up rewards and receive targeted offers without need for a plastic rewards card. Coming from a player that forgets his card in a machine 1.7 times per visit, this is welcome news. Essentially, players in the future may have an option to register their face with the casino and collect rewards at machines and tables in the same way you open your I phone – With your face.
Comfort and Convenience Prioritized
We have come a log way from the days where patrons were forced to stand at one arm bandits. There is a strong profit motivation to keep you comfortable and provide you with a great experience at the machine. Seating options are becoming more and more comfortable. Check out this chair that was on display from Merkur Gaming, a high quality seat complete with cup holder and a blue button to spin the reels. No need to even reach from your chair to the slot machine.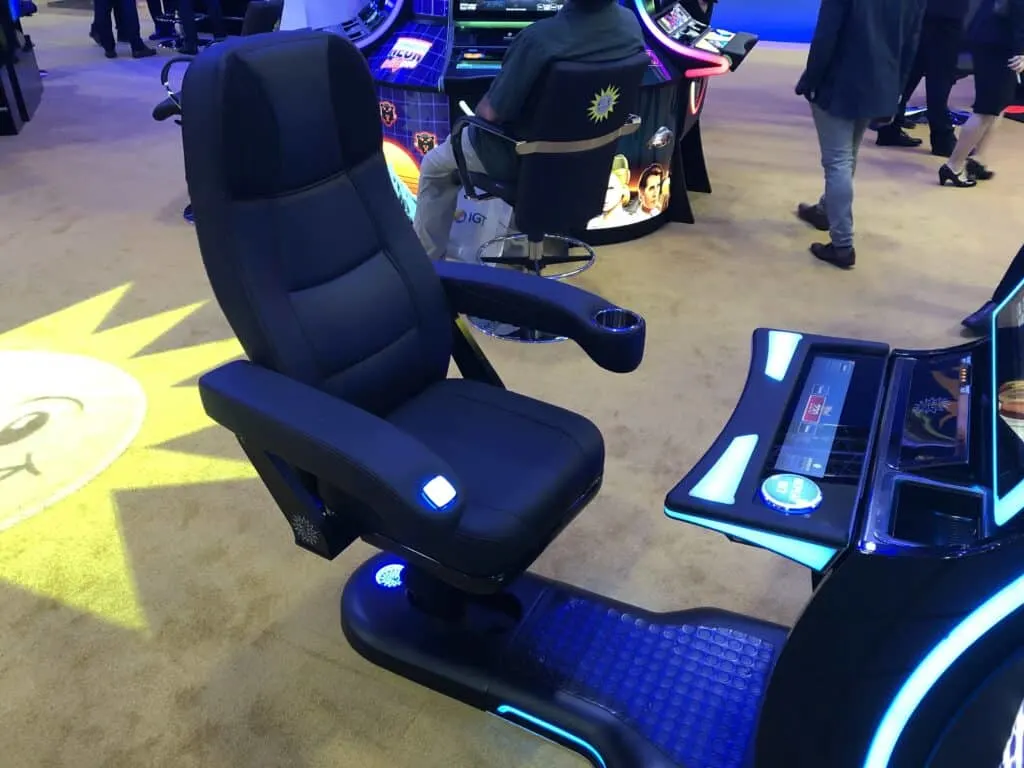 Another player convenience item often offered by slot games is a USB charging port, but Aruze Gaming took it one step further with their Muso Triple-27 slot that is the first to offer a wireless charging pad (pictured below).
Payment Methods Evolving
The casino of the future may be cashless. Solutions like Global Payments Gaming Solutions' VIP Mobility will allow players to load their slot machine or buy chips at a table game with their mobile phone. As a player, any technology that allows me to avoid a $9.99 ATM fee or carrying an uncomfortably large amount of cash is appreciated.
Casinos also benefit as cashless technology allows them to reduce costs associated with handling physical money and aids them in combating fraud and money laundering.
Skill Based Slots
A newer concept, skill based games still take up a lot more square footage at G2E than they do on actual casino floors. Players have been slow to move to the new game type and in our opinion, have never really asked for it to begin with. Casinos have also been slow to commit to skill based games due to slower rates of play resulting in less money generated as compared to their traditional counterparts.
Skill based slots are seen as a way to attract and engage a younger crowd that are turned off by traditional reel slot games. While skill based slots often feature popular games like PacMan, Astroids, and Deal, or No Deal that should appeal to the target market, we believe considerable headwinds still exist for the game type.
Remember, the reason skill based games are looked to as a solution is that millenials have shown little interest in gambling. Skill based slots are intended to mirror video games, however, video games are beatable while skill based slots are not. Even the most skilled player will face a house edge.
In fact, many skill based games trigger a "gambling event" when you do something good (shoot a spaceship, win a race, collect a coin, etc) which is essentially a slot spin that occurs in the background at per event bet you selected. That slot spin in the background will either be profitable or not, but will have a built in house edge. Essentially, playing the game well will often trigger more "gambling events" or slot spins in the background. The better you play, the more times you are hitting spin on a slot machine.
We simply view skill based games as a more interactive method of gaming as opposed to being truly skill based, which would infer the game is beatable. The games are a lot of fun and may have a future on the casino floor, but likely not with their target audience.
Higher Quality Displays
More slot games are featuring multiple screens that are stacked, side by side, curved, or over-sized to draw players in. Screen quality continues to improve, many slots now come equipped with 4K HD screens.
Beyond the game play screen itself, many manufacturers are taking displays surrounding their games to the next level with the intent of drawing players in. Below are a couple of our favorites:
"Lock it" features are still hot
Bonus games featuring "lock it" game play was on display across the expo floor at G2E. Everyone is jumping on the success and popularity of this game feature and it doesn't appear to be going away soon.
Wheel Bonuses and Progressives Are Here to Stay
Wheels and progressives draw the public in like a 300 watt light bulb attracts a moth. It is impossible to walk 10 steps on the expo floor at G2E without seeing a multitude of wheels and progressive jackpots. They won't be going anywhere fast.
All in all, G2E exhibitors showed off a lot of exciting new technology. We have come a long way from the early one arm bandits that didn't even come with a chair.
See Also: Here are some of our favorite new slot titles that were on display!
I'm a former software salesman turned Vegas aficionado. While the craps table is my preferred habitat, I pull myself away to explore new attractions, shows, restaurants, and outdoor activities around Las Vegas with the intent of sharing my experiences.
Ultimately, I just want to help folks plan a better trip and save a few bucks in the process.