It's not a well-kept secret that prices in Vegas, especially on the Strip, have been on an upward trajectory. A bottle of domestic beer at a casino bar can set you back upwards of $10… That's what a 12-pack should cost.
Luckily, there are still places to grab a cheap beer or cocktail on, and within walking distance, of the Las Vegas Strip.
Below, we'll dive into some popular drink deals and the happy hours in Vegas!
Keep in mind, happy hour deals can change frequently and without notice. We do our best to stay on top of changes, but recommend clicking through to the linked menu where applicable to confirm the offer is current before making the trip!
See Also: Las Vegas Groupon Deals – Good for Food, Drink, and Activities!
Cabo Wabo – Miracle Mile Shops: From 3 pm – 5 pm Monday through Friday, Cabo Wabo at Planet Hollywood offers a rotating selection of drink deals. Note that they do tack on a scammy 4.85% "CNF Fee".. which is a fee… for nothing in return to every check.
Ketchup – Miracle Mile Shops: Ketchup offers $5 Bud Light drafts daily during hours of operation.
Lobster Me – Miracle Mile Shops: Canned 12 oz. seltzers cost $4 at Lobster Me all day, every day.
Buffalo Wild Wings – Miracle Mile Shops: While this location doesn't offer a happy hour deal per se, tall domestic beers cost around $5, which is cheap when compared to other options on the Las Vegas Strip.
Buddy V's Ristorante in the Grand Canal Shoppes: Also located in the Grand Canal Shoppes, Buddy V's serves $5 bottled beers, wine, and sangria every day from 11:30 am – 5:30 pm on their indoor patio, and from 3 pm – 5:30 pm at the bar as part of their happy hour. Small bites are also offered for $6.
Rockhouse at Venetian: Happy hour is offered Thursday – Friday from 11 am – 7 pm, you can score $5 domestic drafts and well cocktails at Rockhouse.
Grimaldi's Pizzaria in the Grand Canal Shoppes: Known for having some of the best pizza in Vegas, Grimaldi's also offers $15 off bottles of wine, $2 off draft beer, and $3 off glasses of wine as part of their daily happy hour which runs from 3:30 pm – 6:30 pm.
Trustworthy Brewing Co. in the Grand Canal Shoppes: Enjoy $2 off draft beers, cocktails, and glasses of wine as part of Trustworty's daily happy hour that runs daily from 3:00 pm – 6:00 pm and again from 9:00 pm – close.
Davidoff of Geneva – Fashion Show Mall: A cigar lounge, Davidoff of Geneva is located in front of the Fashion Show Mall and offers seating both indoors and out (for those that prefer to avoid smoke). They also offer 2 notable happy hour deals:
The first is their "Social Hour" which is offered Sunday – Thursday from 5 pm – 7 pm and includes 50% off wine by the glass, cocktails, beer, and select spirits.
Their other happy hour is "The Vacationer Special" which is offered daily from noon – 2 pm and features 50% off bloody marys, champagne, mimosas, mojitos, and sangria.
Davidoff also serves bottomless mimosas for $25 per person Monday – Thursday from 11 am – 5 pm.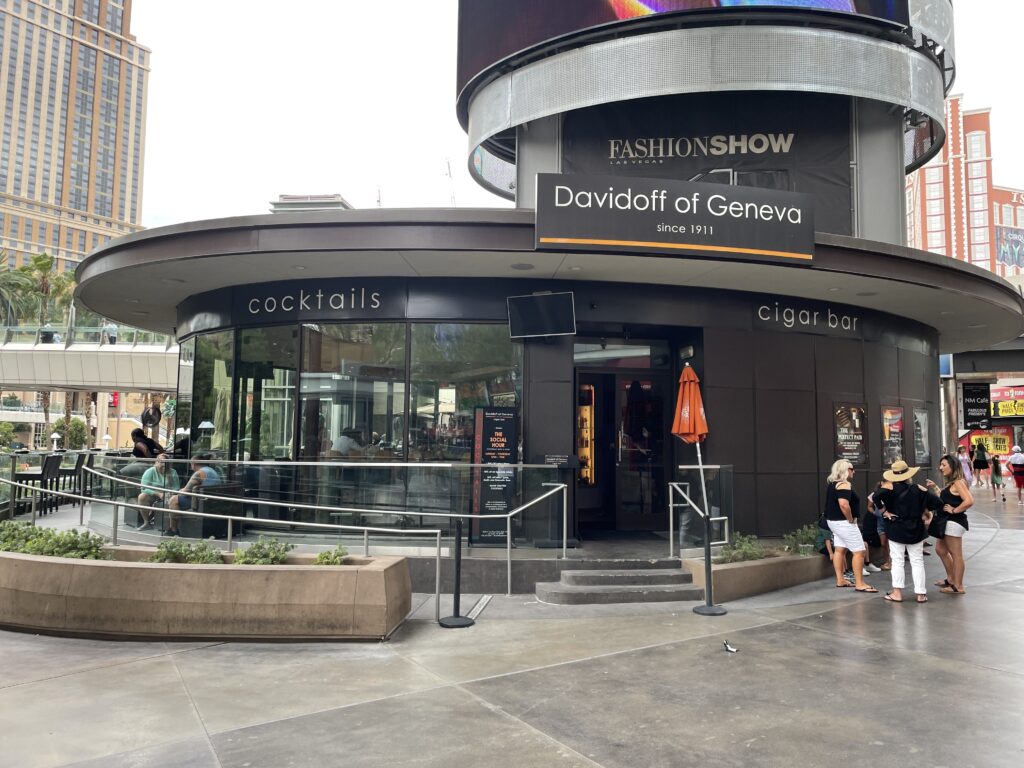 Pizza Cake at Harrah's: While not the cheapest drink deal on the list, Pizza Cake offers a selection of $5 12oz. cans of beer. The deal is redeemable both inside the restaurant and from a drink cart that's commonly situated outdoors along the Strip.
Dick's Last Resort at Excalibur: Snag a $5 24 oz Pabst Blue Ribbon tall boy at the bar and restaurant known for being rude to guests.
Viva at Resorts World: While not the best happy hour in Vegas from a price perspective, Viva does offer $6 bottled beer, and a number of $9 cocktails during their happy hour which runs from 2 pm – 5 pm on Monday – Friday. In addition to cocktails, a number of food items are also offered at a discount.
Convenience Stores: Lastly, don't forget about the plethora of Walgreens and CVS stores popping up on the Strip as an option if you don't mind taking your drink to go. If unfamiliar, you can walk the strip with a drink in hand legally and the price is right!
Related: Current Las Vegas drink coupons – Good for drinks on the Strip and Downtown.
Are you researching for your trip to Vegas? If so, ensure you bookmark this page as we keep our compilation of cheap drinks and best happy hours on the Strip updated!
Where is your favorite happy hour or place to grab a cheap beer in Vegas? Share it in the comments!
Related: Craft breweries in Las Vegas – What are your options?
Feature Image: ©kitleong/123RF.COM