We may earn money from the companies and products mentioned in this post.
Las Vegas has built a reputation as being an adult playground, with many opting to leave the kids at home. The reality though, is that there are a ton of things for kids to do in Las Vegas. Tourists often fail to realize that Vegas extends beyond the Strip and Fremont. Because Las Vegas is a sprawling community with many families, kid-friendly activities are plentiful.
When thinking of things to do with kids in Vegas, visions of Circus Circus or Excalibur immediately come to mind, but options extend far beyond that!
Below, we leverage our expertise to share the most complete list of things for kids to do in Vegas available on the internet.
Related: Staying downtown Las Vegas vs. The Strip – A comparison.
Activities for Kids on the Las Vegas Strip
Shark Reef Aquarium: Your kiddos will get a kick out of this oasis in the middle of the desert. Found at Mandalay Bay, the aquarium features 1,200 varieties of sea life to include sharks. You'll essentially be walking through a glass tunnel at the bottom of the tank with sea life passing over the top – very cool.  
Pay up for a Better Pool: While some resorts reserve pool access for their guests, others allow non-guests to access theirs for free or a small fee. On the Strip, we love Mandalay Bay's pool complex which is comprised of a lazy river, wave pool, and real sand. Admission for adults is $20 and kids 3-16 are $10 Monday – Thursday.
Strat's SkyPod: Strat's observation deck stands tall at 1,149 ft. above the Las Vegas Strip. Kids visiting Las Vegas will be drawn to the thrill rides up top – XScream, Big Shot, and Insanity which provide excitement by either shooting you straight up or dangling you off the edge of the SkyPod. For $39.95 your kids can get access to the observation deck and unlimited rides as well. Put Strat near the top of the list of things to do with kids in Vegas.
Eiffel Tower Viewing Deck Experience: A center strip observation tower at 46 stories high is a great way to introduce your children to how wonderful the Las Vegas Strip is. Take the trip to the top at night and enjoy the Bellagio Fountains from a new vantage point.
Hershey's Candy Experience: Check out 800 varieties of chocolate, Jolly Ranchers, and Reese's candies at this one of kind shop at New York New York. Your kid could even star in their own TV Commercial.
Marvel Avengers S.T.A.T.I.O.N at TI: Fans of the comic will enjoy the costumes and equipment used by Marvel characters.
The Hunger Games Exhibition at MGM Grand: Check out set re-creations, train on archery, and make your own rebellion propaganda commercial at The Hunger Games: The Exhibition at MGM Grand. If your kid loves The Hunger Games, this could be something to add to your Vegas to-do list.
Virtual Reality at MGM Grand: Players will choose from a handful of VR game options and complete for 30 minutes. The VR arena is a 2,000 square foot room that transforms to a virtual world once the headset is on. Parents, feel free to join in on the fun, as non-gamers will also enjoy this attraction.
Find a Hidden Pizza Place: Your kids like "Where's Waldo" right? If so, they'll love the "insider" feeling of finding the hidden pizza joint at Cosmo dubbed "Secret Pizza". The slice will impress too, we have it rated as one of the best pizza by the slice spots in Vegas. Here is more on how to find Secret Pizza at Cosmopolitan.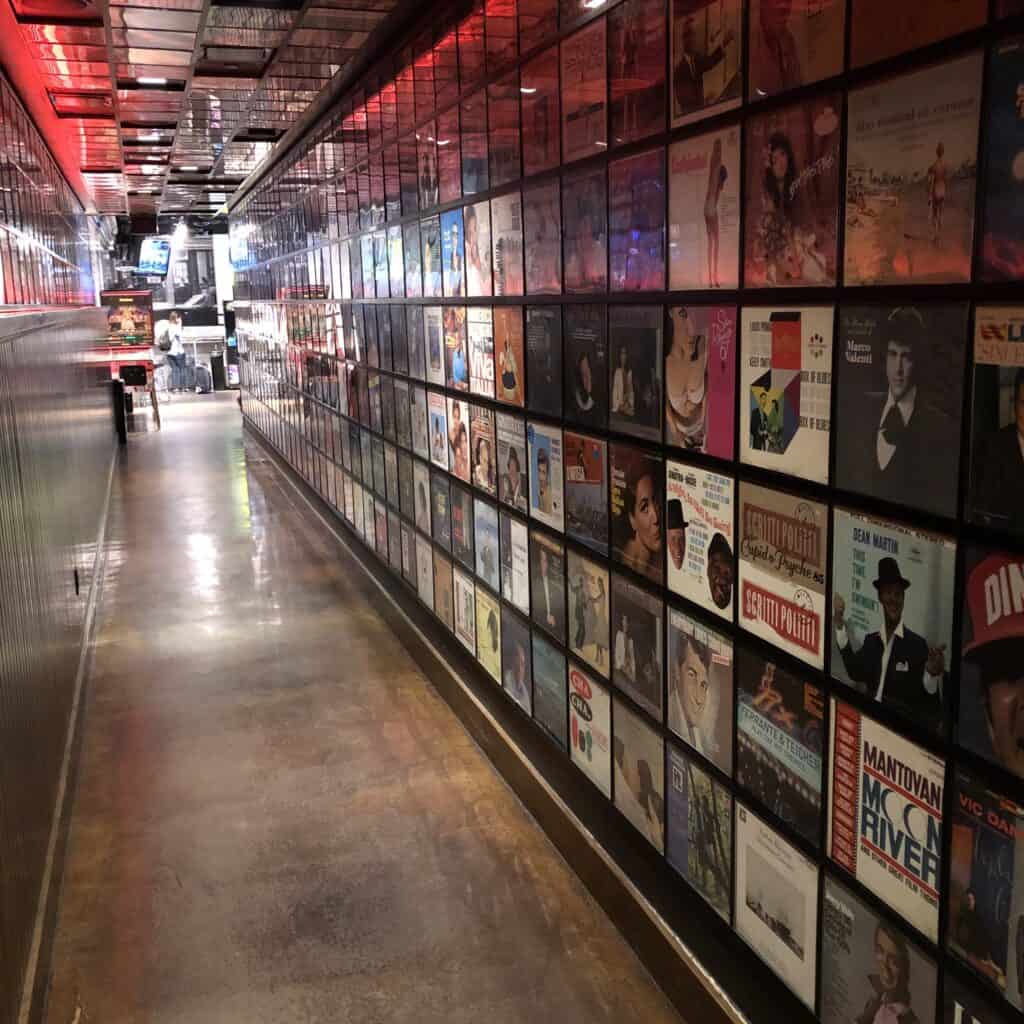 Dive in Movies at Cosmo's Boulevard Pool: During the summer, Cosmopolitan plays popular movies like "Karate Kid" and "Back to the Future" on their Boulevard Pool marquee. Overlooking the Las Vegas Strip, it's a really unique setting to catch a flick. While hotel guests can attend for free, access for non-guests is $7.
Ice Skating at Cosmo's Boulevard Pool: In the winter months, the Boulevard Pool area is transformed to an ice rink with great views of the Strip. You can rent a pair of skates and even enjoy fireside s'mores. One of those can't miss Vegas activities for kids (especially ones from northern states).
Madame Tussaud's Wax Museum: See the collection of movie stars, politicians, and musicians in wax form at Venetian. Check out Groupon and Tix4Tonite locations as there are often deals to be had.
Bodies the Exhibition: Look! An educational thing to do in Vegas with kids! Kids, and adults, will enjoy checking out Luxor's Bodies Exhibition which is home to 13 full specimen human bodies. Featured in the exhibit is a side by side comparison of a smoker and non-smoker's lungs. As it turns out, Vegas can also help your kids avoid peer pressure back home!
See Also: The perfect 24, 48, or 72 hour Las Vegas itinerary.
HyperX Esports Arena: One of those perfect activities for kids that are video game nuts, Luxor's Esports arena hosts both scheduled tournaments in addition to pay by the hour game play. Additionally, vintage consoles like Atari, Sega, NES, etc. are available for play.
Flamingo's Wildlife Habitat: The wildlife habitat behind Flamingo near the pool complex is home to pelicans, ring teal ducks, and a flock of Chilean flamingos. Our favorite aspect of the attraction though is the opportunity to take a photo with one of the habitat's resident parrots.
Titanic Artifact Exhibit: Also at Luxor, your little history buff will appreciate the Titanic Exhibit which features 300 real artifacts from the wreck and a large piece of the ship's hull salvaged from the sea floor. It's the personal items recovered and the stories behind actual Titanic passengers that make this exhibit hit home.
Taste Test at the Coca Cola Store: Buy the sampler tray of popular sodas from various countries around the world. You'll enjoy watching your kid's facial expressions as they realize what tastes good elsewhere, doesn't always agree with our flavor palate.
Circus Circus Adventuredome: Adventuredome features 5 acres of carnival attractions and thrill rides in climate-controlled comfort. All day ride passes start at $17.95 for kids between 33-47 inches and $31.95 for adults. This attraction could be the key to freeing up some time to throw some dice or hit the slots.
Circus Circus Midway/Arcade: After spending time at Adventuredome, check out CC's Midway, complete with carnival games and an arcade comprised of over 200 games.
Circus Circus FREE Circus Acts: The longest running circus in the world is at Circus Circus and is free to attend. Acts start daily at 11:30am.
Brooklyn Bowl: I know, it's Vegas and you should probably do something you can't do at home. However, if you are hankering to hit the lanes, Brooklyn's 32 lane bowling ally is located along the Linq Promenade and has a swankier vibe than your AMF lanes back home. The only place to go bowling on the Las Vegas Strip.
FlyLinq Zipline: One of 3 distinct zipline options in Las Vegas, FlyLinq sends riders flying from the Strip to the base of the High Roller observation wheel above the Linq promenade below. Pricing starts at $30 during the day and $35 at night.
High Roller Observation Wheel: The featured attraction of the LINQ Promenade, the High Roller stands at 550 feet tall and holds the Guinness world record as the largest observation wheel in the world. There are 28 glass pods that hold up to 40 riders each. For an extra fee, you can upgrade to a pod with an open bar, but if you have the kids along we suggest you skip that little extra.
Secret Garden and Dolphin Habitat at Mirage: Tropical foliage and exotic animals make the habitat at the Mirage a popular attraction for families in Las Vegas. You will be able to observe tigers, leopards, and dolphins during your visit. Ensure to check out the underwater dolphin viewing area for a different perspective!
Bellagio Botanical Gardens and Conservatory: A floral display at Bellagio that changes seasonally. Simply stunning. Ensure you take a moment to look up at Chihuly's "Firori de Como", glass floral display in Bellagio's hotel lobby as well.
Twilight Zone Monster Mini Golf at Bally's: 18 holes of glow in the dark, Twilight Zone themed Mini Golf is sure to get your kid excited. The course features impressive artwork and props that seemingly transport you to another dimension. The attraction also features bowling and arcade games, both activities kids will enjoy.
New York New York Roller Coaster: Full transparency, this roller coaster is rough. It's also a lot of fun, but you may need to enter the concussion protocol after your ride. With that in mind, it's a wild ride that offers great views of the Strip that we highly recommended. Tickets start at $15 dollars, but for $20 you can experience the ride with a 4D Virtual Reality headset which pits you as a scientist chasing down an Alien that escaped a research facility. Your kid will love the $26 dollar all day pass. I'm in pain just thinking about it.
Mirage Volcano: The volcano erupts weeknights at 7pm and 8pm (a 9pm show is added on the weekends). Your kids will appreciate the sheer power and heat of the display which is choreographed to music and never disappoints. Parents – grab a beer at the closest Walgreens and enjoy!
Bellagio Fountains: A Las Vegas activity idea for kids made better by the fact it is free. The Fountains of Bellagio dance every half hour during the day and every 15 minutes at night.
Topgolf: Located behind MGM Grand, Topgolf is a driving range on steroids. The Las Vegas version offers 4 levels of hitting bays with views of the Strip. With a number of different games to play, Topgolf the perfect activity for kids in Vegas to unleash their competitive spirit. Additionally, Topgolf has a 2 level pool that is free to access even if not playing golf.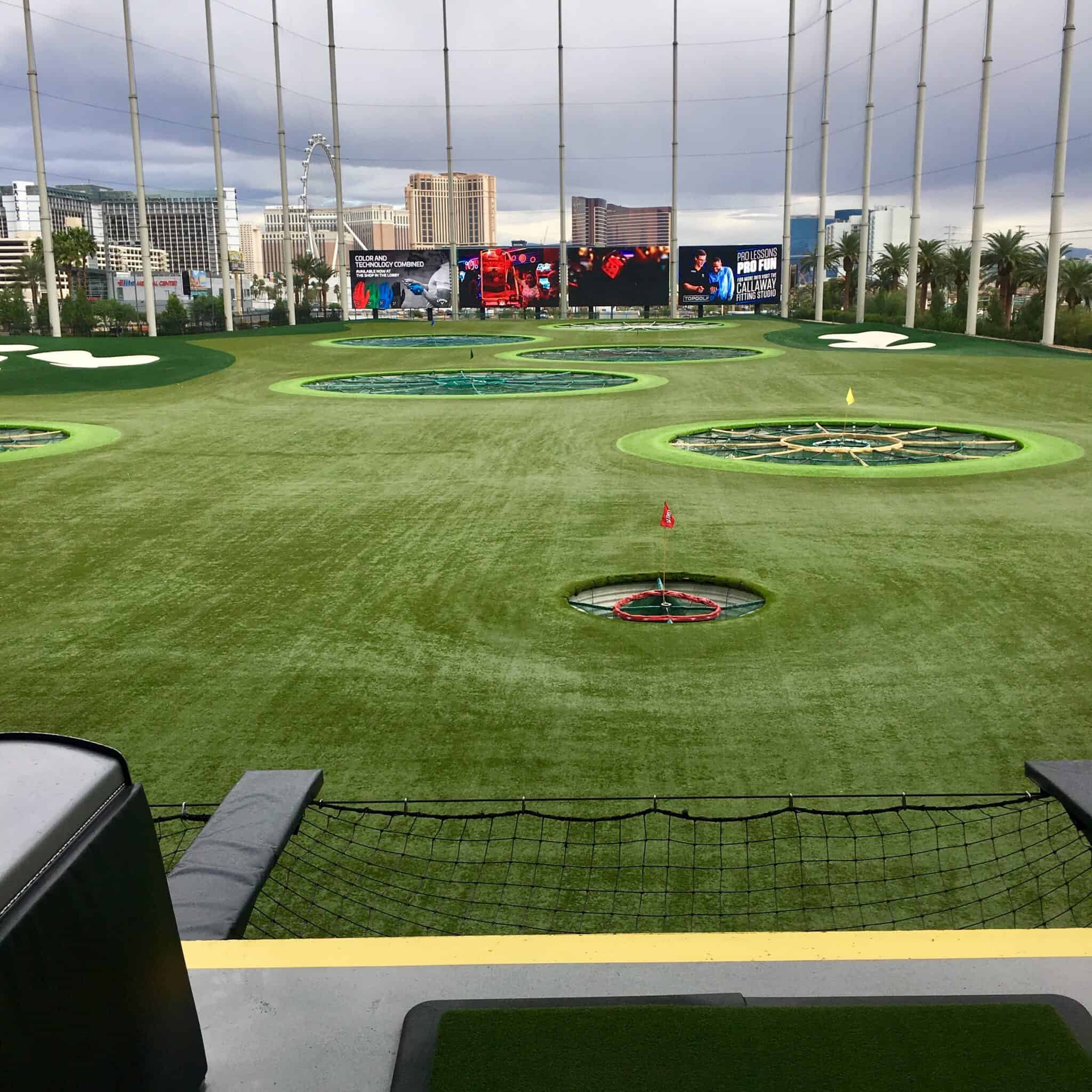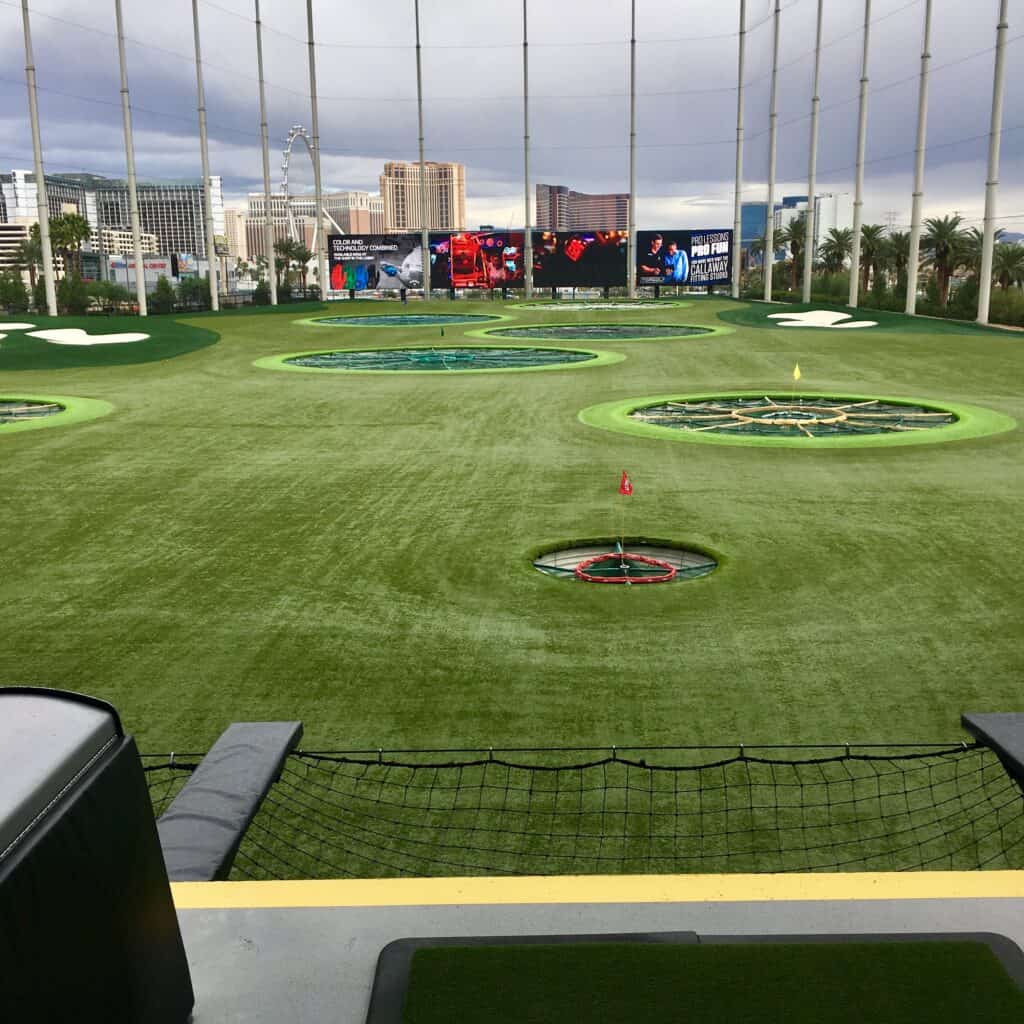 Fun Dungeon Arcade at Excalibur: The arcade is open from 10am –10pm daily and features over 200 games to include the world's largest Pac Man and Smash Air Hockey.
4D Experience at Excalibur: Check out a 15 minute video clip that combines 3D animations, state of the art sound/light effects, and in seat effects. Current clips being offered in 4D include "San Andreas", "Man of Steel" and "The Lego Movie".
The Big Apple Arcade at New York New York: Like Excalibur, NYNY also has an arcade which is located near the Big Apple Roller Coaster.
Admire Themed Properties: One of the best things to do with kids in Vegas is allowing them to take in themed properties. Luxor, Venetian, Excalibur, and Caesars Palace are a marvel to behold to adults, imagine them through a child's eyes.
Activities for Kids Downtown Las Vegas
Fremont Street Experience Canopy Light Show: Fremont Street's $34 million renovation of the canopy is complete and it's impressive. All 16.4 million overhead pixels sync up to popular music to create a beautiful display nightly that you, and your kids, are sure to enjoy.
Mob Museum: Something to do for older kids that can appreciate history, the Mob Museum downtown offers interactive exhibits focused on mob history in Las Vegas and around the country.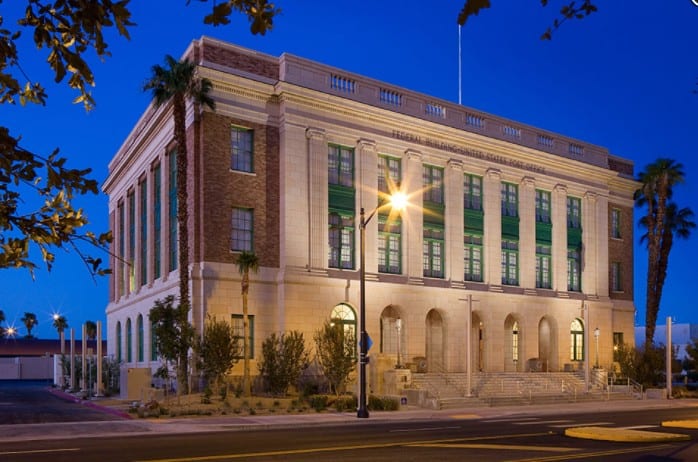 Container Park: Just blocks away from the Mob Museum is the container park which is comprised of shops, restaurants, and bars. Of interest to your kids though is the nightly praying mantis fire show and the tree house playground inside the complex. Additionally, the Container Park frequently makes yard games like cornhole available at no charge near the events stage. All in all, the Container Park is on of the best places to take kids downtown Vegas.
SlotZilla Zipline on Fremont Street: If you don't mind your child being exposed to the debauchery of Fremont Street then buy them a ticket to ride the SlotZilla Zipline! One caveat is that kids under the age of 13 need to ride with someone that is 13 or older. There are 2 pricing tiers, the lower line will cost $20 and the higher Zoomline will set you down $40 during the day. Pricing for the lower line increases to $25 after 6pm and the upper Zoomline will cost $45 ($49 on Fri/Sat).
Neon Museum: A solid activity for kids with a curiosity about history, the Neon Museum is home to over 200 vintage neon signs from past incarnations of Las Vegas. If you really want to wow them, go at night for the Neon Museum's "Brilliant!" display where they utilize projection technology to bring the signs back to life.
The Tank Swimming Pool at Golden Nugget: Not just any pool, The Tank features as it's centerpiece a 200,000 gallon shark and fish tank. Better yet, your kids will enjoy riding The Tank's water slide which goes through the middle of the shark tank. Admission for non guests is $15 Monday – Thursday and $25 Friday – Sunday.
Toy Shack: Located in Neonapolis downtown Las Vegas, The Toy Shack was made famous by Pawn Stars. Your kids will enjoy stopping in to check out their unique toy offerings!
See Also: Our perfect 24, 48, or 72 hour Las Vegas Itinerary.
Gene Woods Racing "Drift" Experience: Also located in Neonapolis, this indoor track is specifically designed to test your drifting skills. The go karts are all electric meaning no fumes and quick acceleration.
Discovery Children's Museum: Near the Fremont Street Experience, kids will enjoy exploring a number of engaging exhibits that aim to educate about water power, inventing, experimentation, and so much more. A museum dedicated to children is the itinerary item for kids when in Vegas.
Activities for Kids in Las Vegas off the Beaten Path
Wet'n'Wild: Desert summers are hot, and one activity we recommend for kids in Vegas is cooling off at Wet'n'Wild. Between their water slide options, pools, and lazy river, your kids will have a blast.
Indoor Skydiving: You don't have to jump off a plane, or off the Strat's SklyPod for a thrill. Instead, enjoy a simulated free fall at Las Vegas Indoor Skydiving. The 120 mph winds generated by their 1,000 horsepower fan will give your kid a similar thrill, but closer to the ground.
Dig This: An option only for kids 13 years old and up, Dig This is unique and sure to create life long memories. The desert is your canvas to operate heavy equipment like bulldozers and excavators. You'll dig trenches, push around boulders, stack tires, and roll over rough terrain. Don't know how to operate heavy equipment? No problem, instructors are on hand to help!
Pole Position: Indoor go karts just off the Strip. No need to say more. It's a blast. Kids do need to be over 48″ tall to participate as a driver, however.
Headz Up 3D Trick Art Gallery: A quick Uber ride from the Strip, Headz Up puts guests in some precarious situations which are actually 3D murals making for great photo opportunities! Highly recommended on Yelp/Tripadvisor, this is among the most unique activities for kids in Las Vegas. Check out their website here for more info.
Kiss by Monster Mini Golf at Rio: Another themed mini golf experience inspired by the rock band Kiss. The course is 18 holes, complete with black light effects and a small arcade. I don't know many kids that are die hard Kiss fans, but every single one of them like mini golf.
See Silverton's Mermaids: Watch real mermaids swim in a 117,000 gallon fish tank at Silverton Thurday – Sunday. An all ages show, this is one of the most unique things for kids to do in Vegas.
Hoover Dam:
Your kids, and you, will be blown away by the sheer size of the Hoover Dam. Take a guided tour, then when wrapped up, rent a jet ski at the
Lake Mead Marina
and rip around Lake Mead.
National Parks: Not far from Las Vegas are a number of outdoorsy day trip options with stunning scenery to include Death Valley, Lake Mead, Valley of Fire, Zion National Park, and the Grand Canyon. It turns out some of the best things to do with kids in Vegas aren't in Vegas at all.
Gene Woods Racing Experience: Test your go kart skills going head to head on a half mile outdoor track with the Las Vegas Strip in the background.
Gameworks: An expansive arcade just south of McCarran International Airport near I-15, Gameworks is a great activity option for those traveling with kids.
Pinball Hall of Fame: A quick Uber ride form the Strip, the Pinball Hall of Fame is 10,000 square feet of pinball machines from the 1950's to the 1990's. While free to enter, you'll want to bring plenty of quarters. One of our favorite Las Vegas activities for kids, as well as parents that want to relive their glory days.
Movie Theaters: While no Strip resorts have one, a number of casinos off the Strip offer movie theaters which make for a solid activity for kids while parents hit the tables.
Shows that are Kid Friendly in Las Vegas
Cirque du Soleil: Shows that amaze adults with daring acrobatics, feats of strength, and stunning visual displays are sure to please your kid. Avoid Zumanity though. That would make for an uncomfortable parent/child bonding experience.
Magic Acts: Magicians such as Mat Franco at Linq, Penn and Teller at Rio, or Mac King at Harrah's keep it clean and represent a great option for visitors with kids.
Popovich Comedy Pet Theater: For the animal lovers, this kid friendly performance incorporates cats, dogs, birds, and other animals into a comedy performance.
Tournament of Kings at Excalibur: A 3 course dinner show which immerses you into middle ages. Your family will feast as you witness horse mounted knights defend their honor.
Hopefully, our list of things to do with kids in Vegas was helpful in your quest to find kid friendly activities! While Vegas is known as an adult playground, there is certainly a ton of stuff to do with kids!
Don't hesitate to drop your go to activity for kids in Vegas into the comments below!
Related: 77 FREE things to do, see, and experience in Las Vegas!