Simply stated, Las Vegas as a destination is not as cheap as it once was. We are strong believers however that value and opportunities to save money can still be found and exploited if you know where to look.
Below, we leverage our expertise to piece together the most comprehensive and up-to-date list of free things to do in Las Vegas available on the web. Our summary of free stuff to do in Vegas includes shows, sights, photo opportunities, and things to do.
We broke our list of free activities in Vegas by geographic area to include the Strip, Downtown, and properties off the beaten path.
While we realized there were a lot of freebies still out there, we were pretty amazed by the length of the list we were able to come up with. Without further ado, let's go!
Related: See our up-to-date list of deals available on Groupon to include dining, drinking, and activity offers.
Free Things To Do On The Strip
Fountains of Bellagio: A free show that erupts every 15-30 minutes daily, the fountains call Bellagio's 8.5-acre man-made lake home and have over 1,200 individual fountains capable of shooting water to heights of over 1,000 feet. With shows choreographed to a wide variety of music, it's worth stopping by multiple times.
See the World's Largest Chocolate Fountain: After checking out the fountains, head inside Bellagio and hunt down the 14 ft. tall fountain which is capable of circulating 2,100 pounds of chocolate. Found at the Bellagio Patisserie, the chocolate river is the focal point of a restaurant that also serves pastries, omelets, and coffee.
Check out the Bellagio Conservatory and Botanical Gardens: A seasonal display constructed with flowers crafted by a horticulture staff of 120 team members, the conservatory is our personal favorite free thing do to in Las Vegas. Displays celebrate calendar events such as the Lunar New Year, Harvest, Spring, Summer, and the Holidays.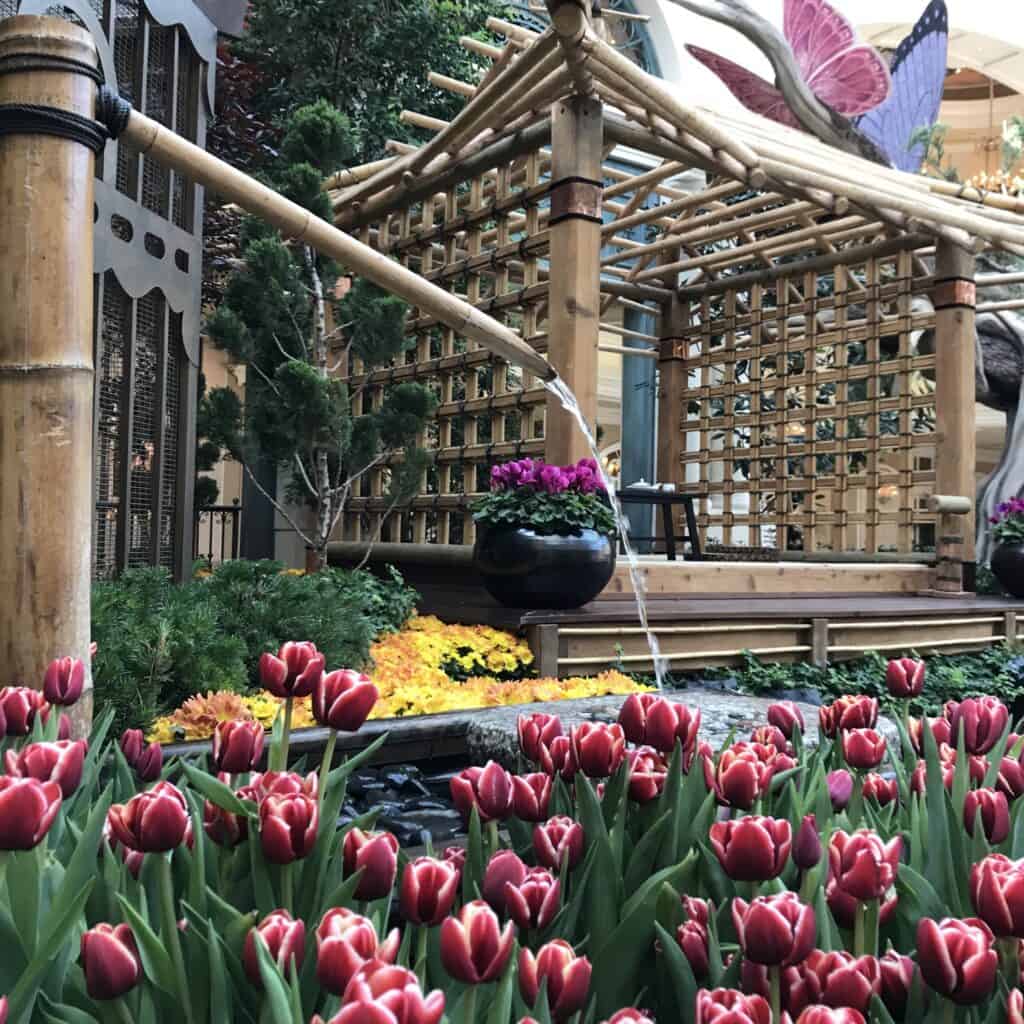 Dale Chihuly's "Fiori di Como": An intricate, colorful glass sculpture display on Bellagio's hotel lobby ceiling, Chihuly's 2,100 square foot floral piece is comprised of 2,000 glass blossoms and is a must-see free attraction.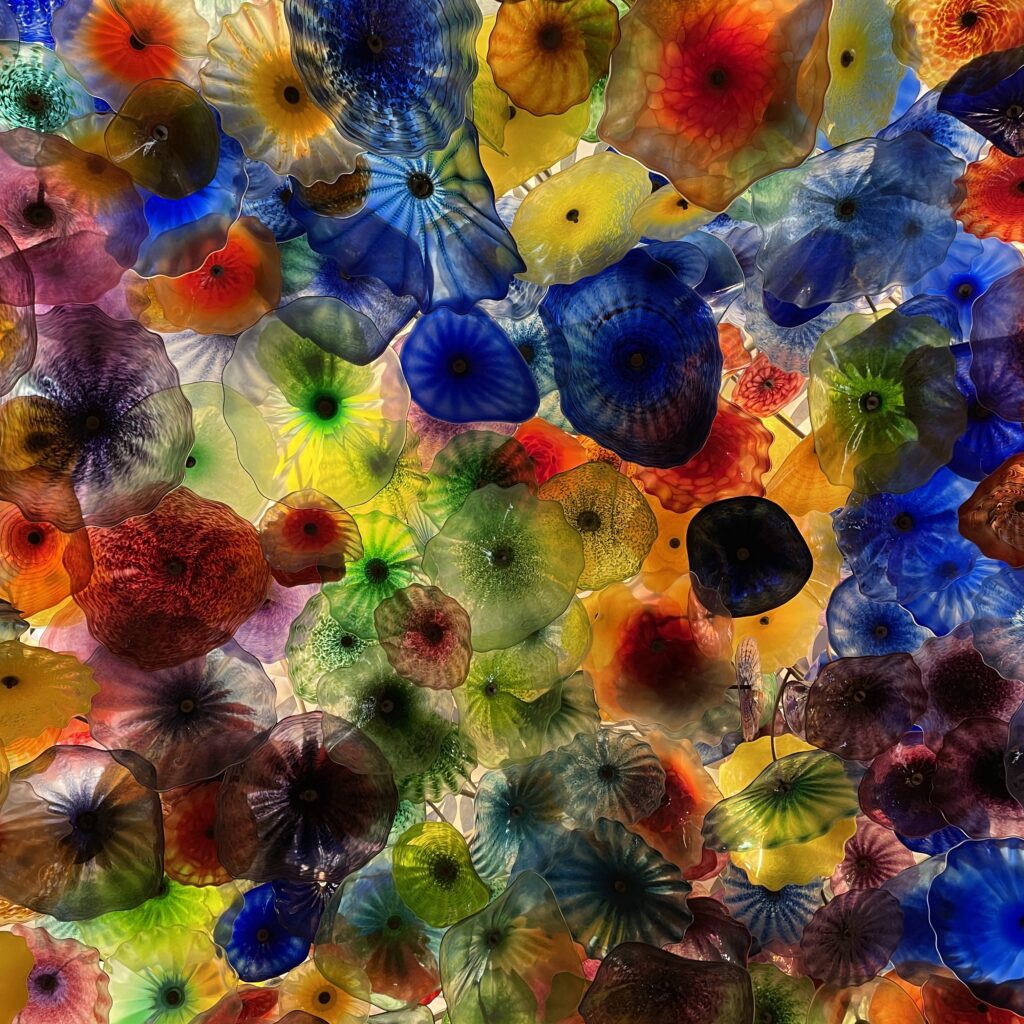 Mirage's Floral Atrium: Akin to a tropical oasis in the middle of a desert casino, Mirage's Atrium allows guests to escape the cigarette smoke and commotion of the casino floor and find some solace. The atrium is complete with lush jungle foliage and rushing water which has a calming effect we've found to be helpful after enduring gambling losses.
Mirage's Front Desk Aquarium: A 20,000 gallon, 50-foot long saltwater aquarium that is home to over 450 types of fish. A visually stunning display and completely free to check out!
Mirage's Volcano: A show that engages all senses, Mirage's volcano is synced to music by the Grateful Dead's Mickey Hart and is downright powerful…and hot. Performances occur daily on the hour from 7 pm to 11 pm. Mirage's Volcano is a free show that never fails to impress.
Walk the Streets of Venice: The Grand Canal Shoppes at Venetian offer guests a quarter-mile themed escape to Italy. Complete with painted ceilings, cobblestone streets, and a canal with operating gondolas, this is not your typical shopping mall. Sure, there are also over 220 shops and restaurants, but that fact is secondary to the scenery.
Streetmosphere at Grand Canal Shoppes: While wandering the streets of Venice, stop by St. Mark's square to see the free Streetmosphere show which features classically trained musicians and actors.
Snap a Photo in the Waterfall Atrium at Palazzo: If you follow any Las Vegas social media groups, you've seen the spot (pictured below). Built into the Grand Canal Shoppes, the "LOVE" lettering is difficult to miss.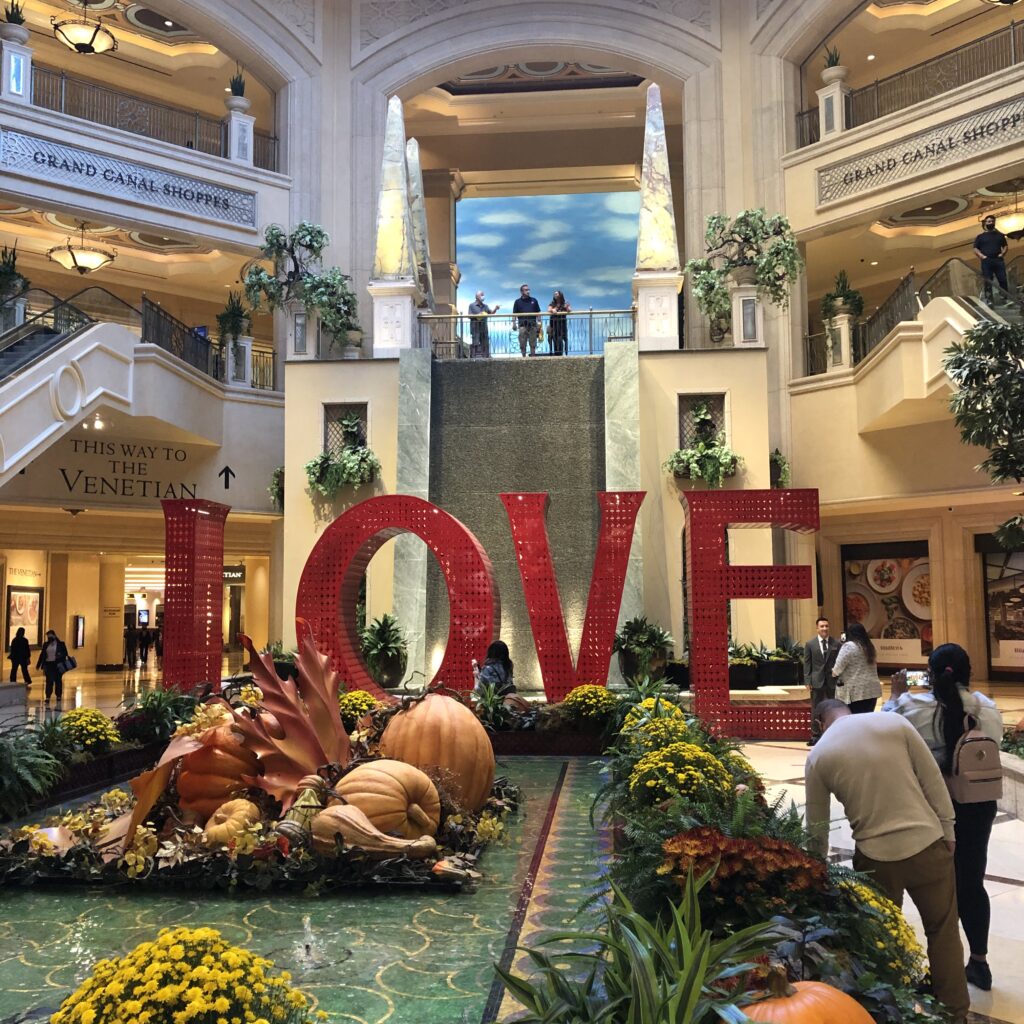 See The Carved Woolly Mammoth Tusk at Treasure Island: Carved over generations, this impressive artifact is made special by not only it's historic significance, but it's intricate detail.
See The Siren Chopper at TI: Steps away from the woolly mammoth tusk, this motorcycle has a unique pirate theme that matches the theming of the property and former "Sirens of TI" show which once ran nightly along the Strip.
Circus Acts at Circus Circus: The world's longest-running circus showcasing acts of strength, trapeze acts, juggling, and sky dancing. Acts start at 1:30 pm Monday – Thursday and 11:30 am Friday – Sunday and are completely free to attend.
Art at Cosmopolitan: Cosmo has sprinkled hundreds of pieces of contemporary art throughout their property. Art installations span the resort and include sculptures, murals, digital art, and mixed media pieces which are rotated in and out, keeping things fresh. Even those that aren't necessarily art people will look twice with interest at some of the displays.
Cosmopolitan's Hotel Lobby: A digital art display in Cosmopolitan's hotel lobby, 8 separate 15-foot tall pillars are wrapped in synchronized video screens creating interesting, almost disorienting, illusions.
Take a Photo with the Crazy Girls statue: A popular Las Vegas photo opportunity, the "Crazy Girls" bronze statue celebrates the timeless burlesque show by the same name. While it used to call the sidewalk in front of Riviera home, it can now be found on the gaming floor at Planet Hollywood. Take a photo and rub a cheek for good luck.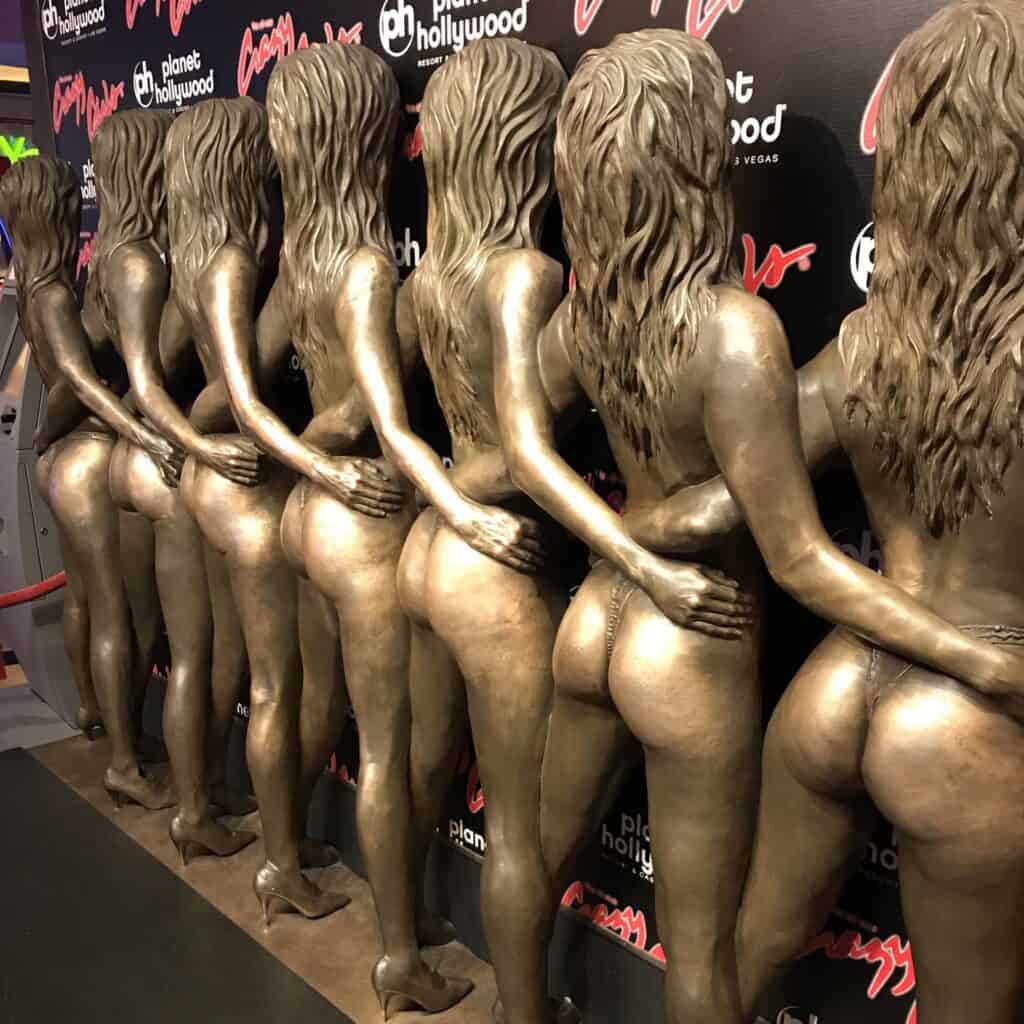 Miracle Mile Shops at Planet Hollywood: A mile of shops and restaurants, but the scenery is free. Some of the highlights we enjoy about the shops are watching robots make cocktails at Tipsy Robot, watching the free rain/thunderstorm show, and finding old reminders of the property's past life as Aladdin in the mall's decor. Although not free, the shops are also home so some rock-solid happy hour deals at both Ocean One and Flights. Ocean One also offers an expansive (and surprisingly good) $4.99 lunch menu.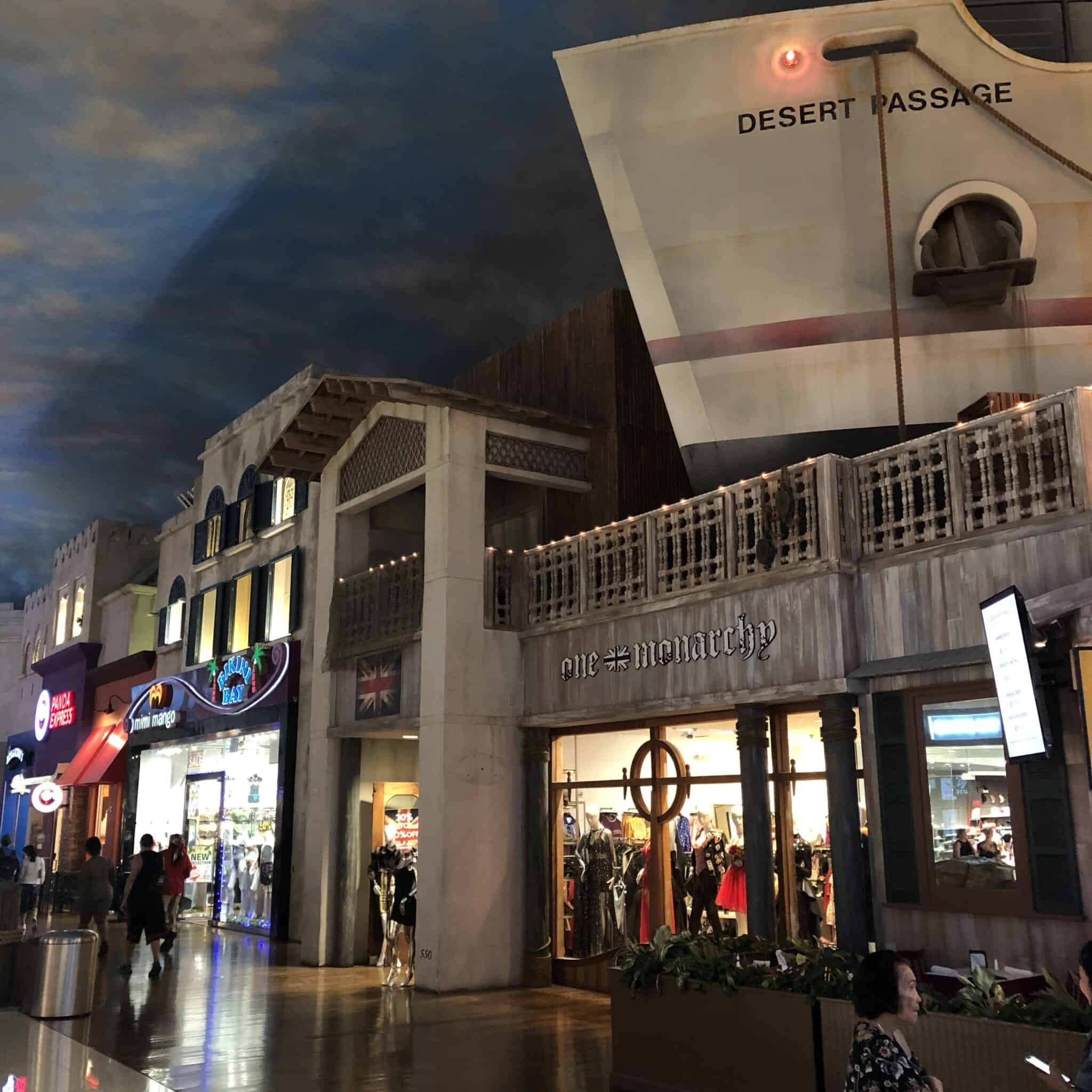 Park Your Car: Yes, there are still a few spots that won't charge you for parking (see resorts that still offer free parking here). While parking your car is among the least exciting free things to do in Las Vegas, it's an easy way to stretch your budget.
Use Another Hotel's Pool: Some hotels, like Linq, Harrah's, Planet Hollywood, and even Topgolf offer free access to their pool even if you are not staying on their property.
Peruse the Coca-Cola Store: Check out the collection of unique Coca-Cola memorabilia that is on display at this flagship store. Although not free, we recommend trying the soda sampler from around the world. What other countries find to be "good" is pretty eye-opening.
Walk the LINQ Promenade: Full of shops and things to do, strolling the LINQ Promenade is a must. The pedestrian walkway provides a great view of the iconic High Roller observation wheel and zip liners flying overhead.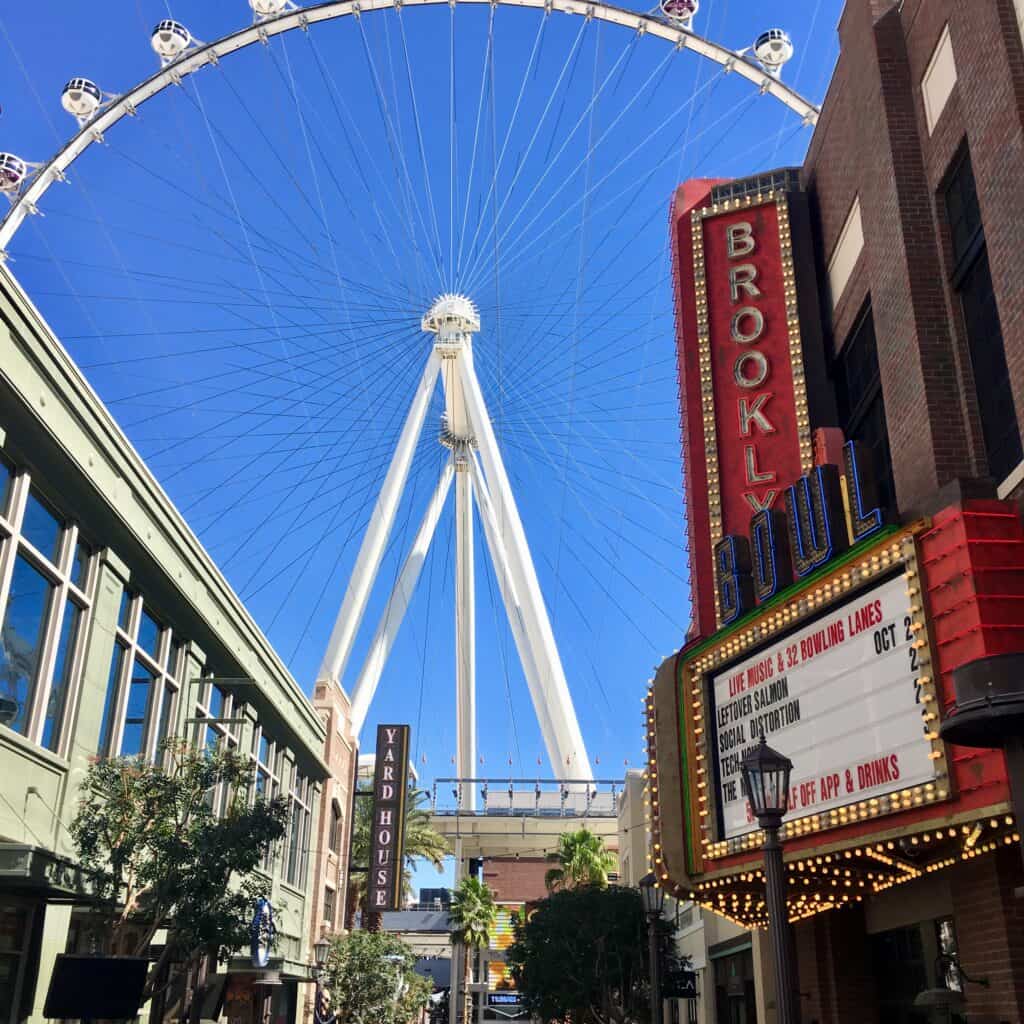 Free Trams: Privately owned trams shuttle guests from property to property at no cost in several places on the Strip. There is a shuttle that connects Excalibur, Luxor, and Mandalay Bay. Another that connects Mirage and TI. Lastly, a free tram connects Aria, Bellagio, Park MGM, and the Crystals shopping center. Save yourself some steps, all for zero dollars.
See The World's Largest Atrium: While at Luxor, gawk at the world's largest indoor atrium. According to Wikipedia, the open space created inside Luxor's pyramid measures in at 29 million cubic feet. Impressive, and they won't charge you a dollar to see it!
Wynn Botanical Gardens: A favorite Las Vegas photo opp, the botanical gardens inside Wynn are an oasis in the middle of a casino. As a signature feature of the property, it's a must-see freebie.
Lake of Dreams Show at Wynn: Running every half hour nightly starting at 6:00 pm, Lake of Dreams utilizes over "4,000 lights, holographics and puppetry" to dazzle attendees. The free show is best enjoyed from Parasol Down, SW Steakhouse, Lakeside, or from the free viewing platform in the resort.
Wynn Fountain Show: Located out front of Wynn is a water show which resembles a smaller version of the Bellagio Fountains. Like, way smaller. With that being said, the combination of fountains and lighting elements choreographed to music may be worth a stop if you are in the area.
Explore the Wynn Plaza Shops: Nothing in this mall is cheap, but it's worthy of a walk through. As to be expected by a mall associated with Wynn, the Plaza Shops are stunning and incorporate artistic displays like the one pictured below of Takashi Murakami and Virgil Abloh's Arrows and Flower Neon Sign.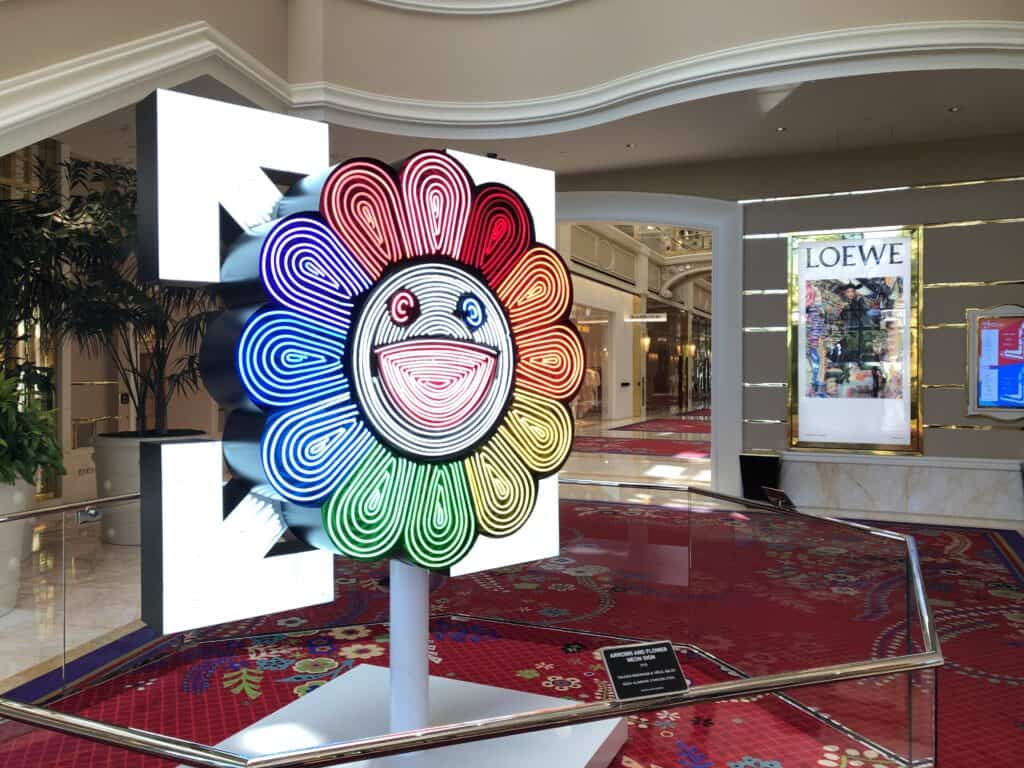 Explore the Fashion Show Mall: Even if you don't have a specific purchase in mind, shoppers will enjoy wandering through over 250 stores that range from discount options to luxury. The mall is located across the street from Wynn and just north of TI.
See the Stained Glass at Tropicana: Looming above the table games near the entrance of the casino is a 4,000 sq. ft. stained-glass domed ceiling installed in the early '70s. There isn't much stained glass in Vegas, and this decor touch is a throwback to an earlier era. Read more on the stained glass at Vital Vegas (note, it's still there and wasn't removed).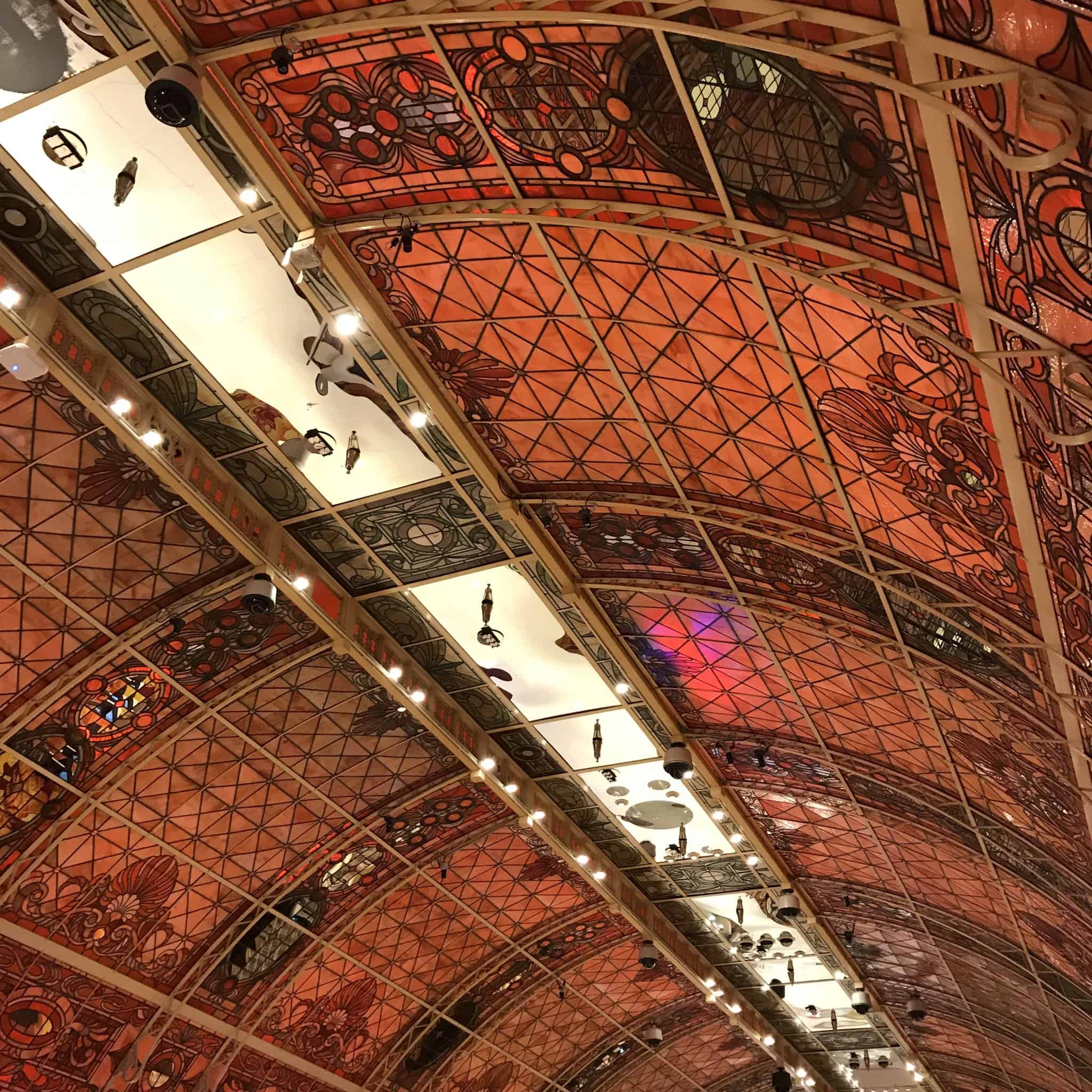 See the Makeshift Tupac Memorial: Just a couple blocks off the Strip behind Bally's are the cross streets of Flamingo and Koval where Tupac was shot in 1996. You'll see a telephone pole right along the sidewalk on Flamingo with handwritten notes to the late artist.
Learn Craps: For those unfamiliar with the game, it has an intimidating look but is actually pretty intuitive (and an insane amount of fun) once you know what you are doing. Many casinos, like Cromwell in the middle of the Strip, offer free craps lessons daily. Take advantage!
Go for a Jog: While most people ingest too many chemicals in Las Vegas for running to make sense, there are a select few that enjoy a jog with some scenery. While running on the Strip comes with challenges, it can be done. The key is to go early before sidewalks become too congested, and/or leverage routes with fewer obstacles. Here are some tips for running in Vegas that we put together!
Take in a Dueling Piano Show: Free entertainment is tough to come by in Vegas, but there are still a few bars like The Piano Bar at Harrah's and the Bar at Times Square at NYNY that offer free dueling piano shows. Just grab a drink and enjoy.
Enjoy Karaoke: What makes karaoke shows great is the contrast in skill level. Folks from all over the talent spectrum give it their all as they sing to a room of strangers. We put together a full list of bars that offer free Karaoke in Vegas, although our favorite can be found at Ellis Island just off the Strip.
Hit a Bar With Live Music: A number of bars on the Strip and nearby offer free live music that you can enjoy alongside a beer or 7. Here is a breakdown of where and when you can find live music in Las Vegas, but options include the Carnival Court at Harrah's, Piano Bar at Harrah's, Gilley's at TI, and Le Cabaret at Paris among others.
Drink for Free: Yes, drinks are still free while gambling on the Strip, Fremont Street, or at a casino off the beaten path. Bring plenty of small bills for tipping and keep 'em coming.
Get to the Strat's Observation Deck: While everyone else buys a ticket to take the elevator up to Strat's observation deck, you're going to get up there for free. How? Easy. Instead of buying a ticket, stop at the desk for the 107 SkyLounge, a bar at the top of the tower. Guests ride up free. After your drink(s) and/or food, you are able to walk right out on the observation deck for free. Go during their daily happy hour (4-7 pm) to score half-price drinks.
Take in the Themes: Especially for first-timers, walking through themed casinos like Paris, Luxor, Excalibur, and New York New York is awe-inspiring. Especially if you're a first-timer, put exploring all the unique resorts atop your list of free things to do in Las Vegas.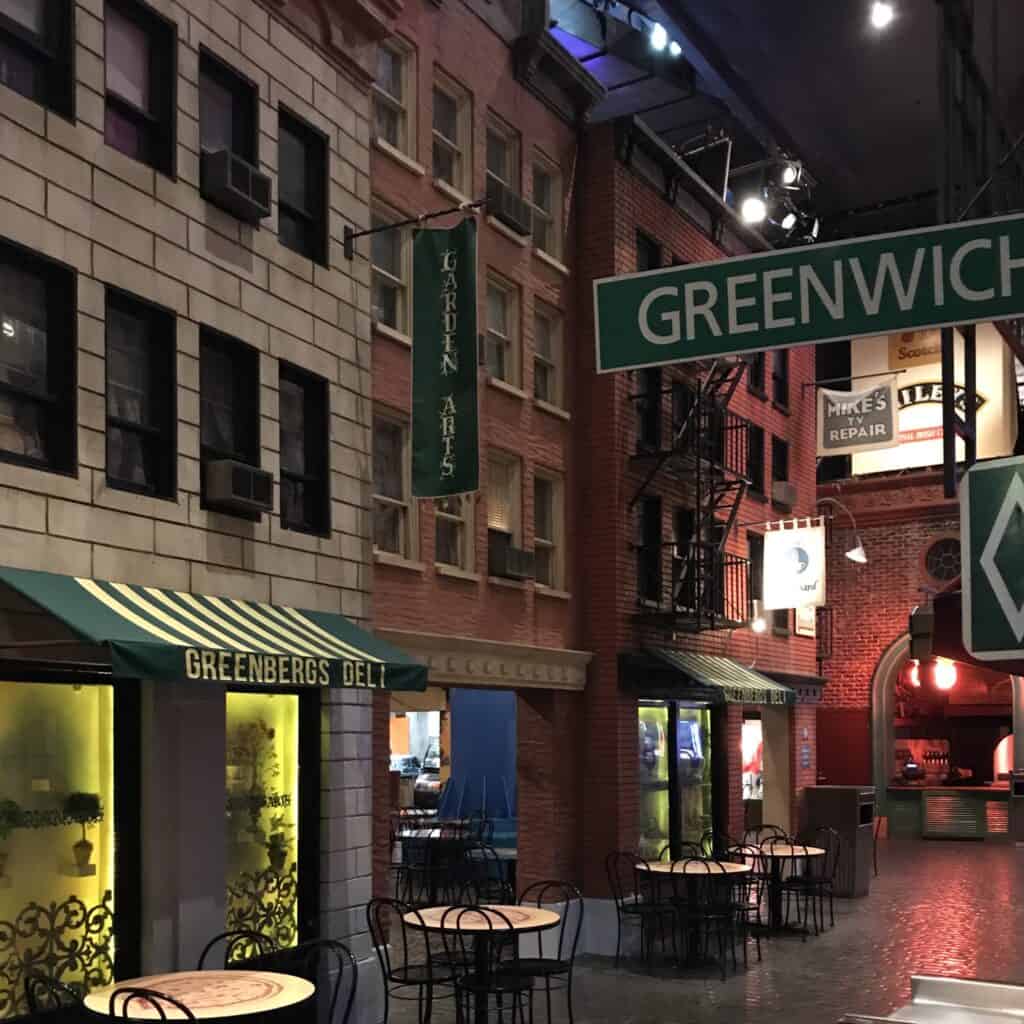 Walk the Park: An outdoor dining and entertainment area lying between Park MGM and NYNY, The Park's foliage, fountains, and art, can be a welcome escape from the casino. Check out Bliss Dance, a 40-foot sculpture of a dancing woman, or stop by for one of their Silent Disco shows.
Walk of Stars: Find your favorite entertainer's star along the Las Vegas Strip. Artists like Elvis, Donnie & Marie, Dean Martin, Frank Sinatra, among others are permanently memorialized. See a full list of stars and where they can be found here.
Pre-Screen a Show: Located at MGM Grand, CBS offers guests the chance to view upcoming episodes of shows to solicit feedback. Not only is this a free thing to do in Vegas, they even provide participants a coupon book with deals and offers for their time. The time commitment for this activity is about an hour in total (45 minutes for the showing, and 15 for the survey).
Explore the Fine Art Collection at Aria: Sculptures, paintings, and other fine art creations are worked into the property, which, in my opinion, is a work of art in itself. The artwork is spread out between Aria, Shops at Crystals, Veer Towers, and Vdara and includes work by Frank Stella, Henry Moore, and James Turrell among others. Get more information on the collection here.
Time Share Presentations: While we would never dream of wasting a portion of our trip on a sales pitch, it is possible to earn free show tickets, tours, or meals by attending a timeshare presentation. Just beware, these presentations commonly run over the "promised" time commitment and result in a high-pressure sales pitch. Be prepared to say "No" repeatedly and stick to it as timeshares rarely pencil out to be a good deal.
Fall of Atlantis at Caesars Forum: An animatronic show detailing the downfall of Atlantis. While fun to catch if you happen to be in the area, the audio can be difficult to understand and the show feels dated. Fall of Atlantis runs hourly starting at 11 am.
Aquarius Aquarium at Caesars Forum: Located next to the Fall of Atlantis Show is this 50,000-gallon saltwater fish tank that holds 300+ tropical fish. After checking out this free attraction, make time to wander the rest of Caesars Form as there is plenty to see an abundance of photo opportunities.
Check out Hershey's Chocolate World: Chocolate fan? If so, swing into Hershey's Chocolate World at New York New York where you can check out their unique assortment of 800 varieties of chocolate, star in your own Reese's Peanut Butter Cup TV ad, and take a picture with the goofballs pictured below.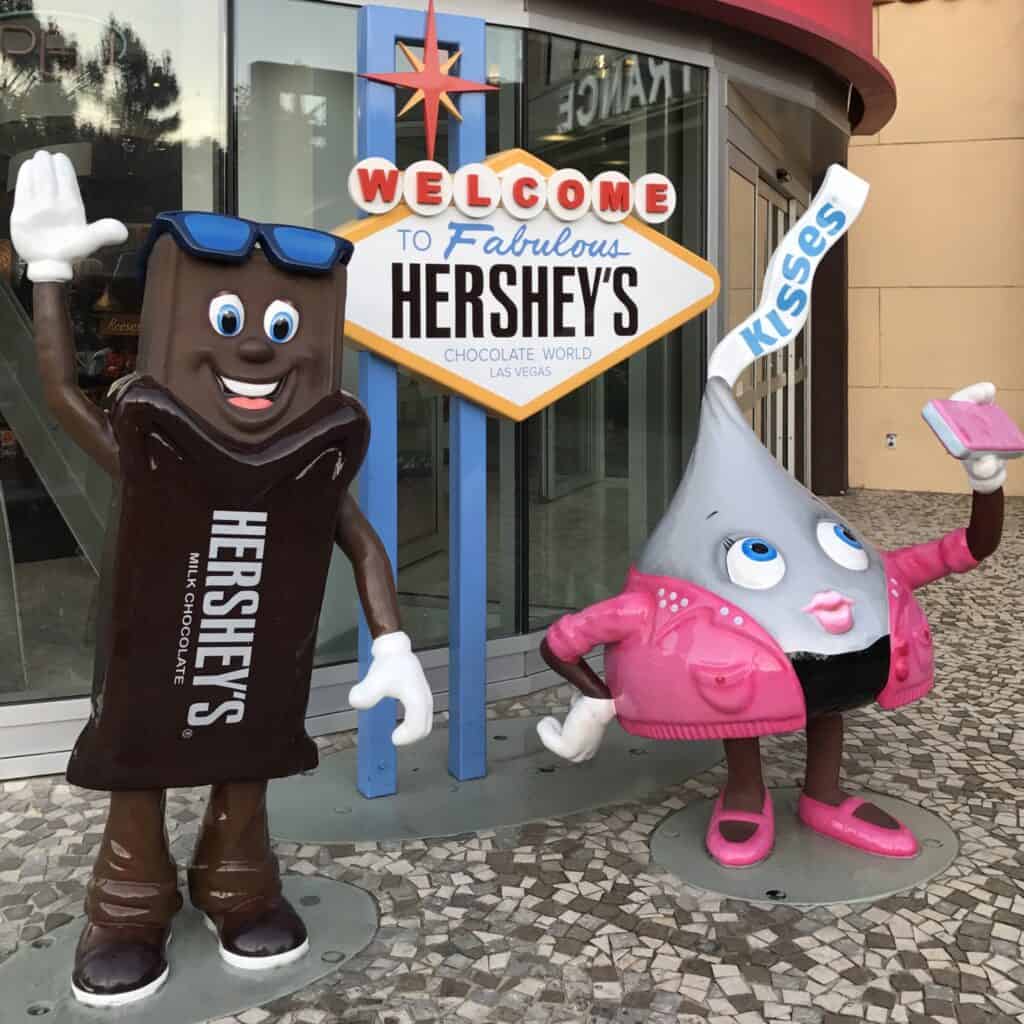 M&M World: Keeping with the chocolate theme, M&M World features 4 floors of M&M candies and merchandise. Also on display is a replica of Kyle Busch's M&M sponsored racecar. For a fee, guests are also able to design and print their own M&Ms.
See Big Elvis at Harrah's: Pete Vallee puts on his Big Elvis lounge act every Friday and Saturday at Harrah's Piano Bar. As a highly regarded performance, this free show is a must-see for fans of Elvis. More on the Big Elvis show to include show times here.
Take a Photo at the "Welcome to Las Vegas" Sign: By far, the most recognizable photo opp in Las Vegas is a short Uber ride south of Mandalay Bay and completely free. Note that there are often "official looking" photographers offering to take visitor photos. They are not employed by the city and are simply working for tips. You are not obligated to use their services and can snap your own photos. Check out additional Las Vegas scams, tricks, and ripoffs we compiled here.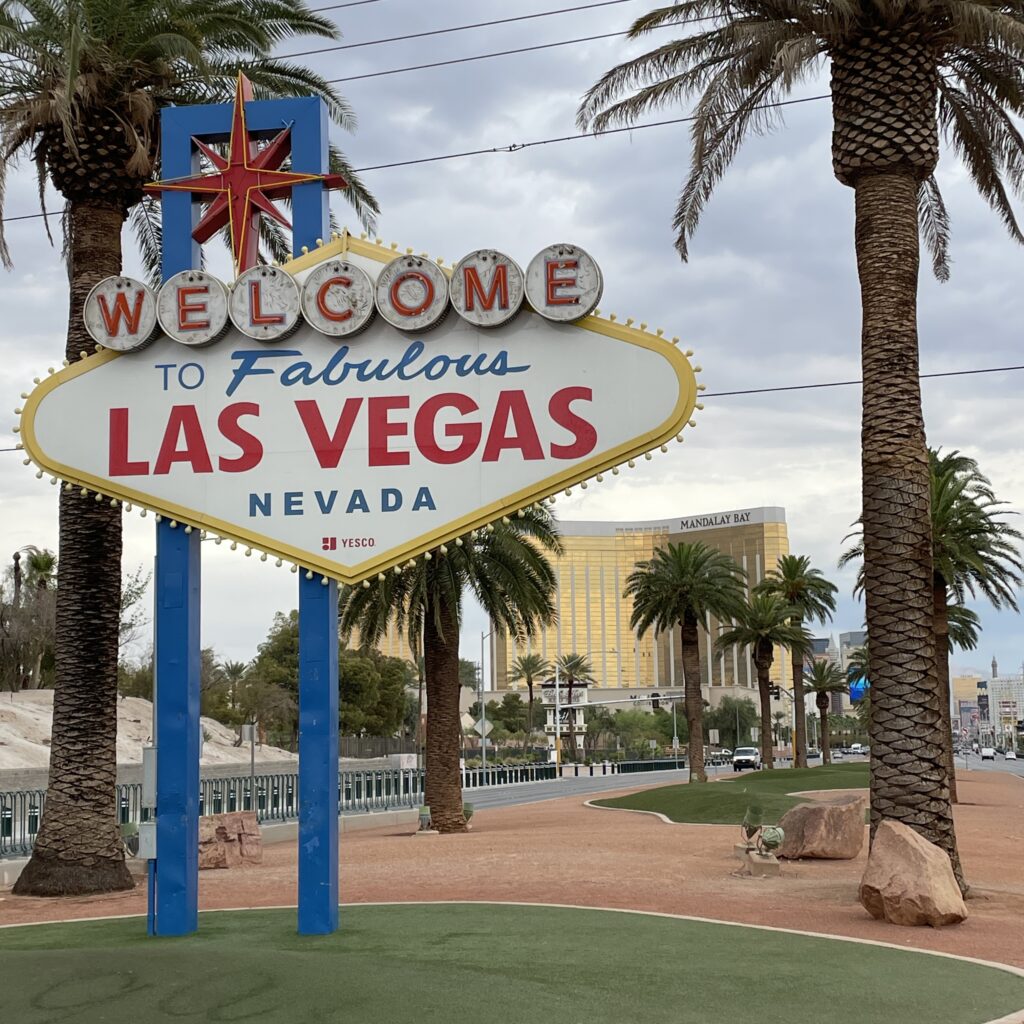 See the Flamingo Wildlife Habitat: Walk through the gardens and view wildlife to include pelicans, flamingos, and ducks as you decompress from getting beat up on the tables. You can even take a free photo with one of Flamingo's resident parrots.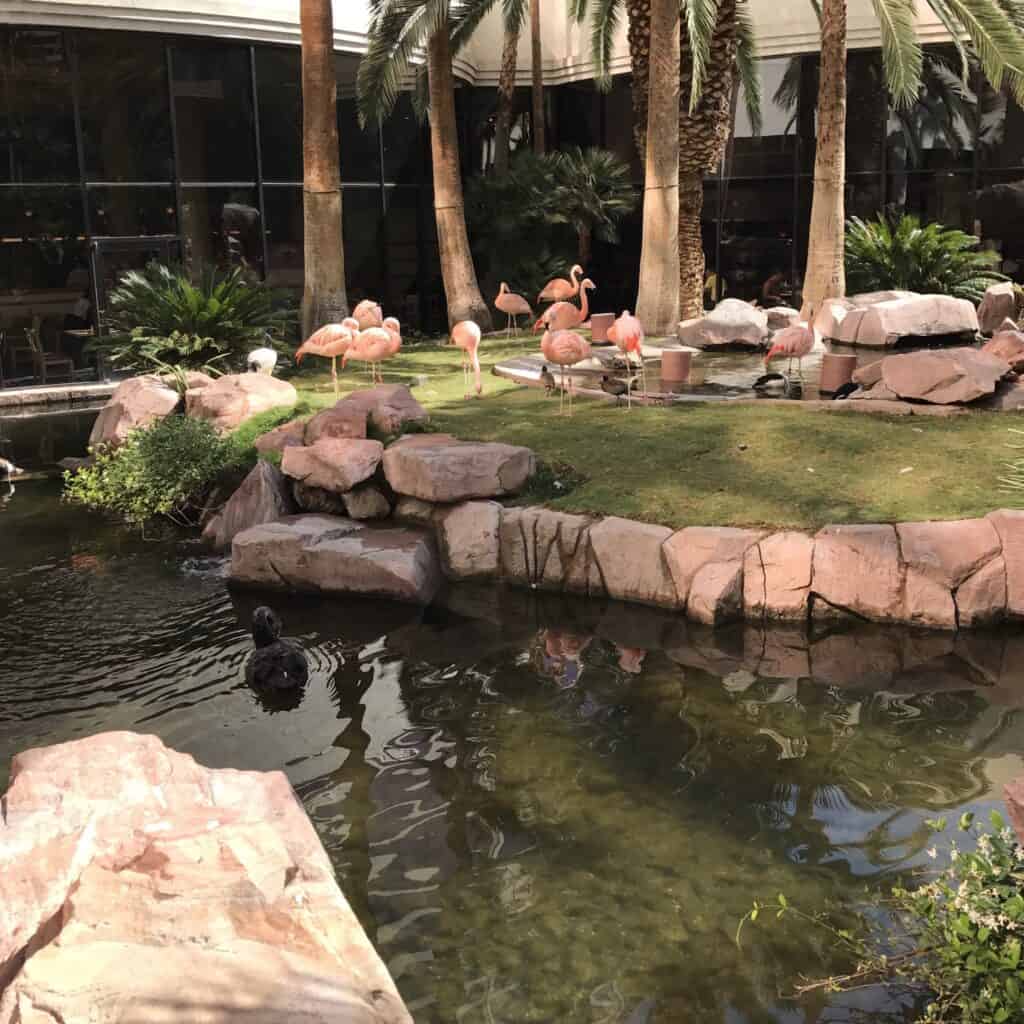 See Cirque Show Rehearsals: Cirque often opens rehearsals to the public in an effort to drum up interest and ticket sales. Just google what Cirque du Soleil shows may be offering free open houses before your trip. Even in a rehearsal setting, the acrobatics are impressive.
Play Slots At Casino Royale: Think of this freebie as more of a buy one get one. If you sign up for a player's card at Casino Royale, they will reimburse your first $20 in slot losses as free play. Spend $20, get $20. Pretty much free right?
Eiffel Tower Light Show: Paris recently added some sparkle in the form of $1.7 million worth of lights to their 1/2 scale Eiffel Tower replica. The lights are choreographed to music and dazzle guests every half hour from sunset to midnight.
See The Art at Resorts World: The newest resort on the Las Vegas Strip has an abundance of free things to do and see. Notably, the artwork scattered around the resort is unique and fun to check out. Below are a couple of our favorite pieces that were on display opening night. Click here for more images of Resorts World and the art on display.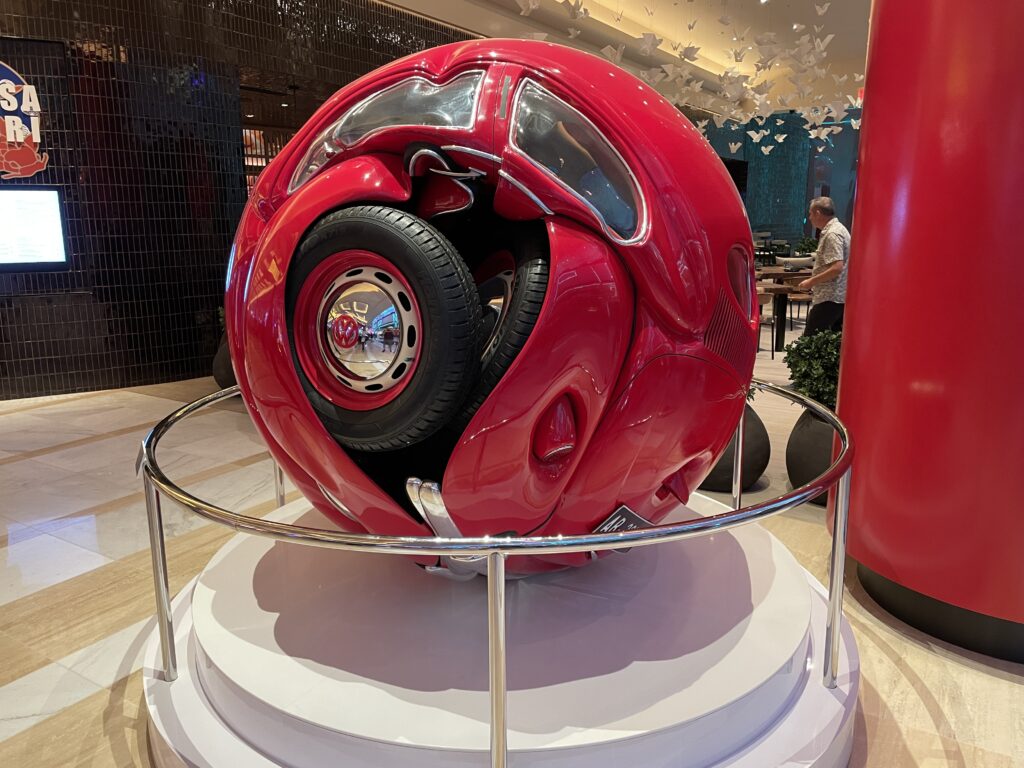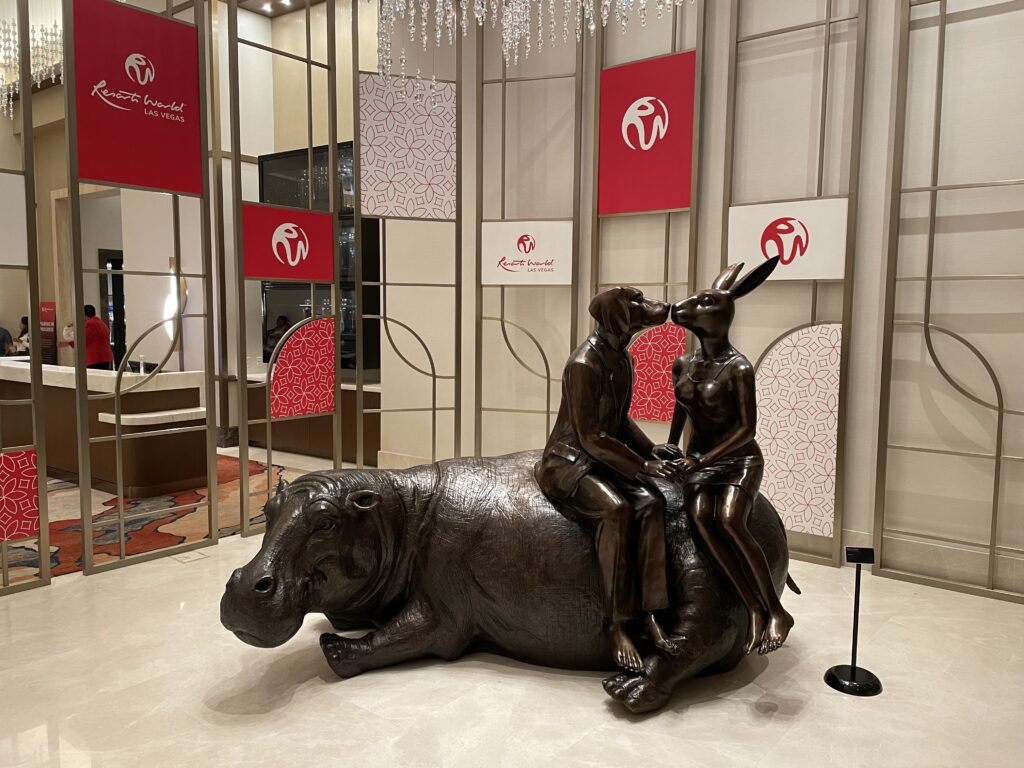 Related: 44 Ways to save money in Las Vegas.
Free Things to do Downtown Las Vegas
Fremont Street Experience Light Show: An elevated experience following a $34 million upgrade, the overhead canopy boasts over 16 million pixels. While the screen and graphics are visible throughout the day, shows choreographed to music run hourly starting at 6 pm every night.
Live Entertainment on Fremont Street: In addition to nightly light shows, the Fremont Street Experience hosts live musical entertainment nightly, for free. In addition to nightly live acts, Fremont Street Experience regularly hosts big-name artists as part of their summer concert series. Past acts have included names like Nelly, Cheap Trick, The Wallflowers, and Smash Mouth. Check out the full calendar here.
See Vegas Vickie: The iconic figure that once sat outdoors on Fremont Street now calls Circa's casino floor home. Fully restored, her neon wows and signature leg kick is back. This photo opp belongs atop your list of things to do.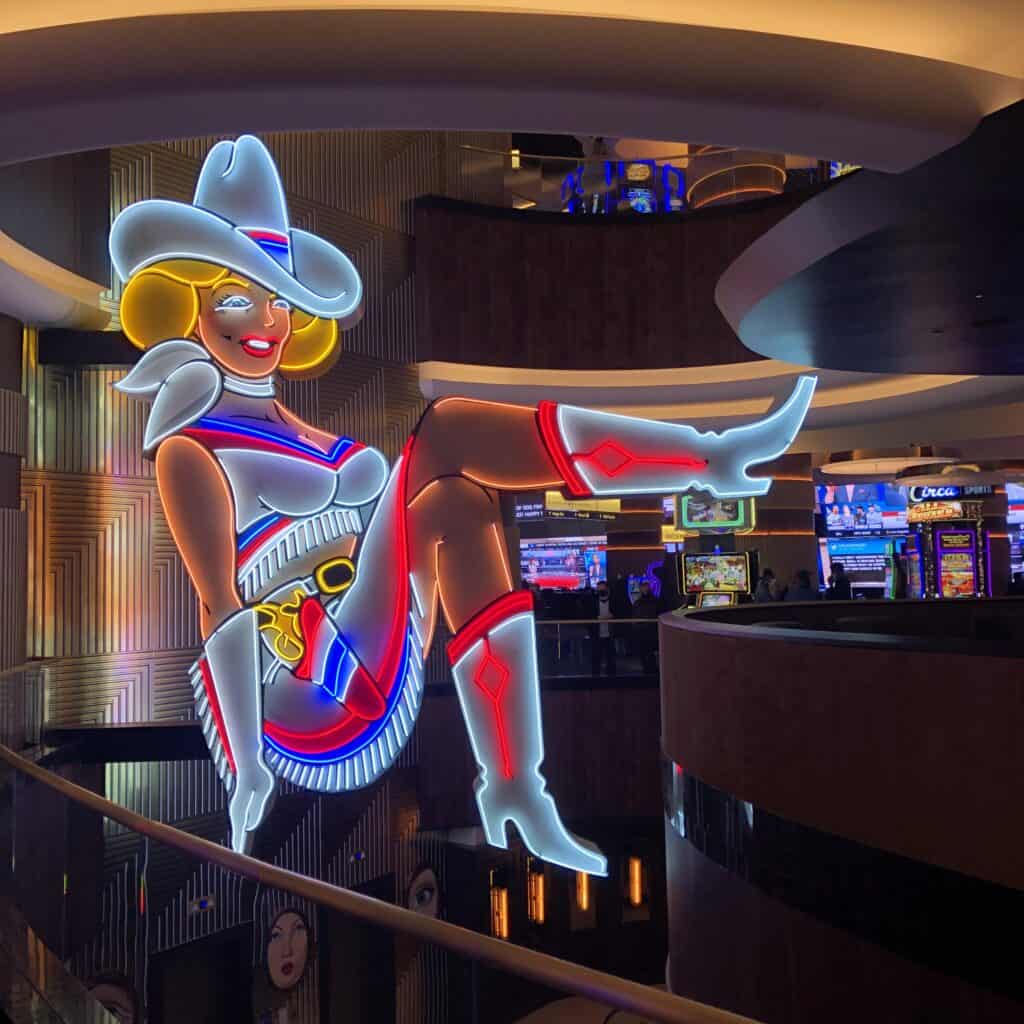 Catch a Game in Circa's Sportsbook: Vegas Vickie isn't the only signature amenity at Circa. The 3-story tall sportsbook screen is magnificent and is visible from both levels of the casino. We suggest placing a bet on a game. Any Game. And watch it from the new center of the sports betting universe.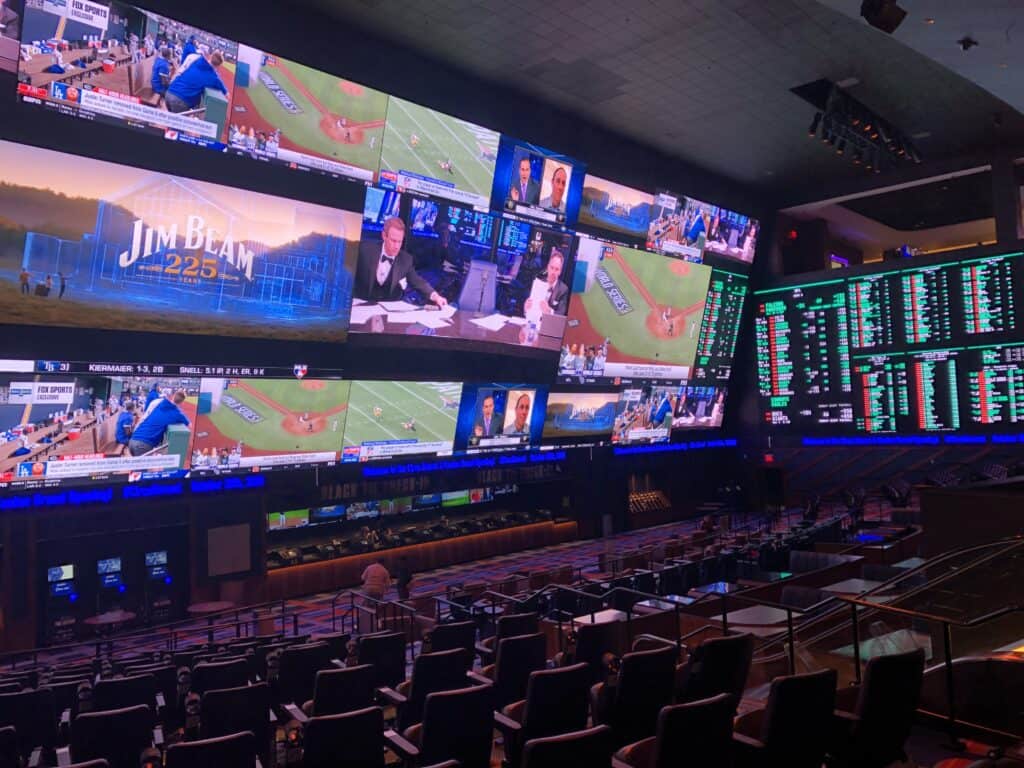 Downtown Loop Shuttle: With notable stops like Circa, the Mob Museum, Fremont East, the Arts District, Pawn Plaza, and Strat, the free downtown Las Vegas Loop Shuttle is a steal. Get more info on Downtown Loop Shuttle stops, and tips here.
Fremont Street Performers: While the buskers that work for tips up and down Fremont Street have varying degrees of talent, they are almost always "interesting". Talents on display range from musical acts and dancing to just wearing a provocative outfit that shows some skin.
Related: Ever wonder what rules govern Fremont Street performers? We dug up answers!
Praying Mantis Fire Show: Swing by the Container Park across from El Cortez and watch the praying mantis shoot fire from its antennae nightly. It's loud, hot, entertaining, and best of all… free. Shows begin at sunset and don't have a set schedule per se, but run relatively frequently. Grab a drink and settle in!
Playground at the Container Park: One of the few free things to do in Las Vegas with kids, the tree house playgrownd sits in the center of the Downtown Container Park. With plenty to climb and 30+ foot long slides, your kids will have a blast.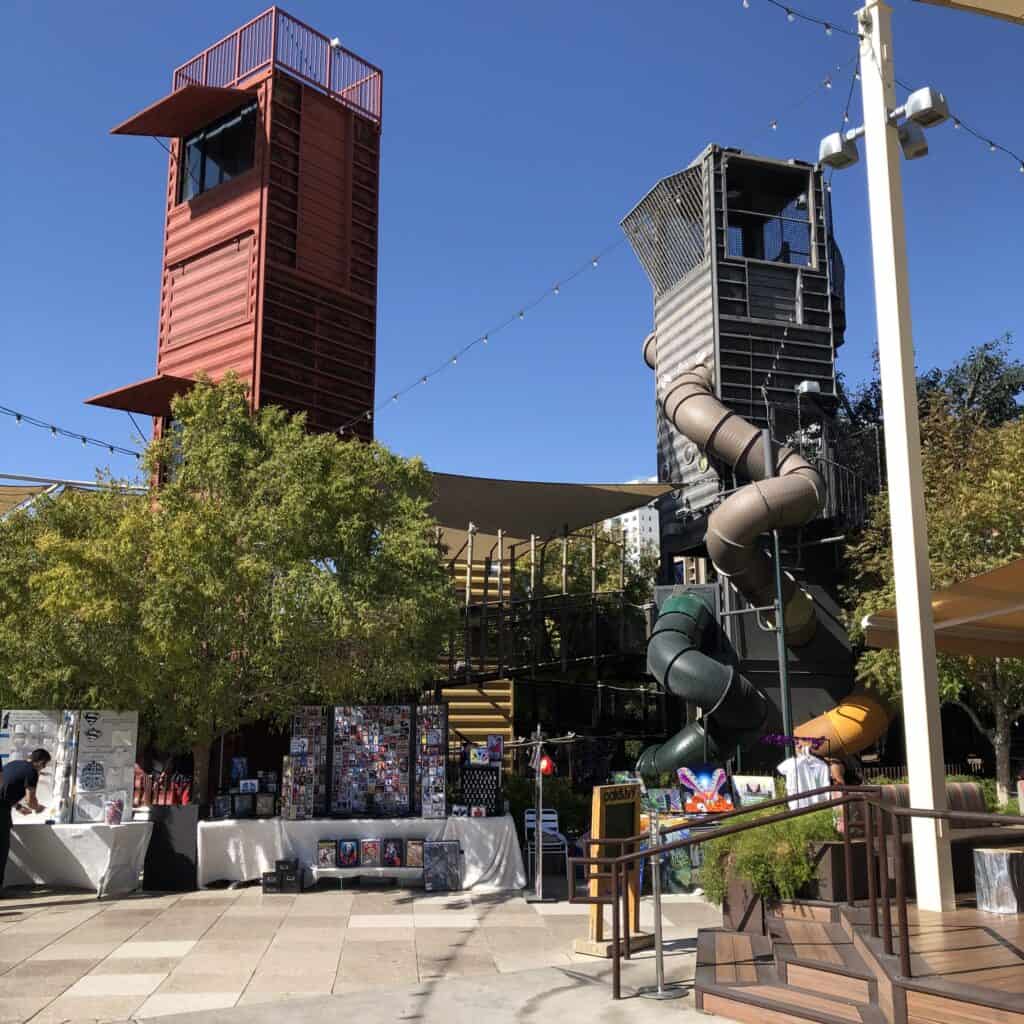 Live Entertainment at the Container Park: Near the backside of the Container Park is a stage for musical performances and karaoke that is open to the public. There are even frequent yoga classes offered. Check the full events calendar here.
Leave a Love Lock to Cement Your Relationship: Bring a lock from home to hook to the heart out front of the Container Park. There is also an overflow love lock location near the live entertainment stage in the park itself. It is rumored that no relationship sealed with a lock at the Container Park has ever faltered.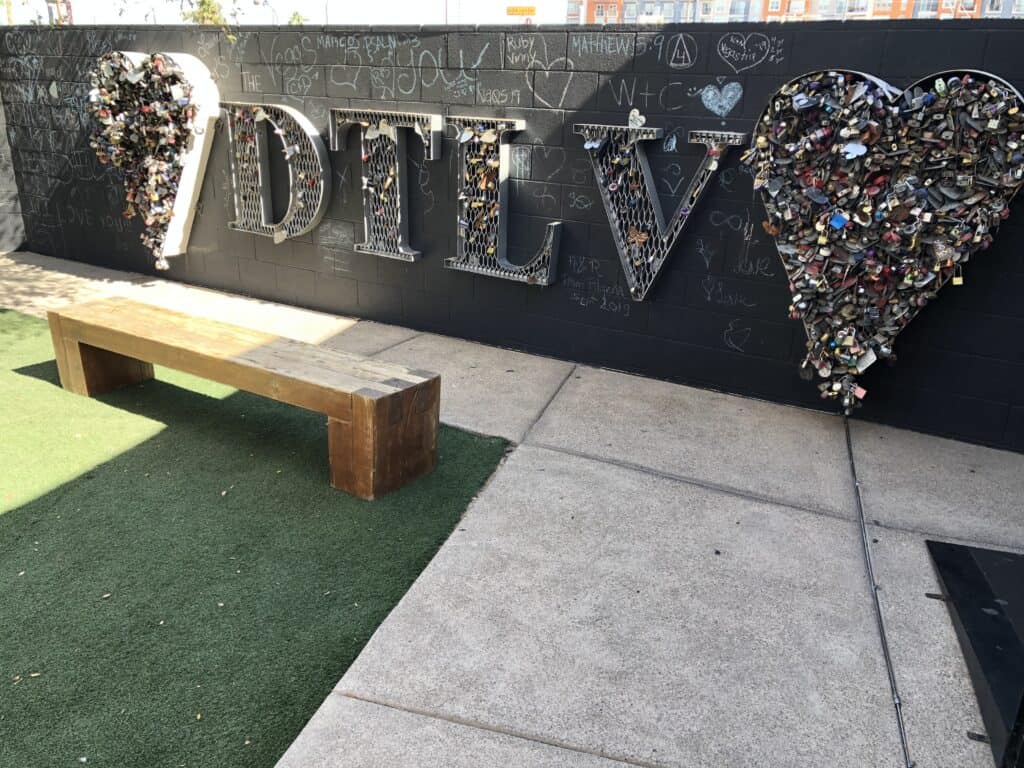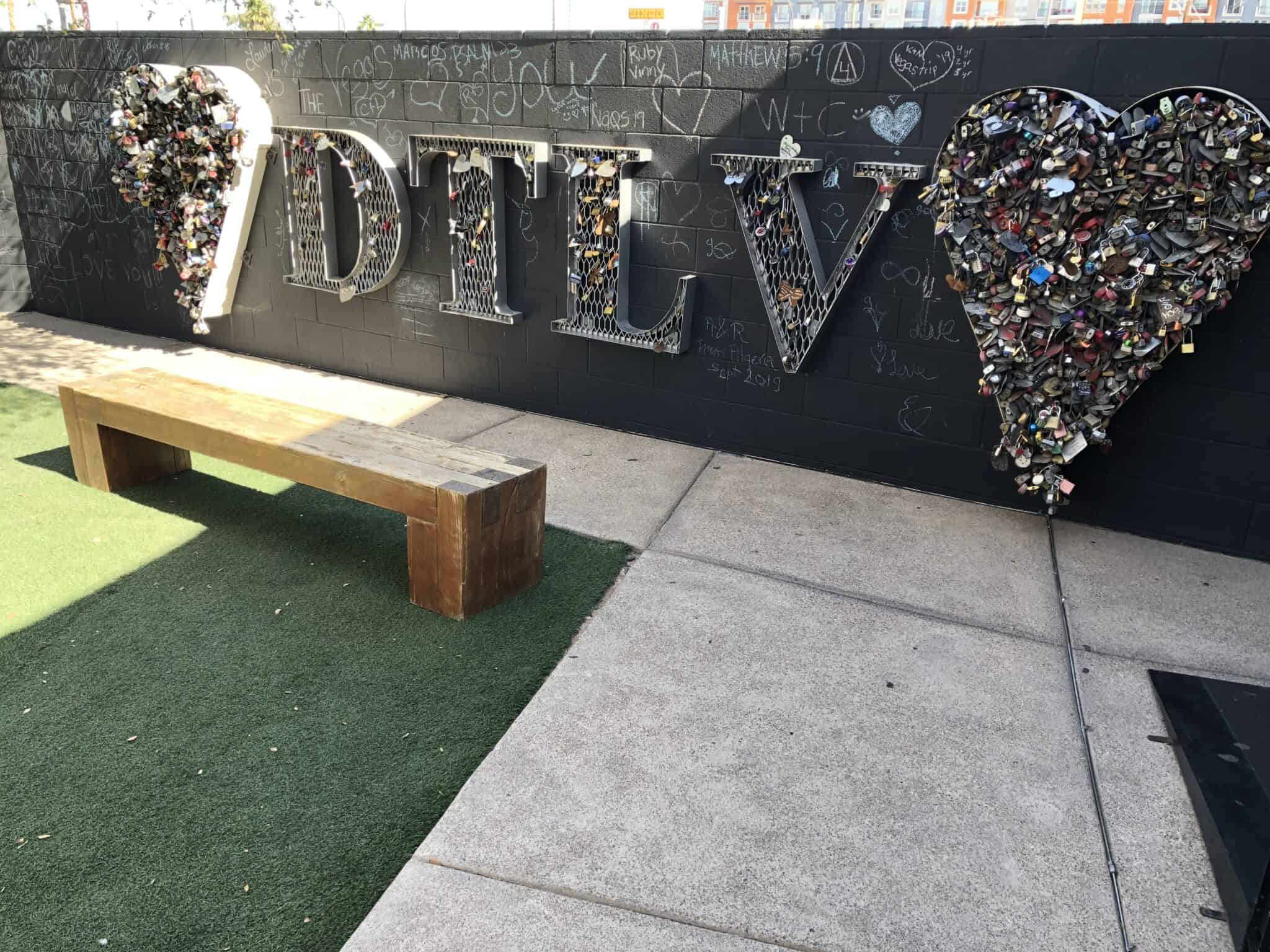 Historic Artifacts at Main Street Station: In our opinion, seeing the antique collection at MSS is one of the best free things to do in Las Vegas. Main Street Station has items scattered about their property of historic significance such as Winston Churchill's snooker table, a chunk of the Berlin wall, a Louisa May Alcott Pullman Car, and so much more. Just blocks off Fremont Street, it's worth the walk!
See History at Golden Gate: Opening in 1906, Golden Gate is a historic artifact in itself. It has seen some stuff over the years. Hell, the property had the first working phone in Nevada. The phone number? 1. Golden Gate offers some really neat windows to the past which are free for the public to drop in and see. Specifically, there is a little door in the wall which can be found in the hallway which leads to the high limit room. When opened, you can see the original wall of the hotel. There is also a fountain on display in the high limit room which was added to the property in 1909. A freebie that Vegas history buffs will eat up.
See Also: Our favorite historic things to see on Fremont Street!
Hand of Faith at Golden Nugget: Found by a guy with a metal detector and purchased by the Golden Nugget for over a million bucks, the Hand of Faith can be seen for free at the Fremont Street hotel. Weighing in at 61 pounds, it's the largest in existence (that we know of).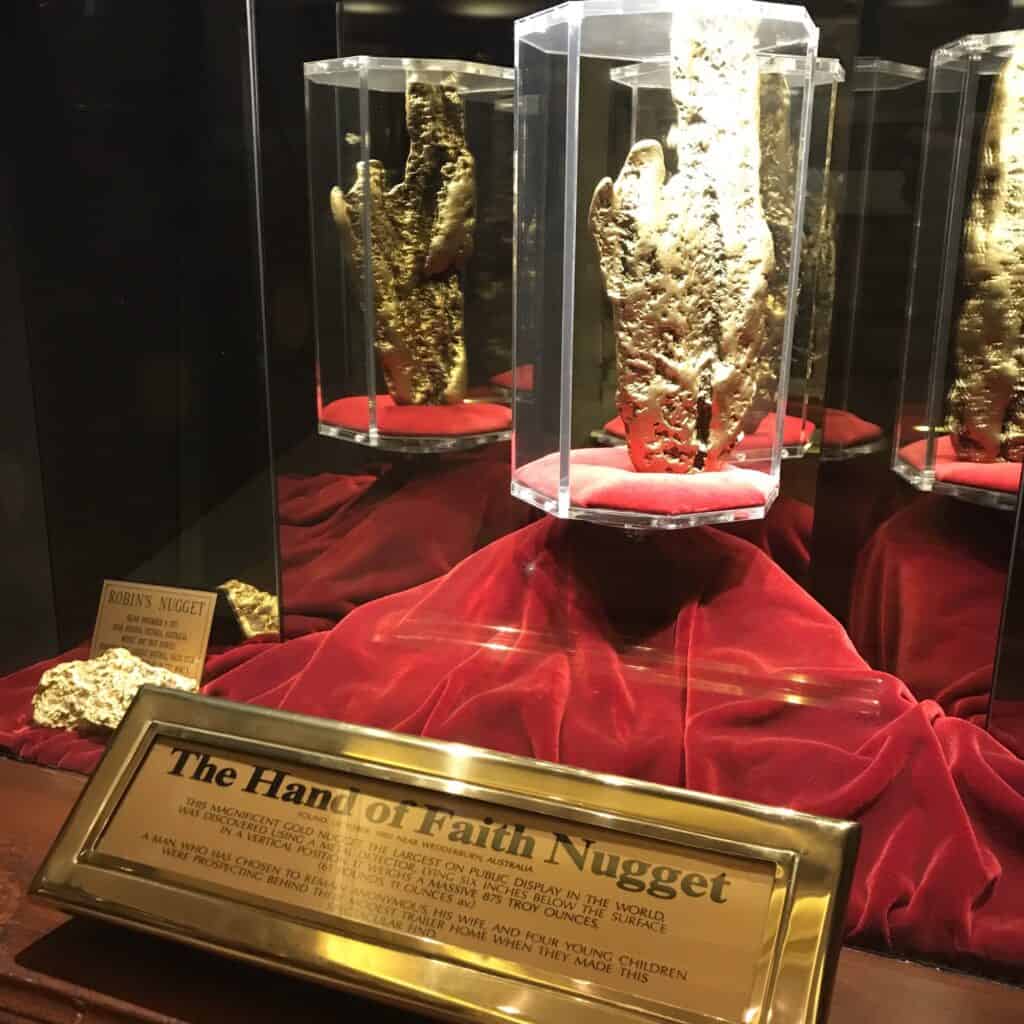 Free Airport Shuttles: Notably, both Plaza and El Cortez offer free airport transportation, although El Cortez only will give a free ride from their hotel to the airport.
The Tank at Golden Nugget: Watch GN guests swim alongside sharks at the Nugget's elaborate pool complex. Smack dab in the middle of the guest pool is a 200,000-gallon aquarium that houses various species of sea life to include sharks. Adding to the intrigue, a clear water slide takes swimmers right through the middle of the tank. While non-guests need to pay to access the pool, you should be able to check it out for free.
Free Slot Pulls: Both Binion's and 4 Queens offer a free slot pull with cash prizes of up to $2,500. No strings attached, and people do win from time to time! Check out an up to date list of Vegas casinos that offer free slot pulls here.
Binion's Million Dollar Photo Opp: A staple attraction of downtown Las Vegas, guests can still get their picture taken for free with a stack of $1 Million dollars at Binion's.
Get a Free Meal at Heart Attack Grill: Do you weigh over 350 pounds? If so, just weigh in with a waitress prior to your meal and eat for free at this Fremont Street restaurant. Uniquely, patrons at Heart Attack Grill wear a hospital gown as they dine on "Bypass Burgers" of various sizes and "Flatliner Fries". You may not survive the meal, but that's half the fun.
People Watching: This free activity is applicable to both downtown Las Vegas and the Strip. Bottom line is, there are some STRANGE people in Las Vegas, and they are worth watching. Grab a seat at Whiskey Licker Up at Binion's on a stool overlooking Fremont, or Flamingo's outdoor bar located steps from Cromwell and watch the crowds pass.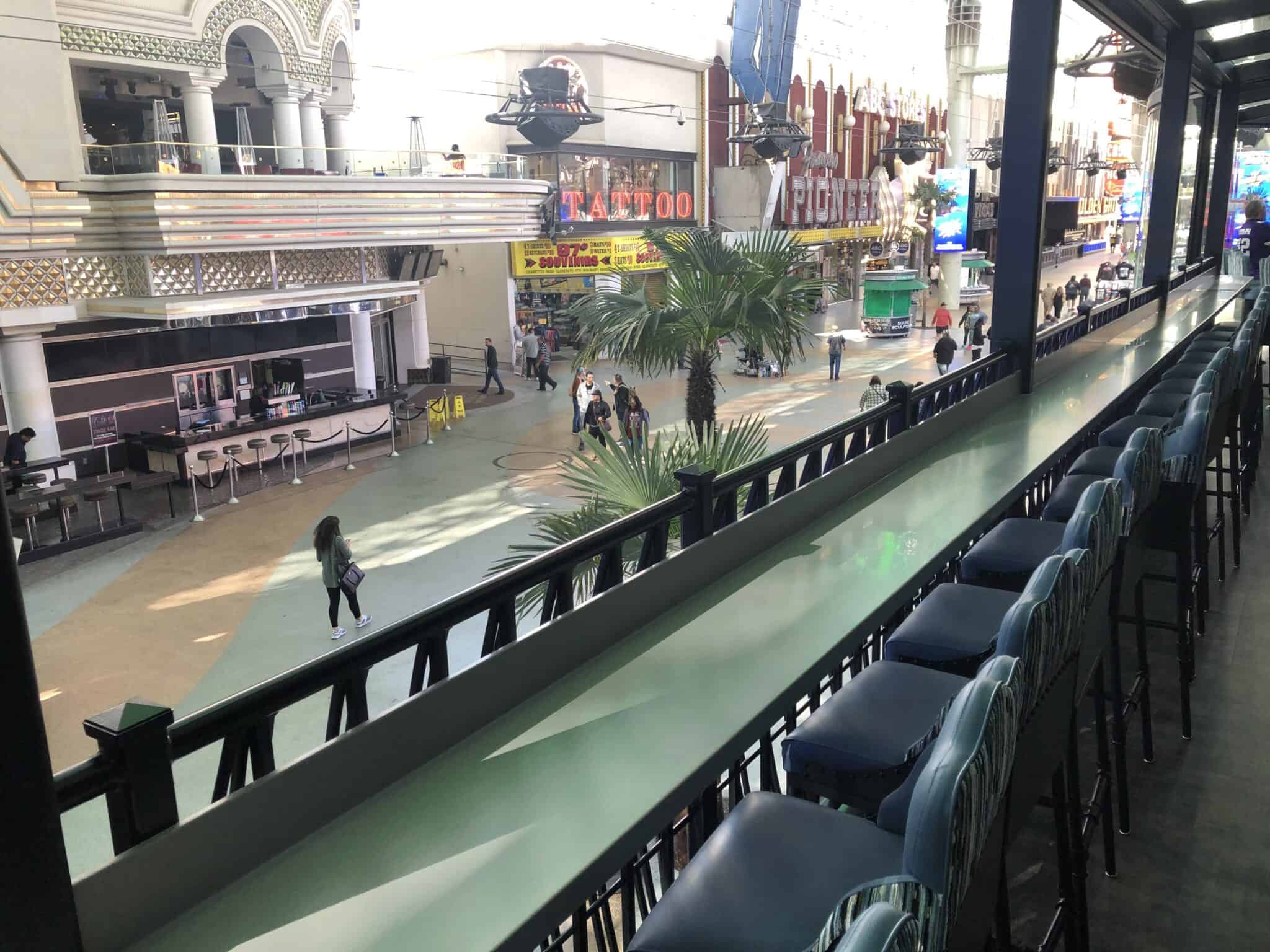 See Remnants of The Mint: While people watching at Binion's Whiskey Licker Up, check out the original petrified wood exterior wall of The Mint as well as a part of its original signage (pictured below).
Rub The Blarney Stone for Luck: A stone from the Blarney Castle in Ireland has found a home on the second floor of The D's casino. While tradition says that the stone can grant eloquence when kissed upside down, we suggest simply rubbing it for good luck. Whether you rub or smooch, a neat piece of history none the less!
Free things to see and do away from the Strip/Fremont
Area15: Located just minutes from the Las Vegas Strip, admission to walk around and see the various artistic displays at Area15 is free and worth the trip. There are other experiences and rides that cost money, but they are optional. More on our trip to Area15 Las Vegas here!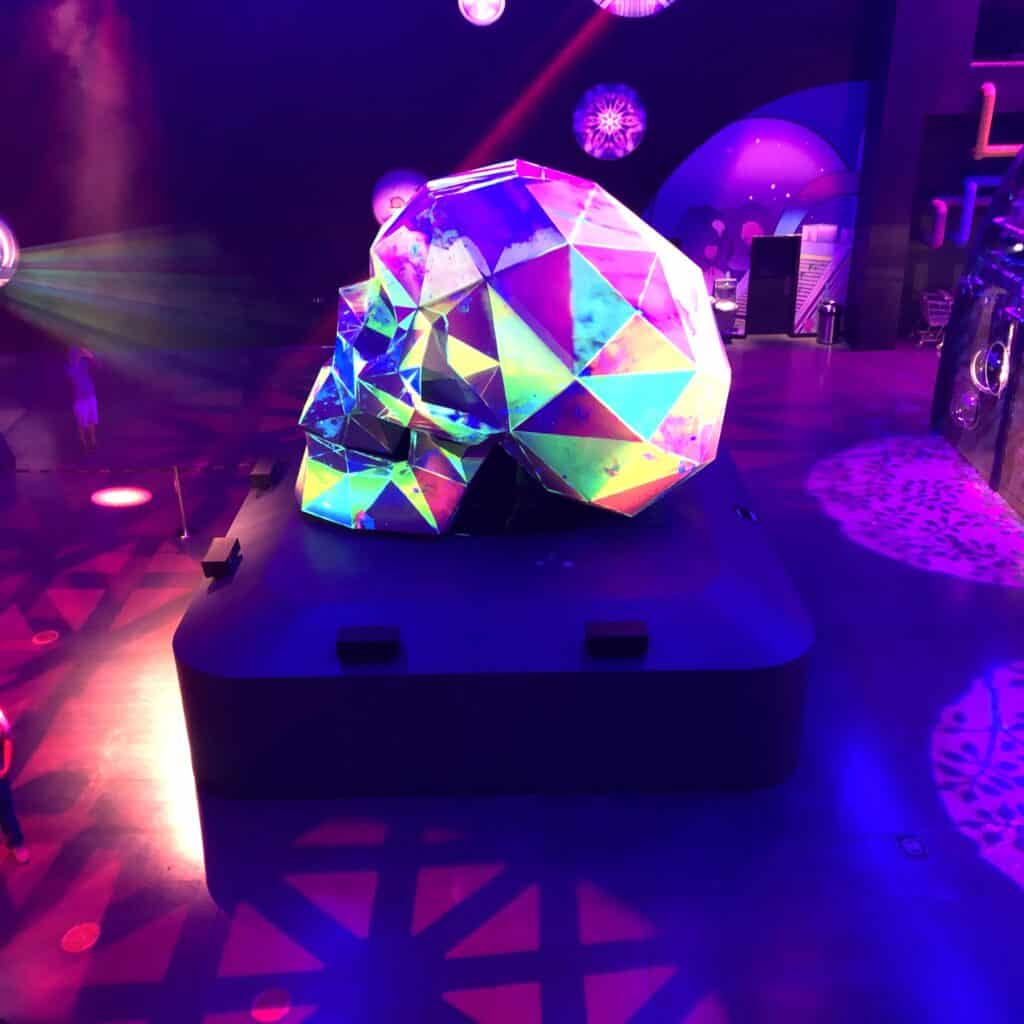 Equestrian Events at South Point: South Point hosts equestrian events in their arena that are often free to the public. See South Point's full schedule of events here.
Free Airport Shuttles: We complied a list of all properties that offer complimentary transportation to and from McCarran International Airport.
Catch a free ride to the Strip: We also compiled a list of all properties off the strip that offer a free shuttle to and from Las Vegas Boulevard.
See Shark Art at Palms: A 13-foot shark sliced into 3 separate pieces and housed in 3 different tanks. The display sits in Palms' Unknown Bar and made its debut as part of the Resort's $620 million renovation project.
Check out a free Elvis show at Ellis Island: Gary Benson who is also a blackjack dealer at Ellis performs every Friday and Saturday at 5 pm in the Karaoke lounge free of charge.
See the Hoover Dam: While guided tours and parking cost money, you can go view, walk or drive over the Hoover Dam for free. It's a breathtaking sight.
Walk the Mike O'Callaghan-Pat Tillman Memorial Bridge: After checking out the Dam, take a walk over the neighboring bridge which spans the Colorado River and offers a pedestrian walkway. Towering 900 feet over the river below, the view from the walkway is thrilling.. and terrifying if you are not a heights person. Free parking is offered for pedestrians at the base of the bridge.
Pinball Hall of Fame: A quick Uber Ride off the Strip, the Pinball Hall of Fame is 10,000 square feet of pinball machines from the 1950's to the 1990's. Entry is free, however, you'll want to bring some quarters if you intend to play.
Marjorie Barrick Museum of Art: Located on the UNLV campus, the museum has been offering free admission since opening in 1967, although there is a suggested donation of $5 for adults and $2 for children. Hosting a unique rotation of fine and ancient art, Marjorie Barrick should be on the to-do list of art aficionados.
Explore The Arts District: Escape the slots and smoke and wander the Arts District which is located just south of the Fremont Street Experience. While window shopping isn't on most people's Vegas list, the eclectic mix of antiques and art on display is fun to check out. Additionally, the 18 block district is adorned with an abundance of murals that are free to enjoy. Stick around for dinner and a craft beer as the Arts District has a vibrant brewery, bar, and restaurant scene.
First Friday in the Arts District: Taking place in the Arts District on the first Friday of every month, First Friday is an outdoor gathering of art and food vendors that attracts quite a crowd. With a vendor community comprised of over 100 artists and over 50 food vendors, you're sure to find something you enjoy.
Sunset Stampede Laser Light Show at Sam's Town: A free show set in Sam's Town's Mystic Falls Park, Sunset Stampede combines lasers, dancing water, and music to delight onlookers. Shows run at 2 pm, 4 pm, 6 pm, 8 pm, and 10 pm daily. Ensure to spend some time wandering the tree-lined paths that wind through the park-like atrium at Sam's Town.
Swimming Mermaids at Silverton: One of the more unique free attractions in Las Vegas, visitors can watch divers dressed as mermaids swim around Silverton's 117,000-gallon tank. The free mermaid swim shows occur daily at noon, 2 pm, and 5 pm (10:30 am, 2 pm, and 5 pm on Sundays).
Seven Magic Mountains: An outdoor display of art comprised of 7 stacks of colorful rocks is free to access and is located just 10 minutes south of Las Vegas on I-15. You have seen these 30-foot stacks of boulders in countless pictures, now go see them in person for free.
Related: Tips and Tricks for visiting Seven Magic Mountains along with how to get there.
Ethel M Chocolates Tours/Cactus Garden: Go for the chocolates (not free) but ensure you check out the viewing room where you get a look under the hood of the production operation. After that, take the time to tour the 3-acre cactus garden featuring over 300 species of plants.
Tour the Pawn Stars Pawn Shop: Fans of the hit TV show should put touring the Gold and Silver Pawn Shop atop their list of free things to do in Las Vegas. The shop is open for tours daily from 10 am – 5 pm and is completely free to check out. Unfortunately, the shop isn't walkable from resorts on the Strip, but can be reached by taking the Deuce bus which offers service from the Strip to Downtown Las Vegas. More info on tours, hours of operations, etc. can be found here.
Count's Kustoms: Snag a free tour of the shop made famous by Pawn Stars and view their showroom Monday – Friday from 9 am to 5 pm and 10 am to 5 pm on weekends.
There you have it, a complete list of free things to do in Las Vegas. Bookmark this page and leverage it to fill the time if you're the type that blows their gaming bankroll for the trip on your first day in town.
Did we miss any free activities, things to see, photo opportunities, etc? Leave it in the comments if so!
See Also: Did you know you can buy the exact fragrances used in Las Vegas casinos?
Feature Image: ©bmswanson via canva.com