Simply stated, Las Vegas as a destination isn't as cheap as it once was. I remain a strong believer, however, that value and opportunities to save money can still be found and exploited if you know where to look.
Below, I'll leverage my expertise gained over countless trips to compile the most comprehensive and up-to-date list of free things to do in Las Vegas available on the web.
I broke my list of free things to do in Vegas by geographic area to include the Strip, Downtown, and properties off the beaten path.
While I realized there were a lot of freebies still out there, I was pretty amazed by the length of the list that I was able to generate.
Without further ado, let's go!
Related: Groupon Deals in Las Vegas – Good for dining, drinking, and activities.
Free Things To Do On The Strip
Mirage's Front Desk Aquarium: A 20,000-gallon, 50-foot long saltwater aquarium that is home to over 450 types of fish. A visually stunning display and completely free to check out!
Streetmosphere at Grand Canal Shoppes: While wandering the streets of Venice, stop by St. Mark's square to see the free Streetmosphere show which features classically trained musicians and actors. While not a show worthy of a separate trip, it's worth sticking around for if you're in the area.
See The Carved Woolly Mammoth Tusk at Treasure Island: Carved over generations, this impressive artifact is made special by not only its historic significance but its intricate detail.
Park Your Car: Yes, there are still a few spots that won't charge you for parking (see which Las Vegas resorts still offer free parking here). While parking your car is among the least exciting free things to do in Las Vegas, it's an easy way to stretch your budget.
Peruse the Coca-Cola Store: Check out the collection of unique Coca-Cola memorabilia that is on display at this flagship store. Although not free, I recommend trying the soda sampler from around the world. What other countries find to be "good" is pretty eye-opening.
See the Makeshift Tupac Memorial: Just a couple blocks off the Strip behind Bally's are the cross streets of Flamingo and Koval where Tupac was shot in 1996. You'll see a telephone pole right along the sidewalk on Flamingo with handwritten notes commemorating the late artist.
Take in a Dueling Piano Show: Free entertainment is tough to come by in Vegas, but there are still a few bars like The Piano Bar at Harrah's and the Bar at Times Square at NYNY that offer free dueling piano shows on the Strip. Just grab a drink and enjoy.
See Big Elvis at Harrah's: Pete Vallee, who has attracted an impressive following, performs for free as Big Elvis at Harrah's Piano Bar. As a highly regarded performance, this free show is a must-see for fans of Elvis. See the Big Elvis show schedule here.
Drink for Free: Yep, drinks are still free while gambling on the Strip, Fremont Street, or at a casino off the beaten path. Bring plenty of small bills for tipping and keep 'em coming.
Walk of Stars: Find your favorite entertainer's star along the Las Vegas Strip. Artists like Elvis, Donnie & Marie, Dean Martin, Frank Sinatra, among others are permanently memorialized.
Pre-Screen a Show: Located at MGM Grand, CBS offers guests the chance to view upcoming episodes of shows to solicit feedback. Not only is this a free thing to do in Vegas, they even provide participants a coupon book with deals and offers for their time. The time commitment for this activity is about an hour in total (45 minutes for the showing, and 15 for the survey).
Fall of Atlantis at the Forum Shops at Caesars Palace: An animatronic show detailing the downfall of Atlantis. While fun to catch if you happen to be in the area, the audio can be difficult to understand and the show has a dated feel. Fall of Atlantis runs hourly starting at noon.
Aquarius Aquarium at the Forum Shops at Caesars Palace: Located next to the Fall of Atlantis Show is this 50,000-gallon saltwater fish tank that holds 300+ tropical fish.
M&M World: Keeping with the chocolate theme, M&M World features 4 floors of M&M candies and merchandise. Also on display is a replica of Kyle Busch's M&M-sponsored racecar. For a fee, guests are also able to design and print their own M&Ms.
A Million Dollar Display at Bally's: While a similar display once called Binion's home, that version disappeared during the pandemic and has yet to return. Fortunately, Bally's which is transitioning to the Horseshoe brand, has unveiled a new $1 million display comprised of 100 $10,000 bills hanging from an upside-down horseshoe. Go snap a free photo!
GLOW at Resorts World: Dubbed as a "One of a kind video content and multimedia experience", GLOW is a video production that is displayed on the property's exterior LED displays and their interior globe. The free show comes in a few different forms, featuring adventures into a bioluminescent ocean, synthwave cityscapes, and even a "psychedelic" mission to space led by a cat. Shows are offered on the hour from noon to 1 am.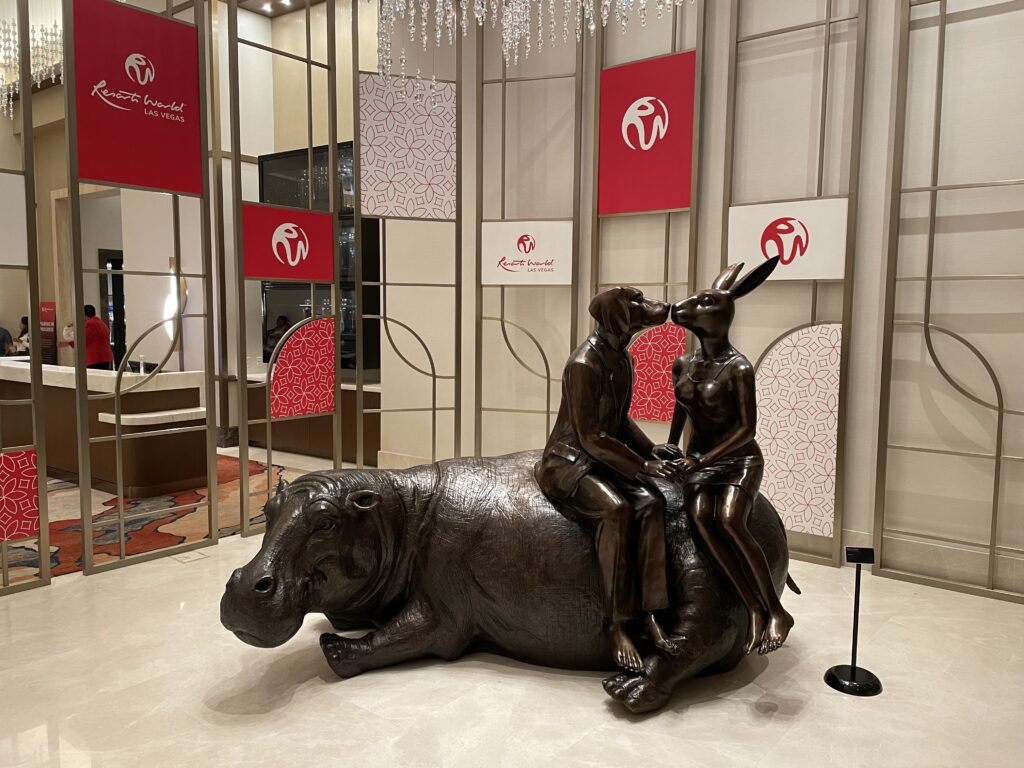 Related: 44 Ways to save money in Las Vegas.
See the Gateway Arch: Also just outside STRAT is the photogenic Gateway Arch. While you'll drive right under it if driving north on the Strip, I'd recommend stopping for a photo.
Free Things to do Downtown Las Vegas
Live Entertainment on Fremont Street: In addition to nightly light shows, the Fremont Street Experience hosts live musical entertainment nightly, for free. In addition to nightly live acts, Fremont Street Experience regularly hosts big-name artists as part of their summer concert series. Past acts have included names like Nelly, Cheap Trick, The Wallflowers, and Smash Mouth. See Fremont Street Experience's calendar of events here.
See the Gold at Legacy Club: Legacy Club is an upscale cocktail lounge located on the 60th level of Circa and offers spectacular views of Las Vegas. There, you'll find a display case stocked with 500 gold bars, individually numbered and engraved with the Circa logo. Uniquely, there's a screen above the display that states the collection's current value based on the current spot price of gold.
Downtown Loop Shuttle: With notable stops like Circa, the Mob Museum, Fremont East, the Arts District, Pawn Plaza, and Strat, the free downtown Las Vegas Loop Shuttle is a steal. Get more info on Downtown Loop Shuttle stops, and tips here.
Fremont Street Performers: While the buskers that work for tips up and down Fremont Street have varying degrees of talent, they are almost always "interesting". Talents on display range from musical acts and dancing to just wearing a provocative outfit that shows some skin.
Live Entertainment at the Container Park: Near the backside of the Container Park is a stage for musical performances and karaoke that is open to the public. There are even frequent yoga classes offered. See The Container Park's events calendar.
See History at Golden Gate: Opening in 1906, Golden Gate is a historic artifact in itself. It has seen some stuff over the years. Hell, the property had the first working phone in Nevada. The phone number? 1.
Golden Gate offers some really neat windows to the past which are free for the public to drop in and see.
Specifically, there is a little door in the wall which can be found in the hallway which leads to the high limit room. When opened, you can see the original wall of the hotel.
There is also a fountain on display in the high limit room which was added to the property in 1909. A freebie that Vegas history buffs will eat up.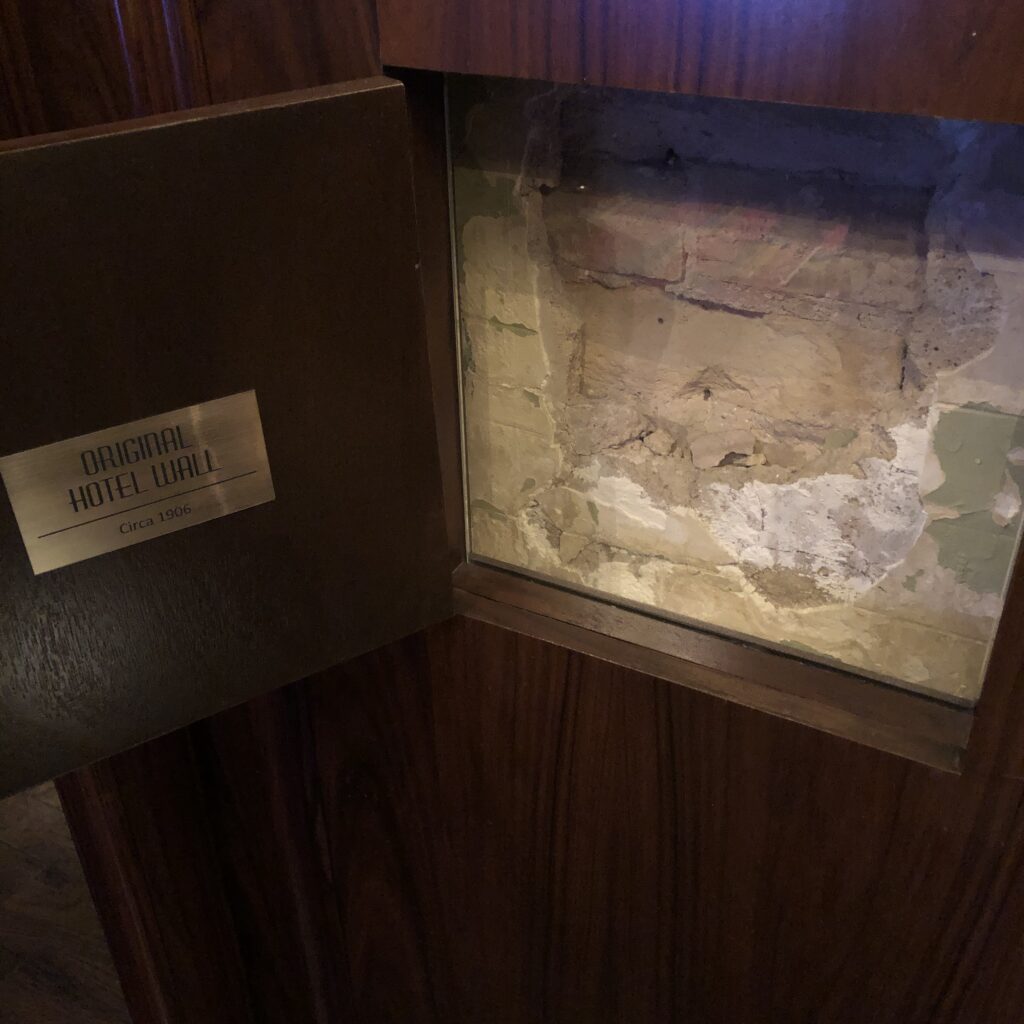 See Also: Our favorite historic things to see on Fremont Street!
Free Airport Shuttles: I complied a list of all resorts that offer a free airport shuttle, here.
Catch a free ride to the Strip: I also compiled a list of every off-Strip resort that offers a free Strip shuttle.
Marjorie Barrick Museum of Art: Located on the UNLV campus, the museum has been offering free admission since opening in 1967, although there is a suggested donation of $5 for adults and $2 for children. Hosting a unique rotation of fine and ancient art, Marjorie Barrick should be on the to-do list of art aficionados.
First Friday in the Arts District: Taking place in the Arts District on the first Friday of every month, First Friday is an outdoor gathering of art and food vendors that attracts quite a crowd. With a vendor community comprised of over 100 artists and over 50 food vendors, you're sure to find something you enjoy.
Ethel M Chocolates Tours/Cactus Garden: Go for the chocolates (not free) but ensure you check out the viewing room where you get a look under the hood of the production operation. After that, take the time to tour the 3-acre cactus garden featuring over 300 species of plants.
Tour the Pawn Stars Pawn Shop: Fans of the hit TV show should put touring the Gold and Silver Pawn Shop atop their list of free things to do in Las Vegas. The shop is open for tours daily and is completely free to check out.
Unfortunately, the shop isn't walkable from resorts on the Strip, but can be reached by taking the Deuce bus which offers service from the Strip to Downtown Las Vegas.
Count's Kustoms: Snag a free tour of the shop made famous by Pawn Stars and view their showroom Monday – Friday from 9 am to 5 pm and 10 am to 5 pm on weekends.
There you have it, a complete list of free things to do in Las Vegas. Although prices seem to be on the rise across the board, there are still plenty of free activities to be found!
Bookmark this page and leverage it to fill the time if you're the type that blows their gaming bankroll for the trip on your first day in town.
Related: Need more budget-friendly inspiration? Check out these Cheap Things to do in Las Vegas!
Feature Image: ©mariakraynova/123RF.COM