Vegas is quickly shedding its reputation as a value destination due primarily to the proliferation of new fees.
Although we would argue that Las Vegas is still comparatively cheap, we realize there are services and attractions that have gotten more expensive over time.
Fortunately, we love finding new ways to save money almost as much as we love visiting Las Vegas. We'll leverage our expertise gained over countless trips to help you stretch your budget.
Take our suggestions with a grain of salt and fit them in where applicable. We certainly don't advocate a bare-bones trip to Vegas where you fear splurging on anything. If your only focus in Vegas is saving cash, it'll likely be a pretty depressing trip.
If you have a favorite cost-cutting measure, make sure to drop it in the comments below!
See Also: Las Vegas packing list – Items that are commonly overlooked.
How to Save Money in Las Vegas
Sign up for a Players Card: Loyalty program cards allow the casino to track your gambling activity and spend within the resort. They will in turn offer you discounted or comped hotel rooms, shows, parking, etc. based on your activity.
If you are new to Vegas, you can even sign up for programs like Caesars Rewards and MGM Rewards online from home. You will receive a small discount on hotel bookings for being a part of the program even though you have yet to visit. More on earning comps in Vegas, here.
Groupon Deals: Check out our up-to-date compilation of Las Vegas deals on Groupon. Included are opportunities to save money on dining, drinks, and activities right on the Strip and downtown.
Book Direct: Booking direct with the property is often the cheapest route, many offering "lowest rate" guarantees. More on why we recommend booking directly with the property in Vegas.
Always be Re-Booking: Most Vegas resorts allow free cancellation up to 72 hours before your trip. This gives you the opportunity to check back early and often for cheaper rates, or for deals at other properties. I rarely settle for my first booking.
Take Advantage of Affiliation Discounts: Most resorts and chains offer discounts for military, first responders, educators, AARP, AAA, etc. You name it, there is a discount for it. Take advantage. We have put together a list of resorts offering military discounts, AAA Discounts, Senior/AARP Discounts, and even Government Employee Discounts.
Take Advantage of Hotel Discount Codes, Offers, and Deals: In addition to occupation and affiliation discounts, all Las Vegas resorts offer frequent sales, discount codes, and deals. See current hotel deals, and discount codes here, which are broken down by resort.
Book at a Cheap Hotel: We priced every hotel on the Strip and Fremont Street to determine the cheapest hotels in Las Vegas. These hotels will usually be your most budget-friendly option, even if you don't have a discount code, sale, or relationship with a loyalty program to exploit.
Avoid Conventions: Vegas has a booming convention business and shows can attract tens, if not hundreds of thousands of visitors which drive up rates. Cross-reference your travel dates vs. the convention calendar.
Visit During "Off-Peak" Season: Along the lines of avoiding conventions, you can also visit Vegas at less popular times when room rates are depressed. Not surprisingly, the colder months of November, December, January, and February attract the fewest visitors and have the lowest average nightly room rates.
Avoid Weekends: It goes without saying, but hotel rooms are less expensive on weeknights when there is less demand.
Flight Dates Matter: Even if weekends are unavoidable, fly in and out when others are not. For instance, avoid flying in on Friday and out on Sunday when everyone else is. Instead, opt for a Saturday flight in, and fly out Monday or Tuesday after the crowds have already cleared out.
Related: How much should you budget for Vegas? We dig into average budget amounts for gambling, shopping, and dining.
Skip Checking a Bag: Save $70-$100 round-trip by cramming your belongings into a backpack that flies for free under the seat in front of you. Obviously, if you're planning on fancy dinners, shows, etc. then this may not be feasible. But if lounging around the sportsbook and craps table is more your speed, this is a great way to save.
Leverage Deals at Tix4Vegas: Score discounted tickets to shows and attractions the day of the event at the numerous Tix4Vegas stands that line the Strip. In addition to same-day show deals, Tix4Vegas also sells valuable restaurant coupons.
Gamble Away From the Strip: Table minimums are more affordable, rules more player-friendly, and slots more apt to pay out when you venture downtown, to the Boulder Strip, or even North Las Vegas.
Play Higher Denominations: Commonly, slot players will play upwards of $3 a pull on the penny slots, however, according to data from the Nevada Gaming Commission, penny slots are among the tightest in Vegas. As a general rule of thumb, slots get looser at higher denominations. Play the same bet, but on a higher denomination machine.
Avoid Table Games With Player Unfriendly Rules: More and more casinos, mostly on the Strip, are rolling out 6-5 blackjack and triple zero roulette games. These games are designed to drain your funds at a faster clip. Instead, find a blackjack game that pays 3-2 or a roulette wheel with 2 zeros (or even 1 if possible).
Avoid Table Game Side Bets: Most table games like Pai Gow Poker and Blackjack offer enticing side bets, often associated with big payouts. These bets typically have a large house edge. At the end of the day though, we're jackpot chasing degenerates too. We won't judge your action.
Avoid Parlays: While sports betting is known to have notoriously low hold rates of around 5% on straight bets, parlay cards are big winners for the house with holds hovering in the mid 20% range.
Take Advantage of Freebies: Especially if it's your first time in Vegas, save money by taking in free shows. The Bellagio fountains, Bellagio Conservatory, and Mirage Volcano are all options on the Strip. Downtown, there is nightly live music and light shows on the recently upgraded canopy. We put together a comprehensive list of free activities in Vegas here.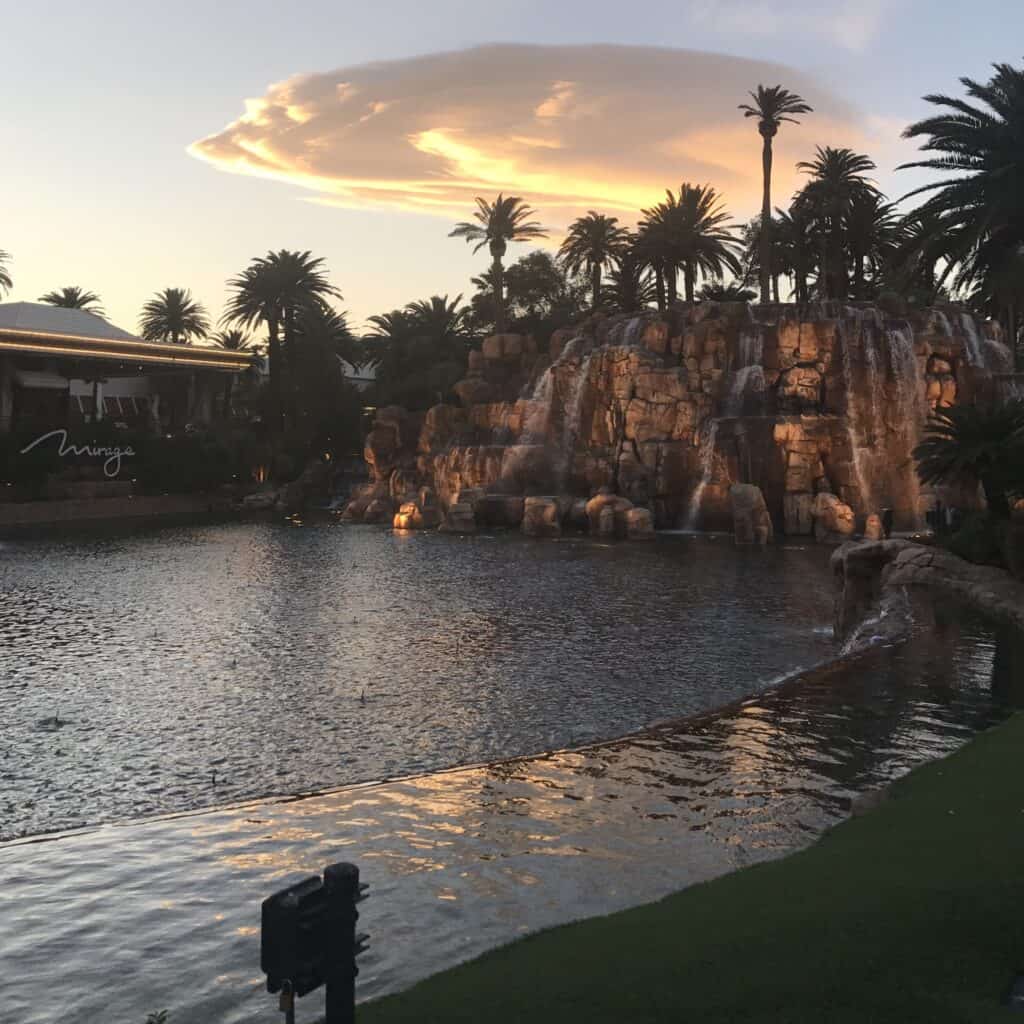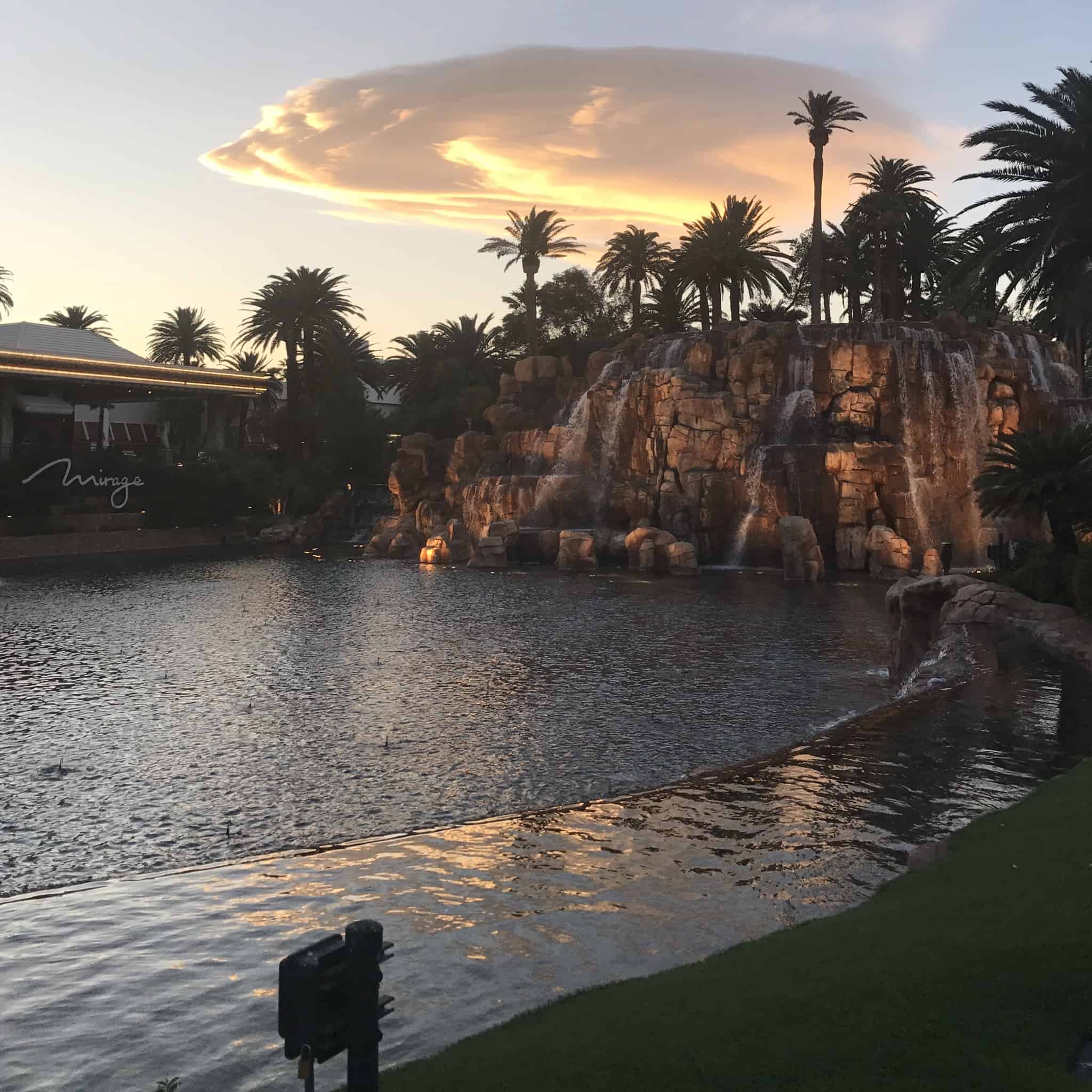 Time Your Buffet Right: Do your research. Plan your trip right before the transition from lunch to dinner. Not only will you save money, but you'll score fresh food as the buffet transitions.
Gorge Yourself at a Cheap Buffet: Cheap buffets are a great opportunity to fill up for less. We keep an updated breakdown of the cheapest buffets in Las Vegas that details budget options on the Strip and Downtown.
Eat a HUGE Breakfast: Grab an oversized (and fantastic) breakfast at Peppermill across the street from Resorts World and you'll be able to skip lunch. A second big-breakfast option we've enjoyed is Hash House a Go Go which can be found both at Linq on the Strip and Plaza downtown.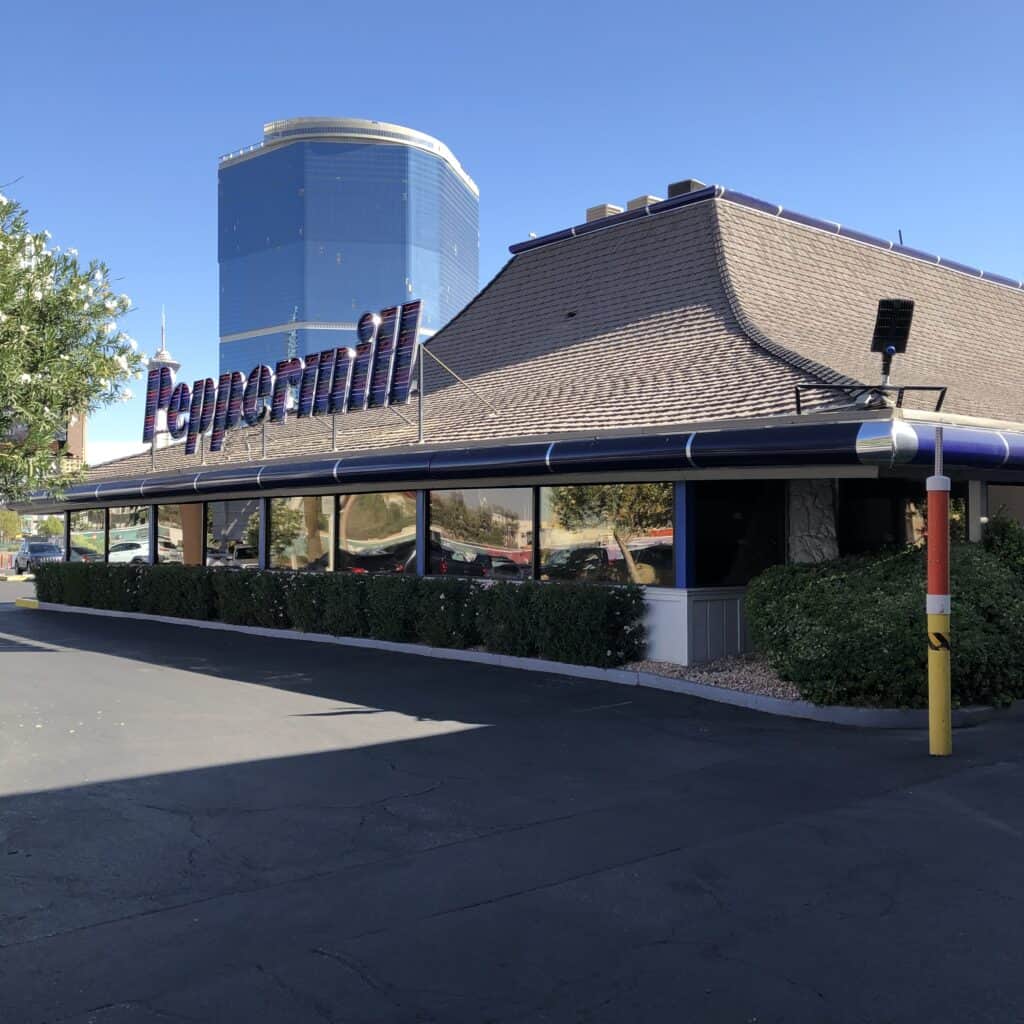 Eat Cheap: Among our favorite ways to save money in Las Vegas is eating cheap for breakfast and lunch, then splurging for something more upscale for diner. If that sounds like a savings strategy you could adopt, we would recommend reviewing our guide to eating cheap on the Strip which lists inexpensive meal options by property. If staying downtown, we also put together a guide to eating cheap on Fremont Street.
A couple of my favorite options on the Strip include the Halal Guys (hearty gyro bowls) in the Caesars Palace food court and Chipotle next door to Harrah's. Downtown, check out the International Eatery which is a diverse food court offering Mexican, Mediterranean, and Chinese options.
Related: Fast Food in Las Vegas on the Strip – A resort by resort breakdown of options.
Leverage Yelp Offers: If you download the Yelp app on your phone, you can view restaurants and then filter to see ones "offering deals". You will then see which options are offering a certain dollar amount or percentage off. Not only an easy way to save but also a way to find new spots you wouldn't have considered otherwise.
American Casino Guide: Don't leave home without it. Whether gambling, dining, or drinking in Vegas, the ACG coupon book will pay for itself with 2 for 1, percentage off, and free play offers downtown and on the Strip.
Timeshare Presentations: Deals, such as show tickets and free tours can be had by sitting through a timeshare presentation. Even if you don't intend to purchase a timeshare, we don't recommend giving up hours of your Vegas vacation unless you are desperate to save. Just know that it is an option.
Related: Is buying a timeshare in Vegas something to consider?
Drink Cheap: Obviously, drinks are free when you are gambling, but many like to grab a beer or cocktail while not pecking the spin button on a machine. While a bottle of beer at casino bars can cost upwards of $7, rest assured that there are cheaper options. We keep an updated list of drink deals on both the Strip and downtown Las Vegas happy hours for your reference.
Our favorite deals include $2.50 craft beers at Ellis Island located behind Bally's, $3 bottled beer at Casino Royale, $1 Michelobs at Stage Door Casino, and $3 Heinekens at Fremont.
All you can Drink Deals: If your goal is to quickly elevate your BAC, several bars offer all-you-can-drink deals. For hangover nursing, many restaurants also offer all-you-can-drink mimosas and bloody marys. Check out our rundown of bottomless mimosas, bloody marys, beer, and cocktail deals.
Public Transportation: A great way to save, The Deuce bus route runs up and down the Strip and connects to Fremont Street. 24-hour passes can be purchased for $8, while a 2-hour fare costs $6.
You can also take the CX route from the airport to your Fremont Street hotel for a measly $2 one way. In this case, public transportation represents significant savings over a $20-$25 Uber.
Free Trams: Although sparse, there are a few free trams that can move you from place to place on the Strip. Free tram options that can be used to save time and money are noted below:
TI and Mirage are connected via tram.
Excalibur, Luxor, and Mandalay Bay are connected via free tram.
Aria, Bellagio, Vdara, Park MGM, and the Shops at Crystals are all connected via free tram.
Use the Downtown Loop Shuttle: Completely free, the hop-on / hop-off shuttle offers stops at notable locations like Fremont East, the Mob Museum, Circa, Pawn Plaza, the Arts District, and even Strat at the north end of the Strip. Check here for a full list of Downtown Loop Shuttle stops.
The Monorail Can be a Cost-Saving Option: While only running up and down the East side of the Strip, the Las Vegas Monorail can be an effective and inexpensive way to get to and from your destination. A one-way ride is $5 and a day pass is $13. Especially if traveling north to Sahara or Westgate, the Monorail is significantly cheaper than a cab. Unfortunately though, if your destination is on the west side of the strip the Monorail is likely an inconvenient option.
Stock Your Room With Snacks and Drinks: Convenience stores like CVS and Walgreen's are rarely further than a block away, and prices are not much higher than you're used to back at home. Skip the overpriced hotel gift shop and stock up on drinks, snacks, and any other supplies you need for your room!
Chase Down Free Photo Ops: While everything in Vegas is seemingly photogenic, there are a few specific photo opportunities that tend to be popular with visitors. A few of our favorites include Winnie and Buck at Harrah's, Crazy Girls at Planet Hollywood (formerly Riviera), Binion's Million Dollar Display, and the "Welcome to Las Vegas sign.
Ask for a Complimentary Upgrade at Check-in: There is consistently chatter on social media surrounding the $20 dollar trick, how to do it, and if it works to score a room upgrade. Save the $20 bucks and simply ask politely for an upgrade when checking in. If it works, feel free to tip for great service. We don't recommend blindly passing $20 blindly to the front desk though hoping for something that may not happen.
Avoid the ATM: On the Strip, you will likely pay between $10-$15 to access your own money. Save by bringing cash. If you do need to use an ATM, try to leverage one that is cheap. The cheapest ATMs in Vegas can be found at CVS, Walgreens, Target, and Casino Royale.
Bring coffee: If you're anything like me, a significant amount of coffee is needed to break the cobwebs every morning. Unfortunately, most rooms in Vegas don't offer a coffee brewer. Save yourself a few bucks, and a significant walk across the resort by packing an instant coffee like Starbucks Via. Not only is Via light and easy to pack, but it's also pretty damn good for instant coffee.
An alternative option would be to buy a cheap coffee brewer at Target, Wal-Mart, etc. for use in your room with the intent to leave it behind.
Avoid Taxis: Ride-Share options like Uber and Lyft are simply cheaper. Not to mention, Las Vegas Taxis have gotten a bad reputation for taking the scenic route or long hauling to drive up fares.
Park for Free: While many resorts have rolled out paid parking, you can save money by parking at one of the few that have not. We maintain a breakdown of where to find free parking on the Strip. While most downtown casinos also charge for parking, you can often get your ticket validated by the pit boss or restaurant as long as you are gambling/spending on site.
Book a Room with a Kitchen: While hotel rooms in Las Vegas with a kitchen cost a bit more upfront, cooking a few meals in the room vs. eating out can save you a significant amount of money.
Earn Freebies Through Phone Apps: Download and play apps like MyVEGAS, Pop! Slots, Wynn Slots, or Binion's Casino. You can earn free meals, rooms, and tickets to activities all from the comfort of your own home.
Leverage Free Strip Shuttles: Take advantage of cheaper room rates off the beaten path at these hotels that offer a free shuttle to the Strip. Guests staying on the Strip can also leverage these shuttles to access hotels off the Strip that typically offer cheaper food, drink, and better gambling odds.
Leverage Free Airport Shuttles: Airport transportation is expensive, often costing upwards of $15-$30 one way. We maintain an updated list of hotels that provide free shuttles to and from the airport.
Stay Downtown vs. The Strip: If Fremont Street's grimier, vintage vibe appeals to you, then we recommend saving money by staying there. According to the Las Vegas Convention and Visitor's Authority, an average room night on the Strip costs $148.08 in 2019 vs. $78.29 downtown. Read more on staying downtown vs. the Strip here.
Upgrade Your Pool Experience for Free: Some resorts allow guests not staying on the property to access their pool for free, or for a small fee. Free pool options that may be worth checking out include Planet Hollywood's rooftop pool, Linq's Influence pool deck, and the 2 story pool at Topgolf of all places.
Refill that Drink Poolside: Many poolside bars offer a discount for refilling your drink when you bring your original cup, typically in the range of 20-25%. Pay full price once at the beginning of your trip, and bring the same cup back day after day.
Avoid Resort Fees: While the vast majority of Las Vegas hotels charge a nightly resort fee, there are a few that don't. If you're staying at a Caesars Entertainment property, you can avoid paying the nightly resort fee by obtaining the Founders Card. Although the $595 annual fee is high, one of the card's key benefits is an upgrade to Diamond Status within Caesars Rewards, allowing you to skip resort fees.
Hopefully, our rundown of ideas focused on how to save money in Las Vegas was helpful! If you know of additional ways to save money in Vegas, ensure you drop them in the comments!
See Also: Things to do with kids in Las Vegas – A complete list.
Feature Image Credit: ©czgur/123RF