Avid sports bettors crave the action of March Madness and the opening weekend of the NCAA Tournament is the premier sports betting event of the year. Wall to wall action, upsets and money to be made… or lost. I make the pilgrimage annually to Vegas for the opening weekend of the NCAA tournament with a close group of friends and thought I would jot down some tips.
Tips For March Madness in Las Vegas
Where to watch NCAA basketball Games
Back in the day, you could get to the book early and snag a free seat. Today, a hefty fee is typically required to stake claim to real estate in the book.
I'll usually spend one day hopping from casino to casino standing in the back of the sportsbook and watching games from afar. The sportsbooks at Caesars Palace and Venetian are good spots to take in the action due to their large screens and raucous atmosphere. Even though standing all day is a downer, nothing beats the roar of the crowd when a game is down to the wire.
I also recommend bar/sportsbook hopping on Fremont Street. You likely won't be getting a seat in the book and the picture won't be the best but it's much less crowded and provides a good old-fashioned seedy Vegas vibe (unless you're at Circa of course).
Another option to sportsbook hopping is buying a ticket to one of the numerous watch parties. Tickets to watch events range from $300 plus tax for Cosmopolitan's Hoops and Hops party down to around $100 for a full day at Tailgate Social at Palace Station.
While free options exist (see TI, The D, and South Point), you usually need to arrive so early that paying for a seat makes more sense to me.
Paid watch parties generally include unlimited drinks and/or food in addition to a better view of the games with a place to sit. This year, I saved a few bucks by watching the games at Ellis and was pleased with the food offerings throughout the day (breakfast sandwiches, Bacon, sausage, and then chili dogs, wings, and meatballs). Unlimited craft beer also flowed as part of the deal.
Two of my favorite watch parties have been those held in Westgate's Theater and at Ellis Island. Both were a tremendous value.
Click here for our list of paid and free March Madness events across Vegas.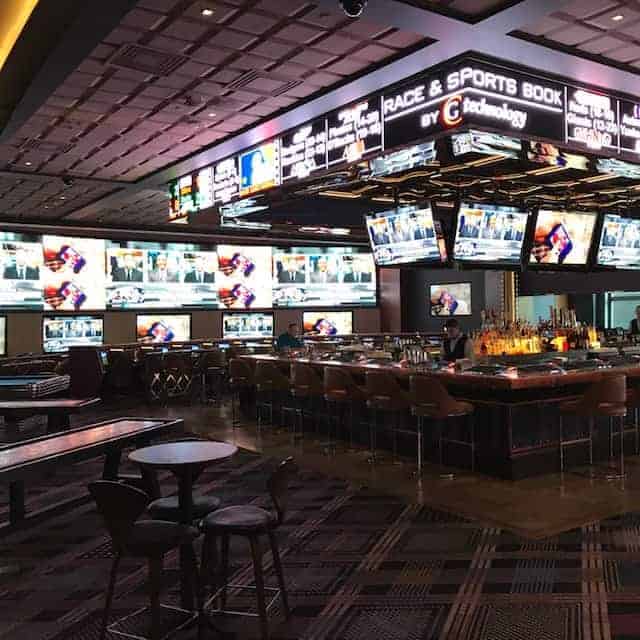 Picking the RIGHT Watch Party
NCAA watch parties in Las Vegas change from year to year, plan accordingly. Start researching options months in advance as most March Madness parties (that are worth a damn) in Vegas sell out quickly. Call ahead and ask all the right questions, such as:
Will there be guaranteed seating?
How many TVs will be available?
Will there be food and beverages included in the price?
If not, what price points are food and beverage?
What types of food and beverage will be available?
How many betting stations will be open?
Not all parties are created equal. When comparing and contrasting your options, I can't recommend the March Madness in Las Vegas Facebook group enough. Once there, use the search function to view images and reviews of the party in question.
Where to Stay in Vegas during March Madness
The opening weekend of March Madness is one of the most expensive to visit Las Vegas. In the past, I have decided to stay off the strip at Palace Station and take their free shuttle to Fashion Show Mall by TI daily. This year, I booked a room at Harrah's through Caesars Rewards for an average of $33/night plus resort fees (damn resort fees) but rebooked LINQ the day before leaving for a slightly better rate.
If not booking through a loyalty program though you can expect to pay $150 and up per night for a room on the Strip… and that's for lower-end properties. I would suggest booking your March Madness getaway early and checking back for better rates as your trip approaches. ALWAYS book a room with free cancelation so you can take advantage of price fluctuations!
If you want to preserve your sports betting budget, don't hesitate to stay off the beaten path and take an UBER to the action early in the morning. My group of friends commonly stayed at Palace Station before our budgets could support upgrading our accommodations.
How to drink cheap in Vegas during March Madness
If you're betting on the games, you should be getting drink tickets. Generally speaking, the "higher class" the casino, the stingier they become with drink tickets. At Caesars and LINQ, I was getting 1-2 drink tickets per $100 bet on basketball. At the Fremont casino on Fremont street I received 4 drink tickets for a single $100 wager and at the Palace Station, they handed over a stack of 20 when I placed my first couple bets. The rough formula dictates that the further you get from the strip, the more free drinks you get.
I'll note that throwing your ticket writer a few dollars never hurts your chances and don't be shy about asking for drink tickets if it isn't looking like they will be offered up. What's the worst that can happen?
As previously mentioned, you can receive unlimited drinks at the numerous NCAA March Madness opening weekend watch parties up and down the Vegas Strip which can be a great value.
Best Way to Place a Bet
By far, the easiest way to place bets during the NCAA opening weekend in Vegas is to sign up for one or more sportsbook betting apps. I utilize both the Caesars, MGM, and Will Hill apps which were a 5-minute sign-up process and extremely convenient.
Annoyingly, first-time users will need to visit a physical sportsbook to activate the account, but you'll then have the ability to place bets anywhere at any time (as long as you are in Nevada of course).
My buddies were consistently waiting in 30-40 minute long lines at LINQ and Caesars during the opening weekend of March Madness while I was getting my gambling fix instantaneously.
MGM Resorts and William Hill both have solid apps for placing bets as well. It's humorous to me though that none of the domestic legal applications have caught up to their offshore "illegal" counterparts (Bovada, Sportsbook.ag, etc) in regards to functionality and user experience.
If you are planning to take in the opening weekend of March Madness in Las Vegas, ensure you are planning ahead for flights, accommodations, watch parties, signing up for sportsbook applications, etc. It's an expensive weekend in Vegas so be creative about cutting costs – Check out our piece on Doing Vegas on a Budget.
Spend at least a day winging it "sportsbook hopping" and a day at a watch party. Above all, enjoy your weekend in the gambling Mecca of the world profiting off the NCAA Basketball Tournament – The premier sporting event of the year.
I'm a former software salesman turned Vegas aficionado. While the craps table is my preferred habitat, I pull myself away to explore new attractions, shows, restaurants, and outdoor activities around Las Vegas with the intent of sharing my experiences.
Ultimately, I just want to help folks plan a better trip and save a few bucks in the process.