The opening weekend of March Madness 2022 is fast approaching and many of us are planning our annual pilgrimage to the Mecca of gambling – Las Vegas. Of course, no degenerative trip with the boys would be complete without first reserving seats at the perfect watch party.
This, I promise. After 2 years of non-existent or subdued watch parties, it's going to be great to welcome back the crowds, and atmosphere, in 2022.
Below, we'll recap available watch parties, their price point, and what's included with a link to book a seat.
As viewing parties are scheduled for the opening weekend of the 2022 NCAA Basketball Tournament, we'll be sure to update the list below!
See Also: Craft beer in Las Vegas – Where to find breweries on the Strip and downtown.
Free March Madness Watch Parties
The D March Hoops Viewing Party: The D holds a free watch party in their 12th floor Detroit Ballroom with food and drink available for purchase. The event is first come first served, so getting there early is recommended.
Mancaves are also available for groups at an additional cost. To be eligible to purchase, you must have a group of 8 or more people. Each private mancave comes with 4 TVs, a $25 match play coupon, free wifi, and unlimited food and drink. You'll also have your own dedicated cocktail server. Renting a mancave for a 6-hour AM or PM session costs $300 per person. The whole day is $500.
Treasure Island Viewing Party: A FREE watch party, TI's Madness in March viewing takes place on their second-floor convention hall. Seating is first-come, first-served and doors open at 7:30 am (I'd recommend hopping in line earlier though). Food and drink will be offered for purchase, and satellite betting stations will be available.
Gilley's at TI: Lastly, TI is offering a 3rd free watch party option at Gilley's. Games will be projected on screens and seating is again first-come, first-served.
Golden Circle at TI: TI's sportsbook & bar will also host a free watch party with first-come, first-served seating. Again, I'd recommend getting there early if you want to snag a seat.
Beer, Brats, & Brackets at El Cortez: A free party, El Cortez will host a viewing event in their Fiesta Room on the opening weekend of the Tournament from Thursday to Sunday. Food and beverage will be available for purchase on-site.
More Madness at South Point: An annual tradition for many, South Point's free party will take place in the Grand Ballroom and be completely free. Stadium food will be available for purchase with options starting at $2 and 18oz. Bud, Bud Light, and Michelob Ultra are $4. As tends to be the rule with free parties, we'd recommend getting there early if you want a seat.
March Hoopla 2022 at The Orleans: Hosted in the Mardi Gras Ballroom, The Orleans' free March Hoopla party offers a free seat and a selection of food and drink for purchase. Doors open at 8 am and seating is available on a first-come, first-served basis.
March Hoops at Green Valley Ranch: Located away from the Strip, Green Valley Ranch will hold a free watch party in their Estancia Ballroom on both March 17th & 18th. Doors open at 8:30 am, and food and beverage will be available for purchase.
Circa's Warehouse: A FREE party, Circa's warehouse will again be available on a first-come, first-served basis. This one will be a hot commodity – I'd get there early. Circa will also have paid party options in their sportsbook and at Stadium Swim.
March Madness Watch Parties in Las Vegas
Circa's Stadium Swim: A number of options exist to watch the game outdoors at Circa's impressive rooftop pool amphitheater. General admission is $100 for the whole day but doesn't include a seat, or food & drink. Daybed and cabanas at Stadium Swim are rented for either the AM or PM session and require a $1,500 or $3,500 minimum spend respectively.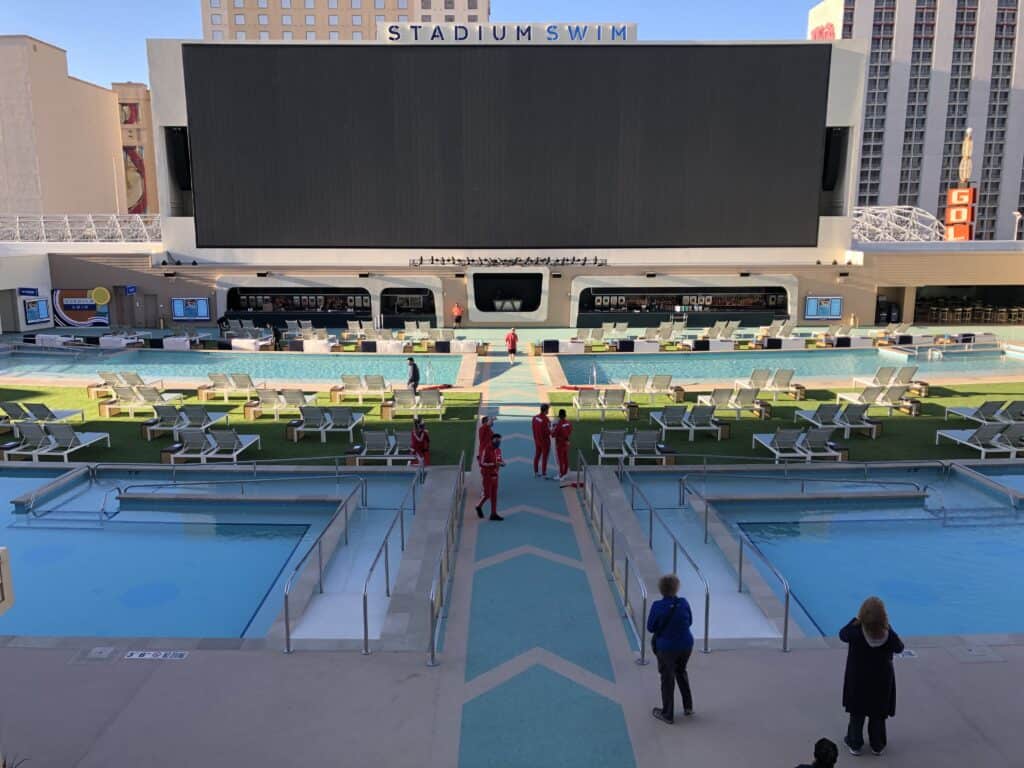 March Mania at Plaza: Plaza's annual party will be hosted in their Showroom and games will be projected on a 24-foot video wall. Single-day tickets are available for $100, however, a 3-day ticket can be yours for a discounted $250. Included in the deal are bottomless Bud Light, soda, and a raffle entry.
Westgate Hoops Central 2022: Westgate's theater viewing party is back. Lower level seats cost $50 and balcony options cost $40. Everyone receives a free beer with their seat. I've personally attended this viewing party previously and was impressed with the setup. There are 4 large screens, so you won't miss a second of the game.
Cosmopolitan Hoops and Hops 2022: A popular watch party, Hoops and Hops is held in the 40,000 square foot Belmont Ballroom and offers day passes to and with an open bar. Tickets for both Thursday and Friday are $300 and Saturday costs $150. Options included in the open bar include well liquors, beer, wine, soda, and water.
Hoops Mania at the Hard Rock Cafe 2022: Attendees will gain access to Hard Rock's game day buffet and premium open bar for $300 daily. A 3-day pass is also available for $675. Note, this is at the cafe on the south end of the strip (across from Park MGM) as opposed to Hard Rock Hotel and Casino.
Stadia at Caesars Palace: The "Old-school football helmet" themed sports bar is offering seating for the opening weekend of March Madness as part of their Hoops on the Strip party. Packages for 2 people start at just over $400 and come with a $200 food and beverage credit.
The Still at Mirage: A seat at The Still's Brackets and Beer 2022 watch party can be yours for $150 food & beverage minimum per session on Thursday/Friday and $50 food & beverage minimum on Saturday/Sunday. The AM session runs from 9 am – 2:45 pm and the PM session is from 3:15 pm – 9 pm. For more information, email reservations@thestillvegas.com.
Courtside at Dawg House: Found within the brand new Resorts World, the Dawg House Saloon and Sportsbook is offering seating in their sportsbook, bar, and restaurant for as little as a $200 minimum spend agreement per session (AM/PM).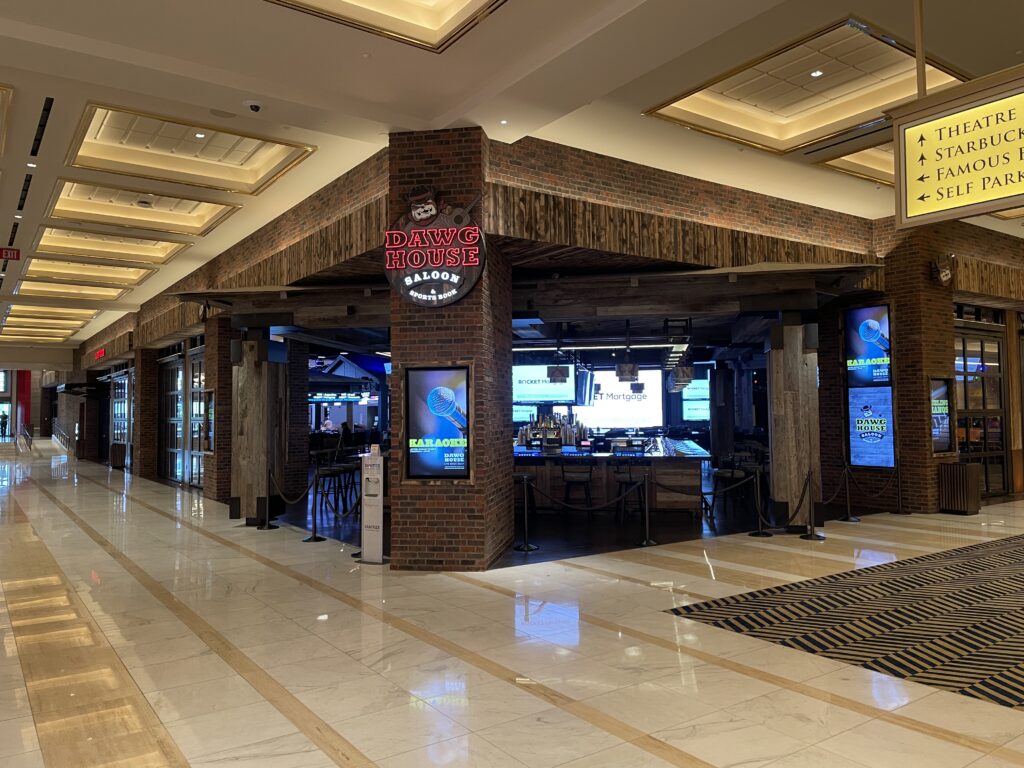 Cabo Wabo at Miracle Mile Shops: Surround yourself with massive TV screens ranging from 80 – 200 inches in Cabo Wabo's March Mayhem 2022 party. This full-day watch party will require a minimum spend of $100 per person in attendance.
AmeriCAN March Mayhem 2022: A bar on the LINQ Promenade focusing on canned beer options, AmeriCAN is offering full-day all-you-can-drink packages for $182.51. You receive a guaranteed seat and access to their premium all-you-can drink bar. No food is provided but you can bring in outside options.
Rockhouse March Mayhem Viewing Party 2022: Tucked in Venetian's Grand Canal Shoppes, Rockhouse is offering both full and half-day ticketing options. Full-day watch party tickets provide a seat and access to a premium open bar for $273.77, while a half-day will set you back $182.51.
PBR Rock Bar March Mayhem 2022: PBR is offering both full and half-day options that include a guaranteed seat and access to an open bar. Full-day tickets cost $250 per person, while half-day options are $175.
Montecristo Cigar Bar Hoops on the Strip: A unique viewing experience, Montecristo gives you the opportunity to light up a quality cigar while watching your bankroll languish. Seating for 2 starts at $465 and includes a $250 beverage credit.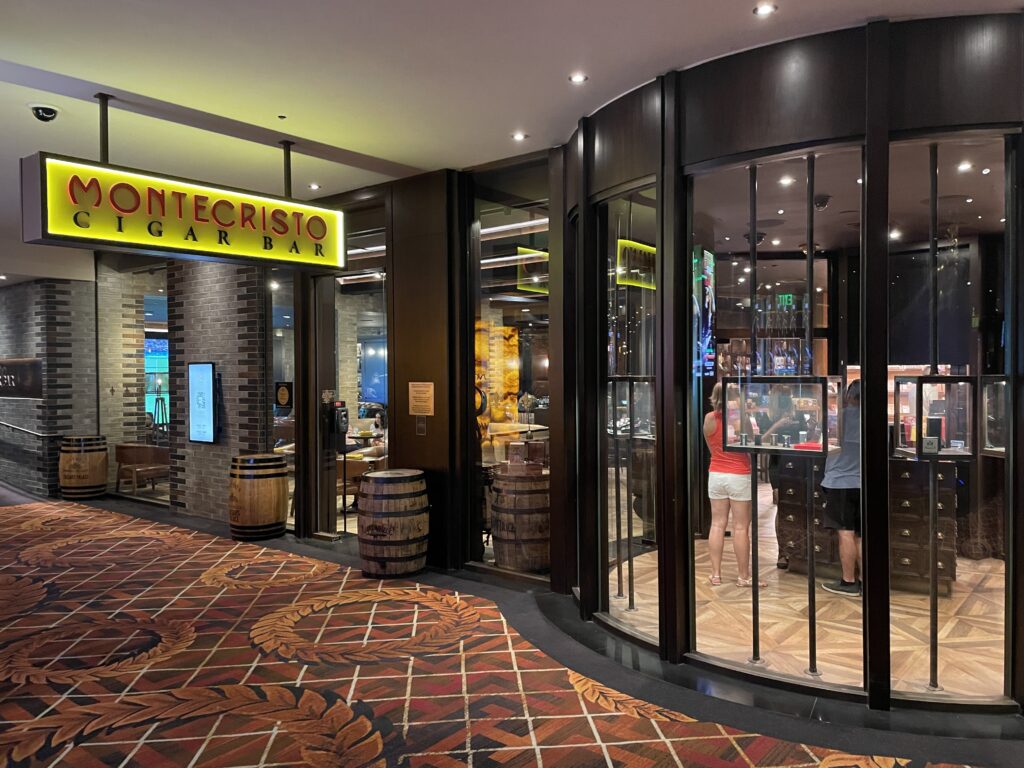 Beer Park at Paris: The popular rooftop bar at Paris is offering full-day seating for a $200 minimum spend per person on Thursday and Friday, and $100 per person on Saturday and Sunday. Packages are available for groups of 2 and more.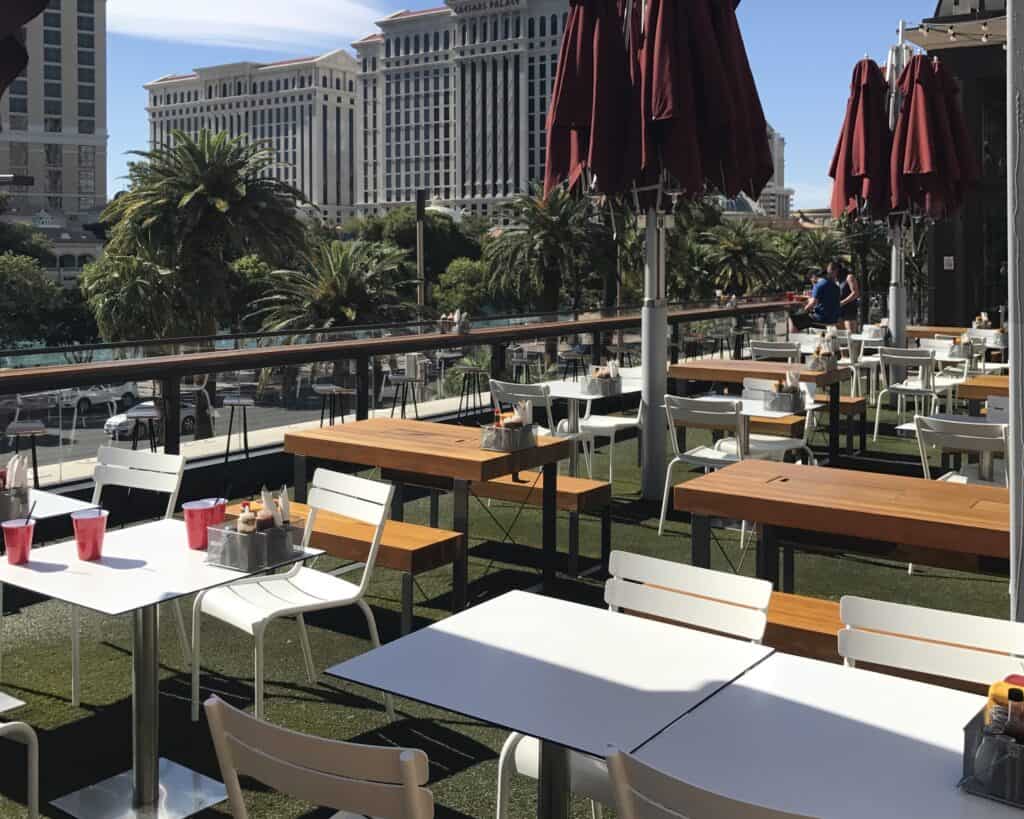 Blondies at Miracle Mile Shops: The popular bar in the Miracle Mile Shops is hosting both AM and PM sessions for the opening weekend. Seats for each session can be reserved in advance for a $100 per person food & beverage minimum. The food & beverage minimum needs to be paid upfront but will be deducted from your bill the day of.
HyperX Esports Arena – Luxor: Although typically a hub for gaming, Luxor's eSports Arena doubles as a watch party destination. Complete with a 50-foot LED TV wall, the venue is offering a guaranteed seat and 5 drink tickets for $100 per person. Food is an additional expense served a la carte.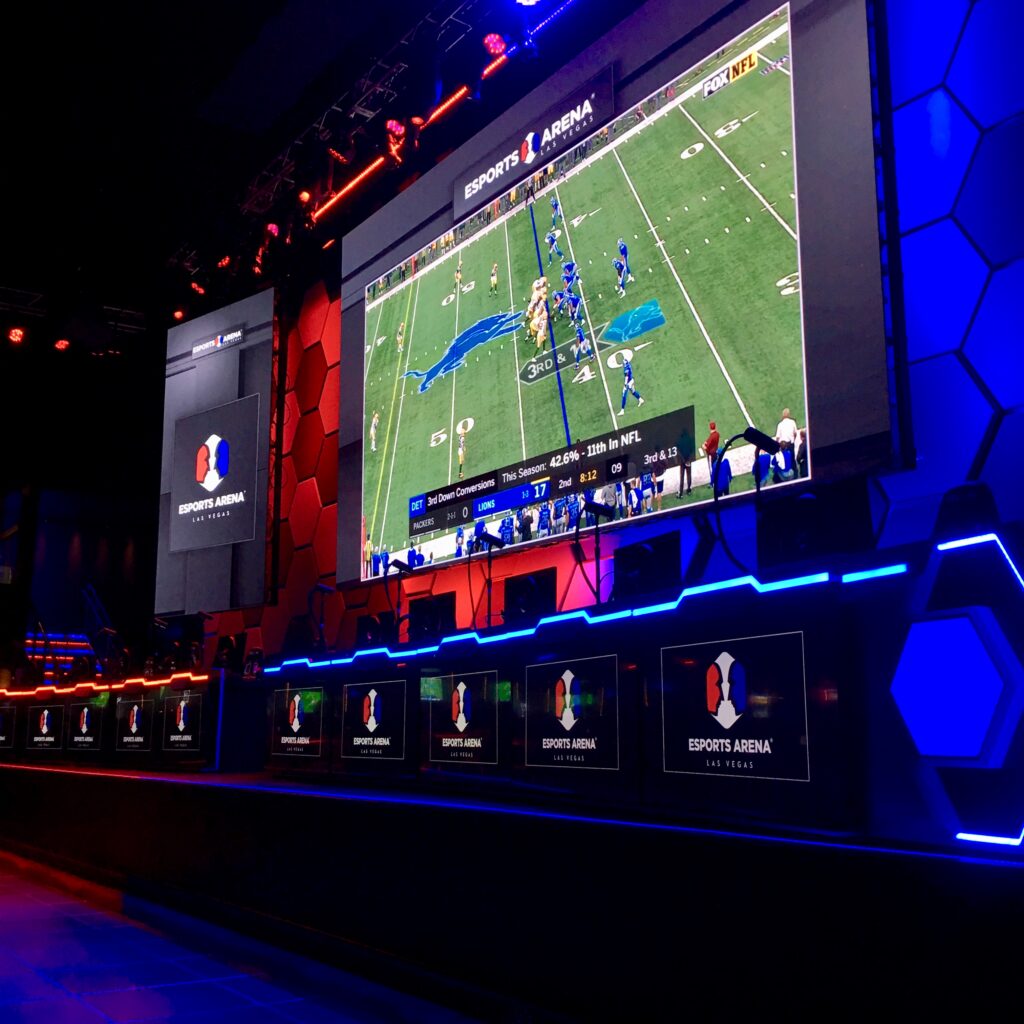 Hoop Madness at Azilo Pool at Sahara: Channeling their inner Circa, Sahara will offer a poolside watch party with tickets starting at $125.50 per session. Included in the deal are a 6-hour open bar, bar games like beer pong, and pool access. Will Hill betting stations will also be on-site.
Mad Haus at Hofbrauhaus: Located off the Strip and across the street from Virgin, Hofbrauhaus is offering a watch party that costs $150 for a half-day and $250 for a full-day. Included with your entry fee are a guaranteed seat, a premium open bar, and all you can eat from the restaurant menu. Unique food options that differentiate this watch party include Bavarian snacks, assorted sausage specialties, and more.
Charlies Bar and Grill at Wynn: Overlooking Wynn's spectacular sportsbook, Charlies is offering seats for $300 per AM or PM session. Included in the deal is access to an all-you-can-eat "Slam Dunk" menu, all-you-can-drink beer, wine, and well liquor, and a dedicated betting line. Upgrade to premium cocktails for an additional $25. For information, reach out to charliesbar&grillreservations@wynnlasvegas.com.
Ellis Island Hoops Mania 2022: Hosted in their Front Yard addition, Ellis Island's 2022 party costs $175 for a half-day and $325 for the full day. Included in the deal are a guaranteed seat, access to a buffet, and an open bar.
Crazy Horse 3: For those looking to mix business with pleasure, Crazy Horse 3 is offering packages that start at $59 per person and come with a $50 beverage voucher. VIP and group packages are also available.
Tailgate Social at Palace Station: The off-Strip sports bar at Palace Station will offer both morning and afternoon watch party sessions during the opening weekend of March Madness. The per-session food & beverage minimum is $95 during Round 1 and $75 for Round 2. You can get more info, and make reservations by emailing reservations@tailgatesociallv.com.
OYO Hotel and Casino March Mania: OYO (formerly Hooters) will host parties in both their Splash Cantina and Underground Lounge for $145 per session. Included in the deal are access to an open bar, and all you can eat breakfast, lunch, and dinner. Email egomez@oyolasvegas.com for more information and to reserve.
Topgolf March Madness Viewing Party: Providing the opportunity to hit some balls while watching hoops, Topgolf offers a differentiated experience when compared to other parties on the list.
In 2022, Topgolf is offering 3 daily sessions that run from 9 am – 1 pm, 1:30 pm – 5:30 pm, and from 6:00 pm – 10:00 pm.
Pricing per session for groups of up to 8 people starts at $600 ($300 Food and beverage minimum and $300 for golf) and goes up from there based on options selected. Seating options that don't include golf are also available. You can email LasVegasEvents@topgolf.com for a flyer that lays out all of your options along with pricing.
Uniquely, Topgolf also has a 2 level pool that anyone can use. If the weather's nice, bring your suit!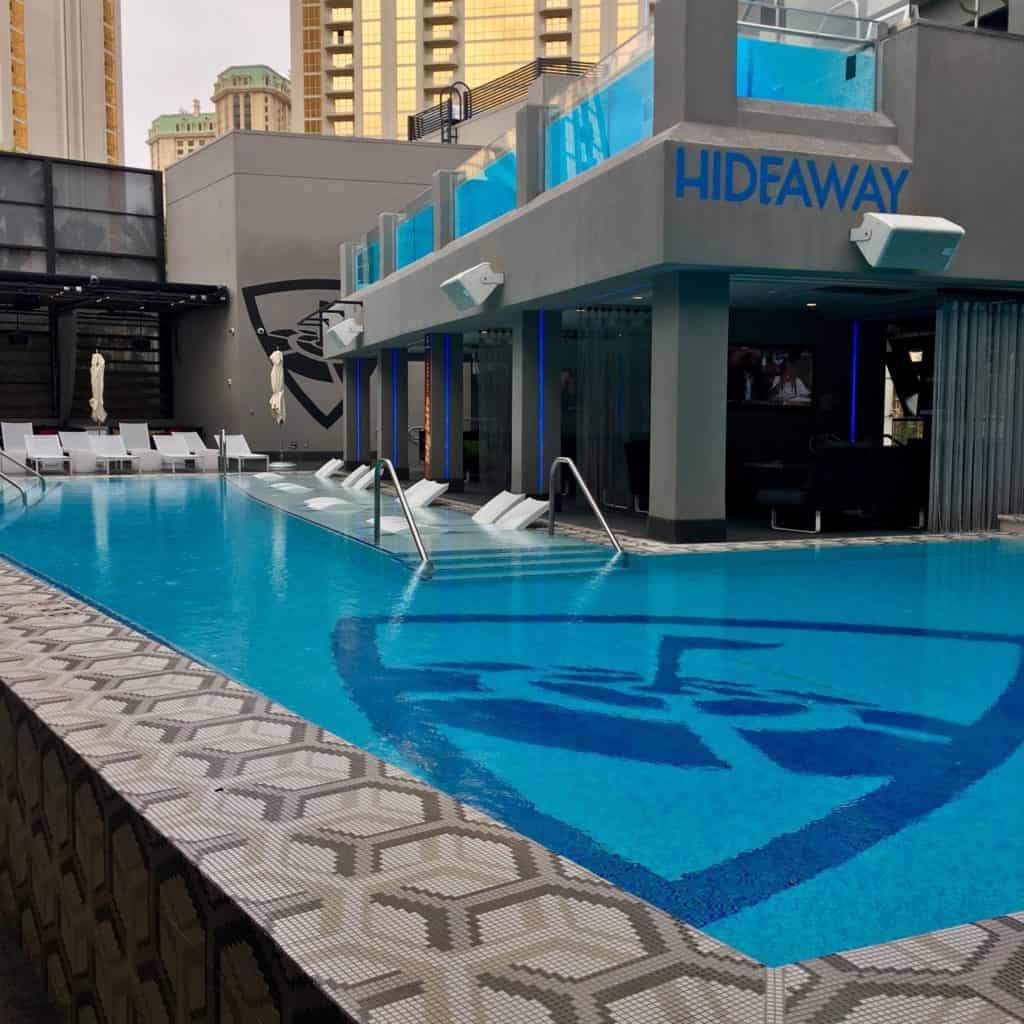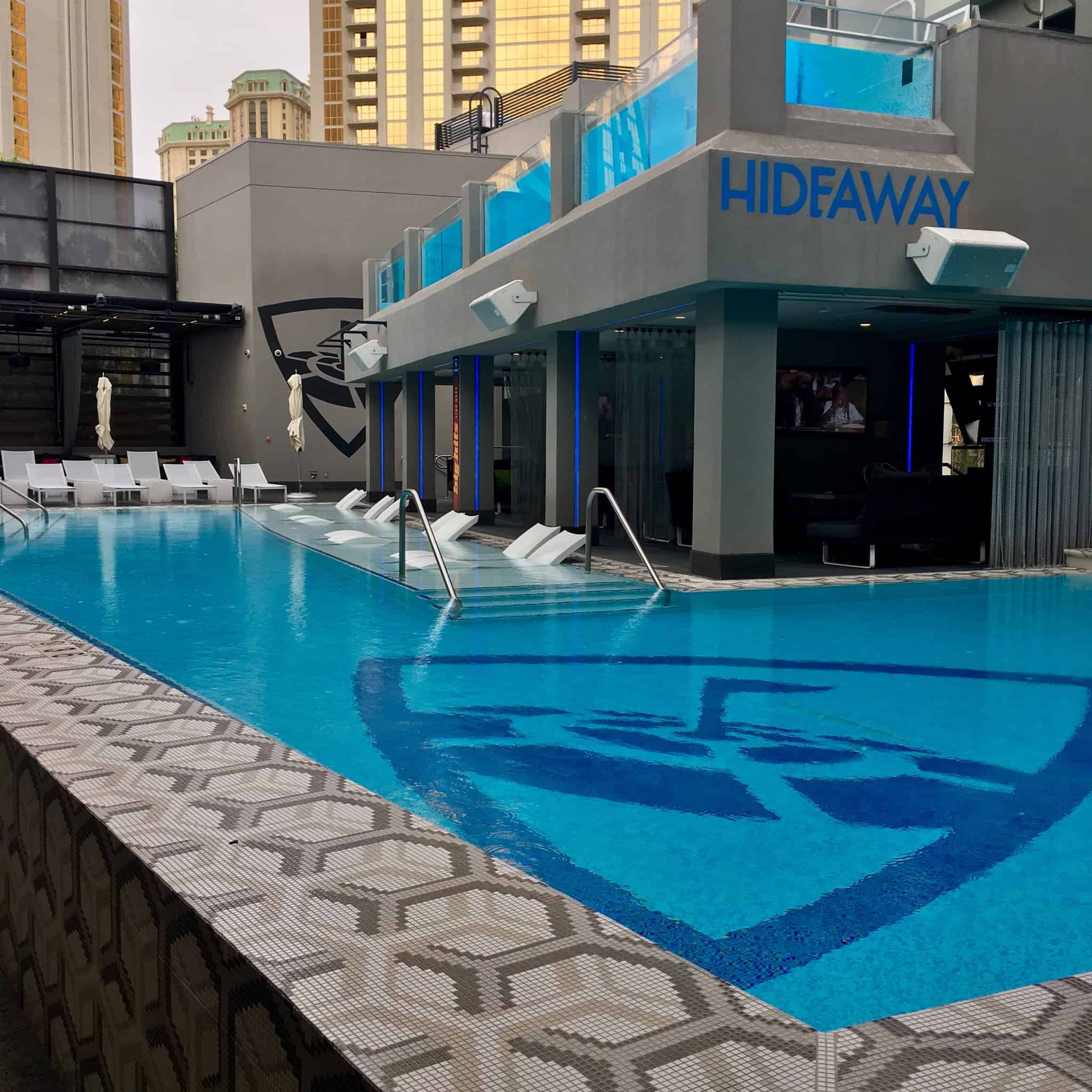 Still Waiting for 2022 Watch Party Details
Bet MGM Sportsbook and Bar at Park MGM: The sports bar formerly known as Moneyline in the now smoke-free Park MGM has traditionally offered seating for a food & beverage minimum. We are awaiting details on pricing for 2022.
Brooklyn Bowl: Located within the Linq Promenade, Brooklyn Bowl will be hosting a watch party for the opening weekend of March Madness, although details are still pending.
Gold Coast March Hoopla Watch Party: Held annually in the Arizona Ballroom, the Gold Coast watch party is FREE and typically has plenty of seating capacity in addition to cheap food and drink options. We are awaiting details on their 2022 watch party.
TAP at MGM Grand: Conveniently located near the MGM Grand sportsbook, TAP has historically offered seating for the opening weekend of March Madness for a food & beverage minimum. We have a note out to gauge pricing in 2022.
Did we miss your viewing party? Let us know in the comments and well add it!
Thinking of doing a trip to Vegas for March Madness? Following the March Madness in Las Vegas Facebook page is a must. Members of the group provide up-to-the-minute watch party info and act as a resource to answer questions about the opening weekend of the tourney.
Related: A directory of the best sports bars in Las Vegas.
I'm a former software salesman turned Vegas aficionado. While the craps table is my preferred habitat, I pull myself away to explore new attractions, shows, restaurants, and outdoor activities around Las Vegas with the intent of sharing my experiences.
Ultimately, I just want to help folks plan a better trip and save a few bucks in the process.