It's difficult to walk 200-feet down the Strip or Fremont Street without seeing someone sipping from a giant cocktail, oftentimes slightly taller than a toddler.
The phenomenon of big drinks in Vegas isn't difficult to understand, after all, Vegas and the abuse of mind-altering substances are a package deal for most.
Although oversize drinks in Vegas often come at an inflated cost, it's a small price to pay in exchange for the joy they provide in the form of an elevated BAC, and reprieve offered from the oppressive Nevada heat.
Below, you'll find some of the most popular spots to grab a big drink in Vegas, both on the Strip and downtown, with many options reaching 100 oz. in size.
If witnessing that neverending parade of big slushie cocktails has you wanting one, we suggest reading on.
Related: All You Can Drink Deals in Vegas!
Where to Find Big Drinks on the Strip
Tacos & Ritas: Found in both the Venetian and MGM Grand food courts, Tacos & Ritas serves big margaritas in sizes ranging from 16 oz. all the way up to a giant 60 oz. option which costs about $40. Notably, Tacos & Ritas is currently offering a Groupon deal that amounts to over 50% off.
Senor Frogs: Located at TI, Senor Frogs is currently offering a deal on Groupon that allows you to purchase two 28 oz. Yard Drinks for $40 (typically $80), or four 28 oz. Yard Drinks for $80 (typically $160).
Beer Park at Paris: "The End Zone" is a 50 oz. monster concocted by mixing Stella Artois, lemonade, and Maker's Mark. It can be all yours for just under $40. View Beer Park's full menu, here. Oh, and the view isn't bad either.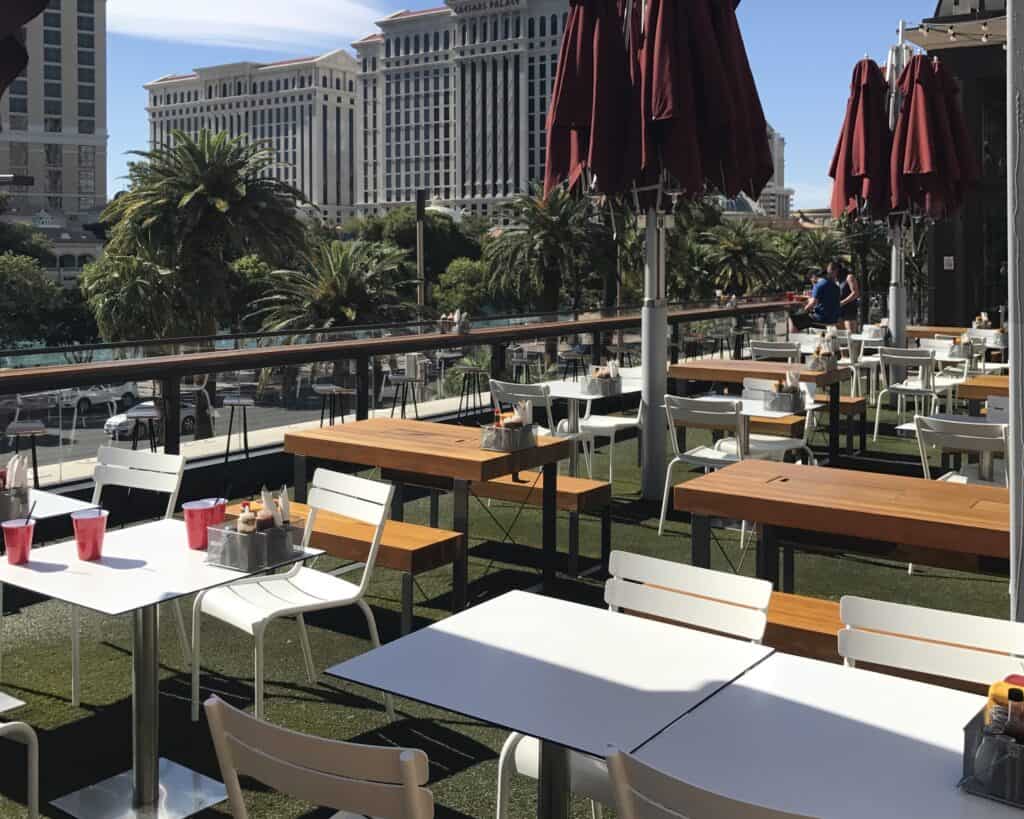 Fat Tuesday's: Among the most popular spots to grab a big slushie drink in Las Vegas, Fat Tuesday's has locations at STRAT, Venetian, Casino Royale, Resorts World, Caesars Palace, Planet Hollywood, and in a strip mall across the street from Aria. Drink sizes range from normal to a massive 100 oz option. Big drinks at Fat Tuesday are priced in the mid-$30s, however, refills can be purchased at a slight discount.
Numb Bar: With locations at both Caesars Palace and Harrah's, Numb specializes in frozen cocktails, serving large options of up to 64 oz. at a price point in the $30's.
Carlos 'n Charlie's: Big and tall drinks are on the menu at Carlos 'n Charlie's in the form of the "Yard" which is $23.27, the "Big Mama" which is $40.20, and the giant 100 oz. "Bazooka" which will set you back $89.10.
Tom's Urban: Found at New York New York, Tom's Urban serves "Punch Bowls" that have 6 servings for $74.99 or 10 servings for $112.99. Concoctions available include a Vintage Mule, Sangria, Margarita, and Rockabilly Juice.
Paris Sidewalk Bar: Wondering where people are getting those drinks in a souvenir "Paris" balloon or Eiffel Tower mug? They're finding them at the Paris Sidewalk Bar out front of the resort along the Strip. Stop in to pick up a supersized drink to go.
Margarita Bar: Just outside of TI, the Margarita Bar specializes in slushie drinks ranging from "normal" sizes up to a 100 oz. behemoth. A 48 oz. Yard drink will set you back $29.
La Salsa Cantina: Located in the Miracle Mile Shops at Planet Hollywood, La Salsa Cantina serves a 48 oz, yard-long slushie drink. Stop by during happy hour which runs from 5 pm – 7 pm to score a discount!
Diablo's Cantina: A destination drink, people commonly seek out the "Light Up Pyramid" drink at Luxor which resembles the resort's exterior and has a functioning light beam. That souvenir mug can be purchased at Diablo's Cantina, filled with 70 oz. of frozen cocktail goodness for $30. Diablo's also sells a 45 oz. "El Gordo" frozen margarita in a souvenir cup for $20.
Dick's Last Resort: The restaurant notorious for hurling insults at their customers serves a number of big cocktails in a souvenir glass including the "Big Dick Super Margarita", a 40 oz citrus tequila drink offered for $32.99. Dick's claims it's "big enough for 2", but it's Vegas… Grow up and down it by yourself.
Spanish Steps at Caesars: Found right in front of the Absinthe tent, this little bar specializes in big drinks with plenty of booze. Although absent are the tall drink containers, these mugs pack a punch and are worth the money if looking to tie one on.
See Also: A full rundown of happy hour deals on the Strip, and where to find cheap drinks downtown Las Vegas.
Where to Find Big Drinks on Fremont Street
Oversized drinks on Fremont Street are extremely easy to find as most outdoor bars serve them. Check out the outdoor bars at Golden Gate, Circa, The D, and Binion's as they all serve big, tall slushie cocktails.
Dick's Last Resort: Located in Neonopolis, the Dick's location downtown offers the same huge drinks their peer at Excalibur does. Weighing in at 45 ounces, the Big Dick Super Margarita packs a punch.
There you go. Now you can be one of the cool kids toting a massive drink around as you stroll down the strip. As you can see, finding oversize drinks in Vegas isn't especially difficult, but hopefully, we were able to assist you in finding one nearby!
Related: Bottomless Brunch in Las Vegas – Where to find it!
Feature Image: ©nitr/123RF.COM
I'm a former software salesman turned Vegas aficionado. While the craps table is my preferred habitat, I pull myself away to explore new attractions, shows, restaurants, and outdoor activities around Las Vegas with the intent of sharing my experiences.
Ultimately, I just want to help folks plan a better trip and save a few bucks in the process.