Key Points:
Penny-denominated slots are the most popular machines on casino floors in Las Vegas.
Unfortunately, they are also the tightest denomination according to data from the Nevada Gambling Control Board.
Players can get slightly better odds by "denominating up" and playing the same bet they would've on a penny game.
What if I told you there is a way to find looser slot machines in Las Vegas without increasing your bet?
Slot machines in Vegas have been getting tighter and tighter over time – It's only natural that we'd try to find value and better slot payouts for our money. If you're a penny slot player, it's likely you are doing it all wrong.
Penny slots are bright, engaging, and feature bonus games that we can't stop chasing, however, they're also the tightest slot denomination on the Strip according to Nevada Gambling Control Board reporting.
Penny slot machines are skyrocketing in popularity and Las Vegas casinos are devoting more and more square footage to them. As recently as 2004, there were only 10,916 total penny slot machines scattered throughout Clark County's Non-Restricted casinos – In 2017, that figure exploded to 39,644.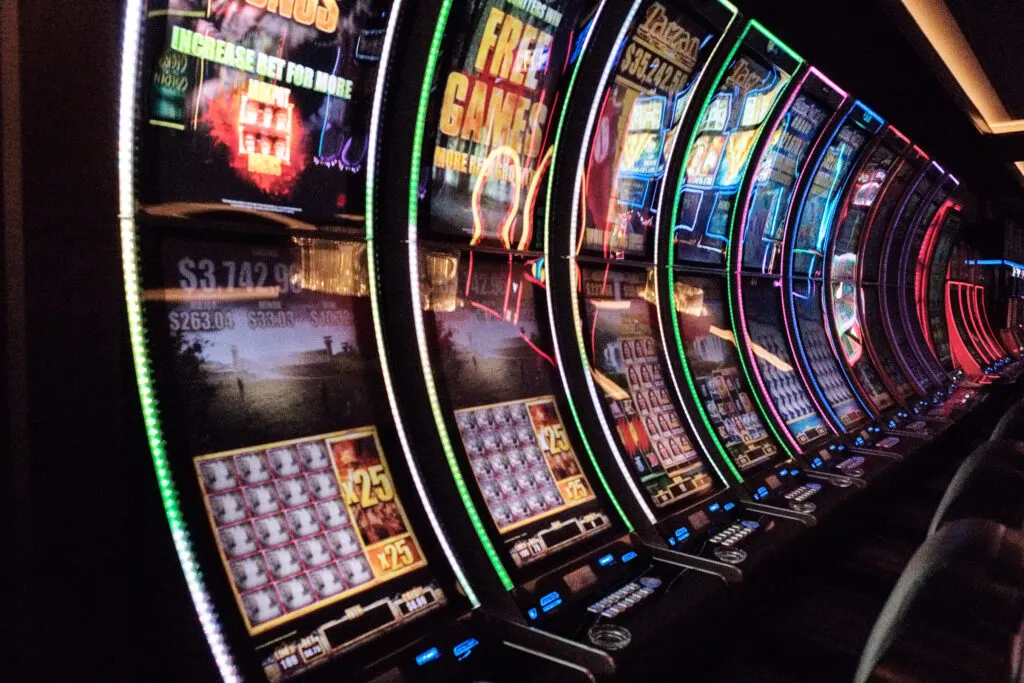 Many think that patronizing the pennies can be a good way to stretch your money in Vegas, after all, you can play as little as a penny per spin!
In reality though, who the heck plays 1-cent per spin? 5 cents per spin? 25 cents per spin? It's rare.
Most of us end up playing much more than the minimum as penny machines have a significant number of lines to play and the ability to bet more than 1 credit per line.
While the graphics, themes, bonus features, and perception of value that "penny" slots provide make them hard to resist, I wanted to share actual data from Las Vegas Strip casinos that may sway you to play a larger denomination slot machine employing the same bet you would use in a penny machine.
Why? Because larger denomination slot machines are slightly looser.
First off, a quick housekeeping item. The "house win rate" statistic we reference below is the percentage of total bets made that the casino won from the player.
Example: If a player fed a machine $20 and made the money last for a while eventually playing a total of $200 in spins before going broke then the house win rate would be $20/$200= 10%. The house won 10% of the total money wagered.
Penny Slot Returns vs. Higher Denominations
In 2022, the house win rate earned by penny slot machines in Clark County (% of total bets placed by players won by the house) was a whopping 10.62%.
In general, the larger the denomination of the slot machine, the looser the slots are.
If you play 75 cents per spin on a penny slot, take that same bet over to a quarter machine.
You'll miss out on the addicting bonus games, but you'll get a better return on your money as quarter slots in Clark County had a house win rate of 8.13% in 2022 – slightly lower than the 10.62% that the penny machines held on average from each bet. You aren't betting more, but you are getting slightly better odds.
If you're a 300-credit player on the pennies, take that $3 per spin over to the dollar slot machines which boasted an even lower house win rate in Clark County of 7.02% in 2022 – Significantly looser than their penny counterparts.
Video Poker's Influence on the Numbers
With that being said, it's important to note that video poker "taints" the data at the quarter and dollar denominations.
Lower casino win rates at those two denominations are in part, but not completely, due to the fact video poker tends to be a more player-friendly game.
As evidenced by the graph below that shows casino win rates by denomination, it's evident that slots get a hair looser as the denomination increases, even after accounting for video poker's influence.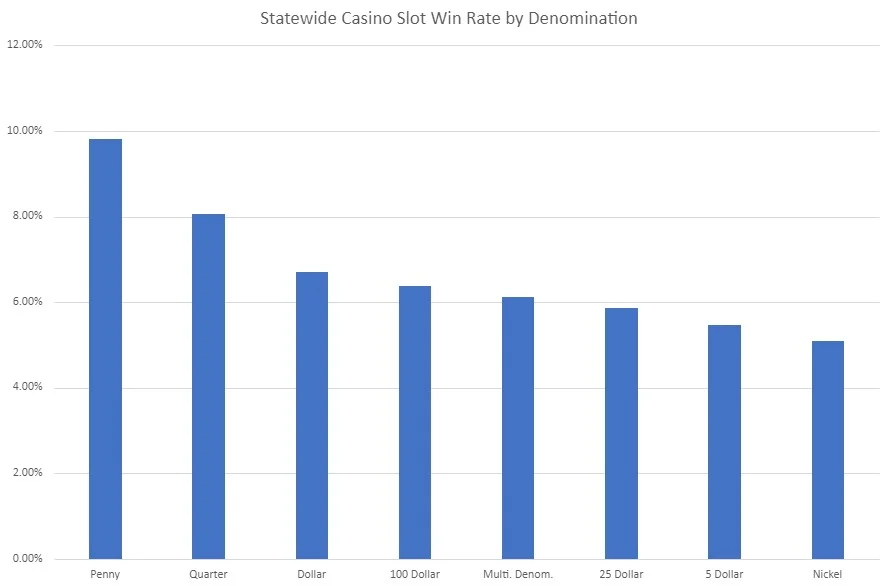 When you're playing slots, spend within your means. Some gamblers are thrilled to sit at a penny machine and plug small bets for hours while taking advantage of some free cocktails.
Of course, I'd never recommend betting more than you can afford to chase slightly better returns. Slots at any denomination are a losing proposition.
If, however, you play 75 credits or more on penny machines, you can likely find a looser slot machine in Las Vegas by playing a larger denomination and not increasing the amount you are betting per pull.
Good luck!
Now that you know what denomination of slot is the loosest, see where to find the loosest slots in Vegas!
See Also: Vegas hotels with recently renovated rooms.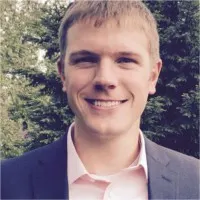 I'm a former software salesman turned Vegas aficionado. While the craps table is my preferred habitat, I pull myself away to explore new attractions, shows, restaurants, and outdoor activities around Las Vegas with the intent of sharing my experiences.
Ultimately, I just want to help folks plan a better trip and save a few bucks in the process.