Casinos across Nevada are required to report revenue figures to the Nevada Gaming Control Board to include what percentage of wagers they held as profit on slot games.
A nerdy annual tradition of mine is to dig into that real-world data from the previous year to help you find the loosest slots in Las Vegas.
Unfortunately, the data we have access to isn't granular enough to tell us how loose or tight slots were at individual casinos. Rather, the reporting will highlight groups of casinos based on where they are located (ie The Strip, Downtown, Boulder, etc). I'll make sure to point out what casinos reside in zones identified as having looser slots.
As a matter of housekeeping, casino slot "win percentage" is defined as the percentage of the total amount wagered by the player that the casino held as profit. For instance, a 10% casino win percentage means that the casino, on average, kept 10 cents of every dollar wagered on slot machines.
Example: A player put $20 into a slot machine and made her money last for a while playing a total of $200 in spins before losing it all. The total amount wagered by the player was $200 and the casino won, or held, $20 resulting in a 10% casino win percentage.
Now that we cleared that up, let's dig into where you can find slots that are more apt to pay out around Las Vegas.
Where To Find the Loosest Slots in Vegas
Where you play matters.
The graph below details casino slot win percentages by area, which lumps together all slot denominations. You can quickly surmise that casinos in tourist centers hold a larger percentage of slot play as profit.
As evidenced above, the best places around Las Vegas to play slots are the Boulder Area (6.28% casino win percentage) and North Las Vegas (7.46% win percentage).
As tends to be the case year after year, Reno is an outlier boasting a player-friendly 5.49% casino win percentage.
Keep in mind that video poker also figures into the slot statistics above. Lower casino win percentages away from the Strip are in part, but not completely, due to better video poker pay tables offered by establishments away from tourist centers.
Downtown Tighter Than The Strip Again in 2022
For the 3rd year in a row, slots were tighter in downtown Las Vegas than they were on the Strip (8.35% downtown vs. 8.14% on the Strip).
Before this 3 year stretch, slots in downtown Las Vegas were reliably a tad looser than those on the Strip, however, I'm beginning to think this may be the new dynamic going forward.
Slots Looser in 2022 vs. 2021 on the Strip & Downtown
Ever since I started compiling this data annually, slots on the Strip and downtown have always tightened slightly vs. the previous year.
Refreshingly, 2022 saw that trend reverse as slots got looser vs. last year both on the Strip (8.14% in 2022 vs. 8.27% in 2021) and downtown (8.35% in 2022 vs. 8.36 in 2021).
Where to Find the Loosest Penny Slots in Vegas
Since penny slots are the most popular denomination with players, I also broke down where the loosest penny slots in Vegas can be found by region.
Since the data below looks exclusively at the penny denomination, it's untainted by video poker and thus provides a clearer window into where looser slots can be found across Las Vegas.
As evidenced by the graph above, there is again a correlation between an area being "touristy" and higher slot hold rates.
Downtown and Strip penny slots came in as the tightest with casino win percentages of 11.02% and 11.40% respectively.
Similar to my previous data set that looked at all denominations, penny slots more apt to pay out can be found in the Boulder (9.11% win rate) and North Las Vegas (9.45% win rate) areas.
Reno came in with a comparatively low 6.87% win rate which is significantly more player-friendly than slots in and around Las Vegas.
So, What Las Vegas Casinos Have Looser Slots?
Although most players aren't able to tell the difference between a "tight" or a "loose" slot, the data suggests getting away from the Strip and Fremont Street will give you a slightly better chance of winning.
Casinos that fall into the looser Boulder and North Las Vegas reporting zones are broken down below. Note that these aren't the most scenic areas, but if winning is more important to you than bright lights, fountains, and celebrity chef restaurants then order up an Uber and make the trip.
Casinos in the Boulder Area: Sam's Town, Eastside Cannery, Arizona Charlie's, Boulder Station, Sunset Station, M Resort, Fiesta Henderson, and Green Valley Ranch.
Casinos in the North Las Vegas Area: Jerry's Nugget, Silver Nugget, The Cannery, Fiesta Hotel and Casino, Texas Station, Cannery, and Aliante.
The Denomination You Play Matters
Slot denominations also play a role in finding lose machines which is demonstrated by the graph of statewide data below.
In 2022, penny slots were the tightest denomination in Nevada by a large margin with a 9.81% win percentage, with quarters coming in a distant second place at an 8.06% win percentage.
Although the data is somewhat "polluted" by video poker at the quarter denomination and above, the visual provided by the graph below is still beneficial to demonstrate the poor bet penny slots are comparatively.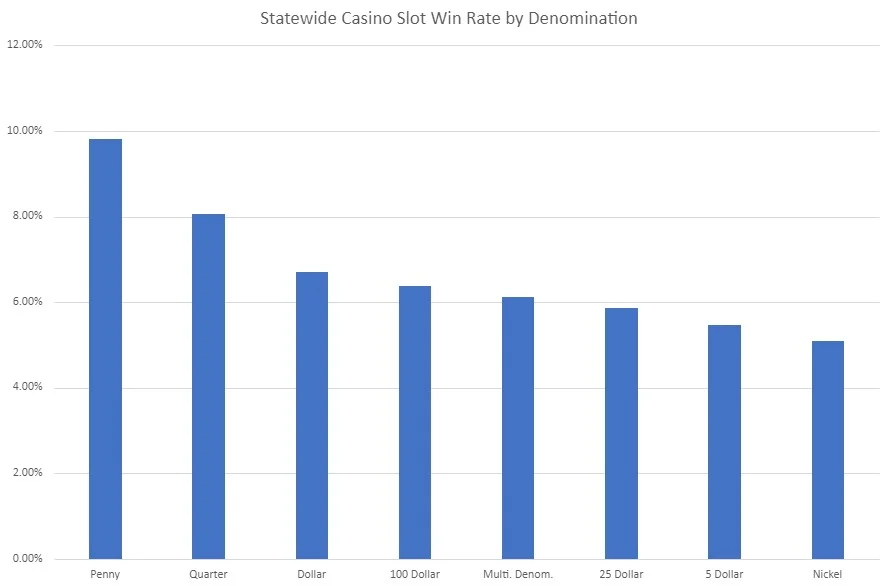 It's interesting to note that there's also a correlation between denominations and how loose or tight machines are. Generally speaking, the higher the denomination, the looser the slot.
If you're a penny slot player that plays 75 cents per spin or more, you'd likely give yourself a better chance of winning by playing the same bet on a higher denomination machine.
Of course, I never recommend betting more than you can afford to chase better returns. Slots at any denomination are a losing bet over time.
I'd also recommend that penny slot players brush up on their video poker skills as the returns are more favorable in comparison.
While looking at the numbers is a fun exercise, the random number generator could select you as the next big winner anywhere. Ultimately, the best slots to play in Vegas lie away from the main tourist corridors and at higher denominations.
Good luck, and hopefully my breakdown of 2022 slot data will help you on your quest in finding the loosest slots in Vegas!
Related: What are the BIGGEST casinos in Las Vegas?
Feature Image: ©bloodua/123RF.COM
I'm a former software salesman turned Vegas aficionado. While the craps table is my preferred habitat, I pull myself away to explore new attractions, shows, restaurants, and outdoor activities around Las Vegas with the intent of sharing my experiences.
Ultimately, I just want to help folks plan a better trip and save a few bucks in the process.