Anchoring the LINQ Promenade, the High Roller Observation wheel is an unmistakable part of the Las Vegas skyline.
An engineering marvel, the High Roller boasts 550 feet of height, and the wheel is supported by over 4.8 miles of cable.
Evenly spaced around the wheel are 28 spherical cabins, or "pods" that hold 40 people each. The pods sit on bearings that allow them to stay level throughout the entire 360-degree journey.
In addition to treating guests to a 30-minute spin with great views, the High Roller also offers some unique experiences that include Yoga classes in the Sky, rides focused on chocolate tasting, marriage proposals, and even weddings.
While a standard ride on the High Roller is impressive, I'm frequently asked if paying more for the Happy Half Hour package is worthwhile.
For those unfamiliar, several High Roller pods are fitted with a bar and for a nominal upcharge, you can indulge in unlimited drinks throughout the 30-minute ride.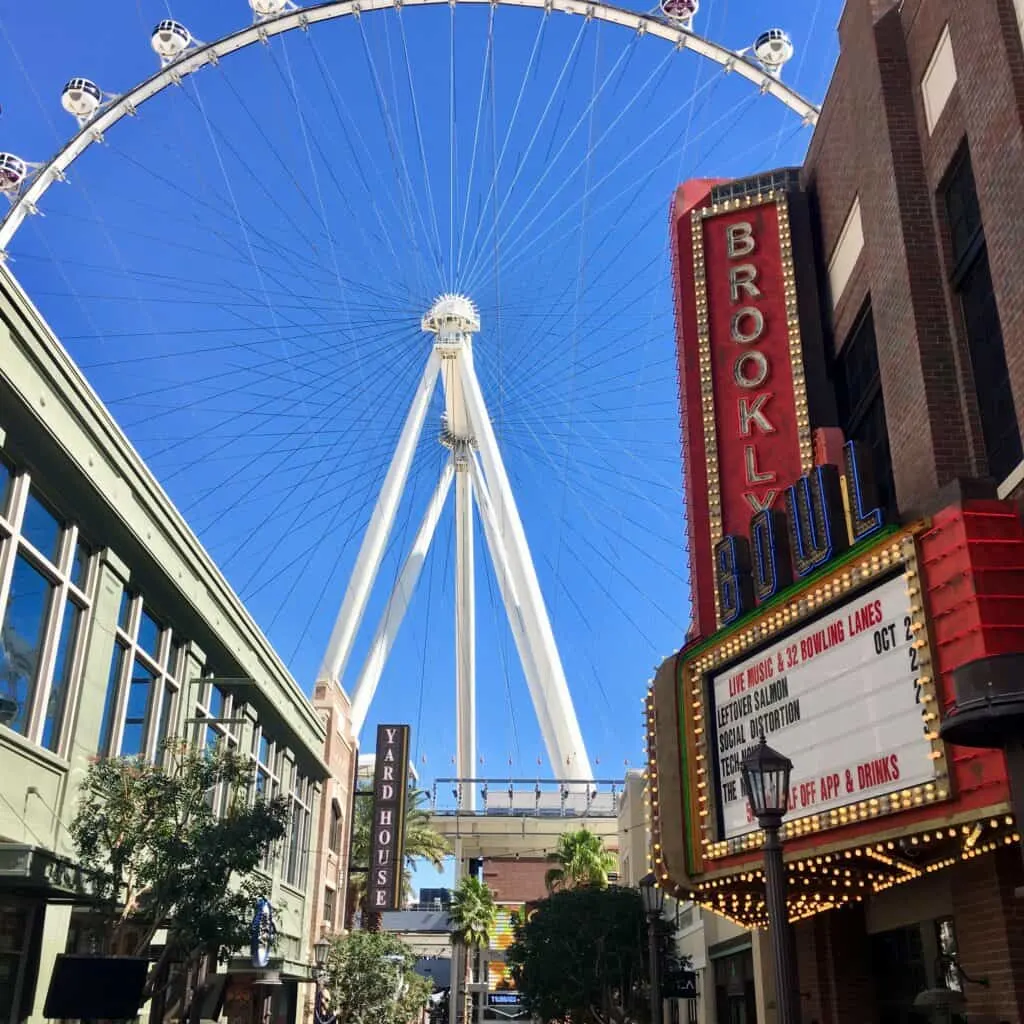 Happy Half Hour Cost
For reference, a standard (non-boozy) ride on High Roller will set you back around $25 – $35 per person depending on whether you're riding during the day or at night.
Pricing for the all-you-can-drink High Roller Happy Half Hour package starts at just over $60 and is good for use anytime.
Will You Get Enough to Drink?
Oh boy, in a word, yes.
I've personally now taken 2 spins in the Happy Half Hour pod and on both occasions left completely hammered.
While up to 25 guests competing for a single bartender's attention sounds daunting, rest assured that these are the most efficient bartenders you'll ever encounter.
Following the initial rush when everyone onboard is seeking a cocktail at the same time, drinks can be ordered almost instantly. You won't be disappointed with the speed at which you are served aside from the first 5 minutes.
You should easily be able to cram down 7+ drinks comfortably. I mean, you'll be full, but there is plenty of time and service capacity to churn cocktails out quickly. I've never left feeling short-changed or cheated.
As an added bonus, you're also able to grab a drink at the end of your ride to take with you as you exit your High Roller pod.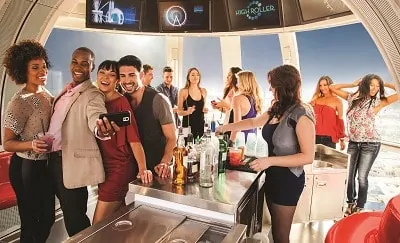 What Alcohol Options are Available?
Domestic canned beer (Bud Light, Miller Lite, Coors Light) is available as are liquor brands that include Jim Beam, Jack Daniels, Absolute, Skyy, Bacardi, Malibu, Beefeater, Sauza Tequilla, and more.
Mixers are available and bartenders are happy to craft your favorite cocktail.
High Roller Happy Half Hour Tips and Tricks
Tickets are often cheaper when purchased in advance, and prices can vary from vendor to vendor – Price your tickets out via the links below to identify the best deal!
Buying online in advance with the attraction will expedite your boarding process. There's rarely a substantial line to board the High Roller, BUT there is usually a substantial line to buy tickets at the counter. If you buy online, you bypass that slow-moving line and simply show a QR code on your phone to board instead of wasting a portion of your vacation. Even if you are at the base of the attraction, buy on your cell phone to save yourself a half-hour or more.
Grab a drink for the road! Although your ride will be coming to an end, your bartender can give you a drink to carry off and enjoy as you move on to your next activity.
Go when it won't be busy. Riding earlier in the afternoon will give you a better shot at a less crowded pod equating to better drink service.
It goes without saying, but if maximizing your consumption is your goal, stick to mixed drinks and shots. Seven 16-ounce Coors Light in your belly isn't the most comfortable. Trust me.
If you are not feeling up to the "all you can drink" challenge, you can simply buy the cheaper non-happy hour ticket and a cocktail or two before you board at the wheelhouse bar. Note that the drinks are expensive ($9 and up) and it's likely worthwhile to simply book the Happy half hour if you want more than one drink.
Don't be caught in an uncomfortable situation, bring plenty of singles for tipping.
Hopefully, this was a helpful review of what to expect when you board your Happy Half Hour pod on the High Roller. Even if you plan to just casually drink, it's a hell of a deal and worth the extra money.
Feel like you'd rather save the money and skip the bottomless drinks? Check out my review of a standard (& cheaper) High Roller ride!
See Also: Here are some additional all you can drink deals in Las Vegas!
I'm a former software salesman turned Vegas aficionado. While the craps table is my preferred habitat, I pull myself away to explore new attractions, shows, restaurants, and outdoor activities around Las Vegas with the intent of sharing my experiences.
Ultimately, I just want to help folks plan a better trip and save a few bucks in the process.