While there are many reasons Downtown Grand has been my "go-to" Fremont Street casino for some time, it pretty much boils down to value, location, and relative quiet.
While the hotel is solid, my favorite aspect of the property is the casino. Due to their location just off Fremont Street, the gaming floor is commonly uncrowded and offers low required minimum bets at table games when compared to peer resorts downtown. While I was there, they were dealing $1 blackjack, $5 and $10 craps, and $5 roulette.
While I've stayed in Downtown Grand's original hotel towers previously, I had yet to experience their new Gallery Tower which opened in 2020. I rented a Superior Room within that tower, and am excited to give you a look inside!
Check-in Experience
As I've mentioned before when reviewing Downtown Grand's Premium Room, checking in is painless when compared to mega-resorts on the Strip.
The line was short, and the process was quick. I also received a printout with helpful information about the property including amenity hours, parking info, and even coupons to use across the casino.
Within 5 minutes, I was armed with a room key.
Inside Downtown Grand's Superior Room
My first impressions of the hotel hallway were somewhat dicey.
I was amazed by the number of black scuff marks that were left on the walls, doors, etc. They were seemingly everywhere. While design elements like massive numbers on room doors, carpet, and artwork were a win, cleanliness was not.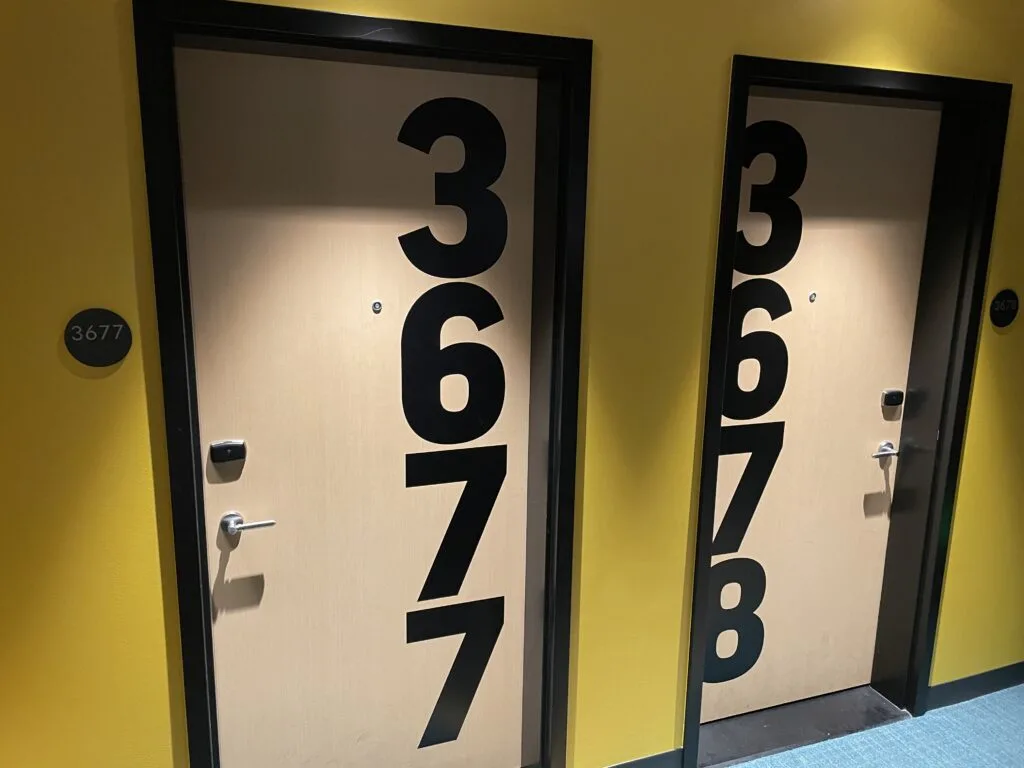 First impressions of the Superior Room room itself, however, were strong.
Compared to Downtown Grand's other room offerings, the Gallery Tower Superior Room had a modern, crisp, and clean feel. The bathroom was pretty spacious, and the in-mirror light fixture was a nice decorative touch.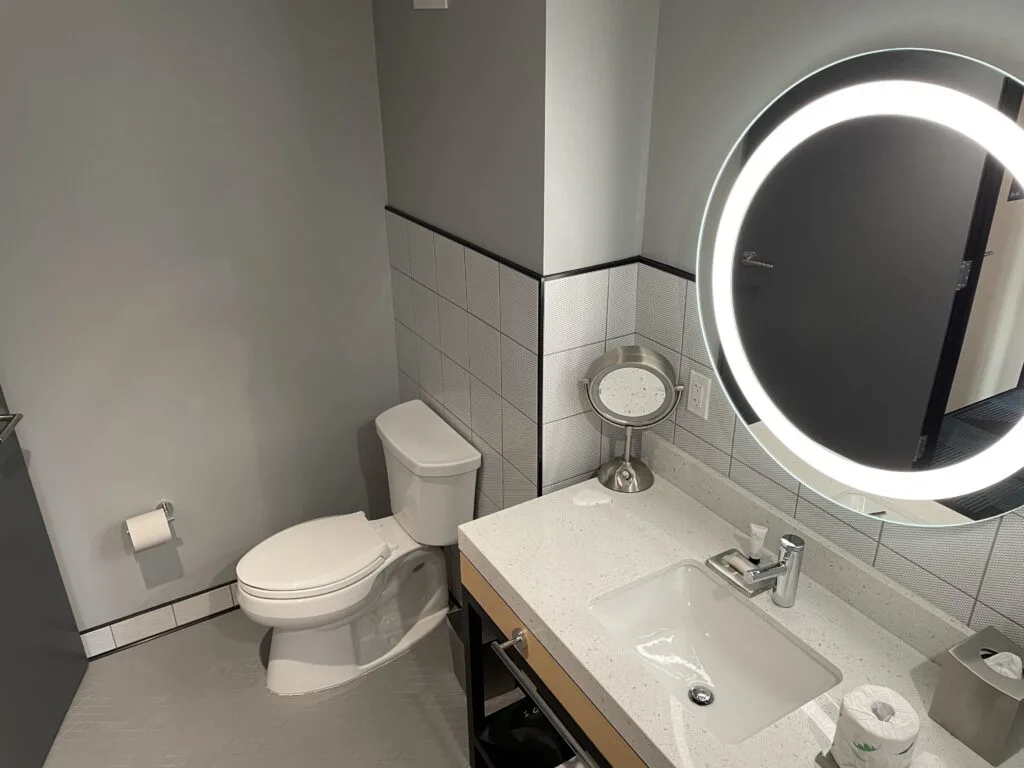 The shower had ample space and boasted a showerhead that was about 8 feet high, which is a huge win when you're a 6′ 4″ human. Nothing worse than having to cower to shower beneath a 5-foot tall spigot.
While it wasn't a huge deal, I'll never understand showers with a glass partition that only extends 1/2 of the shower's length. Perhaps I'm dense, but can't for the life of me figure out how to prevent water from getting on the bathroom floor.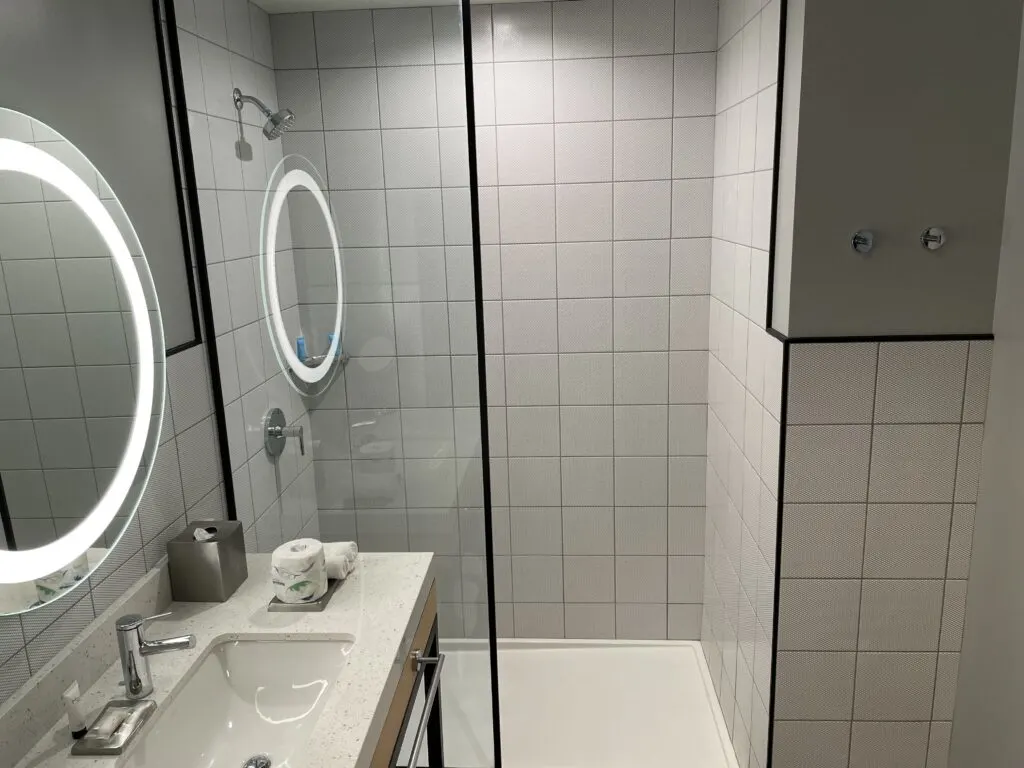 The bedroom itself was basic, yet had a modern, fresh, vibe. The two queen beds were comfortable, and both outlets and USB ports were available for device charging.
Along with modern wall art, the room came equipped with 2 complimentary 12 oz. bottles of water daily, an ice bucket, an iron, an ironing board, and a safe.
There was also a small desk chair and 2 ottoman-like stools with a small table.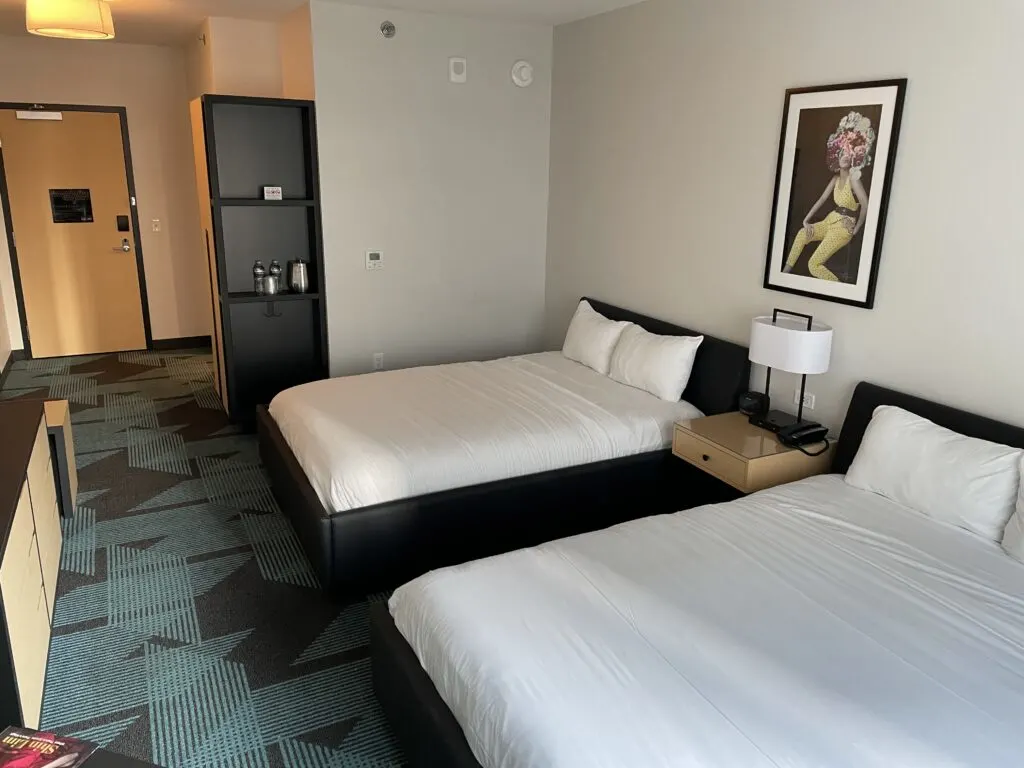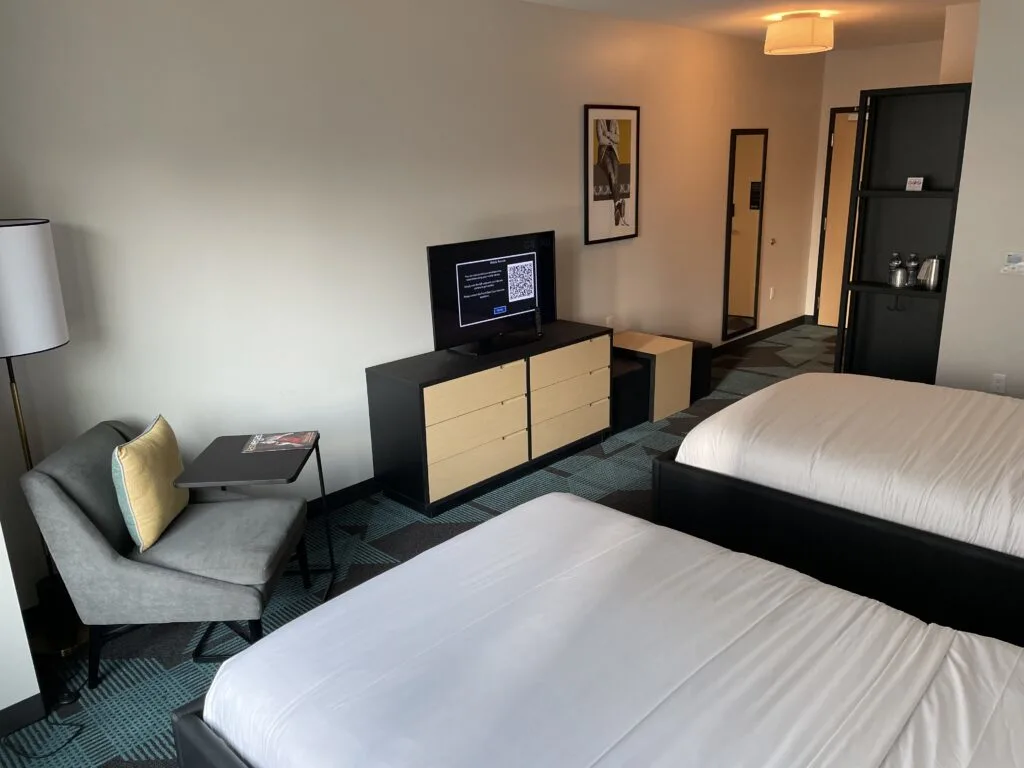 The one disappointing aspect of the room, although not a deal-breaker, was cleanliness. Remember the scuff marks I mentioned seeing all over the hallway? Those were also all over the interior of my hotel room. There were black scuff marks on the walls, baseboards, etc.
Besides that, the room was clean as a whistle. No dust, debris, or any type of nastiness to speak of. While the scuffs won't deter me from staying there again, it seemed odd that they were so prevalent on nearly every hotel surface in a tower that has been open for less than a year.
Perhaps I just received an unlucky floor and room assignment?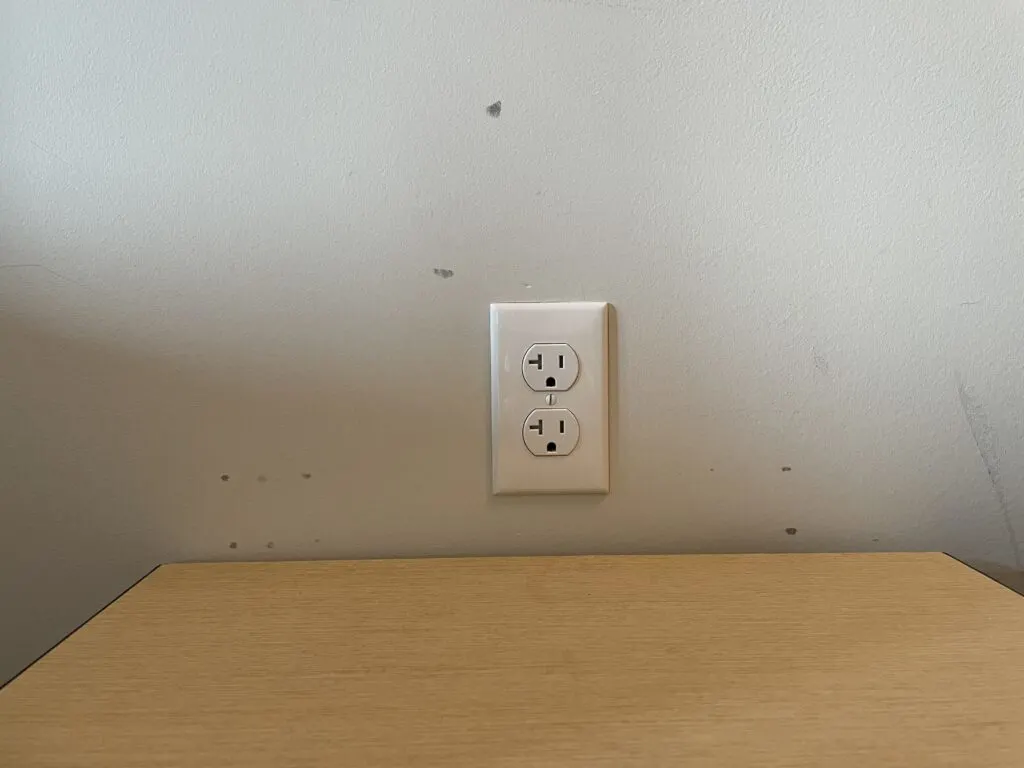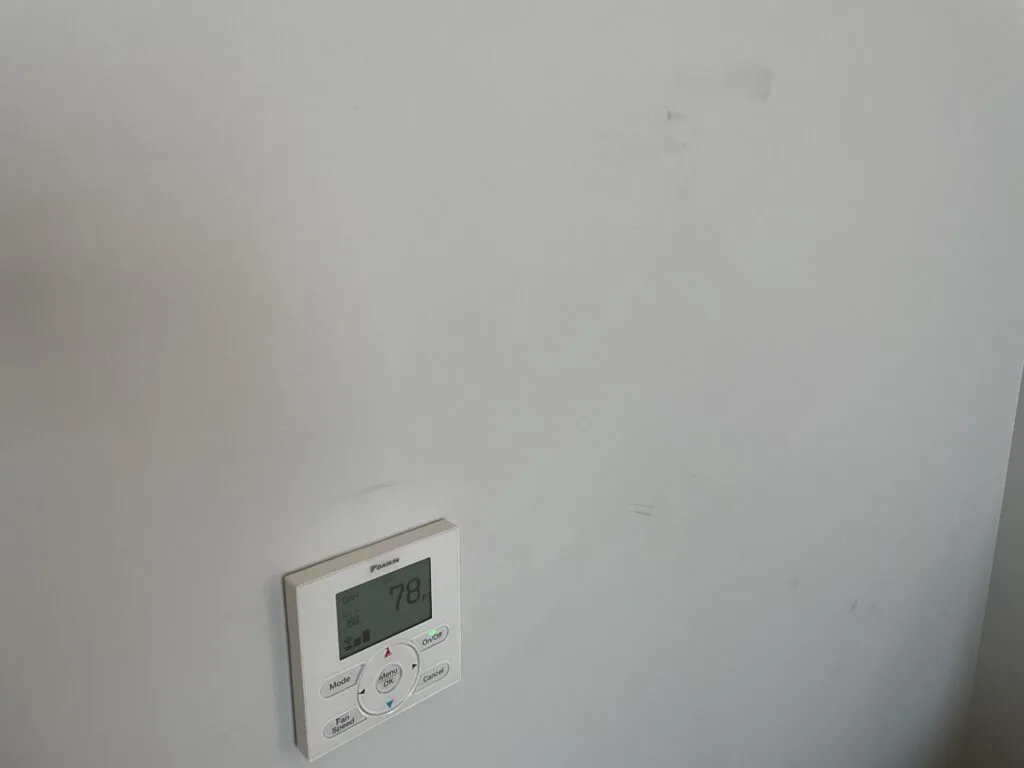 My favorite aspect of the Superior Hotel Room at Downtown Grand was how quiet it was. If you've stayed on Fremont Street, you know how difficult it can be to find a hotel room that is sheltered from live music, bucket drummers, and other ambient noise downtown. I couldn't hear a peep from outside.
Related: Quiet hotel rooms in Las Vegas – Here's where to find them on Fremont Street.
Smudges aside, we found the room to be worth the $107 per night we paid, which included taxes and fees.
Downtown Grand Property Amenities
Citrus Pool Deck: While not among the most awe-inspiring pools in Las Vegas, the Citrus Pool Deck on Downtown Grand's rooftop is among my favorites due to its laid-back vibe and the absence of crowds. I have never been unable to find a lounger… or ample amounts of sun.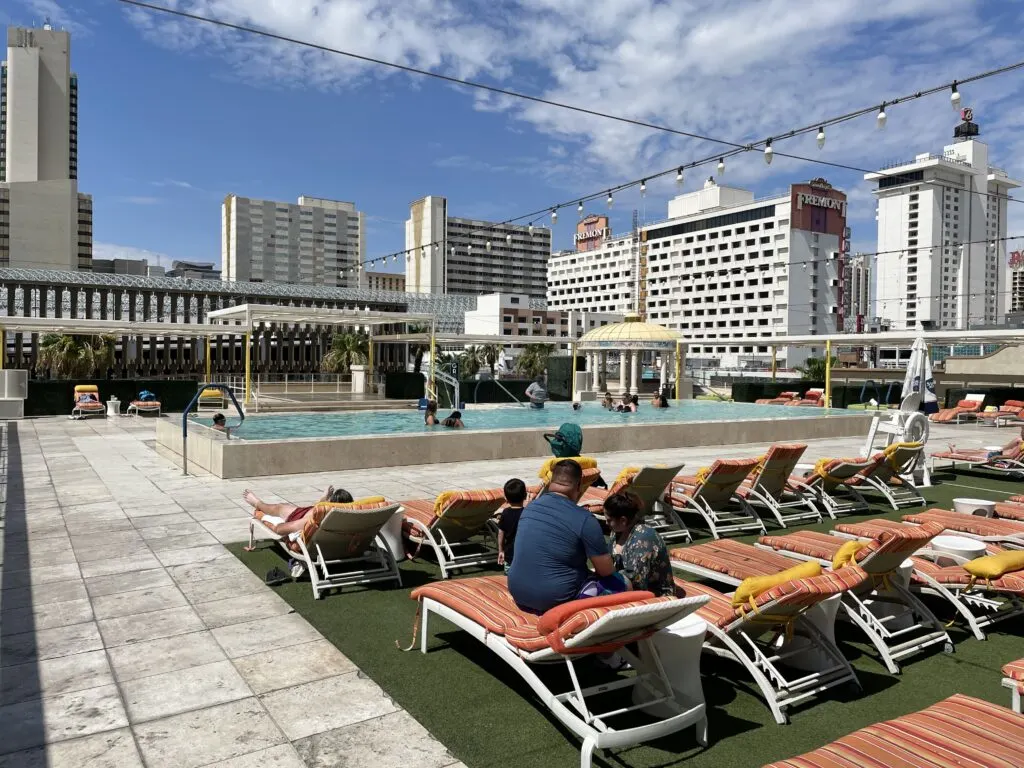 Budget Eats: Downtown Grand is among my favorite cheap places to eat on Fremont Street for a couple of reasons.
Freedom Beat, found just off the casino floor, is a casual sit-down restaurant with plenty of budget options. My favorite option on the menu is their Prime Rib Dinner which can be all yours for $14.99 as part of their "Gambler's Special". To qualify, simply rack up 25 loyalty points, which isnt hard, and print your coupon at the self-serve loyalty club kiosk. In addition to the Prime Rib, there are numerous other 50% off meal deals as part of the Gambler's Special.
Downtown Grand recently unveiled a hot dog cart on the casino floor that offers a $2 dog & PBR deal.
Pizza Rock, which we have crowned as the best slice of pizza in Las Vegas, is just across the street and as inexpensive as it is delicious. Seriously, if you don't like it, you're not a rational human being.
In addition to those options, Downtown Grand is also home to Triple George, an upscale steakhouse and Art Bar which is a coffee shop.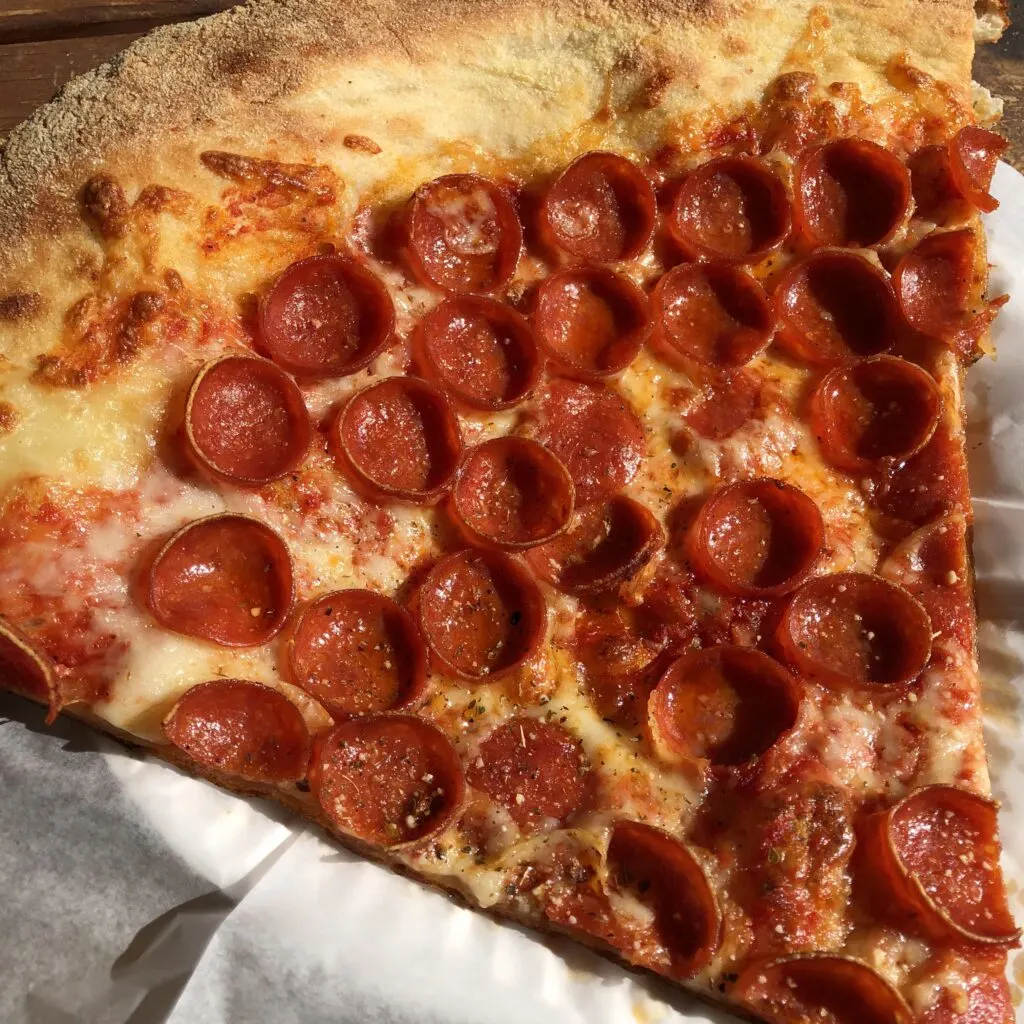 Related: Property by property breakdown of where to eat cheap on Fremont Street.
Gambling at Downtown Grand
This is what keeps me coming back to Downtown Grand – Gambling. For low to mid-rollers, Downtown Grand is tough to beat as one of the last casinos on Fremont Street to offer $5 Craps and Roulette.
Additionally, they offer blackjack as cheap as $1 per hand.
My brother, dad, and I spent more time at the craps table than we're proud of and thoroughly enjoyed the crew, who were engaging, funny, and made the game an absolute blast. If you stop in to play, throw a few bets out for 'em and you're sure to get the same treatment.
The casino itself has a modern feel and is rarely crowded. Another favorite pastime of ours is pecking away at the bartop video poker at Furnace Bar. Few things beat slamming free drinks while chasing their Royal Flush progressive jackpot (which was as high as $2,700 when I was there).
The bottom line is that Downtown Grand's casino is a cheap, uncrowded, low-key place to gamble with frequent (and I mean almost TOO frequent) drink service.
All considered, I enjoyed my stay in the new Gallery Tower at Downtown Grand. While they need to send someone around with a rag and spray bottle to erase the abundance of scuff marks, I found their Superior Room to be comfortable, modern, and quiet. I'll definitely opt for the Gallery Tower when staying on Fremont Street next time (unless I can snag a cheap room at Circa of course).
See Also: Want to see more rooms? Check out some of our other reviews:
I'm a former software salesman turned Vegas aficionado. While the craps table is my preferred habitat, I pull myself away to explore new attractions, shows, restaurants, and outdoor activities around Las Vegas with the intent of sharing my experiences.
Ultimately, I just want to help folks plan a better trip and save a few bucks in the process.