Who needs random celebrity sightings in Las Vegas when they can be manufactured at a wax museum?!
Madame Tussauds is found within Venetian and is packed with realistic wax versions of celebrities that range from musicians and actors to politicians and superheroes.
As it had been years since I last visited Madame Tussauds Wax Museum in Las Vegas, I figured it would be fun to swing in to see what was new.
Of course, I'll be sure to share plenty of photos to help you determine if the wax museum deserves a slot in your Las Vegas itinerary.
Madame Tussauds Cost
There are 4 distinct ticketing options at Madame Tussauds:
Admission + Marvel Universe 4D Experience + Digital Photos: $43.99
Admission + Marvel Universe 4D Experience + Carnival Carnage 7D + Digital Photos: $49.99.
Admission + Marvel Universe 4D Experience + Carnival Carnage 7D + Digital Photos + Cocktail: $56.99
Inside the Wax Museum
The first stop in the wax museum is a green screen photo opportunity that is either included in your ticket (if you upgraded to one that includes the Photo Pass), or will be available for purchase at the end of the visit.
As I was scoping Madame Tussauds out alone, I decided to blow past the photo opp.
I visited right away in the morning and avoided the crowds, and was essentially walking through the exhibits by myself. Highly recommended. Get there right when they open!
Just as I remember from my visit years ago, the wax figurines are stunningly realistic.
Unnervingly, there were several occasions when I mistook a wax figure for a real person upon entering a room. While it's a testament to the artistic ability of the sculptors, moving through a room with ultra-realistic depictions of individuals frozen in time is a bit creepy.
Safe to say that I wouldn't want to be on the overnight cleaning crew.
Madame Tussauds does a great job of memorializing a wide variety of public figures in wax form that ranges from rappers to NASCAR drivers. There's a celebrity or two for all tastes, interests, etc.
Below, is a sampling of who you can expect to see at the Wax Museum:
Drake
Prince
Michael Jackson
Brad Pitt
Johnny Depp
Matthew McConaughey
Sister Mary Clarence
Don King
Babe Ruth
Mohammed Ali
Dale Earnhardt (with other drivers)
Channing Tatum
Jack Nicklaus
RuPaul
Daft Punk
Shaq
Miley Cyrus
Jimi Hendrix
Stevie Wonder
Snoop Dogg
Mike Tyson
Alan and Phil from "The Hangover"
Elvis
Samuel L Jackson
Ace Rothstein
Criss Angel
Sigmund & Roy
Liberace
Bugsy Siegel
Blue Man Group
The Rat Pack
Louis Armstrong
Evel Knievel
George Clooney
Hugh Hefner
Katy Perry
Justin Bieber
Tupac
Biggie Smalls
And More…
A newer addition since my last visit, I found scenes and characters from "The Hangover" to be a fun section of the museum.
Of course, you can take as many pictures as you'd like, and snap a selfie with your favorite celebrity.
Here are a bunch of photos of the wax museum that I captured: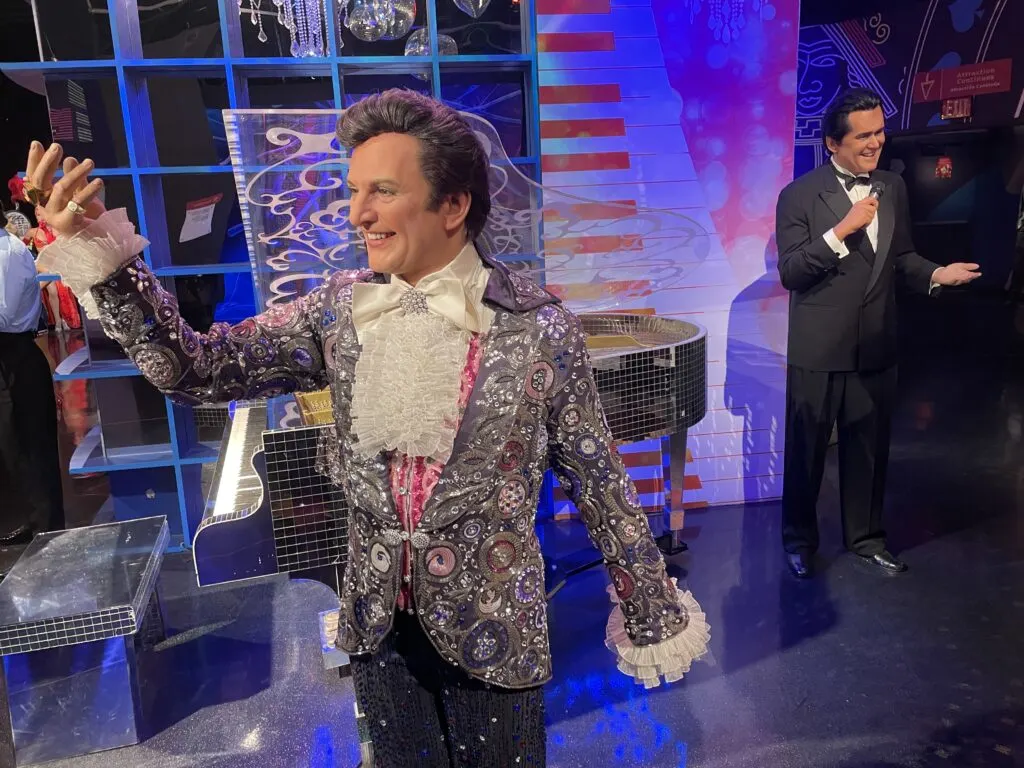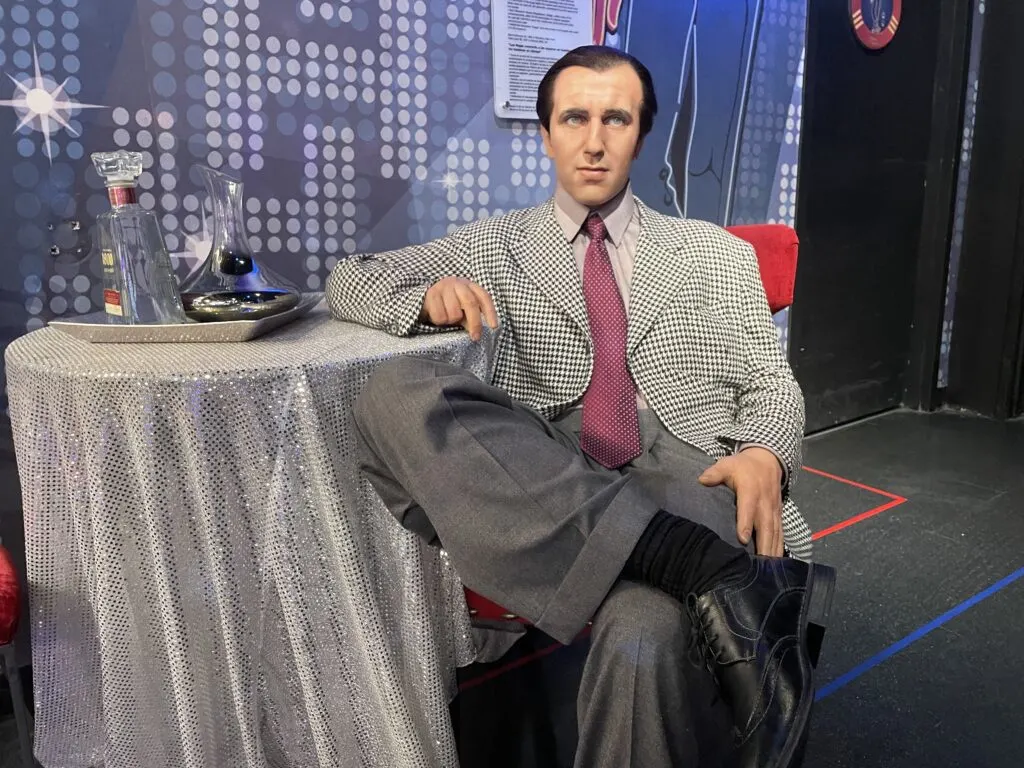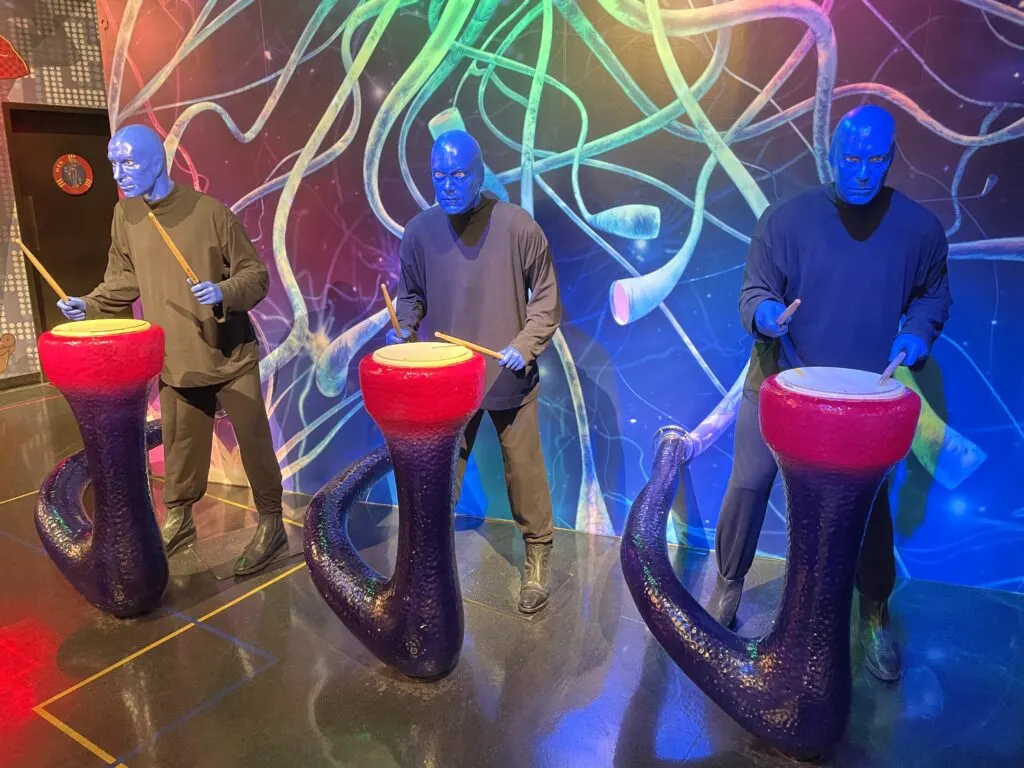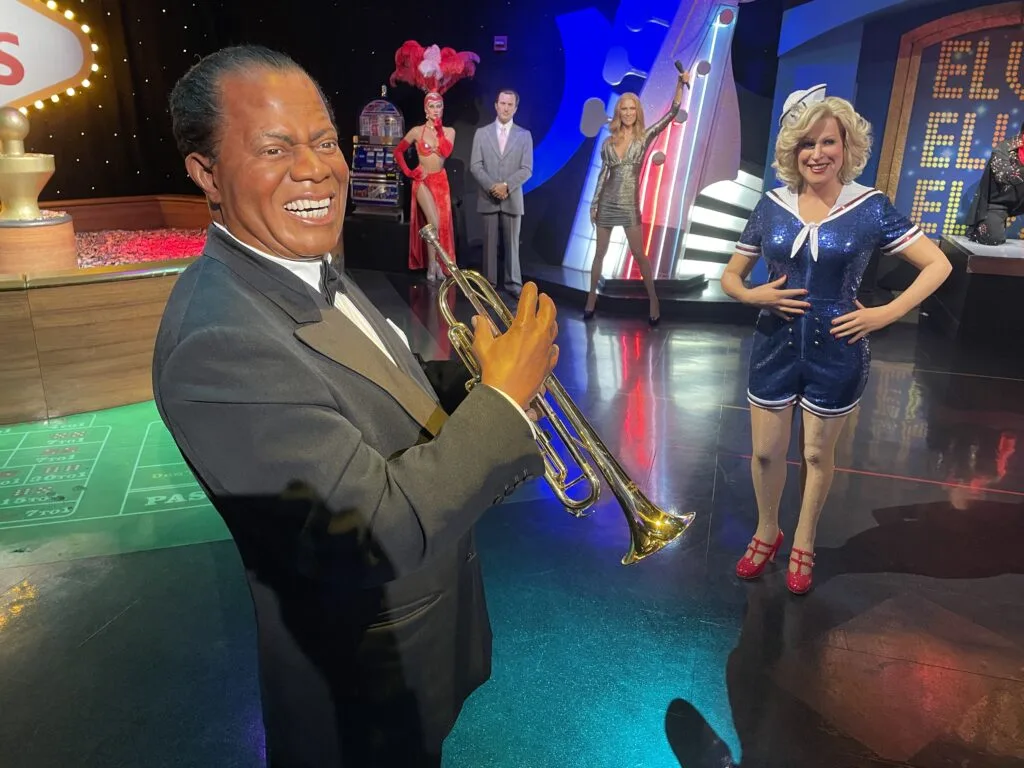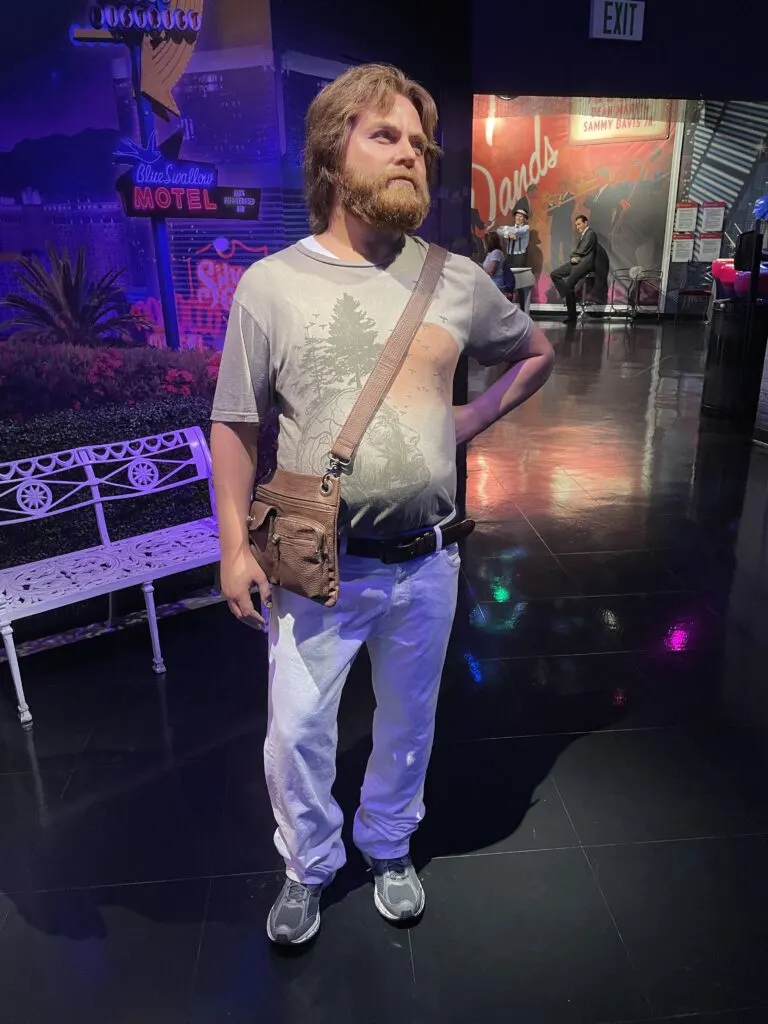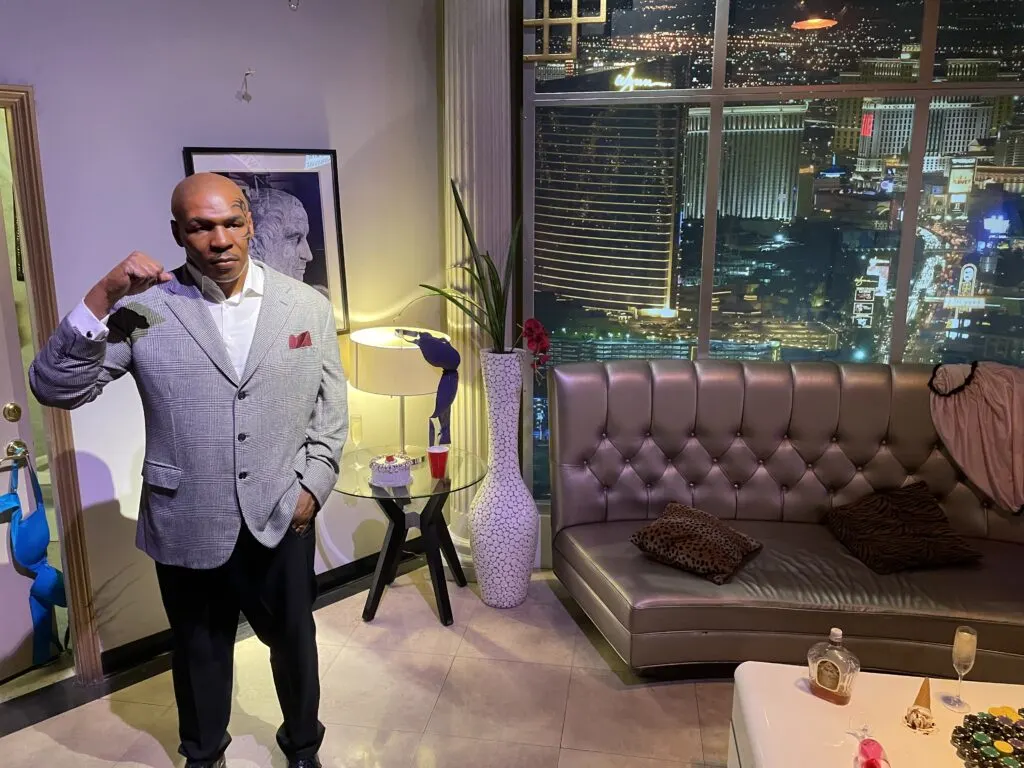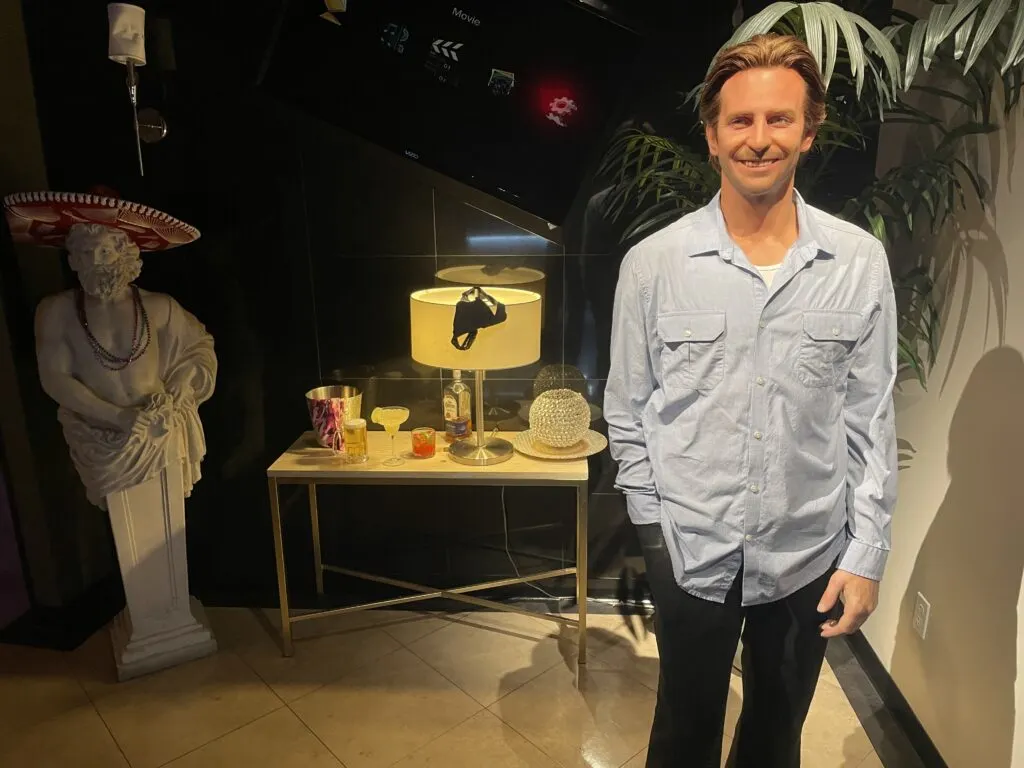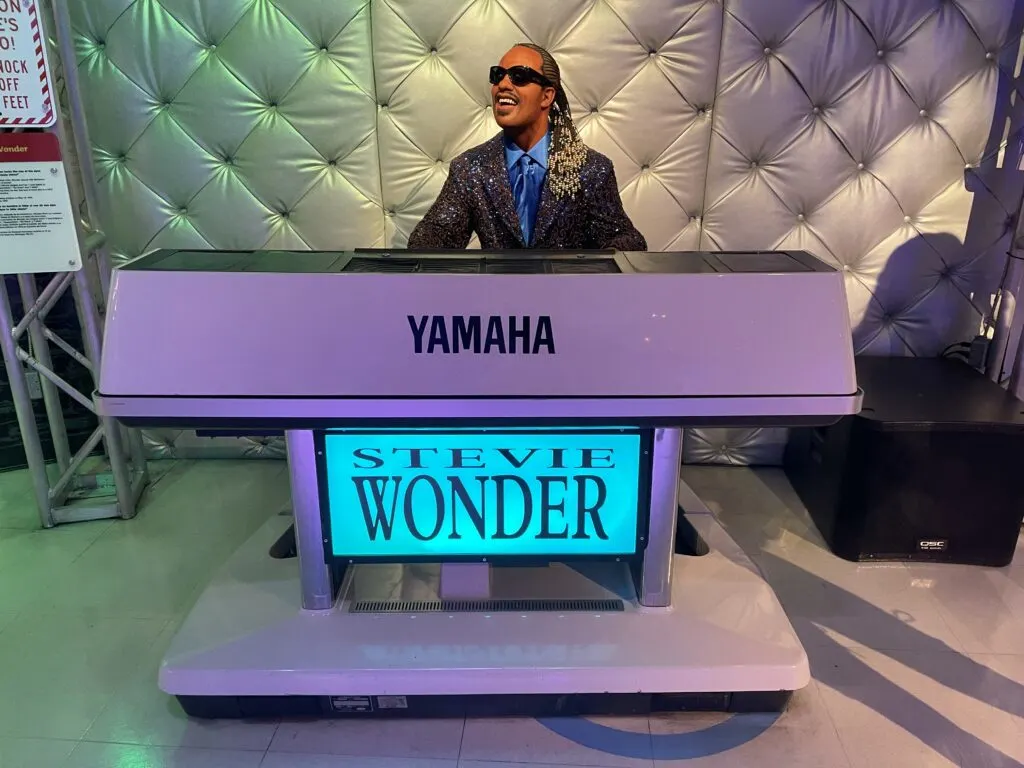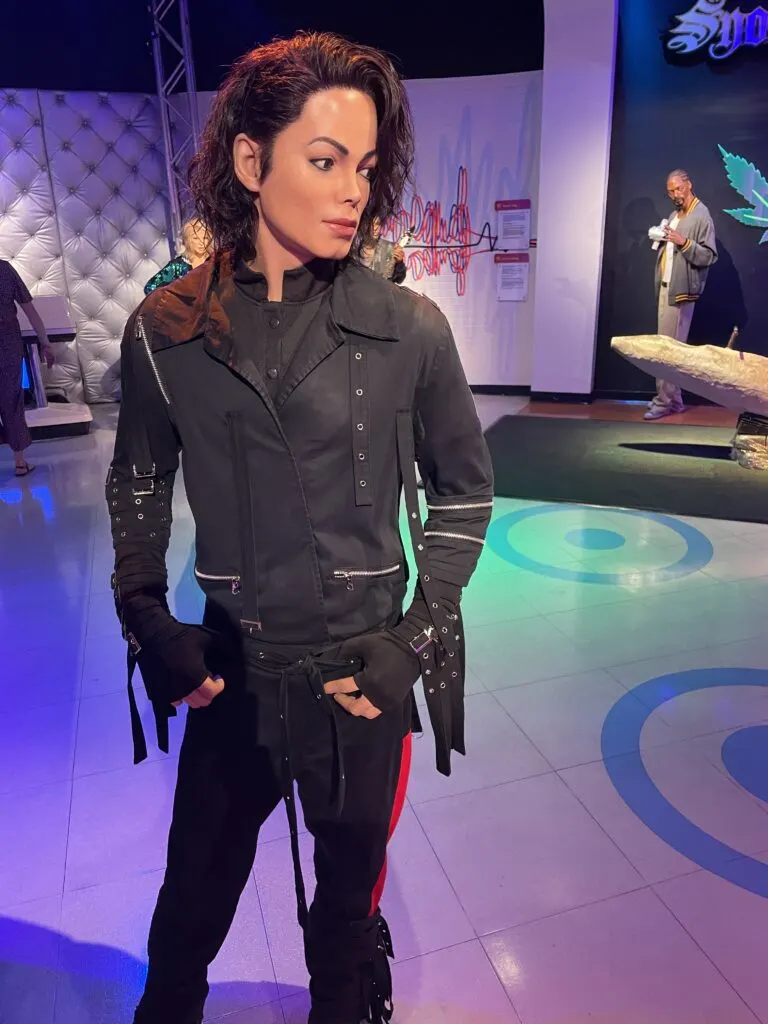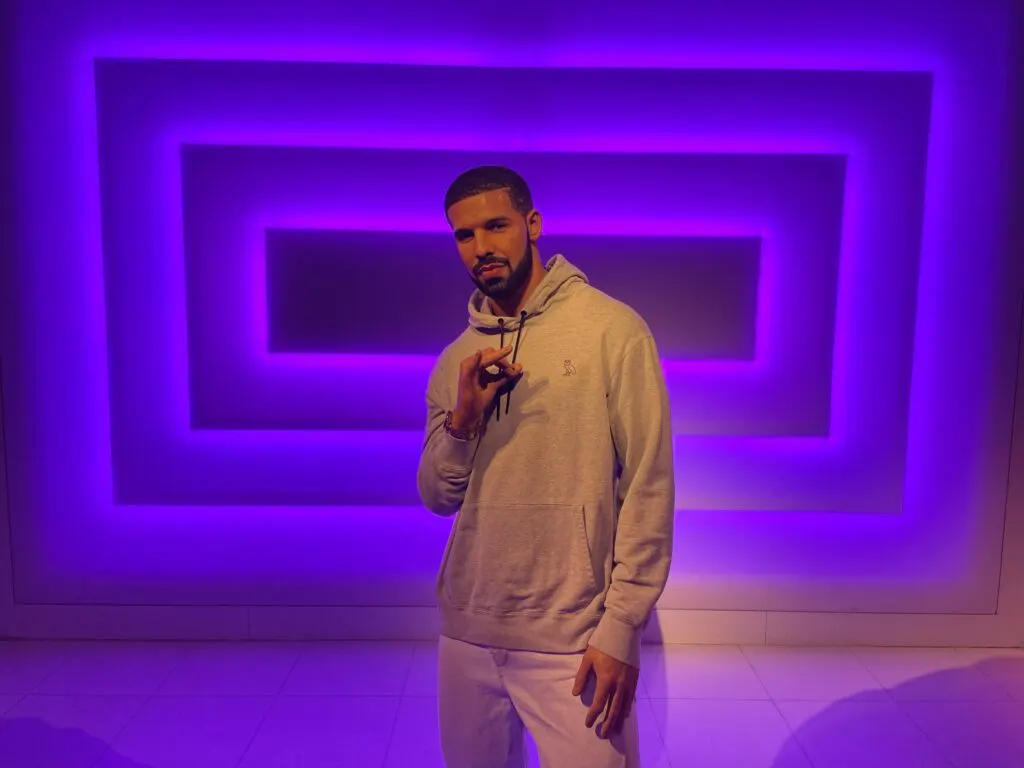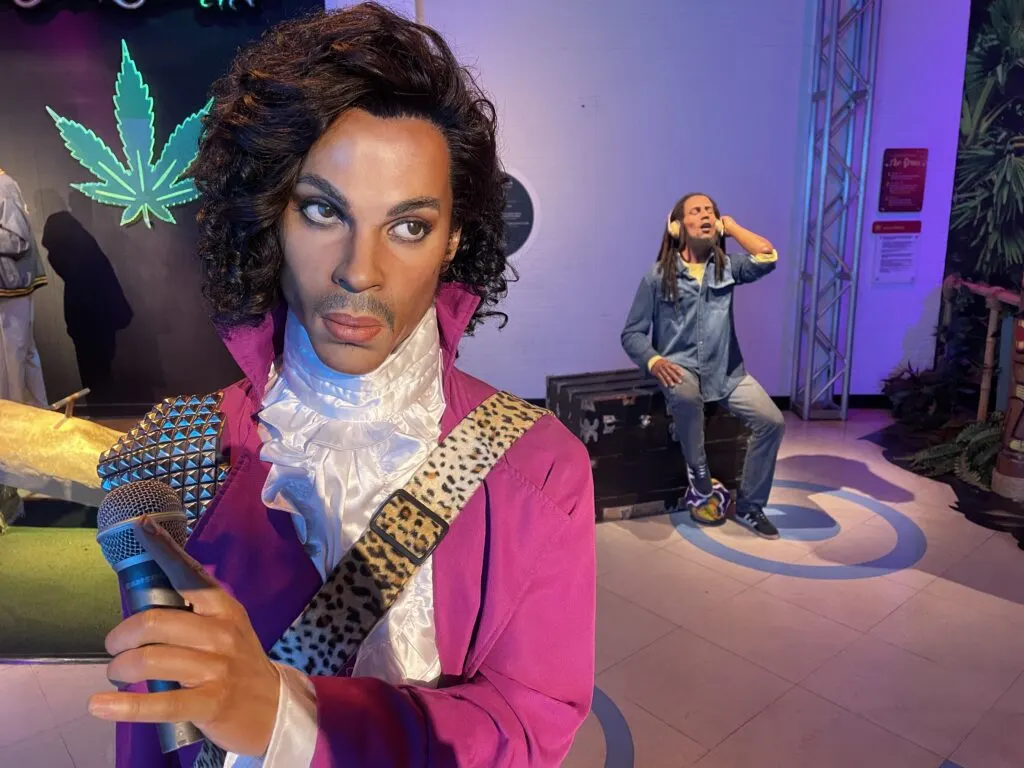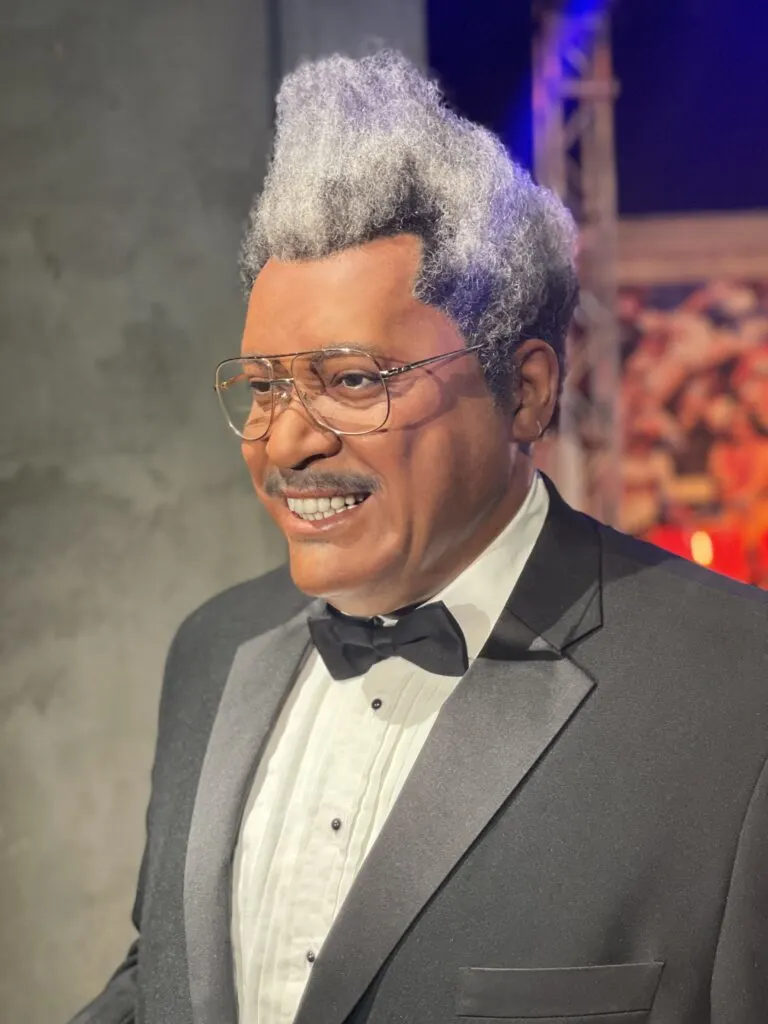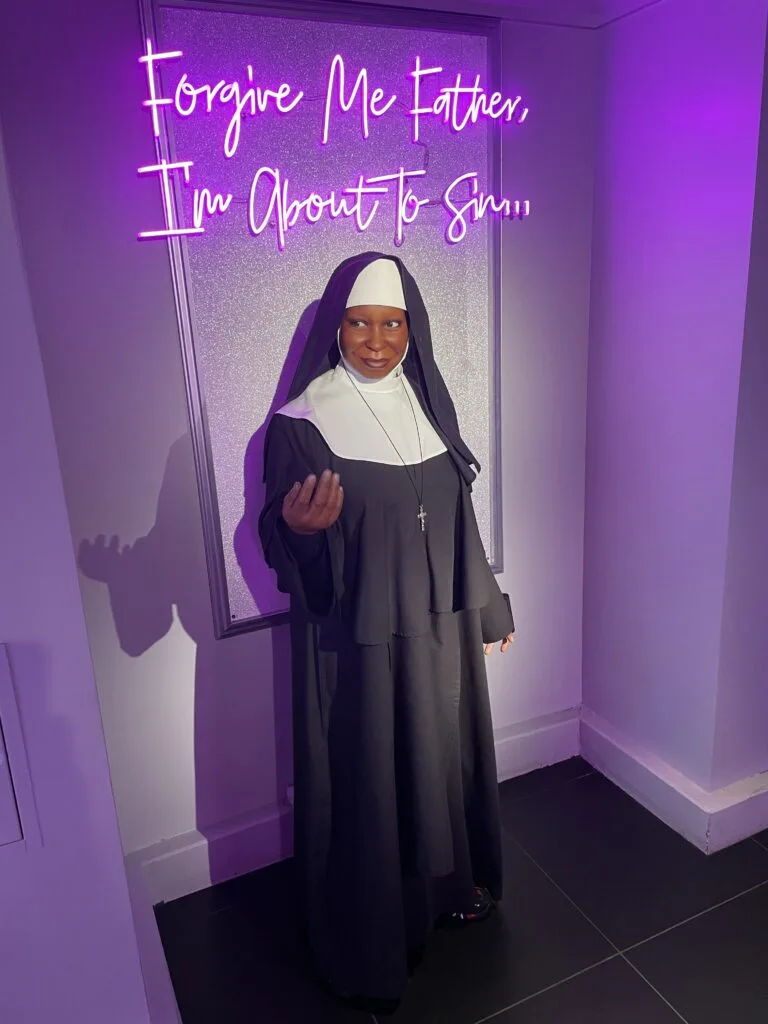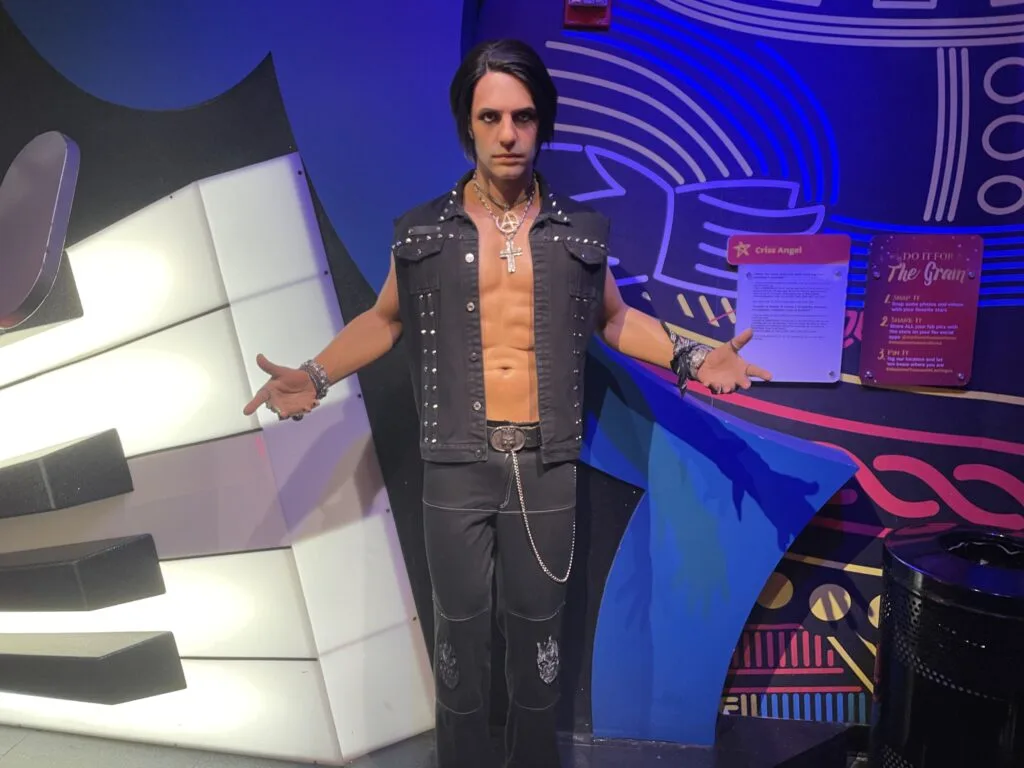 What I Liked About Madame Tussauds
It's 50 Photo Ops in 1: Those of you that enjoy taking fun vacation photos for an album, etc. will love Madame Tussauds. Guests are able to walk right up to their favorite celebs in wax form, put their arms around them, and take the perfect photo or selfie.
In addition to the typical photos next to wax figures, there are a number of more interactive photo opportunities.
A couple that I found most interesting were the opportunity for guests to climb up onto a wrecking ball (Miley Cyrus), or crawl into a small bed next to Hugh Hefner.
Theatrics on Point: Every time you turn the corner, there's some new eye candy to take in. Some rooms are intricately themed, and a good portion of the wax figurines have their own "set" or background that makes for a better photo. As mentioned, I especially enjoyed the wax museum's new "Hangover" display.
What's Not to Like
It's A Quick Hitter: Even if you stop to take pictures with most of the wax figures, you'll be wrapped up relatively quickly. I was in and out in about a half-hour. For the price you pay, it feels as though it's over too quickly.
Unwanted Ticket Upsell…: Perhaps this is my mistake for not paying attention, but I was automatically upsold at the ticket window, which grinds my gears. I walked up and requested one ticket, assuming they'd sell me the cheapest option, paid, and went on my way.
I realized at the end of the tour that I was sold a higher-tier ticket that included both the photo pass and the Marvel 4D Experience – Neither of which I took advantage of because I didn't realize they were included in my ticket…
Automatically assuming people want a more expensive ticket than your baseline option seems like a shady business practice.
Is Madame Tussauds Las Vegas Worth the Money?
It depends.
If you're a "celebrity watcher" and enjoy capturing unique vacation photos, then Madame Tussauds could certainly be worth visiting.
Even if you're not an avid "E!" watcher, or don't care about capturing the perfect selfie, this could be a fun diversion from the typical rundown of Vegas activities and vices like gambling, etc.
A wax museum like Madam Tussauds appeals to a certain type of visitor, and I think you'll know if you fall into the target market if my photos above appeal to you.
Personally, I was reminded why it's been over 10 years since my last visit. While the wax museum certainly qualifies as a unique, cool, and differentiated, it isn't something I plan to spend $44+ on again in the near future.
In my opinion, Madame Tussauds Wax Museum doesn't quite live up to the cost of admission, however, with 4/5 stars awarded on TripAdvisor after 5,100+ reviews, others clearly disagree.
Related: Get some more itinerary inspiration:
I'm a former software salesman turned Vegas aficionado. While the craps table is my preferred habitat, I pull myself away to explore new attractions, shows, restaurants, and outdoor activities around Las Vegas with the intent of sharing my experiences.
Ultimately, I just want to help folks plan a better trip and save a few bucks in the process.