Key Points:
I had completely underestimated what the view would be like from Paris' Eiffel Tower Observation Deck – It was amazing.
One thing I immediately appreciated was how quiet it was once up there – The sounds of the Strip seemed so distant.
For my money, this is the best perch to photograph the Las Vegas Strip from – I blew a couple of them up to be framed in fact.
While I've walked past Paris' replica Eiffel Tower hundreds, if not thousands, of times, I've never taken the ride to the top.
I don't know why, exactly. It just isn't something I've prioritized.
That all changed when I was at Paris recently and walked by a sign that stated the Eiffel Tower Experience observation deck opened at 5pm. I looked down at my phone and the time was 4:56 pm – A sign.
I snagged a ticket online, walked to the elevator, and was on my way up to the observation deck within 10 minutes.
Below, I'll detail my experience with plenty of pictures so that you know what to expect!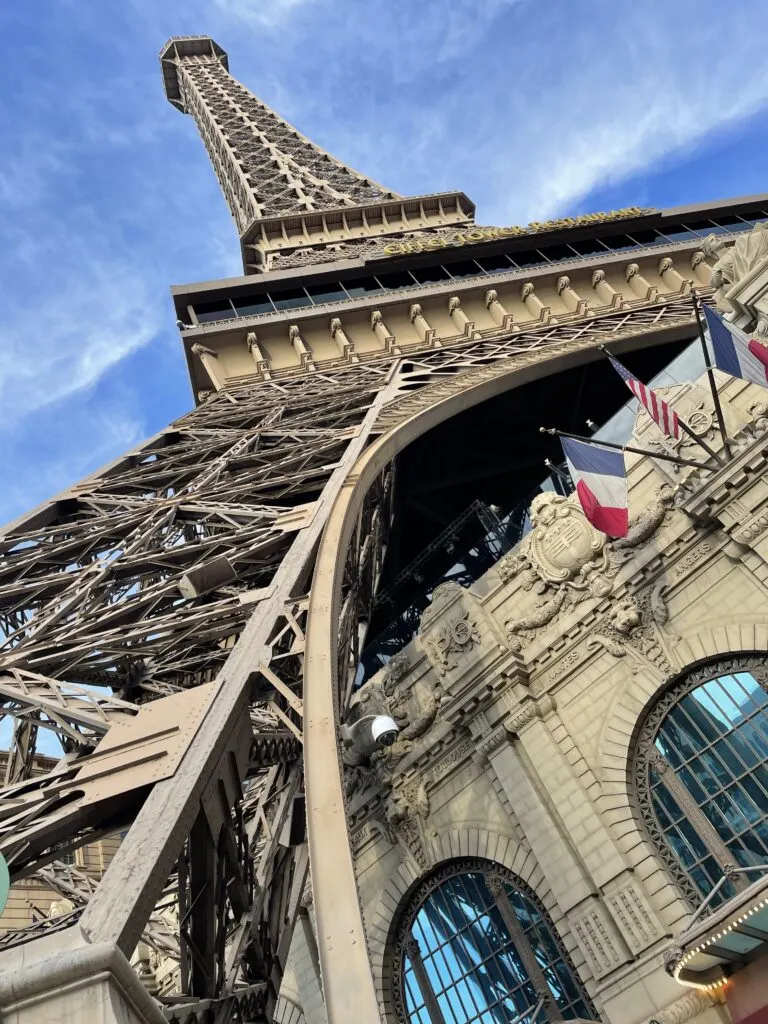 Eiffel Tower Experience Cost and Ticketing
While there's a physical ticketing counter just inside the front entrance of Paris, it doesn't appear to be open often.
It's much more convenient to purchase tickets online with the attraction, here. You'll then conveniently have your ticket right on your phone.
Tickets cost:
Adult: $24.50
Youth (Age 14 and under): $19.50
There is also a locals discount of 20% and an identical military discount.
Eiffel Tower Experience Fast Facts
The replica Eiffel Tower at Paris is a 1/2 scale version of the original in France and is made with 5,000 tons of steel.
The observation deck is 46-stories (541 feet) up in the air, and provides a 360-degree view of Las Vegas.
Recently, Paris invested $1.7 million to install 300 color washing lights, and 800 strobe lights to the Eiffel Tower to create a free light show that can be seen every 30-minutes from sunset to midnight.
The Eiffel Tower Experience
Once I made it to the attraction, I was directed to an escalator on the casino floor that ushered me to the second level.
There, I was able to walk over a Parisian-themed bridge that spanned above the sea of slot machines below. A pretty cool vantage point and visual reminder of how much I personally love themed properties in Las Vegas.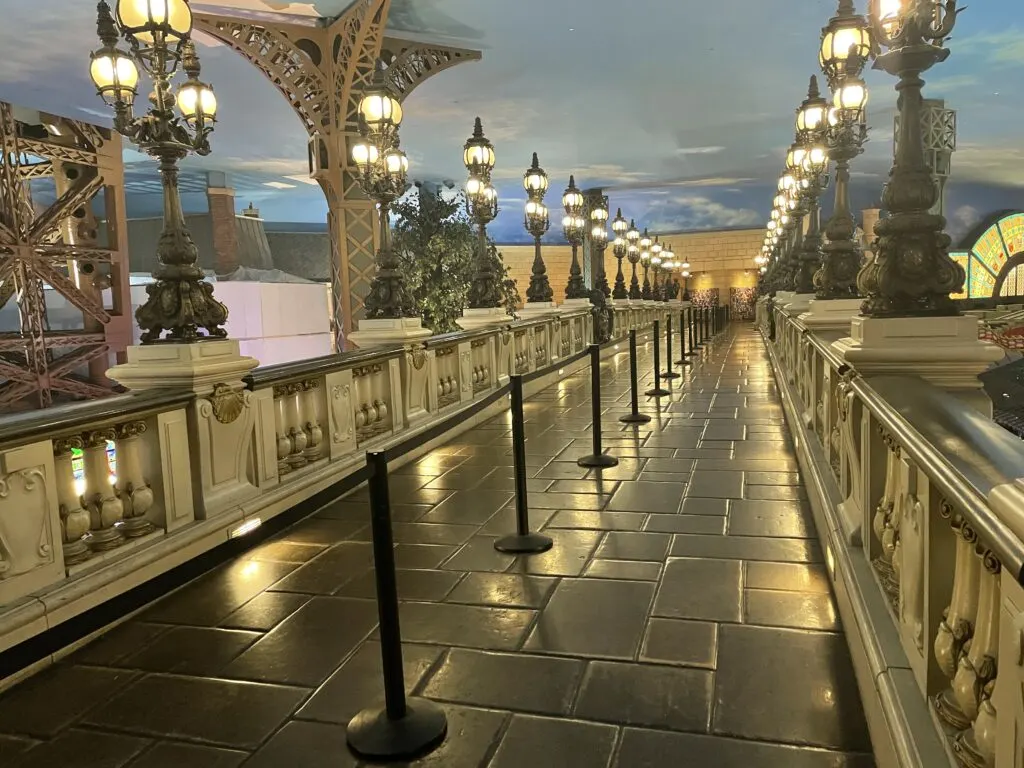 The bridge led to the elevators that would bring my group to the top of the Eiffel Tower, of which there are 4, each triangular in shape.
On the way up, an employee gives some fun facts about the tower and points out when the elevator passes the popular Eiffel Tower Restaurant and Chateau nightclub… which opens at 10:30 pm.
Do people really stay up that late?!
Anyway, stepping off the elevator at the top of the tower is pretty surreal. Not only is the view spectacular, but absent is the street-level noise that you'd expect to hear outdoors in Las Vegas.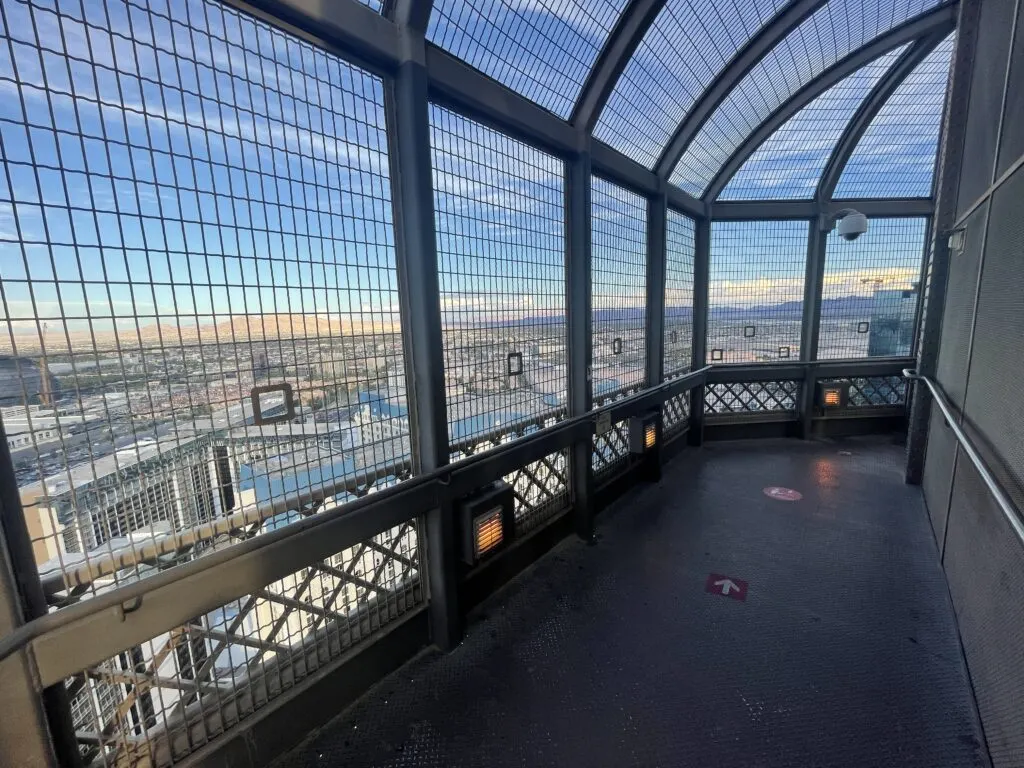 Visitors are encouraged to move around the viewing deck in a circular, clockwise, fashion by arrows on the floor, although it wasn't exactly a hard and fast rule. Nobody will accost you if you move against the grain.
I'm sure the attraction gets busier after dark, but it wasn't all that crowded when I visited at around 5 pm. I had no trouble getting the view, photo, or video I wanted.
Although you're surrounded by fencing, there are little square holes that allow you to snap some pretty unreal photos of surrounding resorts on the Strip below. Hold onto your phone tight, however… There were a few occasions where I almost lost mine.
Although there are 15-20 minutes between shows, it's worth your time to stay and see at least one Fountains of Bellagio performance.
Here are a few pictures that I was able to capture from the observation deck: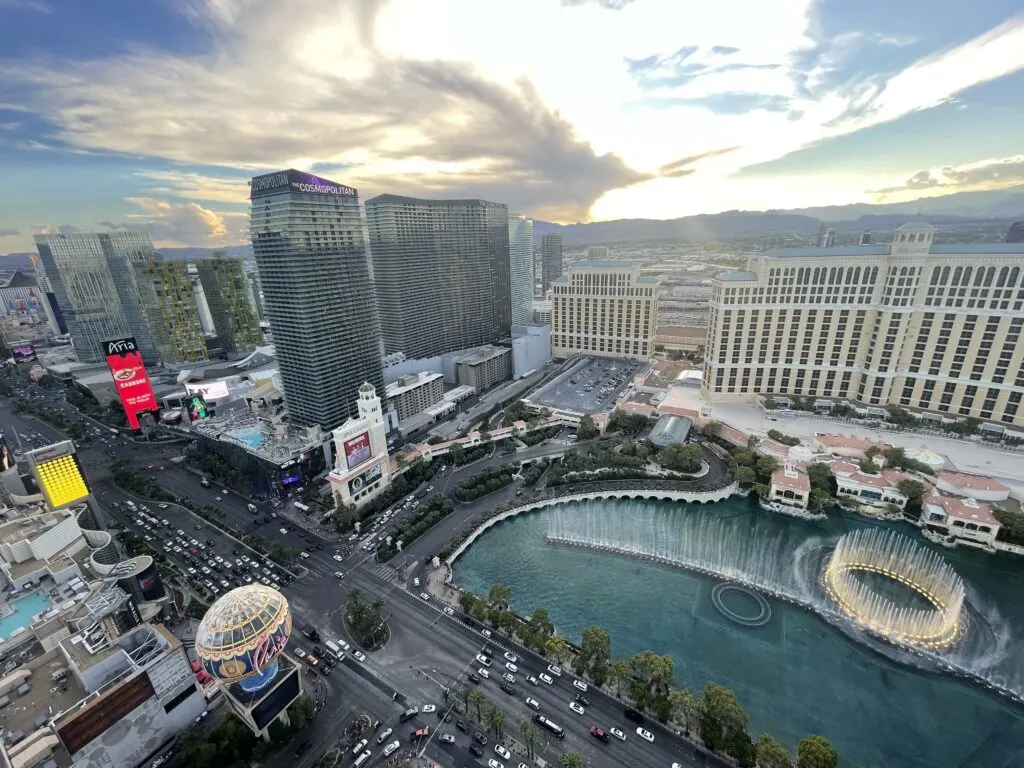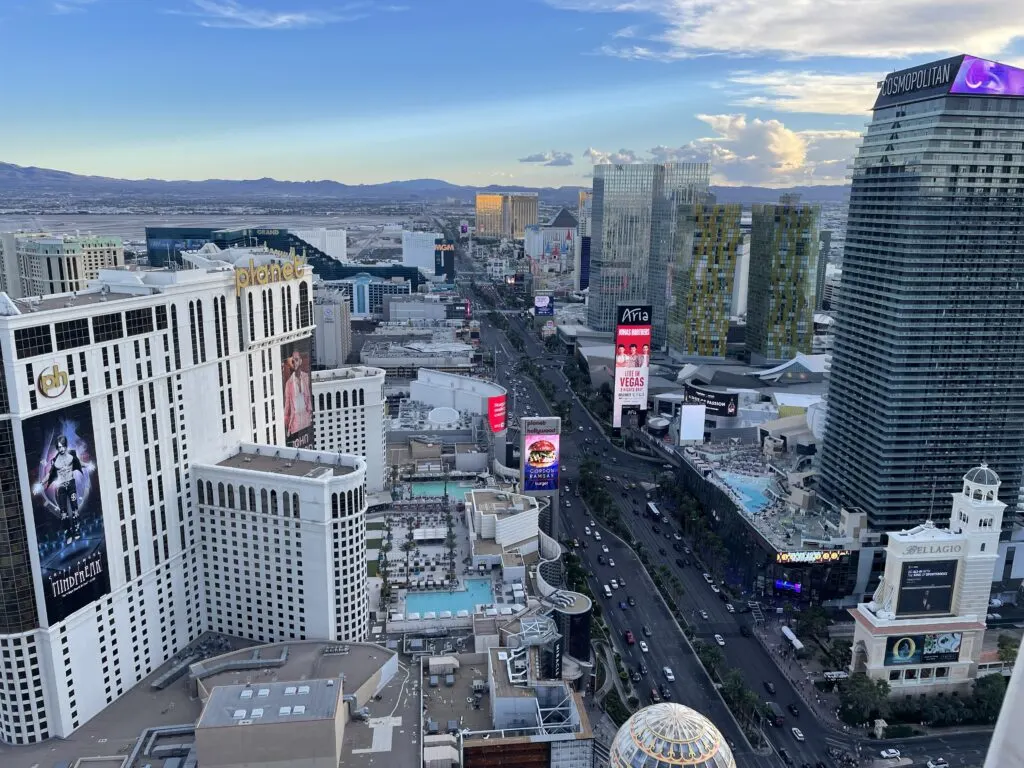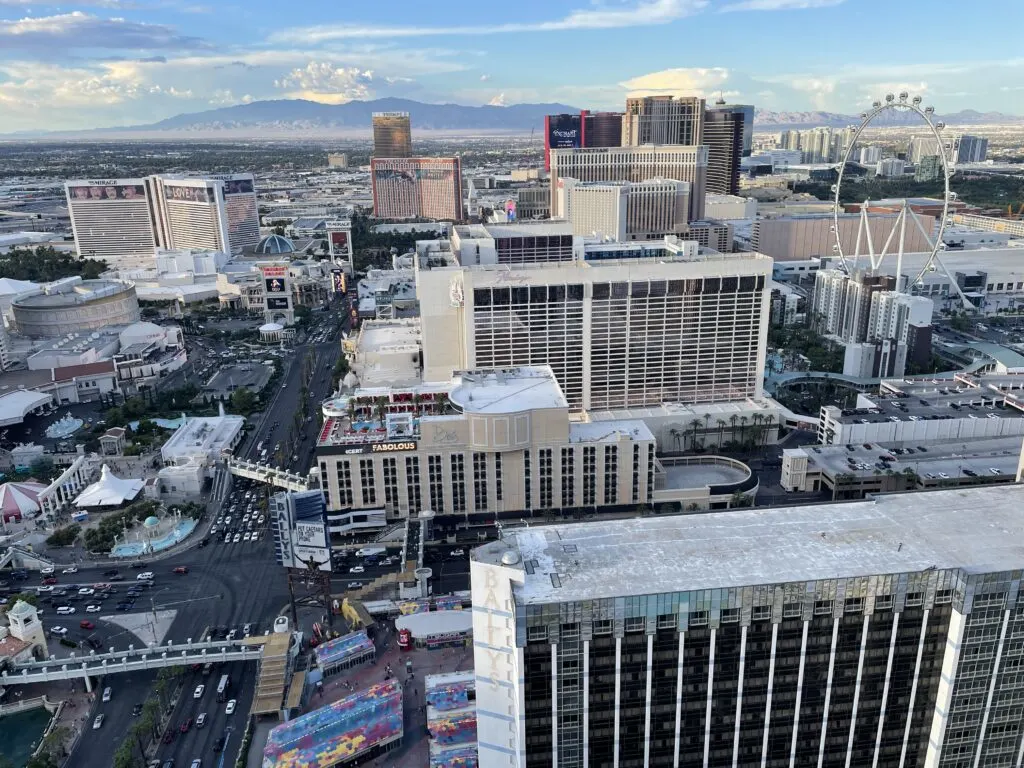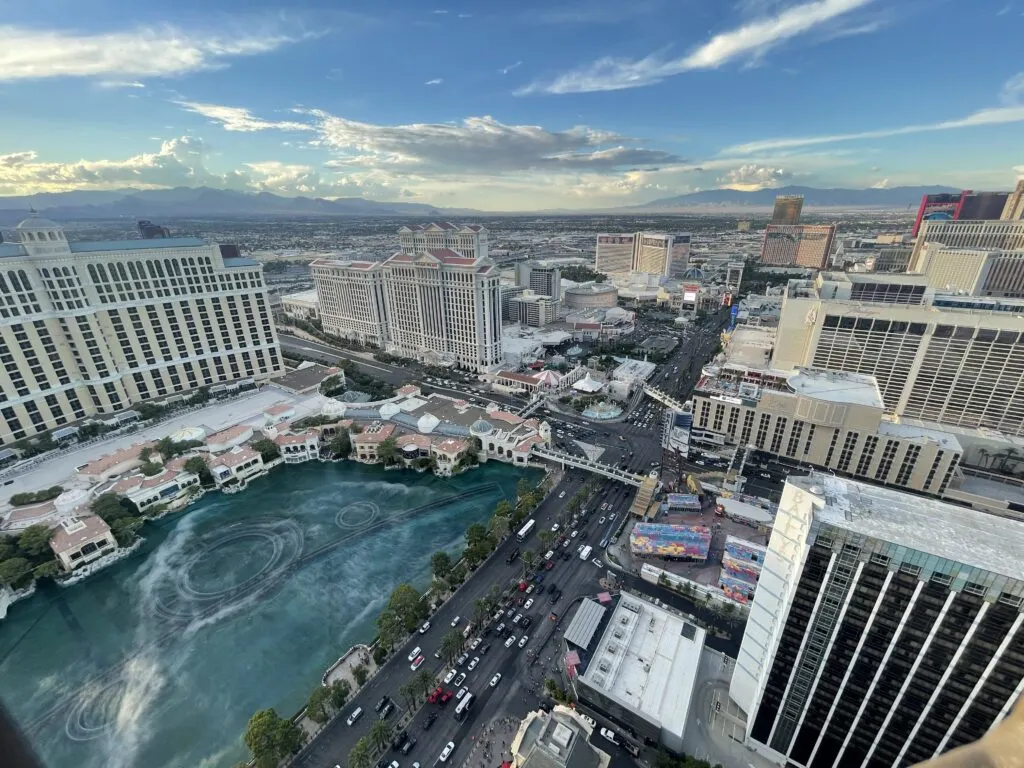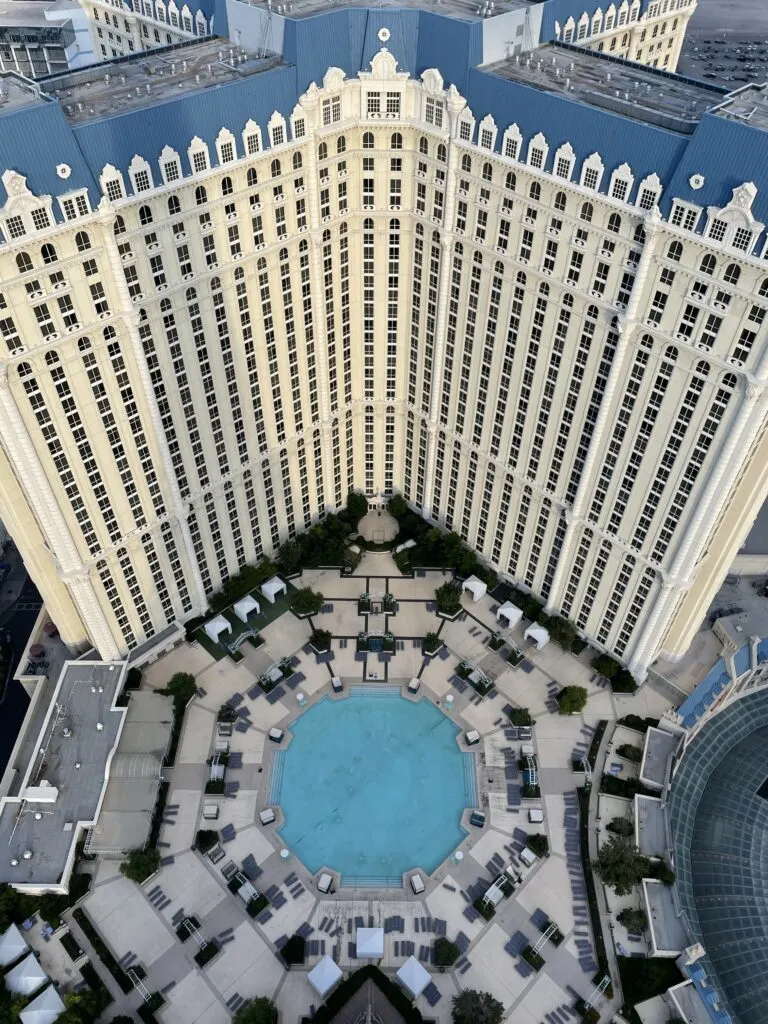 I should also point out that there isn't a time limit. You're welcome to stay at the observation deck level as long as you'd like.
When you're ready to head back down, just let the elevator attendant at the top know, and they'll get you aboard the next option.
Is the Eiffel Tower Experience Worth the Money?
As someone who's done just about everything there is to do in Las Vegas, I'm disappointed that I hadn't previously made time to tackle the Eiffel Tower Experience prior to this visit. It's pretty darn cool.
Part of the reason I hadn't checked it off my "to-do list" is because I figured the view would be similar to the ones I've already experienced from surrounding hotel towers. I underestimated, however, how unique and worthwhile the view of the Strip is.
The ability to snap fantastic and unobstructed photos is a massive benefit of this view vs. a hotel tower. If you've ever tried to take photos from a hotel room, you know firsthand how difficult it can be due to glare, reflections, dirt, promotional wraps, etc.
In my opinion, the ability to capture "frame-worthy" pictures is the top reason for visiting the Eiffel Tower Experience. In fact, I've already ordered a few 8″ x 10″s of the images above for my home office.
Additionally, I enjoyed the sensation of being instantly transported away from the "hustle and bustle" of Las Vegas. While vehicle traffic could still be heard below, the breeze and relative quiet atop the tower offered a tranquil vibe that helped soothe the sting of my gambling losses.
I think the Eiffel Tower Experience should confidently be added to a first-timer's itinerary, or to the schedule of those that want to snag some incredible pictures.
Couples may also find the trip to the top of the tower to be a romantic date night activity.
For $24.50+ tax and fees, I found the Eiffel Tower Experience to be well worth my time and money.
Related: More Itinerary Inspiration: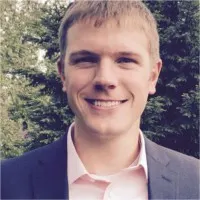 I'm a former software salesman turned Vegas aficionado. While the craps table is my preferred habitat, I pull myself away to explore new attractions, shows, restaurants, and outdoor activities around Las Vegas with the intent of sharing my experiences.
Ultimately, I just want to help folks plan a better trip and save a few bucks in the process.