On the spectrum of Buffets in Las Vegas, Wicked Spoon ranks among the best of the best.
Breaking from the traditional buffet stereotype, Wicked Spoon doesn't serve their food in "troughs", which have a low-quality, institutional feel. Instead, nearly everything is offered in a small, single-serving dish that's plated for visual appeal.
Wicked Spoon makes up for its comparatively large price tag (more on that below) by offering an assortment of cuisine from around the world, ranging from the basics to high-end and adventurous.
I've personally visited Wicked Spoon multiple times and have never left disappointed, or uncomfortably full for that matter.
While you can certainly feel free to gorge yourself, I choose to treat the buffet as a nice restaurant where I'm able to sample a wide variety of unique menu items.
On the topic of quality, Wicked Spoon is matched by very few in Vegas and is comparable to The Buffet at Wynn, The Buffet at Bellagio, and Caesars Palace's Bacchanal Buffet.
As it had been some time since my last visit, I figured it was a great time to stop in for brunch to see what was new – Let's dive in!
Wicked Spoon Pricing and Hours
Wicked Spoon is currently open daily from 8 am to 3 pm during the week for breakfast, lunch, and brunch service. On weekends, they keep the doors open from 9 am – 4 pm for brunch.
Notably, the buffet doesn't accept reservations. I arrived the moment they opened at 9 am and had no wait. I recommend avoiding peak meal times if you want to limit the amount of time you're standing in line.
Pricing for Wicked Spoon is as follows:
Brunch is offered Monday – Friday from 8 am – 3 pm and costs $45.
Brunch is offered Saturday & Sunday from 9 am – 3:30 pm and costs $52.
Discounts for all meals are available for kids, and children aged 4 and under eat free with a paying adult.
Bottomless drinks (mimosas, champagne, bloodies, or Bud Light) can be added for $45.
See Also: The Cheapest Buffets in Las Vegas.
Wicked Spoon Brunch Menu Items
The menu is where this buffet really shines.
Dishes are globally inspired and include influences from Thailand, Japan, China, Italy, Korea, Mexico, and the Mediterranean among others.
In addition to cuisine from around the world, traditional American breakfast and lunch items were also offered and included staples like eggs, pancakes, bacon, sausages, and even fried chicken wings.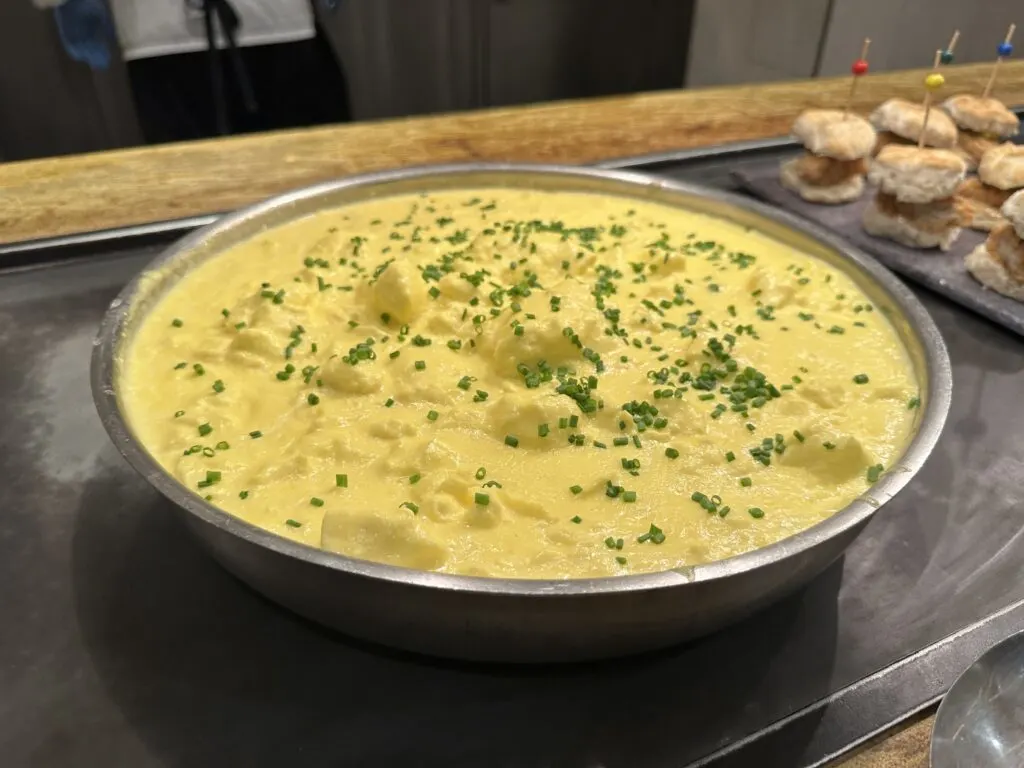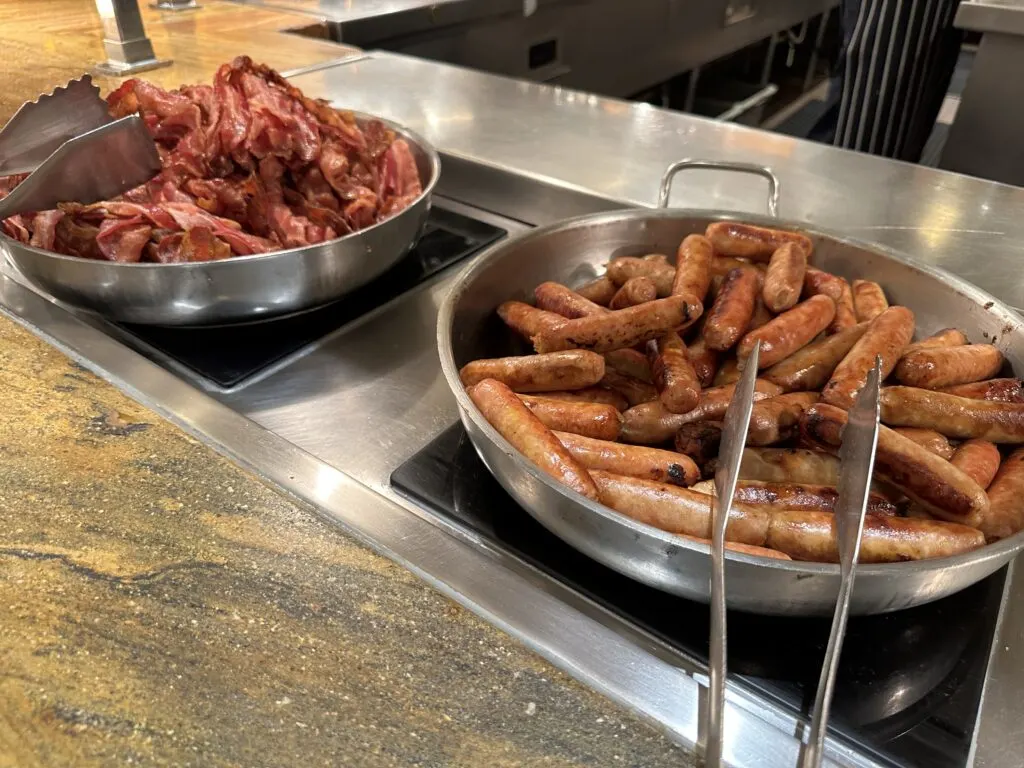 Most items are served in individual portions as opposed to troughs, giving the experience a more upscale feel – Even the chicken wings feel "dressed up".
The menu also extends far beyond "the basics" and includes fancier fare in addition to classy twists on old favorites.
Examples of upscale fare not found at lesser buffets included Beef Tataki, Shrimp and Grits, and Braised Short Rib Bone Marrow.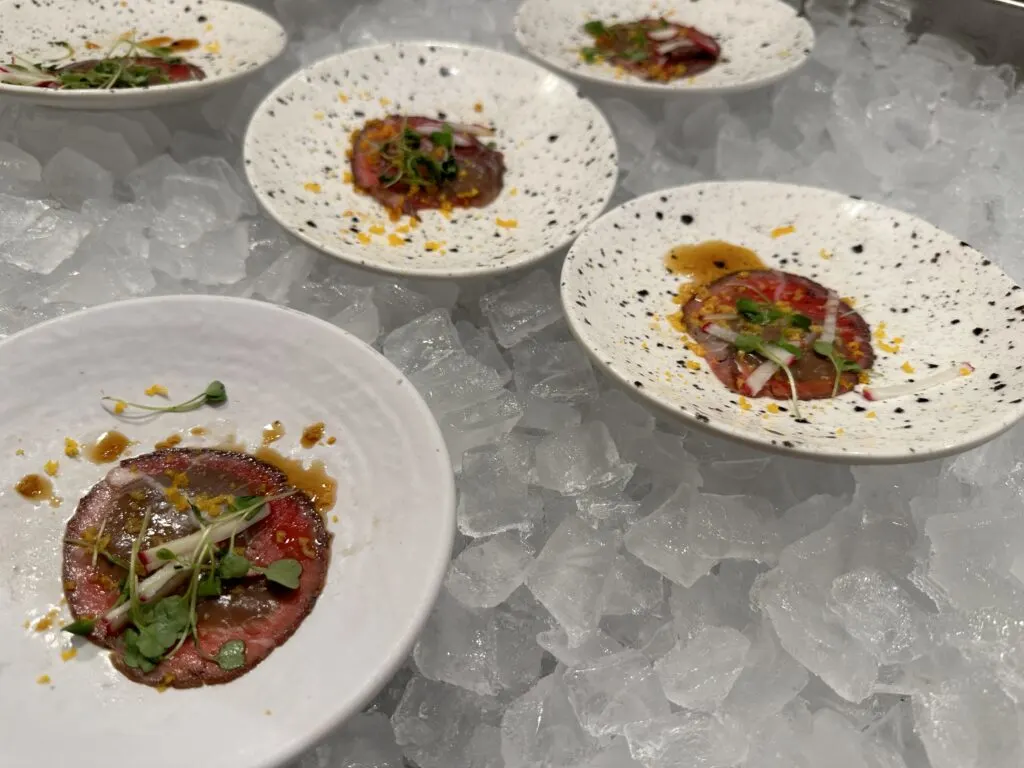 My favorite twists on traditional fare included:
Hashbrown Bites which were filled with bacon, and cheddar, served alongside chipotle ketchup.
Wicked Cinnamon French Toast which was topped with walnuts, pecans, berry compote, and lemon curd.
Lastly, Wicked's Angry Mac & Cheese has been one of my favorite dishes at the buffet for years and is a creamy, yet spicy macaroni as the name would suggest.
Also setting Wicked Spoon apart from lesser buffets in Las Vegas are the live-action stations that allow you to concoct your own creations.
Options included:
Hot Pot & Ramen
Chef Prepared Eggs & Omelettes
The Omelette station was particularly popular, offering a wide variety of fixings that included ham, shrimp, bacon, 2 cheeses, and an assortment of veggies.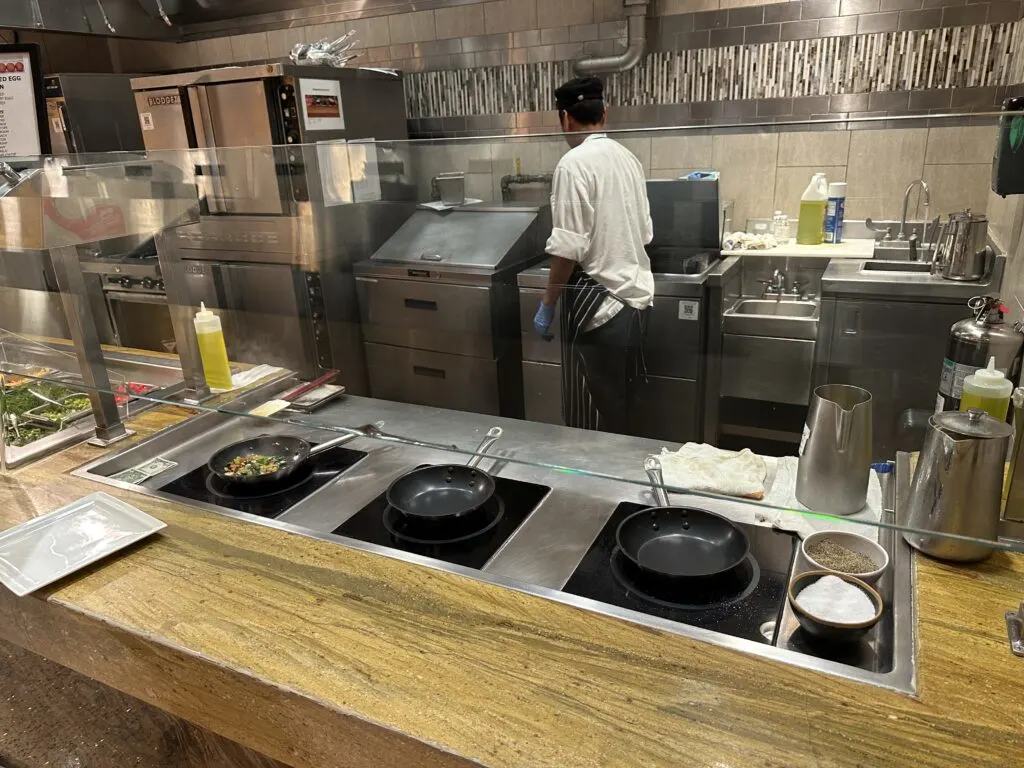 The carving table was stocked with Beef Tri-Tip, Roasted Chicken, Sausage, Honey Glazed Ham, and Pork Shoulder.
Disappointingly, Prime Rib wasn't an available option.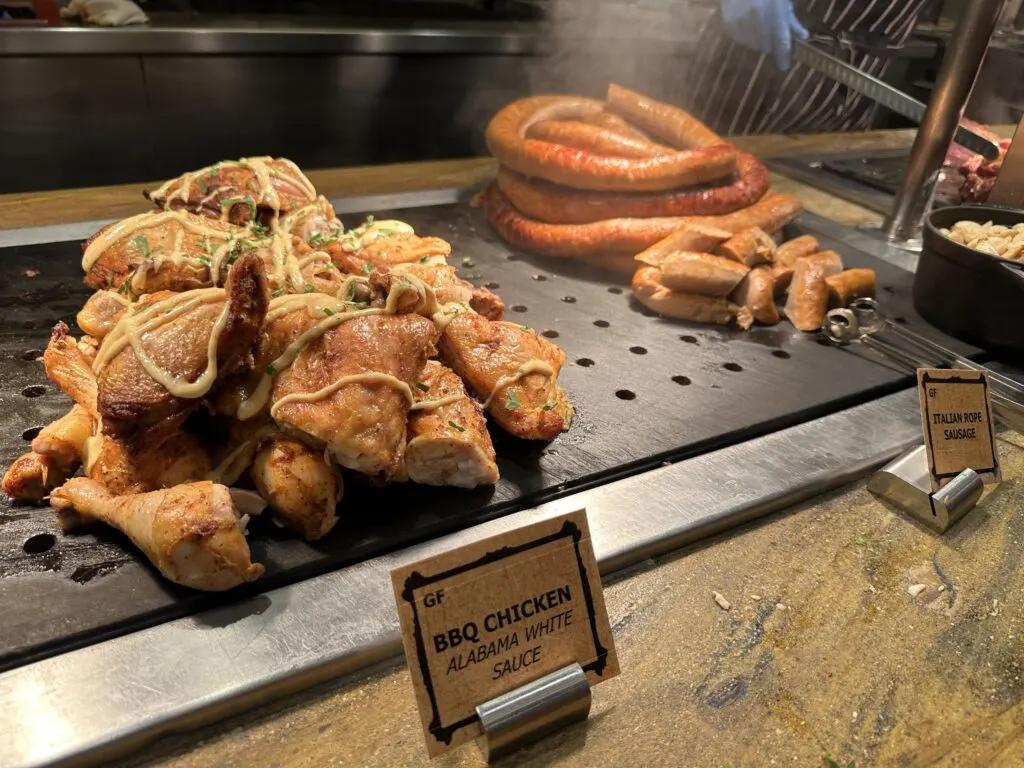 One other disappointing aspect of the buffet was the lack of seafood options when compared to other high-end all-you-can-eat options in town.
Absent were the piles of shrimp, crab legs, prawns, etc., which I found to be a bit disappointing.
That being said, there were still some seafood items available which included Thai Green Curry Mussels, Smoked Salmon, and a selection of Sushi.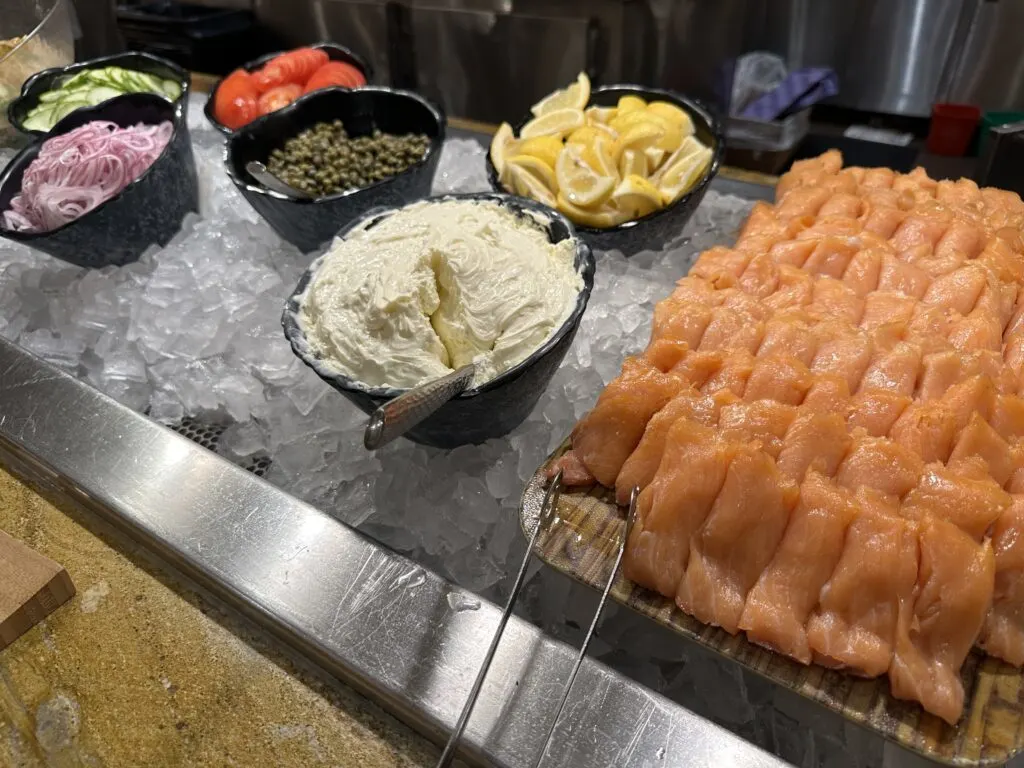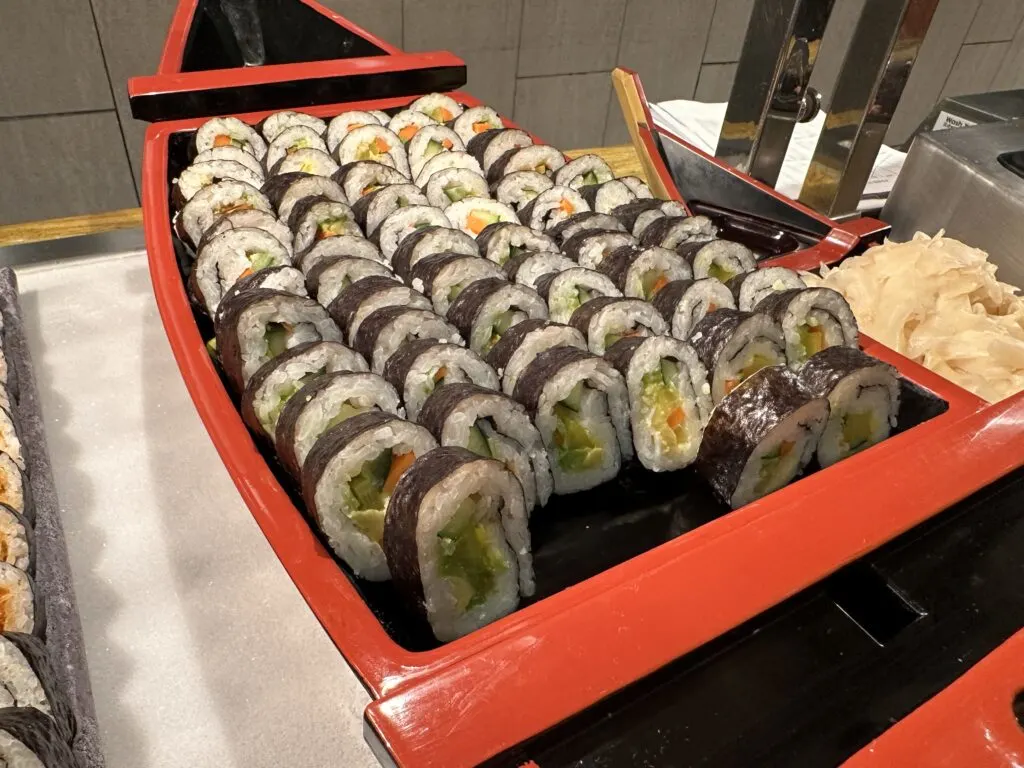 Of course, the dessert section of the buffet was as visually appealing as it was delicious.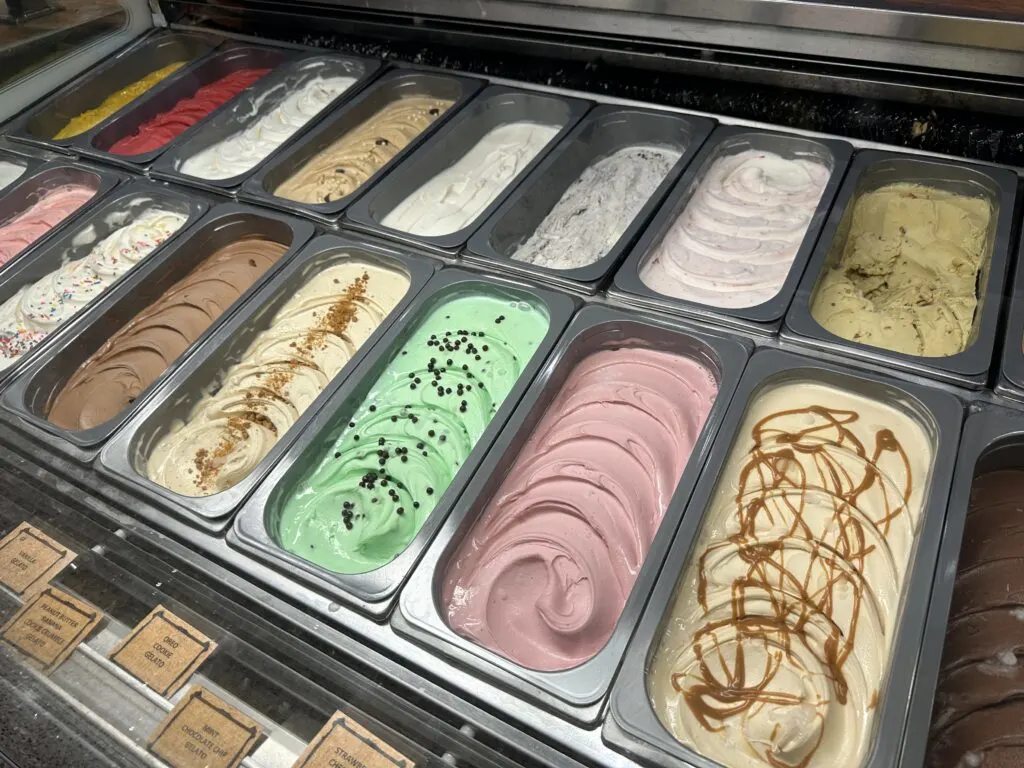 Here are some additional food photos I took while at the buffet: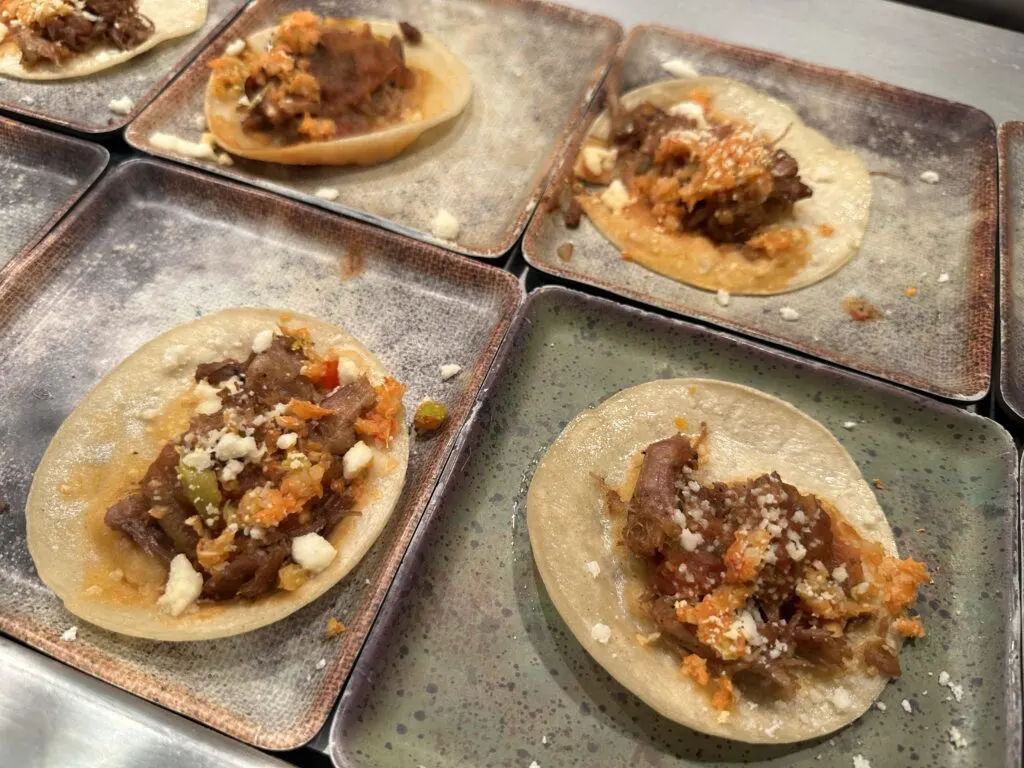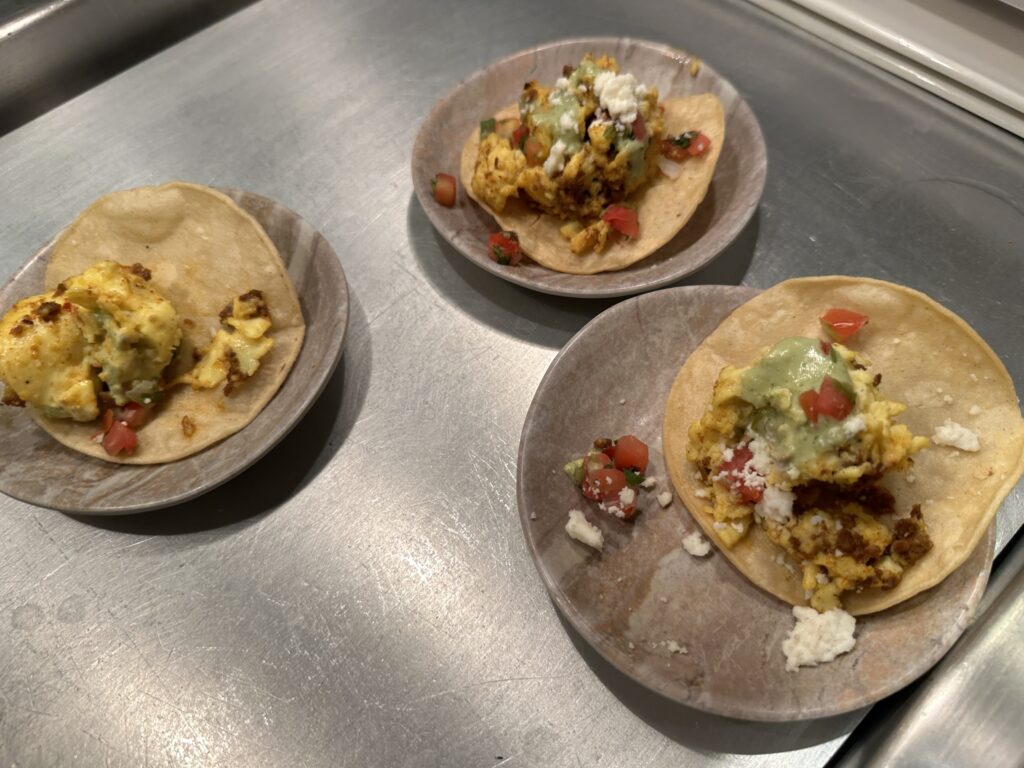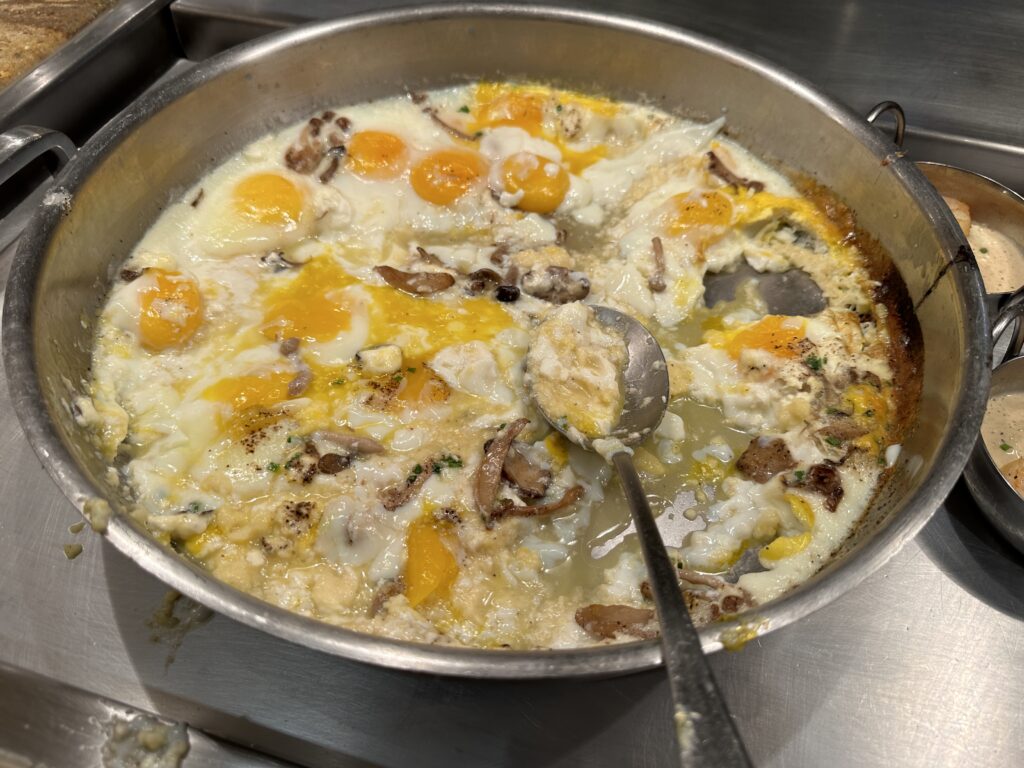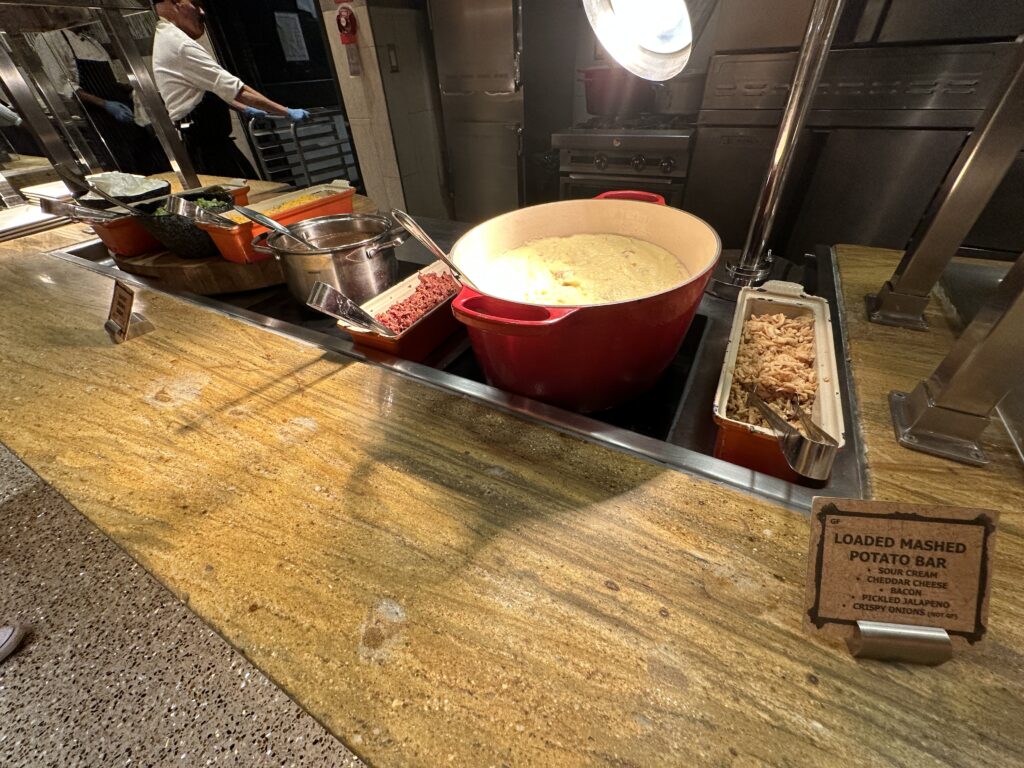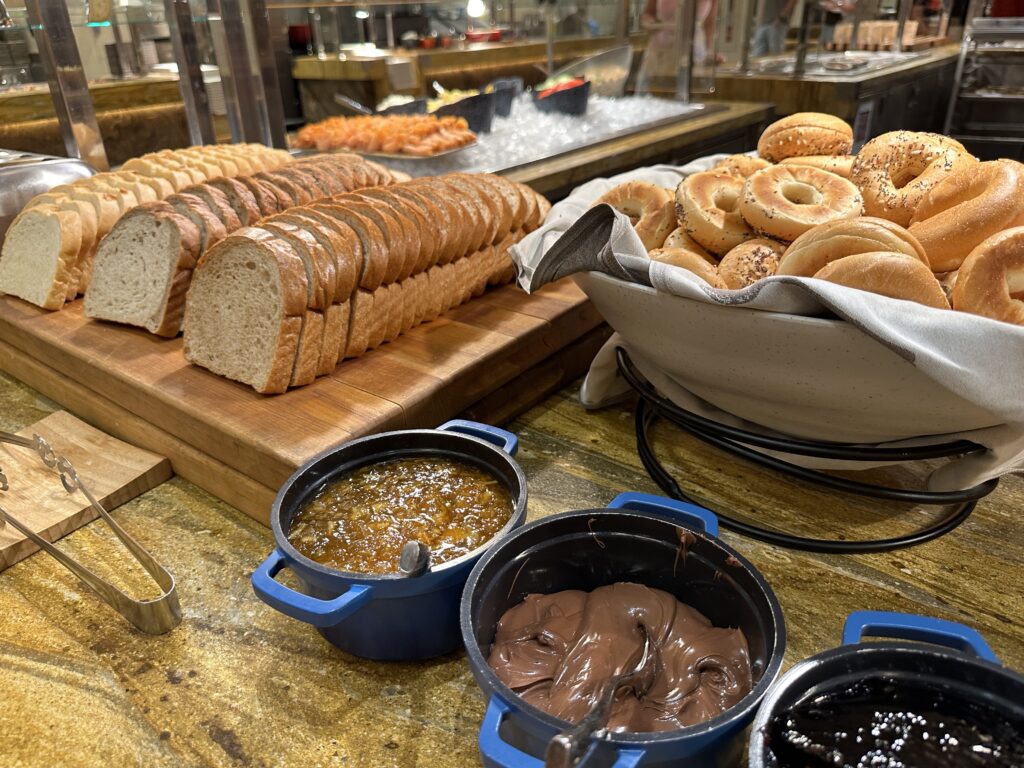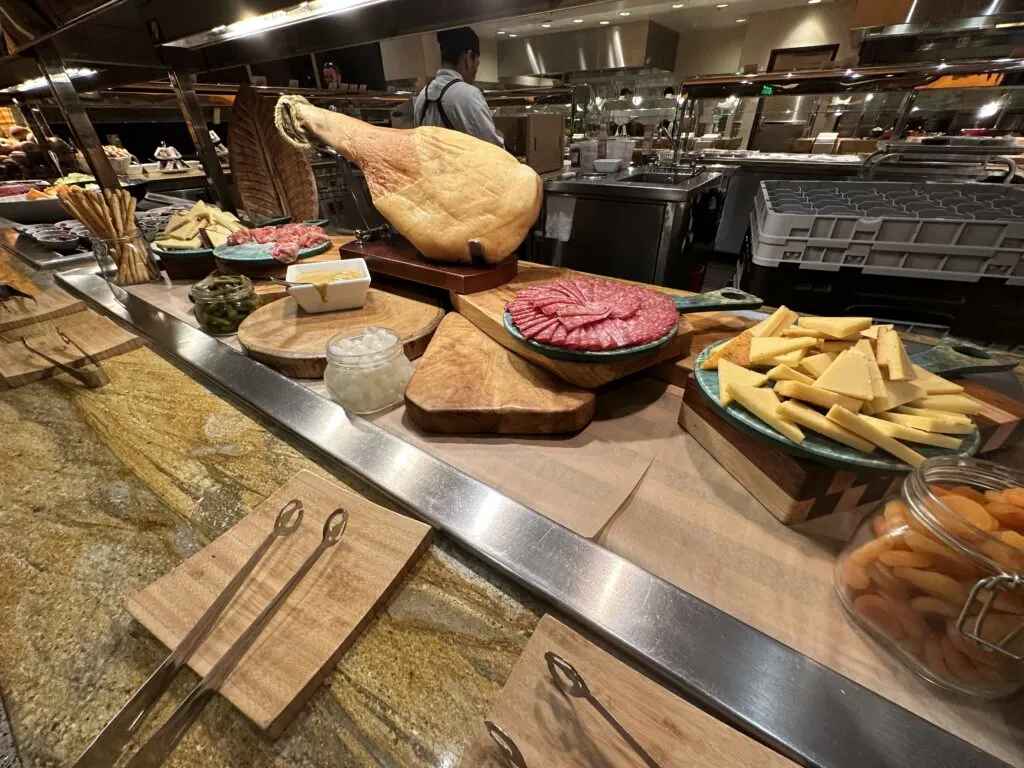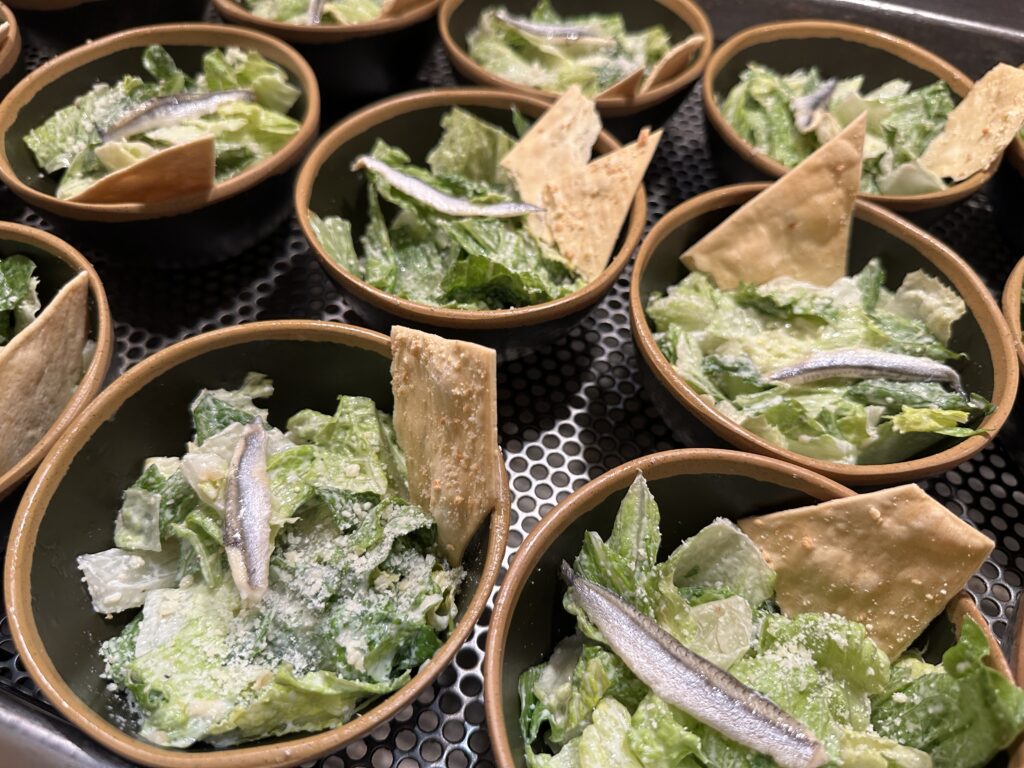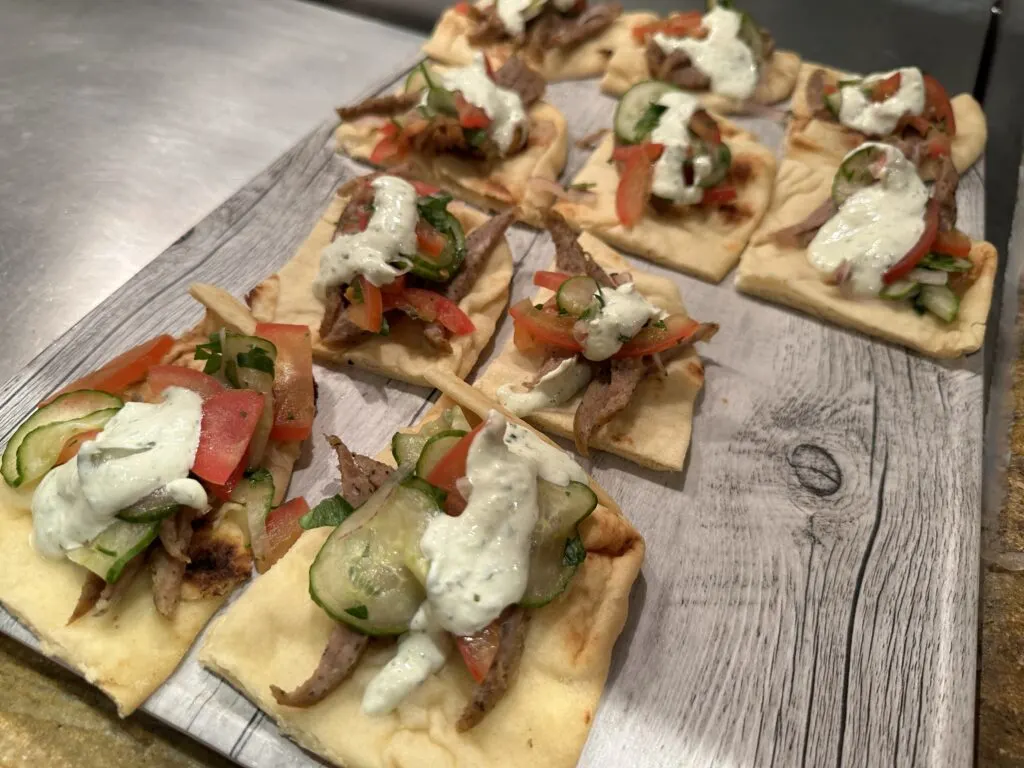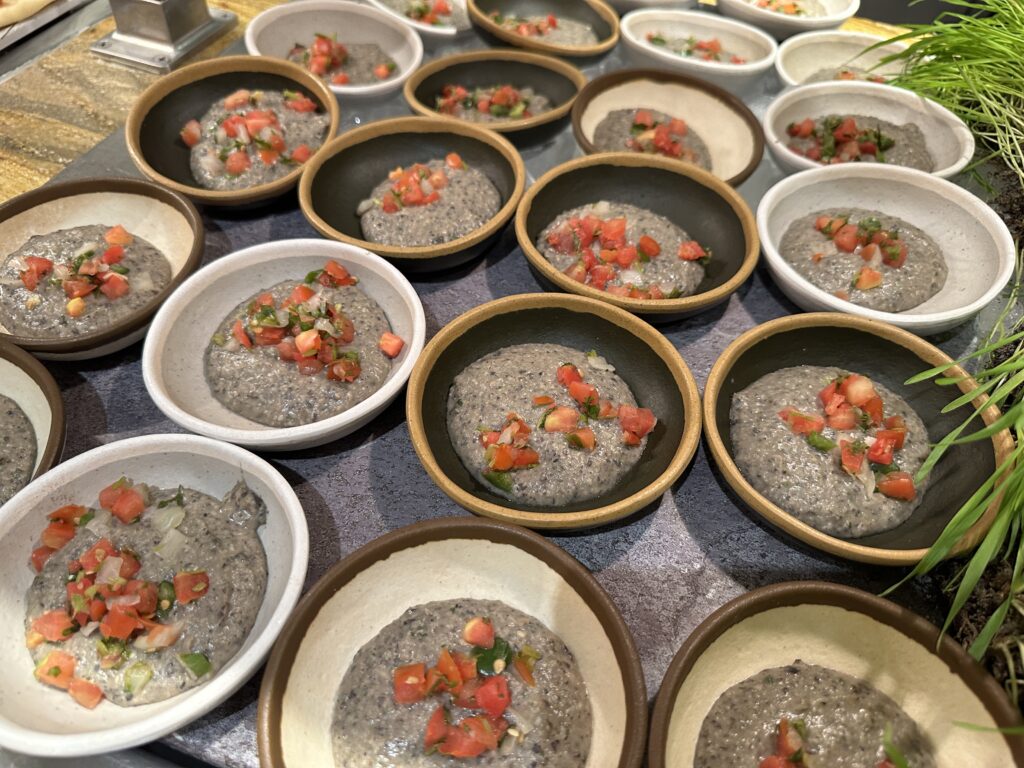 Is Wicked Spoon Worth the Money?
I certainly think so.
Although the brunch buffet didn't serve prime rib or mountains of seafood, I still found it to be well worth the $52 + tax/tip cash outlay.
As you can likely surmise from my pictures, Wicked Spoon is a far cry from the low-end buffets that Las Vegas was once known for, serving upscale culinary options with a global influence.
You're going to find something you love.
I personally find both the Angry Mac & Cheese and Shrimp & Grits to be irresistible and suggest you give them a shot!
Easily landing among the top options in Las Vegas, I rank Wicked Spoon as the second-best buffet in town, just behind Caesars Palace's Bacchanal Buffet, which offers a wider selection of food and more of the "heavy hitter" items like prime rib and crab legs, albeit at a higher price point.
While Wicked Spoon comes with a comparatively hefty price tag, the cost is similar to other nice restaurants in Las Vegas. I personally visit frequently, and can't recommend it enough.
Related: More Buffet Content!
I'm a former software salesman turned Vegas aficionado. While the craps table is my preferred habitat, I pull myself away to explore new attractions, shows, restaurants, and outdoor activities around Las Vegas with the intent of sharing my experiences.
Ultimately, I just want to help folks plan a better trip and save a few bucks in the process.