Although known primarily for adult-focused attractions and activities, Las Vegas offers a surprising amount of things to do for the whole family.
While mini golf is commonly sought out, courses in Las Vegas are far from plentiful. Fortunately, the ones that do exist are one-of-a-kind experiences.
Since I've played them all, I thought it would be fun to run down the mini golf options that exist in Vegas.
Mini Golf On The Strip
Twilight Zone by Monster Mini Golf at Horseshoe: Standing alone as the only mini golf course on the Strip, Twilight Zone by Monster Mini Golf doesn't disappoint. Illuminated by blacklights, the entire course pops with glowing color, creating a unique visual experience.
Themed to the hit "Twilight Zone" TV series, the attraction transports guests to the "5th Dimension", surrounding them with artwork inspired by the show and props.
While it's not uncommon for mini golf courses to host birthday parties, this one also hosts weddings, boasting its own chapel. Now, that's a unique Las Vegas wedding venue.
Admission costs $11.95 and tickets to Twilight Zone by Monster can be purchased in advance here, with the attraction.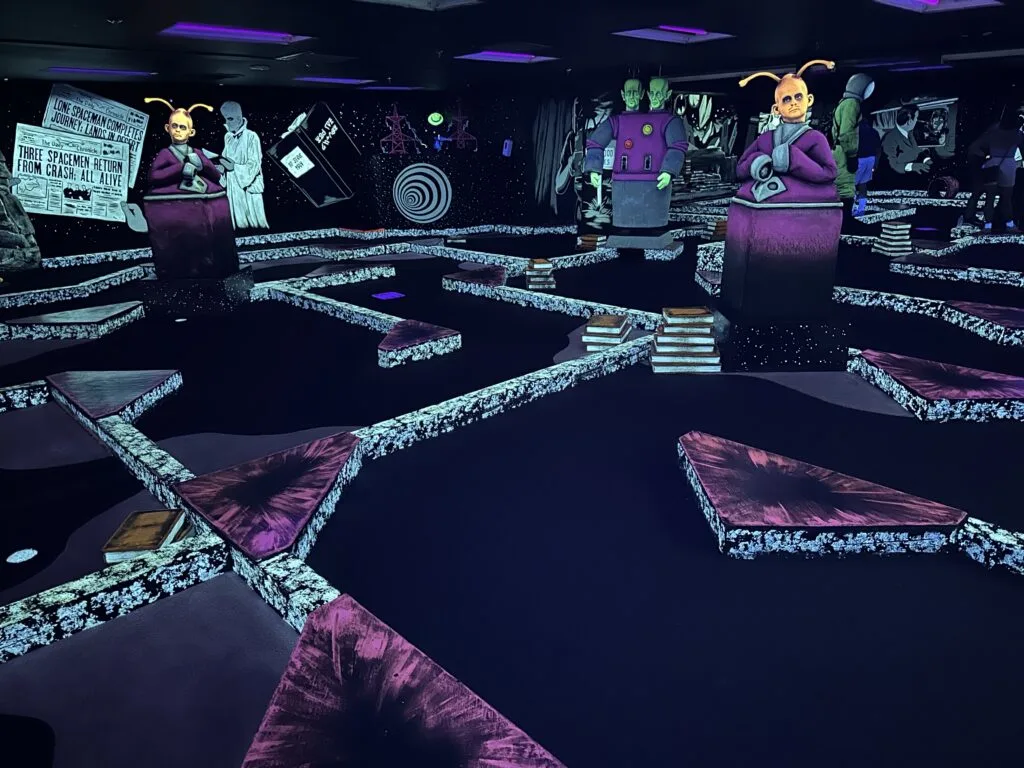 *Coming in 2024* – Swingers at Mandalay Bay: A mini golf attraction that'll put the rest to shame, Swingers will occupy a 40,000 square foot space at Mandalay Bay and offer 5 (yes, five!) different mini golf courses.
Of course, craft cocktails will be available for purchase from "Caddies" that will be making their way around the courses.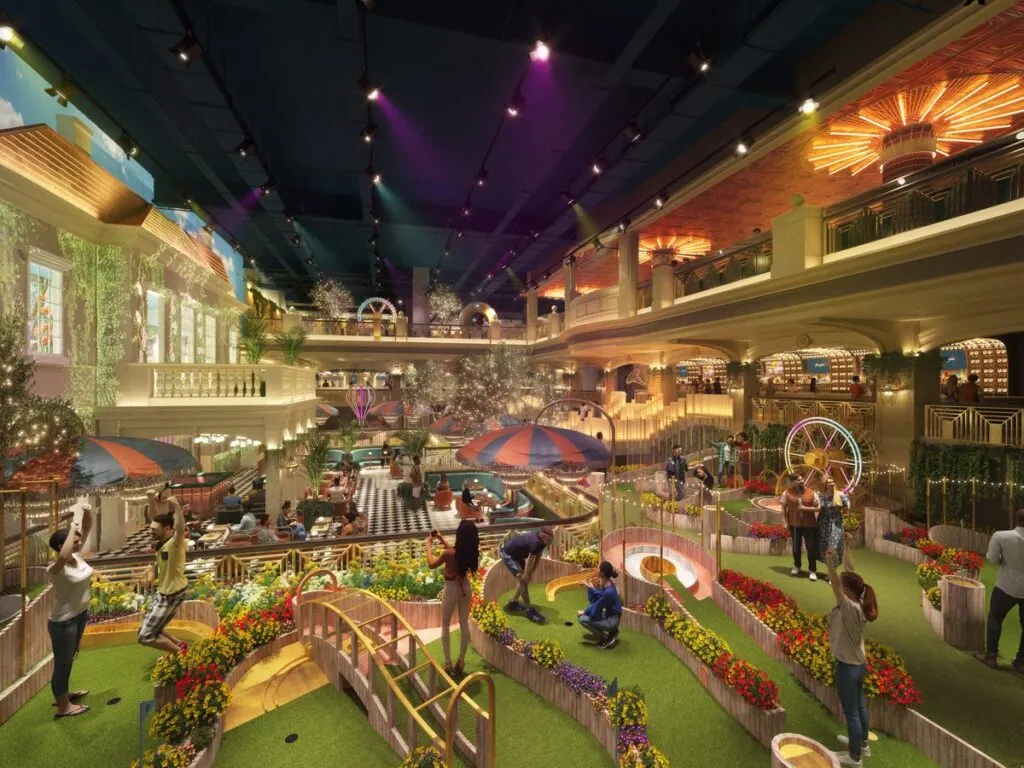 Mini Golf Near the Strip
Kiss by Monster Mini Golf at Rio: Located off the Strip at Rio, Kiss by Monster Mini Golf is a feast for the eyes, just like their sister course at Horseshoe. Illuminated by blacklights, the course is better described as a work of art than a competitive experience, although it qualifies as both. While playing, you'll be immersed in Kiss artwork, decor, and memorabilia while their hit soundtrack plays overhead.
I mean, where else are you going to be able to smack a putt up Gene Simmons' tongue and into his mouth?
Admission costs $11.95 per person for 18 holes, and locals get a slight discount. More information, and ticketing info for Kiss by Monster can be found here.
*Coming in late 2024* – PopStroke at Times Square: In partnership with Tiger Woods, PopStroke is bringing its innovative brand of mini golf to Town Square, just off the Strip.
A unique twist on the classic game, PopStroke's 2 separate 18-hole putting courses are built to play more like real golf with fairways, rough, and even bunkers.
Here's a look at their Scottsdale location:
Similar Attractions to Mini Golf
Topgolf: Found behind MGM Grand, Topgolf is like a driving range, but 100x more fun. Intended to be a social experience, customers compete against each other in various games that test your accuracy as a golfer.
In addition to golf, Topgolf has a 2-level pool that is free for anyone 21+ to access, 5 bars, a full menu, and numerous large screens to catch the game on. Whether looking for something fun to do with a group or as a family, Topgolf is an option to consider.
Although options to play mini golf aren't exactly plentiful, the options that do exist are pretty darn cool.
Related: Things to do with Kids in Las Vegas.
Feature Image Credit: ©mylitleye/123RF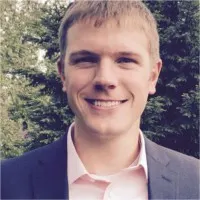 I'm a former software salesman turned Vegas aficionado. While the craps table is my preferred habitat, I pull myself away to explore new attractions, shows, restaurants, and outdoor activities around Las Vegas with the intent of sharing my experiences.
Ultimately, I just want to help folks plan a better trip and save a few bucks in the process.