Buffets have been a staple of the Las Vegas culinary scene for decades, and although fewer are open now than before the pandemic, plenty of options remain that span the price/quality spectrum.
As I've personally eaten at every Las Vegas buffet, I thought it would be fun to highlight the best of the best.
It's important to note that the best Las Vegas buffets come with a hefty price tag of around $50 – $80 depending on the meal, day of the week, etc. – By no means is this a breakdown of the cheapest buffets in Vegas.
While that cash outlay is no joke, rest assured, you're paying for quality. These buffets are a FAR cry from the troughs of yellow and blue goop you saw on "Vegas Vacation".
Instead of troughs of institutional mashed potatoes and gravy, these high-end buffets serve unique, high-quality items like squid ink pasta, wild boar, salmon with seared tomato creme, and even bone marrow.
While my breakdown of the best buffets on the Strip and nearby in Las Vegas will include pictures from my visit, MANY more photos can be seen by clicking through to my full review of each buffet.
Best Buffets On The Strip
4. The Buffet at Bellagio
Bellagio is known for luxurious amenities, and that quality extends to their buffet, which is open for brunch daily, and dinner on select days of the week (see up-to-date Bellagio Buffet hours & pricing).
My last visit was during brunch and I was impressed by the wide-ranging breakfast and lunch items available.
On the breakfast side of the house were items like French toast, waffles (branded with Bellagio's logo), apple crepes, a yogurt bar, fresh fruit, biscuits and gravy, and eggs benedict in addition to traditional breakfast fare.
Among the more popular draws for breakfast was the buffet's live-action omelet station which allowed guests to select their preferred meats, veggies, and cheese.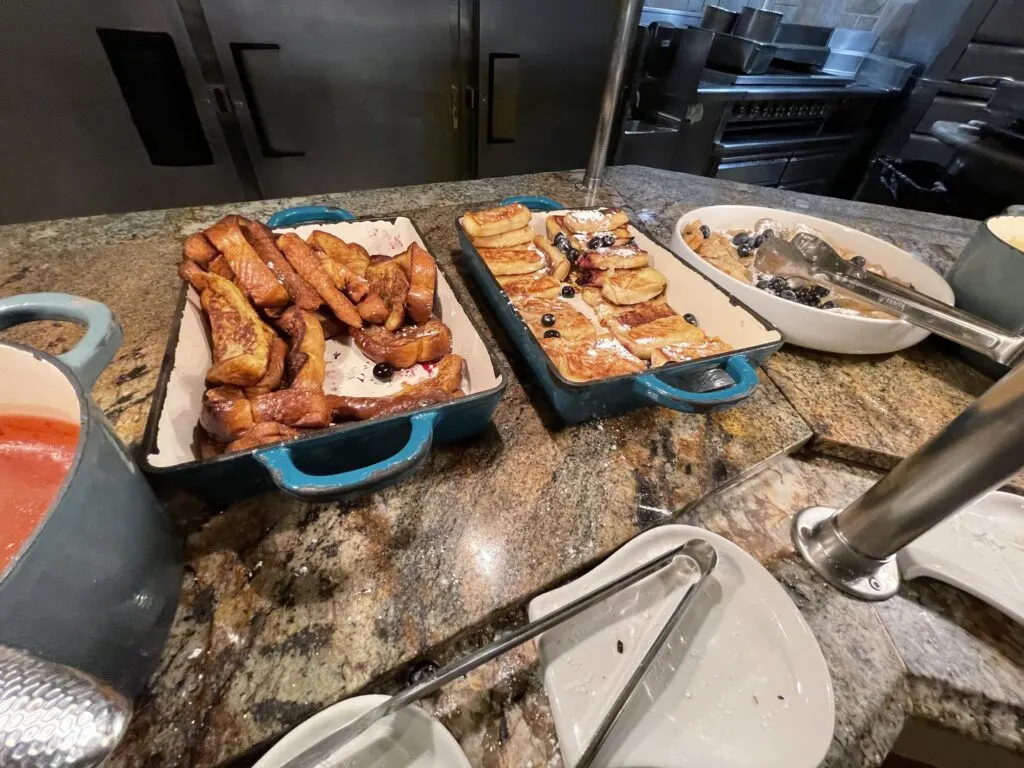 My favorite item was a massive "Uncle Buck Style" pancake that was then cut up into square pieces for guests to take.
On the lunch/dinner side of the menu was an impressive selection of seafood options like mussels in garlic white wine sauce, smoked salmon, poached shrimp, Alaskan king crab, scallop ceviche, clams, and shrimp shu mai.
Pizza, pasta, Asian-inspired dishes, and fried chicken were also ready for consumption.
Prime rib was also served at the carving station, which is notable because it's disappearing at lower-tier buffets across Vegas. Other meats offered at the station include marinated flank steak, rotisserie chicken, and St. Louis-style ribs.
My favorite lunch items were the single-serve bacon mac & cheese and the mini gyro pictured below.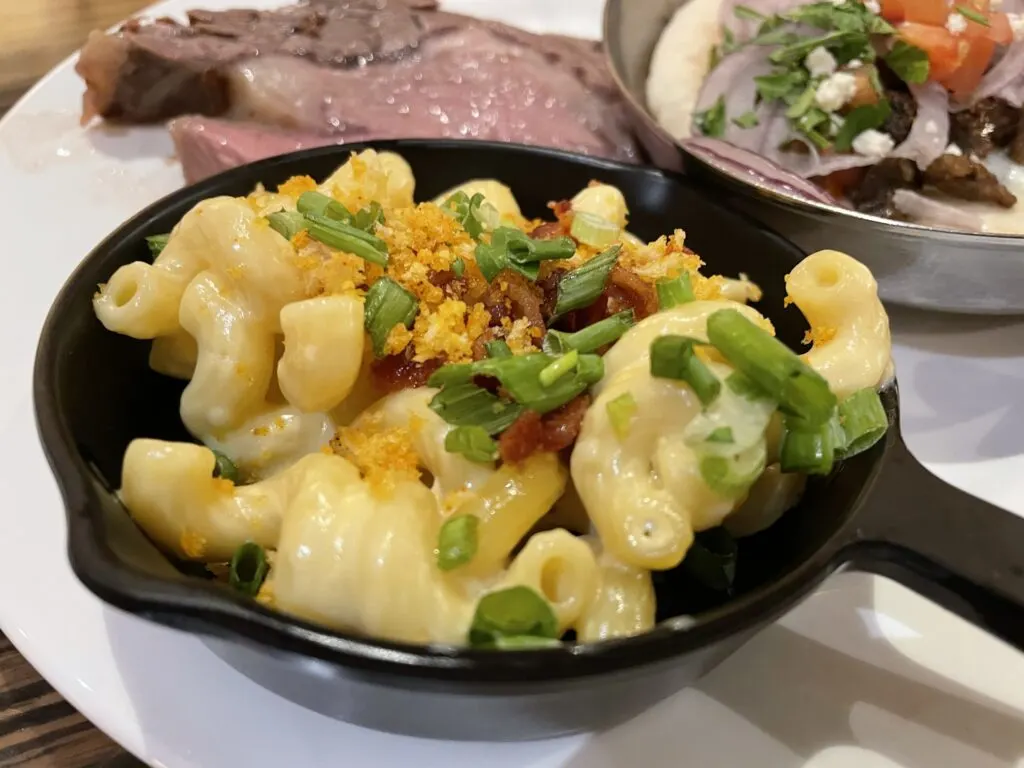 As you'd expect from an upscale buffet, Bellagio keeps the dessert counter stocked with items that are as visually appealing as they are delicious.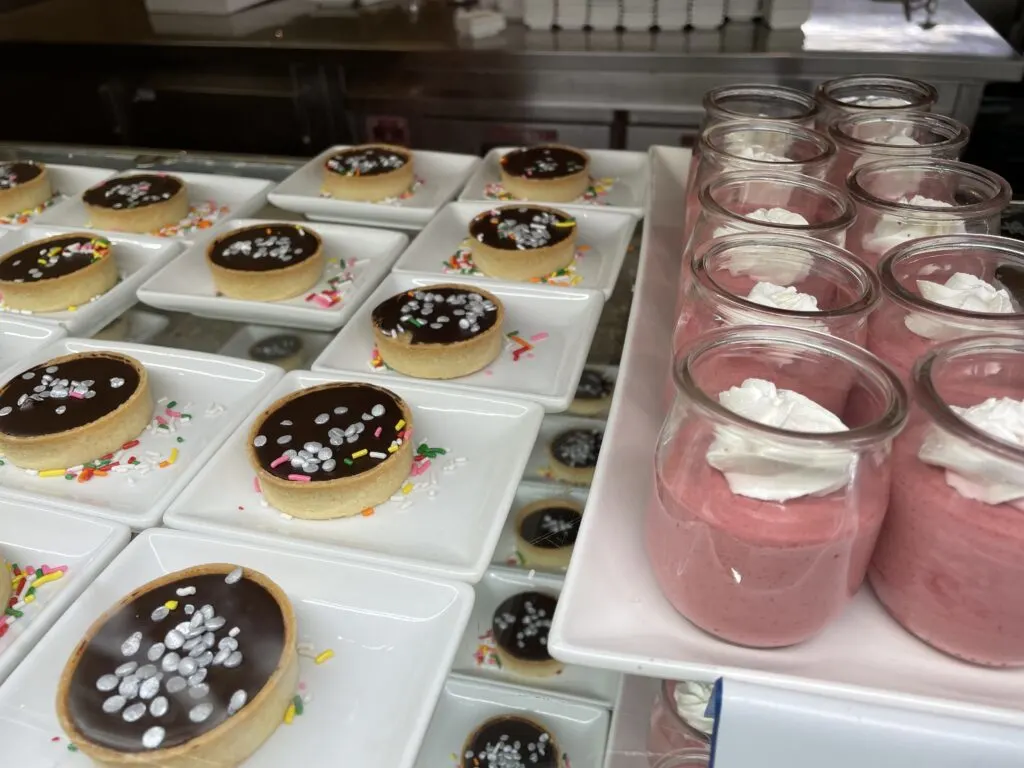 See my full Bellagio Buffet review, here.
3. The Buffet at Wynn
When you think Wynn, you think upscale, and the Buffet at Wynn is no exception.
Open daily for breakfast, brunch, and dinner, I suggest you reserve priority seating to limit your wait.
Inside, you'll find 16 separate culinary stations and 90+ food items that are the brainchild of Executive Chef Jason Duarte with influences from around the world.
At the carving station, you'll find some of the best prime rib available at a buffet alongside a collection of other meat items that include rotisserie chicken, brisket, and various sausage varieties.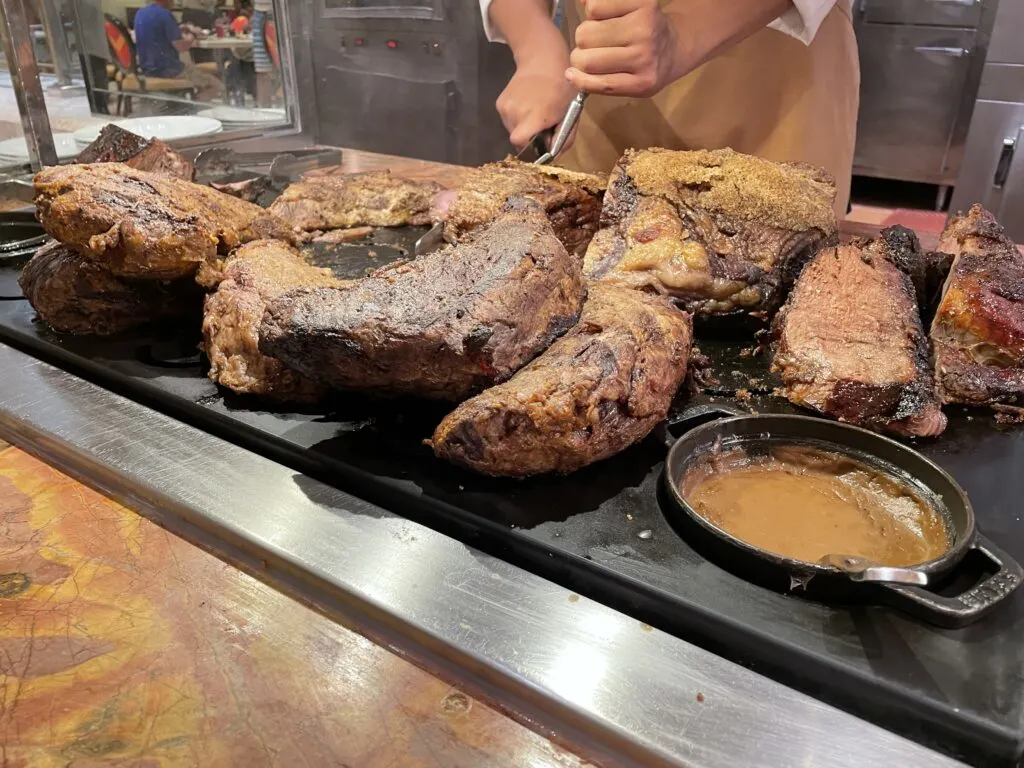 Seafood options were wide-ranging and included both hot & cold crab legs, shrimp, mussels, crab claws, and clams.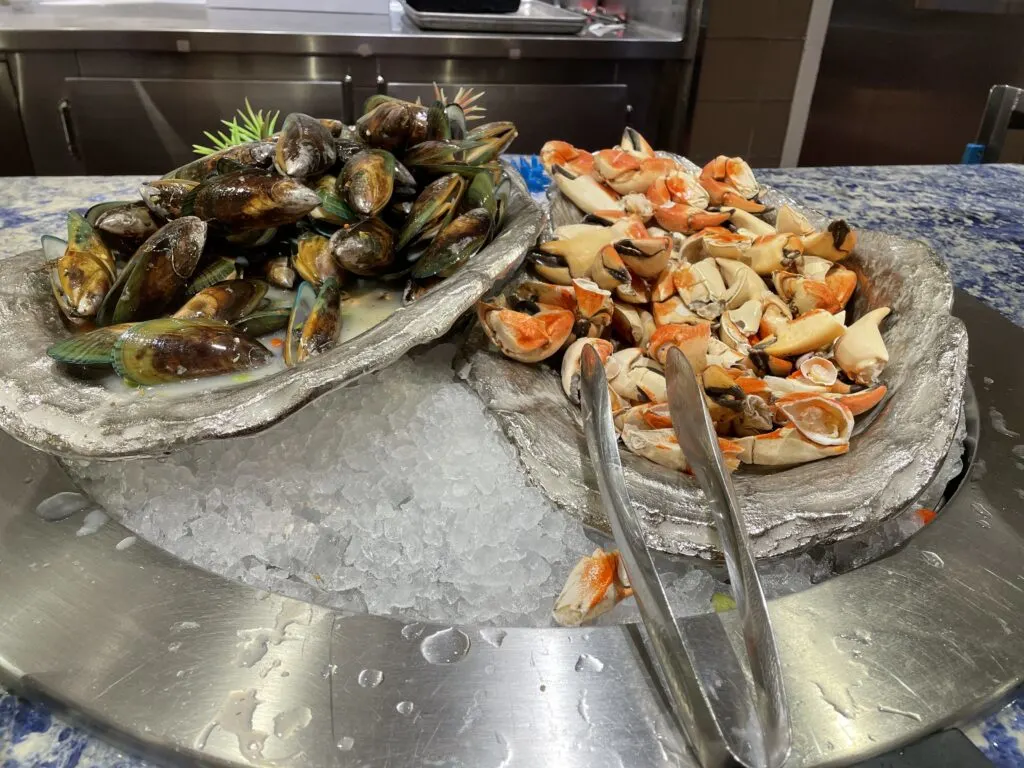 A couple of other items that really resonated with me were Wynn's dry-rubbed rotisserie chicken and the sushi tray. Although I was full, I couldn't stop consuming the California rolls…
Wynn's Thai chicken wings were also among my favorite items and offered amazing flavor that was complimented by a spicy kick.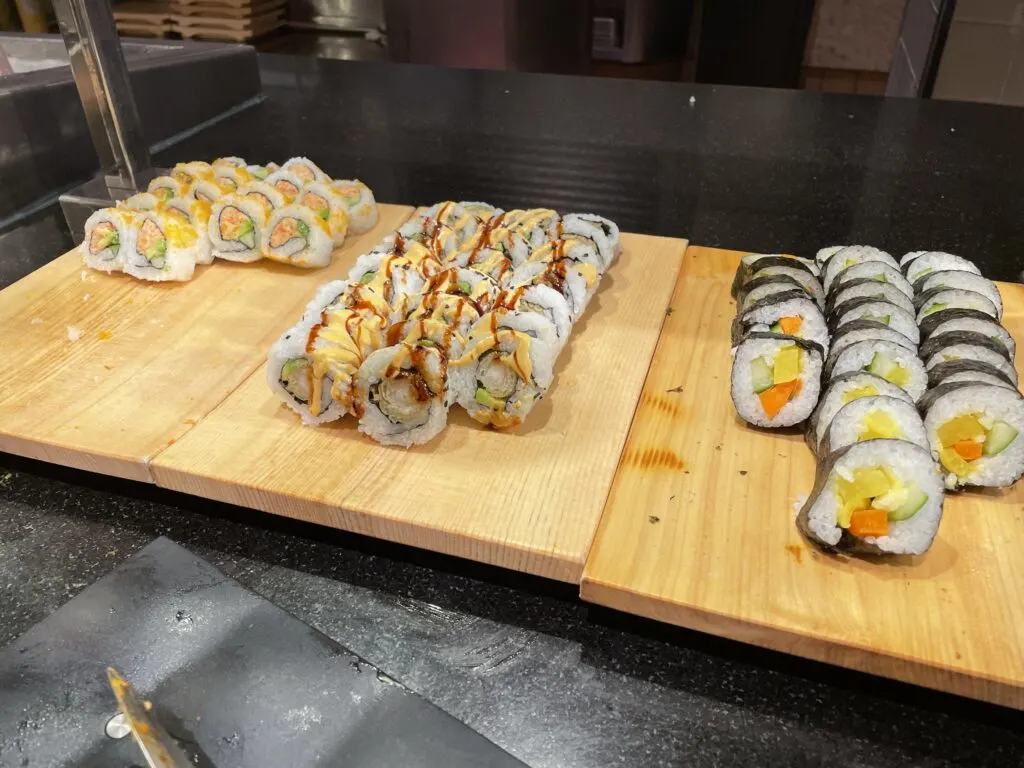 Of course, Wynn's dessert table is also a thing of dreams.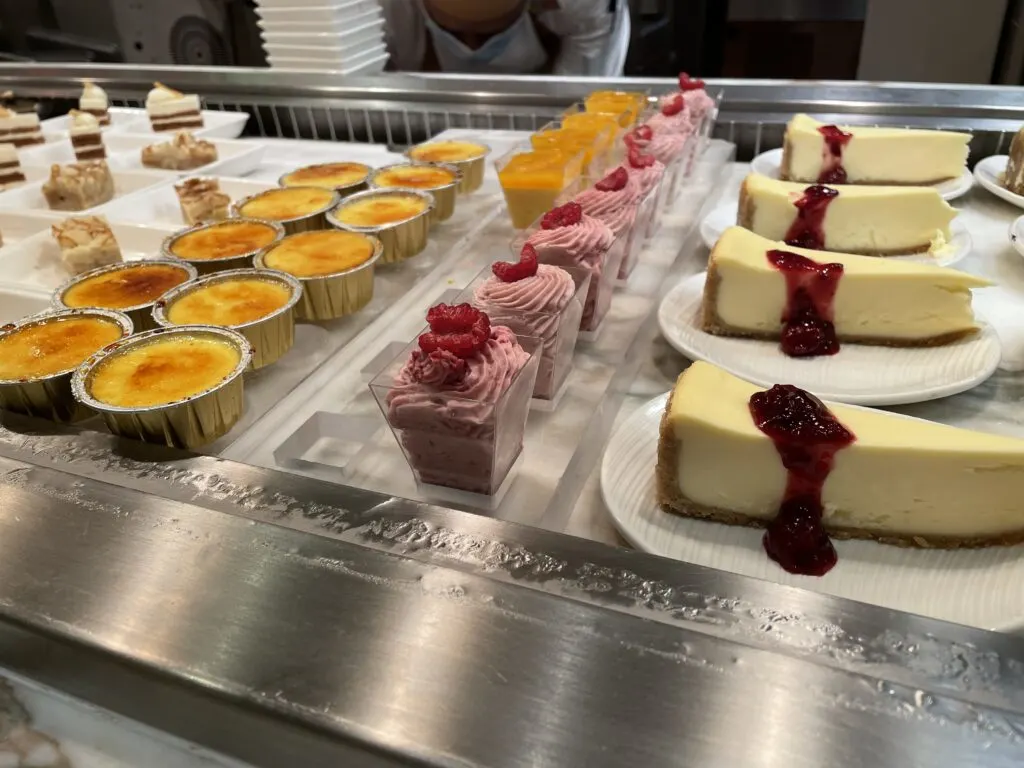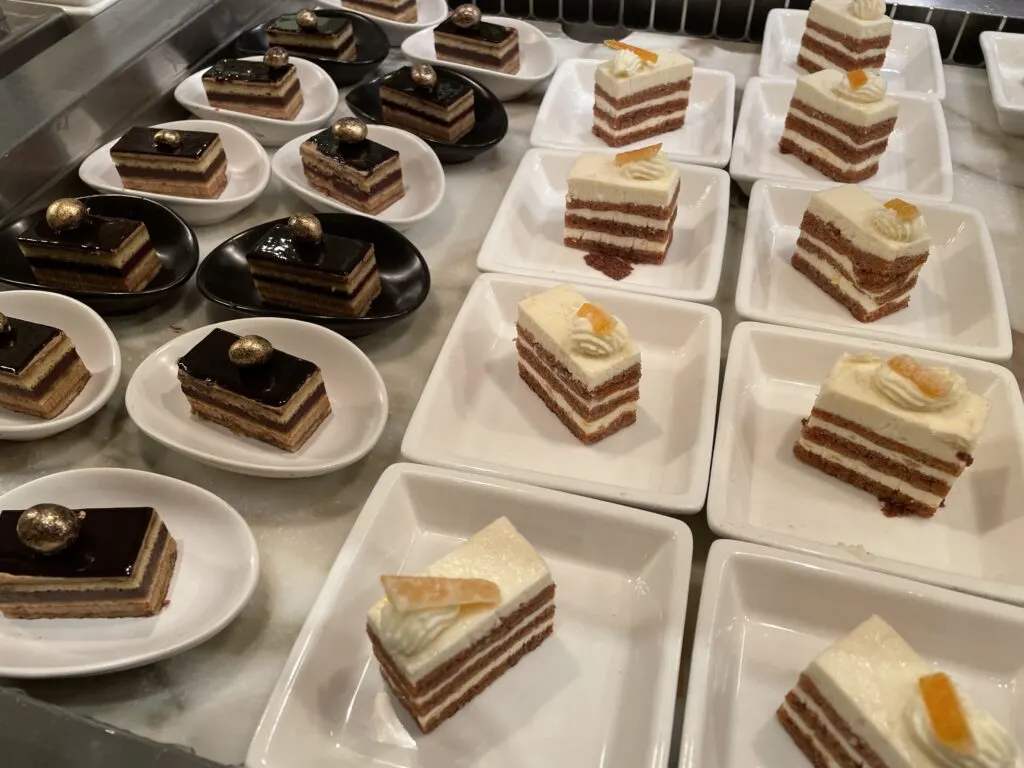 See my full Wynn Buffet review, along with more images.
2. Wicked Spoon at Cosmopolitan
Open only for brunch, Wicked Spoon serves globally inspired high-end dishes, most of which are plated elegantly in single-serving portions.
While I used to have Wicked Spoon deadlocked in a tie for the title of best buffet, I was forced to demote it after my most recent visit as they no longer serve prime rib or crab legs – Both being staples of the high-end Las Vegas buffet experience.
With that being said, Wicked Spoon still has plenty to offer.
During my last visit for weekend brunch, they had live-action stations dedicated to both hot pot & ramen and omelets & eggs with an abundance of ingredients.
What really makes the buffet special, however, is the wide assortment of high-quality and unique dishes that included bacon and cheese-loaded hashbrown bites, cinnamon French toast, lamb and beef gyros, short rib bone marrow, and beef tataki among others.
Two items I personally can't get enough of are their angry mac & cheese, which as the name would suggest has a kick, and their shrimp & grits which pop with flavor.
Both have been available at the buffet for years, and I find myself gravitating to them every time I visit.
As you'd expect, the dessert table also dazzled.
See my full Wicked Spoon Buffet Review along with more images.
1. Bacchanal Buffet at Caesars Palace
I'm one of the few people who have eaten at every single buffet in Las Vegas. I've left no stone unturned.
That experience has given me the insight needed to crown Caesars Palace's Bacchanal Buffet as the best in all of Las Vegas – And it isn't particularly close.
Fresh off of a multi-million dollar renovation project, Bacchanal offers the most expansive selection of high-end cuisine in town.
Comprised of 9 separate kitchens, culinary influences include Asian, French, Mediterranian, American, and more.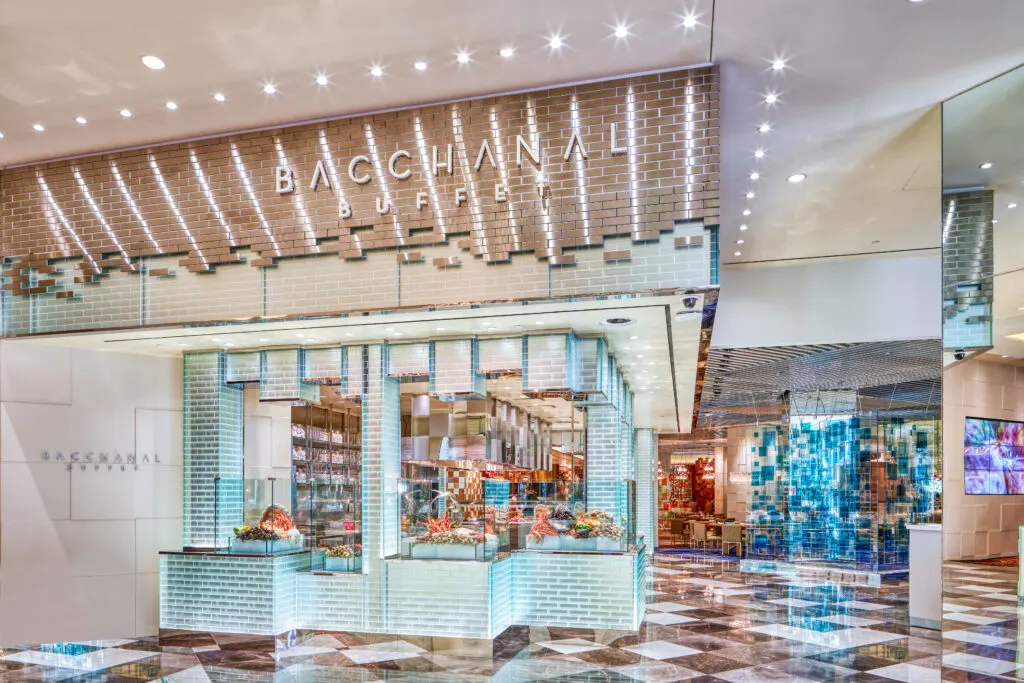 Uniquely, Bacchanal offers more plant-based options than ever with new menu items that include quinoa-stuffed baby sweet potatoes with fried kale, tomato tartar, and coconut-carrot gazpacho.
Some of my personal favorite items at the upscale buffet include bone marrow, prime rib, gyros, and the live-action quesabirria taco station, which churned out gooey, cheesy tacos that are legitimately to die for.
The seafood selection is next level, and I particularly enjoyed the crab legs which were served both steamed or chilled.
Like Wicked Spoon, most food items are served as a single serving, giving the experience a more upscale feel.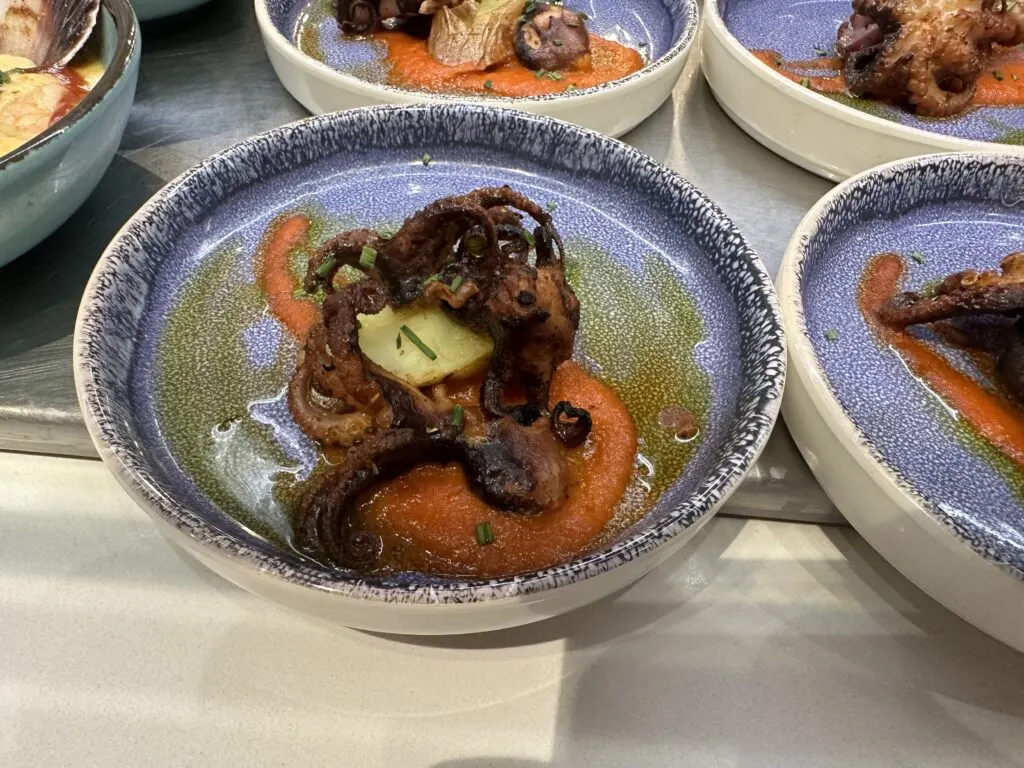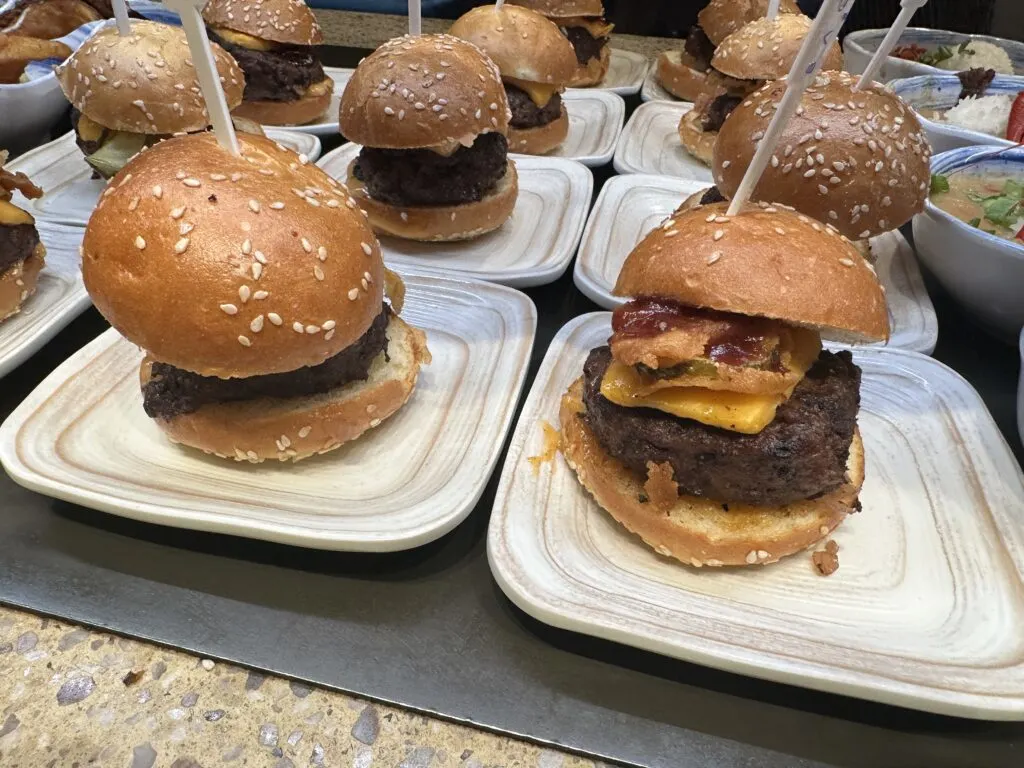 Like others on this rundown, the dessert table is a thing of beauty.
As the best buffet in Las Vegas, Bacchanal is absurdly popular albeit expensive, with dinner costing over $100 after figuring in tax and tip – You'll want to make reservations in advance, here so that you can avoid the line, which is commonly substantial.
See my full Bacchanal Buffet Review, with a lot more pictures.
A "Best Buffet in Vegas" Honorable Mention
Although this article focused on the best buffets directly on the Strip, I'd be remiss if I didn't mention AYCE at Palms, which I recently experienced.
Palms is a cheap $10-$15 Uber from the Strip and offers one of the more compelling buffet products in town.
While not the "best buffet in Vegas" per se, I'd go out on a limb and declare AYCE at Palms to be the "best buffet value in Vegas" by a healthy margin.
Palms is priced similarly to mid-tier buffets on the Strip like MGM Grand, Luxor, or Excalibur, but blows them out of the water with what you get for your money.
The quality is a hair shy of what you get at the best Strip buffets discussed above, but at a more palatable price point (25%-35% less) – See current pricing on Palms' website.
When I recently stopped in for weekend brunch, I was delighted to find out bottomless mimosas and champagne was included in the price of admission (they're an upcharge during other meals).
In addition to libations, AYCE offered piles of shrimp, supple crab legs, and trays of sushi.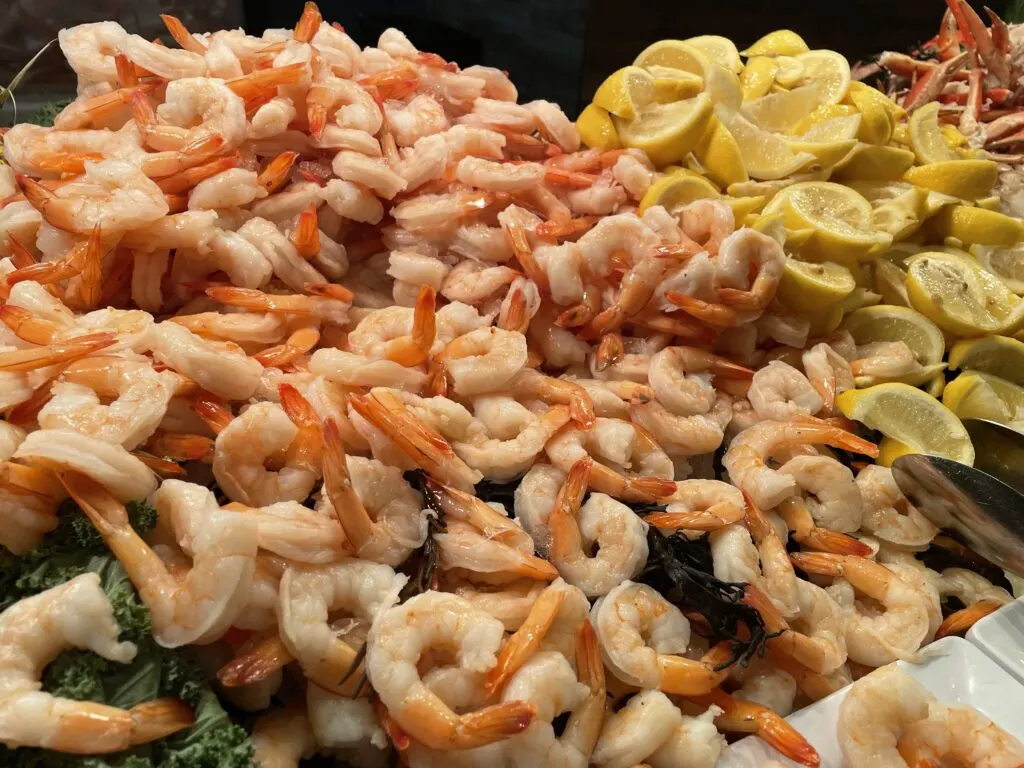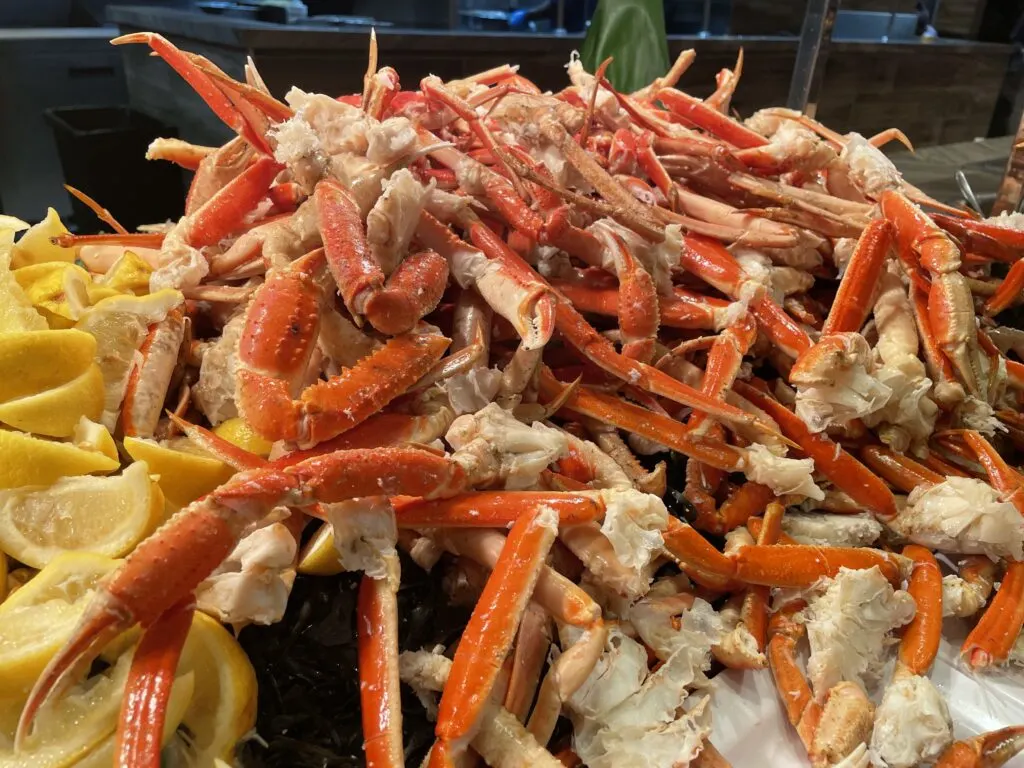 The carving station offered brisket, round steak, sausage, and honey-glazed ham. Absent was prime rib, unfortunately. They do offer a prime rib dinner on Fridays, however.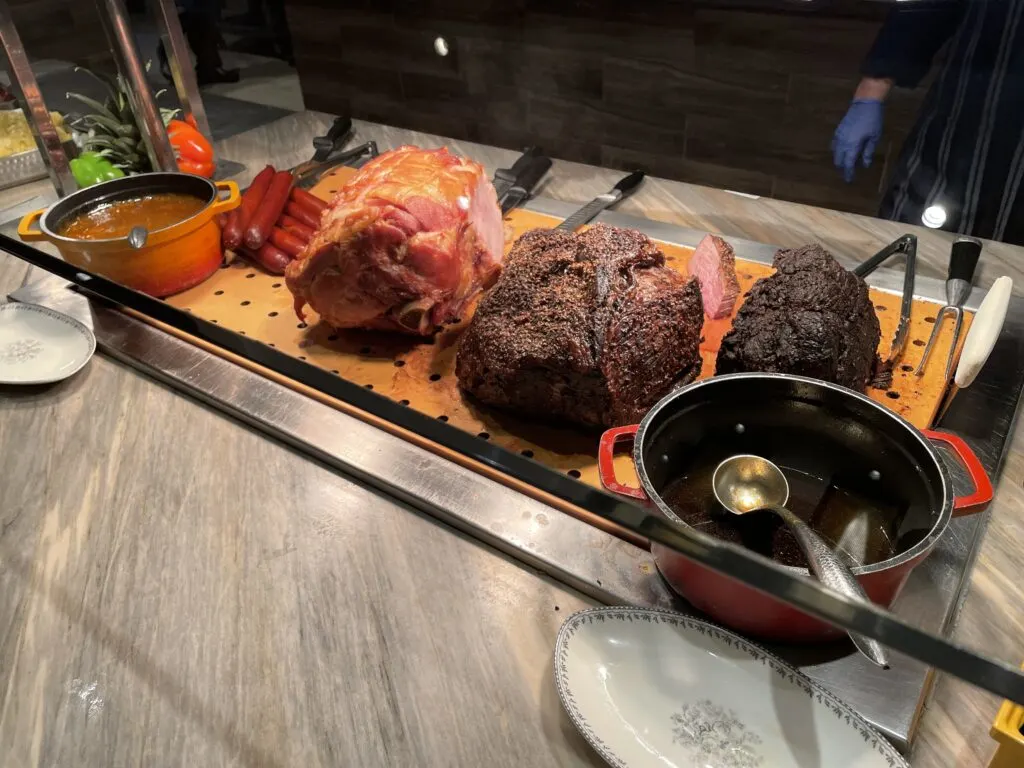 Lunch and breakfast cuisine options from around the world were offered, and I was genuinely impressed with the quality.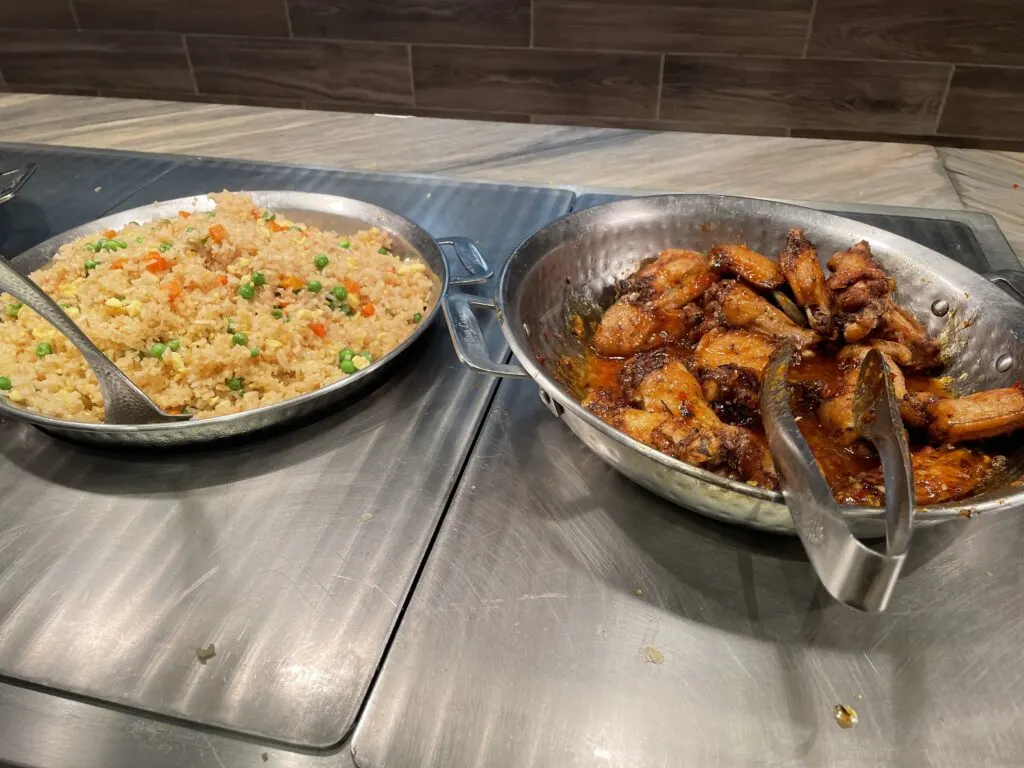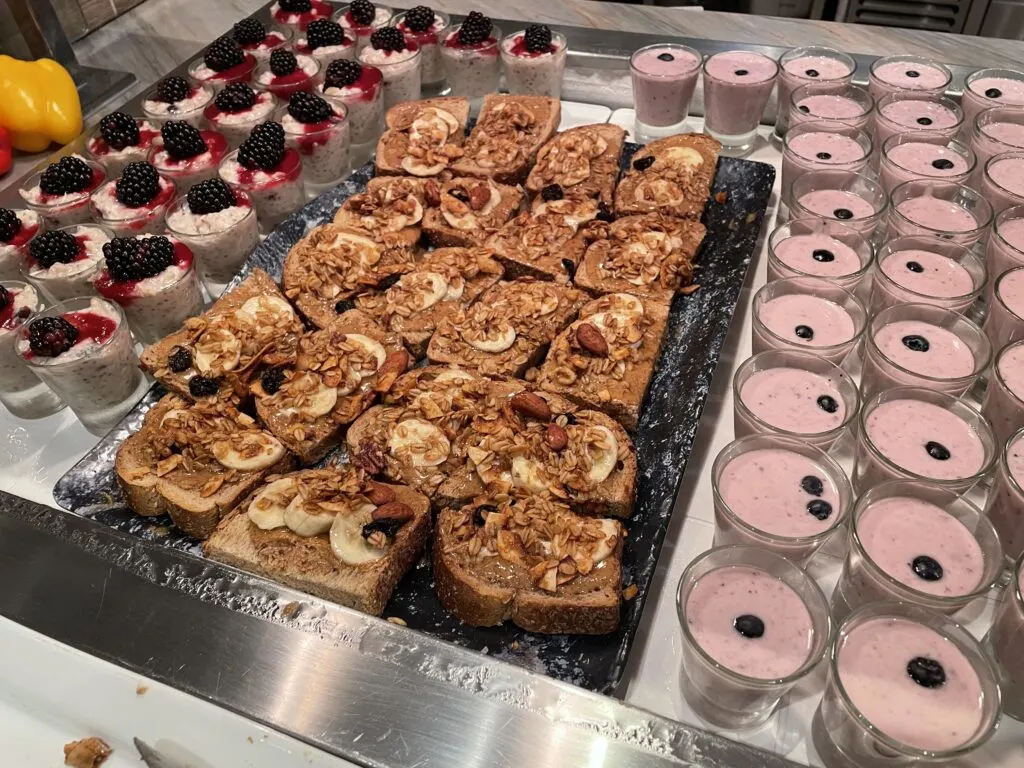 While Palms is located slightly off the Strip, I'd recommend visiting if you want a great experience at a less shocking price point.
The resort outside of the buffet space is also worth a visit. The beneficiary of a recent $690 million renovation, the casino floor has an upscale, swanky vibe that I found to be an enjoyable escape from the crowds on the Strip.
See my full Palms AYCE Buffet review, along with more pictures!
Ultimately, if you're looking for a great buffet experience, you can't go wrong with any of the above options. If you have yet to visit an upscale buffet like the ones above, I think you'll be thrilled with the level of quality, creative food items, and overall experience.
If the best buffet in Vegas is what you're hunting for, make time for Bacchanal at Caesars Palace, or Wicked Spoon at Cosmopolitan. Both are spectacular and are sure to leave you satisfied with your dining experience. I know I was.
Related: Every Buffet Currently Open in Las Vegas.
I'm a former software salesman turned Vegas aficionado. While the craps table is my preferred habitat, I pull myself away to explore new attractions, shows, restaurants, and outdoor activities around Las Vegas with the intent of sharing my experiences.
Ultimately, I just want to help folks plan a better trip and save a few bucks in the process.