Followers and fans of Las Vegas received a glimmer of good news in an otherwise challenging year when Circa Las Vegas opened for business at 12:01 am on Wednesday, October 28th.
Circa's grand opening comes as a welcome relief to a city accustomed to renderings and grand project announcements that frequently don't see the light of day. Not even a global pandemic that crippled, and is still negatively affecting travel to Las Vegas, could stop Derek and Greg Stevens from advancing their project across the finish line.
The new resort replaces the Las Vegas Club, Mermaids, and Girls of Glitter Gulch gentlemen's club, which were deconstructed and disposed of piece by piece to clear the way for the first new construction resort downtown in decades.
We had the opportunity to visit Circa on opening night and are excited to give you a photographic tour of the property that has set the new standard for Downtown Las Vegas.
Related: Staying on Fremont Street vs. the Strip – We compare the two options.
Circa Resort Exterior
With a modern look and feel, Circa is a stark contrast to other resorts on Fremont Street. In addition to stunning aesthetics, the resort offers an outdoor bar and even a "Project BBQ" food truck which is accessible from the exterior of the building.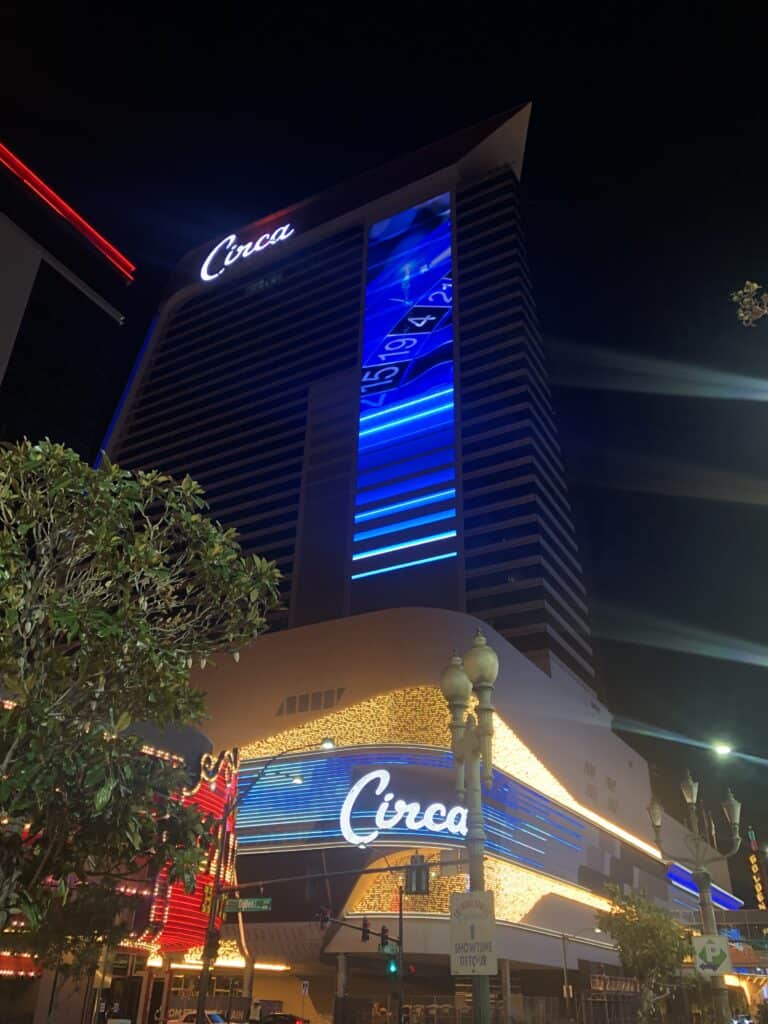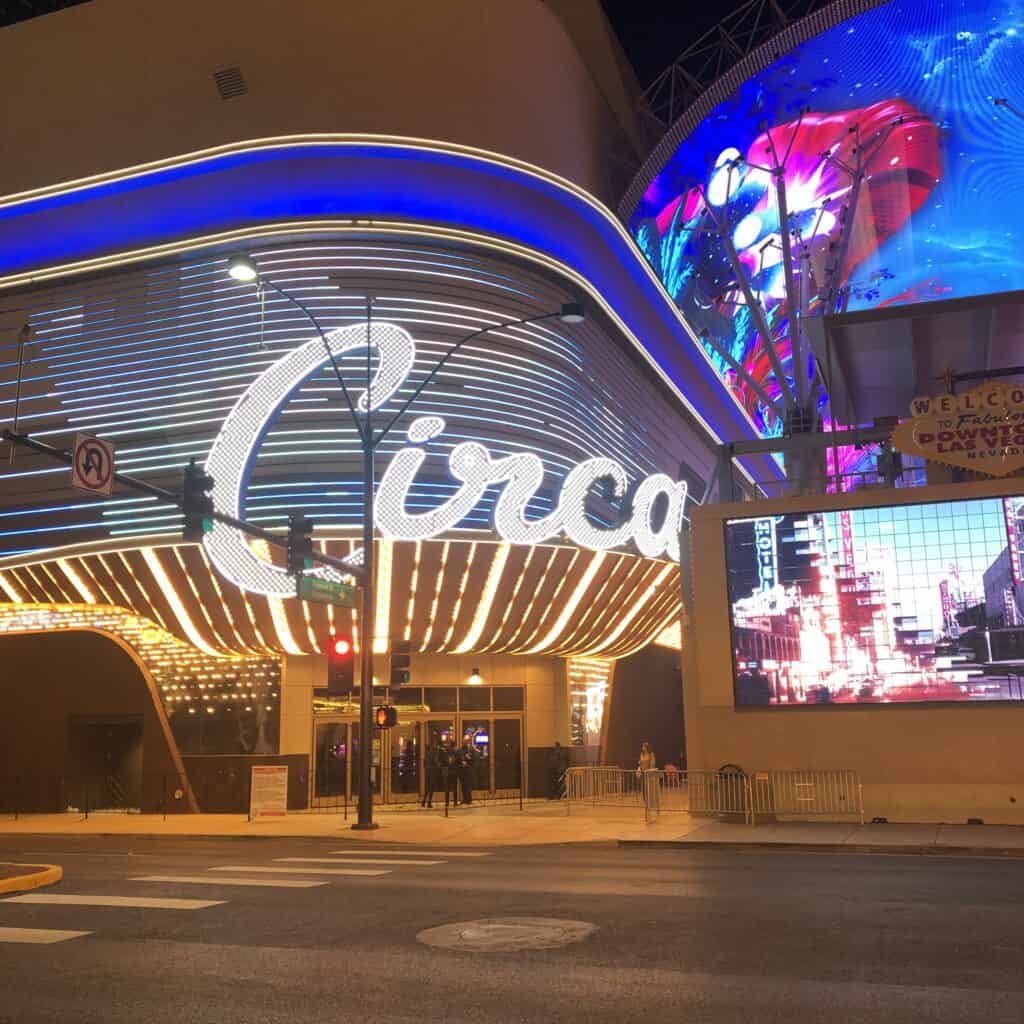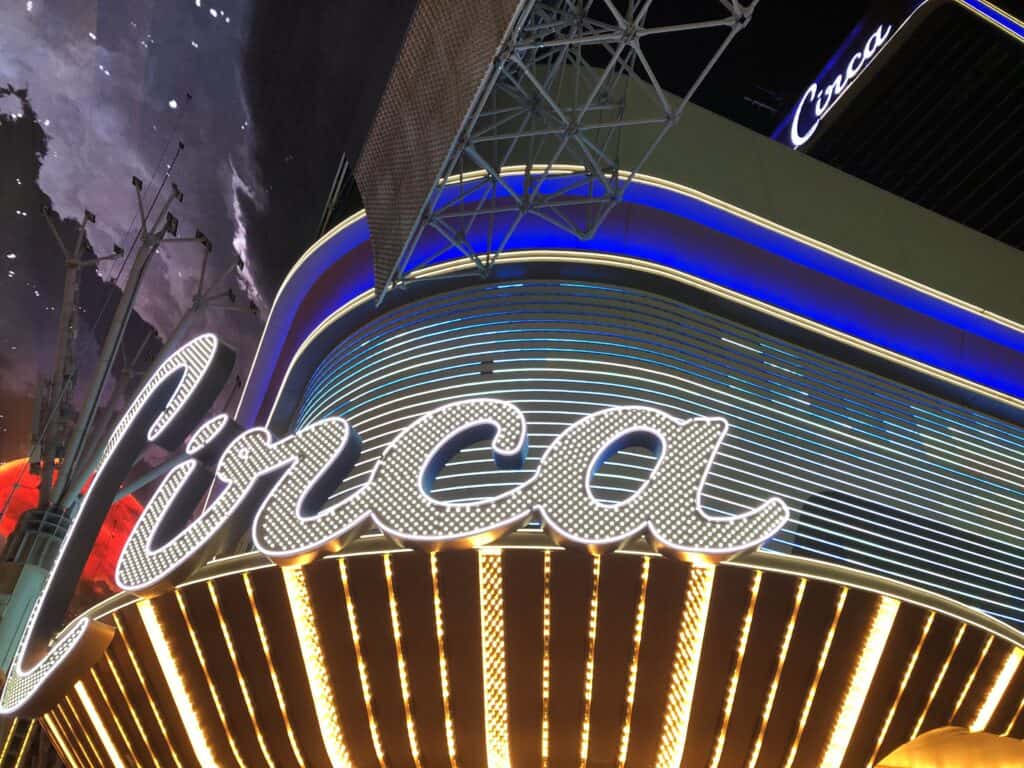 Stadium Swim Pool Deck
You've seen the renderings, and they don't do the rooftop pool deck at Circa justice. Stadium Swim at Circa has 6 pools which will be open, and heated, during the winter. The focal point of the rooftop pool deck is a 40 foot tall (143 foot diagonal), 14 million pixel screen that will broadcast sporting events and host big-game watch parties. Circa's pool deck has over 330 loungers, 30 cabanas, 38 daybeds, and can hold up to 4,000 people. Also incorporated into the pool deck is a small space dedicated to table games.
Two separate swim-up bars are built into the top-level pools nearest the hotel tower. There are also 2 bars located under the massive screen that serve the full assortment of slushy cocktails you would expect at a Vegas pool scene.
Non-hotel guests can access Circa's pool for a cover fee of $10.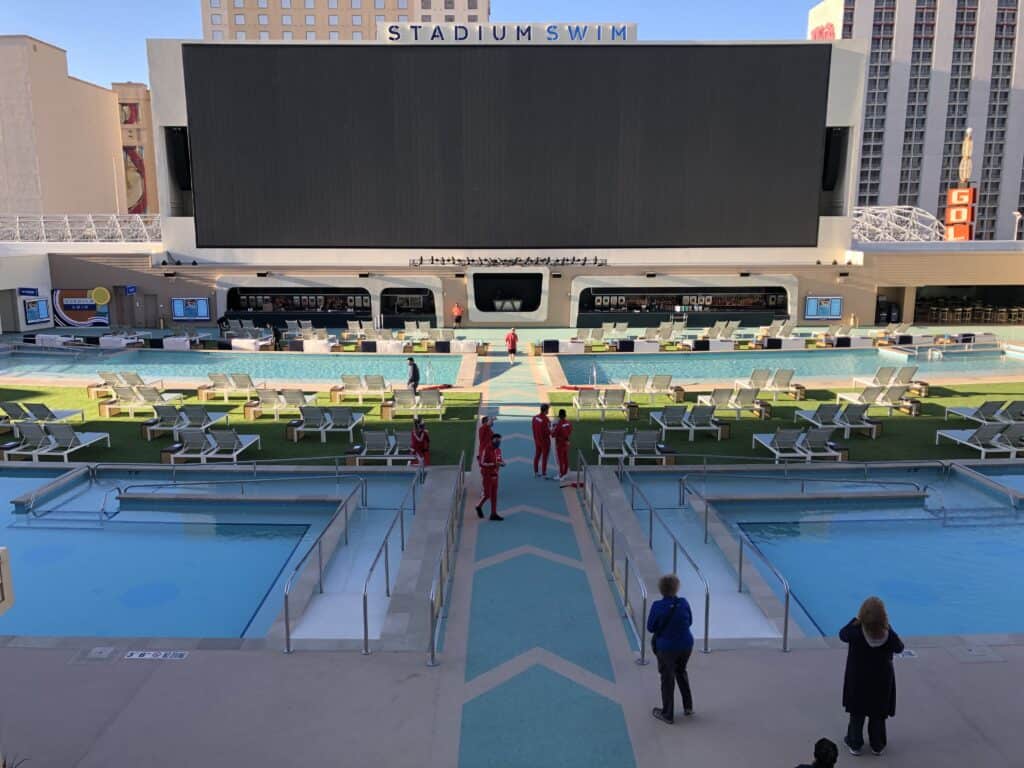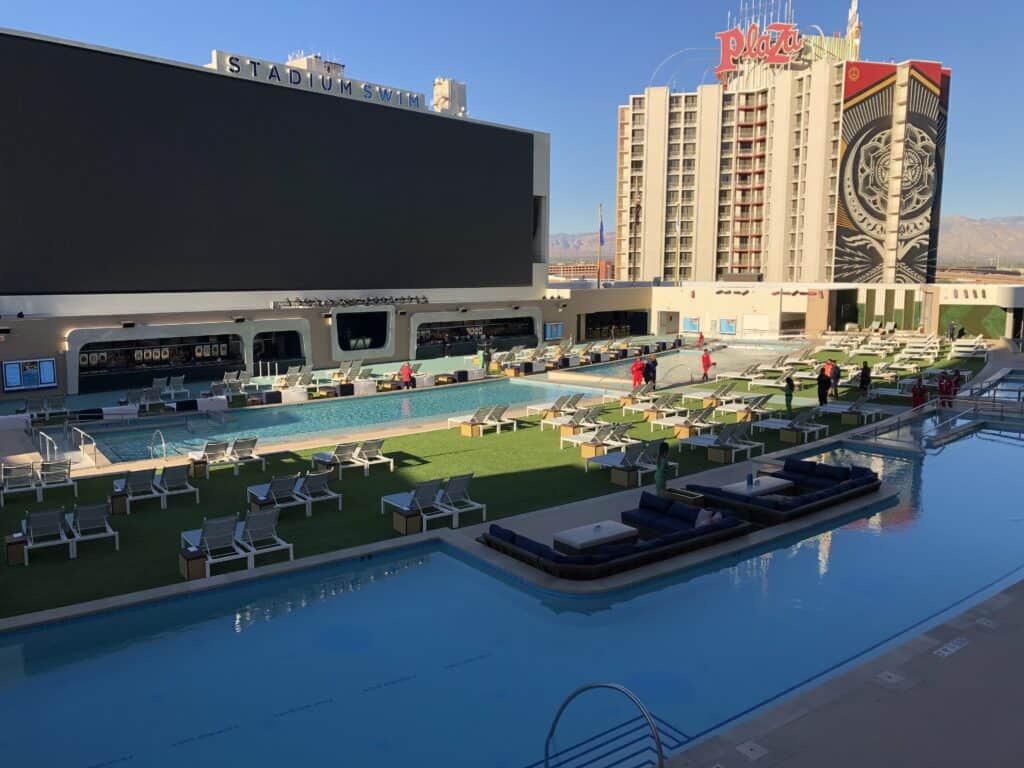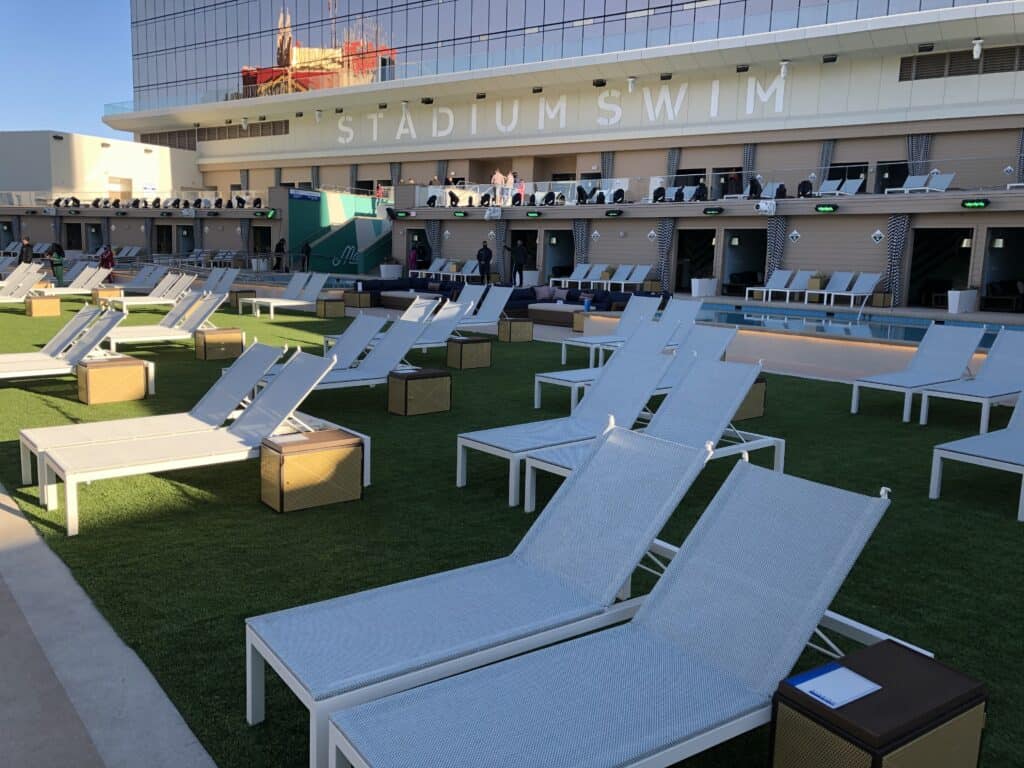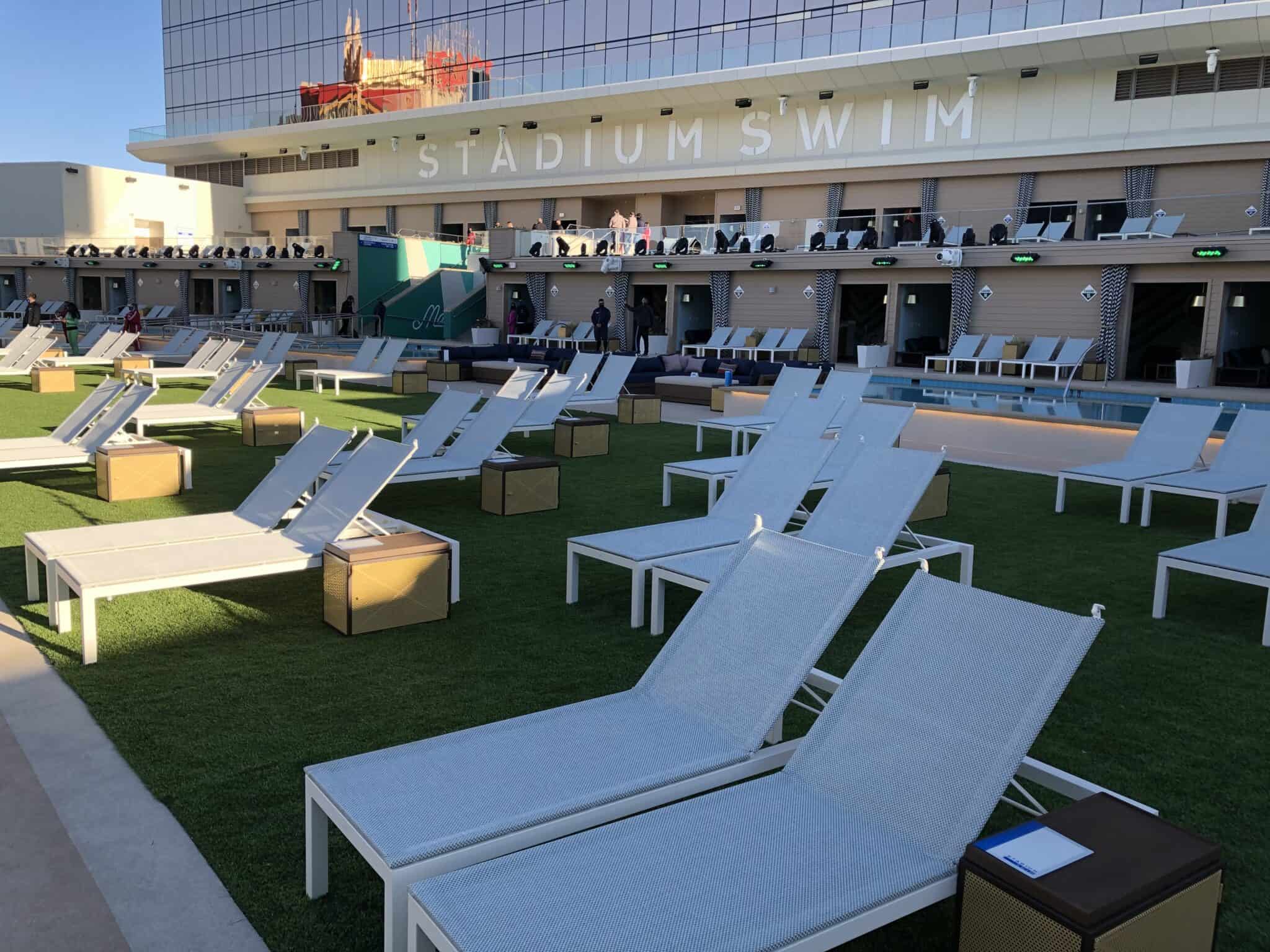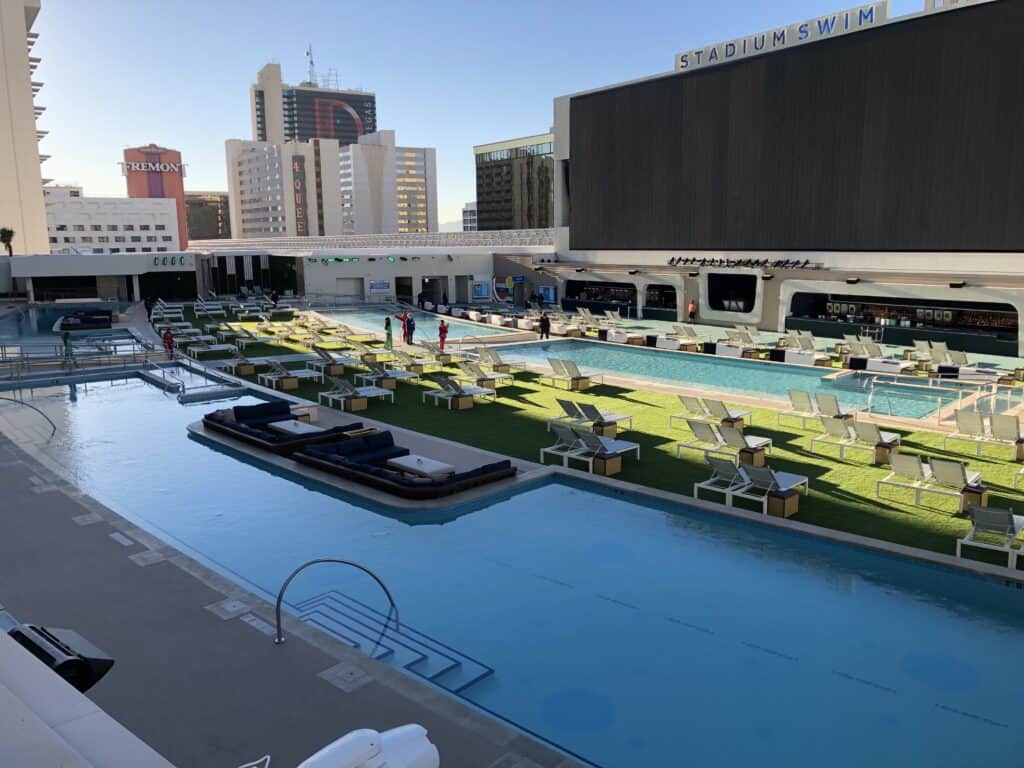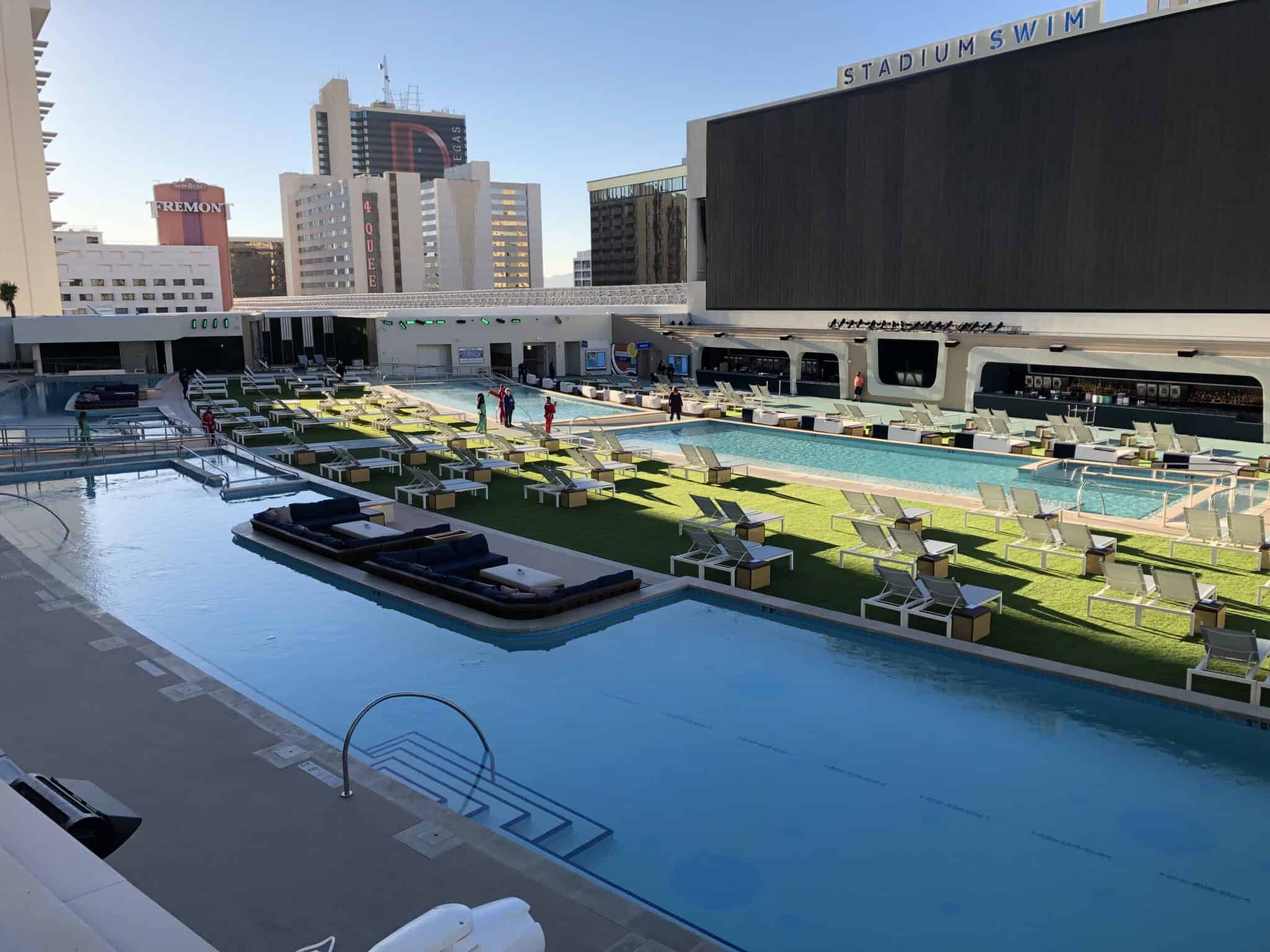 Circa's 2 Level Casino
One of only two multi-level casinos in Vegas (The D being the other), Circa's casino has an elegant, modern feel while providing guests their choice of 1,350 slot games, 55 table games, and 138 bar top devices.
Giving the gaming floor a touch of "wow factor" that is missing from so many casinos is the presence of Vegas Vickie who is visible from parts each level. Neon shining, and mechanical leg kicking, she narrowly edges out Circa's sportsbook as the best photo opportunity on the property.
Notably, all but one blackjack table in the casino pay 3-2. The only 6-5 table we found was not in play. Table minimums on opening night were $25, however, we would expect to see that come down into the $10-$15 range after the initial surge of demand dies down.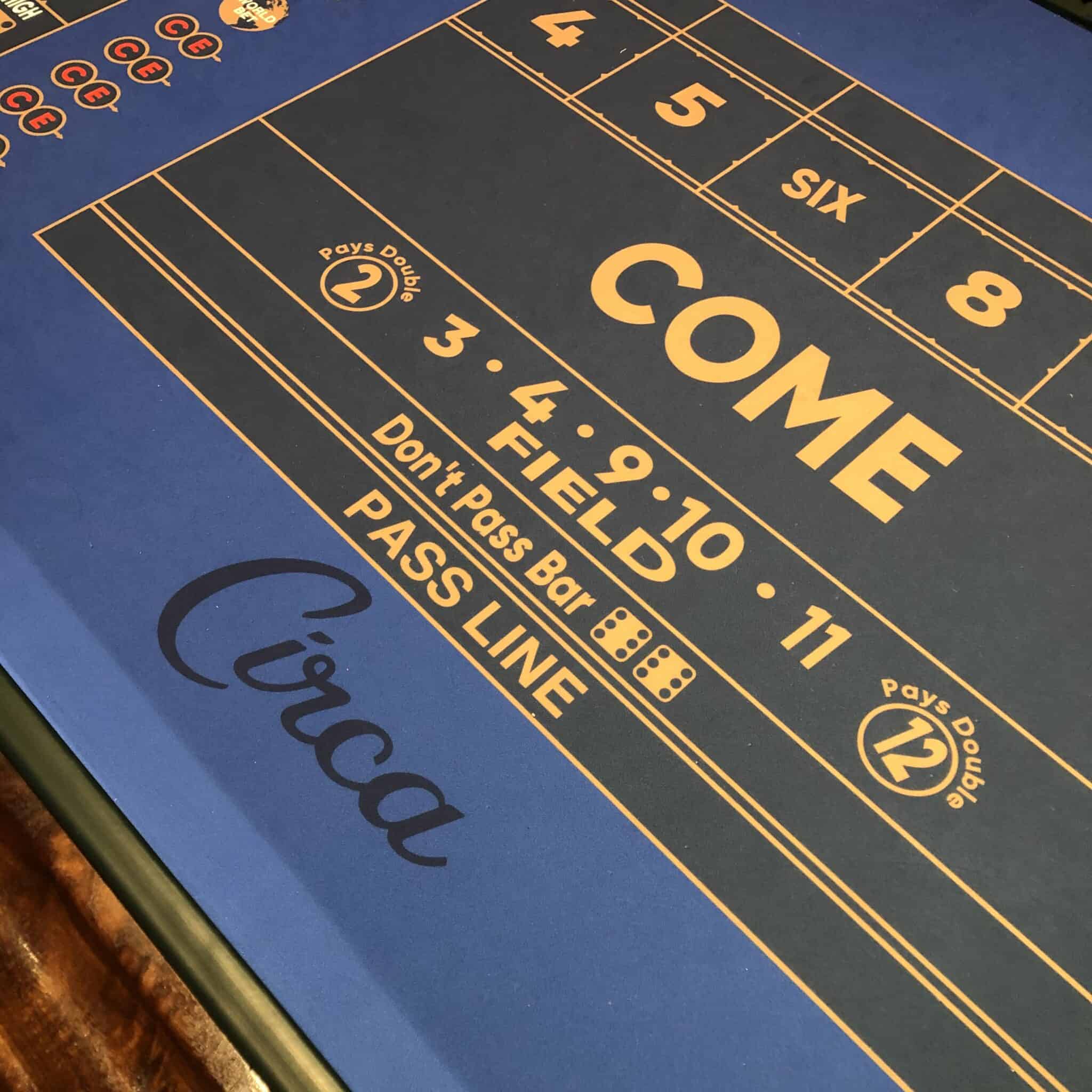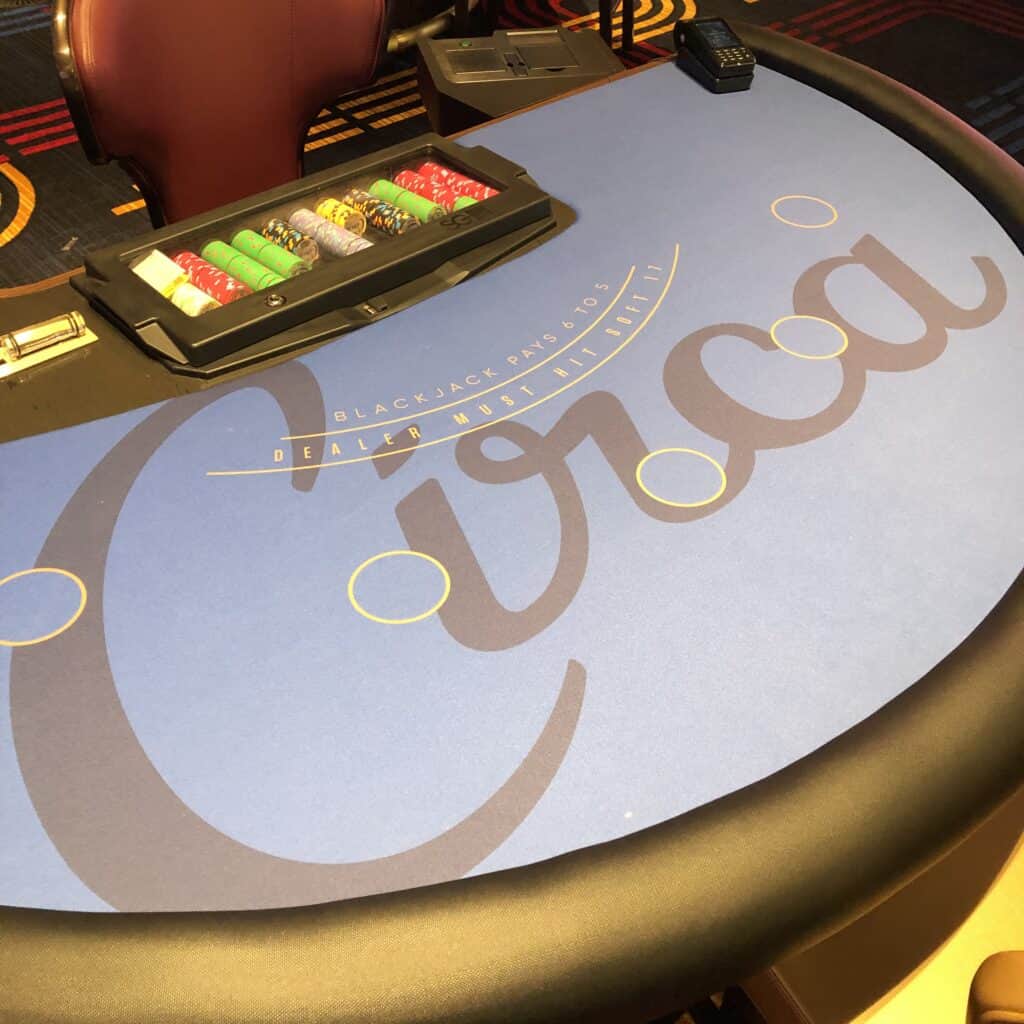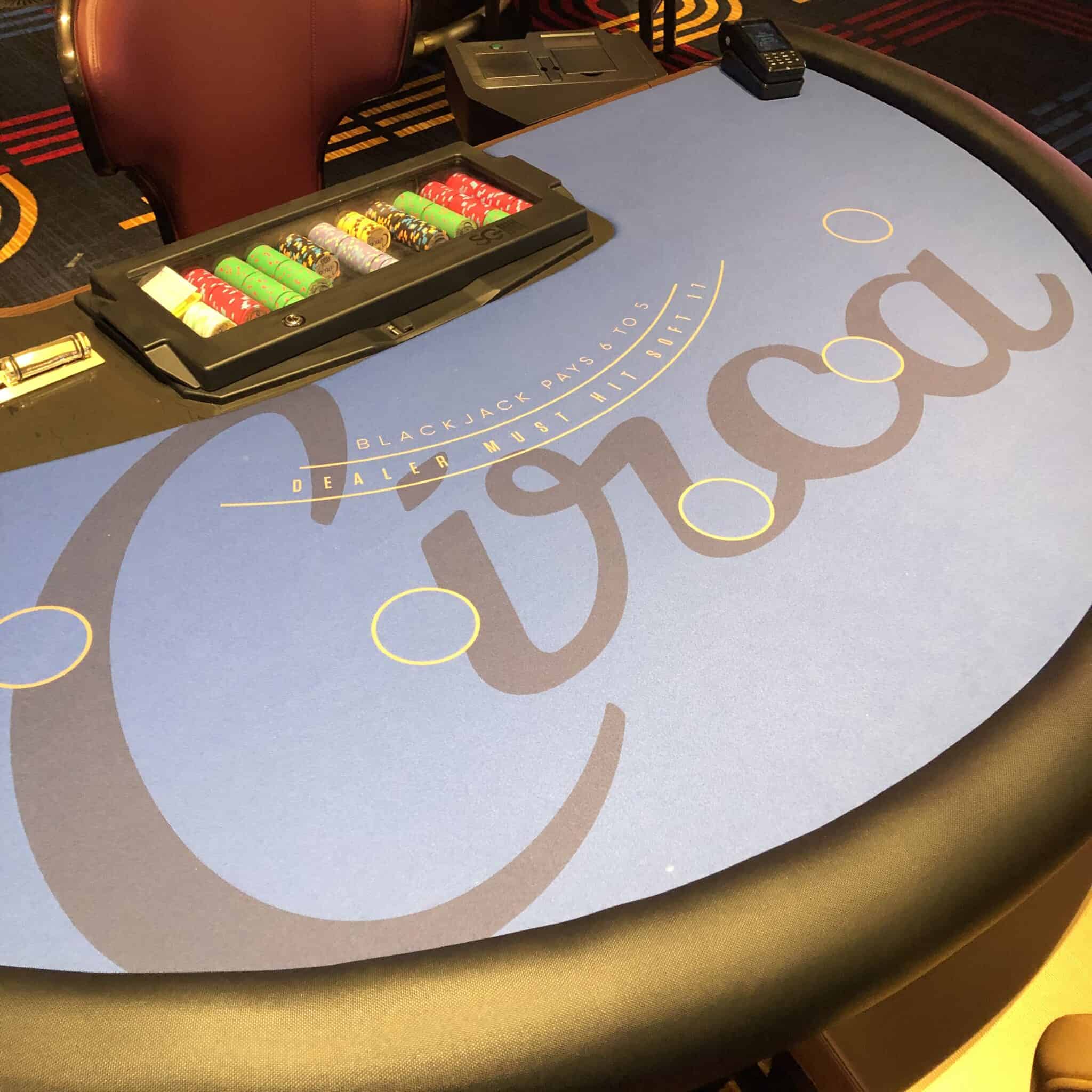 Circa's Sportsbook
Absurd is the best way to describe the sportsbook at Circa. Unlike anything in Vegas, or the world for that matter, Circa's screen is 3 stories tall and has 78 million pixels. Just look at it. In addition to the BIG features, the small details are impressive as well. For instance, some guest tables in the book have historic Las Vegas newspapers laminated into the finish.
While there is seating for 350, each level of the casino offers a significant number of tabletop gaming machines that face into the book. For those that like to gamble while they gamble on sports (raises hand), these could be a great option. If you want a seat in the actual book, we would recommend reserving in advance on Circa's website as they will likely be in high demand.
As every floor of Circa's casino opens to the sportsbook, the towering screen is almost omnipresent as you navigate the casino floor. It's inescapable in the best way possible.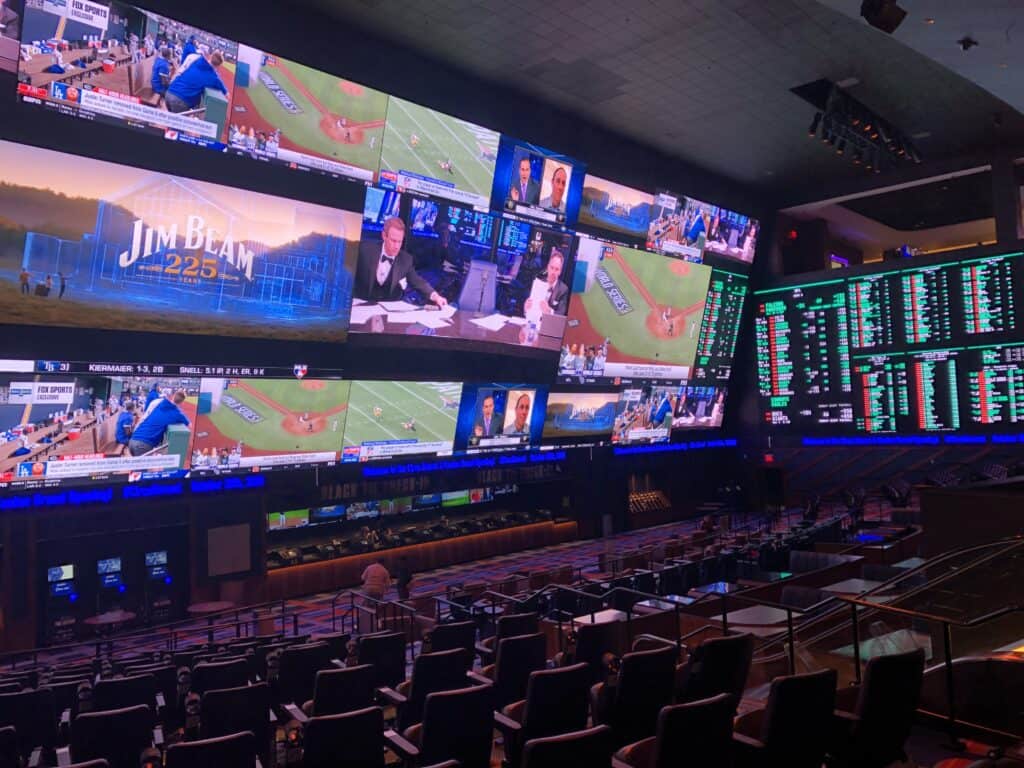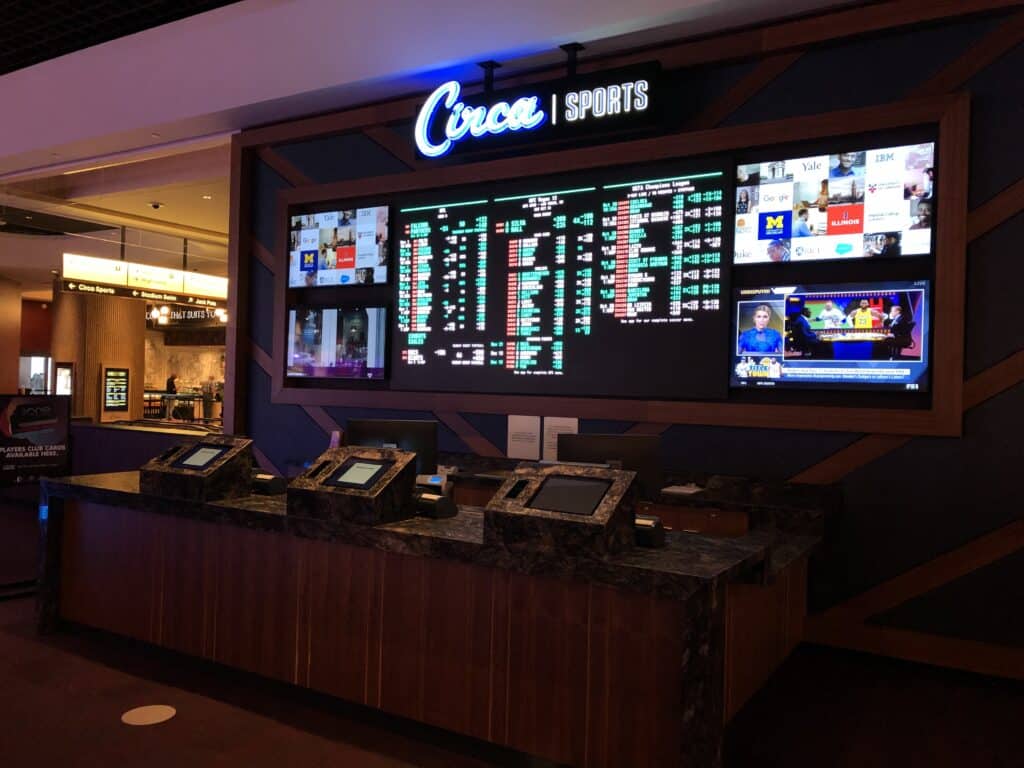 Circa's Dining Options
With options that include quick-serve BBQ from a food truck, Saginaw's Delicatessen, Victory Burger & Wings, high-end steaks at Barry's Downtown Prime, and Asian fare at 8 East, Circa has all tastes covered.
Notably, price points are higher than the typical Fremont Street casino goer may be used to. Guests can plan ahead and check out Circa's menus here.
Saginaw's deli has also brought back the .99 cent Shrimp Cocktail made famous by Du-par's at Golden Gate in the past. Typically $11, Saginaw's serves the classic dish for .99 cents between 3 – 5 am with the purchase of an entrée. We somehow were able to order one without an entrée for .99 cents and were impressed with the quality and loved the "kick" in the cocktail sauce.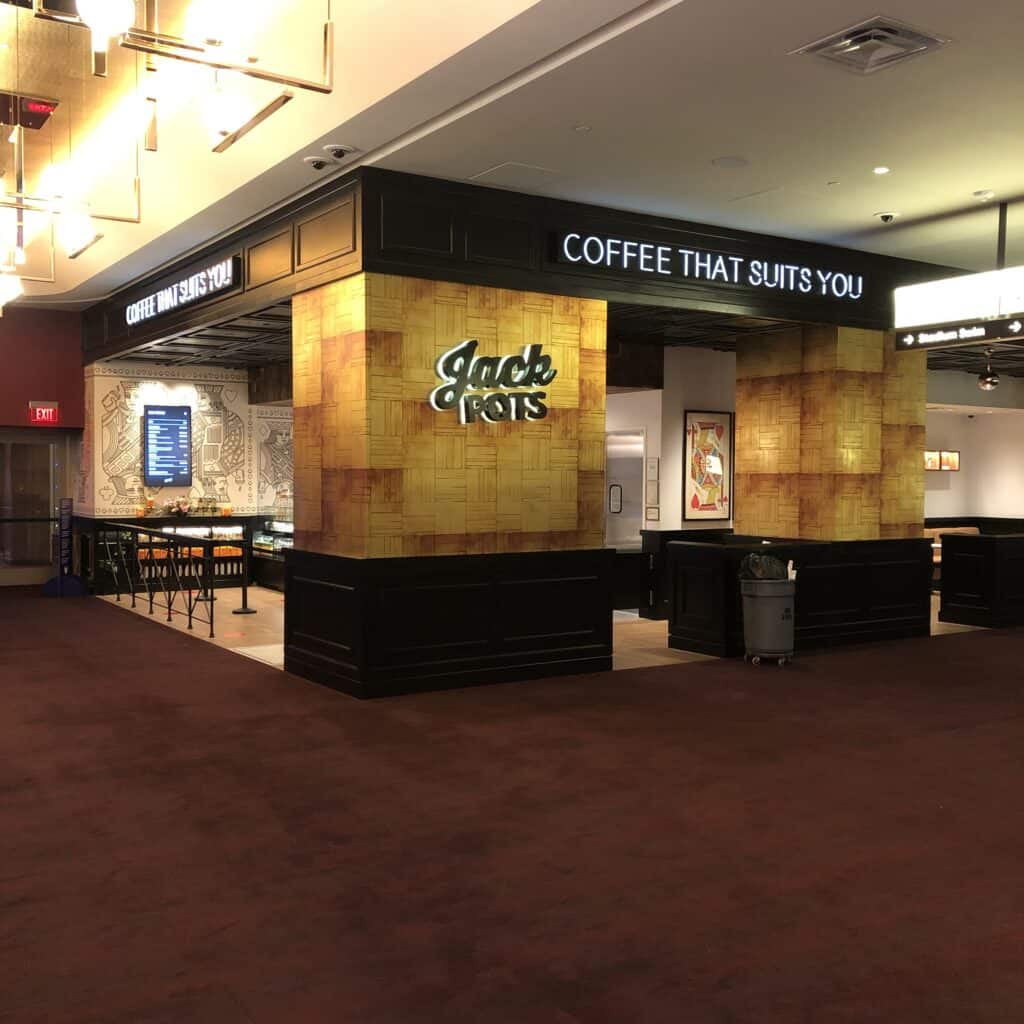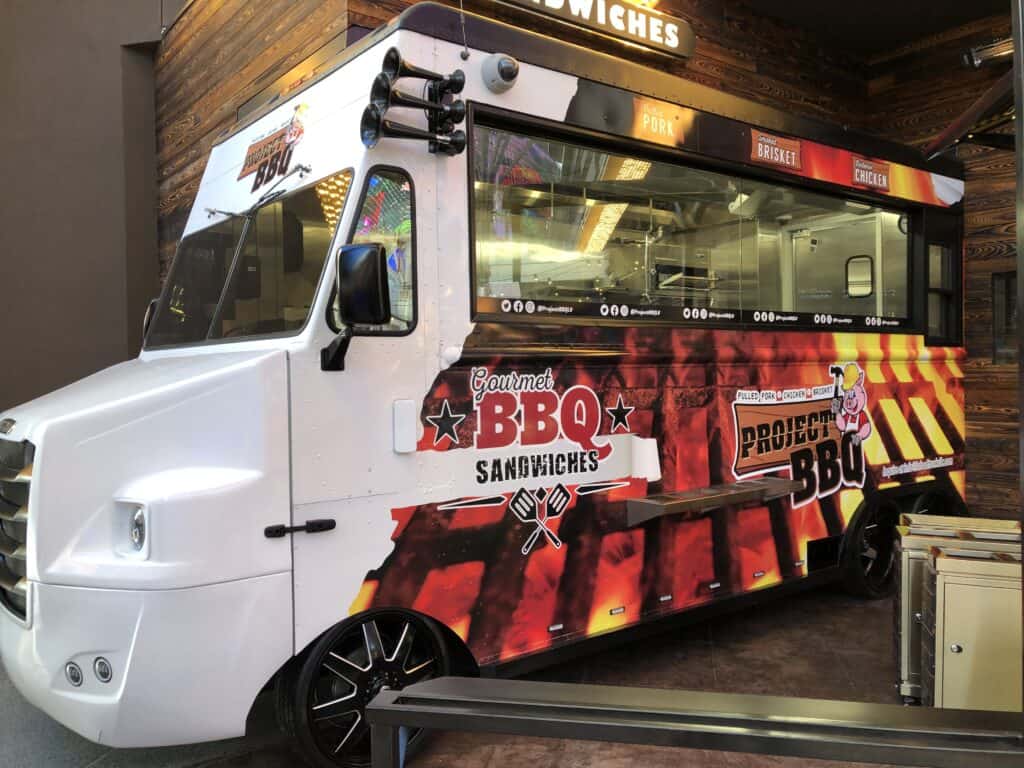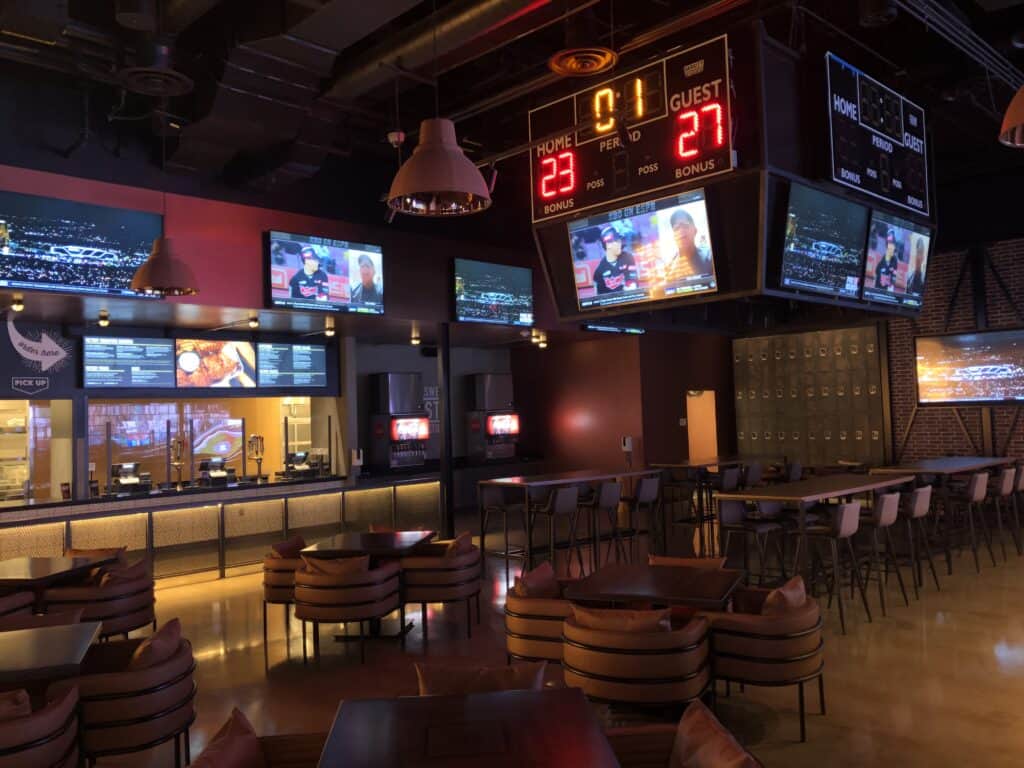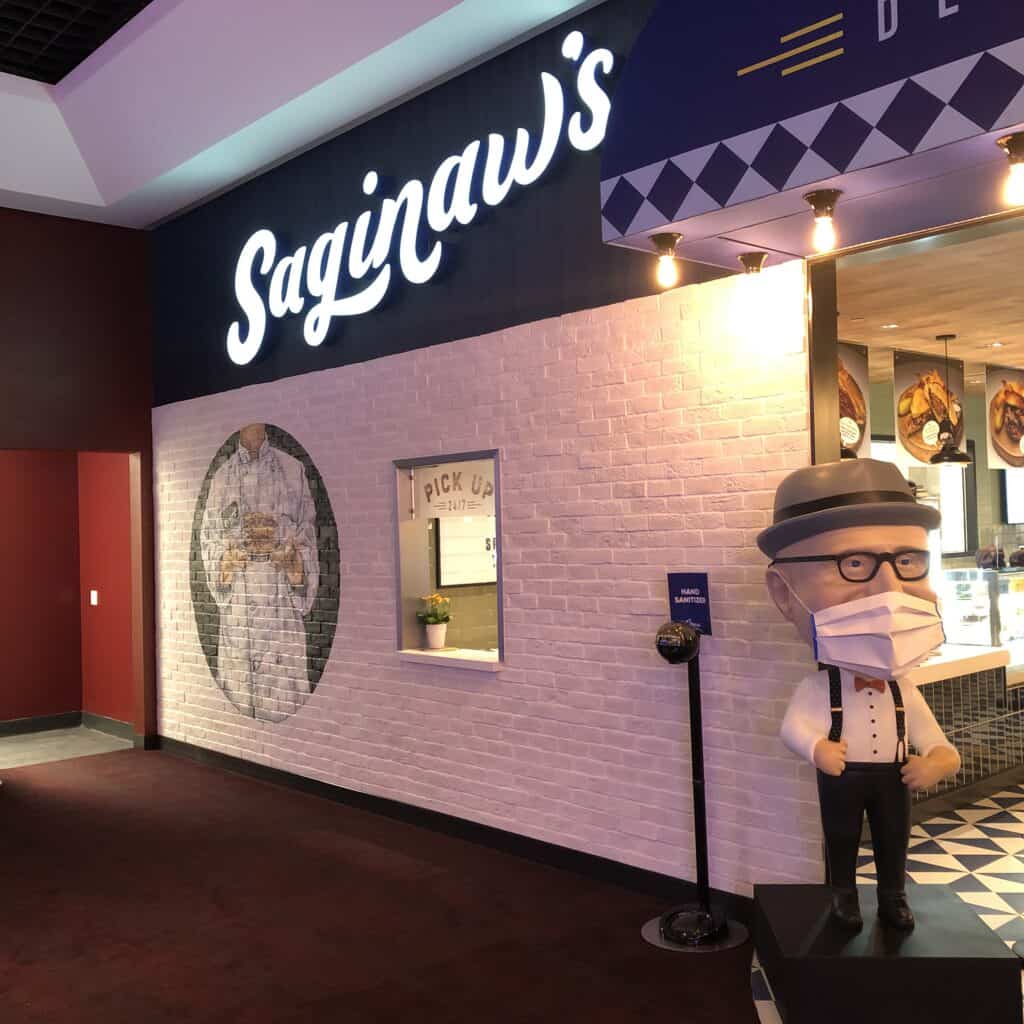 Bars at Circa
So many casino bars are boring, unexciting, and utilitarian in nature. A row of seats at a counter where you can buy drinks. Circa ups the ante with bars that are a destination within themselves. Not one of Circa's bars is "normal" or boring.
For instance, you'll have a view of a restored Vegas Vickie at her namesake bar Vegas Vickie's.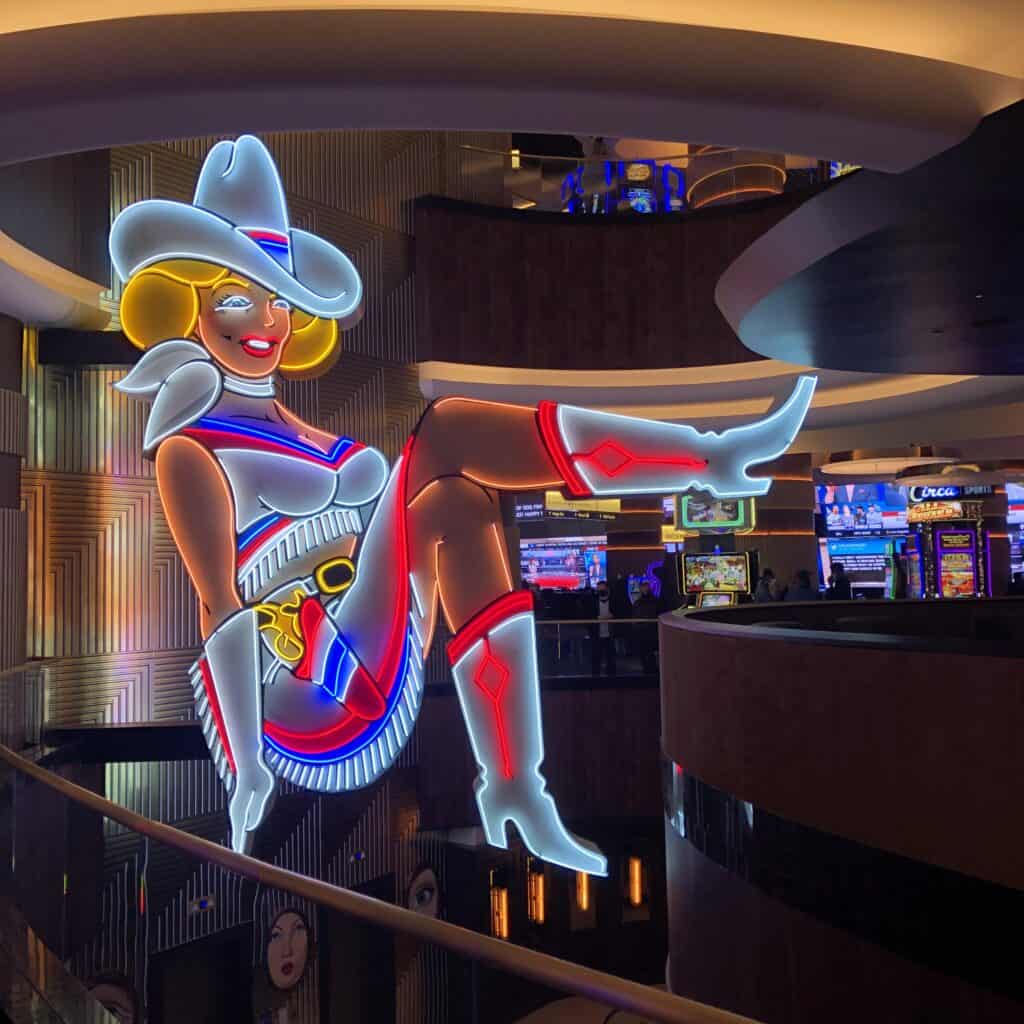 At Overhang Bar, you'll have an elevated view of the sportsbook's 3 story screen.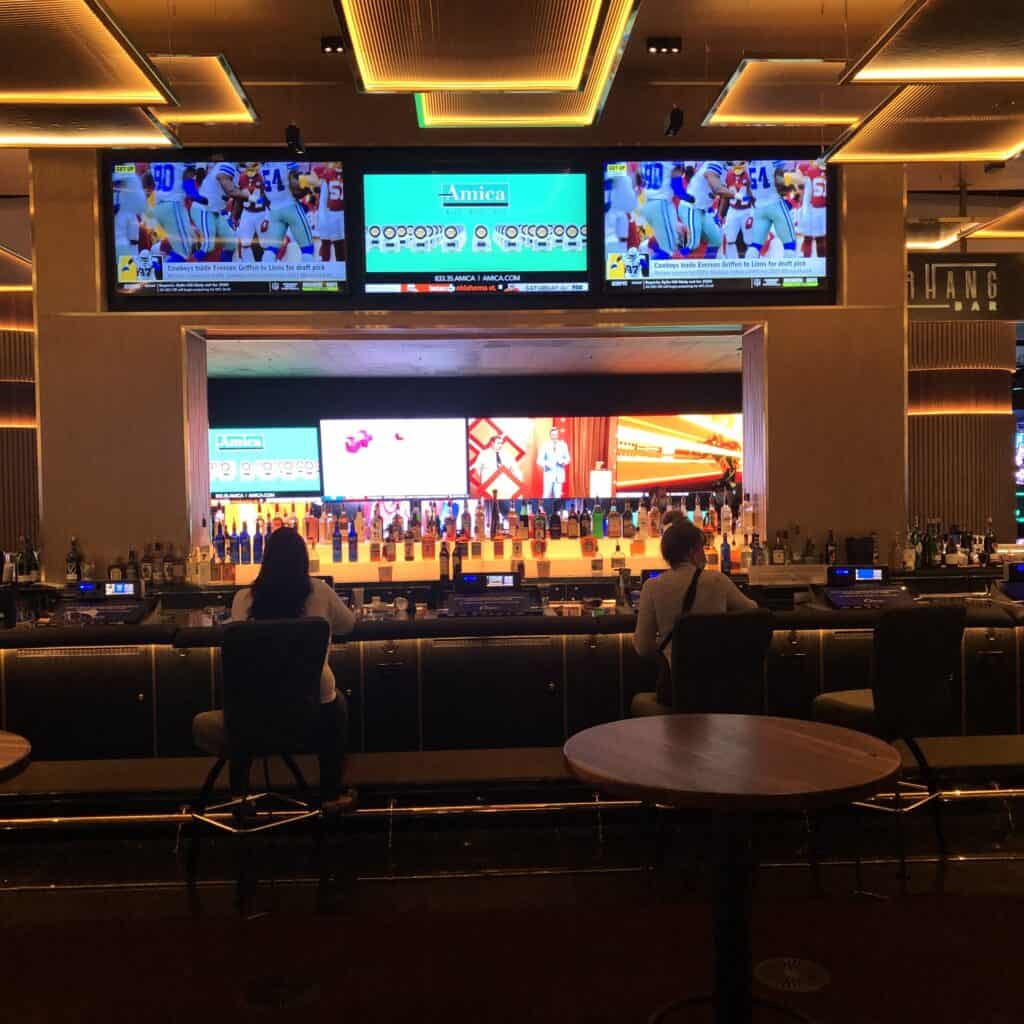 Mega Bar is the longest in Vegas at 165 feet and offers 40 TVs, all with top-notch active content management.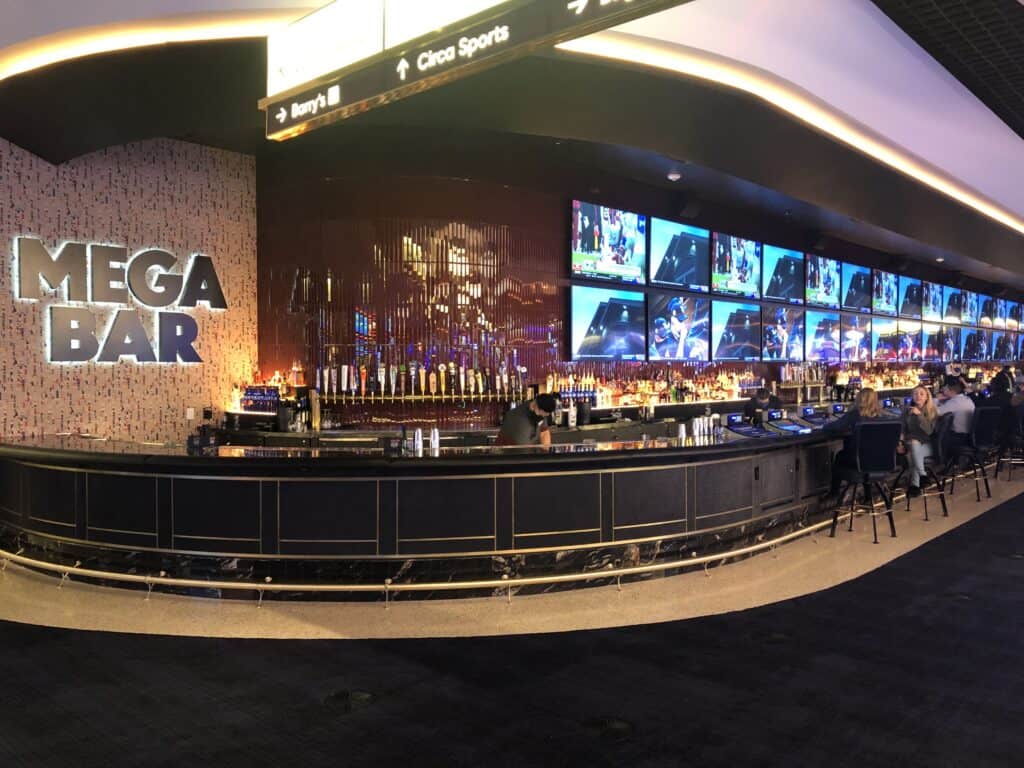 Lastly, Circa Bar on the exterior of the resort sets the tone as you walk in with almost 120 feet of bar space, dancing bartenders, and frozen cocktails.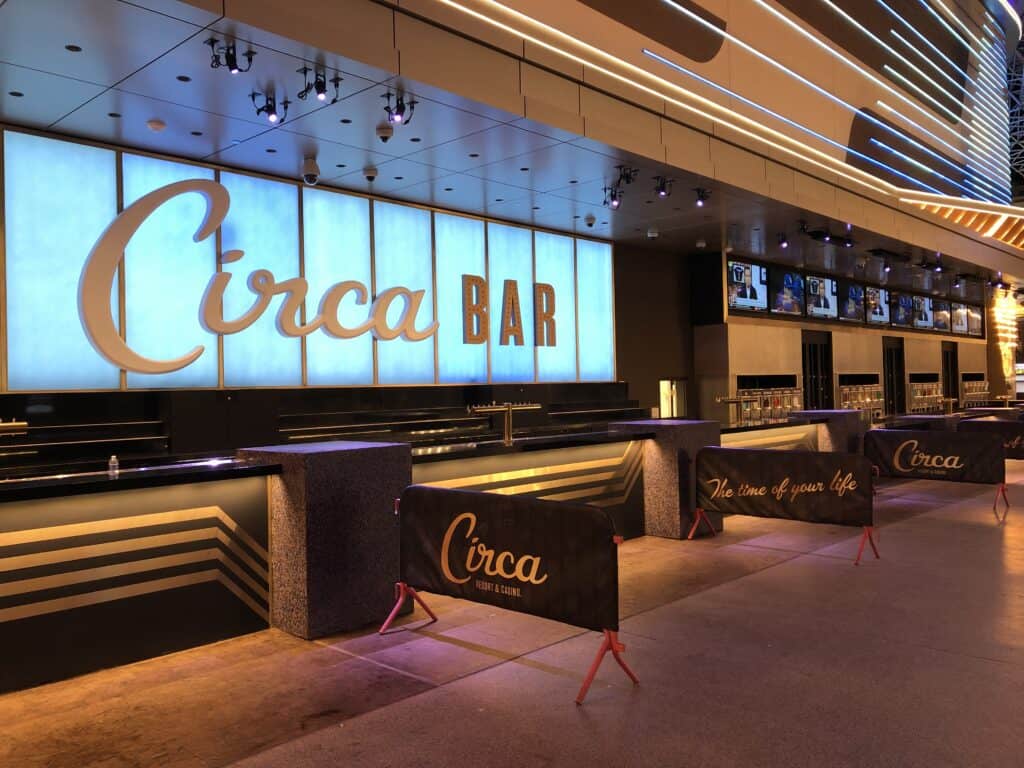 Retail Options
Although I'm not a big shopper per se, a few outlets at Circa caught my eye. The most intriguing was a store that can create a life-size Lego sculpture of anyone or anything that you can provide a photo of. Pricing ranges from approx. $5,000 for a child, $12,000 for an adult woman, $15,000 for an adult male, and about $3,000 for a pet. Pricing depends on the size of the figure, the time it will take to construct, and the materials needed. On display is a cocktail-toting Lego version of Circa owner Derek Stevens and a dancing dealer.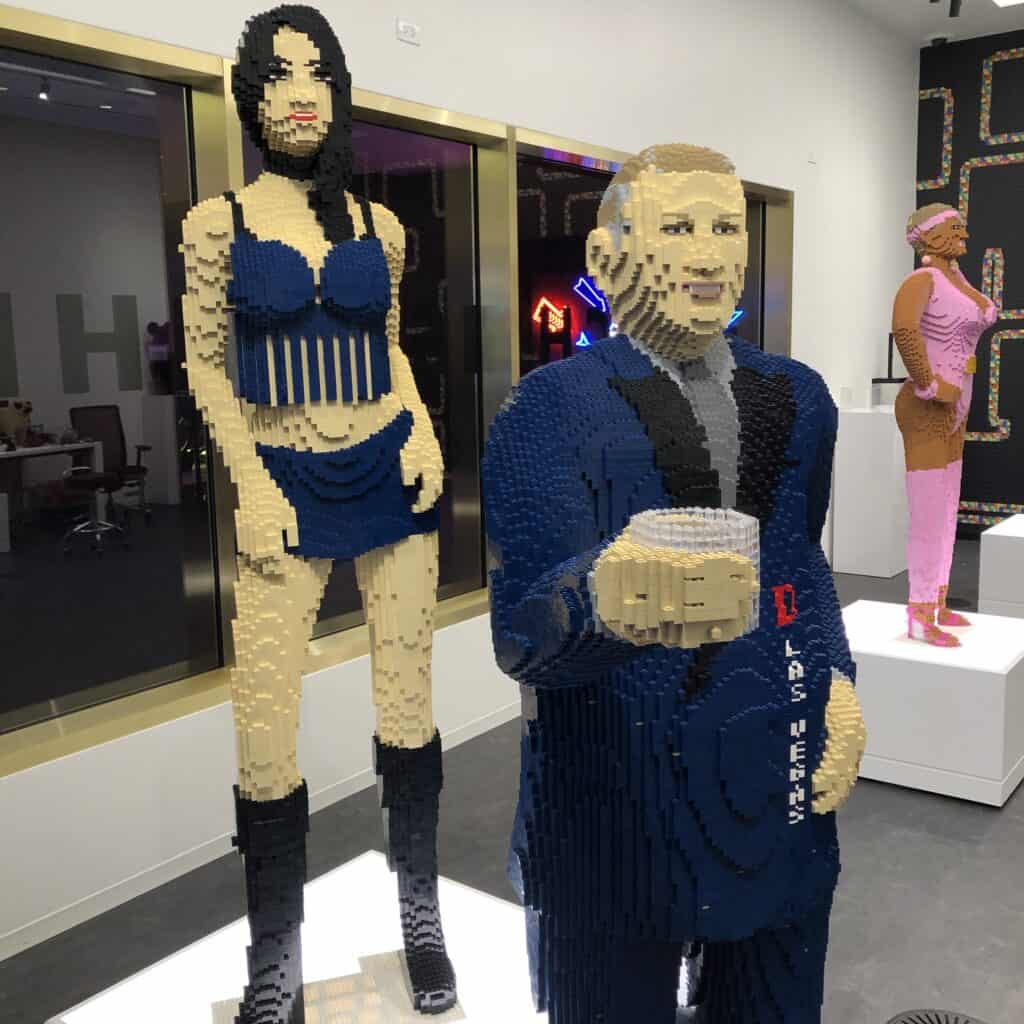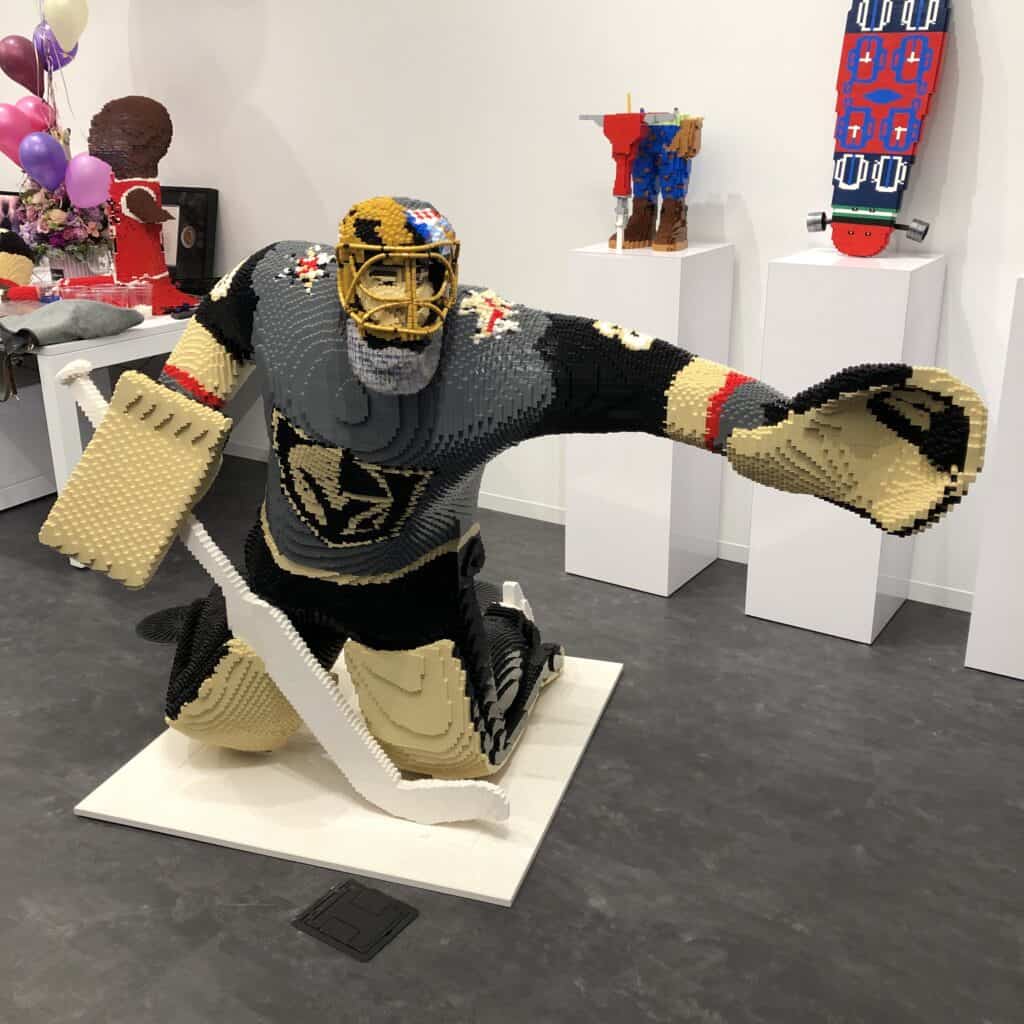 Art on Display at Circa
As is the case with many upscale Las Vegas properties, there is a lot of unique art on display that catches the eye. We snapped photos of some of our favorite, unique, pieces.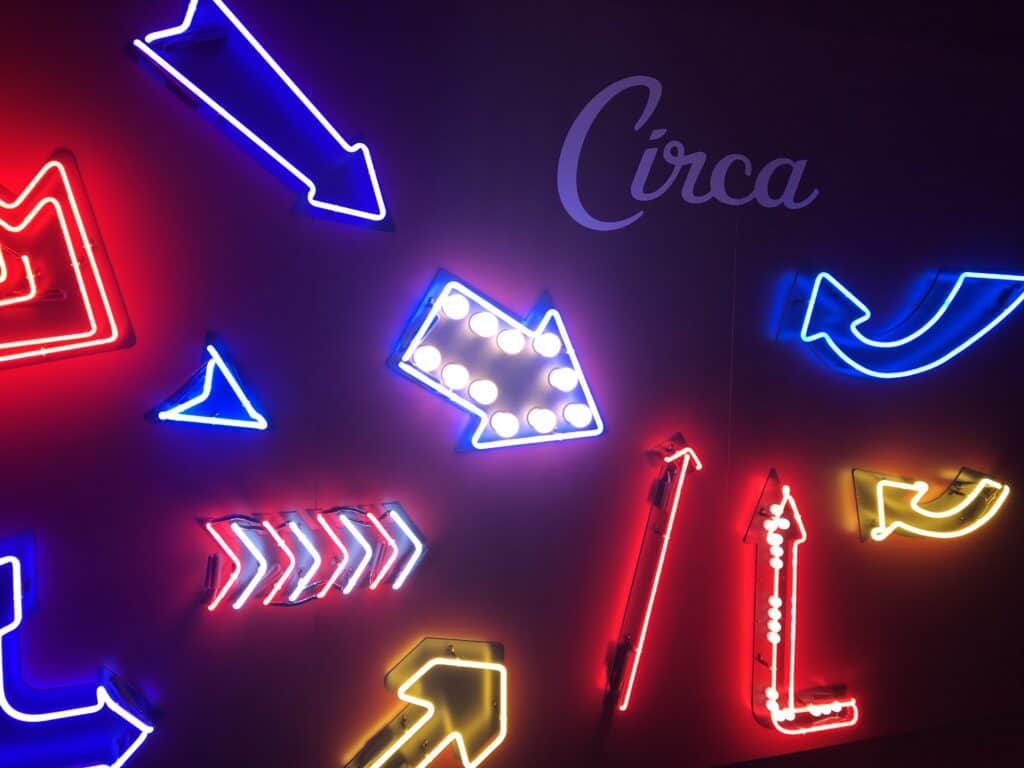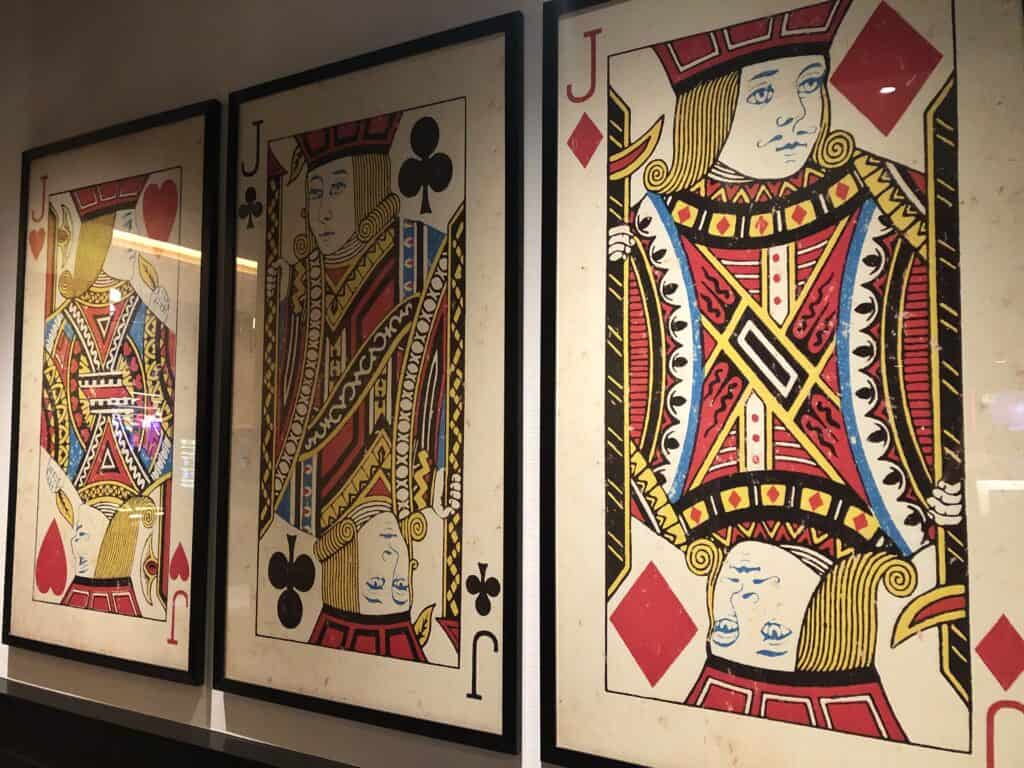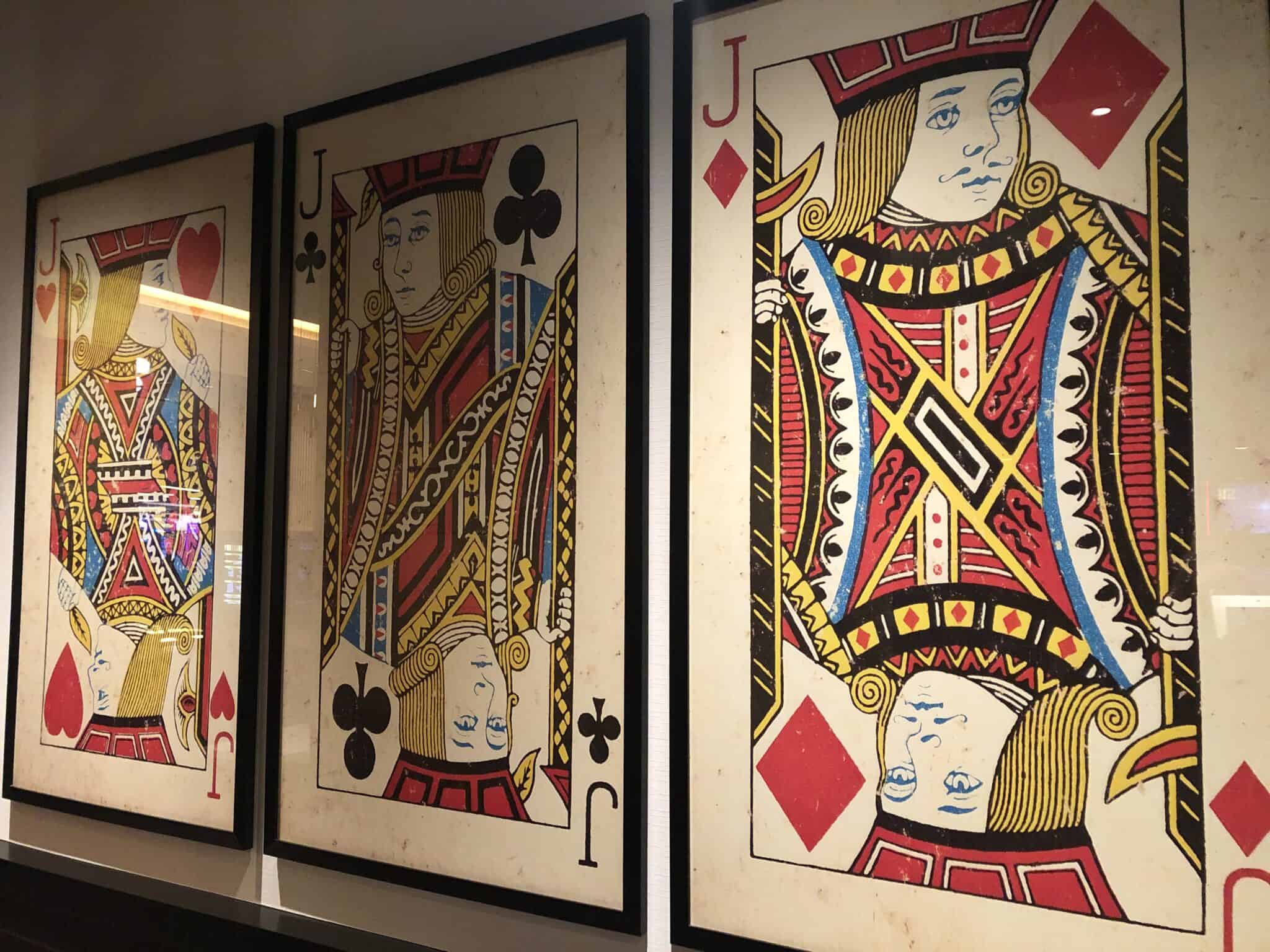 Garage Mahal
You rarely see casino parking garages mentioned at all, much less celebrated, however, "Garage Mahal" is a notable exception. Connected to the casino by an enclosed walkway, Garage Mahal is the first in Vegas to employ dedicated rideshare lanes designed for quick drop-offs and pickups steps away from the gaming floor. Welcoming guests to the property is the "Time of your life" chandelier pictured below.
Self-parking rates are $4/hour, with a daily max of $25. Club One members that have achieved Maverick or Legend status will receive complimentary self-parking.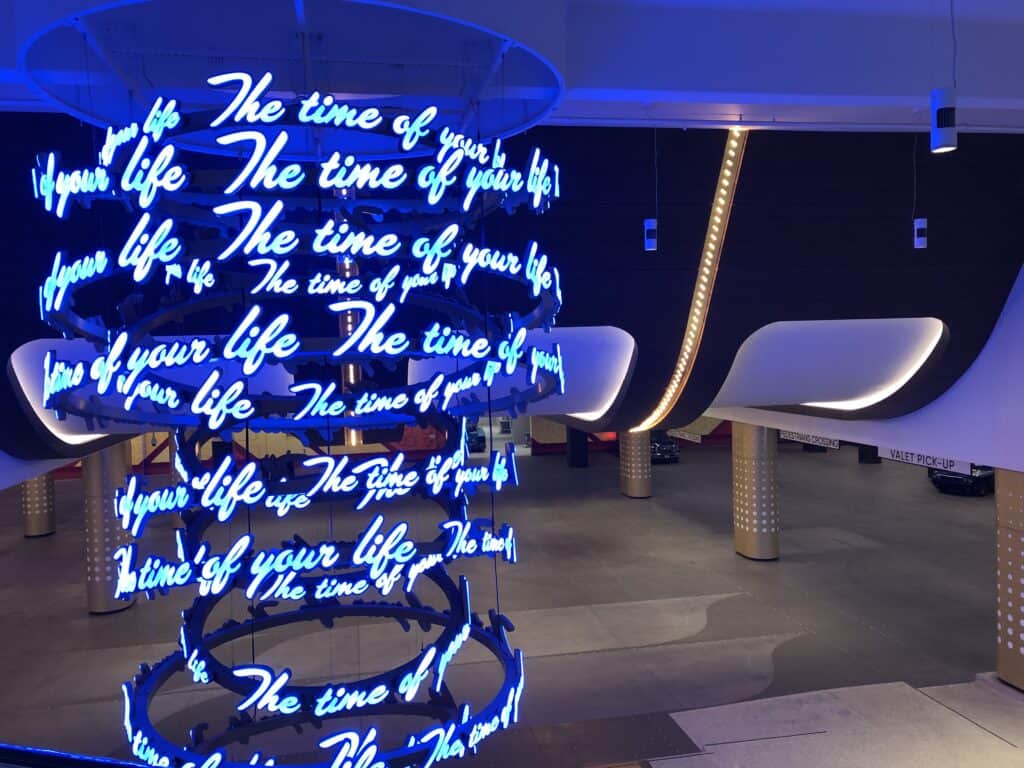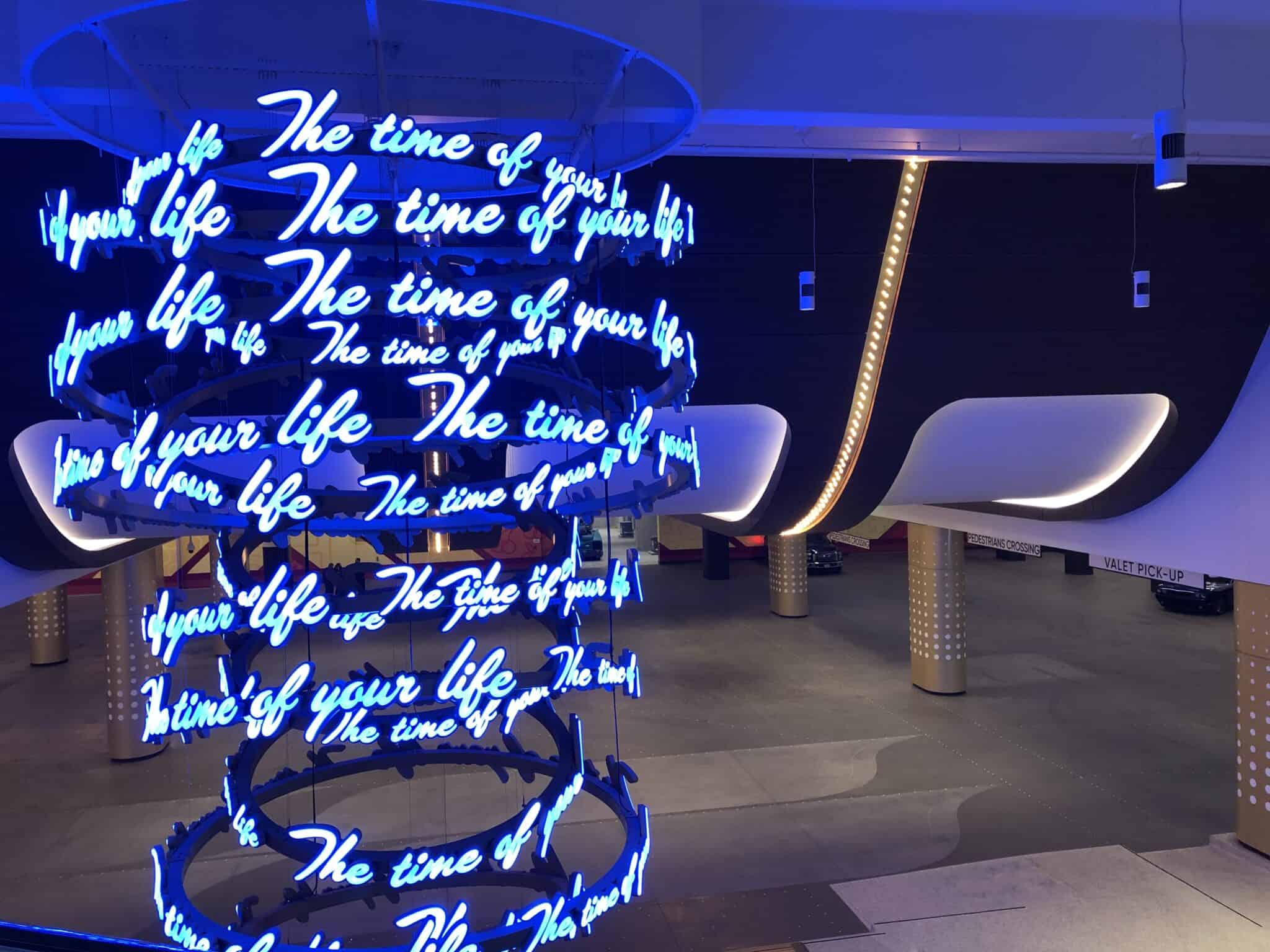 In all, we were impressed and thrilled to visit Circa. Vegas needed and needs more of this. More "different". It would have been easy for the Stevens' to build a typical casino, with normal amenities but they didn't. They built a property with world class attributes worth visiting and downtown Las Vegas will be better for it.
See Also: Check out Resorts World on Opening Night – the newest resort on the Strip!
I'm a former software salesman turned Vegas aficionado. While the craps table is my preferred habitat, I pull myself away to explore new attractions, shows, restaurants, and outdoor activities around Las Vegas with the intent of sharing my experiences.
Ultimately, I just want to help folks plan a better trip and save a few bucks in the process.