Opening night at Resorts World was a euphoric ending to 15 years of starts, stops, and inaction on the parcel of land Stardust once occupied. Stardust closed in 2006 and was later imploded in 2007 to make way for a new resort project, Echelon Place, which was later stalled by the 2008 economic collapse. Although Boyd Gaming had plans to resume construction when conditions improved, further progress never materialized.
There, the bones of Echelon sat for years in the desert sun, leaving many doubtful a new resort would ever come to fruition.
Fast forward to 2013, and the Malaysia-based Genting Group purchased the partially completed project with the intent to open a new casino resort, Resorts World, in 2016. Although the original scope of the project has been scaled back and the timeline extended, we can finally say we have a glitzy new casino on the north end of the Las Vegas Strip.
We had the opportunity to visit Resorts World on opening night and wanted to give you a first look inside the newest casino in Las Vegas.
Resorts World's Casino
Weighing in at 117,000 square feet, the gaming floor at Resorts World is comprised of 117 table games and over 1,400 slot games. While the casino has all the games you would expect in a Las Vegas resort, the real differentiator at Resorts World is the technology utilized for payments and tracking play.
Digital Loyalty Cards
When sitting down at a slot machine, guests have 3 options to track their play within the Genting Rewards loyalty program.
Scan a QR code on the slot machine from within your Resorts World phone app.
Enter the phone number and pin associated with your loyalty account.
Insert a physical player's card which will still be available to those that prefer it.
If you prefer the digital method, you can download the Resorts World Las Vegas phone app and even sign up for a loyalty program account before you travel to Las Vegas. Once here, stop at a loyalty kiosk to quickly complete registration. Rewards earned and offers can also be tracked from within the mobile app.
Cashless Payments
In addition to the loyalty program going digital, so have payments. Resorts World is the first in Vegas to go completely cashless if that is your preference as a player. Of course, cash will still be accepted at both table games and at slot machines if physical currency is still your thing.
Digital wallets can be funded in two ways:
By inserting physical cash into a kiosk at the resort, or making a deposit at the player services desk. There are no fees associated with loading cash into your mobile wallet.
By connecting their bank account, PayPal account, credit, or debit card to their GamingPlay wallet by enrolling in Sightline's Play+. Note that players funding through this avenue will incur a fee of 2.95% of the transaction.
Our experience signing up for both a Genting Rewards account and cashless gaming (which is optional) was painless. There was also a representative on hand to assist and explain the process.
After funding a digital gaming wallet, players can buy chips at table games with their digital wallet by scanning the QR code within the Resorts World Las Vegas app.
On Slots, money can be transferred by scanning the QR code on the machine from within your Resorts World phone application.
Guests can also use their digital wallet to pay for non-gaming activities like food, drink, and entertainment.
On opening night, we found that cashless transfers only worked on about 50% of slot machines. A representative informed us that they are still working through a few kinks and expect it to work universally soon. To be honest, I found transferring money to and from machines to my mobile wallet to be convenient. Additionally, not having the stress of getting pickpocketed, losing a TITO slip, etc. was an added bonus.
While being able to access quick cash via a debit or credit card is a convenience for some, our main concern is that it'll turn out to be a curse for problem gamblers. Fortunately, there is currently a $2,000 cap on deposits, and players also are afforded the option of setting their own limits in advance.
TITO at the Tables and Chips with Embedded RFID Technology
While we're used to slot games providing TITO (Ticket in – Ticket Out) slips, Resorts World takes it one step further by allowing players to buy chips at table games with them. There's no longer a need to exchange your TITO for cash before hitting the tables. Resorts World also allows table game players to color up and receive a TITO slip instead of lugging chips to the cage.
Additionally, chips of all denominations have RFID capabilities embedded, allowing Resorts World to precisely track your play and provide accurate recognition as part of their loyalty program.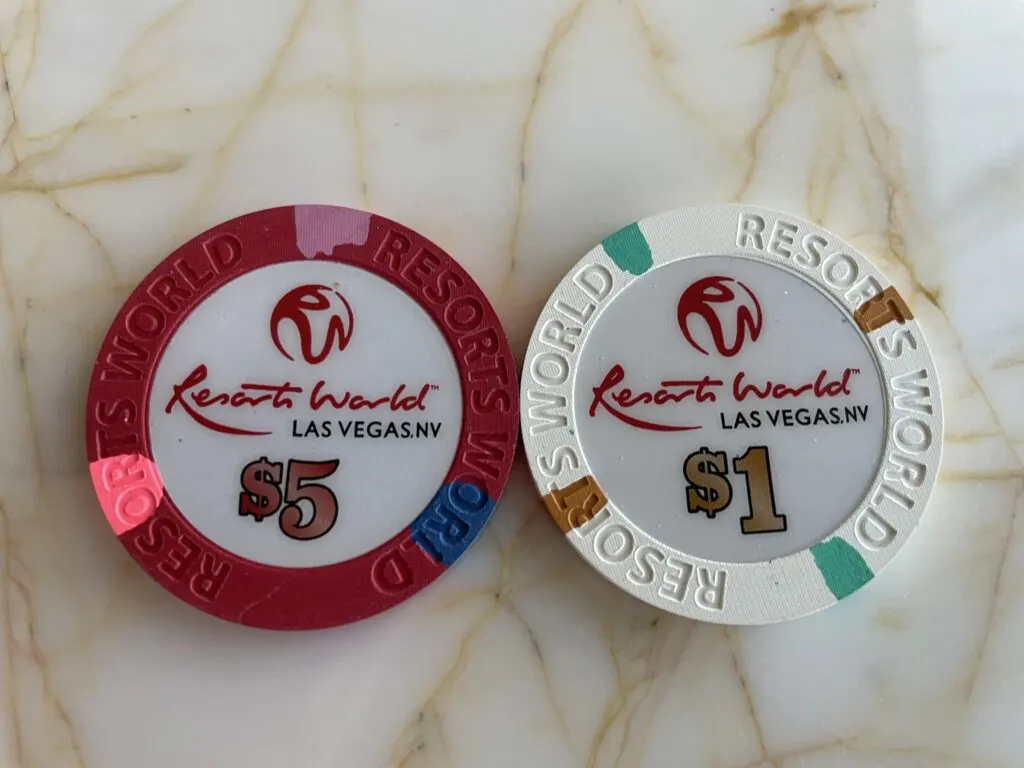 Casino Vibe
Aside from the technology discussed above, we found the gaming floor at Resorts World to have a luxurious, high-end feel. In addition to the slots and table games that you would expect, the resort also has a sportsbook that sits inside the Dawg House Saloon & Sports Book.
Game selection on opening night included both 00 and 000 roulette at a $25 minimum, 6:5 blackjack at a $25 minimum, $25 minimum craps, and a sizable poker room.
On the blackjack front, you should note that 3:2 blackjack is offered in the Crockfords high limit room at a slightly higher minimum.
If $25 craps makes you shudder, Resorts World offers both Shoot To Win bubble craps, and "personal" bubble craps where each player pops their own dice for minimums as low as $1.
Of course, opening night minimums are likely much higher then they will be once traffic normalizes.
Point blank, the gaming floor is gorgeous. While we took plenty of casino pictures, they all turned out terrible. Below is a photo provided from Resorts World from before the opening.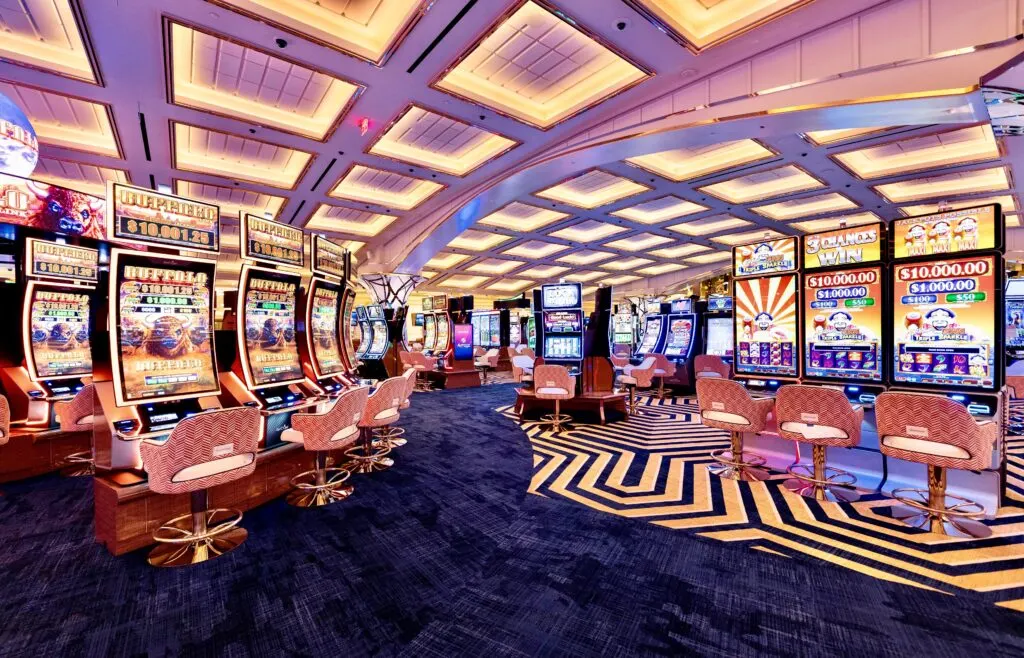 Rooftop Pool Deck
Resorts World's rooftop pool faces south and offers a perfect line of sight to other north Strip resorts like Wynn, Encore, Palazzo, Venetian, Caesars Palace, and even Cosmopolitan in the distance.
Aside from the view, the 5.5-acre pool deck appears to be spectacular, offering 7 different pools to include an infinity pool overlooking the Strip to the south. The tropical environment comes complete with plenty of palm trees and immediately ranks among the top pools in Las Vegas.
Unfortunately, we were unable to access the pool on opening night, but here are a few shots when we stayed in a Conrad Room a few months later.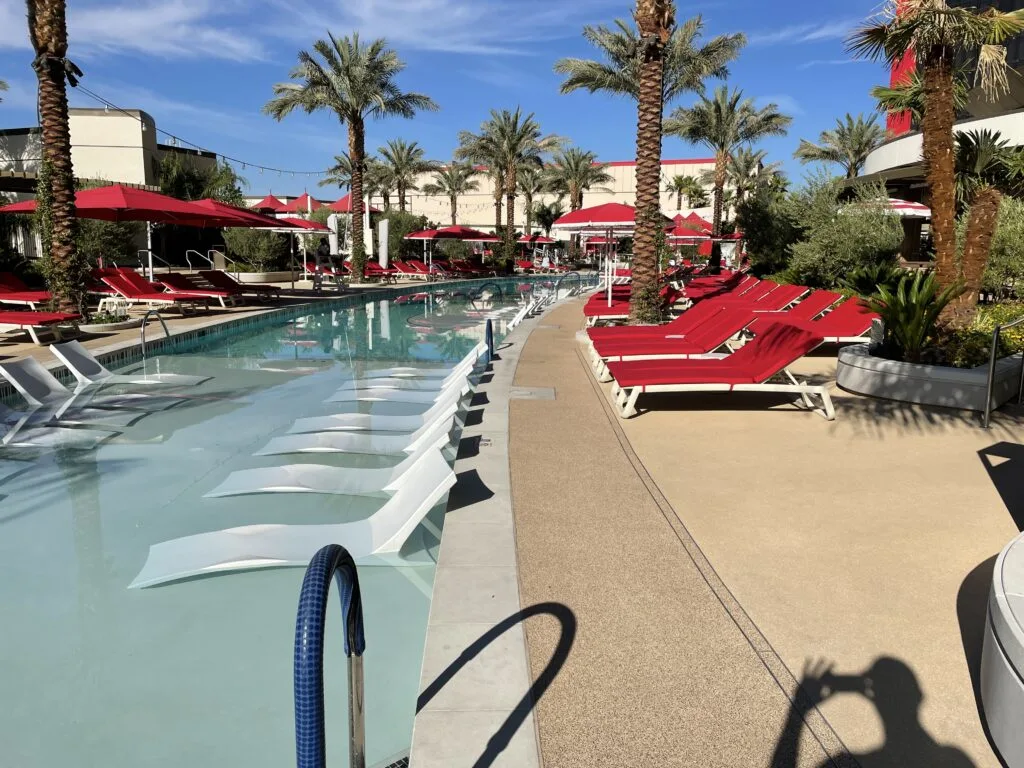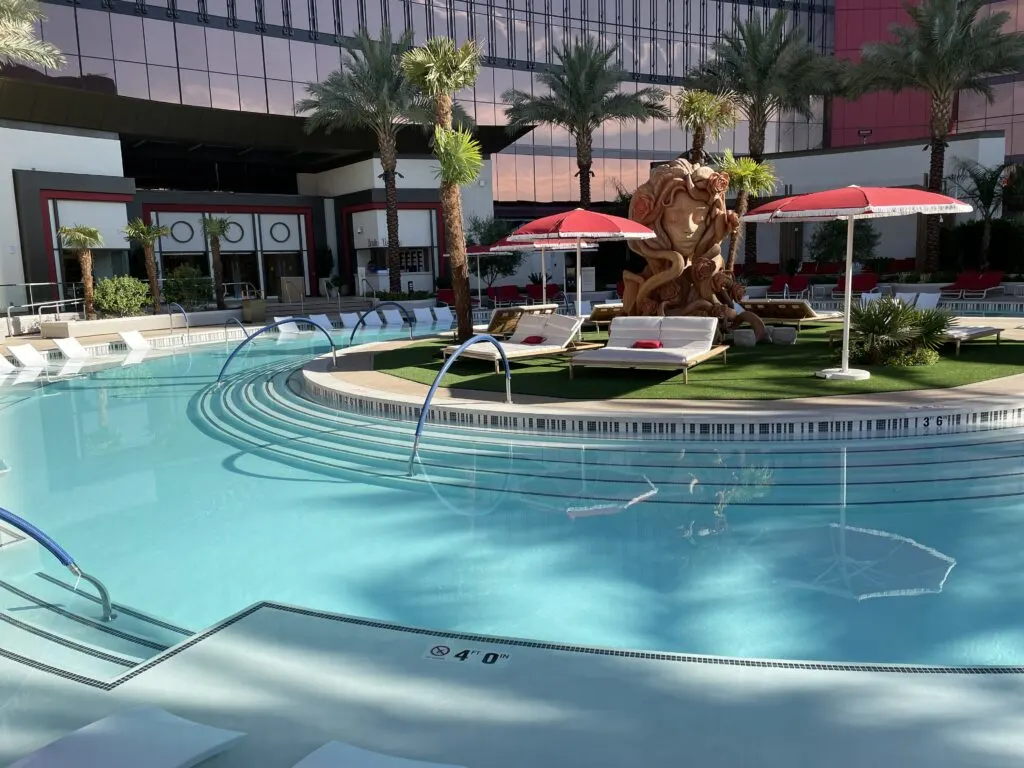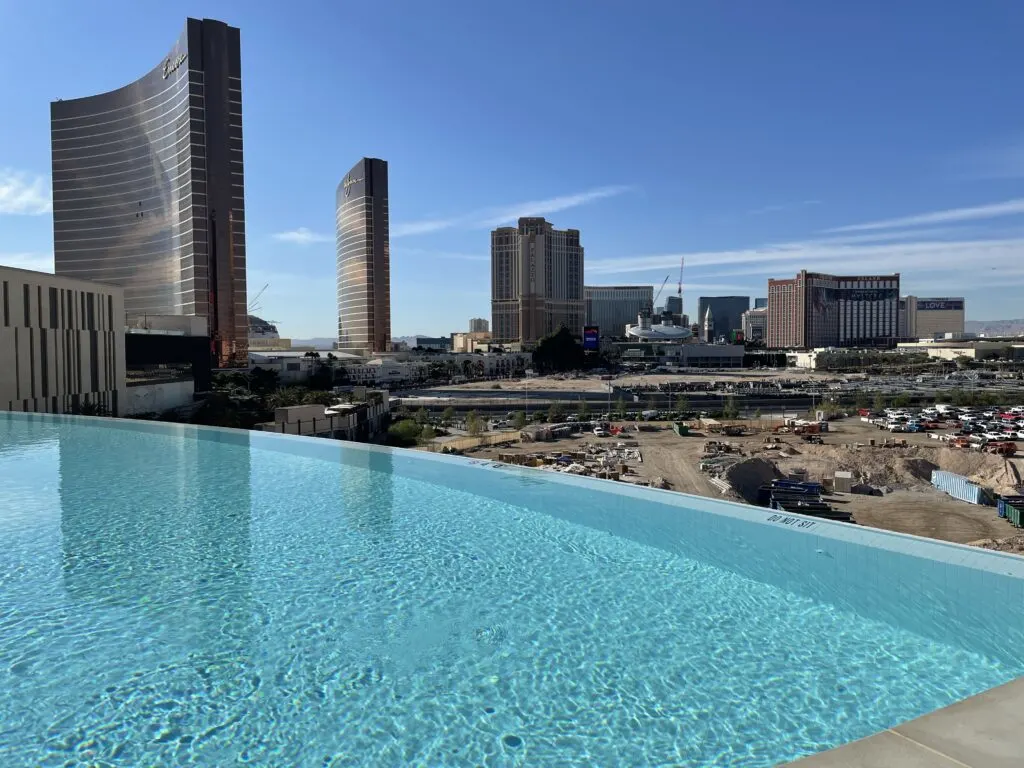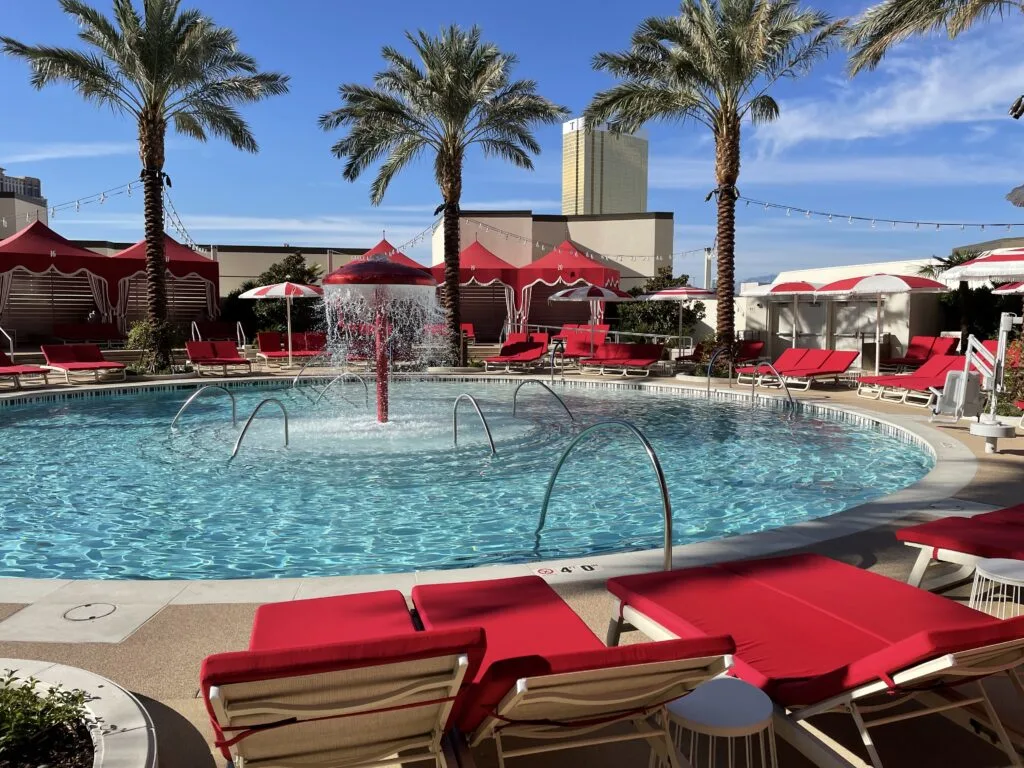 Resorts World's Hotel
Like other resorts in Las Vegas, Resorts World has embraced the concept of a hotel within a hotel, offering 3 distinct Hilton brands within its 3,500 room tower that offer various levels of luxury. A quick rundown of your options is as follows: Hilton is good, Conrad is better, and Crockfords is best.
The majority of guestrooms fall under the Hilton brand with baseline rooms offering 400 square feet, a 55 inch TV, and modern furnishings and decor.
Conrad branded guestrooms offer slightly more space, weighing in at least 550 square feet, and offer a LED Smart TV with access to streaming services like Netflix, a sitting area, a work desk, wireless phone chargers, and curated artwork.
On the high end, Resorts World's Crockfords branded rooms offer at least 550 square feet, a gated entrance, a private lobby experience with complimentary snacks and beverages, a 65 inch Smart LED TV, a Nespresso machine, and priority access to resort venues. Additionally, Crockfords guests will have a dedicated pre-arrival team and receive a curbside meet and greet. It's the whole 9 yards.
The resort fee at Resorts World is $45 plus tax which is in line with other luxury resorts on the Las Vegas Strip.
See Also: Check out our Resorts World Conrad Room Review!
Shopping
Over 70,000 square feet of retail space is incorporated into the property. A number of those shopping outlets can be found along Resorts World's "Spine" which serves as a walkway from the Las Vegas Strip to the casino. Brands with a presence at Resorts World include Black Clover, Sunkissed, Dr. Refresh, Sneaker Garden, Nectar Bath Treats, Corso, Sugarfina, and Pepper among others.
The centerpiece of the Spine is the Resorts World orb pictured below.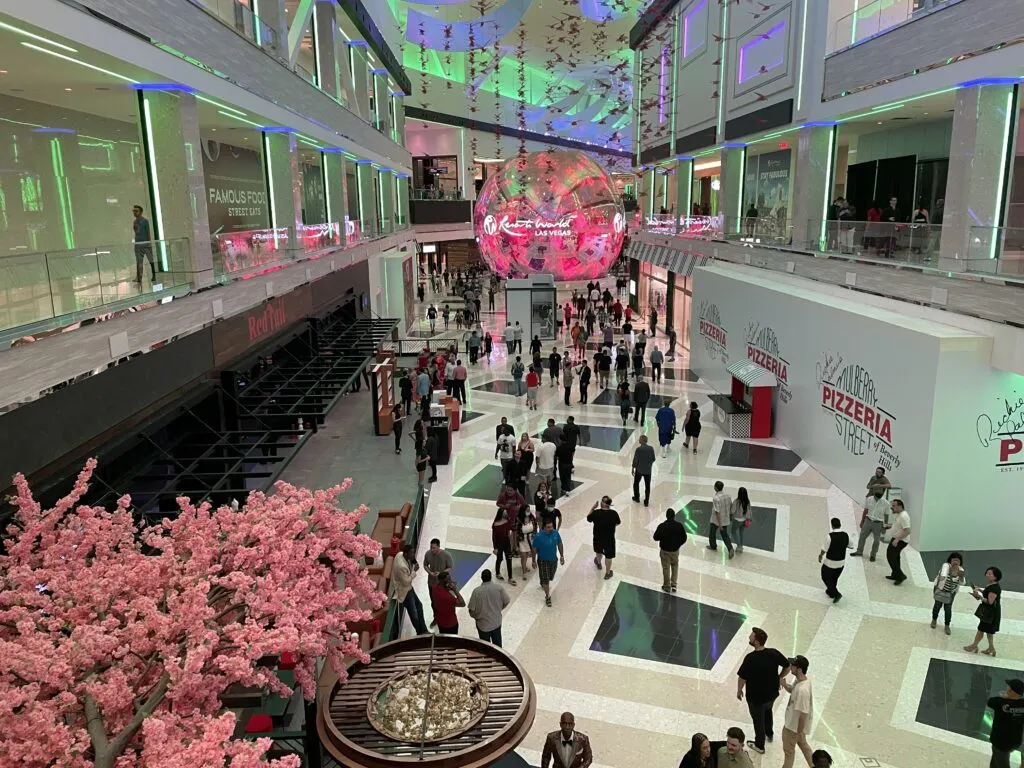 Entertainment
Although the once proposed live panda exhibit didn't make the cut (we're still disappointed), Resorts World still offers an impressive amount of non-gaming entertainment options.
The focal point of the entertainment scene is the 5,000 seat Theatre at Resorts World, which will host concerts and other events. On the docket in the near future are residencies featuring Katy Perry, Carrie Underwood, Celine Dion, and Luke Bryan.
Zouk Nightclub sits perched above the Las Vegas Strip on the rooftop of Resorts World's south entrance and will be "the most technologically advanced nightclub in Las Vegas" according to the company. Now, we don't know what that means, but it sounds like it could be pretty darn cool.
AYU Dayclub offers a southeast Asian theme and will host performers to include Zedd and Tiesto among others.
Dining
The array of dining options at Resorts world is truly impressive. Boasting over 30 restaurants, options range from casual to high-end.
Famous Foods Street Eats
In our opinion, the most intriguing aspect of Resorts World's culinary landscape was the Southeast Asian-inspired Famous Food Street Eats food hall. Offering a true street market vibe, Famous Foods is comprised of nearly 20 individual vendors offering an expansive variety of cuisine. Notable food options include Thai beef noodle dishes, South Indian Cuisine, Fried Chicken, Duck Burritos, Lechon, Texas BBQ, and sushi among others.
Famous Foods reminded me of the Block 16 Urban Food Hall at Cosmopolitan on steroids. High-quality, differentiated food, made at the time of order at a price point that won't destroy your bankroll. You can expect to pay around $15 – $25 for most entrees in the Famous Foods Street Market.
Guests can both order and pay at touch screens found at their desired restaurant, or at the kiosks scattered about the food hall. After ordering from a kiosk, just go wait for your food.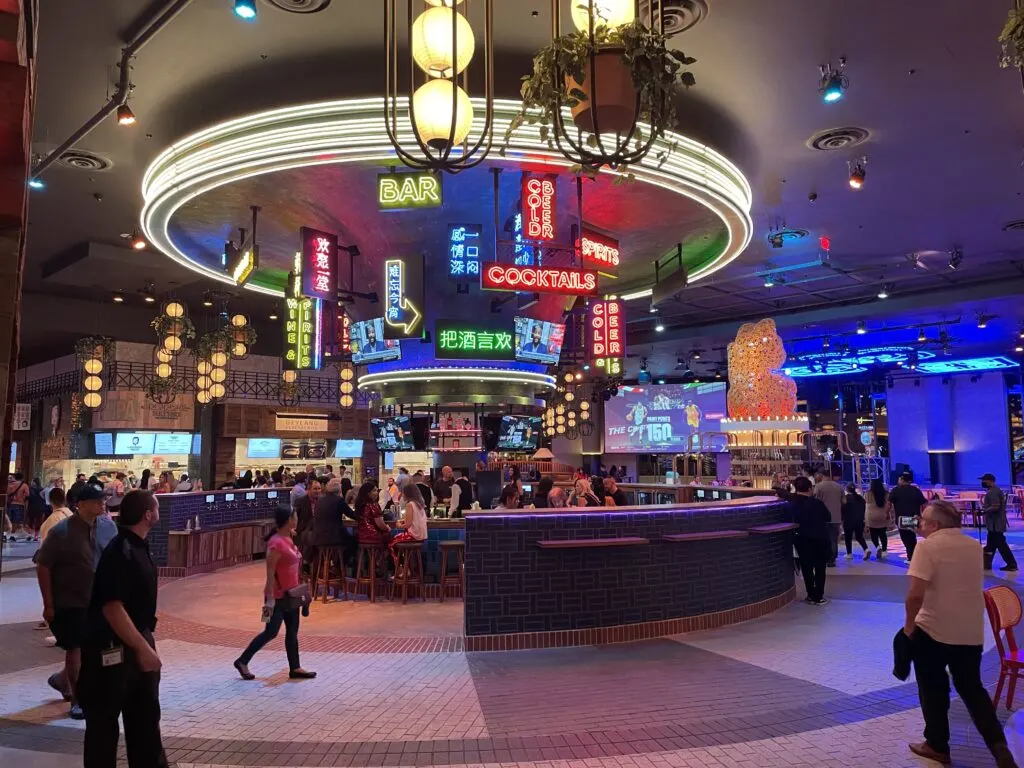 Making the food hall even more alluring is the Here Kitty Kitty Vice Den, a speakeasy with a hidden entrance. To find it, look for Ms. Meow's Mamak Stall and enter through the clandestine door disguised as a shelf with 3 lucky cats pictured below.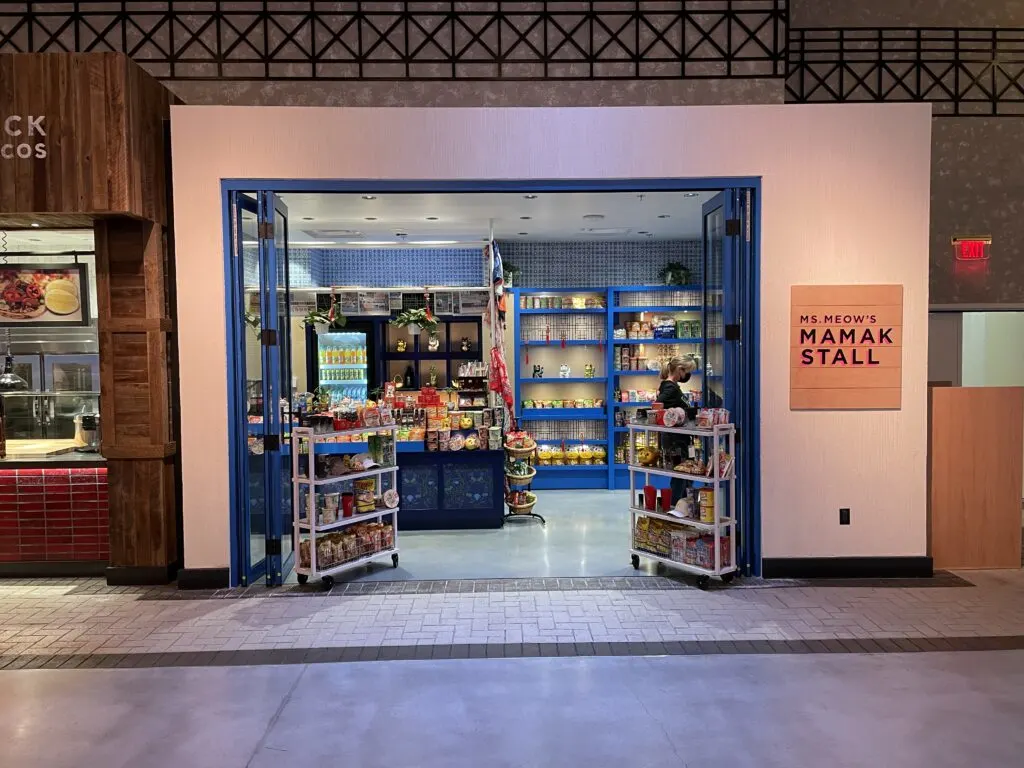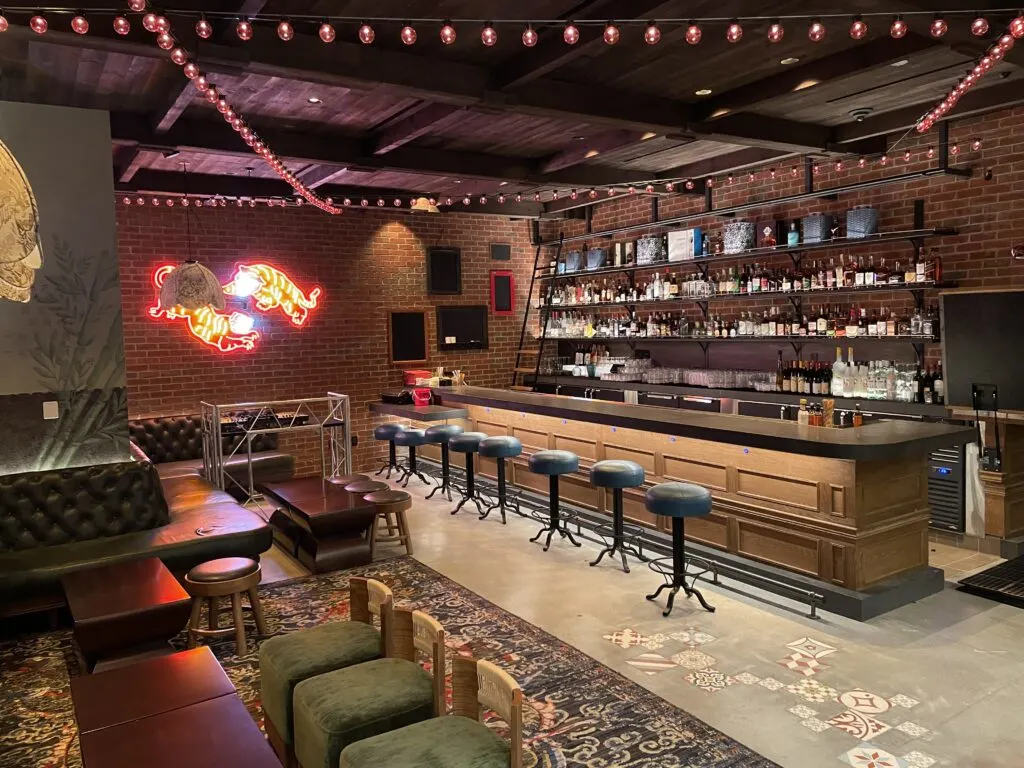 In addition to the street food hall, Resorts World offers a collection of casual eateries and higher-end dining options that span the culinary spectrum.
Casual Restaurants
Casual restaurant options at Resorts World offer a good amount of variety and include:
Agave Bar & Grill – Mediterranian fare.
Tacos El Cabron – Mexican cuisine.
Marigold – American Fare
Suns Out Buns Out – Egg-inspired comfort food.
Mulberry Street Pizzaria – Opening Fall 2021
Genting Palace – Chinese cuisine.
The Kitchen – Burgers and noodle dishes.
Dawg House Saloon – Pub fare and draft beers.
As we perused menus, we noticed the average casual restaurant entree cost anywhere from $15 – $30.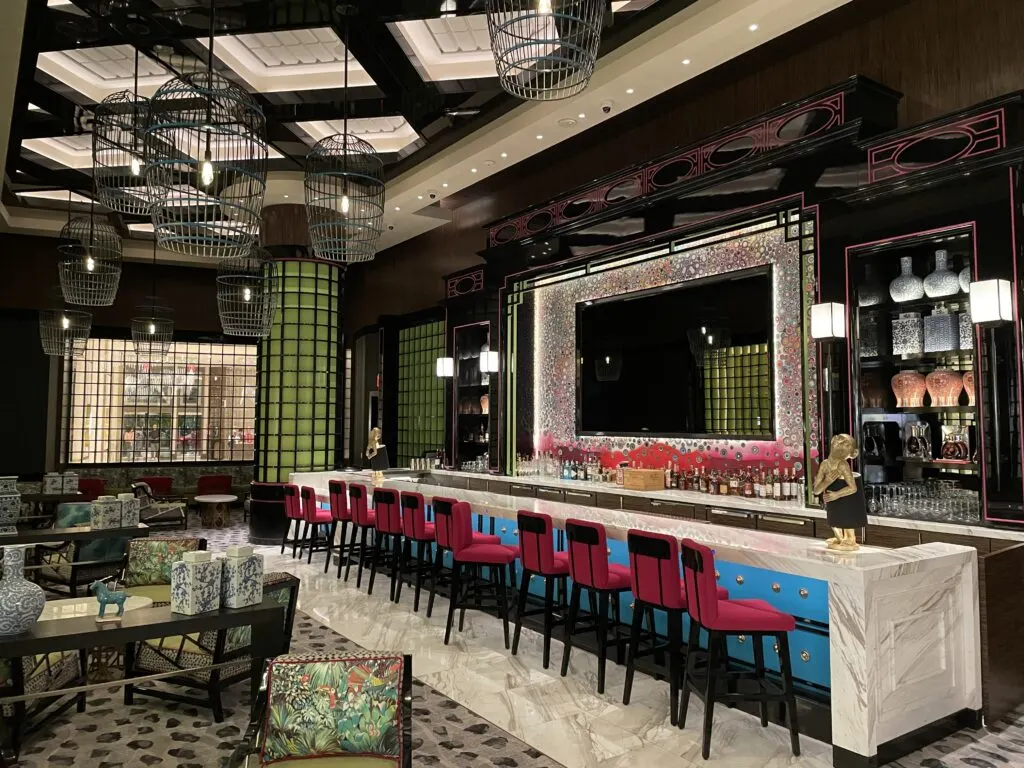 Signature Restaurants
The high-end restaurant scene at Resorts World also offers plenty of options with influences from around the globe. Options include:
Brezza – Coastal Italian fare.
Bar Zazu – European Tapas.
Kusa Nori – Sushi Bar and teppanyaki grill.
FUHU – Modern Asian cuisine.
VIVA – Mexican small plates and appetizers.
Carversteak – American cuts and Japanese wagyu steaks.
Again, we did some window shopping and found that entrees started in the $35 range and escalated from there.
Interestingly, Resorts World offers 2 separate ice cream options. The first, Craigs, specializes in vegan treats while Aubi & Ramsa serve booze-infused ice cream to patrons aged 21+.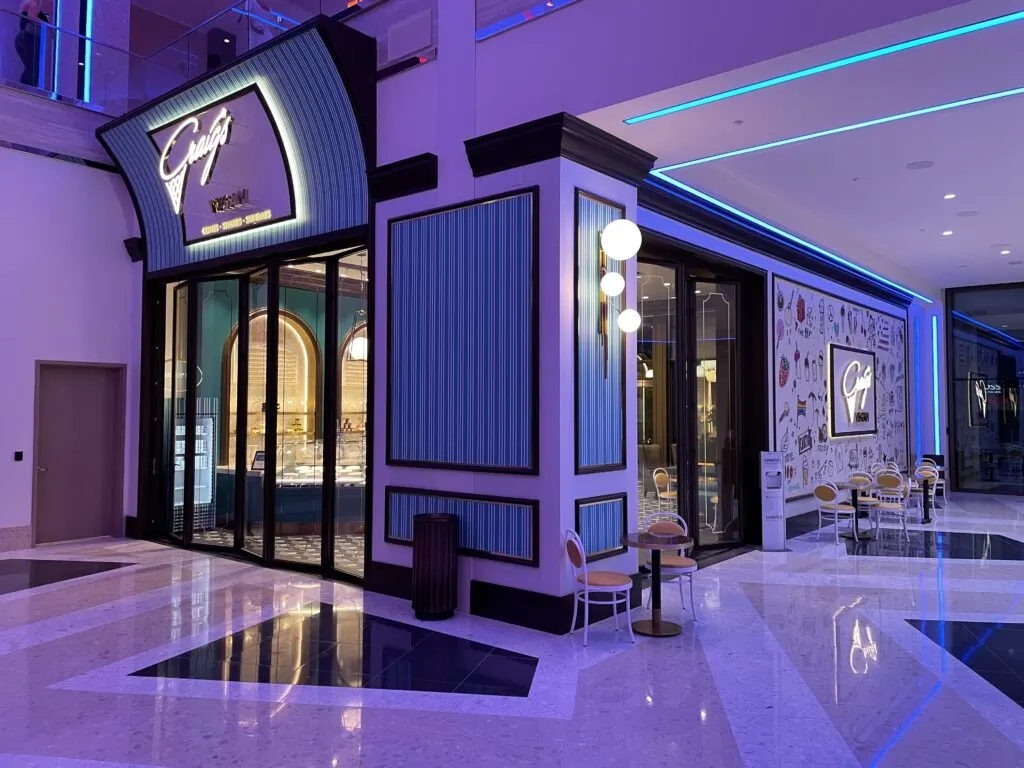 Unique Transportation
In addition to the typical taxi line and rideshare pickup location, Resorts World will be connected to the Las Vegas Convention Center via an underground "Loop" tunnel created by Elon Musk's Boring Company. The system will leverage fully electric Tesla vehicles to shuttle passengers back and forth.
While the connection to Resorts World isn't yet operational, the portion of the system that connects the West, Central, and South Halls of the Convention Center is already up and running.
Wynn/Encore also has plans to connect to the Convention Center via an underground Loop tunnel.
More on what a citywide Loop system could look like in Las Vegas here.
Artwork and Aesthetics
There is plenty to feast your eyes on at Resorts World. Below, we're just going to throw up picures of some of art and design elements that were simply gorgeous.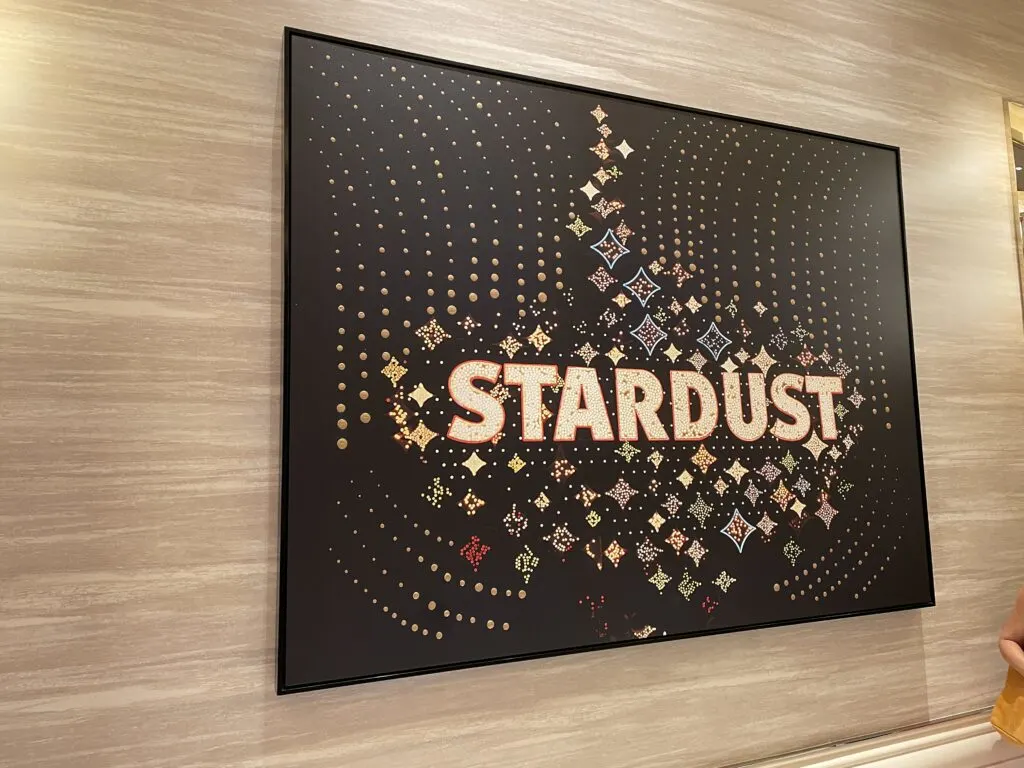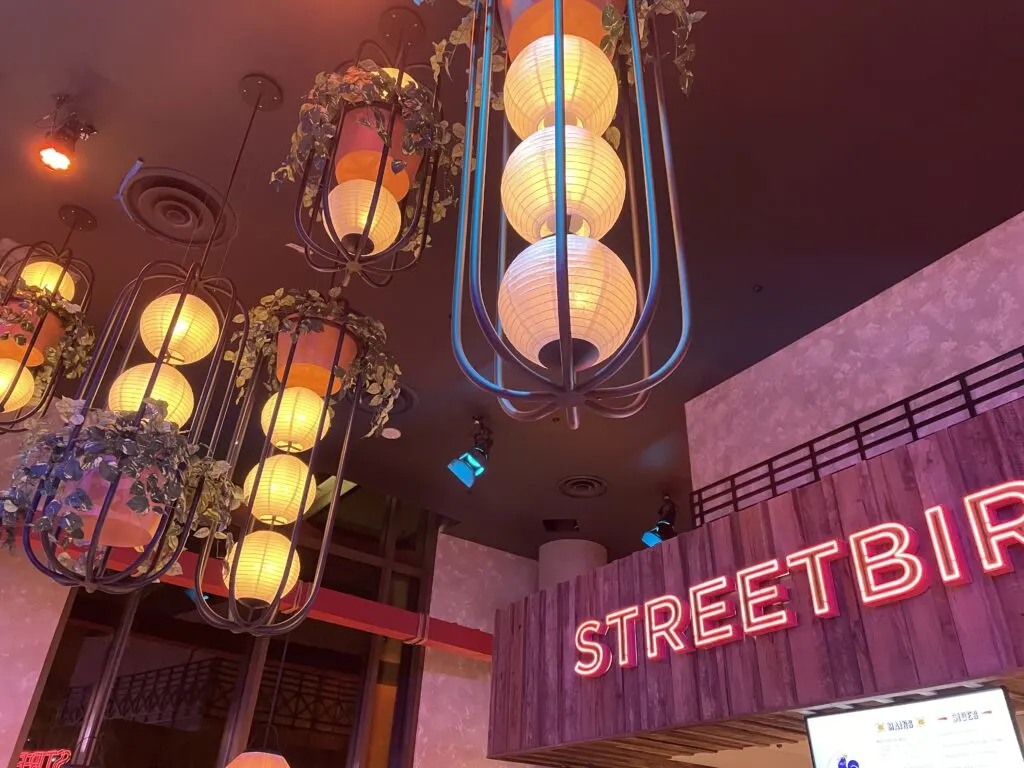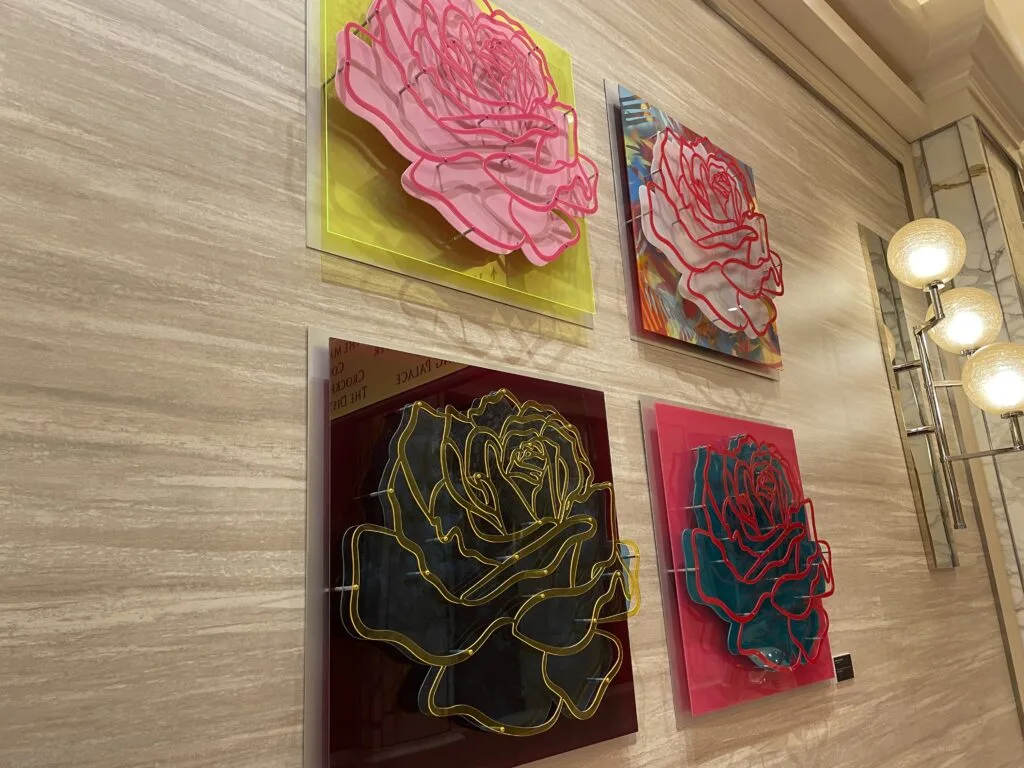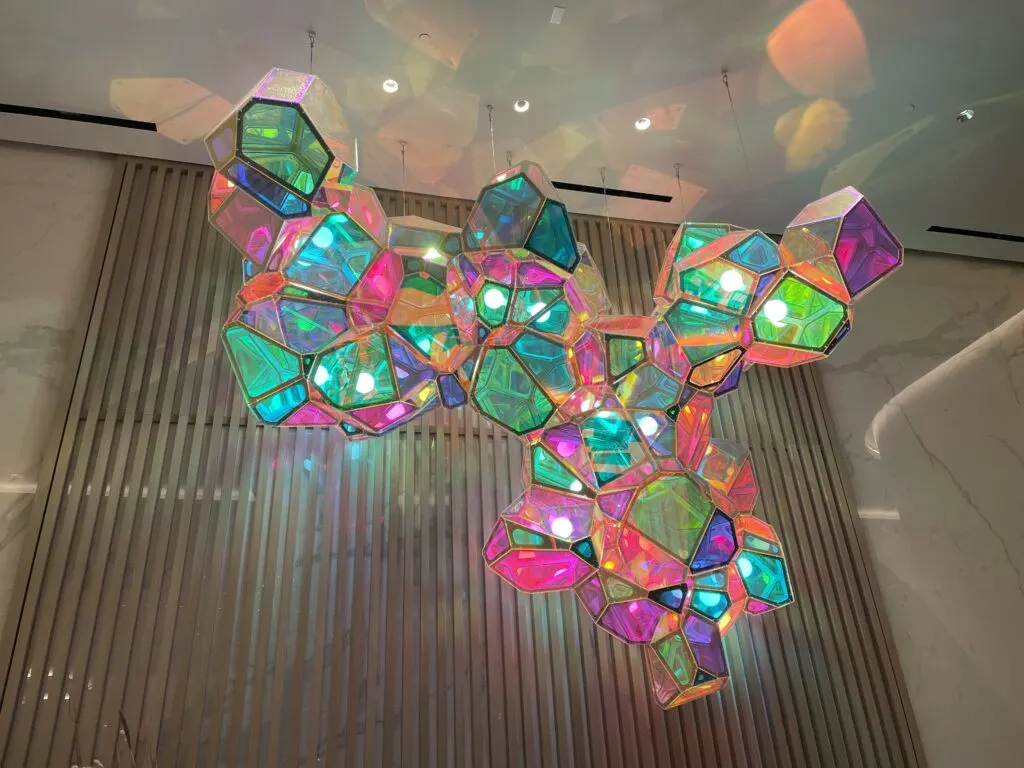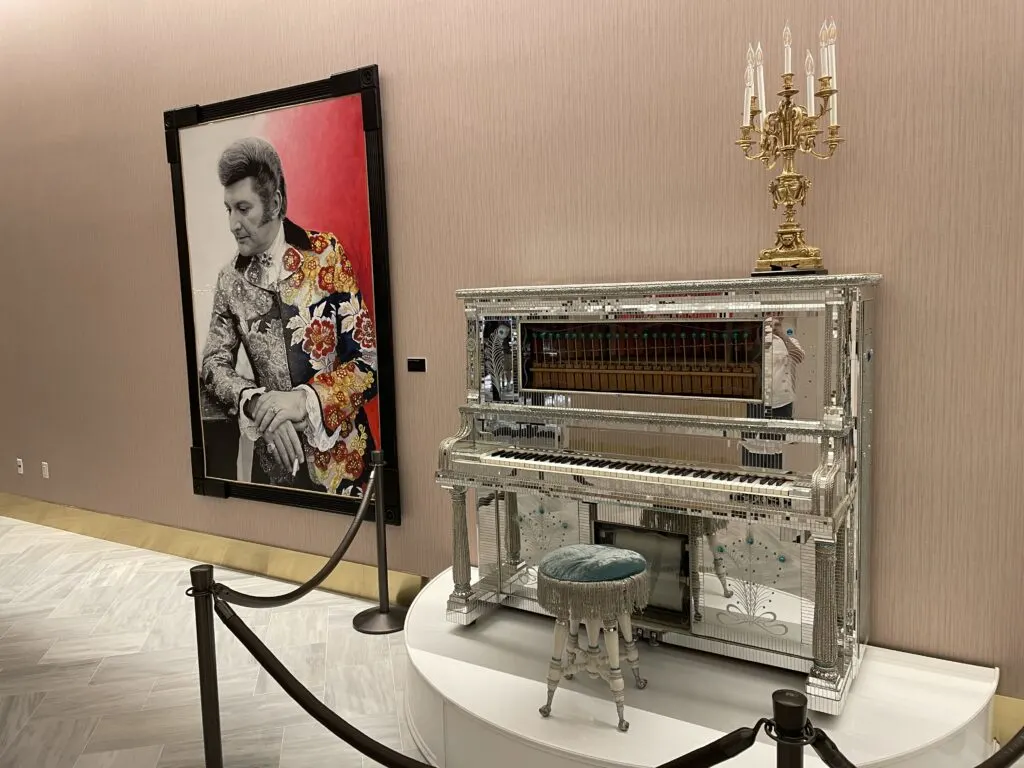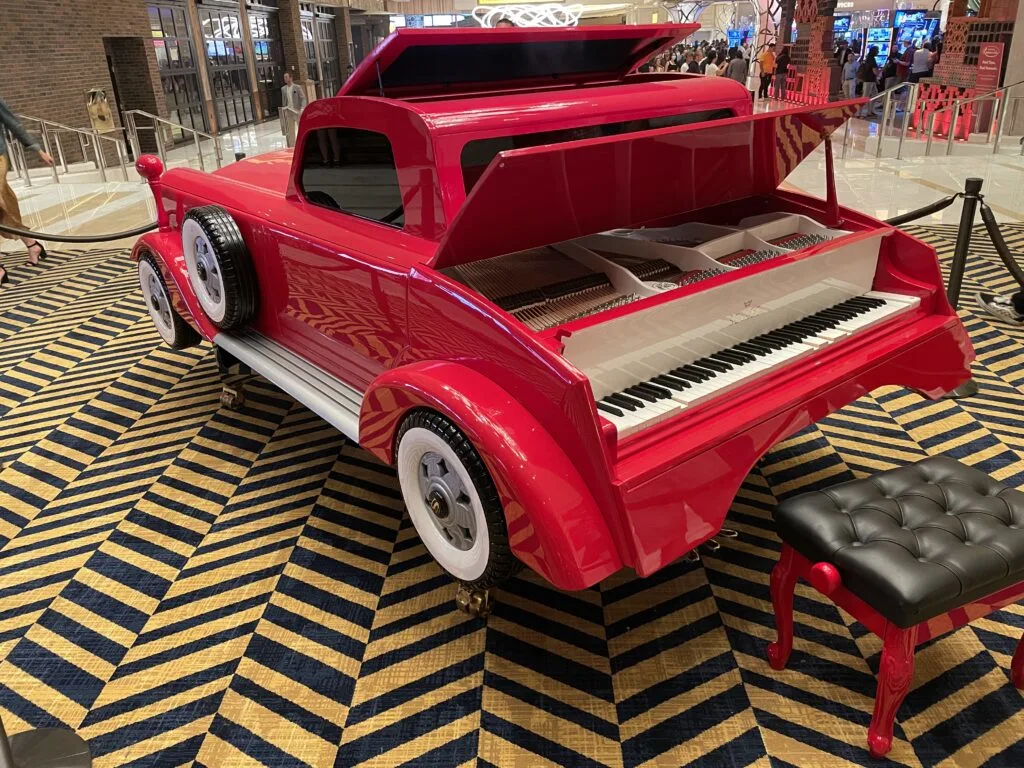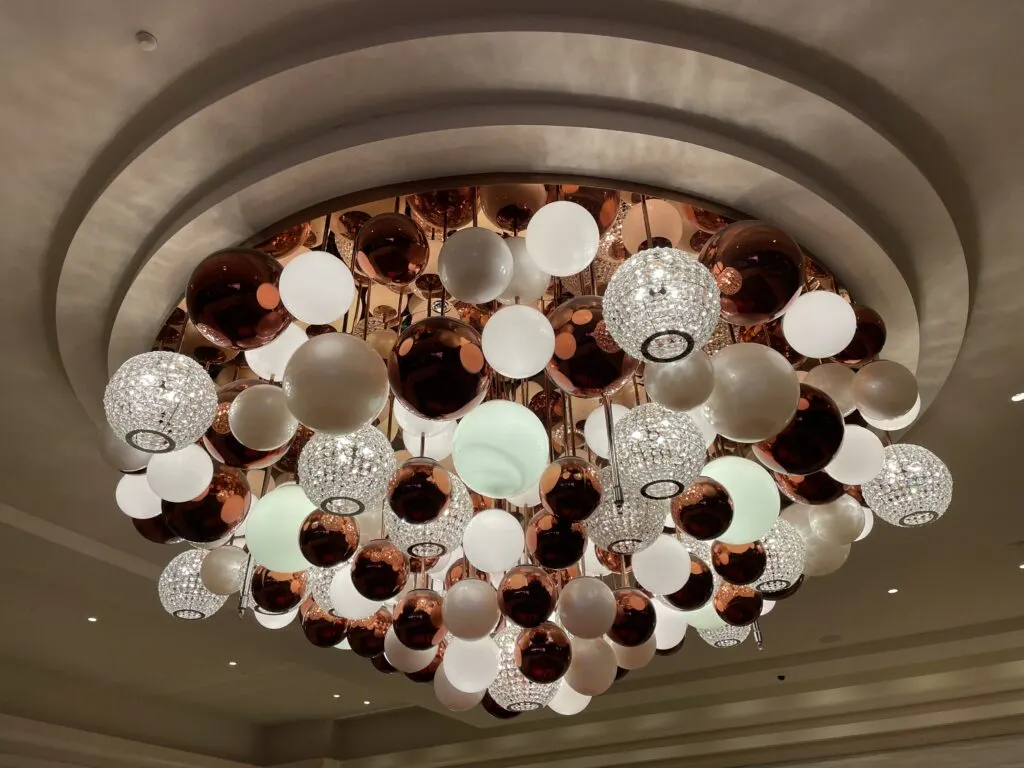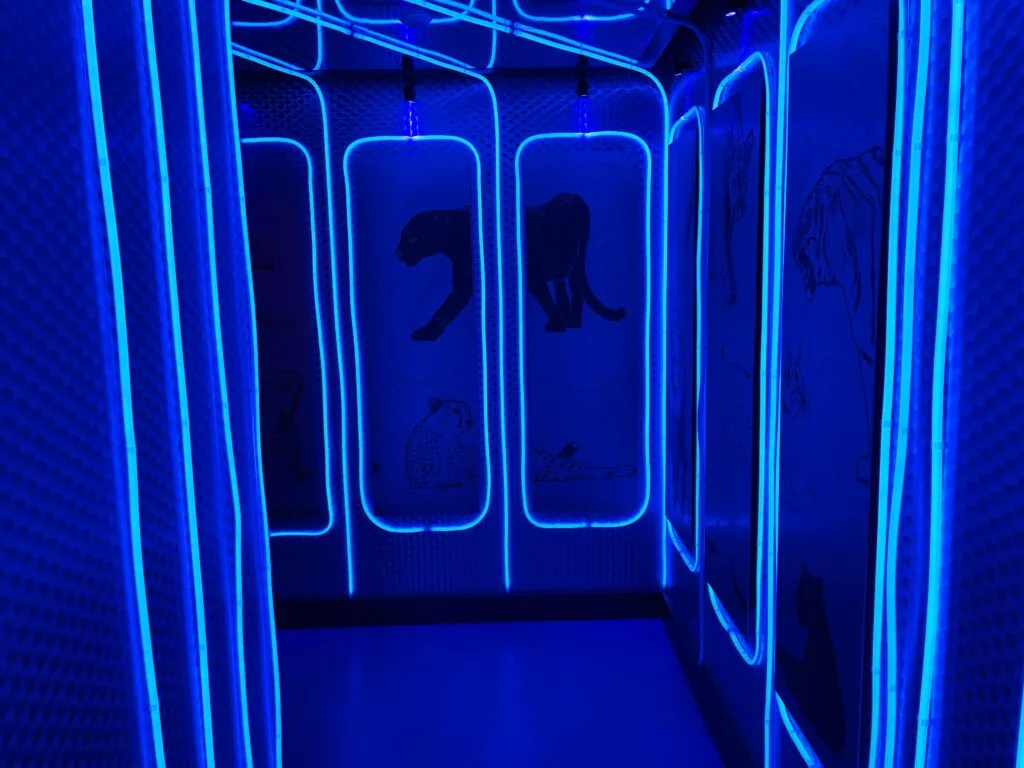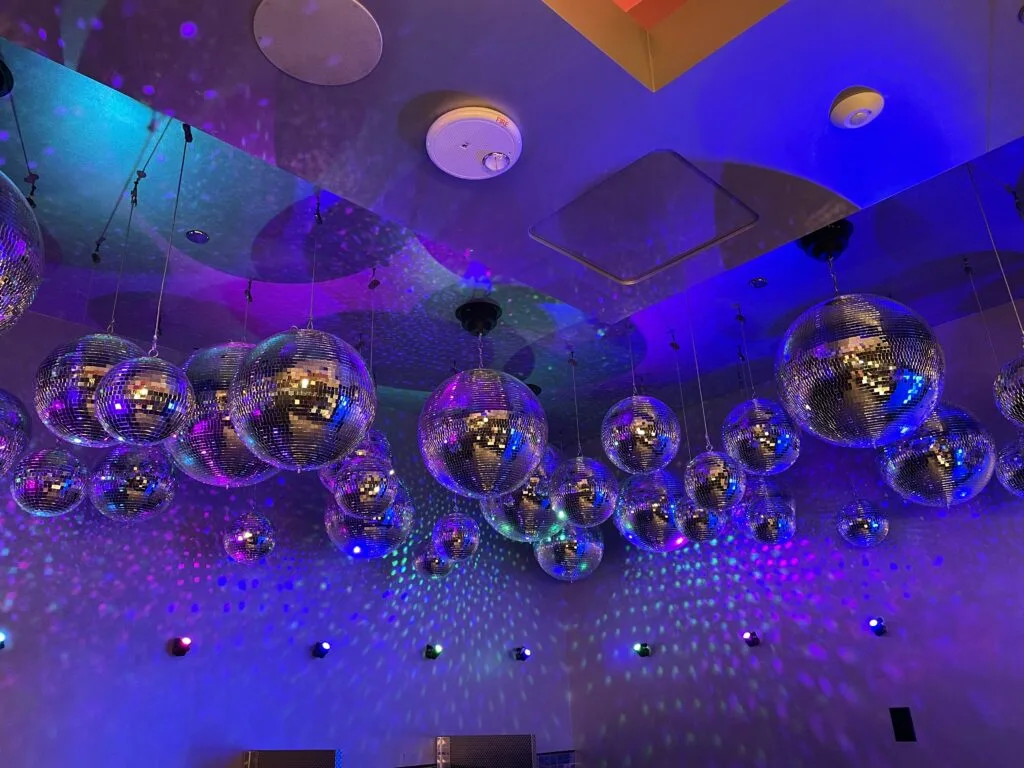 To say we were impressed with Resorts World is an understatement. Yes, there were numerous minor kinks, but that's to be expected on opening night. The excitement that accompanied a major resort grand opening on the Strip was an incredible experience.
Differentiating a casino from its peers can be challenging, but Resorts World pulled it off. Whether you seek diversity in dining options, cashless gaming, shopping, or a rooftop pool with a view, the folks at Genting made it happen. Resorts World isn't your standard run-of-the-mill casino in Las Vegas that you should pop into if it's on the way or convenient. Instead, it's a destination that you should make time for on your next trip.
Related: Check out these other new resorts coming to Las Vegas this year!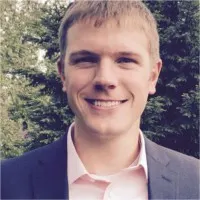 I'm a former software salesman turned Vegas aficionado. While the craps table is my preferred habitat, I pull myself away to explore new attractions, shows, restaurants, and outdoor activities around Las Vegas with the intent of sharing my experiences.
Ultimately, I just want to help folks plan a better trip and save a few bucks in the process.