Key Points:
El Segundo Sol has one of the best happy hours on the Strip, with drinks as cheap as $4.50 and worthwhile food discounts.
Service during my visit was terrible, but I'm willing to chalk it up as a fluke due to the labor shortage.
Our meal was a combination of filling and delicious – I recommend stopping in during happy hour.
Located within the Fashion Show Mall, El Segundo Sol is a Mexican restaurant within walking distance of numerous north Strip resorts like TI, Resorts World, Wynn, and The Venetian.
My wife and I were recently in the neighborhood and decided to stop by at the tail end of their "Loco Hour", which runs from 3:30 pm – 6:30 pm Monday – Thursday.
Offering discounted beer, margaritas, cocktails, and food, the happy hour at El Segundo Sol has been prominently featured in my breakdown of the best happy hours in Vegas for some time (I'll dive into specific deals below).
I thought it would be fun to share our recent experience and images of our meals to help you gauge if El Segundo Sol could be a good fit for your group or date night!
El Segundo Sol Menu & Pricing
On El Segundo Sol's all-day menu are a collection of appetizers, including $5.95 bottomless chips and salsa, freshly made guac, taquitos, and nachos. Most appetizers land in the $10 range.
Entree-wise, options include taco platters, fajita platters, and enchiladas, landing at an average price point of $25.
Their happy hour menu *which is only available in the bar* is what really shines, however.
Drinks on El Segundo Sol's happy hour menu include $6.50 margaritas, $5.50 cocktails, and $4.50 draft beer (Pacifico, Modelo, Negra Modelo, Dos XX Lager, Stone IPA, and Corona Premier).
Food deals are also offered, and they're impressive.
Chips and 3 salsas can be yours for $3.95, and loaded nachos (pictured below) are just $5.
Tacos (steak, pork belly, Mahi, tinga, or veggie) during "Loco Hour" are $4 each, and quesadillas are priced at $6.95.
You can see El Segundo's full menu, here.
Our Meal & Experience at El Segundo Sol Las Vegas
We showed up without a reservation and were informed that there was a pretty significant wait to be seated in the restaurant due to staffing shortages. There was, however, a table immediately open in the bar if we wanted it.
We excitedly jumped all over that table as happy hour deals are only available in the bar anyway, and looked to make the most of the last half hour of "Loco Hour".
Like the hostess, the bartender also appeared to be flustered due to short staffing and wasn't able to get to us until 6:24 or so, even though I was standing at the bar for over 20 minutes trying to make eye contact. He seemed annoyed that I flagged him down hoping to get an order in before happy hour wrapped up.
Although he didn't appreciate me getting assertive, we were able to order the $5 loaded nachos, a margarita, and a draft beer. Just look at these freaking nachos for $5.
They were piled high with toppings, chicken, and flavor. Well worth it.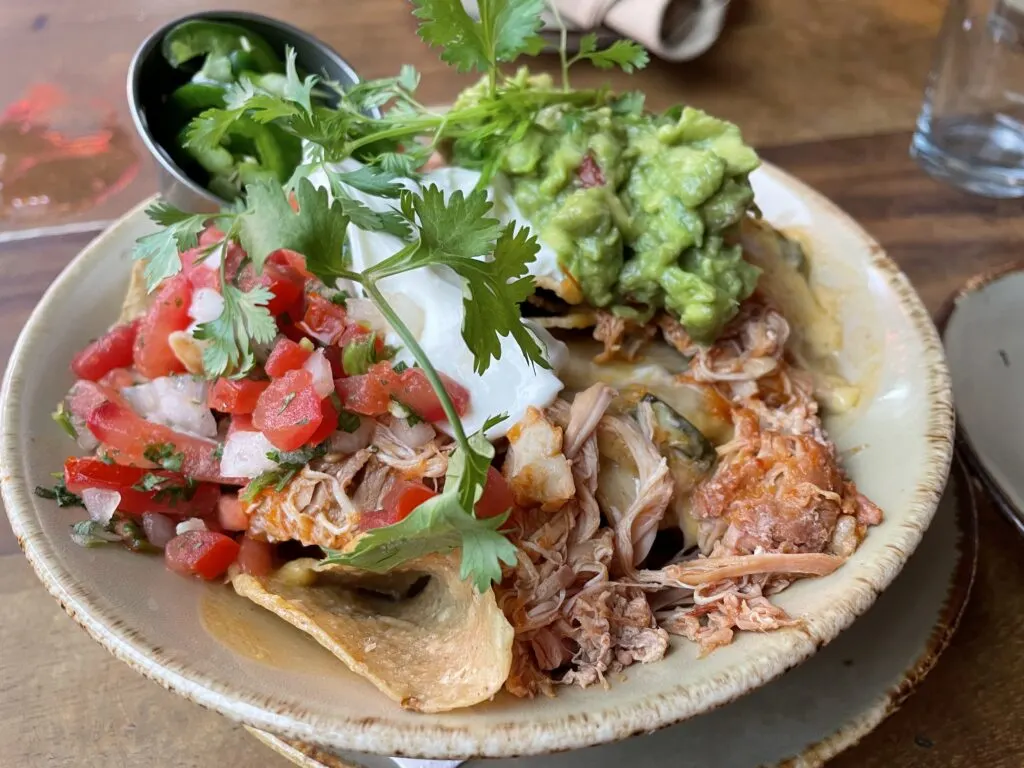 Disappointingly, we were only able to snag one round of drinks at the happy hour price because it took so long to get our first order in, and we only got to order in the first place because I spoke up and flagged the bartender down.
While disappointing, I'm empathetic to staffing issues and understand that everyone was doing their best to accommodate everyone at the restaurant. Just know, you may need to assert yourself early at the bar if you want to get served.
After our happy hour drinks and app, I walked back up to the bar to order entrees and another round of drinks.
My wife ordered the chicken enchilada, which was served on a plate with black beans, pico, and cilantro lime rice.
I ordered the shrimp fajita platter that was served alongside salsa, guacamole, black beans, cilantro lime rice, pico di Guillo, and sour cream. The toppings were in separate containers surrounding the platter, making it easy to pick and choose what I wanted.
Tortillas were also served separately in a separate container.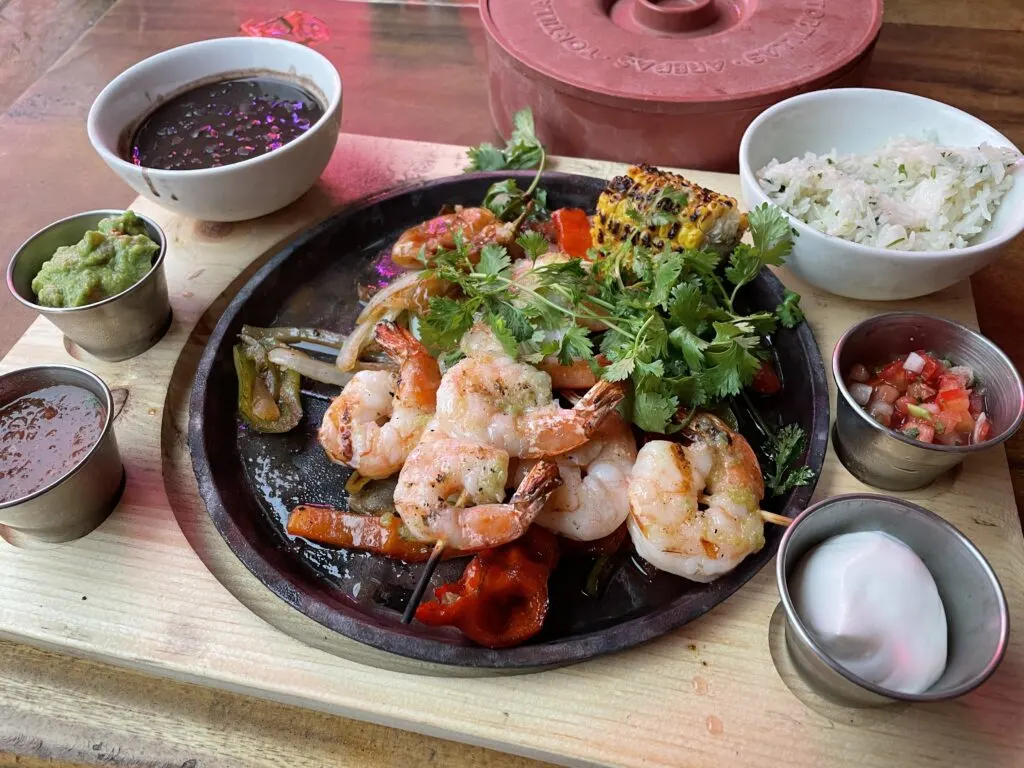 I'm not an elite food critic, so I'm unable to comment on the convergence of spices used in the enchilada sauce or the region of the world the shrimp were harvested from.
Here's what I do know: We both found the meals to be visually appealing, tasty as hell, and filling. Of course, pounding 3 tall beers over the course of dinner could have contributed to how full I felt.
Diana, my wife, enjoyed the chicken enchilada which was flavorful, a tad spicy, and hearty. She couldn't finish it.
My fajitas were delicious. The shrimp were supple in size and were prepared in a garlic marinade that provided great flavor. The ingredients combined in a tortilla were akin to a symphony. Seriously good.
One gripe, and swear this happens wherever I get fajitas, is that the tortillas were hard and crusty around the edges. It certainly didn't ruin my experience, however, a soft, fresh, stack of tortillas would have made my day.
Our seats were also right along the rail overlooking the sidewalk in front of the restaurant and provided some GREAT people watching.
The Verdict: Is El Segundo Sol Worth Visiting?
Aside from an overwhelmed staff and extremely slow service upon arriving, we enjoyed our experience.
I'm willing to assume the lack of manpower was a fluke, and that those issues have since been alleviated.
At around $25 per entree, we found El Segundo Sol to be both budget-friendly and high-quality. Just ensure you make a reservation if you desire restaurant seating.
As mentioned, I'm no foodie, but I know enough to declare El Segundo's food to be hearty, tasty, and a good value.
It's my kind of place that lands in the middle of the restaurant "fanciness scale". A sit-down restaurant that neither qualifies as cheap or stuffy. The perfect balance.
In my opinion, El Segundo's main draw is their "happy hour" or "Loco Hour" as they call it. Value seekers can easily piece together a solid meal with discounted appetizers and wash it down with a slough of cocktails for next to nothing. Just ensure you show up in time to take advantage of it.
Diana and I will certainly be back, but it'll be at 3:30 pm sharp, at the bar, lining up margaritas and loaded nachos.
See Also – Related food and drink articles: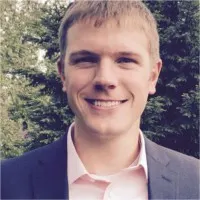 I'm a former software salesman turned Vegas aficionado. While the craps table is my preferred habitat, I pull myself away to explore new attractions, shows, restaurants, and outdoor activities around Las Vegas with the intent of sharing my experiences.
Ultimately, I just want to help folks plan a better trip and save a few bucks in the process.