The History Channel's hit show "Pawn Stars" has been a go-to entertainment option of mine for years.
The way the show blends humor, personalities, negotiation, and informative discussion about historically significant items makes for must-see TV in my opinion.
I can't get enough.
For those of you in the same boat as me, a trip to the "Pawn Stars" pawn shop while in Las Vegas likely ranks high on your list of things to do.
I thought it would be fun to swing by the World Famous Gold & Silver Pawn Shop to give you a look inside and detail what to expect when you visit.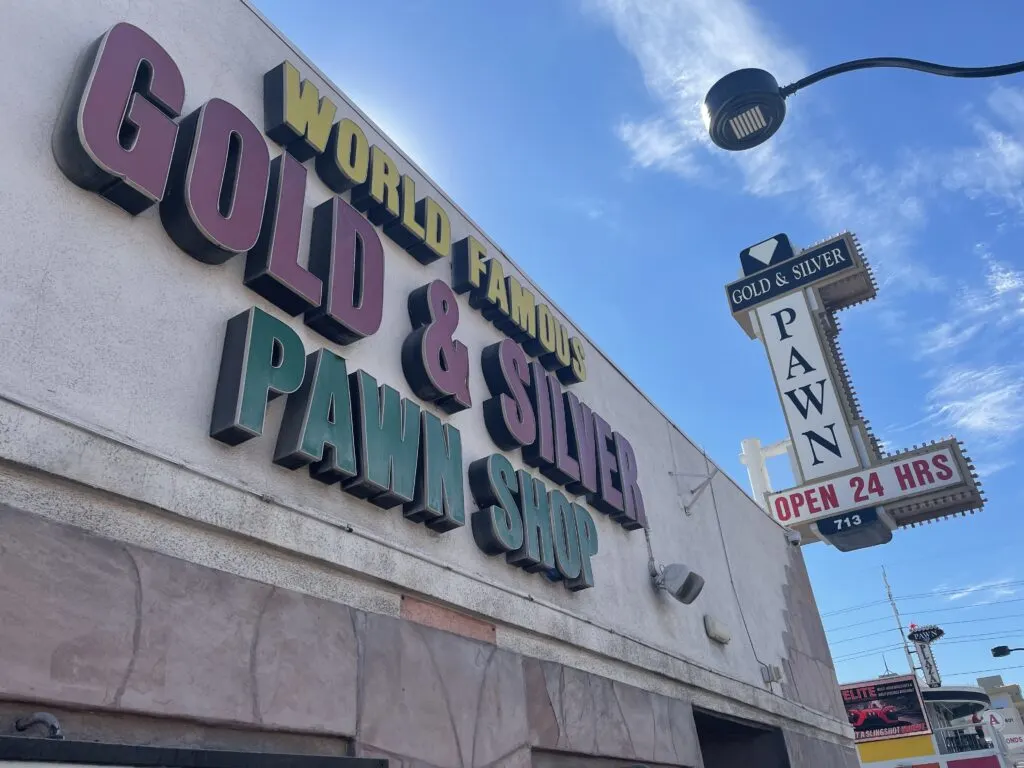 How To Get to the "Pawn Stars" Pawn Shop
First, some housekeeping as the pawn shop isn't easily walkable from resorts on the Strip or Downtown Las Vegas.
How to Get to the Pawn Shop from the Strip:
While an Uber/Lyft or Cab is the most convenient way to get to the "Pawn Stars" pawn shop from the Strip, the cheapest way is via The Deuce bus, which runs up and down the Strip and connects to Fremont Street.
The Deuce costs $6 for a 2-hour pass or $8 for a 24-hour pass.
Offering numerous stops on the Strip that are well labeled, simply hop on The Deuce heading north toward Fremont Street and get off at the Bonneville Transit Center stop. From there, the pawn shop is a short 10-minute walk down E. Garces Avenue.
How to Get to the Pawn Shop from Fremont Street:
From Fremont Street, the most convenient mode of transportation is the FREE Downtown Loop shuttle, which offers a stop right in front of the pawn shop.
Conveniently, the shuttle picks up at Circa, The Mob Museum, Fremont Street (Main Street), and Fremont East (Sixth Street).
Of course, if you prefer a more direct form of transportation, Ubering from Fremont Street to Gold & Silver Pawn is also cheap (around $10).
"Pawn Stars" Pawn Shop Cost
Gold and Silver Pawn is free to visit and easily ranks as one of the best free things to do in Las Vegas.
There's sometimes a small line that you'll need to endure prior to entering, but I didn't encounter one on my most recent visit.
Of course, everything inside the pawn shop has a price tag.
What To Expect Inside the Pawn Shop
The Pawn Shop is Small
First-time visitors will be surprised at how small the shop is. Long and skinny, Gold & Silver Pawn can get pretty cramped if there are a lot of visitors.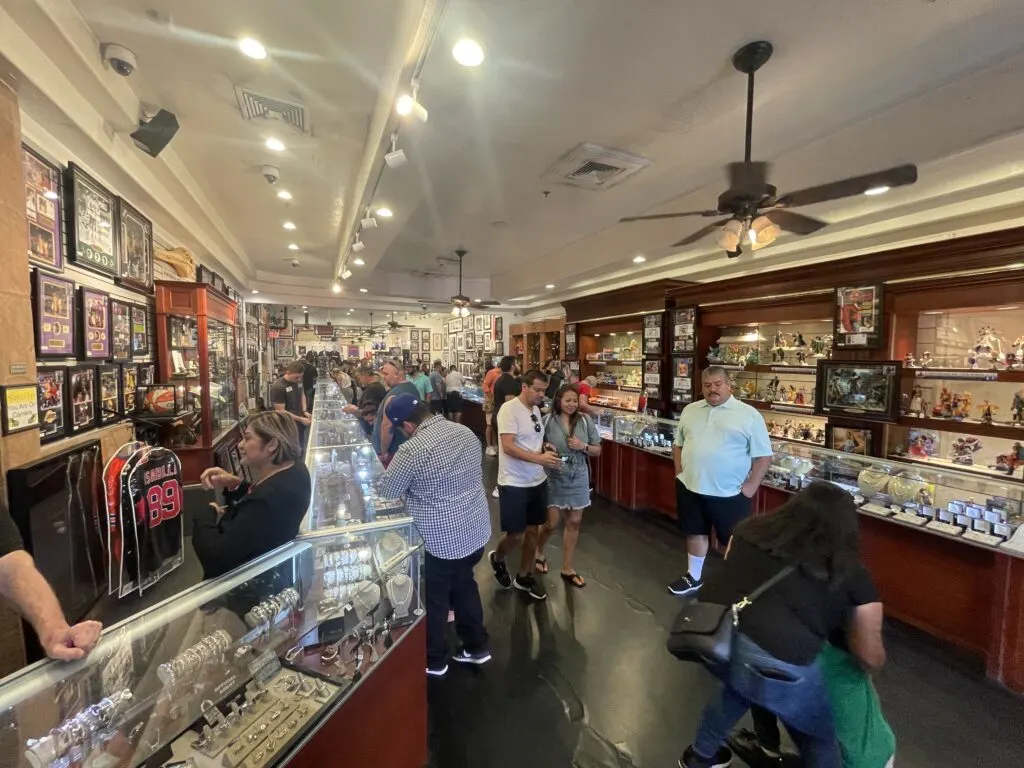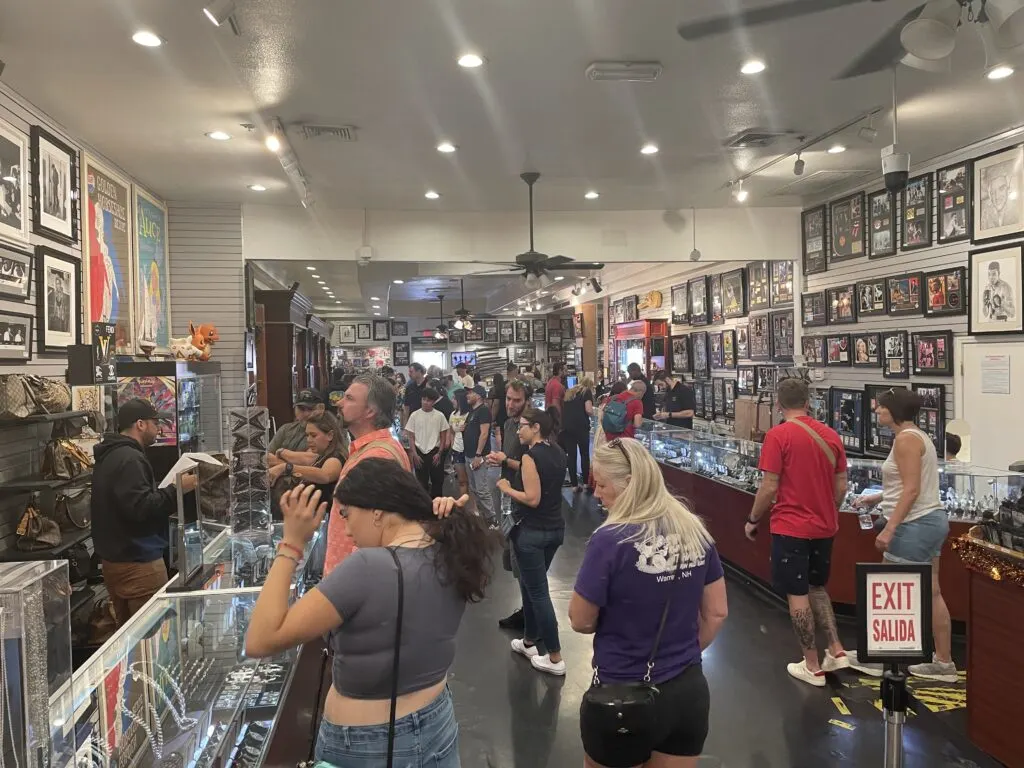 Tons of Unique Items
While there's a large assortment of items for sale in the pawn shop at various price points, the coolest items are those you saw purchased by Rick, Corey, and Chumlee on the hit show.
Merchandise on display is wide-ranging and included firearms, knives, currency, artwork, sports memorabilia, jewelry, toys, and more.
They even had a selection of silver strike tokens from casinos that no longer offer the popular slot game.
If a souvenir is what you seek, there are a good number of lower-dollar amount items that range from silver and bronze bullion coins to casino chips.
There was even a silver coin emblazoned with the Old Man's bust and the phrase "In the Old Man we trust".
Of course, there's also an entire section of "Pawn Stars" TV show merchandise that included shirts, hats, and even bobbleheads.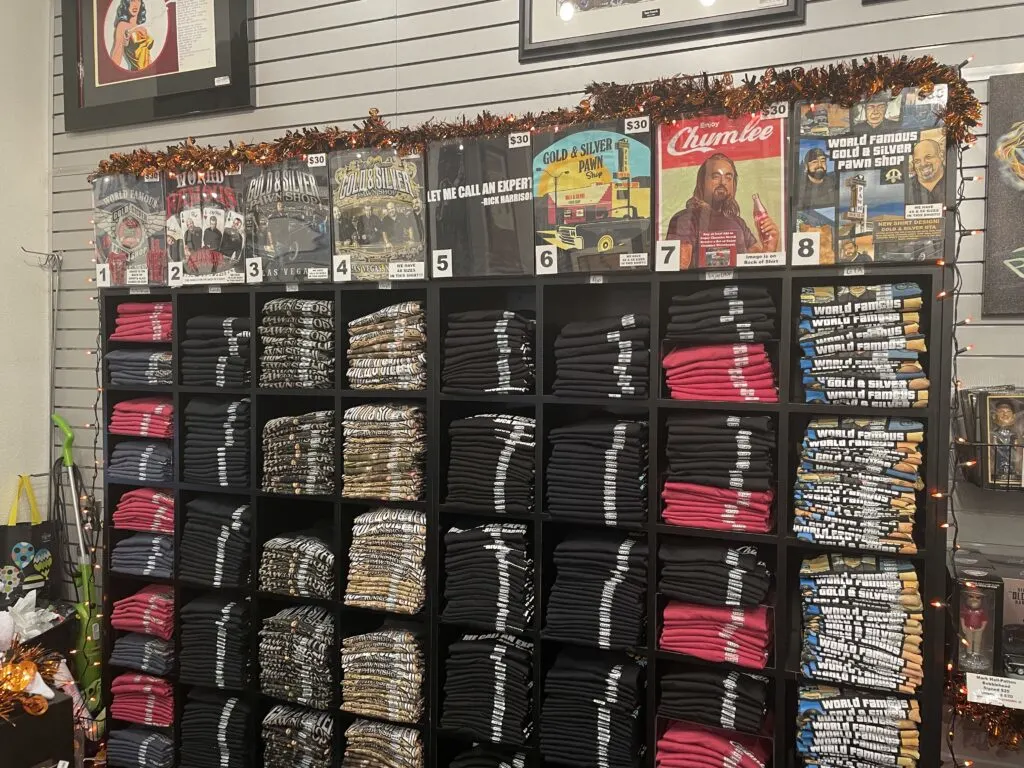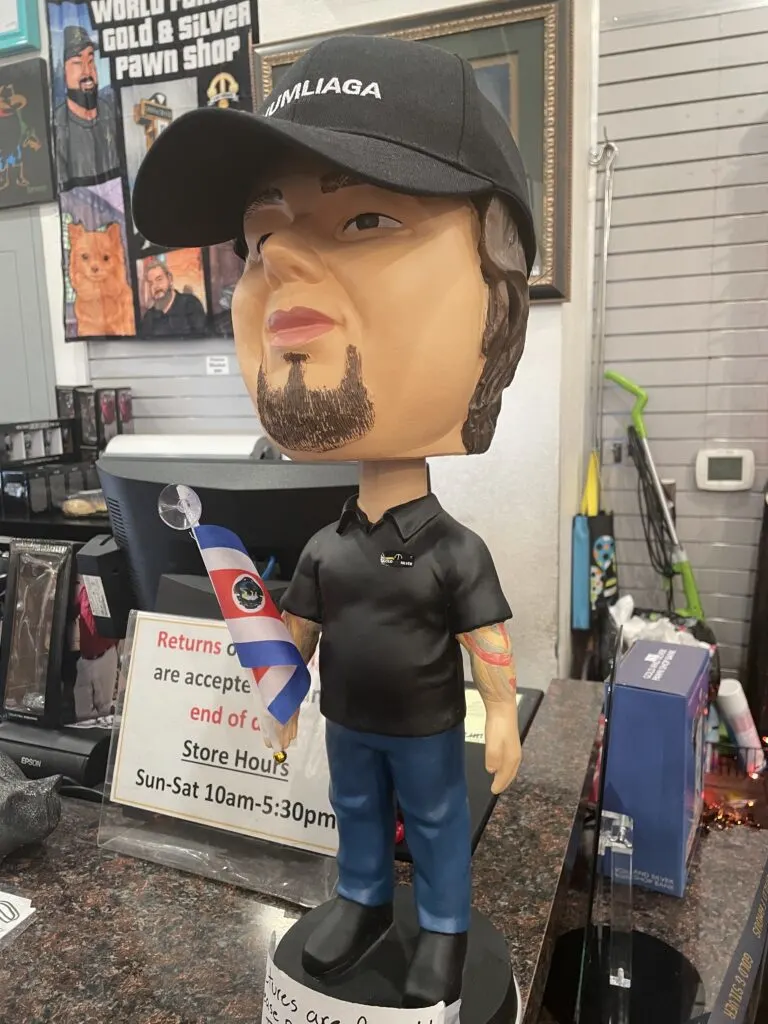 Don't Expect to See the Stars
Unfortunately, the stars of the show rarely make live appearances at the shop. There is a cardboard photo opportunity in the back of the shop, however.
You'll have a better shot to see Rick Harrison at Rick's Rollin' Smoke, his BBQ restaurant across the parking lot. His bartending appearances are commonly announced in advance on their Facebook page, here.
Chumlee frequently makes appearances at his candy shop called Chumlee's Candy on the Blvd., which is also across the parking lot in Pawn Plaza.
Here are some additional pictures I took while inside the "Pawn Stars" pawn shop: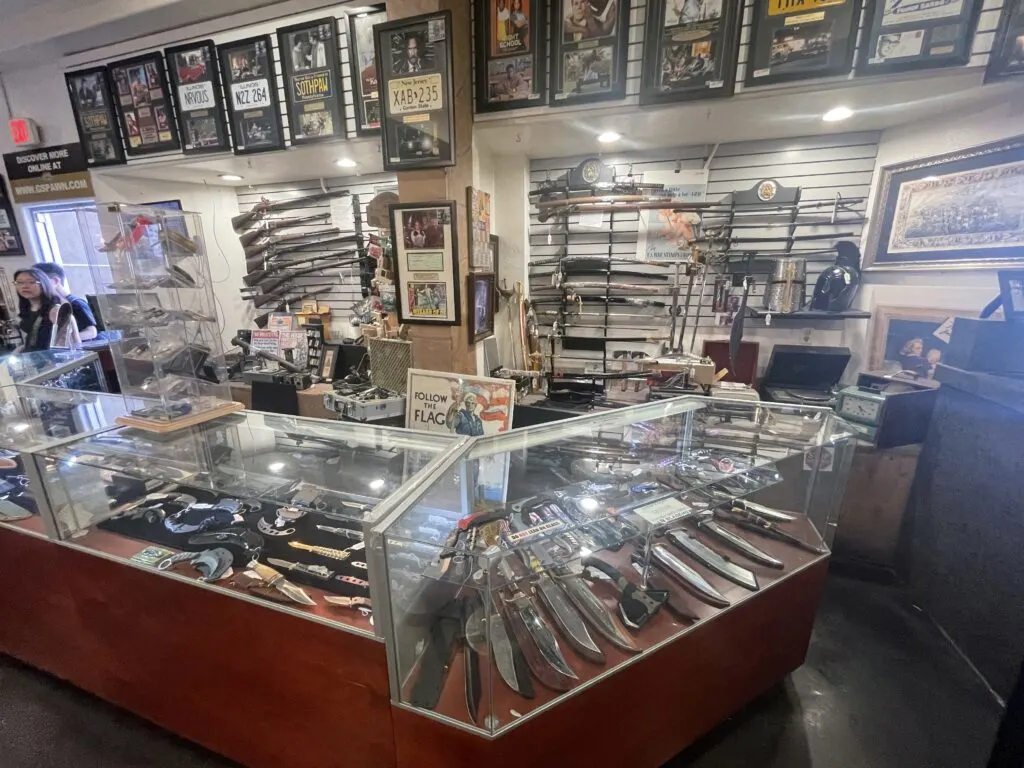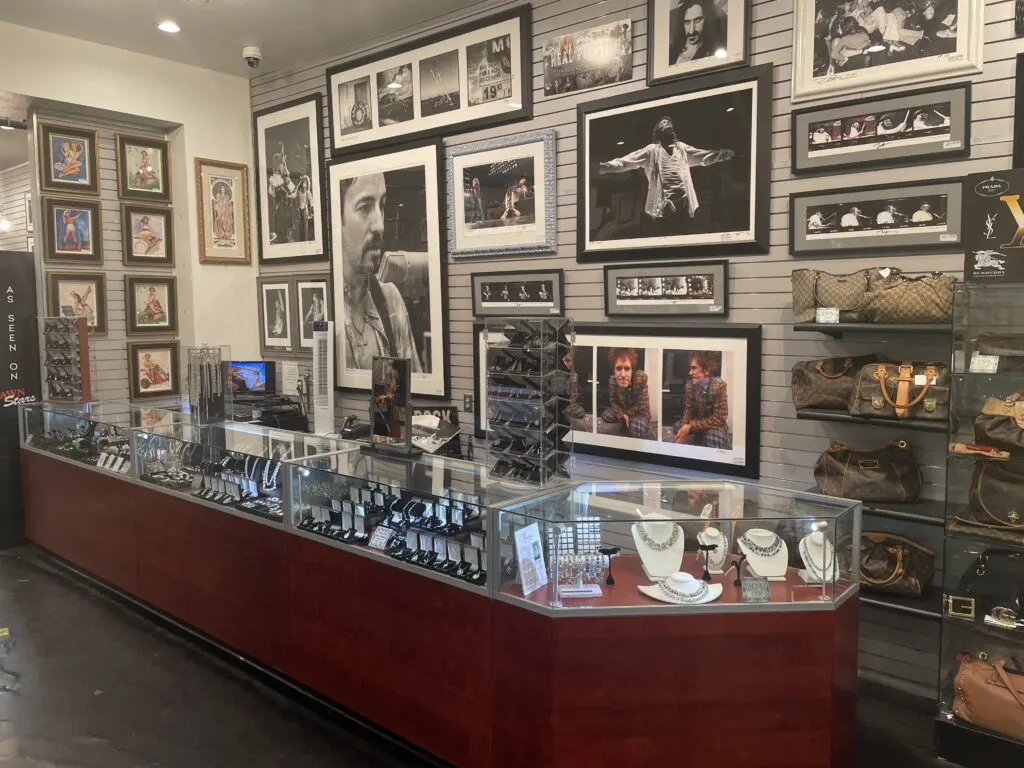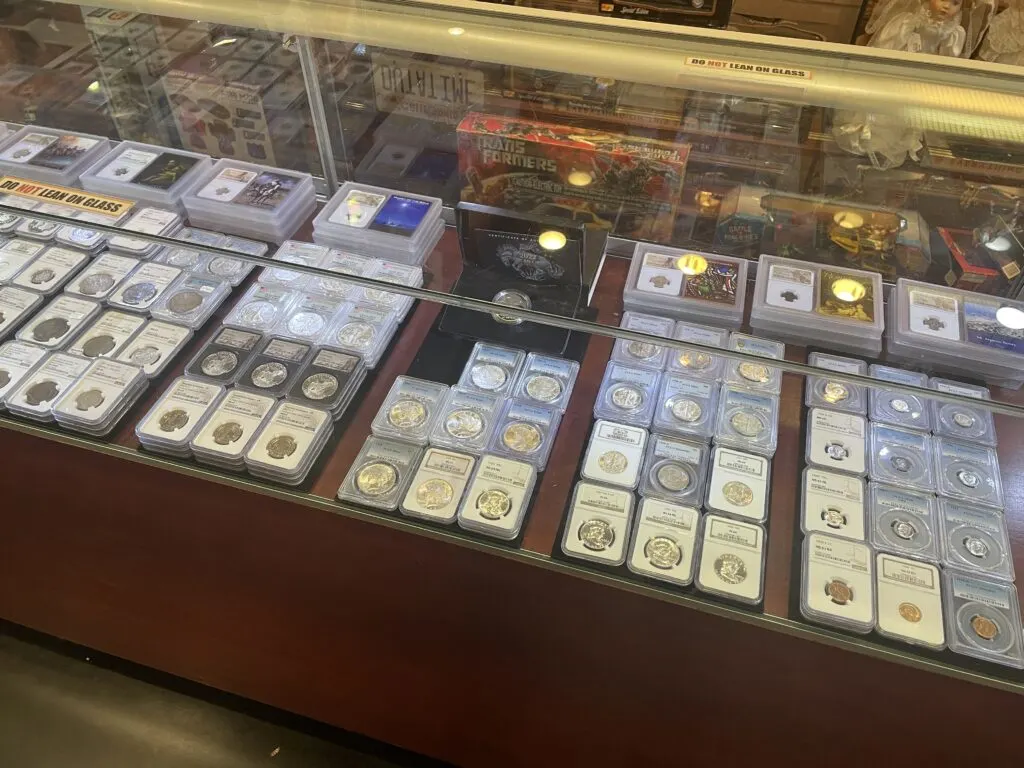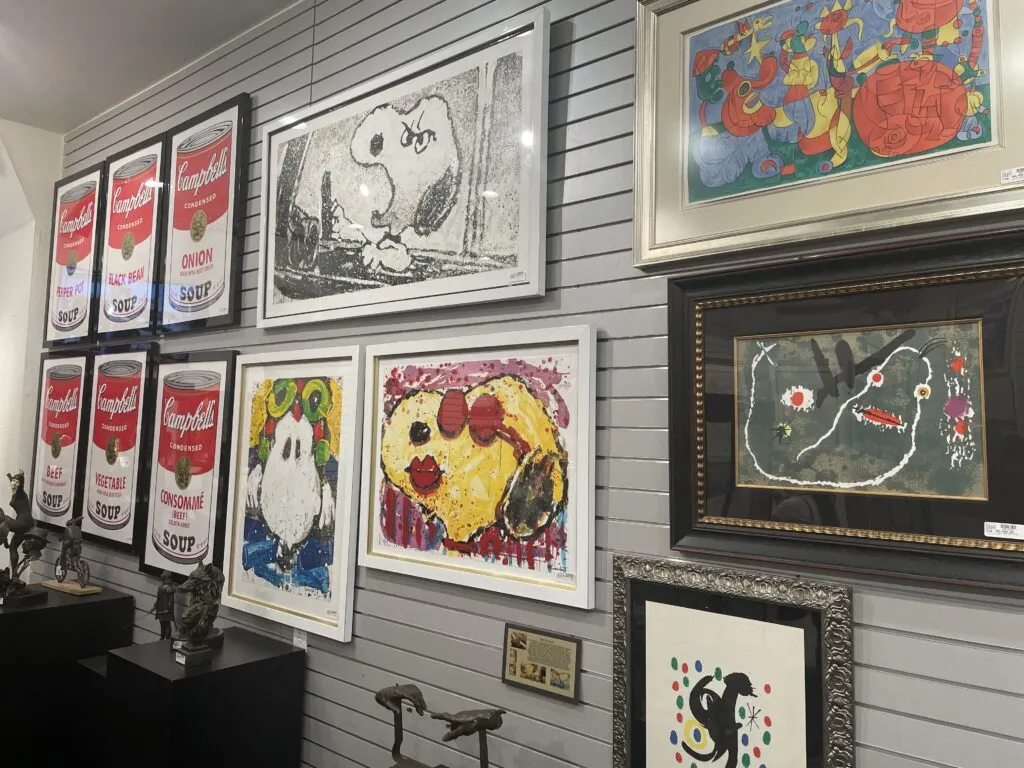 Is The "Pawn Stars" Pawn Shop Worth a Visit?
Who Should Visit
Fans of the show will find visiting the "Pawn Stars" pawn shop to be a fun diversion while in Las Vegas.
Inside, you'll find a number of the items you've learned about and seen negotiated for on the hit series.
It's also surreal to be in the shop that you've gotten to know so well on screen, although, according to Scott at Vital Vegas, the show is now filmed on a separate set built to look identical to the original.
While that "glass-shattering" realization may disappoint die-hard fans of "Pawn Stars", rest assured that early seasons were filmed on-site. You'll still think it's cool.
While the "Pawn Stars" pawn shop isn't likely to be something you visit every trip to Las Vegas, it's something that fans of the show need to stop in and see at least once.
Who Should Steer Clear
On the other hand, people that aren't fans of the series are unlikely to get much out of a visit. If unattached to the show, the World Famous Gold & Silver Pawn Shop is just that – A run of the mill pawn shop.
You'll likely be underwhelmed.
Need more itinerary inspiration? Here you go:
I'm a former software salesman turned Vegas aficionado. While the craps table is my preferred habitat, I pull myself away to explore new attractions, shows, restaurants, and outdoor activities around Las Vegas with the intent of sharing my experiences.
Ultimately, I just want to help folks plan a better trip and save a few bucks in the process.